While you aren't short of options, it's no secret that certain shoe styles just look better when wearing this classic smart-casual combo.
So, here are some great shoes you can wear with a blazer and jeans:
Derby shoes
Monk straps
Loafers
Chelsea boots
Chukka boots
Low-top sneakers
Slip-on sneakers
While that list will serve you well, it's important to talk through each of those options in more detail to help you choose the perfect pair.
So, let's get to it.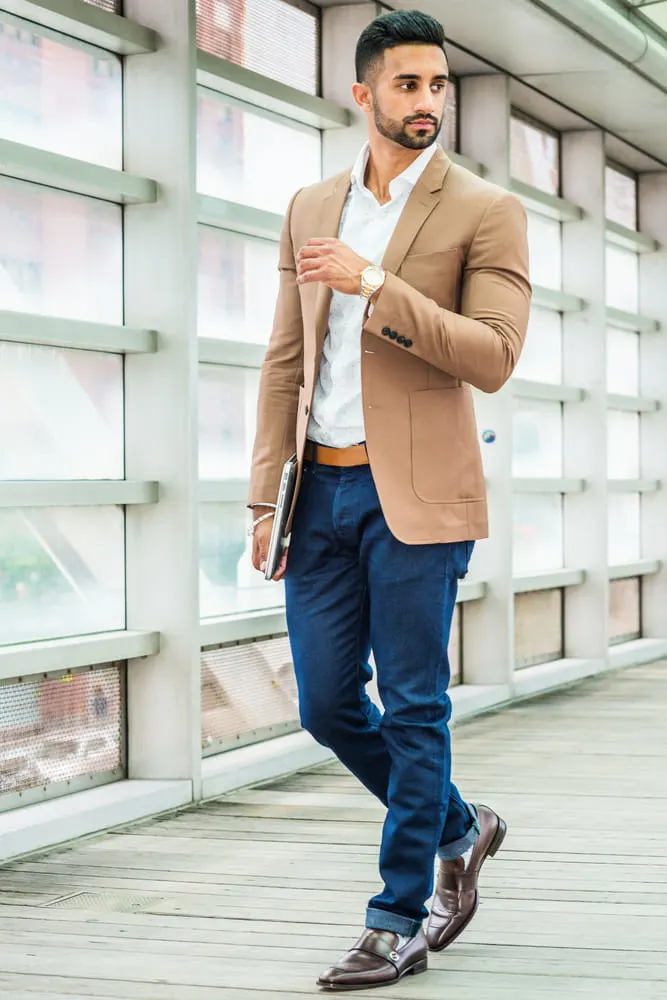 1. Derby Shoes
Derby shoes can easily be worn with a blazer in jeans in a variety of casual and smart-casual settings.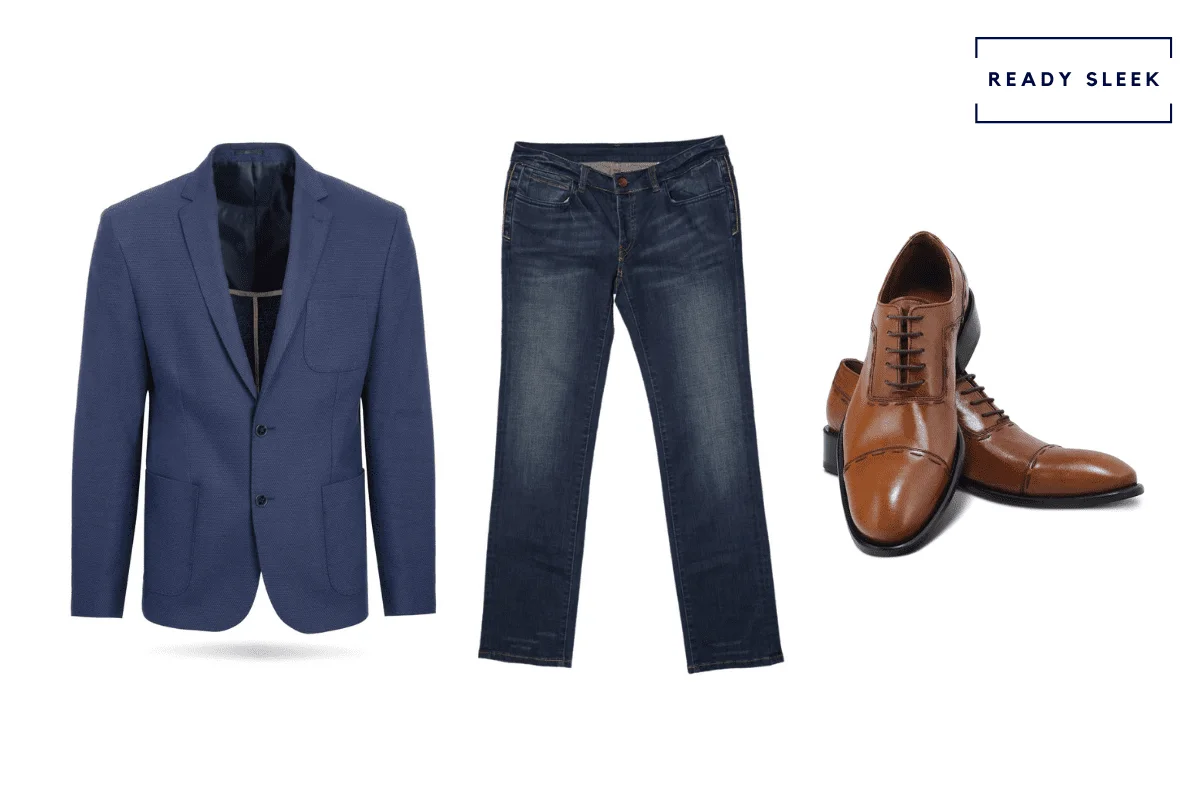 You could argue that Derby shoes are the most formal dress shoe style you should dare to wear with jeans.
In many ways, this makes sense.
Oxford shoes are a notch more formal than Derby shoes thanks to the unmistakable closed lacing system.
Most would agree that Oxford shoes are just too formal to wear with jeans, no matter how dressy or formal-looking the blazer you're wearing is.
The "quarters" of the Derby shoe are stitched on top of the vamp, creating an open lacing system. It's more comfortable to wear and naturally looks more casual.
Derby shoes are seen as walking the fine tightrope between casual and formal wear. This makes them the perfect option for a smart-casual combo such as a blazer and a pair of jeans.
You can easily find Derby shoes in suede. In fact, suede Derby shoes often look even better than shinier grains of leather when wearing a blazer and jeans.
This is because the napped texture of suede has a more casual look and feel to them. It pairs very well with the rugged texture of denim.
This is helpful because there is always a risk that a pair of Derby shoes looks too formal to wear with jeans.
Ways of minimizing this risk include choosing Derbys in a light color such as tan or caramel brown, in addition to considering alternative grains of leather such as suede or nubuck.
2. Monk Straps
Monk straps look great when worn with a blazer and jeans. The laceless construction has an appealing smart-casual aesthetic to it, pairing well with the casual appearance of jeans.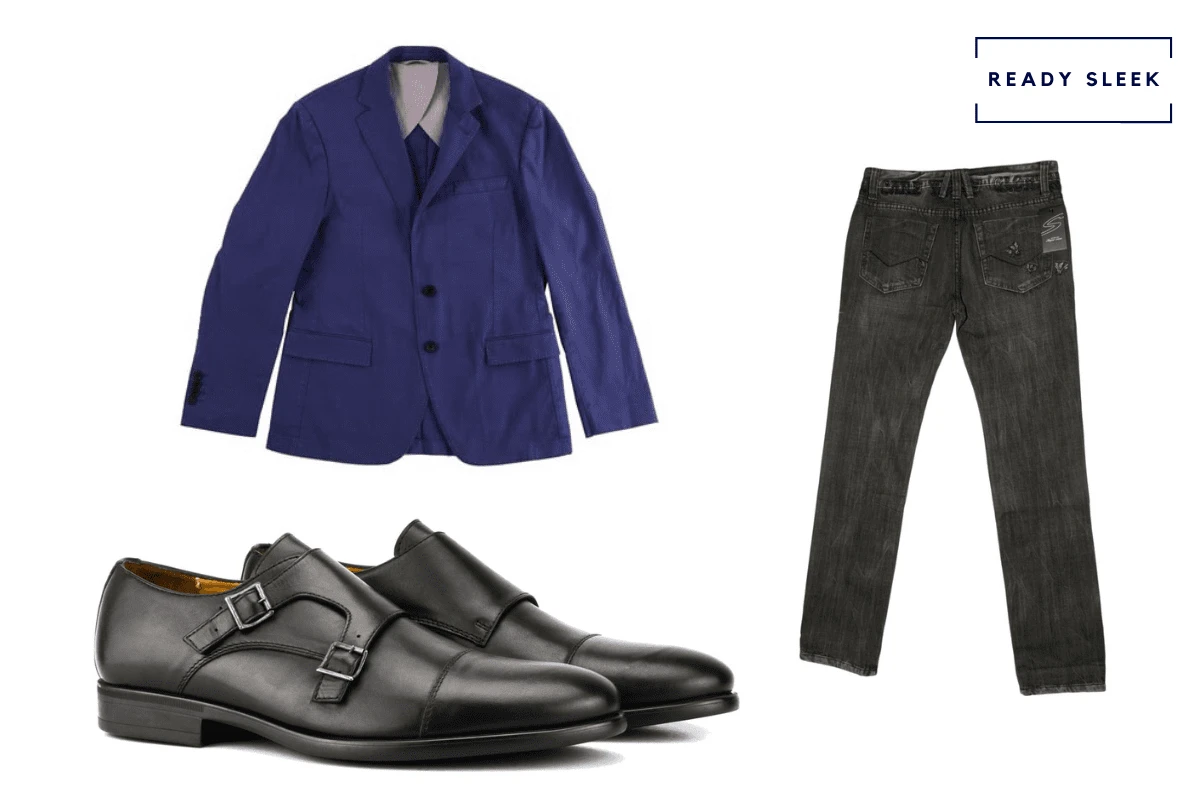 Monk strap shoes are a notch more casual than Derby shoes, but not by much. It falls into the same "smart-casual" category which makes it ideal for the outfit we're discussing.
Monk straps are secured by prominent buckles and straps.
They're a reasonable choice when it comes to formal and professional attire, but they're usually versatile enough to wear in a variety of casual settings too.
Much like with Derby shoes, try to choose a relatively casual pair of monk straps when wearing a blazer and jeans.
A pair of black calfskin monk straps would look OK when wearing a blazer and jeans. But a pair of suede or nubuck monk straps in a light shade of brown would usually look a whole lot better.
In fact, you could go a step further and choose a pair of monk straps in a more unusual color such as burgundy or navy brown if you wanted to make more of a statement.
If the setting is casual enough to allow for it, you've got the scope to experiment with color.
3. Loafers
Loafers can look fantastic when wearing a blazer and jeans, especially when the jeans are cuffed during the warmer months of the year.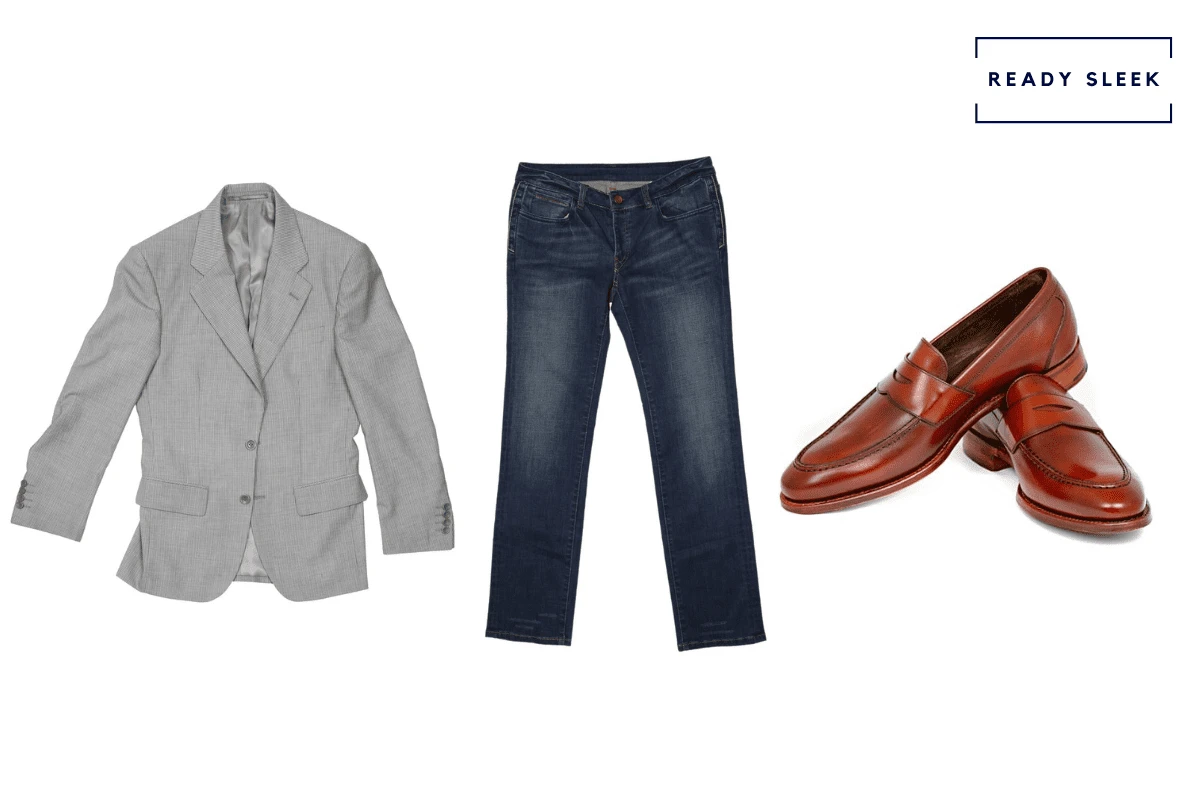 Loafers come in a variety of different styles, with the main ones being "Gucci" loafers (i.e horsebit or "bit" loafers), tassel loafers, and penny loafers.
Any of these loafer styles could work very well here, but the laceless, slip-on construction that exposes the ankles does make them more appropriate in the summer and spring.
During these periods, you'll most likely benefit from wearing a more "summer-friendly" blazer made from a breathable fabric such as linen.
Given how most would agree that loafers are the most casual style of dress shoe, you could go for a typically more "formal" color such as black if you wanted to.
Ultimately, no matter what color you choose, the loafers would look casual enough to make sense with a pair of jeans.
Loafers can commonly be found in suede and nubuck. Much like with Derby shoes and loafers, these napped textures look great when wearing jeans.
4. Chelsea Boots
Chelsea boots are often worn with a blazer and jeans, particularly during the colder months of winter and fall.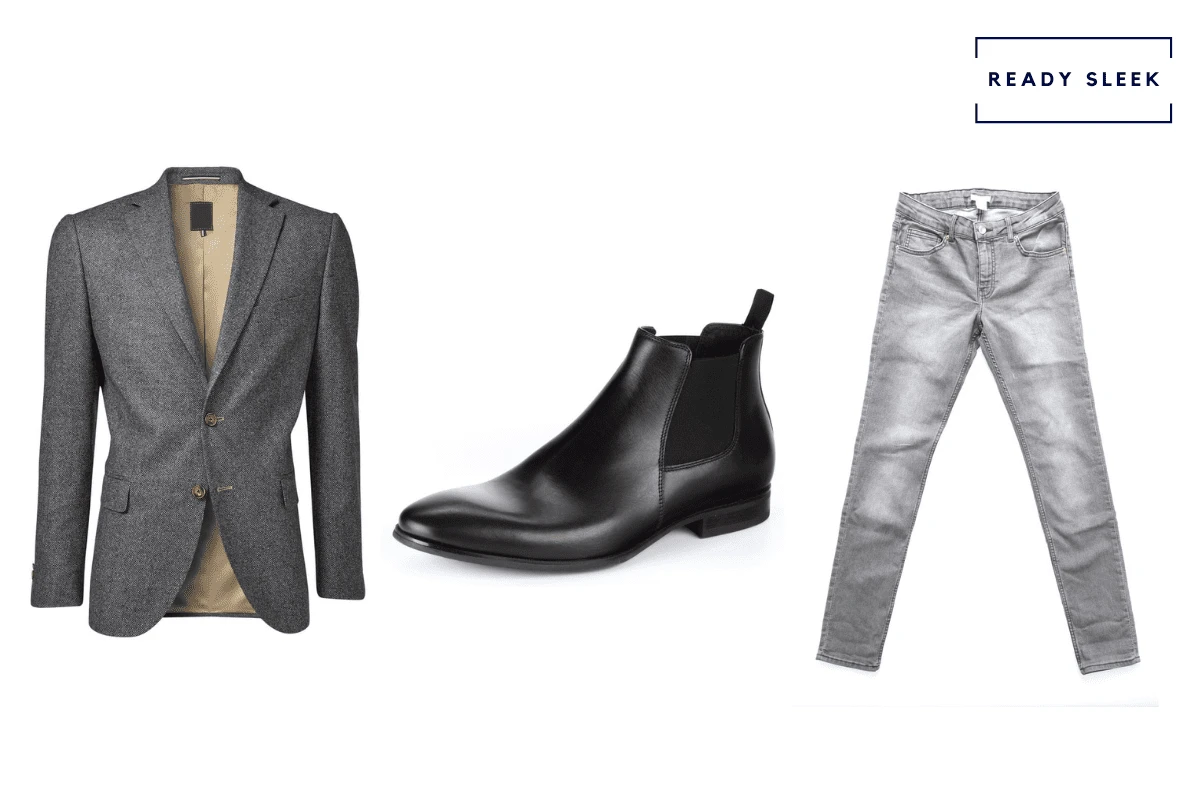 The ankle-high boots have very noticeable elastic panels on the sides. In general, even the least fashion-conscious of people would be able to recognize a pair.
They've been an iconic staple of smart-casual and formal attire worldwide.
Chelsea boots are generally seen as the most "formal" mainstream boot style you can get your hands on.
However, much like traditional dress shoe styles, how formal or casual they look does depend on the features of the specific pair.
A pair of black Chelsea boots in calfskin or cowhide with a sleek and elegant last will look formal.
In contrast, a pair of tan brown Chelseas in nubuck or suede would look more casual.
Ultimately, Chelsea boots could be seen as a reasonable alternative to Derby shoes during the colder months of the year.
A pair of Chelseas in any color could be worn with a blazer and jeans – it usually works a treat and is hard to go wrong with.
5. Chukka Boots
A blazer and jeans can confidently be worn with chukka boots in a wide range of different casual and smart-casual settings.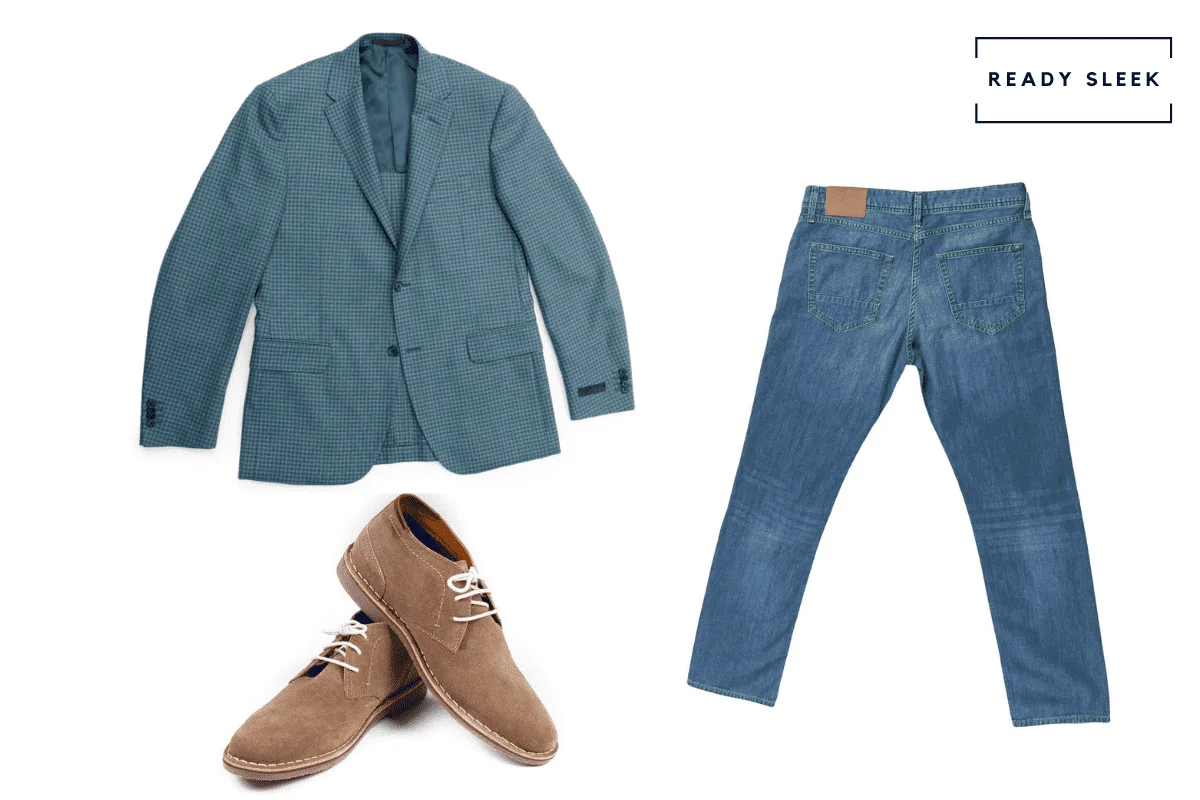 They typically have a more rugged and bulky appearance than the more streamlined Chelsea boot.
Generally, this makes them look more casual than Chelsea boots and often the perfect companion to a pair of jeans and a blazer.
This rugged construction does lend itself very well to the casual and typically rugged texture of denim.
It's more common to find chukka boots in suede, producing a cozy and winter-friendly aesthetic.
Consider the following example:
A brown tweed blazer, cream OCBD shirt, indigo jeans, and tan brown suede chukka boots.
It's important to cuff the jeans so that they rest against the top of the boots. This is usually considered the most "acceptable" and simple way to wear them.
However, if you'd prefer a more relaxed look, simply "stack" the jeans so that the excess fabric is allowed to bunch up above the top of the boot.
This is really only possible when wearing skinny or slim-fit jeans, but does look good when done correctly.
6. Low-Top Sneakers
Low-top sneakers can look phenomenal when wearing a blazer and jeans, especially leather pairs with a minimalist all-white aesthetic.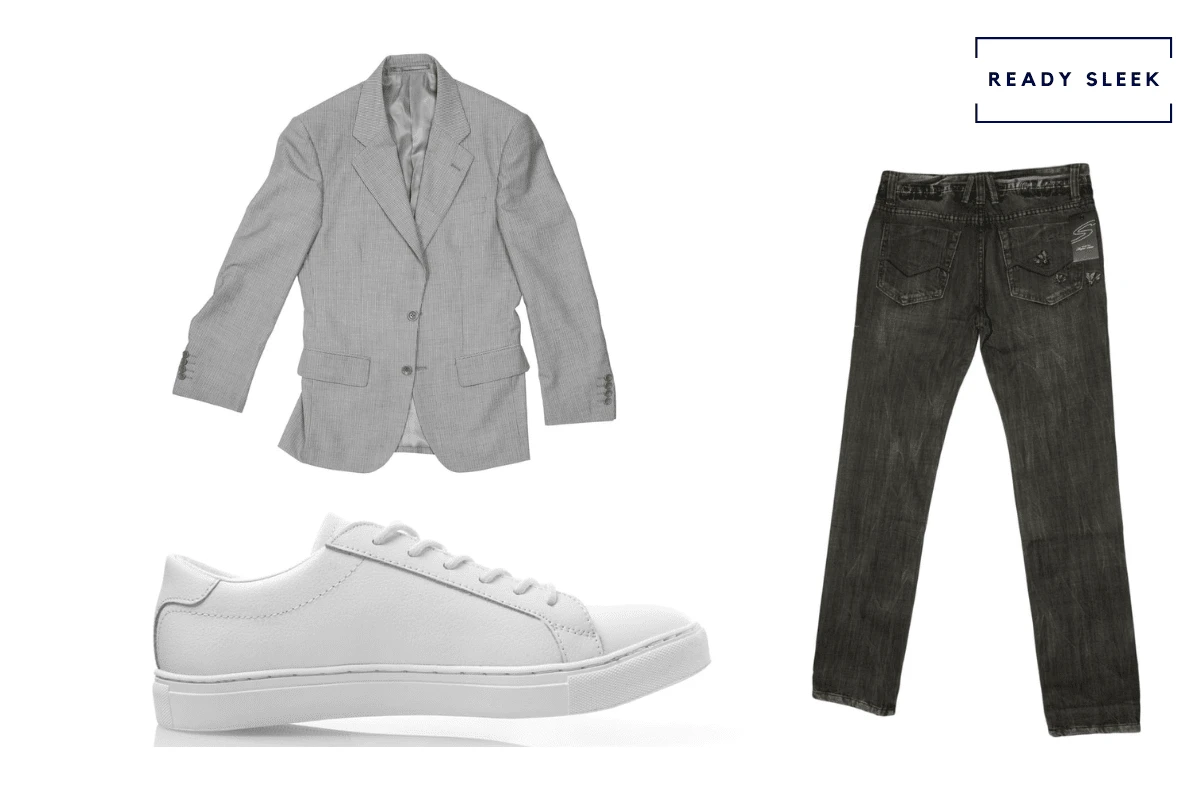 All-white leather low tops are incredibly versatile.
Often colloquially labeled "dress sneakers", they're generally seen as the most "formal" style of sneaker you could go for.
Sure, you could wear it in very casual settings. But they would look great even when wearing typically more formal items.
In many ways, they're a perfect smart-casual footwear option for a blazer and jeans. It's very unlikely that a smart pair of white sneakers would look too casual for the blazer.
7. Slip-On Sneakers
Slip-on sneakers are a comfortable and summer-friendly option when wearing a blazer and jeans.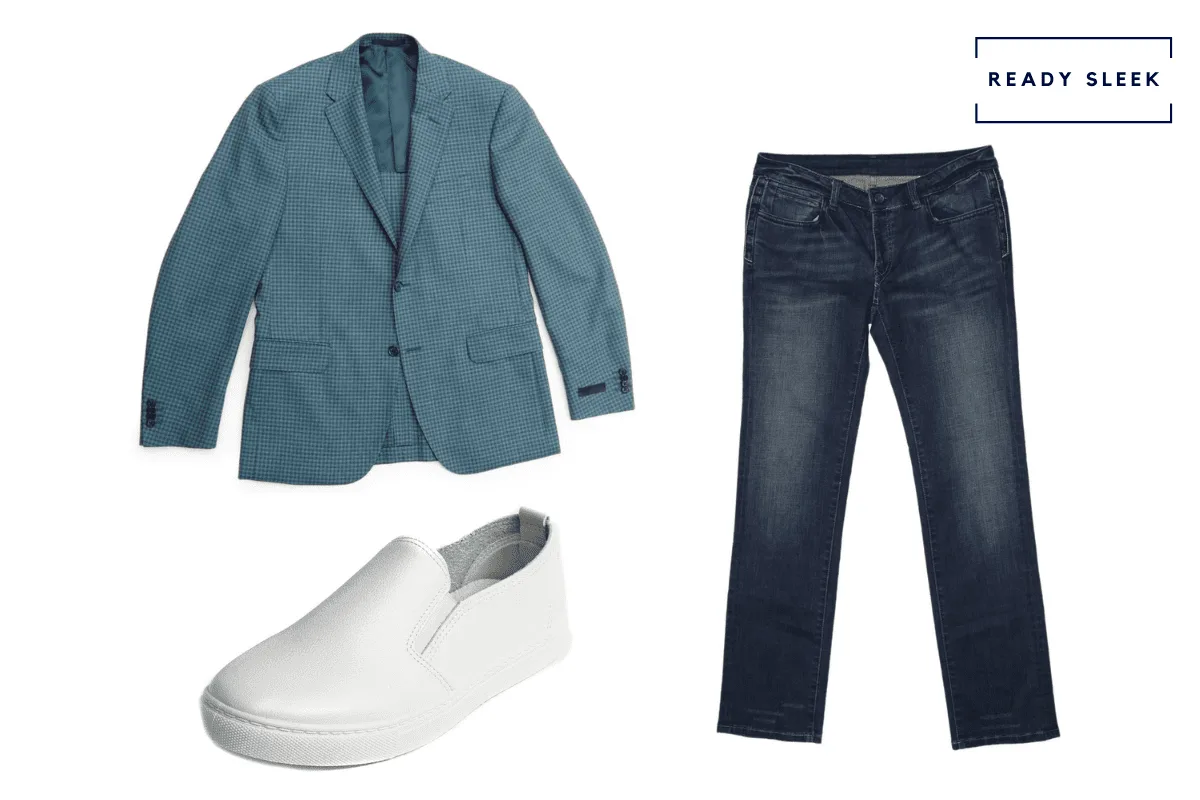 As the name would suggest, they're a laceless alternative to the more commonly found sneaker styles and have a plimsoll-like appearance to them.
When wearing a blazer and jeans, it's important to be a little cautious with the style of slip-on sneakers you choose.
Consider a relatively dressy pair made from leather and in a solid neutral color such as black, grey, navy, or white.
Leather slip-ons in these colors would usually look dressy enough to wear with a blazer while also giving you the benefit of comfort in warm weather.
They could be seen as a more casual alternative to the loafer.
In general, it's a fantastic option when dressing down this combination to an extent.
Ready Sleek founder. Obsessed with casual style and the minimalist approach to building a highly functional wardrobe. Also a fan of classic, vintage hairstyles.