Casual attire does give you the benefit of choice when it comes to color coordination. However, certain shirt colors just look better with red shorts than others.
So, here are some great shirt colors you can wear with red shorts:
White
Black
Blue
Light Pink
Olive Green
Mustard Yellow
But you'll need a lot more than just a simple list. Out of those colors, it's likely that one or two would best suit your specific needs compared with the others.
We're about to go through the factors you need to know to help you decide which one to choose. After that, we'll take a look at pics of the combinations themselves.
Let's get to it.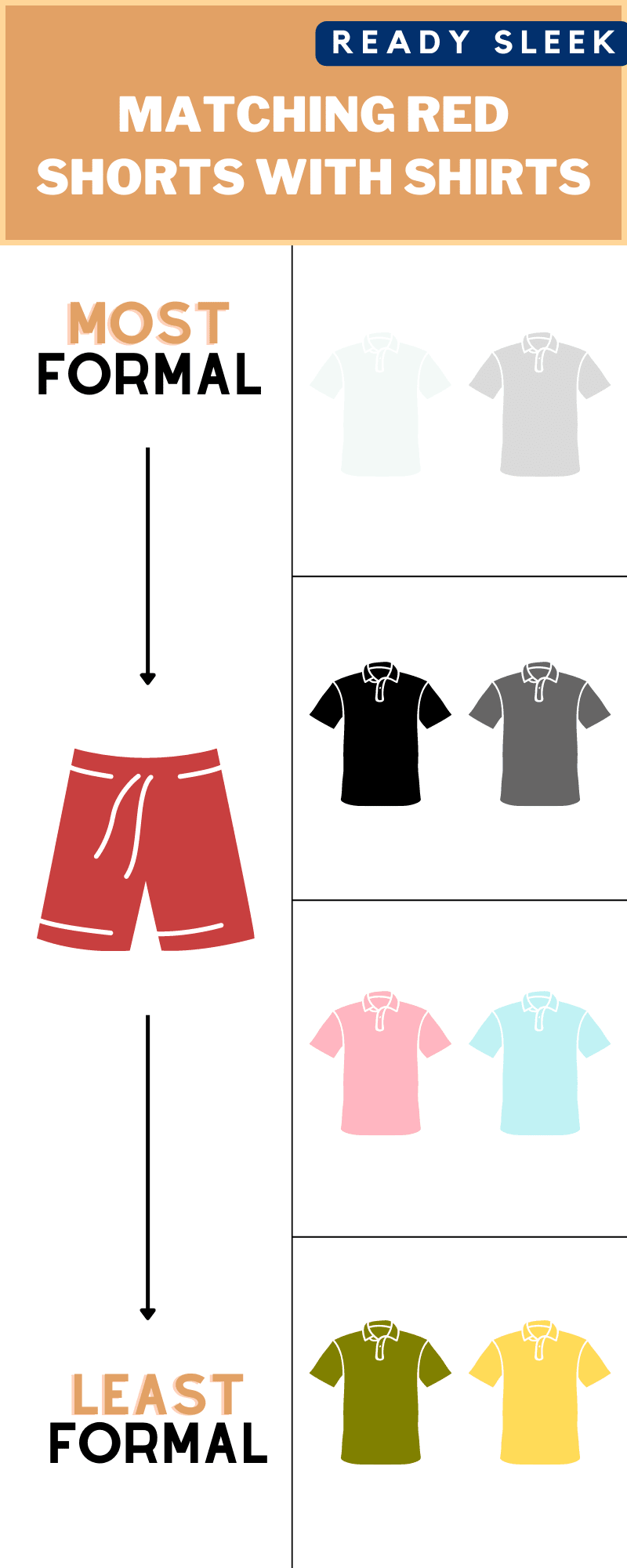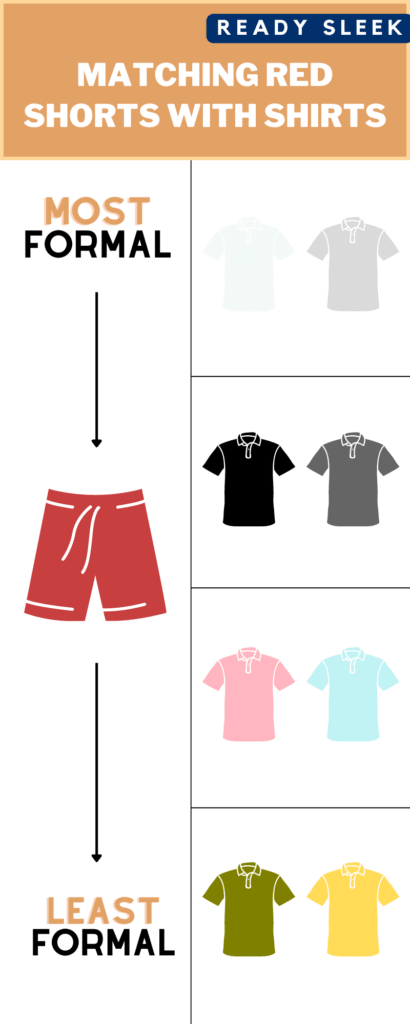 How To Color Coordinate Red Shorts With Shirts
Consider these three factors when choosing the perfect shirt color for your specific pair of red shorts.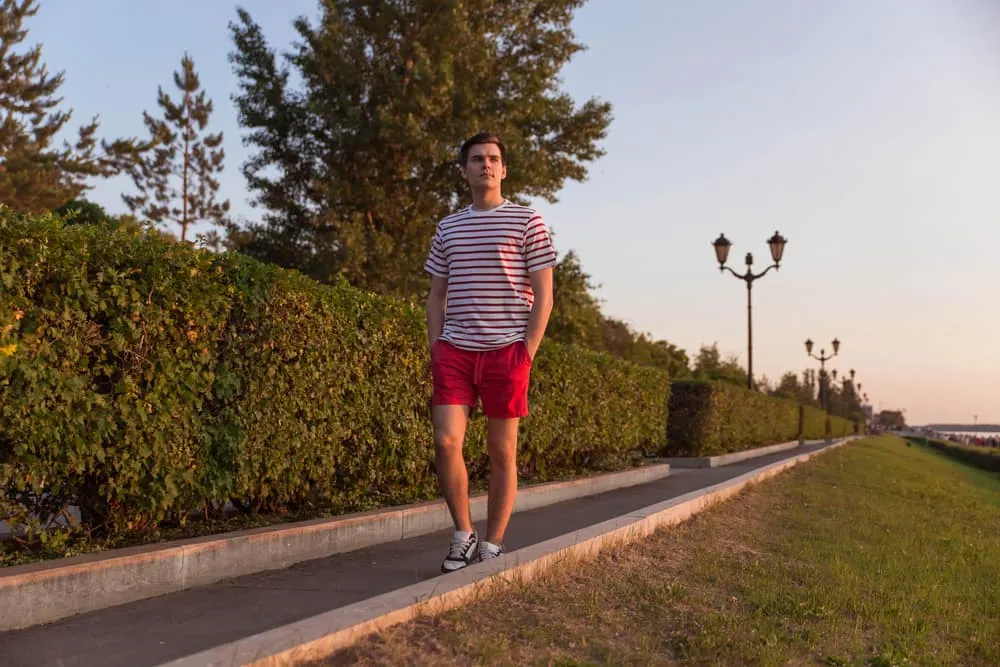 1. Consider The Dress Code
The dress code of the setting you're attending should influence the color of the shirt you choose to wear with your red shorts. Neutral-colored shirts would be more appropriate in smart-casual settings.
Red shorts should only be worn in casual settings – nobody would disagree with that (or at least I'd hope they wouldn't).
At the end of the day, if you're dressing up for a formal or business-casual setting, you've got an infinite number of more appropriate options.
This would be the case even in the warmest of weather – that's the beauty of linen, right?
But in casual or smart-casual settings, a pair of red shorts would probably go down a treat.
In smart-casual settings you'll want to be wearing a pair of red dress shorts and not the board shorts you'd wear for a truly casual event.
Neutral-colored shirts such as those in white, black, grey, or navy would be better options than bolder and more vivid colors when dressing for smart-casual events.
Red is already a pretty bold and vibrant color. You don't want to add another bold and vibrant color into the mix when you're looking to dress up a little.
Instead, let the red shorts take the focus and keep the shirt color neutral.
Do consider the style of shirt you wear as well. A polo, linen shirt, or OCBD would be better than T-shirts when you're looking to go "smart-casual".
2. "Cool" Colors Are Easier
Even when you're dressing down and going super-casual, it's best to keep things subtle when wearing red shorts.
You don't want a combination that's too loud or in-your-face.
This is often a risk when color-coordinating "warm" colors such as reds, oranges, and yellows.
Of course, choosing a neutral shirt color would be the easiest way to avoid this.
But if you did want to go for a more colorful one, consider a "cool" color as opposed to another "warm" color.
Pairing warm colors often leads to a combination that's just – well, too much.
For example, wearing red shorts with an orange shirt is likely to turn some heads, but not necessarily in the best way.
As you can see from the color wheel below, the "cool" colors you have to choose from are blue, green, and purple.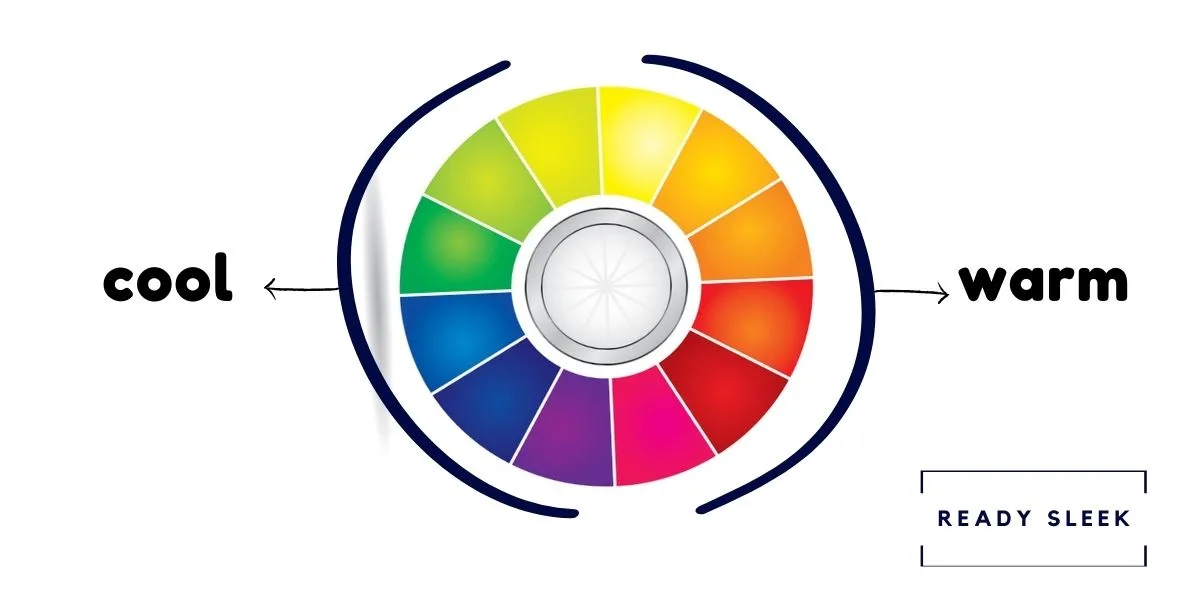 Even when choosing one of these colors, consider a muted shade of one of these colors to really embrace the subtle aesthetic.
So, instead of wearing red shorts with a lime green shirt, consider an olive green shirt instead.
It's very muted, very understated, and looks great with a pair of red shorts.
6 Red Shorts And Shirt Combinations To Try
Here are some great red shorts and shirt combinations you can try out.
Red Shorts With A White Shirt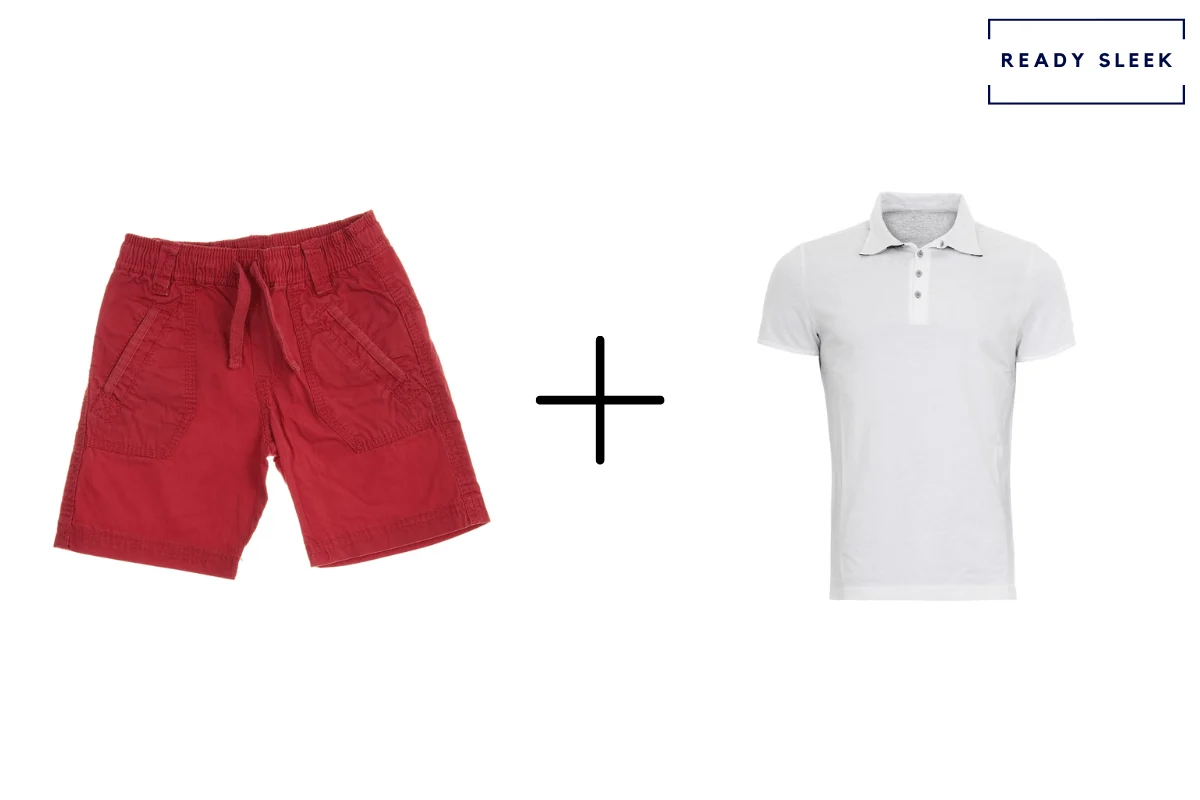 White shirts work exceptionally well with red shorts given how neutral and unproblematic they are.
They're a great option when you just don't want to have to worry about coordination because you know it'll always work.
The contrast produced between the red shorts and the white shirt is attention-grabbing in a good way.
Here, you're letting the bold-colored red shorts be the center of attention while the white shirt is allowed to play second fiddle.
It's perfect for smart-casual settings.
Consider a pair of muted red dress shorts (or a dark shade such as maroon/burgundy) worn with a white linen shirt and a pair of espadrilles.
It doesn't get classier than that.
Red Shorts With A Black Shirt
Red shorts can be worn with black shirts in casual and smart-casual settings. The combination often looks great for summer evening events.
Much like white shirts, black shirts are neutral enough to work with any shorts color you can think of.
Red shorts are no exception.
However, if you were looking to dress up a little, shorts in dark shades of red often look great here.
They just sync better with black shirts.
Examples of dark shades of red include burgundy, maroon, and crimson.
When dressing down, feel free to go for any shade of red you want. Even light and bright shades such as scarlet.
It'll all work with black.
Red Shorts With A Blue Shirt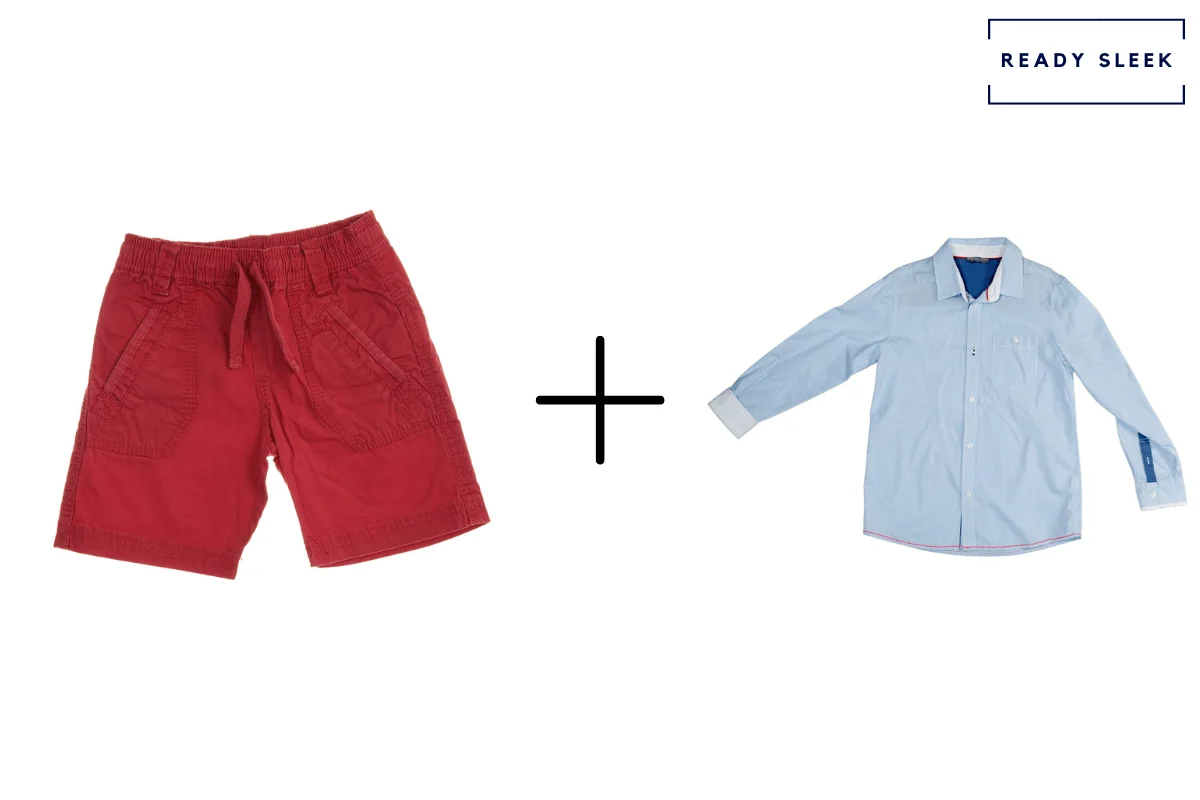 Blue shirts look great when worn with red shorts. The "cool" undertones of the blue shirt add a subtle sense of contrast to the "warm" undertones of the red shorts.
Overall, it's a balanced color combination that's hard to go wrong with.
But the more muted and subtle the shades of blue and red you wear, the easier it'll be to pull off.
Navy blue shirts can look great with red shorts – they're so dark and muted that the outcome isn't too different from what you'd achieve with a black shirt.
But lighter shades of blue can also work exceptionally well.
Red Shorts With A Light Pink Shirt
Red shorts can be worn with a light pink shirt very effectively in both casual and smart-casual settings.
The reason why a "warm" color pairs so well with another "warm" color here is that the outfit should be considered monochromatic.
In some ways, it's as easy to coordinate this as it would be with a neutral-colored shirt.
Pink and red work well together because they're on the same spectrum.
It's very difficult to go wrong here.
While the result is still going to be more casual than a more neutral alternative, monochromatic combinations can look dressy when you go for the right shirt and shorts styles.
In addition, it'll definitely help to go for a light and muted shade of pink.
Red Shorts With An Olive Green Shirt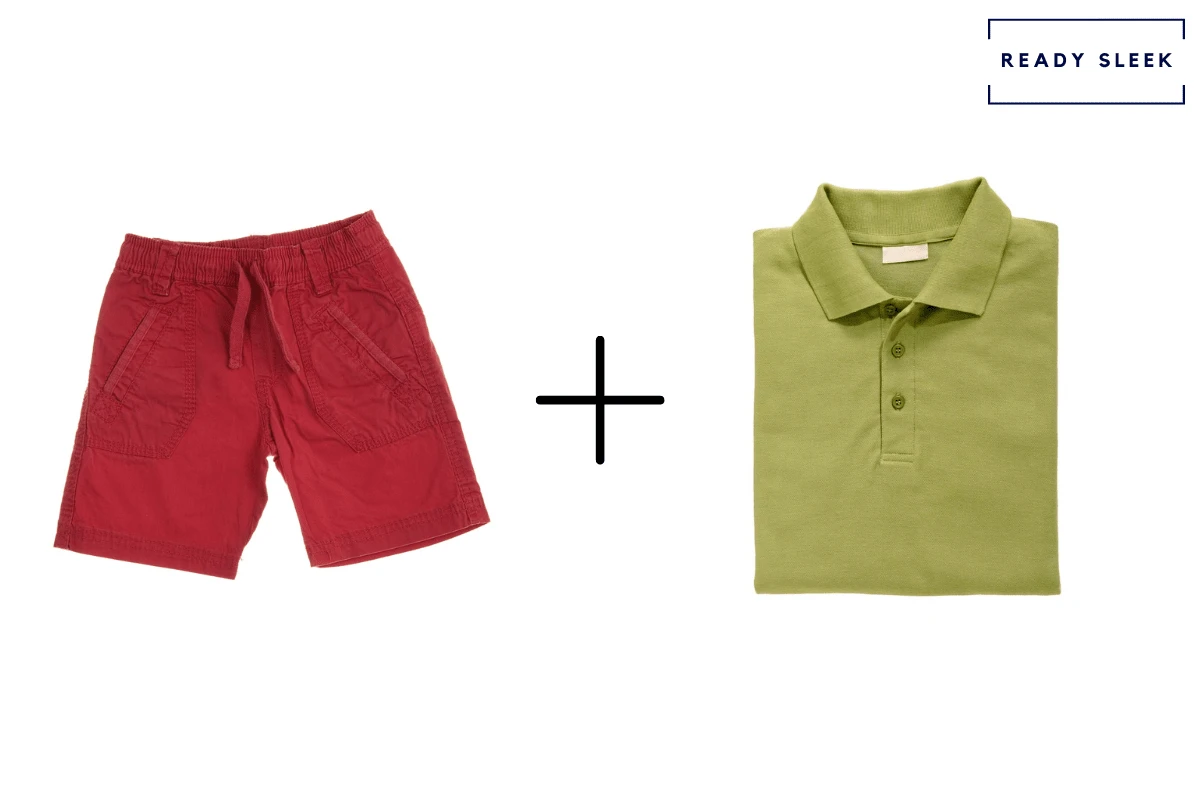 Red shorts can be worn with an olive green shirt in casual settings.
This is another great example of a muted shade of a "cool" color (olive) pairing very well with a bold and "warm" color (red).
The "cool" undertones counterbalance the "warm" undertones. It works a treat.
There's an important reason why olive green is a common favorite:
It's so muted that it's often considered neutral in the world of men's style.
This is true to the extent that everyone should own an olive green shirt of some variety. It's just so easy to pair with other colors no matter how vivid they may be.
Red Shorts With A Mustard Yellow Shirt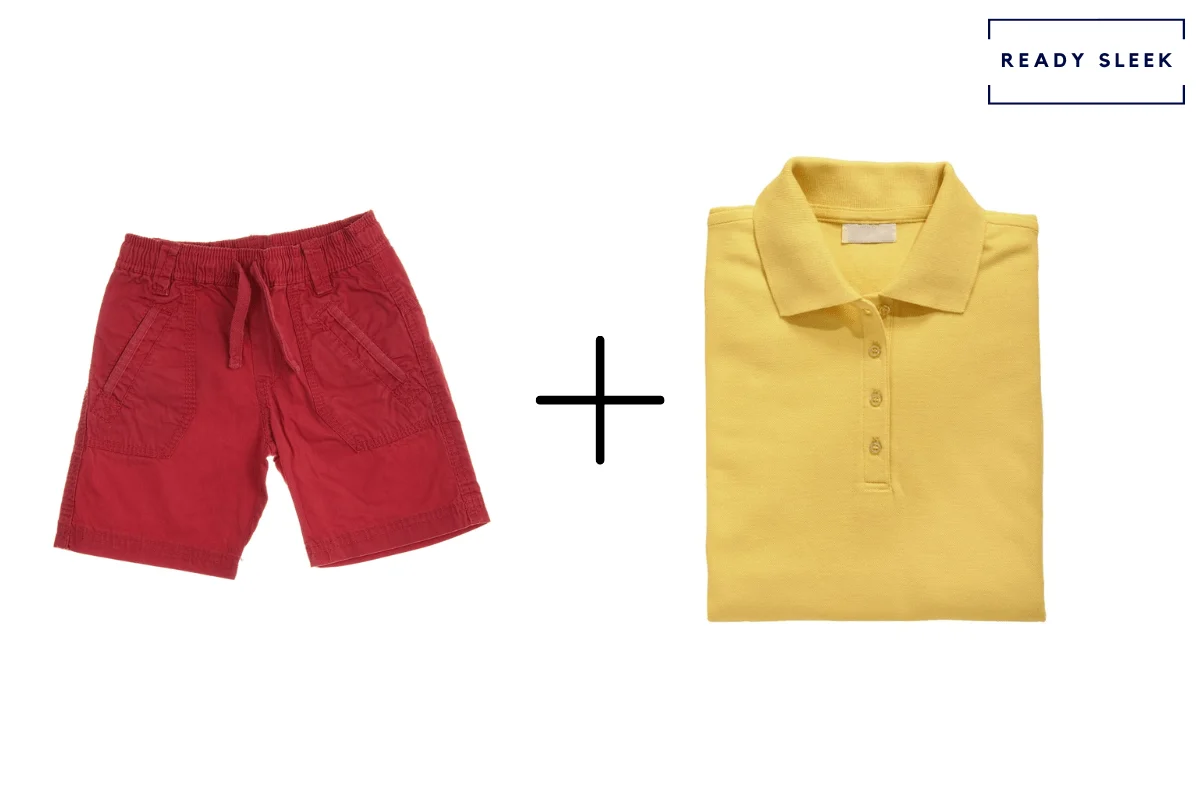 A pair of red shorts can be worn with a mustard yellow shirt in casual settings. The combination is quite loud and is a great option when looking to make a statement.
Here, there should be no risk of underdressing.
The color combination will turn heads, but that may be what you're going for.
Here you're combining two warm colors and as mentioned earlier on – this isn't always easy.
To prevent the combination from coming across as too much, go for a dark and muted shade of yellow such as mustard.
Conclusion
While red shorts can look great, they won't ever be as versatile as more neutral colors when it comes to coordination.
However, as you can see, there are still plenty of shirt colors you have available to you.
Sticking to neutral and muted colors will generally be the best options.
Enjoy.
Ready Sleek founder. Obsessed with casual style and the minimalist approach to building a highly functional wardrobe. Also a fan of classic, vintage hairstyles.