The navy blazer is arguably the easiest way to dress up practically any outfit you can think of. But it often isn't as easy to color-match as people think. So, what color pants should you wear with a navy blazer?
A navy blazer can be worn with neutral-colored pants such as black, charcoal grey, or light grey in formal and business-casual settings. In more casual settings, consider wearing a navy blazer with colors such as maroon, forest green, or even burnt orange.
There are some essential "rules" to consider whenever color-matching navy blazers and pants. We'll be going through those first.
After that, you'll see some great combinations you could try out for yourself if you want to.
Let's get to it.
Matching Pants With Navy Blazers: The "Rules"
"Rules", "guidelines", "principles" – whatever you want to call them, they're important. Consider all of them whenever you put together a navy blazer combo.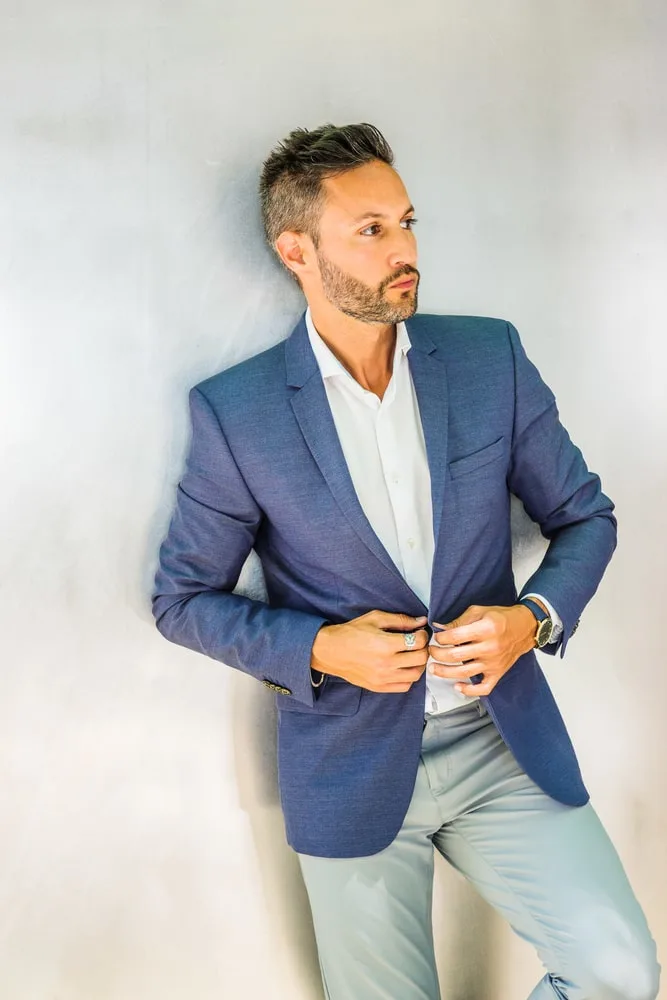 1. The Dress Code Matters
The dress code of the setting you're dressing for should be the first thing you consider.
It may not be explicitly stated, but it's usually possible to get an idea of what might be expected depending on the event.
Here are the main dress codes you need to know:
Formal – First, consider a 2-piece suit instead. If you don't think it's necessary, a navy blazer could be worn with dark, neutral-colored pants (eg. black, charcoal).
Business-Casual – A navy blazer could be worn with dark or light neutral-colored pants such as light grey or beige.
Smart-Casual – The navy blazer could be worn with "warm" or "cool" colored pants such as reds, blues, greens, and orange. Consider muted shades such as burgundy or forest green for a more subtle aesthetic.
Casual – It's unlikely a navy blazer would be appropriate as it would risk overdressing.
While the "rules" are pretty relaxed given how versatile navy blazers are, it's still worth sticking to them.
Navy blazers and neutral-colored pants for formal and business-casual settings.
Navy blazers and neutrals or non-neutrals for smart-casual settings.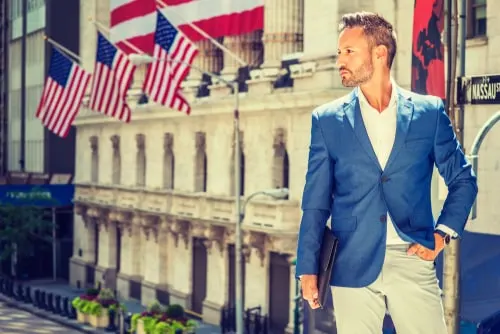 2. Avoid Navy Pants
When wearing a navy blazer, avoid wearing navy pants as it's likely to come across as a non-matching suit.
Remember – a blazer is not a suit jacket.
A suit jacket comes with a matching pair of pants made from the same roll of fabric.
A navy blazer is a jacket with similar features to a suit jacket, but with the key difference that it can be worn with a non-matching pair of pants.
Blazers often have a more relaxed structure than suit jackets with less padding.
The risk of wearing navy pants with a navy blazer is that it'll look like you're trying to make it pass off for a 2-piece suit when it clearly isn't.
3. The Color Wheel Can Be Helpful
The color wheel is a helpful tool that can be used to help you coordinate your outfit. It shows how non-neutral colors relate to each other.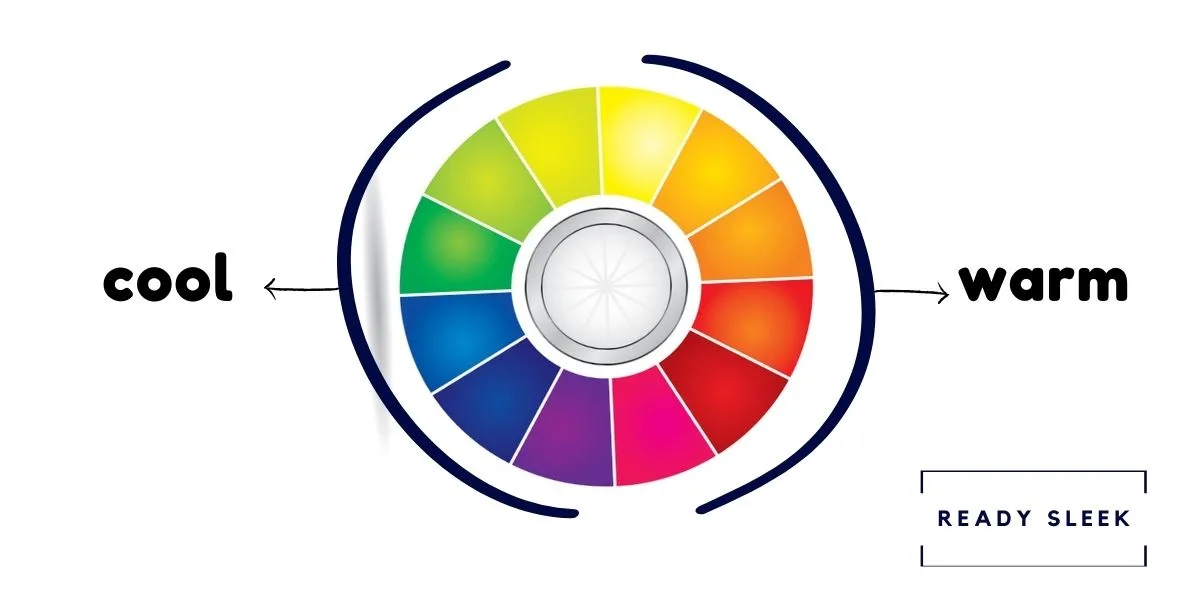 It can be split into two halves – "cool" and "warm" colors.
"Warm" colors include reds, yellows, and oranges.
"Cool" colors include blues, greens, and oranges.
Knowing that a navy blazer could be considered a "cool" color is helpful. However, navy is so dark and muted that it's often considered a neutral in any case.
You could pair a navy blazer with both warm and cool colored pants pretty easily because of this.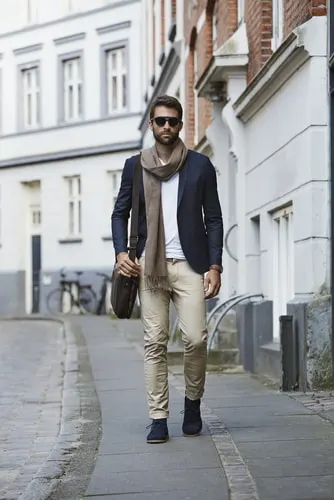 Which one you choose really depends on the aesthetic you want. Warm colors tend to be more summer-friendly and vibrant, while cool colors tend to be more laid-back.
Navy Blazer And Pants Combinations
When it comes to a navy blazer, there are lots of potential pants combos you could try out.
The ones below are split according to the type of color or color scheme.
The first two are the most "formal" looking, while the others are more casual.
Monochromatic
Example: Navy Blue Blazer With Light Blue Pants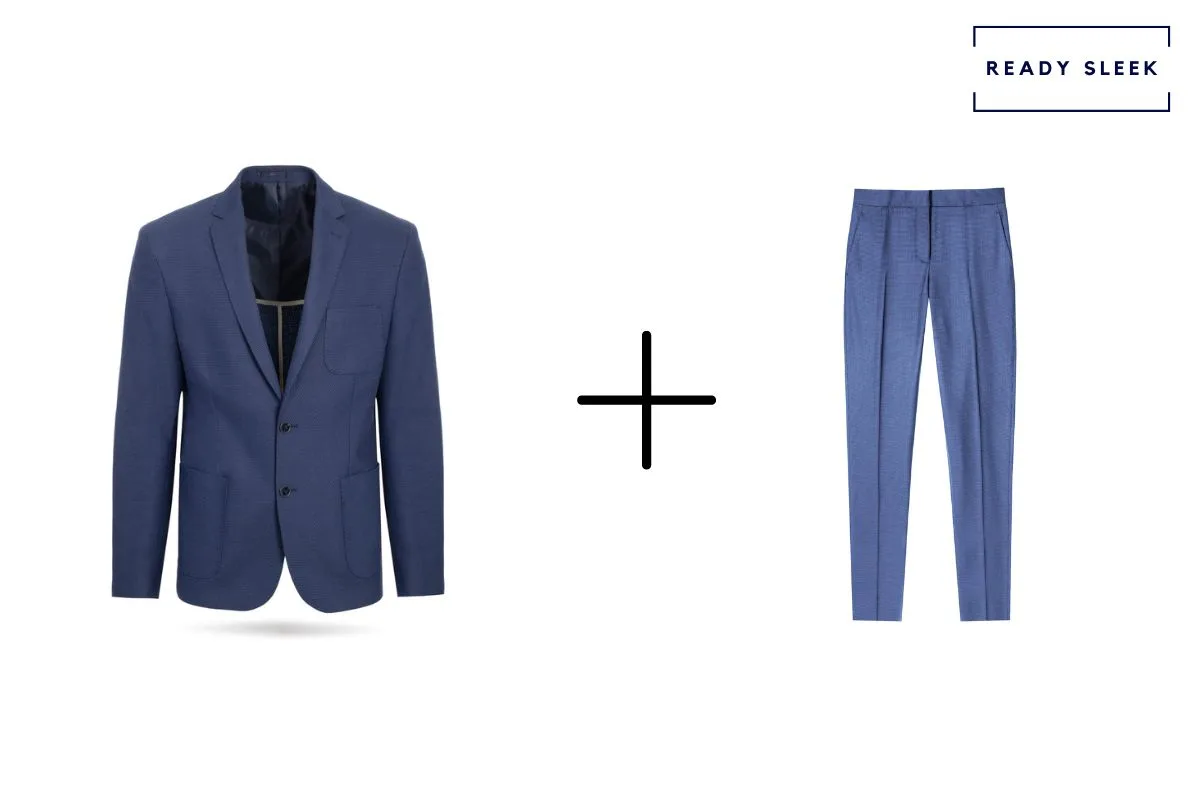 A monochromatic color scheme would be one where you've got different shades of blue.
In other words, a navy blazer, with a pair of pants in a lighter shade of blue.
While wearing a navy blazer with a navy pair of pants (or another dark shade of blue) would be a bad idea (as explained earlier), light blue pants would work well.
A light blue pair of pants is so noticeably different from the navy blazer that no one would ever think you were trying to pass it off as a 2-piece suit.
It's clearly a non-matching blazer and pants combo and not a suit.
The more different the shade of the blue pants is from the navy blue suit, the better.
Navy Blazer With Neutral Pants
Example: Navy Blazer With Black, Grey, Or White Pants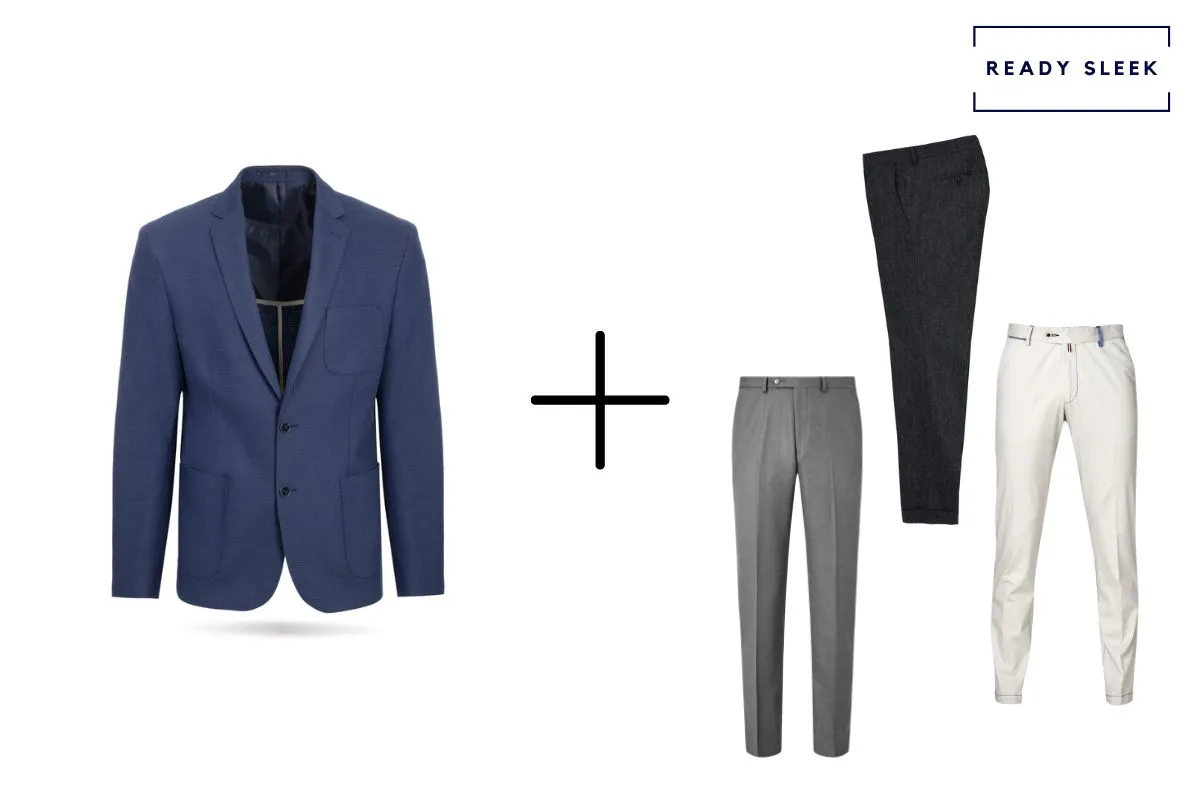 Neutral colors don't appear on the color wheel. The main neutrals are black, grey, and white. However, you can include colors such as beige, off-white, and cream in this category as well.
Neutrals are great because of how easy they are to pair with other items.
In addition, neutral-colored clothing will always look more formal than non-neutral-colored clothing.
If you're looking to dress up (eg. in formal or business-casual settings), neutrals are a great way to go.
The image above shows a navy blazer next to a few neutral-colored pairs of pants.
As you can see, no matter which one you pair it with, it'll work pretty effortlessly.
Stick to dark neutrals such as black or charcoal grey for formal settings.
With business-casual or smart-casual settings, you've got more freedom to go for lighter neutrals as well if you wanted to.
Navy Blazer With Warm-Colored Pants
Example: Navy Blazer With Khaki Or Maroon Pants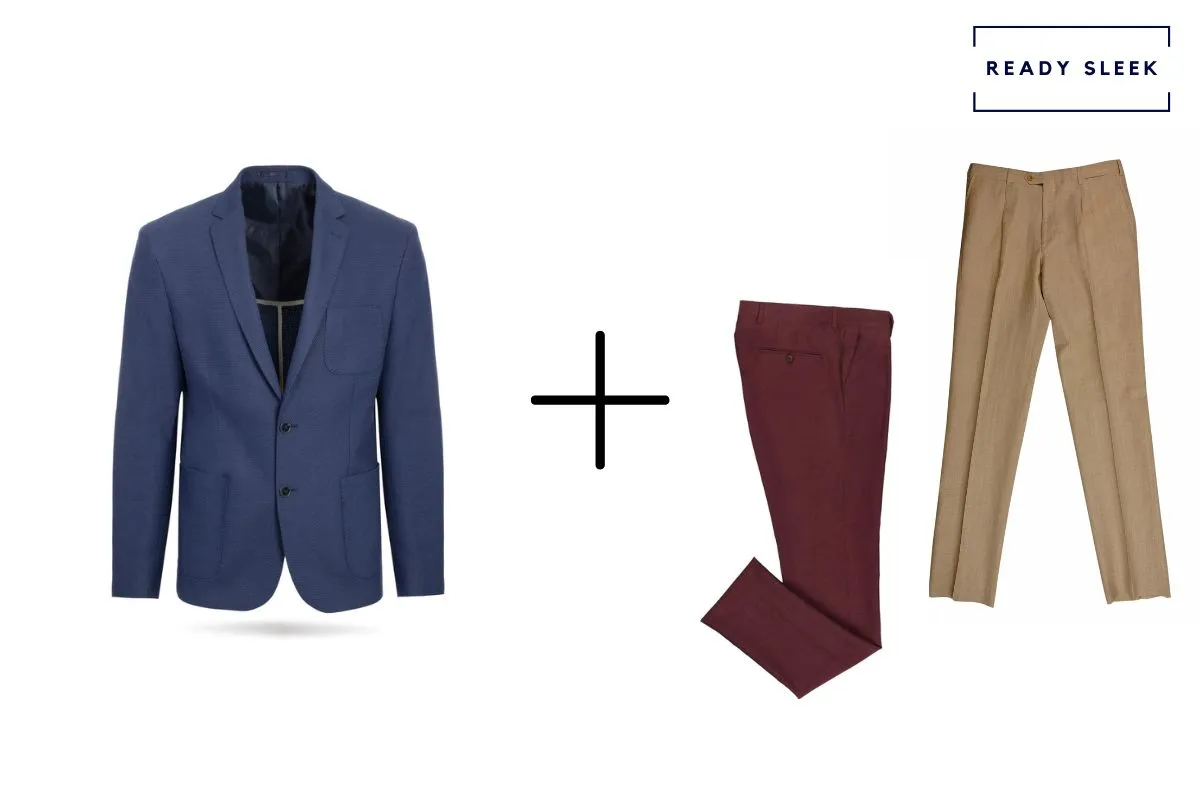 Navy blazers also pair well with "warm" colored pants in shades of red, yellow, and orange.
As you can see, the outcome is a lot more attention-grabbing and eye-catching than pairing the navy blazer with neutral-colored pants.
While it can work very well, the combination should really only be worn in smart-casual settings and nothing more formal than that.
Avoid it in business-casual and formal settings.
If you wanted to go for a bright and bold shade of one of these colors, you could.
A navy blazer would coordinate well with scarlet red or mustard yellow pants if you were looking for a particularly casual and attention-grabbing look.
However, if you wanted to keep things more subtle, stick to dark and muted shades of these warm colors.
For example, wear a navy blazer with maroon, bronze, or burnt orange pants instead.
It'll give you the vibrance of a warm color while remaining muted enough to keep it subtle.
Navy Blazer With Cool-Colored Pants
Example: Navy Blazer With Green Pants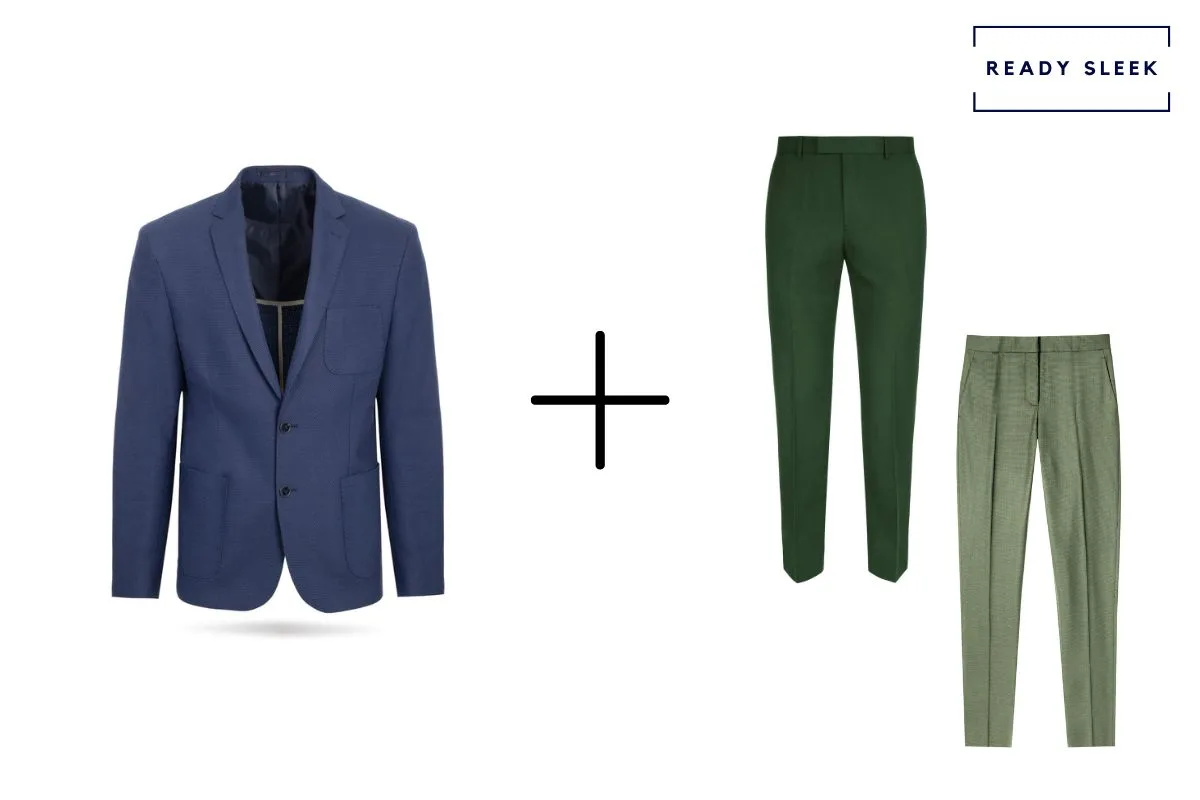 "Cool" colors are blues, greens, and purples – as you can see from the color wheel above.
As I mentioned earlier, while navy is technically a cool color, it's often considered a neutral in men's style.
While navy blazers work perfectly well with pants in purple and blue, they look especially sharp with green pants.
The navy and green blend has a great sense of balance, but the combo does tend to work better when the pants are in a dark and muted shade of green.
Hunter green and forest green are a couple of favorites.
However, if you were going to go for a lighter shade of green, try to keep it muted (eg. olive or sage).
Navy Blazer With Complementary Pants
Example: Navy Blazer With Orange Pants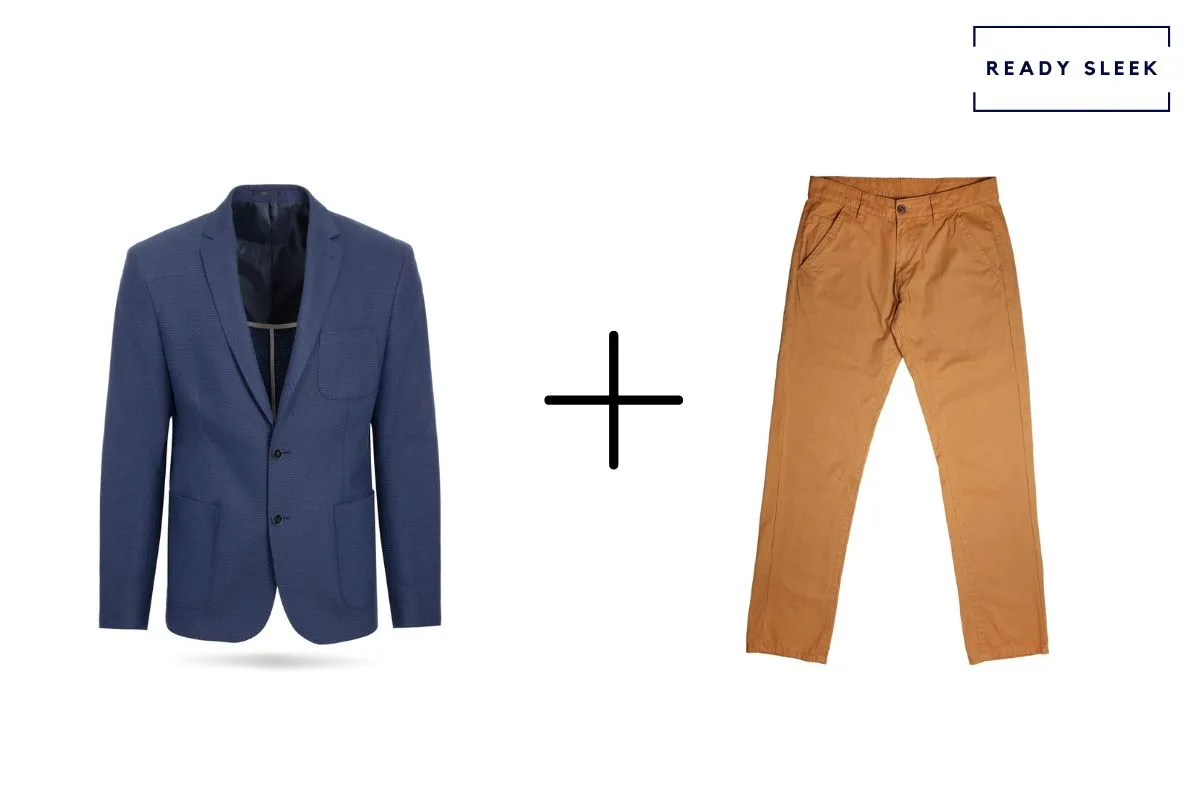 Blue is complementary to orange – they lie directly opposite each other on the color wheel.
Complementary color pairings are high-contrast. Wearing them together works very well, but the contrast is eye-catching and casual.
Because of this, in many ways, wearing a navy blazer with a pair of orange pants is about as casual as you can make this combo.
Once again, the trick to making it work is to keep the shade of the orange pants dark and muted. Burnt orange is ideal.
You'll still get the sharp and attention-grabbing contrast between the blue and the orange, but the contrast won't be too jarring.
At the end of the day, a blazer is a pretty formal item to wear. You'll want to make sure the colors you choose are dressy enough for the look to make sense.
For example, a fluorescent, light orange pair of pants worn with a blazer is likely to lead to a formality mismatch. It would just look odd and eccentric.
Conclusion
Hopefully, that was everything you could ever want to know about color-matching navy blazers with pants.
While you've got plenty of options, sticking to a few basic principles should ensure you choose the right pairing.
Neutral-colored pants work better for formal and business-casual settings, while the more exciting non-neutrals can be worn in smart-casual settings.
Enjoy.
Ready Sleek founder. Obsessed with casual style and the minimalist approach to building a highly functional wardrobe. Also a fan of classic, vintage hairstyles.