A black blazer can be put to excellent use in a variety of different settings. However, when wearing one, choosing the perfect pair of pants can sometimes be a little frustrating.
So, here's a list of some great pants colors you could easily wear with a black blazer:
Khaki
Grey
Blue
Beige
White
Brown
Navy
You aren't short of options.
But there's a very high chance that one or two of those pants colors would be more appropriate to wear in your specific circumstances than the others.
After going through a couple of factors to consider before choosing the right one, we'll run through those color combinations in more detail (with pictures).
Let's get to it.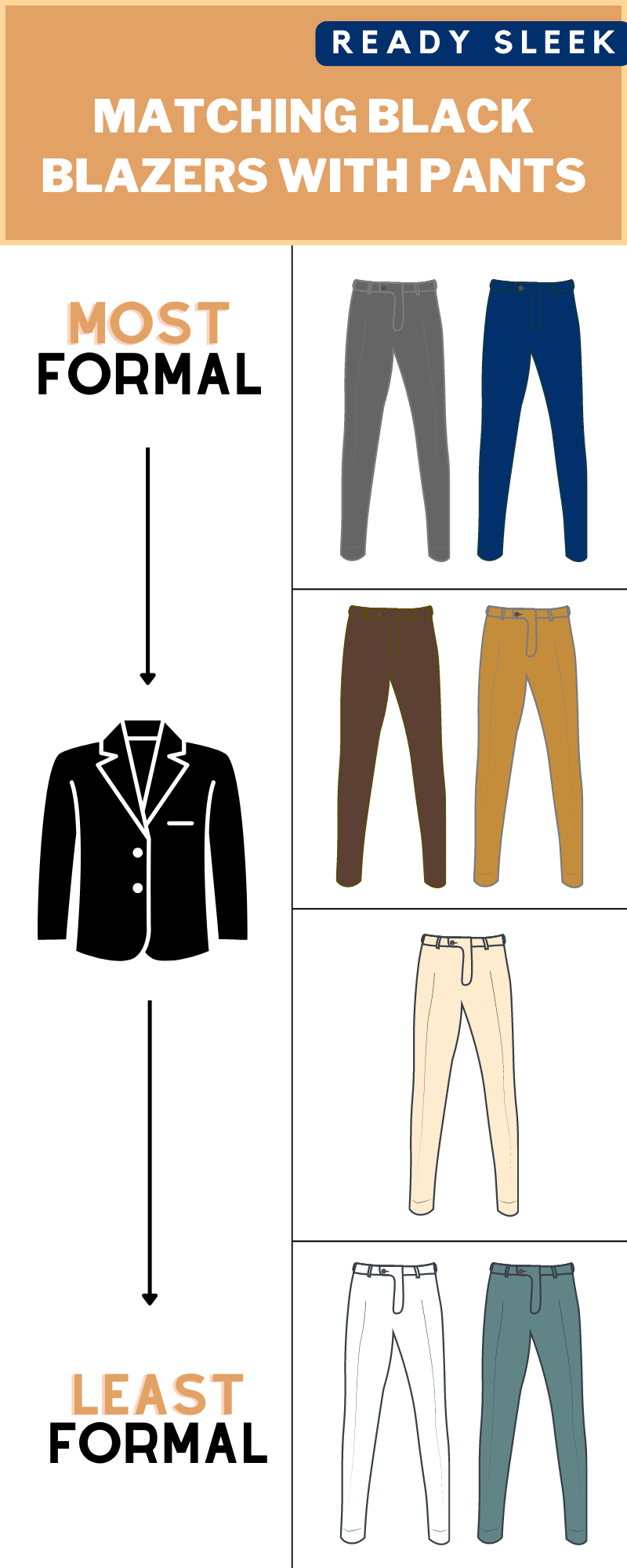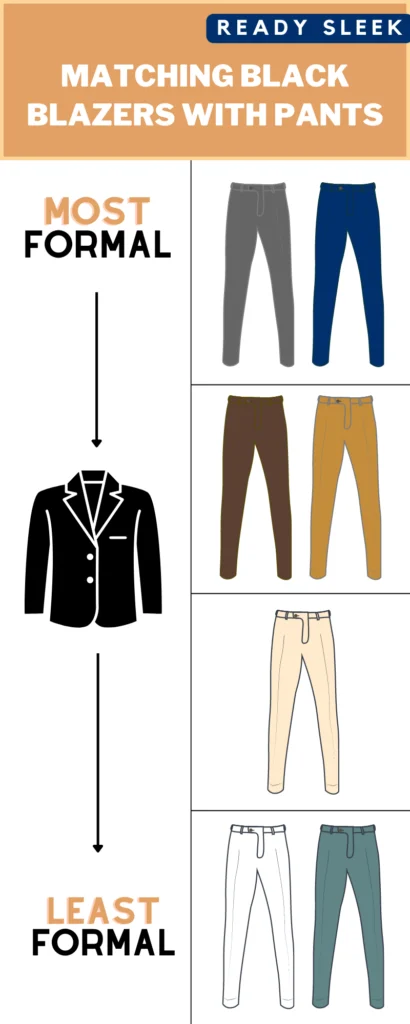 How To Coordinate Pants With Black Blazers
Sticking to a couple of simple tips should see you through no matter what you're dressing for. Consider them both before putting your outfit together.
Remember, none of these unmatched blazer and pants combinations would be suitable for formal or business-professional settings. A 2-piece suit would usually be required here.
But for smart-casual and business-casual settings, a black blazer and pants combination could be incredibly effective.
1. Neutrals Are Easiest
While a black blazer is neutral enough to pair with any pants color you can think of, you'll notice how the list above consisted mainly of neutral or near-neutral colors.
The reason for this is that they're generally the easiest to make work.
Ultimately, a black blazer has a pretty dressy and formal appearance to it. Because of this, trying to pair it with a vivid and striking pair of pants in orange or scarlet red may come across as a little awkward.
Sure, it'll coordinate effortlessly, but there may be a bit of a formality mismatch.
Going for neutral colors such as grey would be a much better option.
In addition, you could consider a "menswear neutral" – colors that aren't technically neutral but are often considered as such due to how easy they are to combine with other colors.
Examples include navy, khaki, brown, or beige.
If you did want a more vivid pants color, consider a dark and muted shade of a vivid color.
So, when wearing a black blazer, consider burgundy or maroon pants instead of scarlet.
Consider olive or sage green pants instead of mint green.
And so on.
2. Contrast Works Well In Casual Settings
A black blazer is as dark as you can get. When choosing your pants, consider how much contrast you want between those pants and the black blazer.
The main factor to consider is the contrast in brightness. In other words, the difference between them in terms of light vs dark.
A black blazer worn with a light pair of pants such as beige, khaki, or white will lead to a high-contrast and eye-catching combination.
It'll generally look more casual.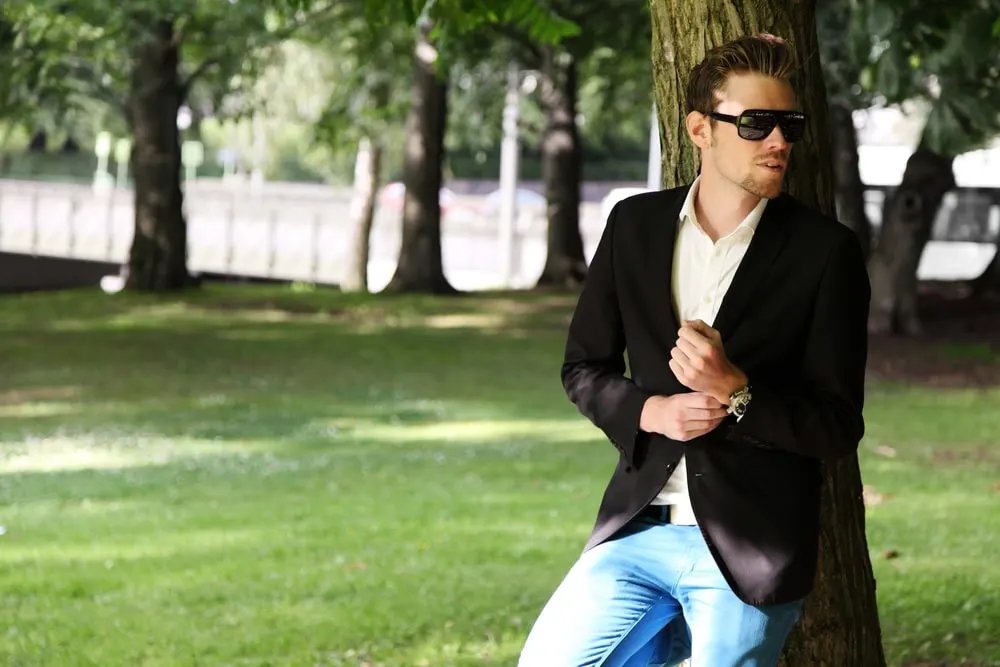 On the other hand, a black blazer worn with a dark pair of pants such as dark grey or navy would lead to a low-contrast, subtle, and understated combination.
It'll generally look more formal.
So, the dress code and the setting you're dressing for are important to take into account when making your decision.
7 Black Blazer And Pants Combinations
Here are those black blazer and pants combos listed and described in more detail.
Together with the tips you've just learned, these pictures and descriptions should help you choose the perfect one.
Black Blazer With Khaki Pants
A black blazer can be worn with khaki pants in business-casual and smart-casual settings. Given the level of contrast, it's usually best to anchor the outfit with a neutral-colored shirt.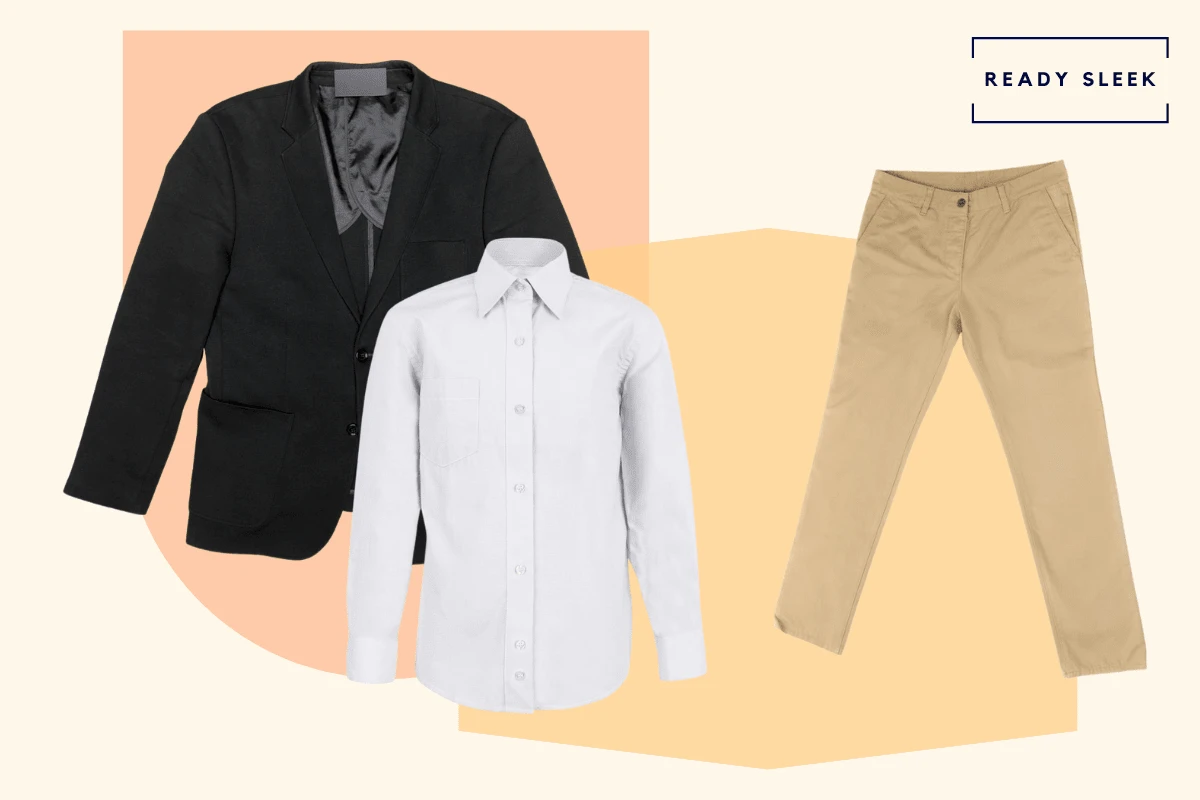 While a high-contrast combination such as this wouldn't usually be suitable to wear in business-casual settings, khakis do historically lend themselves very well to this dress code.
So much so, that it should be pretty easy to pull off here with minimal risk of underdressing.
Having said this, it would be equally suited to more casual settings, if not more so.
Black Blazer With Grey Pants
A black blazer can easily be worn with grey pants, with dark grey pants being more suitable in dressier business-casual settings. The monochrome and grayscale combination will coordinate seamlessly.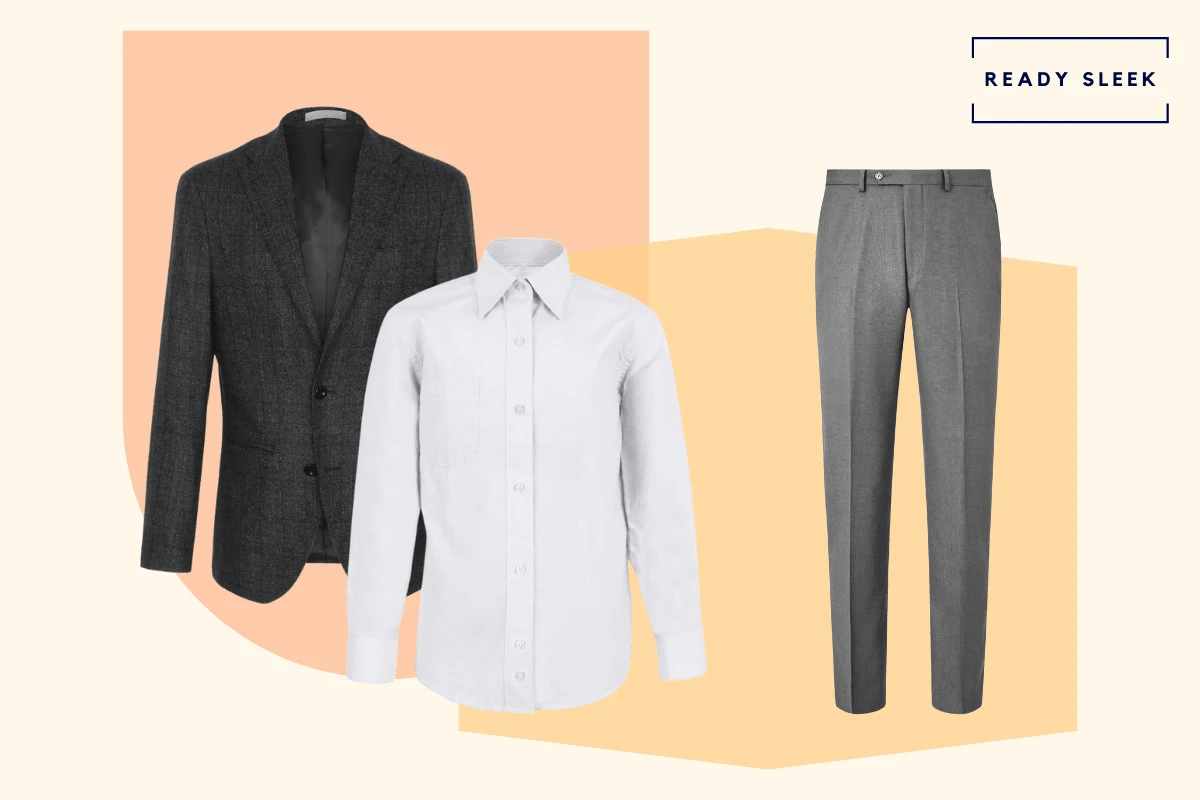 Light grey pants worn with a black blazer would lead to more contrast and a more casual appearance as a result.
If you did want to add a pop of color to an otherwise extremely neutral outfit, consider doing so with your shirt.
In business-casual settings, feel free to go for a light blue or light pink dress shirt to make the outfit appear more visually interesting.
Cream tones can also work well, adding a warm touch to the greyscale blazer and pants pairing.
When dressing down, you could consider a more vivid shirt color, but try to keep it dark and muted. A maroon or navy shirt could work well here.
Black Blazer With Blue Pants
A black blazer can be worn with blue pants in smart-casual settings. The lighter the shade of the blue pants, the more casual they'll generally come across.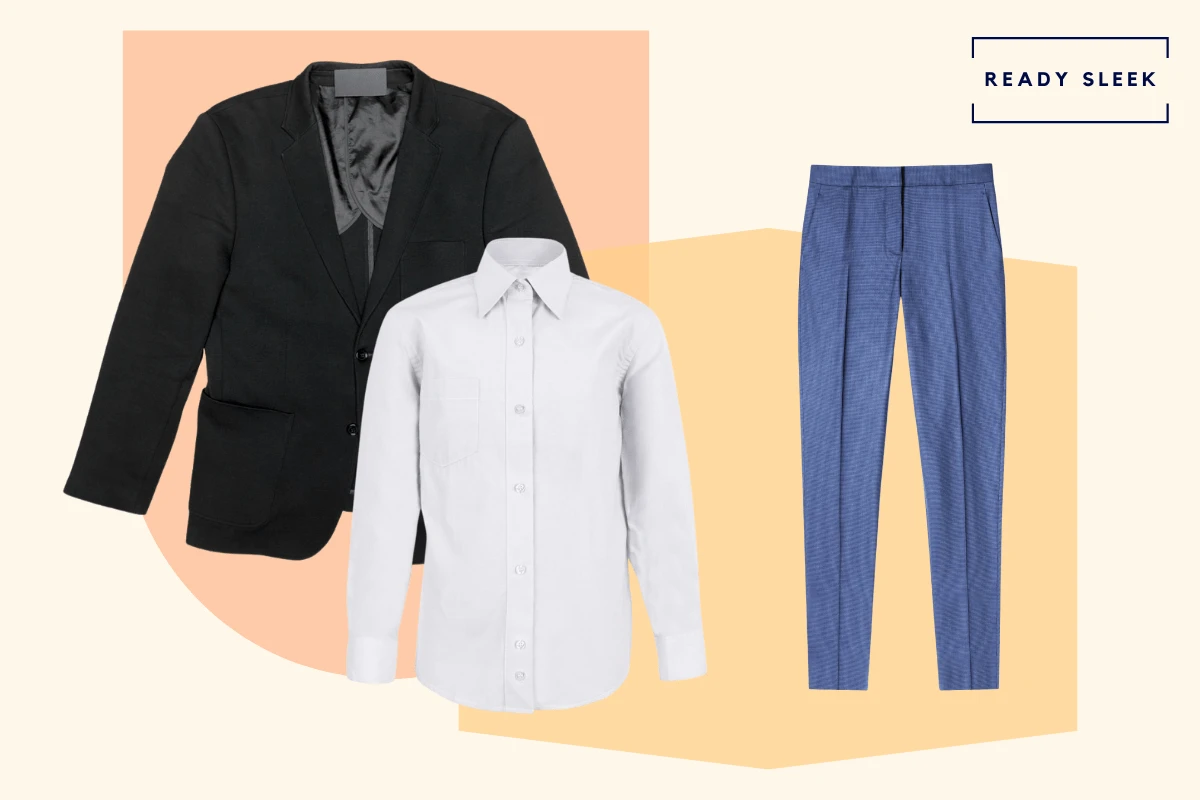 Here, we're talking about light and medium shades of blue (eg. aquamarine, admiral, cyan) as opposed to dark shades such as navy.
We'll be going through navy pants later on as they'll generally look very different when worn with a black blazer.
When it comes to footwear, you've got several options. You could keep things traditional and go for a pair of black or dark brown dress shoes.
They'll definitely coordinate with both the black blazer and the blue pants.
But if you were really going casual, consider a pair of minimalist all-white leather low-top sneakers.
Finally, given how vivid a pair of blue pants can come across, do try to stick to a neutral shirt color no matter how casual or not-so-casual you may be dressing.
Ultimately, you don't want to pile in too many colors into your outfit. Let the blue pants be the "pop" of color in your ensemble and keep your other items neutral if possible.
Black Blazer With Beige Pants
A black blazer can be worn with beige pants in smart-casual settings, but the high level of contrast would usually make it inappropriate to wear in dressier settings such as business-casual environments.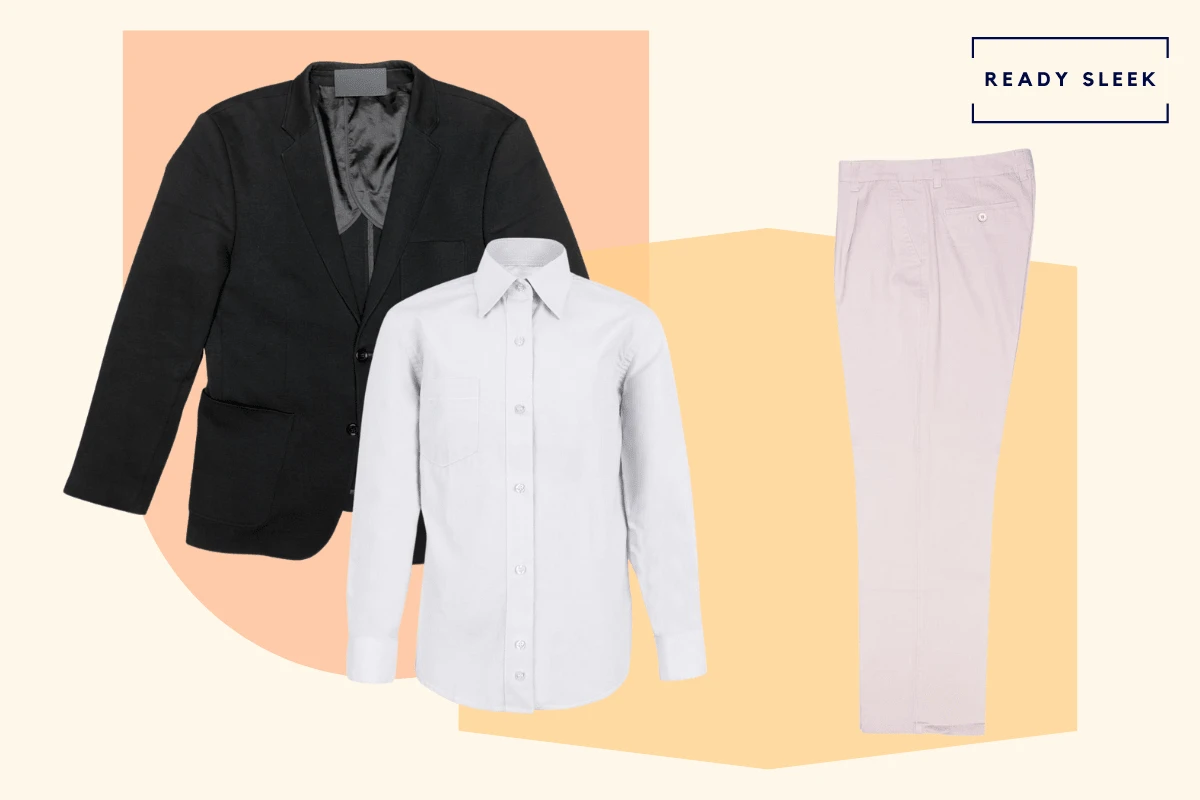 Beige is a color that's difficult to describe but is usually referred to as a pale, greyish shade of yellow.
Ultimately, no matter what color is being referred to, you can rest assured that it'll be incredibly light and will lead to a very high level of contrast when wearing a black blazer.
It's a very neutral color, however, and will lead to a neutral blazer and pants combination over which you can add pops of color (eg. with your shirt) if you want to.
But the contrast does make it striking and eye-catching, so much so that you should usually avoid it in business-casual settings.
Unlike khakis, beige pants don't typically have that "professional" edge to them. The high-contrast aesthetic would usually look out of place in this case.
Black Blazer With White Pants
A black blazer and white pants combination can be worn in smart-casual settings where there's minimal risk of underdressing. It's a very high-contrast combination that will usually come across as bold and eye-catching.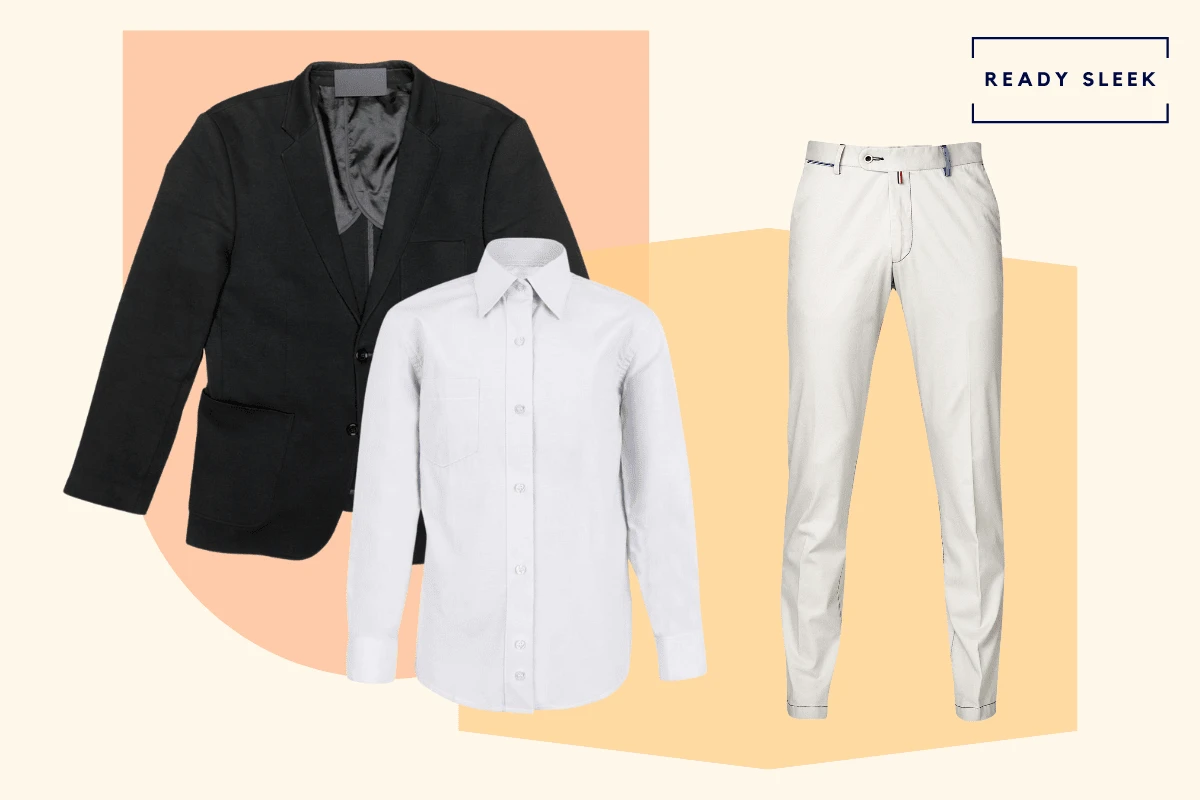 It can look great but does need to be worn in the right settings. Go for darker alternatives if you're concerned about underdressing.
The combination works especially well for summer smart-casual events, with the white pants feeling right at home here.
You could wear the black blazer over a casual T-shirt or polo if you wanted to. Alternatively, you could wear it over a button-up shirt if you were looking to dress up a little more.
Shirts in cream tones would work exceptionally well with the white pants, but you could go for a more vivid and non-neutral shirt color if you wanted to break up the neutrality of the outfit.
Black Blazer With Brown Pants
Brown pants can be worn with a black blazer in smart-casual and the more relaxed business-casual settings. Dark brown pants would be more appropriate if you felt as though there was a risk of underdressing.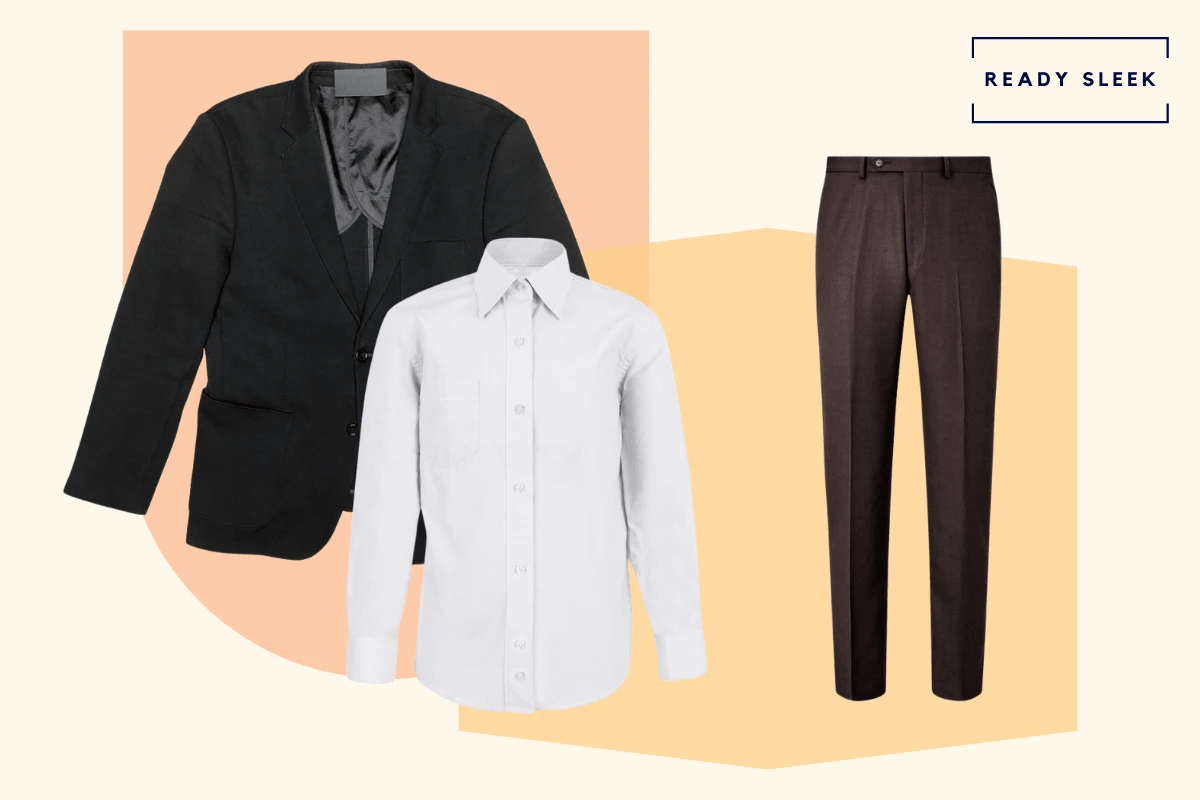 Brown pants can look quite formal, especially those in a dark shade of brown. Brown is also a "menswear neutral" that's easy to combine with other colors.
Having said that, brown pants will always look more casual than black, grey, or navy alternatives.
Bear this in mind, but don't be afraid to combine the two.
Contrary to an old, yet popular belief, brown will coordinate with black and there's absolutely no faux pas in doing so.
Black Blazer With Navy Pants
Navy pants look great when worn with a black blazer, with the dark aesthetic of the combination lending itself well to dressy settings. It can be worn in both smart-casual and business-casual environments.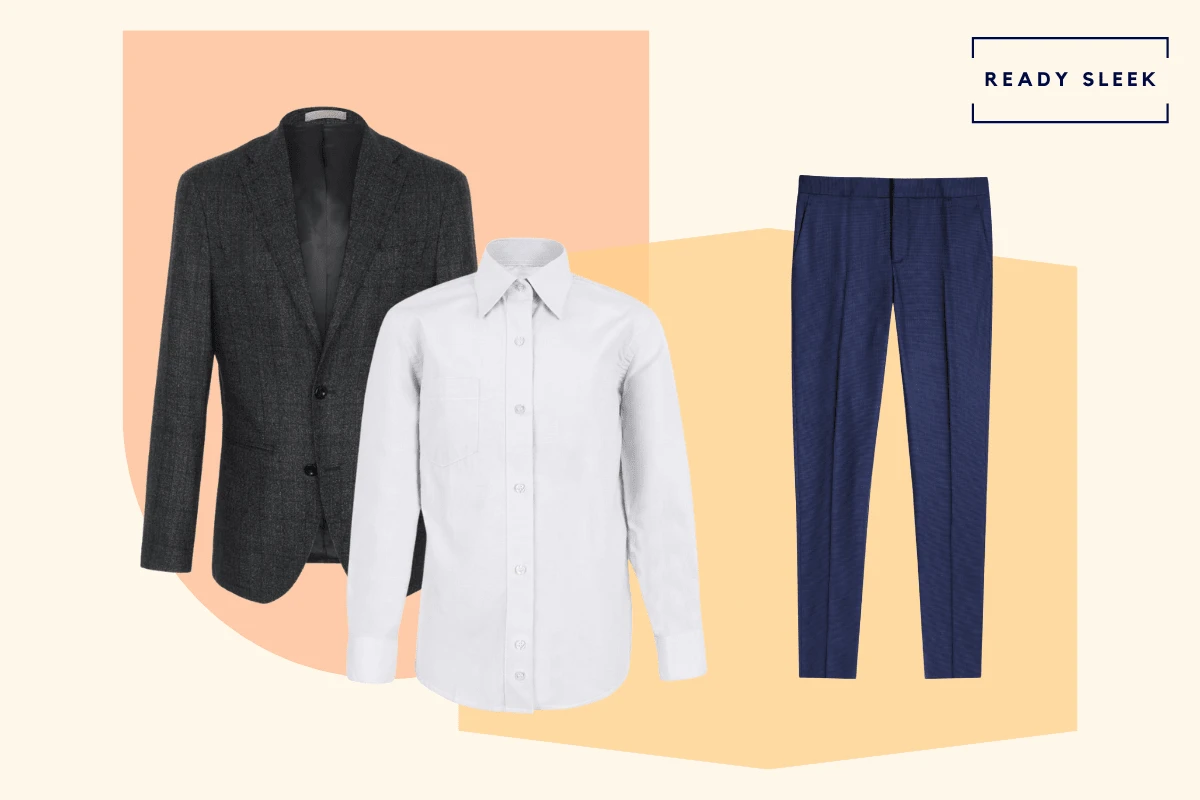 Navy and black to produce a dark and neutral pairing.
The great thing about wearing navy pants is that they're dressy enough for business-casual events while being a little more relaxed and eye-catching than the traditional grey.
It adds color but does so in a very subtle and understated way.
While navy is a menswear neutral, it does have very noticeable "cool" undertones that add vibrance to the neutral black blazer.
Conclusion
A black blazer gives you many, many options when it comes to the color of your pants.
However, as you've now seen, certain factors will usually make one or two pants colors more appropriate than the others for your specific circumstances.
Dark and neutral-colored pants will usually have a dressier appearance when wearing a black blazer, while lighter and less neutral colors will look more casual.
Enjoy.
Ready Sleek founder. Obsessed with casual style and the minimalist approach to building a highly functional wardrobe. Also a fan of classic, vintage hairstyles.