Green pants can be a subtle way to stand out in smart-casual environments. However, they can sometimes be tricky to coordinate with other items, with blazers being no exception.
So, are some great blazer colors you can wear with green pants:
Blue
Navy
Black
Grey
Brown
Tan
White
While that list is useful, you'll most likely need more.
First, we'll go through a couple of essential tips for coordinating these two items in the best way possible.
Then, we'll run through that list of blazer colors in more detail (with pictures to help you choose the right one).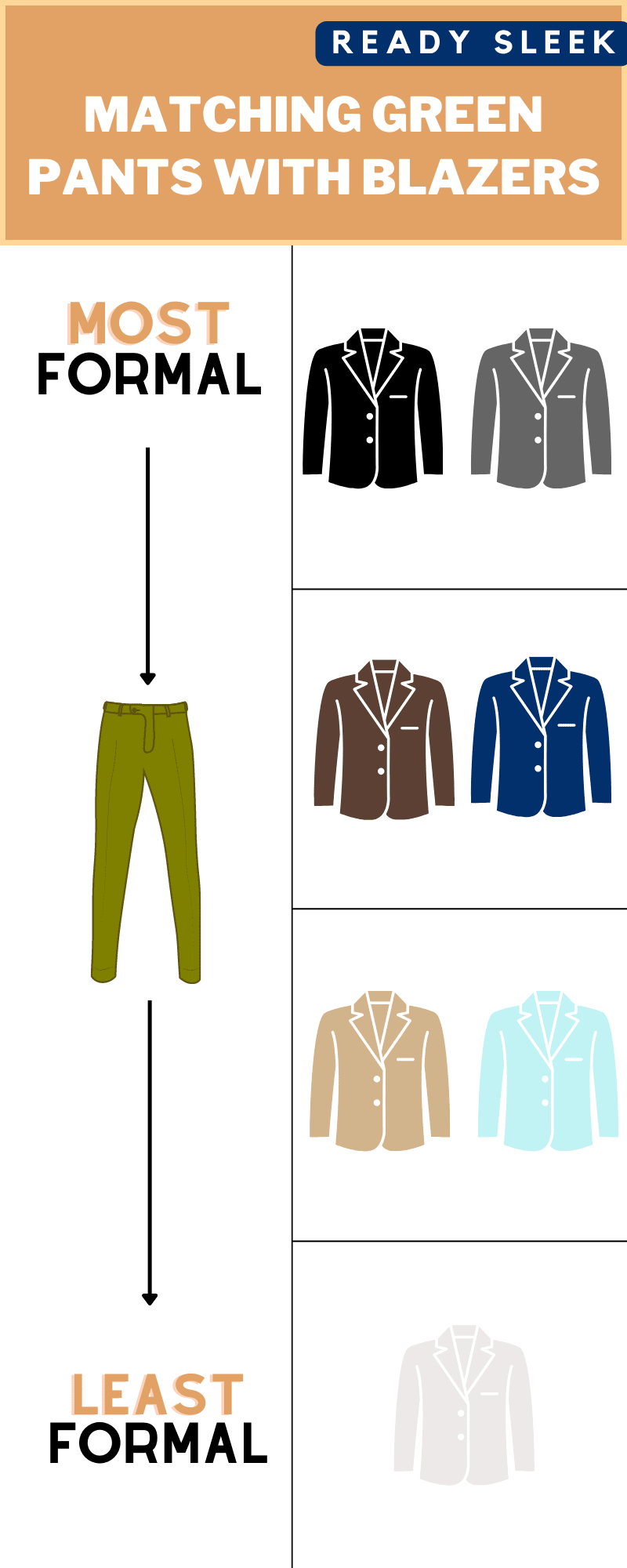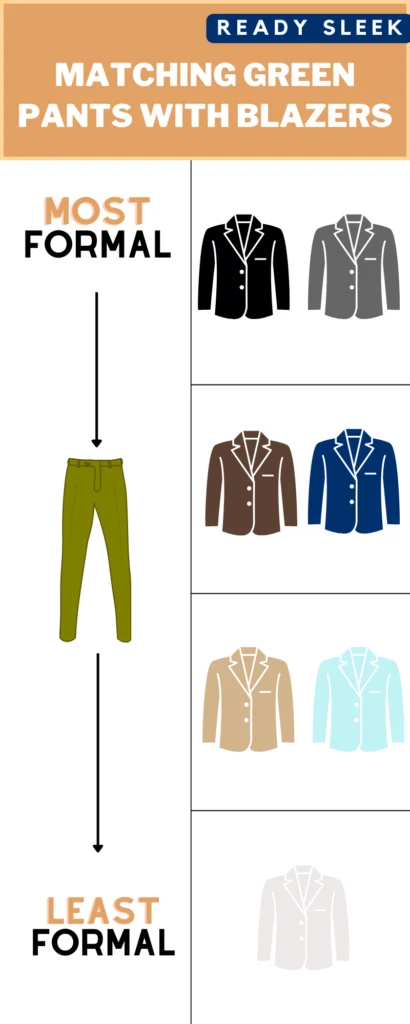 How To Color Coordinate Blazers With Green Pants
Consider both of these tips before putting your outfit together.
1. Always Consider The Dress Code
The dress code and the setting you're dressing for should influence the choice of your blazer color when wearing black pants.
In dressier settings, consider a dark and neutral blazer color such as charcoal, navy, black, or dark brown.
In more casual settings, lighter or non-neutral colored blazers can also be considered. For example, white, light brown, light blue, or light grey.
Firstly, a blazer and green pants combination should only ever be worn in smart-casual settings. Avoid it in formal, business-professional, and even business-casual settings.
A 2-piece suit would usually be required in formal/professional environments, while green pants of any variety would usually be too casual to wear to business-casual events.
The combination has a great laid-back aesthetic to it, perfect for smart-casual settings where you're looking to dress up but there isn't much of a risk of underdressing.
It's no secret that "smart-casual" can mean a bunch of different things. Consider it a spectrum more than a specific style of dress.
Some of these smart-casual settings will be dressier, while others will be casual. You can usually rest assured that a blazer + green pants combo would be suitable in any of them.
But consider just how dressy the smart-casual event is before you attend. If you feel as though there's a risk of underdressing, consider a dark and neutral blazer color.
2. Consider The Shade Of The Green Pants
In general, pants in muted shades of green are the easiest to coordinate with blazers.
Examples would include olive, sage, forest, or hunter green. Note that these are relatively dark and muted shades.
They're easy to coordinate with other colors, more so than more vivid shades such as mint or chartreuse would be.
So, try to keep them muted.
The next question would be how much contrast you want between these dark/muted green pants and the blazer you're wearing.
Ultimately, a light-colored blazer (eg. light grey, white, light blue) would lead to a high-contrast pairing when wearing dark green pants.
The same high-contrast aesthetic would be achieved by pairing a dark-colored blazer with a pair of light green pants.
High-contrast combos are generally more casual and attention-grabbing.
A dark-colored blazer (eg. black, charcoal) + dark green pants would lead to a more subtle and understated low-contrast pairing in comparison.
If you're looking for a bolder and more striking (and ultimately more casual) appearance, consider a high-contrast combo.
If, on the other hand, you want to keep things subtle (and relatively dressy), a low-contrast combination would usually be best.
7 Blazer Colors You Can Wear With Green Pants
Here are those blazer colors described in more detail, with pictures of them next to green pants to help you choose.
Keep the previous tips in mind. Consider how dressy or not-so-dressy they look, taking the amount of contrast produced by combining the two items into account.
Remember, these color combinations will work no matter what style your green pants are. Dress pants, chinos, smart jeans – it'll all work.
Blue Blazer With Green Pants
A blue blazer can be worn with green pants in casual and smart-casual settings. The lighter the shade of blue, the more casual and eye-catching the combination is likely to come across.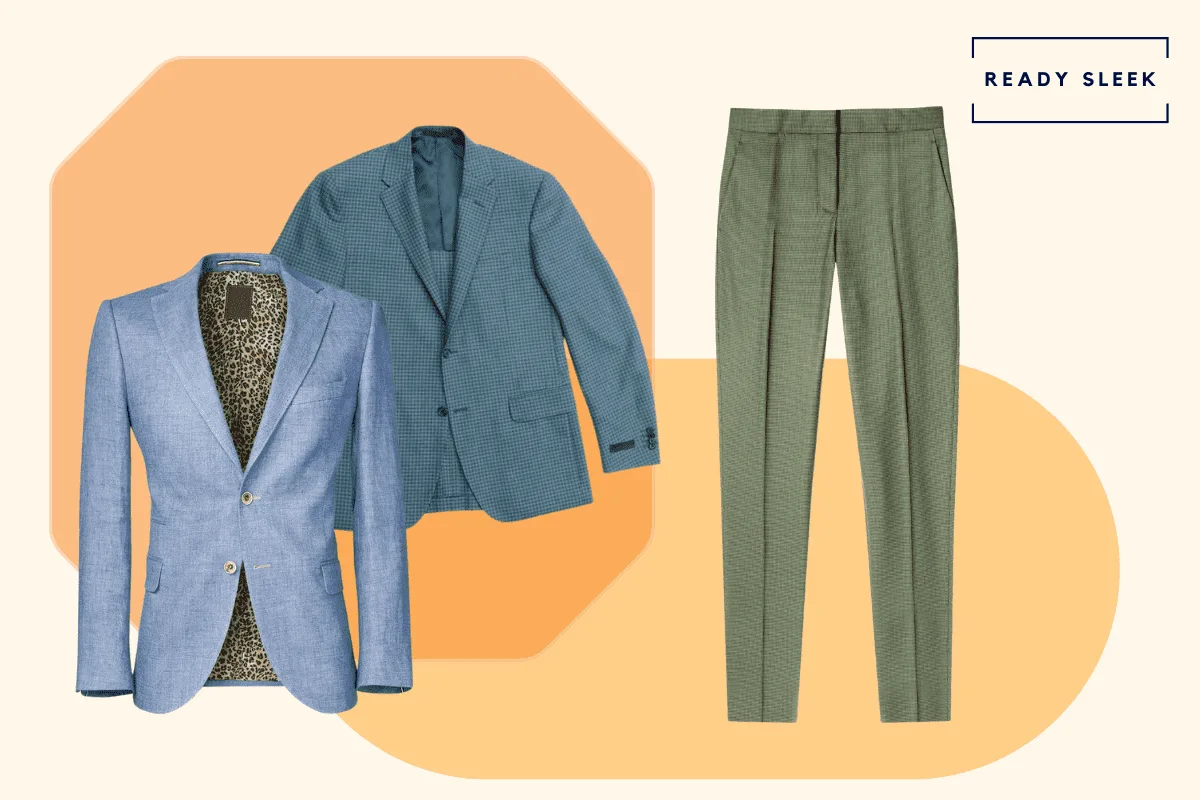 Here, we're talking about light and medium shades of blue such as aquamarine, steel, cyan, teal, and royal blue.
When wearing green pants, they'll generally look more casual than darker alternatives such as navy and midnight blue (see the next example).
But pairing a blue blazer with green pants is often very effective.
Ultimately, you're combining two "cool" colors.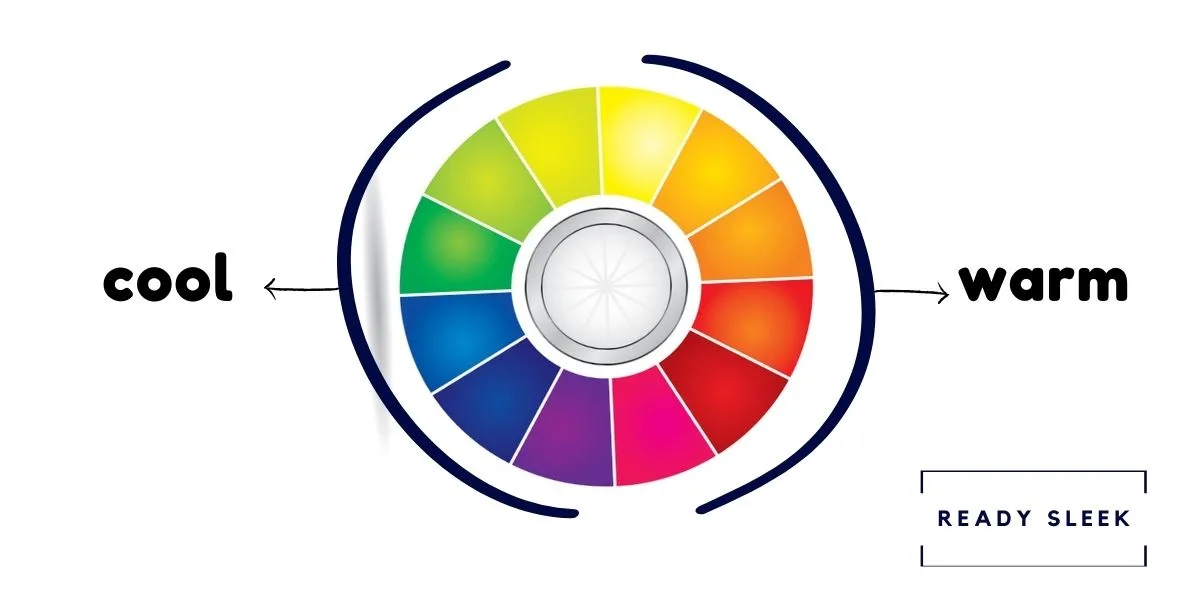 They lie next to each other on the "cool" half of the color wheel and usually combine pretty seamlessly as a result.
Pairing cool colors is relatively easy and leads to a laid-back and relaxed aesthetic, often working especially well during the winter and fall months.
However, given that both colors are quite vivid, you'll want to keep the rest of your outfit neutral.
So, it's definitely worth sticking to a neutral shirt color – white would be ideal.
Navy Blazer With Green Pants
A navy blazer can be worn with green pants in smart-casual settings. The darker the shade of the green pants, the dressier the pairing is likely to look. Shades such as forest and hunter green are ideal.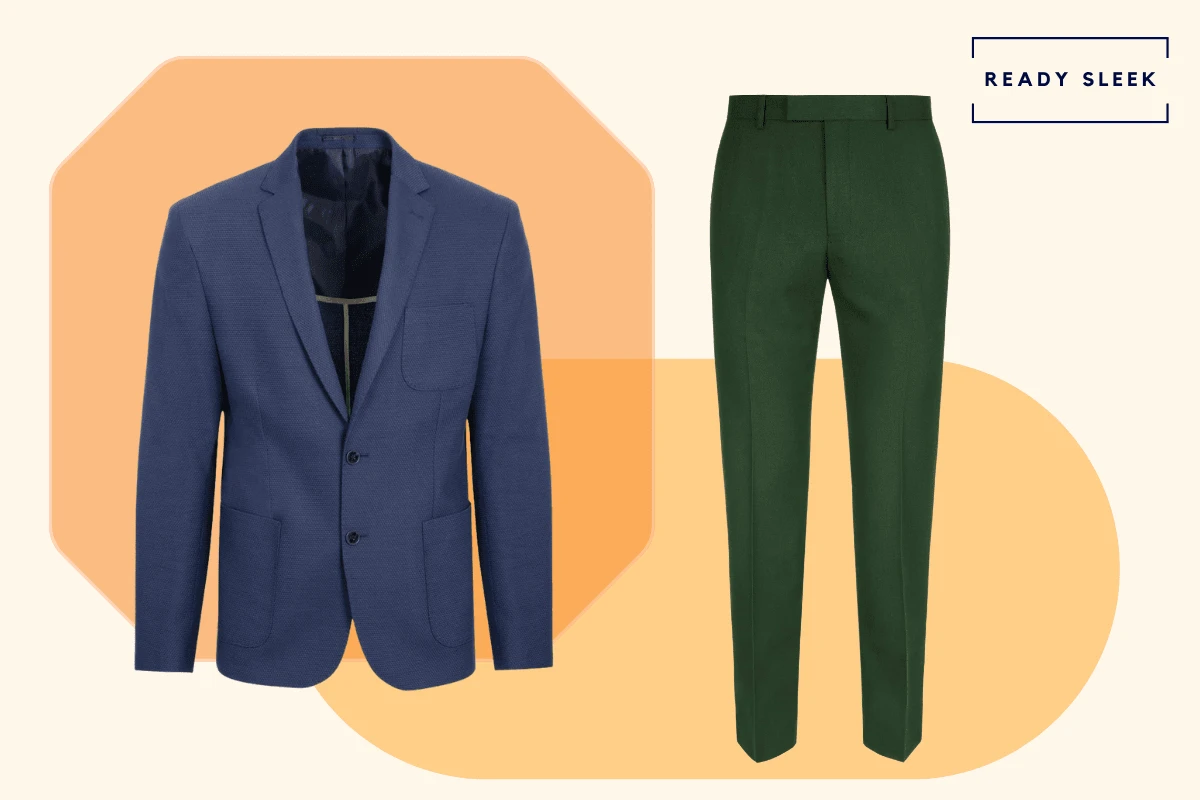 Navy blazers look great with green pants.
Much like lighter shades of blue, you benefit by pairing two "cool" colors with each other.
But you also have the benefit of navy being a naturally dressy and formal-looking color due to how dark and muted it is.
So, it makes for a great alternative to a black or charcoal blazer in relatively dressy smart-casual settings.
Once again, you'll usually want to keep things simple and subtle with your choice of shirt color. White, off-white, or cream tones are usually best.
Black Blazer With Green Pants
A black blazer pairs exceptionally well with green pants, with dark green pants (eg. sage, forest, hunter green) usually working best.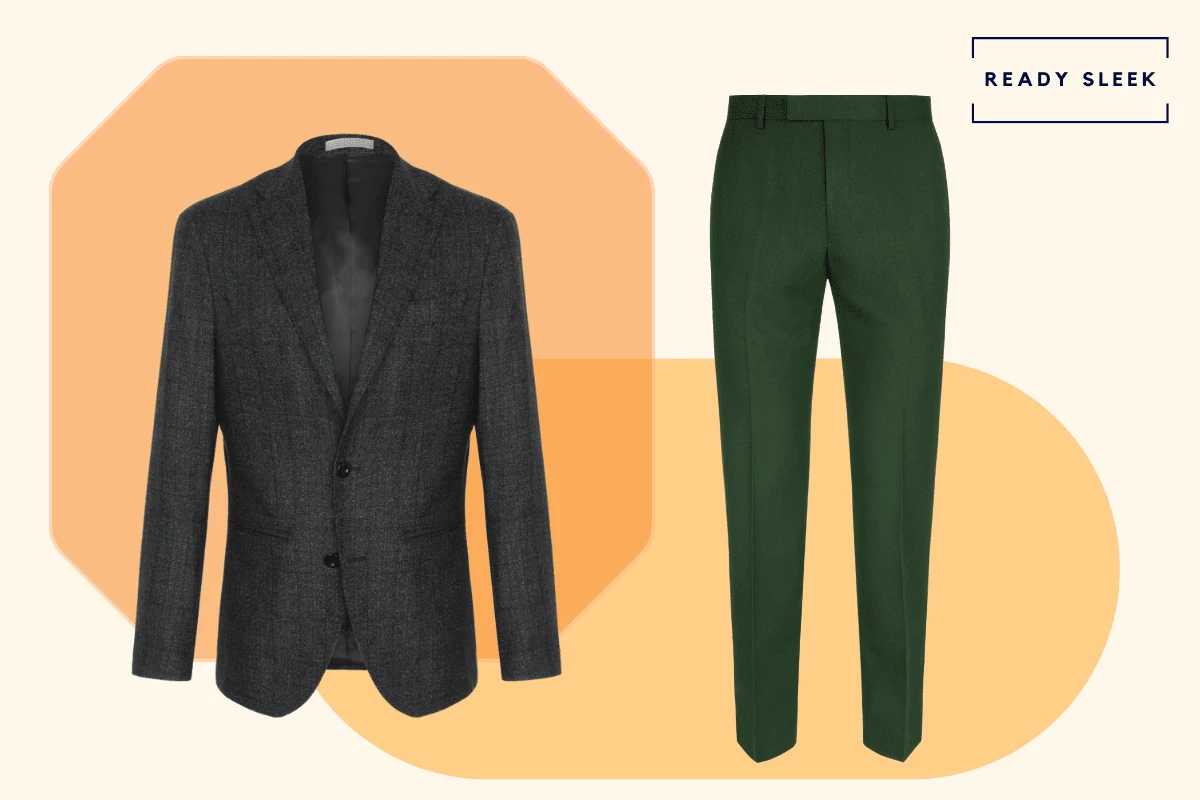 Much like navy, it's one of the dressiest blazer colors on this list. It's a good option if you're worried there may be a risk of underdressing at this smart-casual event.
When dressing this combination up, dark green pants tend to look better as they sync well with the dark tone of the black blazer.
Black is also a traditionally formal color and so pairing it with a light, vivid, and casual shade of green pants may lead to a bit of a formality mismatch.
When it comes to footwear, dress shoes usually work best as they sync better with the dressy nature of the black blazer.
Black dress shoes would add some balance to the outfit by coordinating with the blazer. However, brown would make for a great alternative and would add some contrast.
In addition, brown and green work very well together, producing a nice and earthy aesthetic.
Grey Blazer With Green Pants
A grey blazer can easily be worn with grey pants. Consider a dark grey blazer in dressier settings, while reserving light grey alternatives for more casual ones.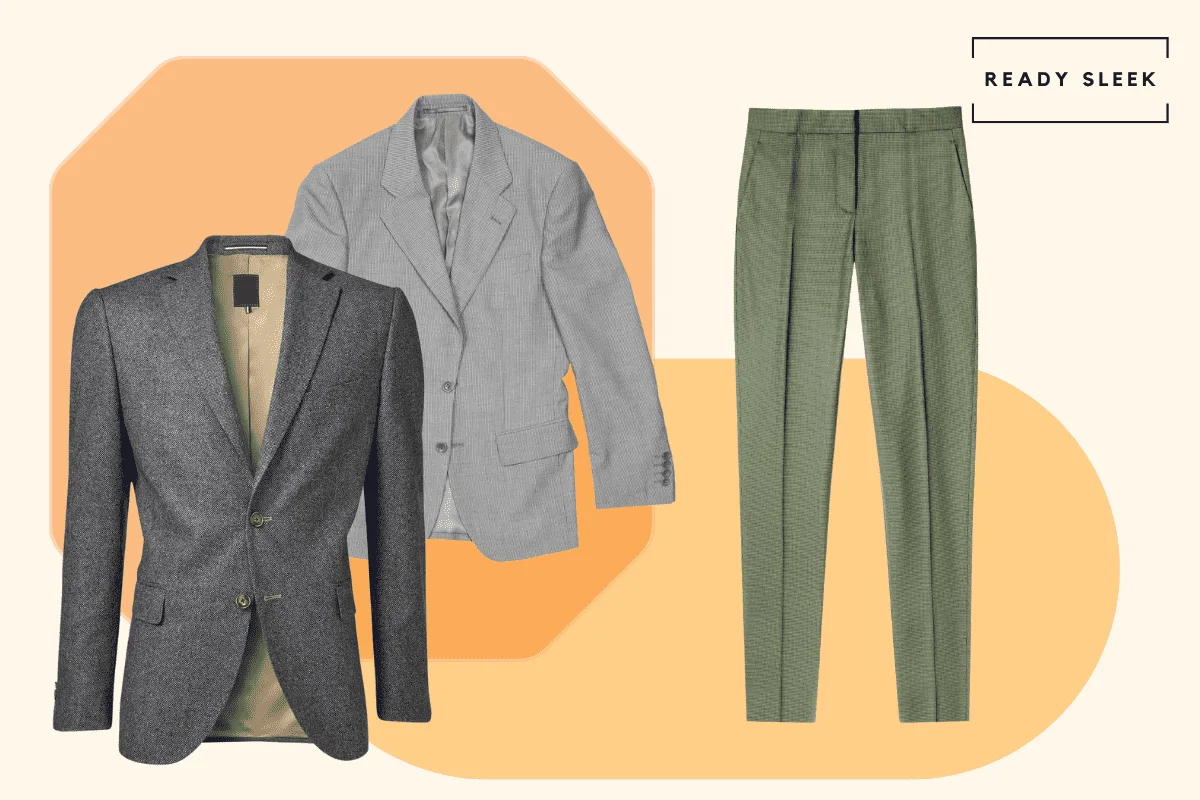 Grey is a neutral color, much like black and white are.
It'll coordinate seamlessly with any color you can think of. However, it's hard to deny just how different a light grey blazer worn with green pants can look from a dark grey blazer worn with the same pair.
Sure, part of it comes down to the contrast between the two items.
But it also comes down to the fact that dark grey (eg. charcoal) blazers look more formal than light grey ones.
They tend to have a more "professional" appearance to them and so would be a good option if you were going for a more refined look.
Brown Blazer With Green Pants
Green pants look great when worn with brown blazers, with the combination looking especially good during the fall and winter months.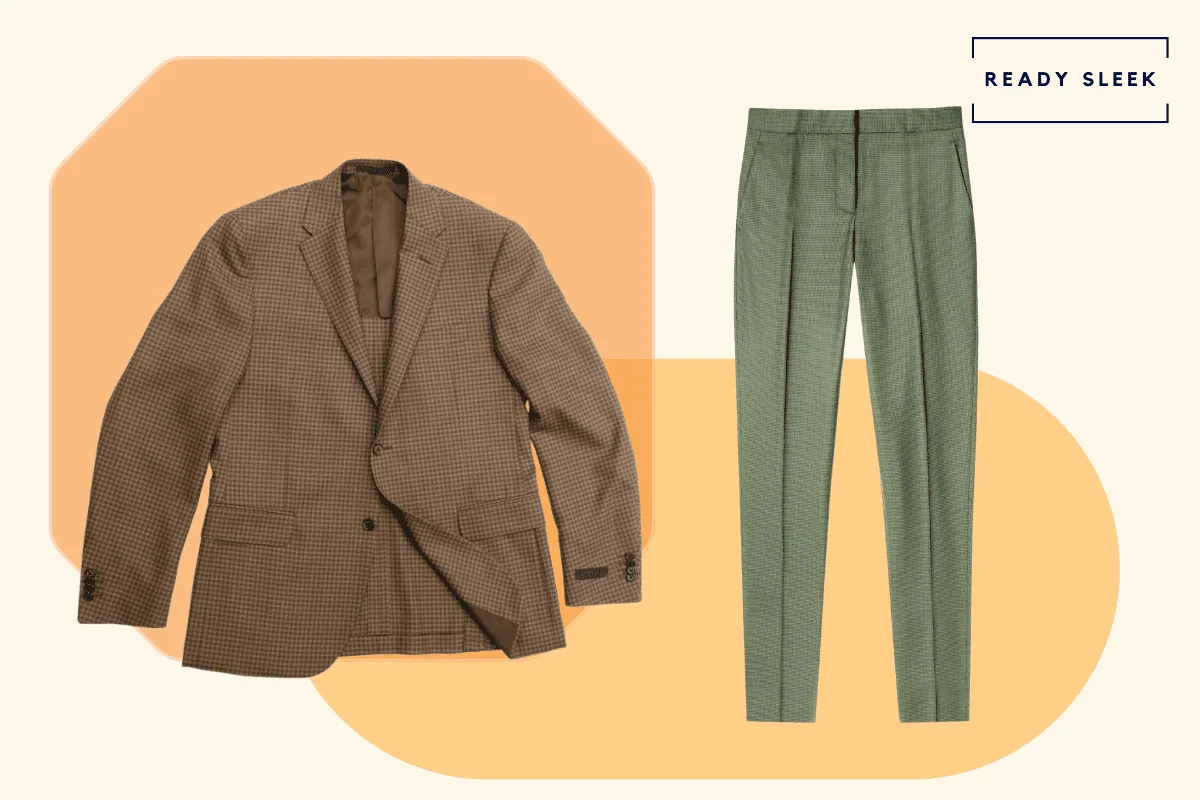 As mentioned earlier, combining green and brown produces an earthy and natural aesthetic that appeals to many.
While dark brown blazers won't ever look quite as formal as black or charcoal ones, they're still perfectly appropriate in dressy smart-casual environments.
Light brown blazers look more casual but will still hold their own in smart-casual settings. You've got plenty of choices and they'll all look great with green pants.
What's great is that it's common to find brown blazers in rough and rugged fabrics and weaves such as tweed and herringbone.
They have a fantastic warm/cozy look and feel to them, perfect for smart-casual events in the winter and fall.
Tan Blazer With Green Pants
Tan blazers can be worn with green pants in a variety of casual and smart-casual settings. The medium brown hue of the tan blazer produces an earthy aesthetic when combined with the green pants.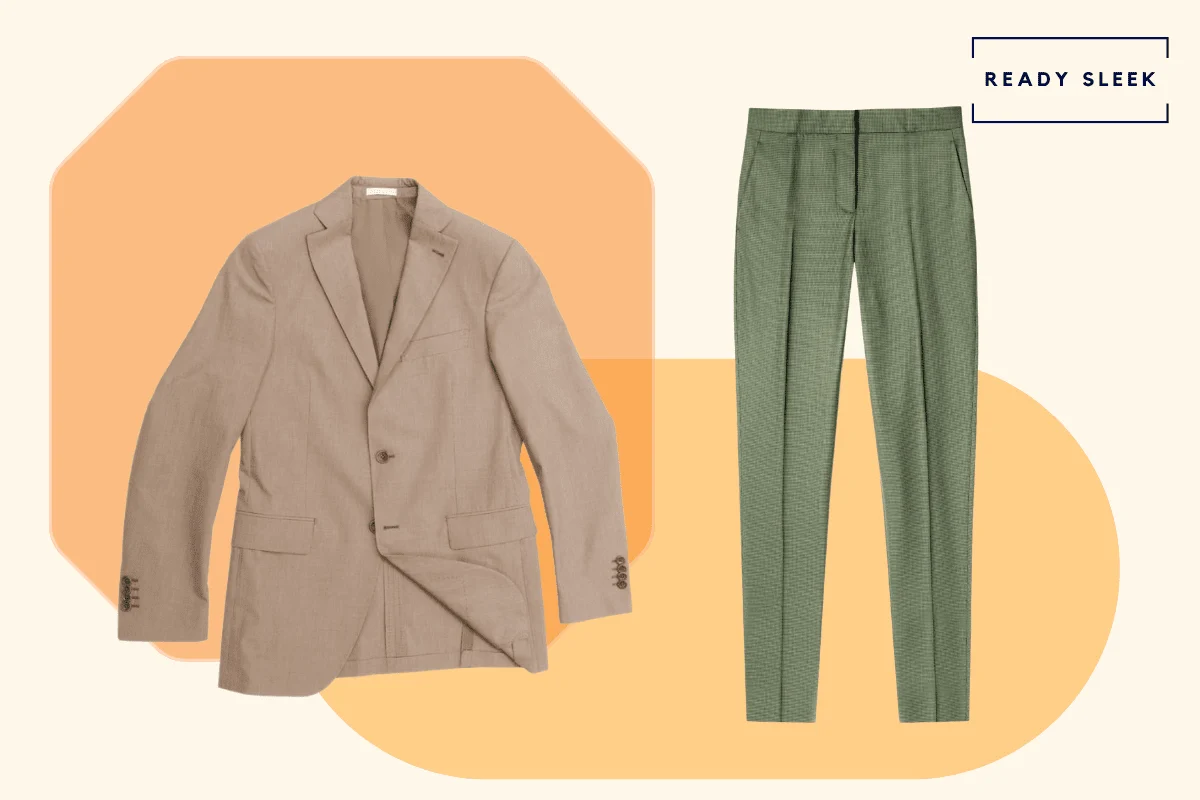 Tan, much like camel, khaki, and taupe are light-to-medium shades of brown with noticeable hues of other colors such as grey or yellow.
Many of these shades are considered "menswear neutrals" given how easy they are to coordinate with other colors. Green would be no exception.
Much like the brown blazers in the previous example, combining these colors with green immediately makes you think of nature and the fall.
But the warm undertones of these shades make them look just as good during the warmer months of the year.
It's common to find coats, jackets, and blazers in tan. They're a little less common than the more traditional blue, grey, and black alternatives.
Owning a tan or camel blazer is worthwhile. They're incredibly versatile, can be combined with many different items, and are a great way to stand out from a crowd.
White Blazer With Green Pants
A white blazer can be worn with green pants in casual settings where there's minimal risk of underdressing. The combination will be high-contrast and would work well as a statement given how attention-grabbing it is.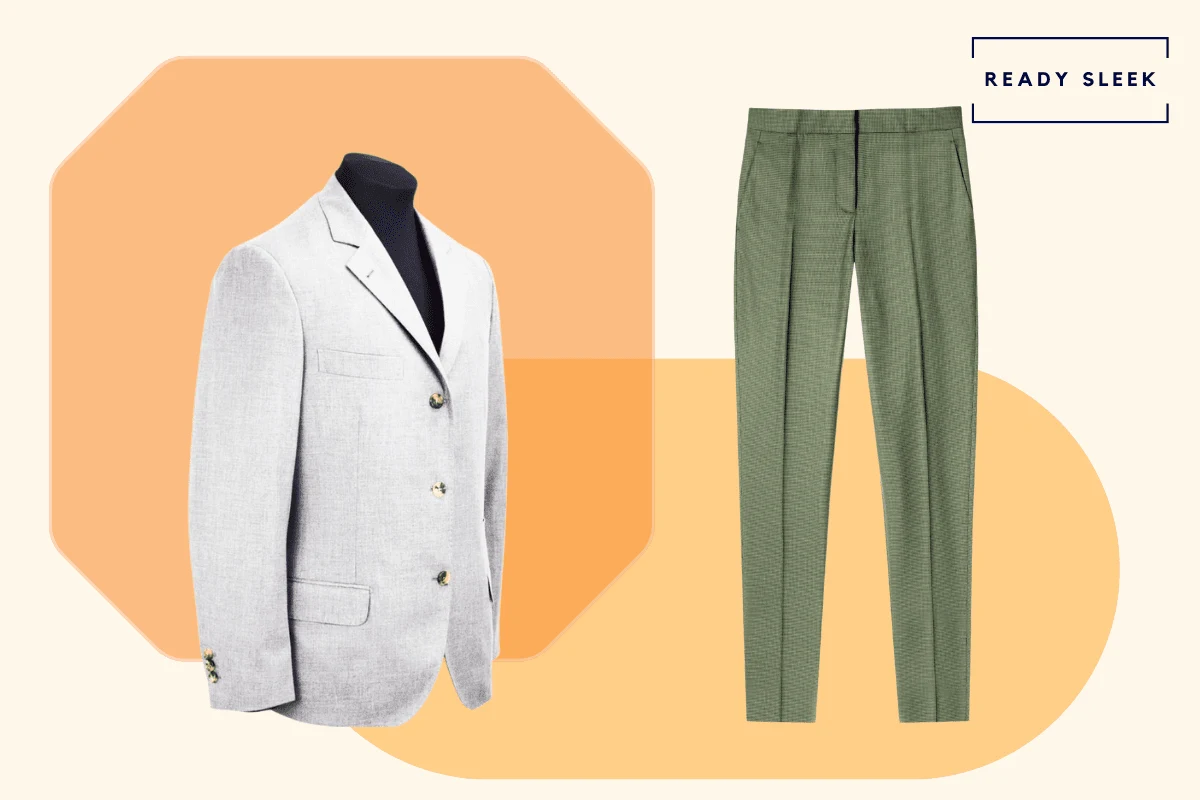 White blazers are surprisingly unusual. They're incredibly easy to coordinate with other colors but do usually produce a high level of contrast with most pants colors given how light they are.
Wearing one with green pants will lead you to stand out from the crowd for more than one reason.
The high contrast is one of them. But it'll also stick out because white is simply a pretty uncommon color for a blazer.
If you were looking to make more of a statement, a white blazer + green pants combo would probably do it.
If you were looking for a more understated combination, consider one of the previous examples in this list instead.
Conclusion
Green pants, particularly dark and muted ones, can be worn with a wide range of blazer colors. The dress code is important to consider, as dark, neutral blazer colors are usually more appropriate in dressier settings.
In more casual settings, you've got even more choices to work with.
Enjoy.
Ready Sleek founder. Obsessed with casual style and the minimalist approach to building a highly functional wardrobe. Also a fan of classic, vintage hairstyles.