Jeans are a staple of casual wear, while vests are more typically associated with formal attire. So, can you really wear a vest with jeans?
It's entirely possible to wear a vest with jeans. Go for a plain shirt, and remember that neutral-colored vests work best. Also, ensure your vest fits well, and consider wearing a jacket over the top. Avoid distressed jeans and always tuck in your shirt. Black or dark blue jeans are optimal.
Although that's the gist, there's much more to it.
With this in mind, let's dig deeper.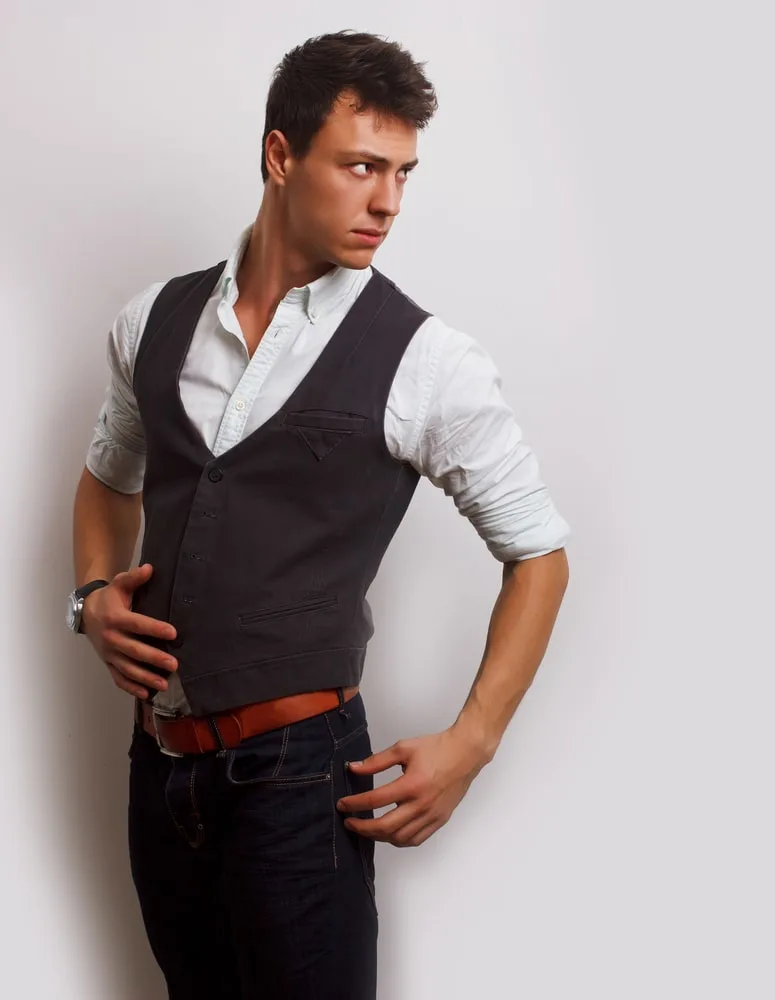 6 Tips For Wearing A Vest With Jeans
Here are seven tips to help you pull off the vest-with-jeans look every time.
1. Go For A Plain Shirt
Vests often have patterns or colors on their backs.
While this can be a great way to add some personality and flair to your outfit, it can also make it difficult to find a shirt to pair it with.
Failing to match your shirt correctly can be disastrous for your outfit, as too many patterns and colors will make the look appear clumsy.
Furthermore, because jeans are typically pretty casual, excessive color or patterns can make the outfit too casual.
Therefore, when wearing jeans and a vest, it's best to go for a plain, block-colored shirt.
Doing so will prevent any color or pattern clash between your vest and shirt.
It will also stop the outfit from becoming too casual – an ever-present risk when wearing jeans with a smart-casual outfit such as this one.
If, on the other hand, your vest doesn't have a patterned or different-colored back, it's still advised to stick to a block-colored shirt.
2. Black Or Dark Blue Jeans Work Best
Denim is a staple of casual wear, so it can be difficult to fit it into a smart-casual outfit.
This is particularly true when considering jeans with a vest.
Vests are generally seen as a formal item and are often worn to truly formal events, often as part of a 3-piece suit.
Conversely, jeans are primarily kept for casual wear, with the exception of occasional smart-casual usage.
This means that there's quite a formality contrast between the two garments.
That being said, jeans are incredibly versatile, come in many different colors, and pair nicely with a wide range of garments and, therefore, formality levels.
When wearing a vest with jeans, black and dark blue are the best jeans colors to wear.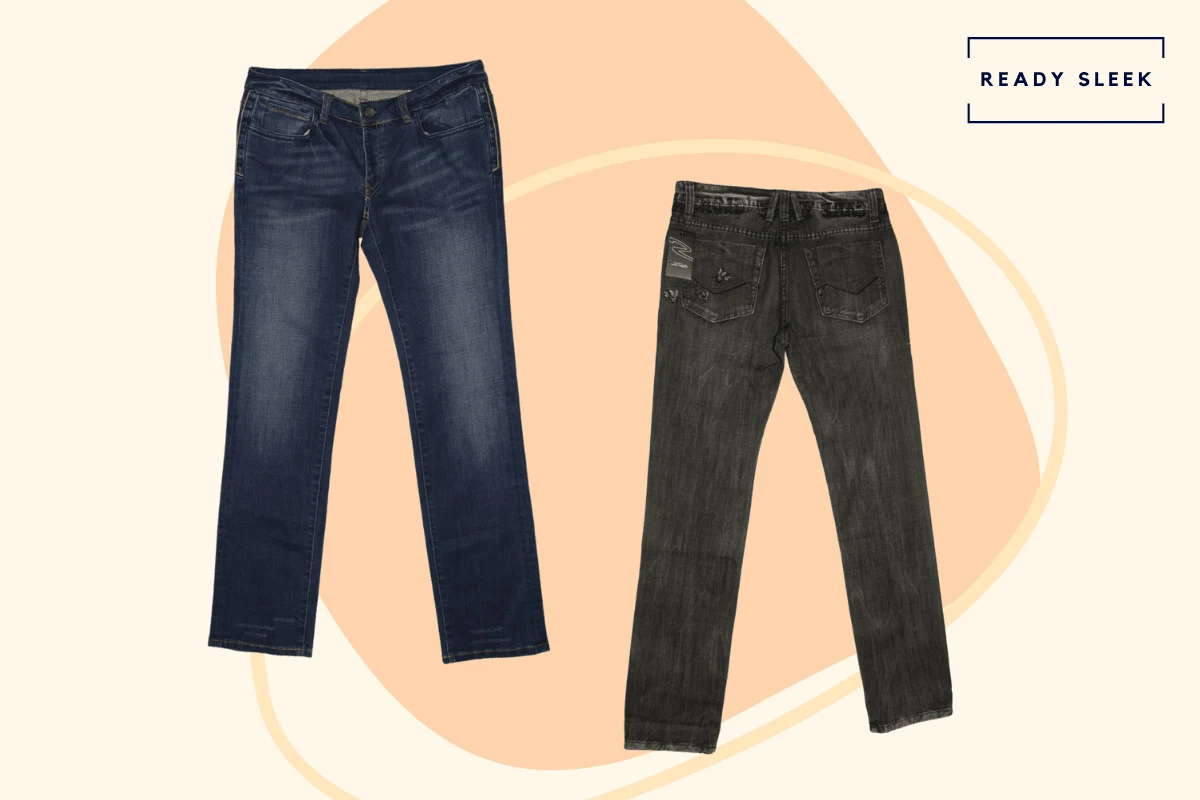 Black is the most formal jeans color and they can be dressed up pretty easily, making them suitable for smart-casual attire.
Dark blue jeans can also work well, as long as they're dark wash and have little to no distressing.
It's important to go for the most formal-looking pair of jeans you can find, as jeans of any other color would create too much of a formality mismatch to look good.
3. Ensure Your Vest Fits Well
Well-fitted clothes are an essential ingredient in looking good.
While clothes that are too big are sometimes more comfortable, they look awkward and disproportionate to your body.
Clothes that don't fit, on the other hand, feel tight and restrictive.
On top of this, if you're layering, a too-small overlayer can make the base layer appear billowy.
This remains valid for vests, as they're always worn over a shirt.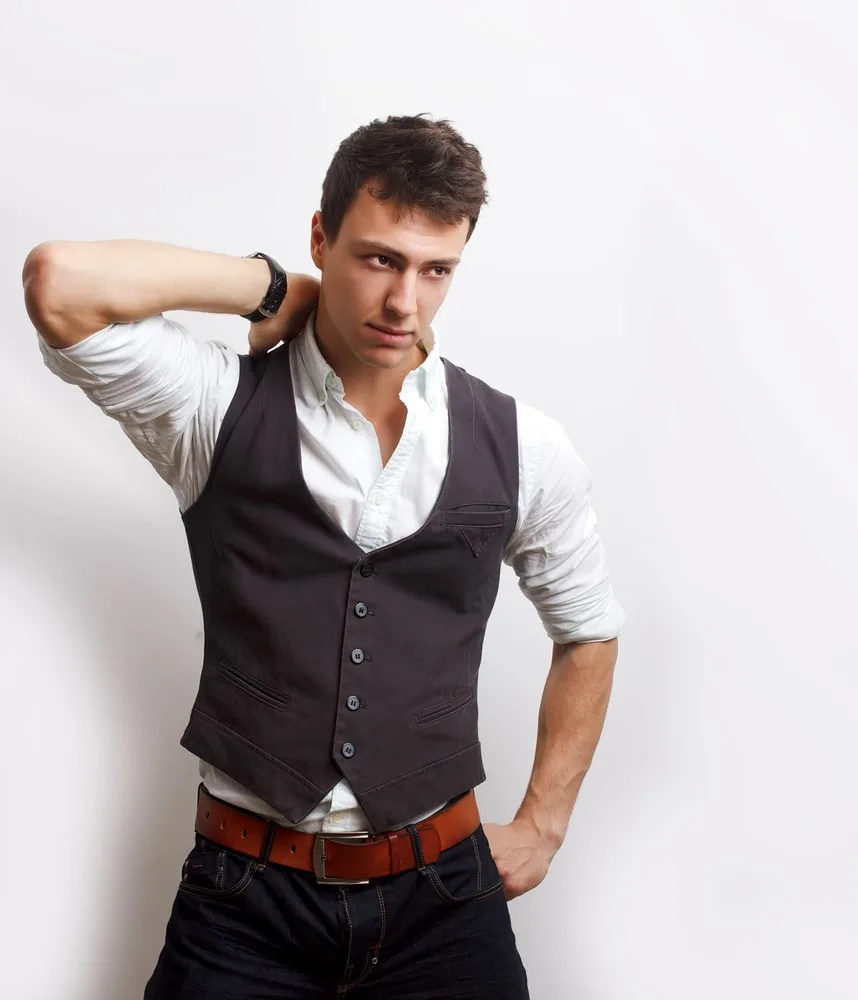 Because of these reasons, going for a vest that fits well is pretty much a necessity.
As a general rule of thumb, a well-fitted vest is snug, but not so much so that the buttons pull or the shoulders feel tight.
There is some leeway regarding the tightness of your vest due to the strap or buckle at the back, which can be used to tighten (or loosen) it.
The length of your vest is also an important factor in finding one that fits.
Generally speaking, your dress shirt should not be visible at the bottom of your vest.
This means that the bottom of your vest should sit about half an inch to an inch below the waistband of your pants.
4. Avoid Distressed Jeans
Despite distressed jeans being incredibly popular in streetwear and casual wear, you must steer clear of them when wearing a vest.
Distressed jeans simply scream informal. A vest, on the other hand, is very much a formal garment.
Wearing jeans with a vest is somewhat pushing the boundaries already, but as mentioned earlier can look acceptable with the right pair of jeans.
These dark-colored jeans shouldn't have any distressing, as this would take them out of the region of smart-casual and place them straight into casual wear.
5. Consider Wearing A Jacket
It's no secret that vests are excellent layering garments.
They can be worn over a shirt or under a jacket, meaning they're incredibly versatile in that regard.
When wearing a vest with jeans, it's entirely possible to wear a jacket over the top.
This can act as an extra layer of warmth during winter months or simply create a formal layered look.
If you opt for wearing a jacket over your vest, remember that blazers or sport coats work best with jeans.
Because you'll be wearing black or blue jeans with your vest, there's not much concern about your blazer not coordinating. Given the neutrality of the jeans colors, the blazer should color-match and coordinate quite easily.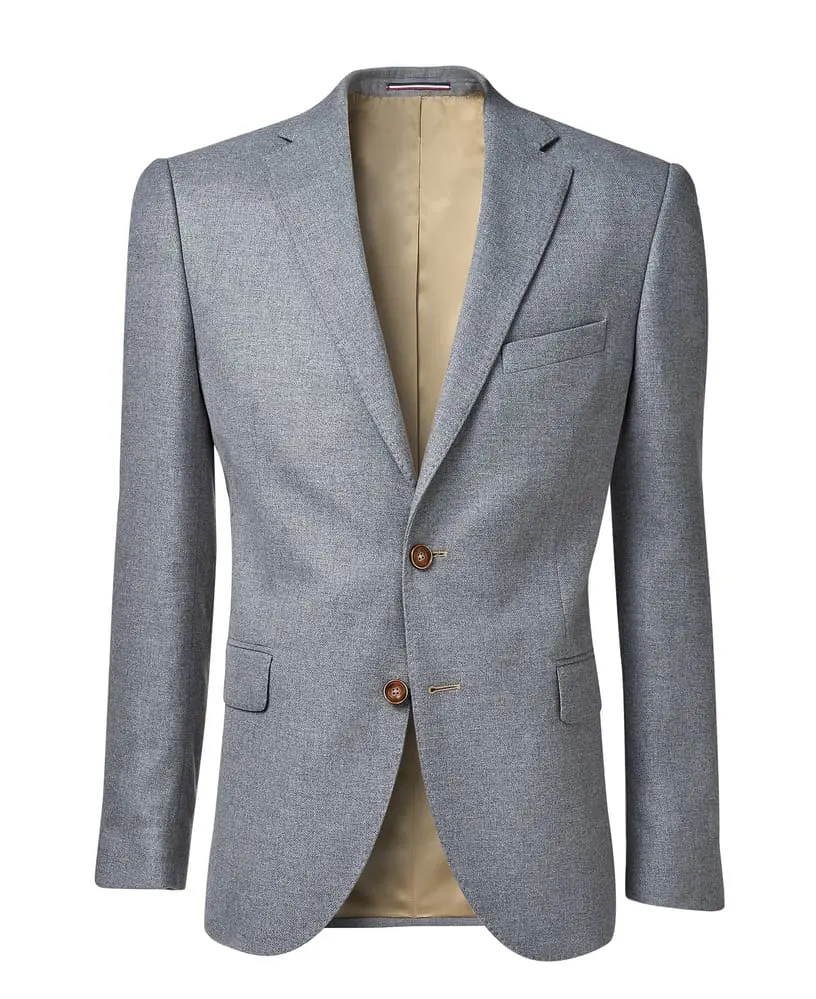 However, it's imperative that your blazer and vest are both colors that work well together.
Neutral colors are your best bet here, so stick to them as much as possible.
Also, avoiding complementary (contrasting) colors is advisable, as they would make your outfit too bright and loud for a smart-casual occasion.
6. Tuck In Your Shirt
Tucking in your shirt is always a fantastic way to up the formality level of your outfit; it's simple but effective.
This stands true for wearing a vest with jeans.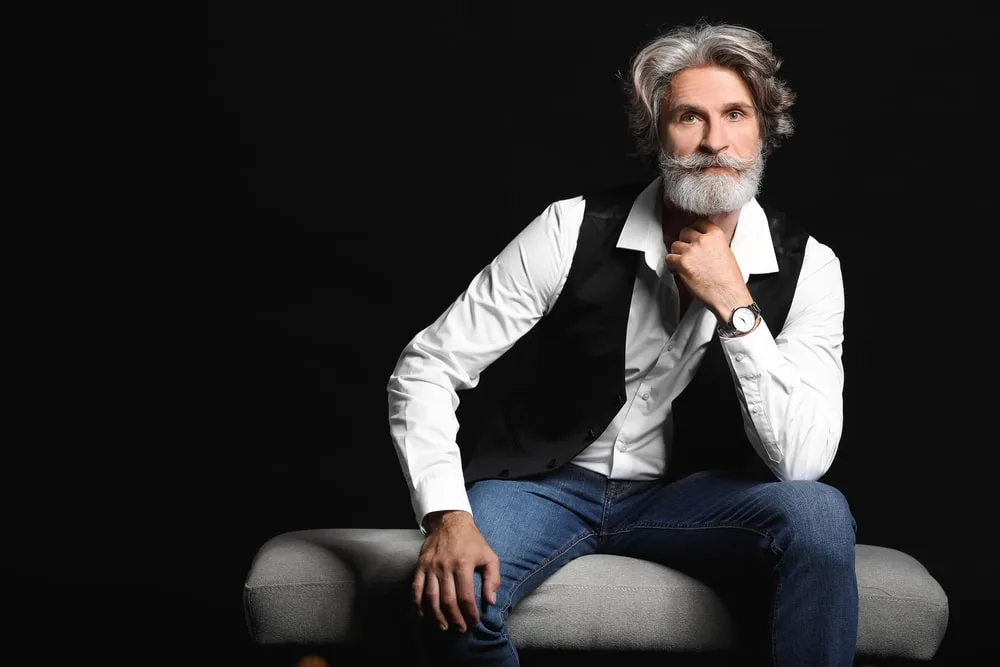 It pretty much goes without saying that your shirt should always be tucked in when wearing a vest – with no exceptions.
Ideally, your shirt won't be visible underneath your vest when tucked.
If, however, you leave your shirt untucked, the overall appearance will be scruffy.
Go for the full tuck (tuck in your shirt all the way around your waistline) as opposed to the French tuck, as it's considerably more formal.
It's also important to wear a belt when tucking in your shirt. With black jeans and a vest, a black leather belt works best.
Generally, silver buckles look better with this outfit than gold ones.
Frequently Asked Questions
Now that you know and understand the ins and outs of wearing a vest with jeans, here are some frequently asked questions to really round things off.
Can You Wear A Vest With Jeans To A Wedding?
It's possible to wear a vest with jeans to a wedding, but there are better alternatives. If you do, ensure you stick with dark, neutral vest colors, such as black, charcoal, and navy, and wear a white shirt underneath. Black jeans are the only acceptable jeans option.
Generally speaking, there are better outfits to wear to a wedding than a vest and jeans.
However, if you're insistent on doing it, ensure you do it the right way.
Go for dark, neutral vest colors and black jeans. Wear these alongside formal shoes and a tucked-in white shirt, and you're good to go.
Can You Wear A Vest With Jeans And Cowboy Boots?
Wearing cowboy boots with a vest and jeans can look great. Go with bootcut jeans and leave them untucked. Black or dark blue jeans can work with cowboy boots and a vest, but make sure there's no distressing.
To accentuate the Western aesthetic, consider wearing a cowboy hat, too (if appropriate).
Can You Wear A Vest With Jeans And A Sport Coat?
Adding a sport coat to your vest-with-jeans outfit is a fantastic way to upgrade the look. Consider a neutral sport coat color in dressier settings. In more casual environments, consider a more vivid blazer color such as burgundy or olive to go with the jeans and vest.
Also, tuck in your shirt and ensure your vest and sports jacket fit well.
Conclusion
You now know the ins and outs of wearing a vest with jeans. Remember that this look is smart-casual, so avoid wearing it on formal occasions.