While this is not an easy combination to wear, with proper attention to detail, it can look great. This begs the question: can you wear a tie with a short sleeve shirt?
A tie can be worn with a short-sleeve shirt, but it's important to check that it's appropriate for the environment you're in. Ensure that the shirt has a slim fit and sleek silhouette. Wearing the right fabric is also important for the business-casual look.
Although this is only the short answer. We'll be getting more specific with a deep dive into how to get this combination to look right every single time.
Let's get to it.
1. Ensure It's Appropriate
While exploring fashion combos can be a great form of expressing your individual identity and style, it's important to check that you're doing it in the right situations.
This is especially important because this can be a controversial combination and may not be suitable to wear in some dress codes.
The best times to wear a tie with a short sleeve shirt are in business-casual situations with slightly more lax dress codes that factor in warmer weather.
Traditional jobs requiring conservative dress codes may not be accepting of this particular combination as it can be seen as a fashion faux-pas – particularly in interviews.
A long-sleeve shirt and tie would always be best in these instances.
So, it's always important to check the dress code of the environment you're working in by asking someone directly or monitoring what others are wearing.
This is also because many don't consider the short sleeve shirt a business-formal piece of clothing and think it's too casual to be paired with a tie.
However, there are ways that you can make this look appropriate in more informal settings without breaking fashion rules too harshly.
2. Get The Fit Right
One of the most important details to consider when wearing a tie with a short sleeve shirt is ensuring that they fit properly.
Creating a sleek profile and sticking to slimmer tailoring will help ensure that this combination looks great. The ideal shirt is not too tight to be restricting or cause tension lines, but not too loose to be considered baggy.
The best fit for your shirt would be to make sure it matches that of your pants. It should be close fitting without being too tight. Creasing or pulling on your shirt from your pants should be avoided.
You'll also be moving around the office and possibly performing a range of other motions throughout the day so make sure it doesn't restrict your ability in any way.
Additionally, the short sleeve shirt should fit on your shoulders well – so that the short sleeves look nicely shaped too. They shouldn't be too wide so as not to mess up with the sleek, slim silhouette.
The sleeves should stop just shy of your elbows.
Use this image as an example of a good fit. It's a short-sleeve shirt from Amazon.
The shirt can be untucked in casual situations should always be tucked in in a business setting.
3. Color Match Appropriately
Color matching is another detail that you should definitely factor into your decision-making process. It's an important part of getting the look right and ensuring it's appropriate.
It's therefore crucial that you dress situationally.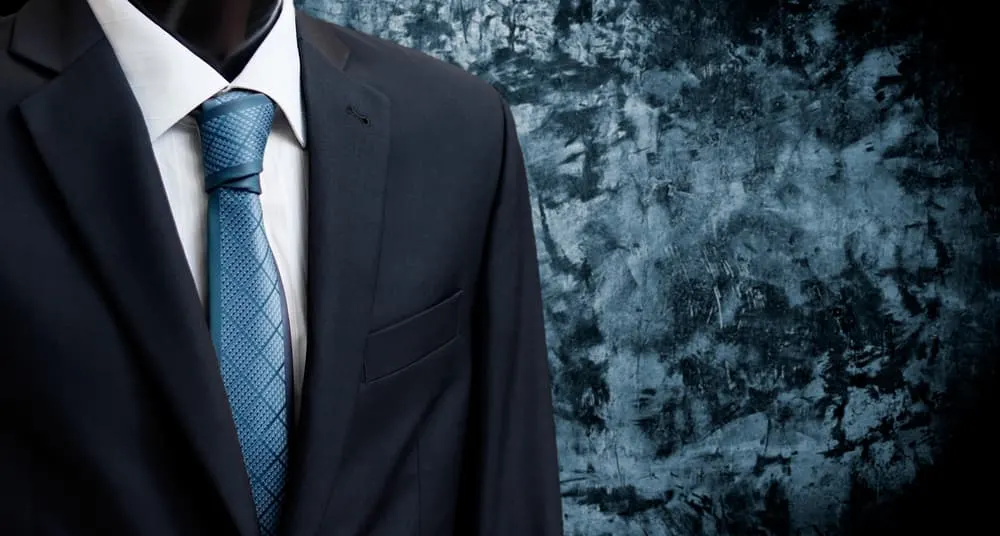 Wearing the same colors you'd go for when wearing a long-sleeved dress shirt is a great rule of thumb. Therefore, sticking to neutral muted colors such as white and pale blue/pink for your shirt would be preferable.
This is especially true if you're wearing a tie and short-sleeved shirt in a business-casual situation.
It's also more likely that when you wear these, the weather will be hotter so it'll be more acceptable to wear the lighter colors in these situations.
The pairing is already very casual and would work still with the casual brighter, bolder checks and stripes for a really dressed down look.
As for the tie, pick a tone that directly contrasts that of the shirt for a classic look. In the more casual work settings, larger contrasts between the shirt and tie are more acceptable, so consider a bolder and brighter-colored tie.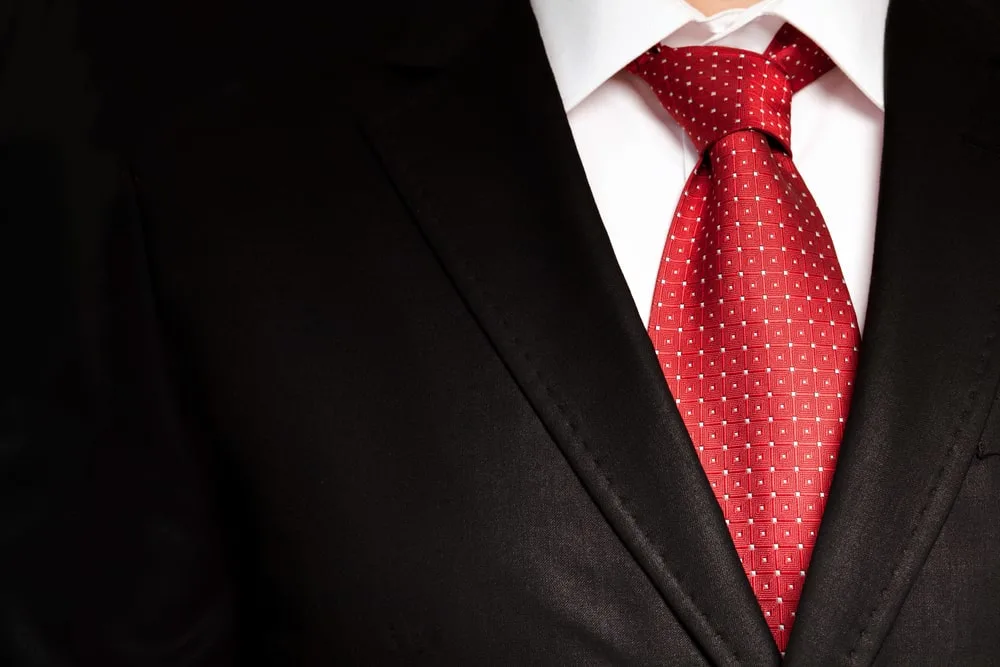 Combinations that deviate too far from the norm can be seen as fashion faux-pas and may not be appropriate for all business-casual situations.
Another combination to avoid is having a light tie and a light shirt pairing, especially if you're wearing pastel colors.
The pattern of your tie should also be determined by what pattern is on your shirt.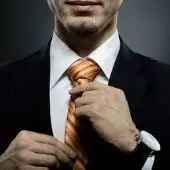 Another good rule of thumb is to go by opposites, so if you're wearing a large pattern on your shirt, wear a smaller pattern on your tie and vice versa.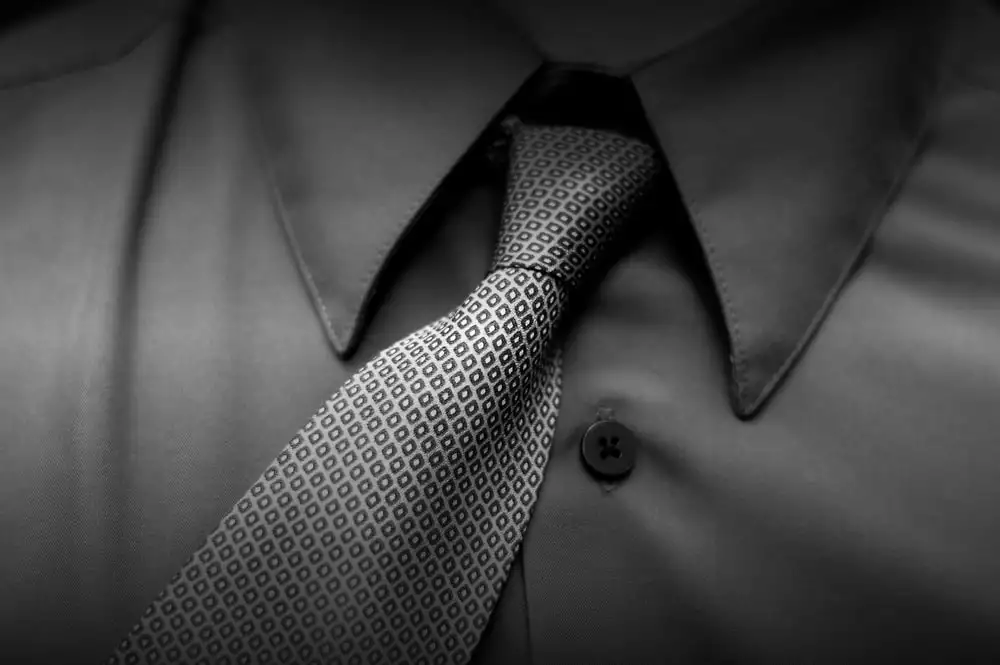 4. Wear The Right Fabric
Considering that the short sleeves of this look make it hot weather-friendly, it's also important to choose fabrics that match this appropriately.
Wearing a tie with a short-sleeved shirt can look immediately better when the quality of the materials is chosen to enhance the look too.
Lighter materials for your tie during the warm months look and feel best, so stick to fabrics like linen and cotton.
These fabrics will also aid in the casual aesthetic of the look, though you should be careful as these materials are easier to crease.
Heavier, thicker, and more rugged textures for your tie would only be more appropriate if you were wearing a suit of the same style.
In this case, warmer and more durable fabrics would be acceptable for your ties, such as wool and cashmere.
However, we suggest avoiding these heavier fabrics during summer as it may be too much of a contrast in comparison to the relaxed, warm-weather vibe of the short sleeves.
Your shirt should follow the same rules; choose lightweight fabrics that keep you cool in the heat of summer. Choosing cotton, linen, or poplin is generally your best bet.
However, considering the fact you'll likely be wearing this combo in more casual environments with less strict dress codes, you have room for experimentation.
5. Choose The Right Pants
Given that you're wearing a tie in the first place, it's safe to assume you still want to look semi-professional while avoiding being too warm.
The best way to do this is to pair this combination with the appropriate pants that won't take too much away from the professionalism of the tie or the casual vibe of the shirt.
Fitted pants are the best with this combo because they keep the silhouette slim and sleek.
You can also wear chinos in business-casual environments. In a very casual work environment, dark wash jeans may be acceptable.
No matter your choice of pants, it's essential that you choose closely fitted tailoring and avoid the baggy or oversized look to keep it contemporary and fashionable.
The best way to do this is by ensuring that the trousers are tight around your bottom.
When buying the best pants in-store, it's better to go for the size that may be perhaps a little too loose rather than a little too tight as it's easier to get them tailored.
If you choose to wear jeans, make sure that they are still presentable for the situation by avoiding any rips, tears, or discoloration.
Black jeans are the best option as blue denim risks being too casual.
In the case of chinos, however, you can wear the classic beige color if this is compatible with your shirt and tie choice, or you can choose a classic, dark one.
Ready Sleek founder. Obsessed with casual style and the minimalist approach to building a highly functional wardrobe. Also a fan of classic, vintage hairstyles.