There are certain combinations that are pretty hard to go wrong with, but it's no secret that there's usually a right way to wear them. A question that's often asked is, can you really wear suede shoes with jeans?
A variety of suede shoes can be worn with jeans. The rugged texture of suede works particularly well with denim and the combination would be appropriate for a range of casual, smart-casual, and potentially even business-casual settings.
Although that's the short answer, there's more to it. What you really need to know is exactly which shoes and boots work best with jeans.
That's exactly what you're about to find out.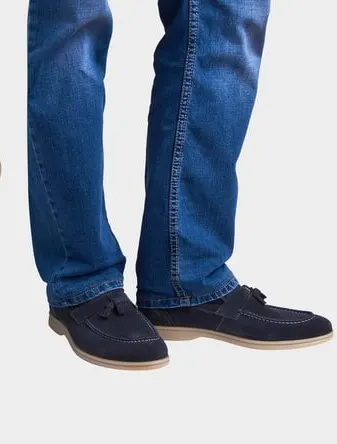 1. Loafers
Suede loafers are a great choice when wearing jeans because the low heel and ankle-exposing, laceless upper pairs so well with the casual aesthetic of jeans.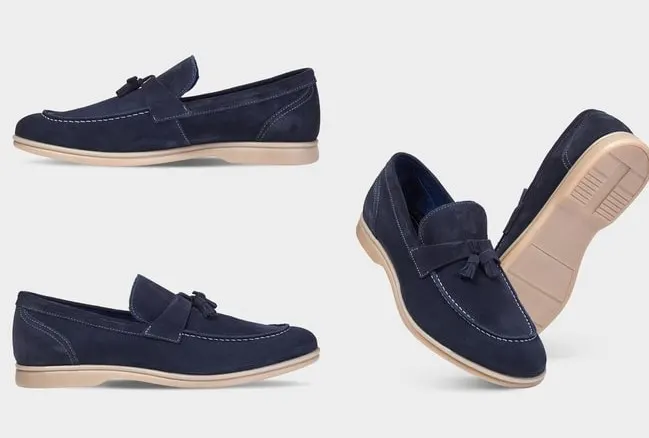 The napped texture of suede pairs very well with the rugged texture of denim – that's a given.
But there are certain styles of shoes that work especially well with jeans.
These are often shoes that strike a fine balance between casual and formal. They aren't as casual as sneakers or moccasins, but also aren't formal enough to look awkward with a pair of jeans either.
Loafers fall into this category and choosing suede loafers in particular makes the combination even more effective.
It works particularly well in smart-casual settings.
Think first dates, bars, garden parties, and dinners at mid-level restaurants.
You could combine them with other items of smart-casual attire such as polo shirts and Henley shirts.
Due to the low-cut, foot-exposing upper, suede loafers would be a better option in warmer weather.
If the temperatures are a little cooler, a suede pair of boots may be a better option. Let's talk about a couple of those now.
2. Chukka Boots
Suede chukka boots can easily be worn with jeans, especially during the winter and autumn months where the sole's traction would come in handy. The combination is casual and shouldn't be worn in business-casual or formal settings.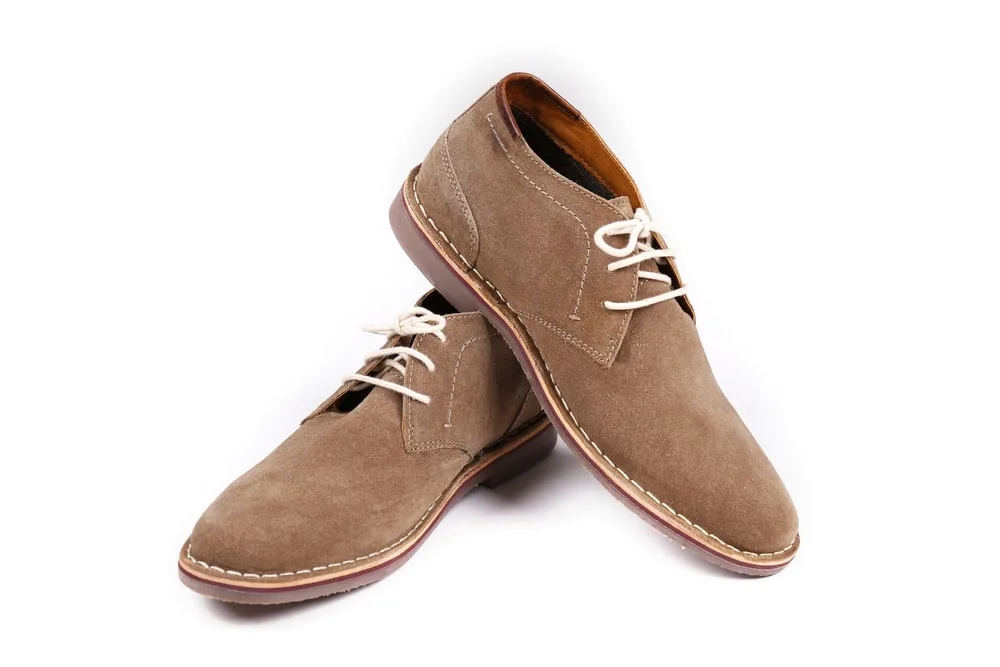 Suede chukkas aren't quite as formal as Chelsea boots but aren't as casual as lace-ups.
Wearing them with a pair of jeans is a great option for everyday, casual use. The soles of chukkas usually have more traction than those of Chelseas, making them ideal to wear in rainy weather.
While the jeans and suede chukka combo wouldn't be great for a business-casual setting, it's great for casual and smart-casual occasions.
An example of a casual outfit would be suede chukkas, stonewashed jeans, a T-shirt or polo, with a denim jacket on top.
A smart-casual outfit could be a darker, more tapered pair of jeans, suede chukkas, a Henley shirt/OCBD, with a blazer or sport coat on top.
Ultimately, it's a pretty versatile combination that you can wear with a variety of casual items.
It's just important to ensure it's appropriate for the dress code.
3. Chelsea Boots
Suede Chelsea boots beautifully complement a pair of jeans in smart-casual and even business-casual settings during the colder months. While Chelseas are considered the most formal style of boot, the suede upper makes them look casual enough to wear with jeans.
The laceless aesthetic and the elasticated sides give them an instantly elegant feel.
Sure, they're considered a "formal" pair of boots, but they aren't exactly cap-toe Oxfords. The point here is that they're usually perfectly suitable to wear with casual items such as jeans and it wouldn't look awkward.
It's possible to wear Chelsea boots made from shinier grains of leather (like calfskin or cowhide) with jeans and it would still look fine.
Lighter colors usually work best here to prevent the Chelsea boots from looking too formal.
But suede Chelsea boots just look so much better with jeans because the formality levels match so well.
Suede Chelsea boots would be a notch more formal than suede chukka boots, so they're probably a better option if you're looking to dress those jeans up a little.
4. Brogues
Suede brogue shoes work very well with jeans, as the decorative perforations blend and sync so well with the casual nature of jeans.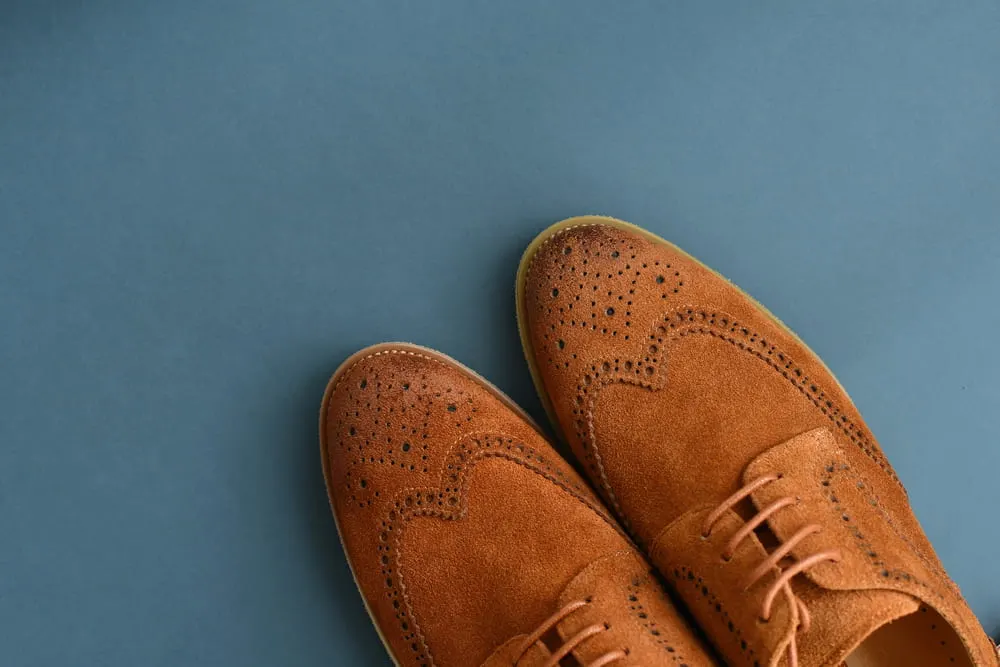 Remember, brogueing is a casual feature. The more brogueing you've got, the more casual the shoes will look.
The beauty of wearing suede brogue shoes with jeans is that you could choose a pair with lots of brogueing (such as wingtips) and it would still look appropriate.
Jeans are usually casual enough to pull this off.
Technically any type of shoe could be "brogue", as long as they've got those decorative perforations (i.e holes).
But you're most likely to find either Oxford shoes or Derby shoes in brogue.
Brogues can vary in terms of how much brogueing they actually have.
Quarter brogues are the most subtle, as they usually only have perforations along the seam of the toe cap.
Semi-brogues have the same, but usually also have a medallion, which is a fancy pattern of perforations on the toe cap itself.
Wingtips are by far the most casual type of suede brogues and have a W-shaped toe cap with perforations lining the seams, as well as a medallion on the toe cap itself.
Suede wingtips look very casual indeed, but would still be a great choice when wearing jeans.
No matter how casual they may look, jeans are versatile and casual enough to make it work.
5. Derby Shoes
Suede Derby shoes are a great choice when wearing jeans, especially when you're dressing for a smart-casual dress code. A dark, tapered pair of jeans with suede Derby shoes could even work in some business-casual settings.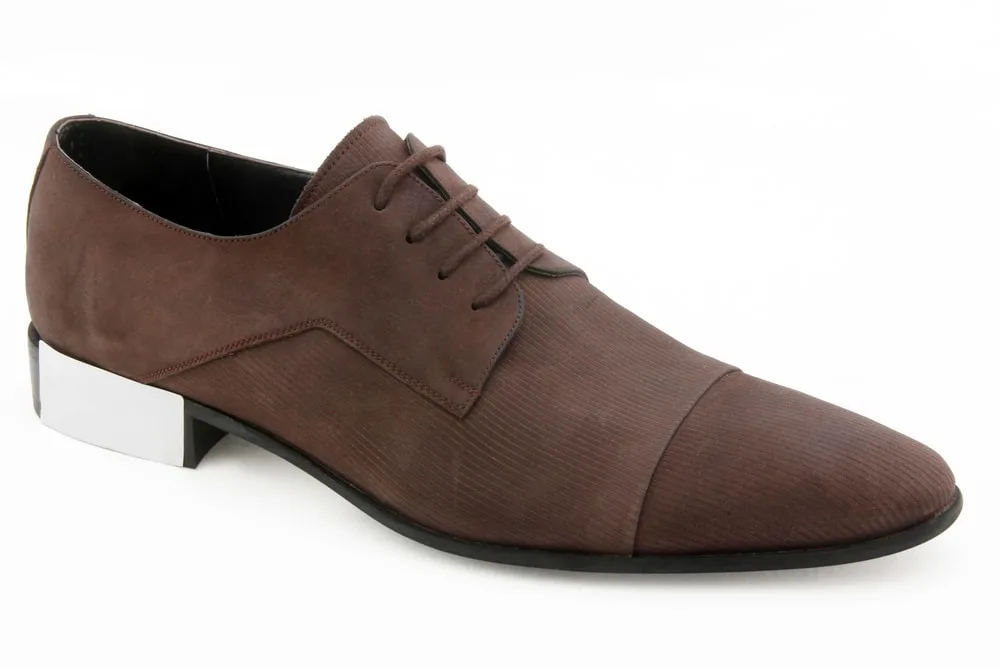 It's extremely common to find suede Derby shoes. In fact, it's arguably the most common type of dress shoe you'll find in suede.
The reason for this is probably because they're so versatile.
Derby shoes may not be as formal as a pair of Oxfords, but they're still usually formal enough to wear with suits.
While suede Derbys won't be formal enough to wear with business-professional suits, you could potentially wear them with a more casual suit (eg. tweed/linen) and quite easily pull it off.
But that same pair of Derby shoes would most likely work perfectly well with a pair of jeans too.
There aren't going to be many pairs of shoes you could wear with a casual suit and a pair of jeans.
Suede Derby shoes could do that for you. They may become one of the most versatile pairs of shoes you own.
6. Oxford Shoes
Suede Oxford shoes in a light color such as grey or tan brown would work well with a pair of jeans. Darker-colored suede Oxford shoes could also work with a darker, tapered pair of jeans with no fraying, rips, or acid washing.
While a pair of calfskin or cowhide Oxford shoes would usually look too formal to wear with jeans, suede Oxfords usually look casual enough to make it work.
However, even suede Oxfords do have quite a formal edge to them due to the closed lacing system.
Because of this, it's important to choose the right type of Oxford shoes when wearing them with jeans.
Light, bright, and bold colors work especially well because they'll instantly make the Oxfords look more casual and less likely to look awkward with a pair of jeans.
Other ways of making a pair of suede Oxfords look more casual would be to choose a pair with brogueing.
Brogue suede Oxfords in a light/bright color would look a lot more casual than a pair of dark suede Oxfords.
If you were going to wear a pair of suede Oxfords in a darker color, it's important to choose a "smarter" looking pair of jeans.
Avoid baggy jeans with stonewashing, acid washing, rips, or other embellishments. These casual features will simply look out of place when wearing a relatively formal-looking dark pair of suede Oxfords.
To sum that up, it's possible to wear suede Oxford shoes with jeans, but it's important to do it the right way.
7. Monk Straps
Suede monk straps can be worn with jeans quite easily. The versatility of monk straps makes them perfectly suitable to wear with casual items like this. Combine the two items with polo shirts or Henleys if you're dressing for smart-casual settings.
Monk straps are similar to Derbys in that they're versatile.
They're just as easy to pair with casual suits as they are with jeans.
Double monk straps will always look a notch more formal than single monk straps, but when the upper is made from suede, either option would look casual enough to wear with jeans.
Ready Sleek founder. Obsessed with casual style and the minimalist approach to building a highly functional wardrobe. Also a fan of classic, vintage hairstyles.