While it may seem simple enough, wearing this combination shouldn't be taken lightly. There's definitely room for messing it up and it's important to know the right way to do it.
Here are some essential tips for wearing Oxford shoes with jeans.
Let's get to it.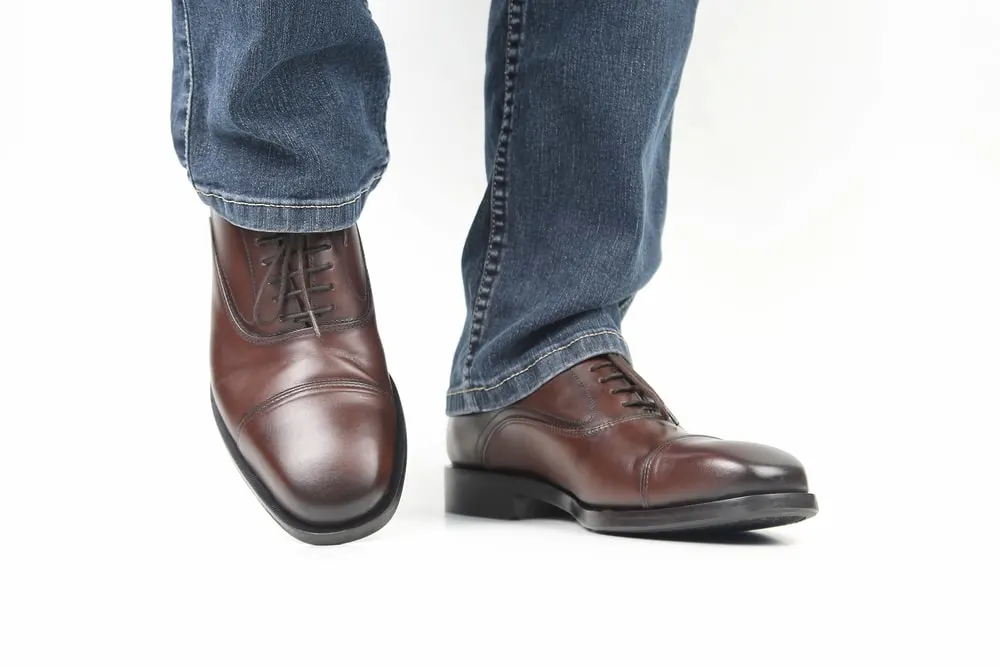 1. Make Sure It's Appropriate
To cut a long story short, jeans should only ever be worn in smart-casual settings.
No matter how dressy your shoes are, the rugged texture of denim will always bring the formality level down to smart-casual at the very least.
Because of this, Oxford shoes and jeans shouldn't be worn in anything more formal than smart-casual settings.
At the same time, the Oxford shoes often appear too formal to be worn in truly casual settings. In other words, trying to wear a T-shirt or a hooded sweatshirt with Oxford shoes and jeans is always going to look awkward.
Here are a few dress codes where the combination should be avoided:
Casual – The Oxford shoes will simply look too formal, no matter how casual the jeans look.
Business Casual – With this dress code you should always lean toward the business end and not the casual end. Think chinos and Oxford shirts – not jeans.
Formal – While Oxford shoes are about as formal as you can get, jeans should never be worn in formal or professional settings.
While it probably goes without saying, there's no way Oxford shoes and jeans should be worn to a black-tie dress code.
That pretty much just leaves you with smart-casual settings – think first dates, garden parties, rooftop bars, etc.
Additional smart-casual items include Oxford shirts, polo shirts, Henley shirts, and sports coats.
Once you're happy that the Oxford shoes + jeans combo is appropriate for the setting you're dressing for, it's time to pair the perfect jeans with the perfect Oxford shoes.
2. Choose Dark Jeans
Darker-colored jeans would work better with Oxford shoes.
The main risk with wearing Oxford shoes and jeans is that the Oxford shoes look too formal for the jeans.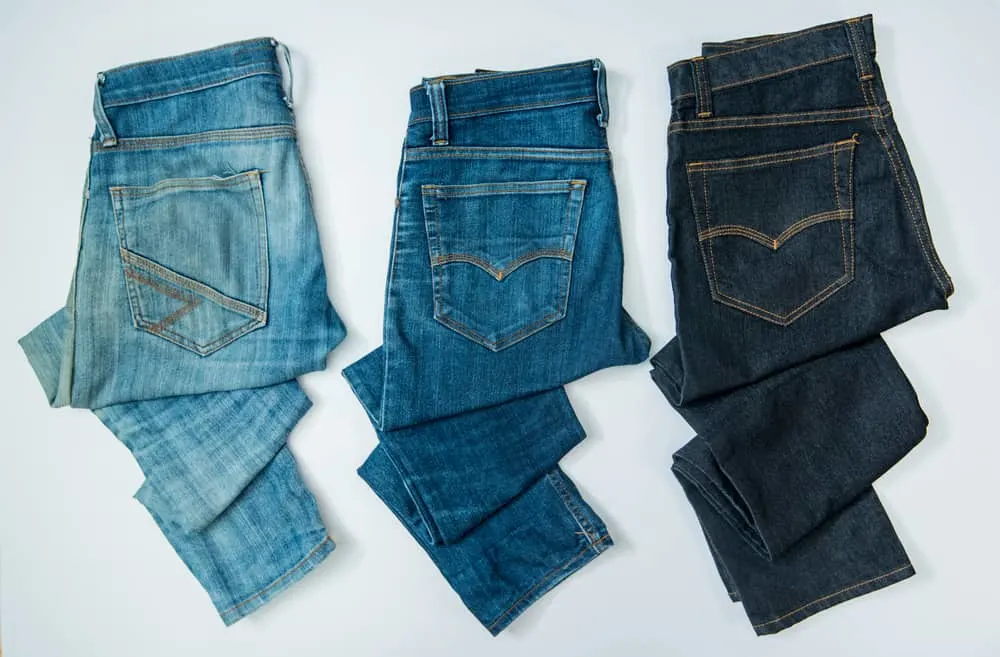 The closed lacing system of Oxford shoes is very formal – that's why they're such a popular choice for professional/formal settings and even black-tie.
Jeans, on the other hand, are a classic item of casual wear. They really are on the opposite end of the spectrum to Oxford shoes.
To make the combo work you'll need to make the jeans look more formal and the Oxford shoes less formal so that they meet somewhere in the middle.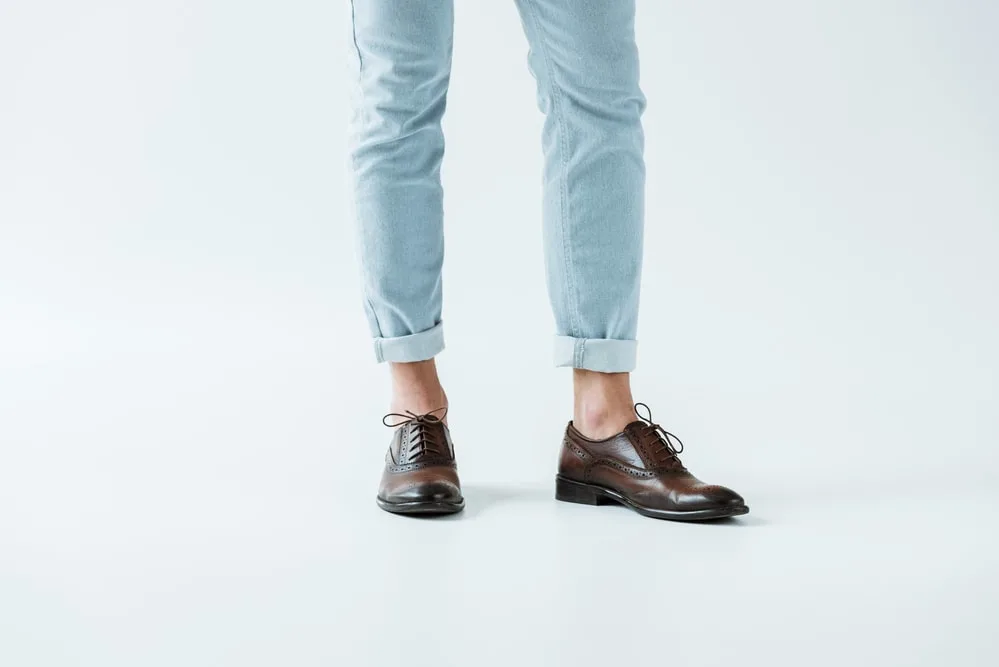 An easy way to make a pair of jeans appear more "formal" is to choose a darker color. Darker tones will always come across as more formal.
Dark blue, dark grey, or black would be ideal options.
Lighter shades of blue or even brighter and bolder colors than that will often look too casual to be worn with Oxford shoes.
3. Avoid Distressed Jeans
Avoid ripped, excessively distressed, acid washed, and stonewashed jeans when wearing Oxford shoes, as they'll simply look too casual.
While all of these frills and embellishments work great with casual footwear, they'll simply look awkward when wearing Oxford shoes.
When you're wearing a pair of shoes as formal as this, the less distressing the better.
All you really want is a pair of dark jeans with no rips, tears, or other forms of distressing. You just want a simple finish to your jeans with no frills.
The jeans should draw as little attention as possible.
4. Slimmer Fits Are Better
When wearing Oxford shoes, straight-leg and slim-fit jeans will usually be the best option.
While skinny jeans can also work, they can sometimes come across as too casual. Wide leg, bootcut, and flared jeans will also look too casual for Oxford shoes.
This may significantly limit your range of available options, but they fit you choose for your jeans is arguably just as important as the color.
What you want is a nice, tapered appearance to your jeans. They should wrap effortlessly around the leg, subtly narrowing from the knee down to the ankle.
Tapered pants will always look a little more formal than baggy and wide-leg pants. Slim fit and straight leg fits are the two that are most likely to give you this aesthetic.
5. Go For Lighter Colored Oxfords
The color you choose for your Oxford shoes is just as important as the color you choose for your jeans.
You went dark with the jeans. It's important to try to do the opposite with your Oxford shoes.
In other words, the lighter and brighter the color of your Oxfords, the better.
Avoid black Oxfords at all costs – they'll always look way too formal no matter what jeans you've gone for.
Dark brown will usually look too formal as well.
A lighter shade of brown is the most versatile color you could go for. Tan brown is a common favorite.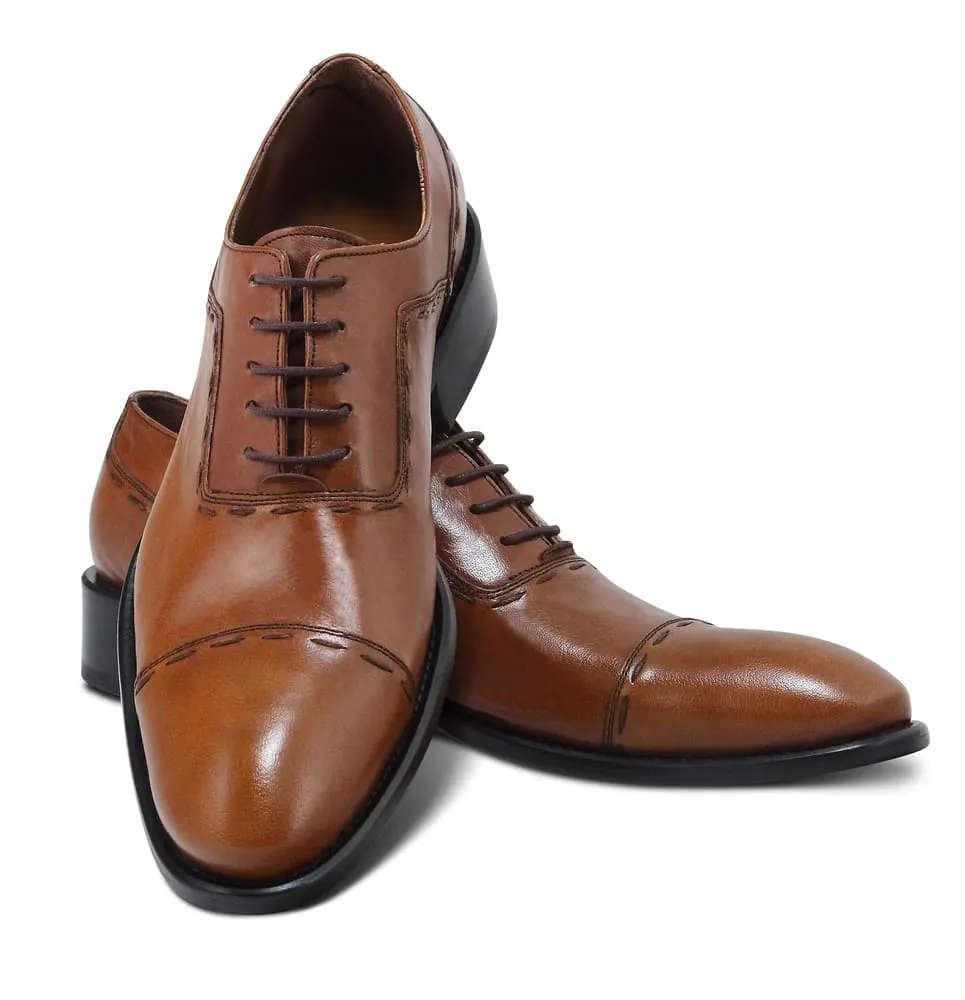 But feel free to experiment to go for bolder and more attention-grabbing colors – red, purple – whatever you feel like (to an extent).
The main point here is that lighter and brighter colors for your Oxford shoes are a better option than dark colors, simply because they make them appear more casual.
At the end of the day, you'll need to do what it takes to make the shoes appear casual enough to pair well with jeans.
Being careful with your colors is a pretty straightforward and effective way to do this.
6. Brogue Patterns Work Great
Choosing a pair of brogue Oxford shoes is yet another way to make them appear more casual and more likely to work with your chosen pair of jeans.
The term "brogue" refers to the patterns of perforations (i.e holes) that you can find on several different styles of dress shoe.
You can get quarter-brogue, semi-brogue, and full brogue (i.e wingtip) Oxford shoes, with full brogue being the most patterned and decorated.
Here's a great pair of brogue Oxfords as an example on Amazon:
The more brogue-ing you've got on your dress shoes, the more casual they'll look.
While brogue Oxford shoes should generally be avoided when you're going for truly formal attire, they're a fantastic option when you're wearing jeans.
Spectator shoes are also a great option when wearing jeans. These are shoes where the toe and heel cap are in two contrasting colors. As you can imagine, this is a very casual feature that actually works very well with jeans.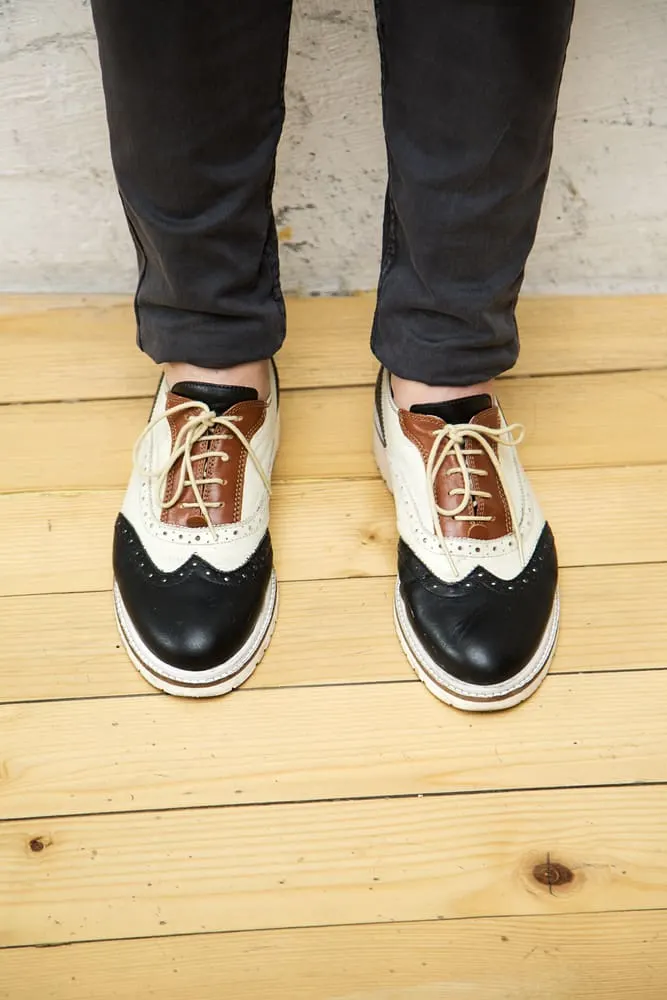 The heavier the contrast between the two tones, the more eye-catching and casual the Oxford shoes will generally look.
7. Consider Suede Oxfords
We've talked about colors and patterns – now let's talk about shoe material.
While leather Oxfords are still a reasonable choice when wearing jeans (especially light-colored, patterned Oxfords), suede is often a better choice.
Suede has a smooth yet napped and rugged texture to it. In many ways, it's a perfect companion to the equally rugged texture of denim jeans.
While suede can be a bit of a nuisance to maintain, having a pair of dress shoes in the material is extremely useful.
It's not hard to find a pair of suede Oxfords. It's definitely a better option than leather Oxford shoes when the pair of jeans you're wearing aren't ideal.
For example, if your jeans are of a lighter color, have some distressing, or a wide-leg fit, Oxford shoes would not be the best option.
However, a pair of suede Oxfords would be a lot more likely to work here than a pair of leather ones.
They give you more options when it comes to this combination – having options is never a bad thing.
8. Switch Up The Laces
Another way to make a pair of Oxford shoes look more casual is by switching up the laces.
While this may seem like a pretty time-intensive way of doing things, once you get the hang of it, changing laces can actually be quite quick.
Even a pair of formal-ish Oxford shoes can be made to look a notch or two more casual by switching the laces to something brighter and colorful.
It works best when the contrast between the color of the Oxford shoes and the laces is pretty obvious.
You don't want to make it look too outrageous or childish. But some contrast will always work pretty well.
It'll probably draw some attention, but not in a bad way.
It's also good because it's a lot cheaper to buy a new pair of laces than it is to buy a whole new pair of Oxford shoes to go with your jeans.
9. Avoid T-Shirts
When wearing Oxford shoes and jeans, it's important to go for something appropriate up top. While jeans and T-shirts often work perfectly well together, when you're wearing Oxford shoes it's best to avoid T-shirts altogether.
In fact, avoid all tops that are simply too casual to be worn with Oxford shoes. Vests and hooded sweatshirts will usually be included within this category.
Instead, go for smart casual items of clothing that'll work well with Oxford shoes and jeans. Nothing too formal, but nothing too casual either.
As I mentioned earlier, examples of appropriate tops include polo shirts, Henley shirts, Oxford shirts, and sports coats.
The main takeaway point here is that it's not enough to simply pair the right pair of jeans with the right pair of Oxford shoes. If the overall outfit doesn't work as a whole, all of your hard work will be undone.
This tip, as well as the others in this list, should ensure you make it all work for the specific setting you're dressing for, each and every time.
Ready Sleek founder. Obsessed with casual style and the minimalist approach to building a highly functional wardrobe. Also a fan of classic, vintage hairstyles.