Sport coats are great for dressing up an outfit, while khakis are arguably just as versatile. The question is, can you really wear a sport coat with khakis?
Khakis look fantastic with a sport coat. Carefully consider the color of your sport coat and your shoes. Go for a dress shirt and tuck it in. Remember to avoid patterns and think about the formality of the situation – a sport coat with khakis is primarily a smart-casual outfit.
Although that's the short answer, there's much more to it.
So, let's dig deeper.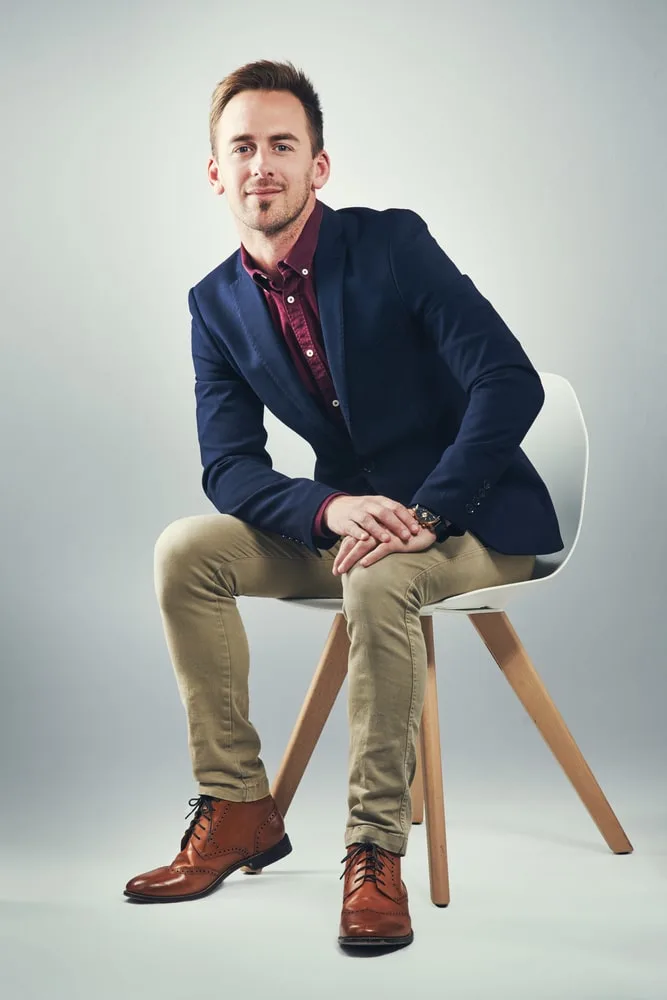 6 Tips For Wearing A Sport Coat With Khakis
While this is a great look, it can be difficult to pull off. Here are six tips for wearing a sport coat with khakis to help you look fantastic every time.
1. Consider The Color Of Your Sport Coat
Sport coat color is hugely important. Grey, black, blue, and brown are solid colors to consider wearing with khakis. Grey and dark blue sport coats are great for business-casual settings, whereas brown is better for smart-casual settings in the fall. Black sport coats contrast with khakis but are quite dressy.
Your sport coat will be the centerpiece of your outfit. Therefore, picking the color carefully is absolutely crucial.
Picking the wrong sport coat color can ruin your outfit entirely and look incredibly awkward.
It's important to remember that each sport coat color has its own formality levels, and getting it right is essential, too.
This table addresses the best formalities to wear each of the optimal sport coat colors (alongside khakis).
| | |
| --- | --- |
| Grey Sport Coat With Khakis | Works well as a business-casual combination |
| Black Sport Coat With Khakis | High-contrast but relatively dressy |
| Blue Sport Coat With Khakis | Dark shades of blue can be worn with khakis as business-casual |
| Brown Sport Coat With Khakis | Ideal for smart-casual settings in the fall |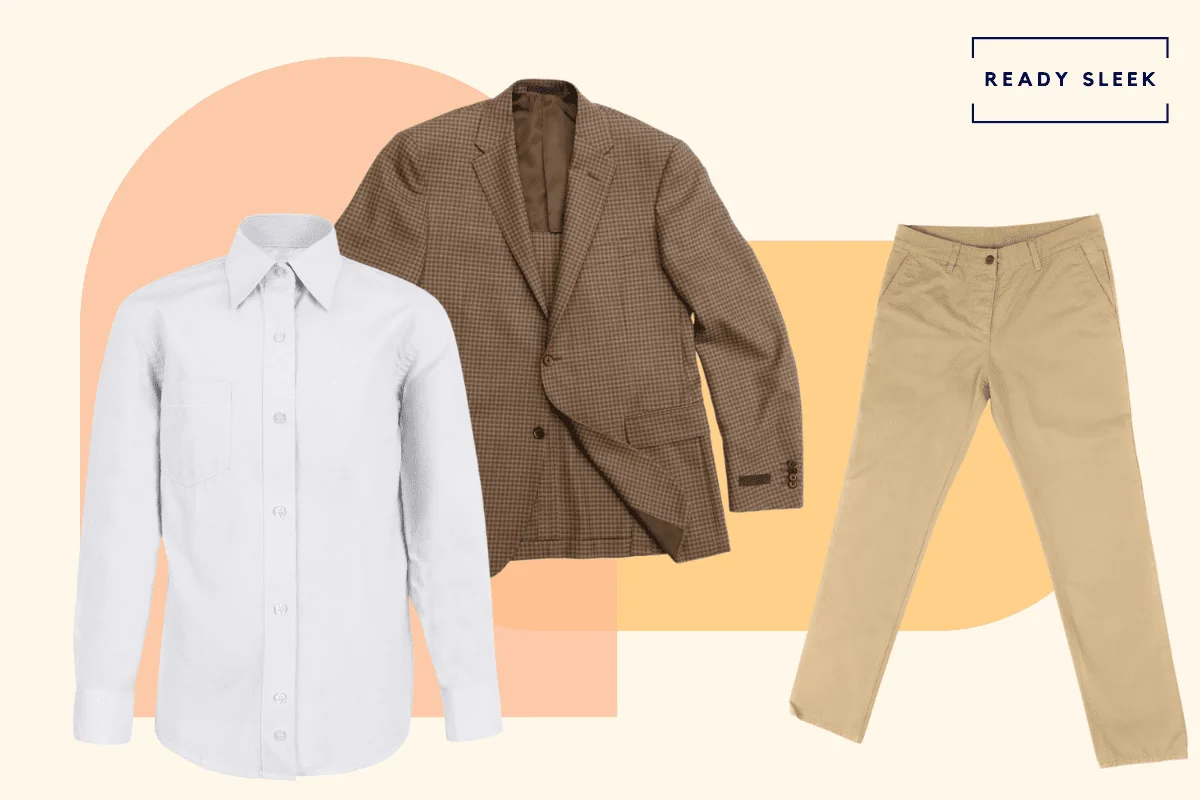 When going for a grey sport coat with khakis, remember that there are many different shades of grey.
This gives you versatility in your outfit, as grey goes with pretty much anything.
However, keep in mind that there'll be less contrast with the khakis if you go for lighter shades of grey.
Similarly, light blue sport coats contrast with khakis less than dark blue sport coats.
That being said, dark blue and navy sport coats are considerably more formal than light blue ones.
If you go with a brown sport coat, ensure its color isn't the same nor too similar to your pants.
Else, you risk your outfit looking like a poorly-matched suit. This can make the overall look appear scruffy.
2. Consider Your Shirt Style
Knowing the best layer to wear underneath your sport coat can be difficult. Sport coats can be layered over a variety of different shirt styles ranging from dressy to not-so-dressy at all.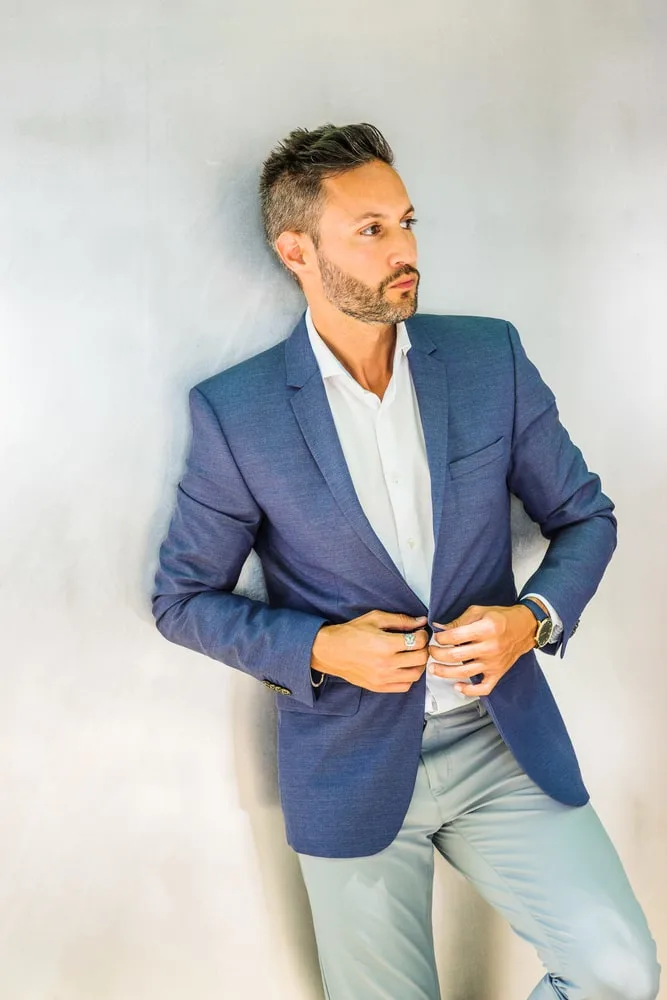 It's important to get the balance right between your more casual wear (such as your khakis) and your more formal garments (such as your sport coat).
In dressy settings (eg. business-casual), a dress shirt is often the best thing to wear underneath your sport coat. Think 100% cotton, broadcloth, or poplin.
White dress shirts are arguably the most versatile option here.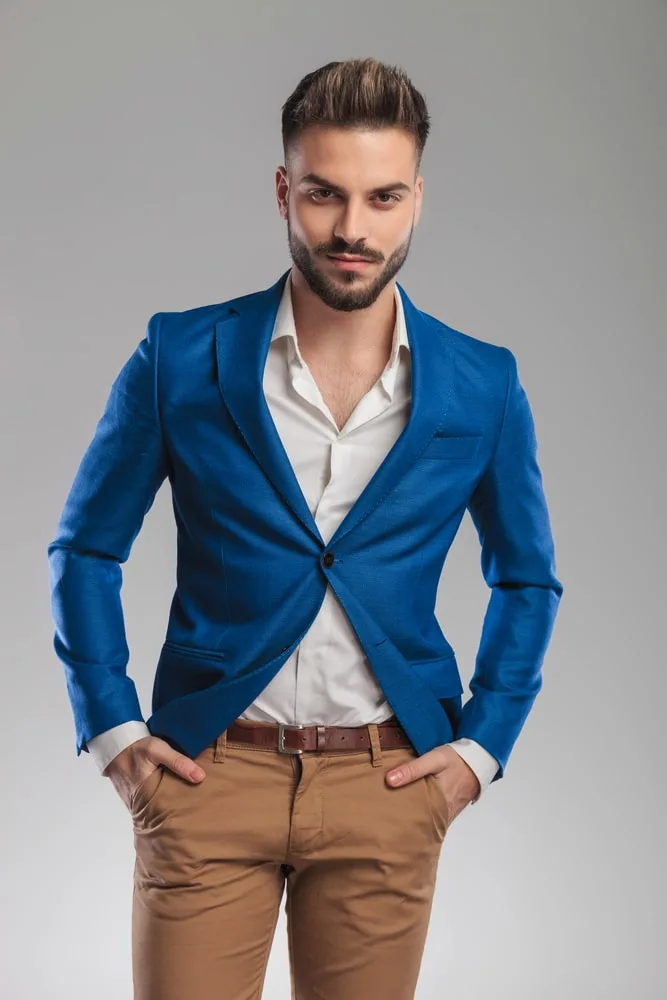 White is incredibly versatile and pairs with pretty much everything, so it will match brilliantly with your sport coat – regardless of its color.
As well as this, white and khaki are both neutral colors. Neutral colors are naturally versatile, and you can't go wrong in pairing two together.
In more casual settings, a sport coat can be layered over a T-shirt instead. It makes for a nice smart-casual aesthetic that you don't have to put much thought into.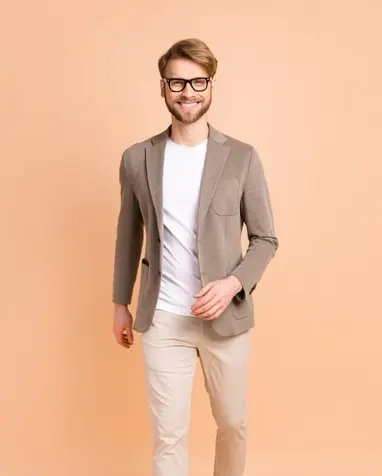 3. Tuck In The Shirt
Whether you go for a dress shirt or a T-shirt, there's one thing both have in common with this outfit: they should always be tucked in.
Tucking in your shirt is a necessity when wearing a sport coat with khakis. This is because sport coats dress up the outfit.
And while khakis can be worn casually, the general consensus is that a sport coat with khakis is much more smart-casual than casual.
Therefore, the outfit should be worn as such – including wearing a tucked-in shirt.
There are two styles of tucks; one of them is appropriate, while the other isn't.
The French tuck entails tucking in the front half of your shirt or T-shirt, leaving the back untucked (this is called a tail).
This tuck isn't appropriate for this outfit due to its casual nature.
Instead, go for the traditional full tuck. The full tuck simply involves tucking in your shirt around the entirety of your waistband.
It's the most formal tuck and is the most suitable one to wear with a sport coat and khakis.
Wearing a belt is essential when going with the full tuck.
4. Choose Your Shoes Carefully
"Smart-casual" is a pretty vague term and can cause some confusion – particularly with footwear.
Some sources recommend minimalist sneakers, while others suggest that dress shoes are the only appropriate footwear.
While both can be acceptable, they are on either end of the formality spectrum.
So, instead of going with one of these extremes, finding the middle ground is optimal.
In this case, the middle ground is semi-formal: shoes that are formal but not to the same extent as dress shoes. Such footwear includes loafers and monk straps.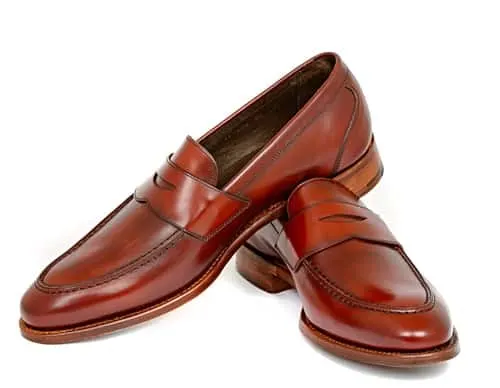 Derby shoes can work well too.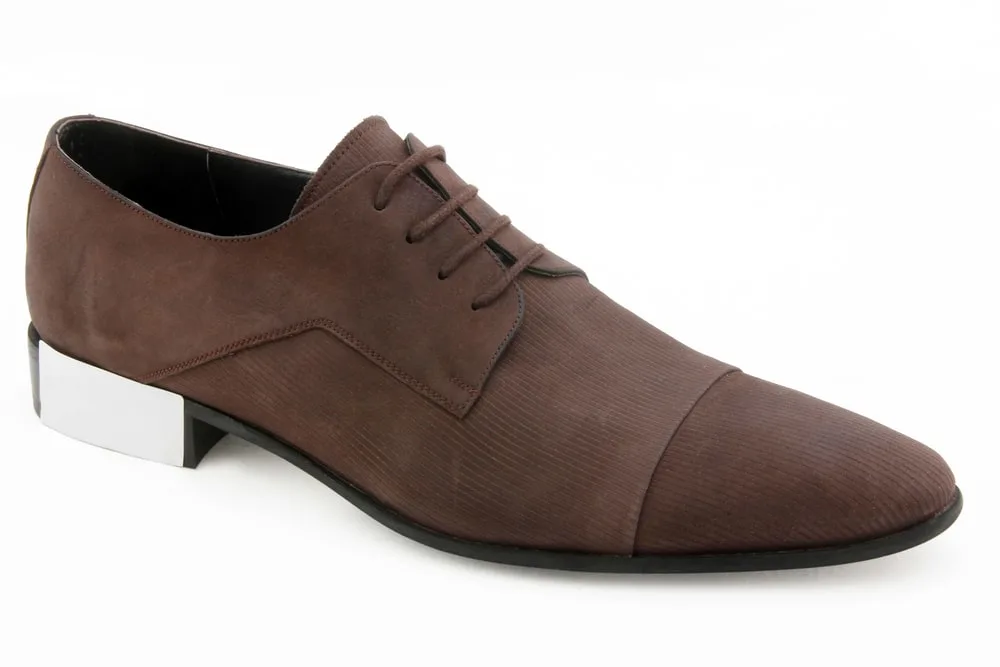 It's also important to consider the color of your semi-formal shoes.
Typically, black and brown are the best formal shoe color options, and this stands true when wearing a sport coat with khakis.
While it may seem minimal, you should also think about your socks.
Your sock color can make a huge difference to your outfit – sometimes without you even realizing it.
The term "khaki" is incredibly broad, and there are many colors people would consider to be this color.
Therefore, finding socks that suit your outfit can be challenging. When doing so, look for socks of a similar color to your khakis but are a few shades darker.
This will ensure a smooth transition from your pants to your shoes and won't make them stand out too much.
5. Avoid Patterns
Generally speaking, it's best to avoid patterns when wearing a sport coat with khakis.
This includes sock, shirt, and sport coat patterns (and khaki patterns, but they don't usually have patterns anyway).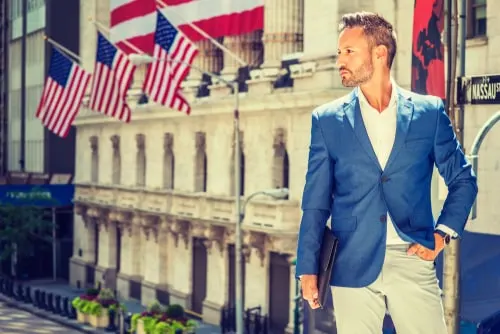 While it may sometimes be acceptable, it can be risky, so steering clear of them is recommended.
That being said, if you do wish to wear a pattern, consider going for a subtle sport coat pattern.
This will ensure you remain discreet and don't appear overly flamboyant.
With this outfit, a better alternative to a patterned sport coat is a textured one.
Textured sport coats are slightly more subtle than patterned ones but still make a statement. Consider textures like corduroy, tweed, hopsack, serge, and flannel.
6. Think About The Situation's Formality
Finally, thinking about the situation's formality is crucial. "Smart-casual" has been mentioned throughout this post – and that's exactly what this outfit is.
Despite khakis being acceptable casually, a sport coat really dresses them up.
Wear a sport coat and khakis alongside a dress shirt and loafers or monk straps, and you've got yourself a perfect smart-casual outfit.
However, it's important to remember that this outfit is strictly smart-casual, not formal.
Wearing this outfit to a formal event, where formal attire is expected of you, could be seen as rude or disrespectful.
Black and white-tie events are a fundamental no-go with this outfit, as are funerals and some weddings.
Frequently Asked Questions
Here are some frequently asked questions to really round off the topic.
Can You Wear A Sport Coat And Khakis To A Wedding?
Wearing a sport coat and khakis to a wedding may be acceptable – it entirely depends on the dress code (usually found on the wedding invitation). If it's a formal dress code, avoid this outfit, as a 2-piece suit would be required at a minimum.
A sport coat with khakis is very much on the casual end of the formalwear spectrum.
Therefore, at weddings or other similar events that request casual attire but are traditionally formal, smart-casual is usually the way to go.
Combine your sport coat and khakis with a tucked-in dress shirt and semi-formal shoes, such as loafers or monk straps.
Should You Wear A Sport Coat Or A Blazer With Khakis?
It's possible to wear a blazer or a sport coat with khakis. Despite having their differences, blazers and sport coats are overall pretty similar in appearance. Therefore, wearing either is acceptable with khakis.
Some fashion gurus may argue that sport coats and blazers are incredibly different.
And, to a certain extent, this is true. Blazers, for example, are slightly more formal than sport coats.
This is primarily due to its material over anything else.
However, their overall appearance and formality levels are pretty similar.
As such, wearing either is possible with khakis – it's down to personal preference.
Conclusion
Now that you know how to wear a sport coat with khakis, alongside the situations in which it's appropriate, you'll be able to pull it off every time.