Short sleeve shirts have been controversial for decades – particularly regarding their formality. This begs the question: is a short sleeve shirt smart-casual, business-casual, or formal?
Short sleeve shirts can be worn in smart-casual, business-casual, or – in some circumstances – formal situations. Consider the color (white or light blue works best in more formal settings) and the fabric of the shirt.
However, there's much more to it.
Read on for the ins and outs of wearing a short sleeve shirt in every situation.
Let's get to it.
How To Wear A Short Sleeve Shirt As Smart-Casual
The most casual of the three mentioned dress codes, smart-casual should be an ideal blend of formalwear and casualwear.
Here are three tips to help you pull off a short sleeve shirt under a smart-casual dress code every time.
1. Consider A Patterned Shirt
While short sleeve shirts are traditionally pretty casual, the dress code for more formal events is becoming much more lenient.
This means that a short sleeve shirt may be seen by some as leaning much more towards formal than casual.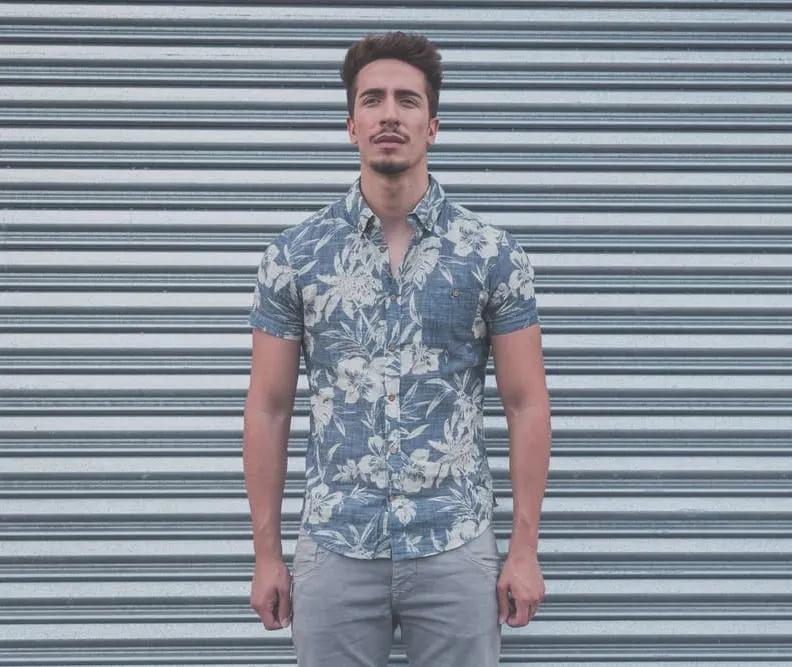 An effective way to dress down your short sleeve shirt in order to maintain the smart-casual dress code is by considering patterns.
Patterned shirts are typically much more casual than block-colored, light shirts, making them ideal for smart casual occasions.
Having said this, patterns that are too bold, bright, or contrasted can substantially detract from the slight formality of smart-casual.
The solution to this is to stick to more discreet patterns, such as subtle stripes or checks.
Furthermore, it's best to avoid bright colors altogether. Instead, go for light, pastel colors – light pinks, blues, and yellows, for example.
Doing so will ensure your outfit remains smart-casual and doesn't delve too deep into casual attire.
2. Leave Your Top Button Undone
Typically, the only time to do up your top button is when wearing a tie or bowtie.
Wearing a short sleeve shirt on smart casual occasions is no exception.
Doing up your top button unnecessarily is uncomfortable and can feel tight and restrictive to your movement.
Not only that but doing up the top button of your shirt without wearing a tie or bowtie also makes your outfit look incomplete.
An outfit that appears incomplete never looks good, regardless of the dress code.
By leaving your top button undone, you're reinforcing the smart-casual nature of the situation.
This is because an undone top button subtly dresses down the outfit – making it appear more relaxed and casual without going overboard.
In some instances, it may be acceptable to undo your two top buttons; however, this is only advised if you categorically know that it's appropriate.
3. Untuck Your Shirt
Leaving your shirt untucked is a great way to uphold the "casual" part of the smart-casual dress code.
While in some smart-casual circumstances, it may be best to tuck in your shirt, the majority of the time, it's perfectly acceptable to leave it untucked.
If you do leave your shirt untucked, however, it's crucial to ensure it fits well.
An untucked shirt that's too long will look awkward and disproportionate to the rest of your outfit.
If your shirt is the right length to be left untucked, the more casual nature of short sleeves and being untucked alongside the formal nature of a button-up make it perfect for smart-casual.
How To Wear A Short Sleeve Shirt As Business-Casual
Business-casual is a step up in formality from smart-casual and, therefore, has different short sleeve shirt recommendations.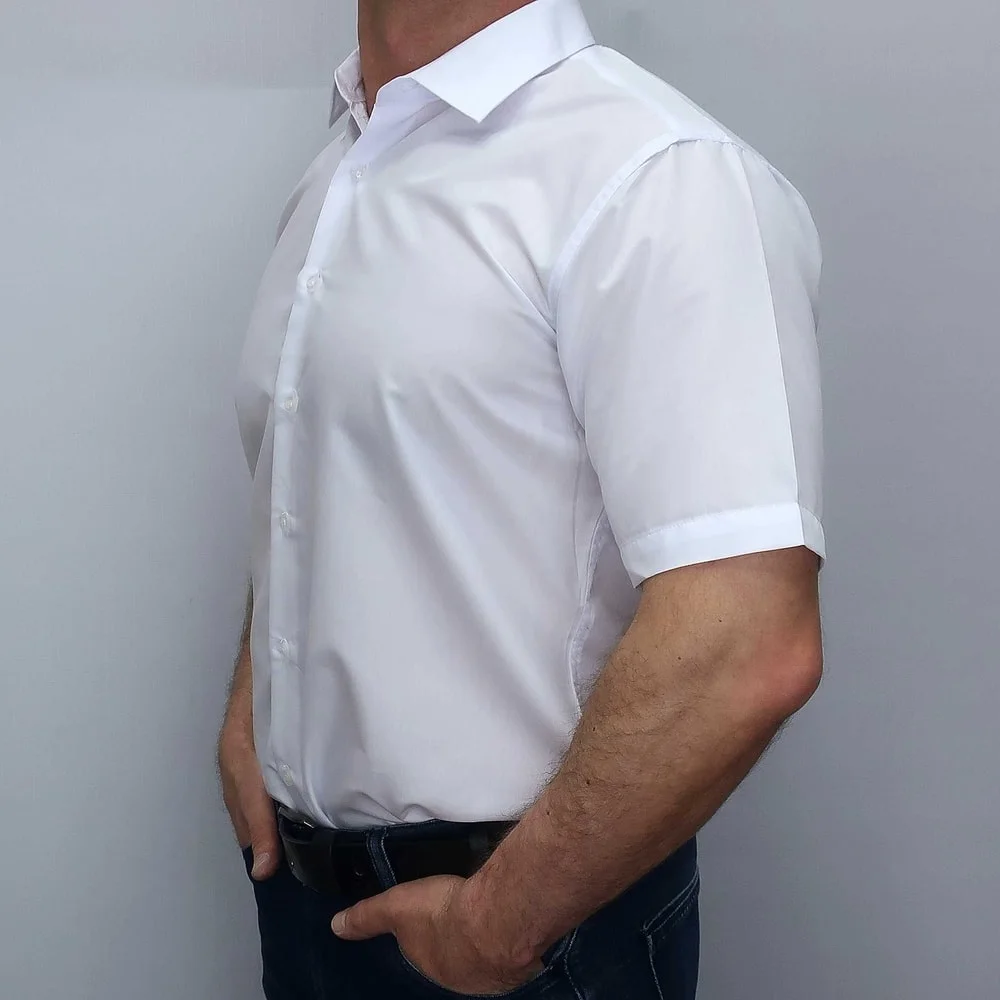 1. Think About The Collar
While it may seem an unlikely thing to consider, the type of collar you choose is very important.
It's a subtle difference, but it matters; going with the wrong collar can throw off the entire outfit, as some collars are typically more formal than others.
Furthermore, not wearing a tie or bowtie makes the collar much more noticeable.
There are two collar styles that are best for a short sleeve shirt under a business-casual dress code: the button-down or the cutaway.
Not to be confused with the term "button-up" (used to describe a style of shirt), the button-down is a collar type that originates from sports and has two distinctive buttons to prevent the collar from flapping around.
These buttons have become more of a decorative feature over time and are great for short sleeve shirts in business-casual situations.
The cutaway collar is a much more subtle, sophisticated collar, which is similar to the typical shirt collar; however, it doesn't extend as far forward.
Its tips are somewhat squared off as opposed to prominently pointed – as you'd find in many standard shirt collars.
Worth noting is that while the cutaway and button-down collars are the best business-casual collars, they aren't the only acceptable ones – other collars can work.
2. Go For Dress Pants Or Chinos
As mentioned, business-casual is a step above smart-casual in terms of formality.
Because of this, it's best to have a set-in-stone formal garment, as well as the controversial short sleeve shirt.
The optimal way to achieve this is going for dress pants – or pants of similar formality to dress pants.
Chinos are a very reasonable alternative and are generally considered a staple of the business-casual dress code.
Dress pants and chinos will dress up your short sleeve shirt without over-dressing for the business-casual occasion.
Opt for dark dress pants – charcoal and black work best – and ensure they fit well. Well-fitted dress pants will further enhance the outfit.
Wearing a belt with your dress pants is optional; however, if you decide to wear one, go with a silver-buckled, black leather belt for the optimal look.
3. Consider The Fabric
The fabric of your short sleeve shirt matters more and more as the formality levels increase.
While it's not a make-or-break factor at business-casual formality, it's still important to know the best fabrics to wear.
On top of this, there are some fabrics that are fundamental 'no-goes' for a short sleeve shirt in a business-casual environment.
Fabrics that work particularly well include linen, Oxford fabric, twill, and cotton.
These have minimal texture and are breathable – which is important because short sleeve shirts are typically worn in warmer climates.
How To Wear A Short Sleeve Shirt As Formal
While short sleeve shirts typically aren't appropriate on formal occasions, there are some scenarios where they are acceptable.
Such scenarios include warm climates, where it's simply too hot to wear anything else.
Here are some tips to help you get it right in such circumstances where a short sleeve shirt is appropriate under a formal dress code.
It's worth mentioning that business-casual tips 1, 2, and 3 are all relevant here as well, so keep that in mind.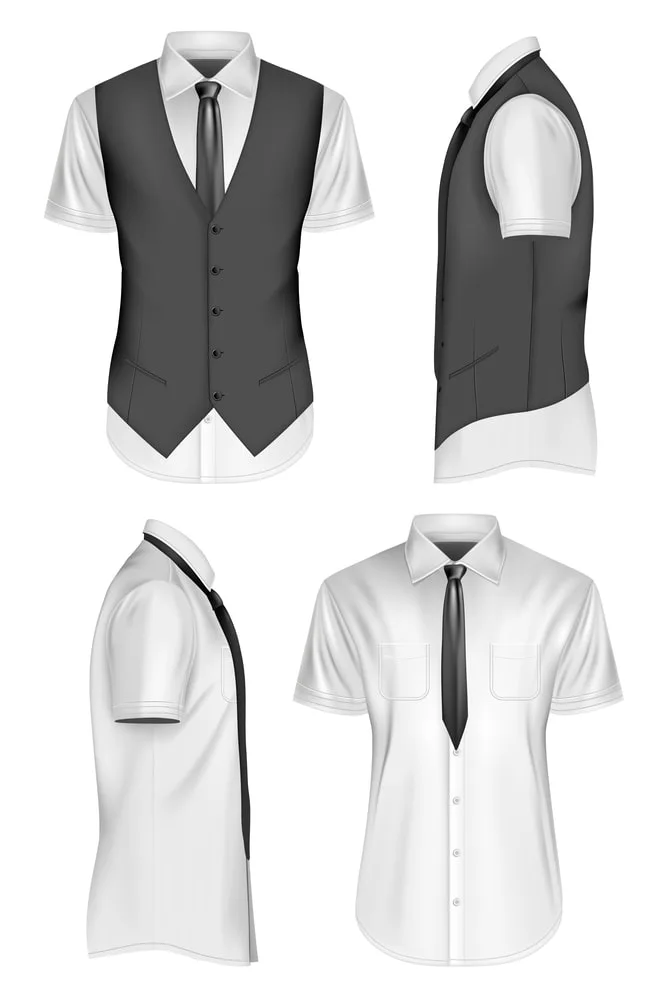 1. Tuck In Your Shirt
Tucking in your shirt is a very simple but important thing to do when wearing your short sleeve shirt as a formal garment.
This straightforward method elevates the outfit to the next level of formality.
There are typically two popular tucks – the French tuck and the full tuck – and the one appropriate for formalwear is the full tuck.
The full tuck involves tucking in your shirt all the way around your waistline.
It's important to ensure your shirt is long enough to be able to do this. Otherwise, you risk your shirt becoming untucked or not tucking in properly at all.
Furthermore, when tucking in your shirt, you should always wear a belt.
The best belt style to wear with this outfit is a simple, silver-buckled, black leather belt.
Go for a slim or skinny belt to further accentuate the formality of the outfit.
A belt that's too wide will dress down the outfit too much, thus creating a formality mismatch.
2. Ensure It's Appropriate
Finally, it's important to make sure that wearing a short sleeve shirt at the event you're attending is appropriate.
A short sleeve shirt isn't appropriate for every formal occasion. In fact, it isn't for many.
Therefore, being one hundred percent sure that wearing a short sleeve shirt is acceptable attire is absolutely critical.
Wearing a short sleeve shirt – even on formal occasions – is widely accepted in warm or tropical climates.
Such circumstances may mean that wearing anything other than a short sleeve shirt is impractical and overly uncomfortable.
If you're ever unsure whether or not you can wear a shirt sleeve shirt to a formal event, it's best to avoid it. Otherwise, you could turn up to the event underdressed.
3. Avoid Patterns Or Bright Colors
Part of traditional formalwear is avoiding patterns or bright colors, and wearing a short sleeve shirt is no exception.
It's best to always avoid bright colors or patterns when wearing a short sleeve shirt under a formal dress code.
This is because the short sleeve shirt is a pretty controversial garment in this situation, and bright colors or patterns could push it too far into the realm of casual – making it inappropriate.
Even small, discreet patterns, such as subtle checks or stripes, can have a large impact on the formality of the outfit. Therefore, it's best to avoid them altogether.
Instead, a block-colored white, off-white, or sky blue short sleeve shirt will do the job perfectly.
Conclusion
You now know how to wear a short sleeve shirt, regardless of the formality of the occasion. Remember, if you're ever unsure about if it's appropriate or not, avoid it altogether.