Pairing neutral colors isn't difficult, but it isn't always as simple as it may seem at first. This is especially true when one of the colors isn't a "true" neutral in the first place. The question is, can you really wear a navy blazer with grey pants?
Navy blazers can easily be worn with grey pants in smart-casual and business-casual settings. Try to pair more structured navy blazers with dressier items such as dark grey dress pants and white button-up shirts. Casual and rugged-looking navy blazers can even be worn with grey chinos and jeans.
While that short, sweet answer will serve you well, there's a whole lot more to it.
After going through a few outfit ideas to try out, we'll run through some essential tips for making this combo really stand out.
So, without further ado, let's get to it.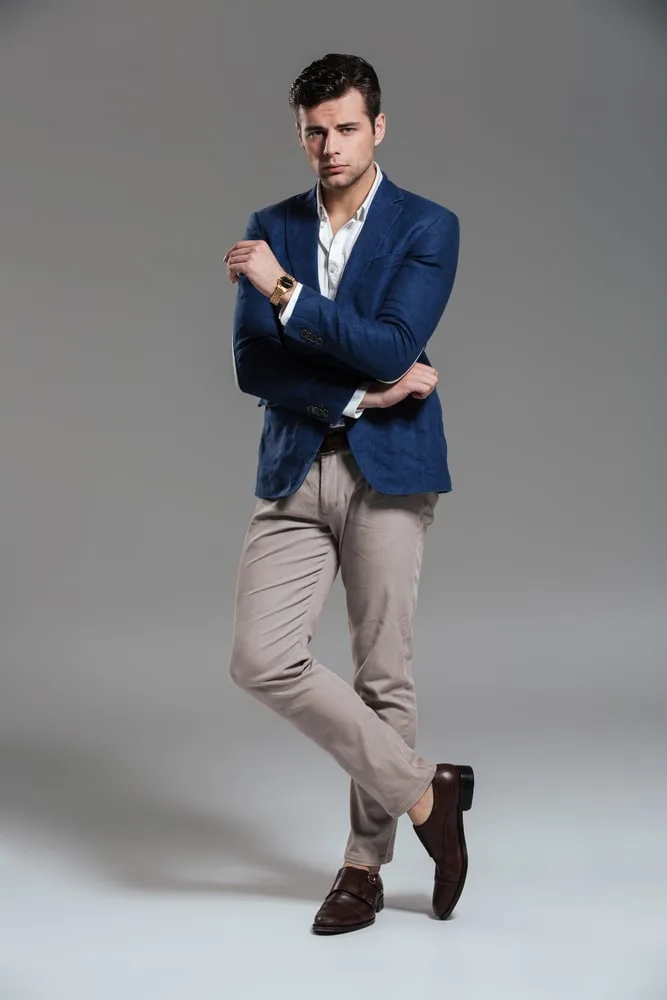 3 Navy Blazer And Grey Pants Outfits
This should show you just how many ways there are to wear this combination.
It can look very different depending on the style of each of these items, as well as the other items you choose to wear them with.
We're going from the dressiest option to the most casual one. Enjoy.
Dressy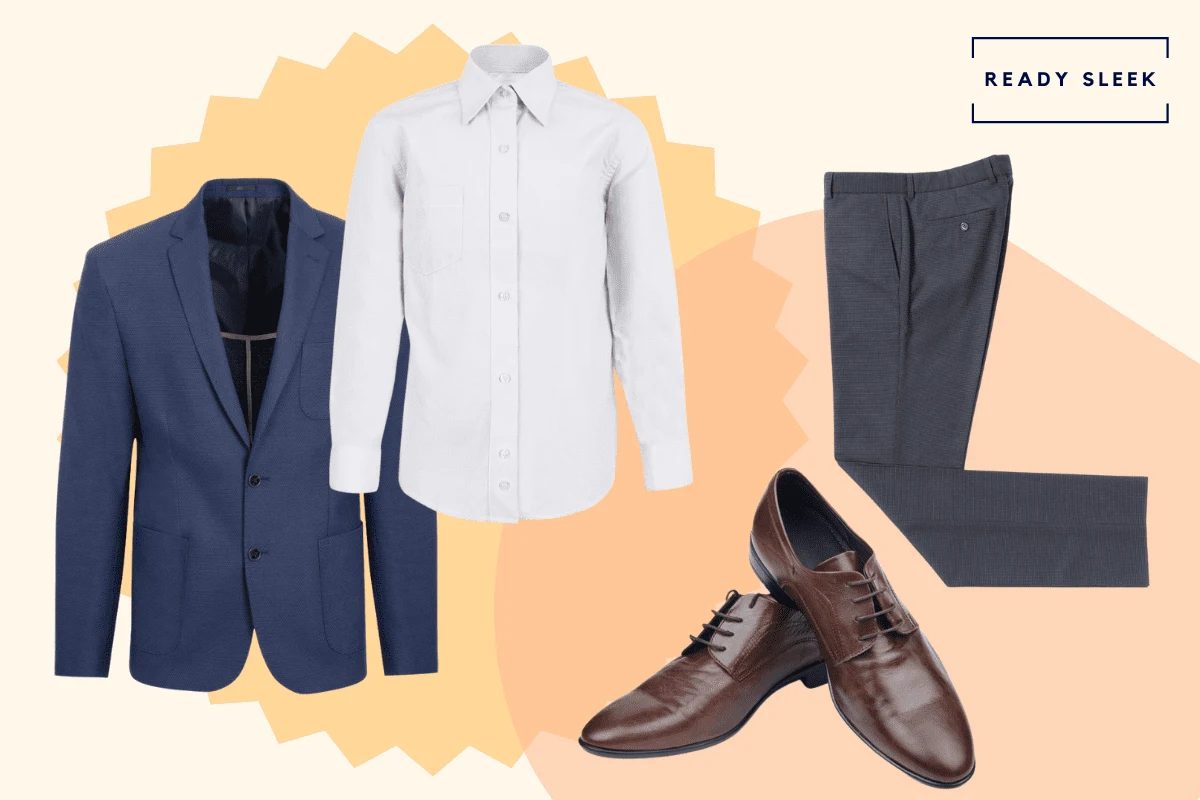 Items: Navy Blazer, Dark Grey Dress Pants, White Button-Up, Brown Leather Derby Shoes, (Possibly) A Necktie
Here, we've got a navy blazer with a pretty structured appearance.
The grey pants can confidently be labeled "dress pants" too. In general, dark grey pants will always look dressier than light grey alternatives.
A white button-up shirt is the dressiest way to compliment this combination, but it doesn't necessarily need to be 100% cotton.
Slightly more casual fabrics and weaves such as broadcloth and poplin can work very well too.
A pair of dark brown Derby shoes looks great here because they're dressy but not quite as stuffy or formal-looking as a pair of black Oxfords, for example.
When wearing this combination in a relatively formal way like this, you could wear a necktie without it looking awkward or out of place.
However, given how you're most likely going to be attending a business-casual or smart-casual setting, consider whether a necktie is necessary in the first place.
More Casual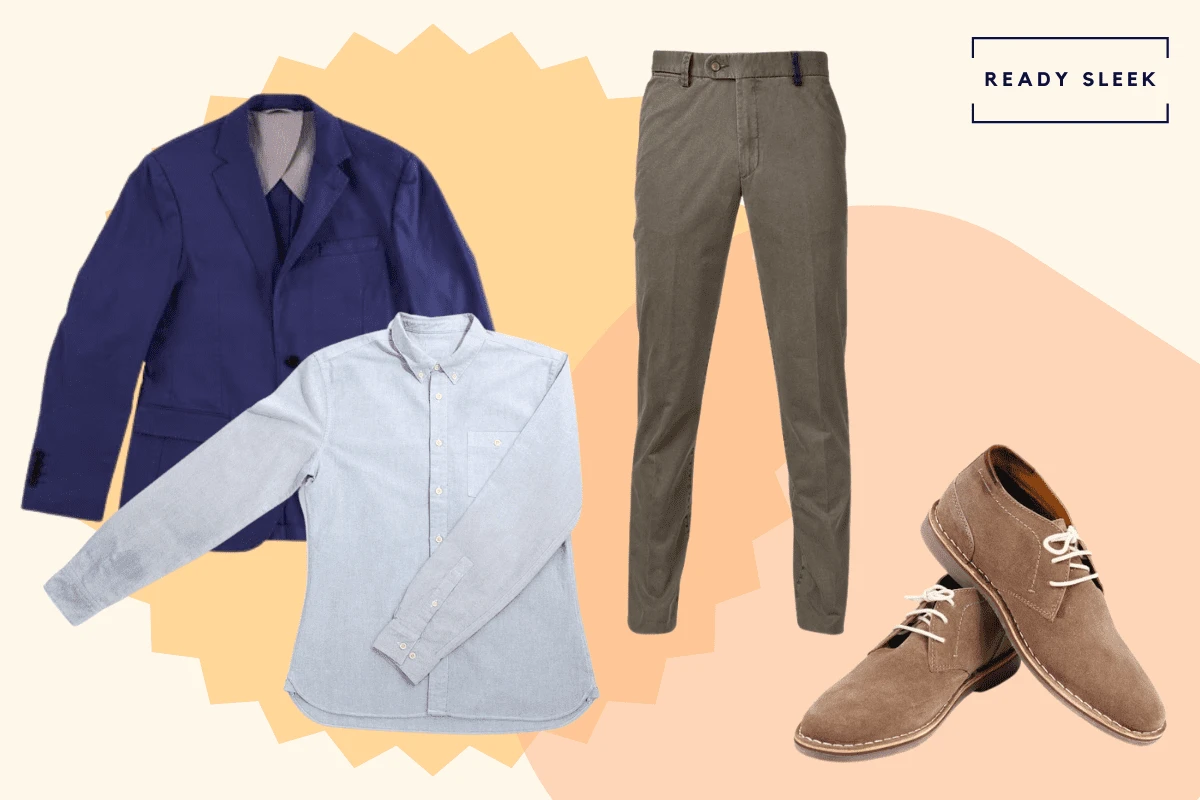 Items: Navy Blazer, Grey Chinos Or Dress Pants, Light Blue OCBD Shirt, Tan Suede Chukka Boots
There are several reasons why this outfit looks a notch more casual than the previous one.
The navy blazer looks less structured with less shoulder padding and a more relaxed fit.
You could go for either a pair of grey dress pants or chinos – both would be suitable in a more "smart-casual" outfit such as this.
In addition, instead of the dark grey pants in the previous outfit, you could go for a pair in a more casual-looking light or medium grey.
The color and style of the shirt are also important here.
A light blue OCBD will inevitably look more casual than the white chambray button-up in the previous example.
It's more rugged and more relaxed, but will still hold its own in a smart-casual setting when worn under a navy blazer.
Finally, a pair of suede chukka boots in a light shade of brown would look great here but should be reserved for winter or fall.
During the warmer months of the year, you could consider a pair of leather loafers instead.
Most Casual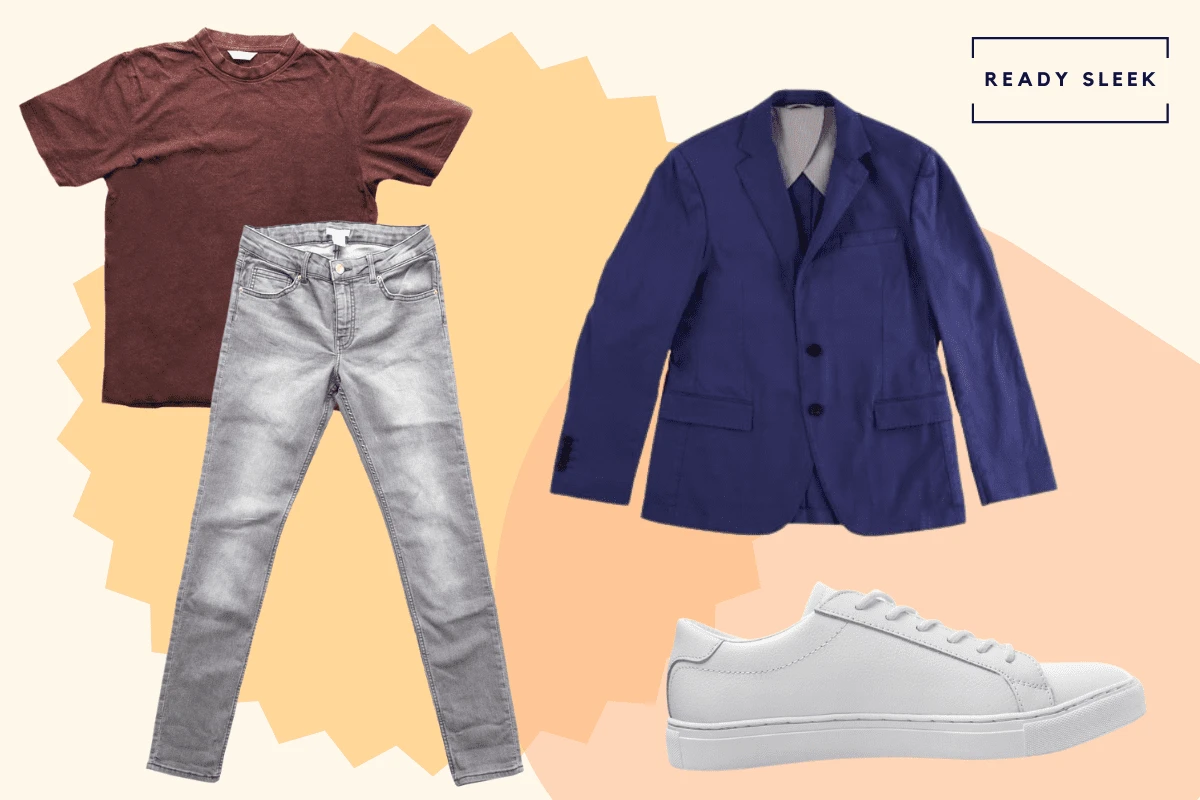 Items: Navy Blazer, Grey Jeans, Maroon T-Shirt, All-White Leather Low-Tops
This is the most casual outfit of the three.
The navy blazer is the same one we used in the previous example, but notice just how different it looks when paired with grey jeans instead of chinos or dress pants.
It works but looks a whole lot more casual.
The blazer-over-T-shirt combination also looks fantastic but needs to be worn in settings that are casual enough for it to make sense.
In addition, consider going for an underlayer (eg. T-shirt, polo, knitwear) in a more vibrant and non-neutral color.
Adding a pop of color using your shirt is a great way to dress down any blazer and pants combination.
The all-white leather low-tops keep things classy. They're "dressy" enough to wear with a blazer, while also making it clear that you're fully embracing the casual aesthetic.
5 Tips For Wearing A Navy Blazer With Grey Pants
Here are some great tips for wearing this combination in the most effective way possible. Consider all of them before putting your outfit together.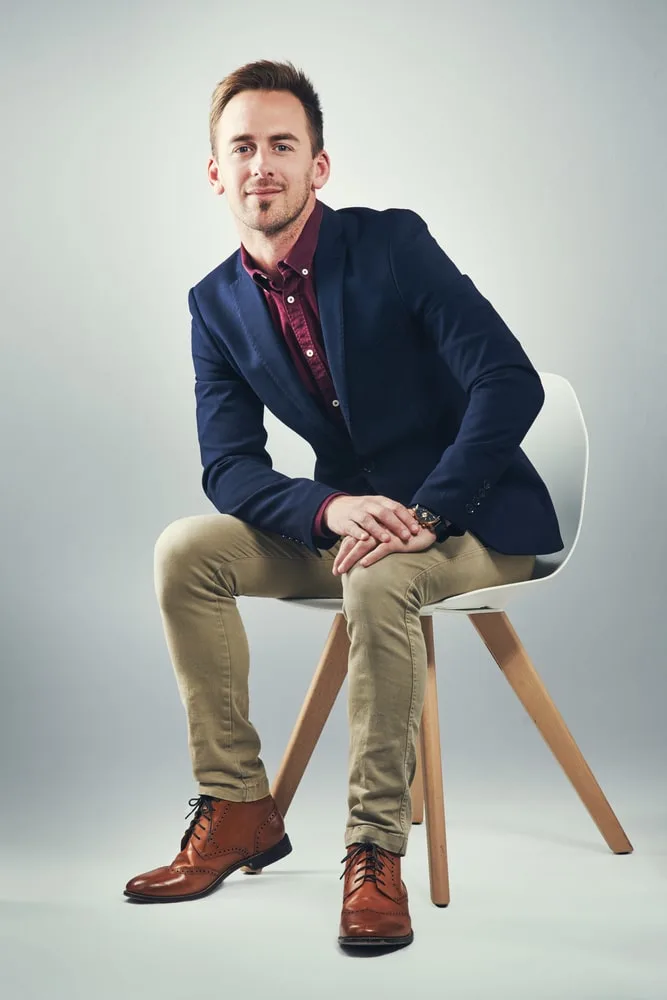 Make Sure It's OK For The Dress Code
A navy blazer and grey pants combination should never be worn in truly formal or business-casual settings where a 2-piece suit would usually be considered essential.
A blazer + pants pairing should really only be worn in smart-casual or business-casual settings where a 2-piece suit isn't usually required.
Ultimately, no matter what the perceived or stated "dress code" is, if you feel as though a suit would be necessary – wear one.
Even if you go for a formal-looking, structured worsted wool navy blazer and a pair of charcoal dress pants, it would still be considered inappropriate in settings where proper suits are required.
But if you feel as though this combination would be acceptable for the setting you're dressing for, read on to find out how to pull it off the right way.
The Fits And Fabrics Make A Huge Difference
Both the navy blazer and the grey pants can look casual or dressy depending on the fit and the fabric of each of the items.
To really make the combination look well put-together, try to pair dressy-looking navy blazers with dressy-looking grey pants.
In addition, try to pair casual-looking navy blazers with casual-looking grey pants.
Do this and you'll avoid an awkward formality mismatch between the two items.
Dressy navy blazers will generally have a more structured appearance with prominent shoulder padding and heavy canvassing. They'll also usually be made from a "shinier" and more wrinkle-resistant fabric such as worsted wool.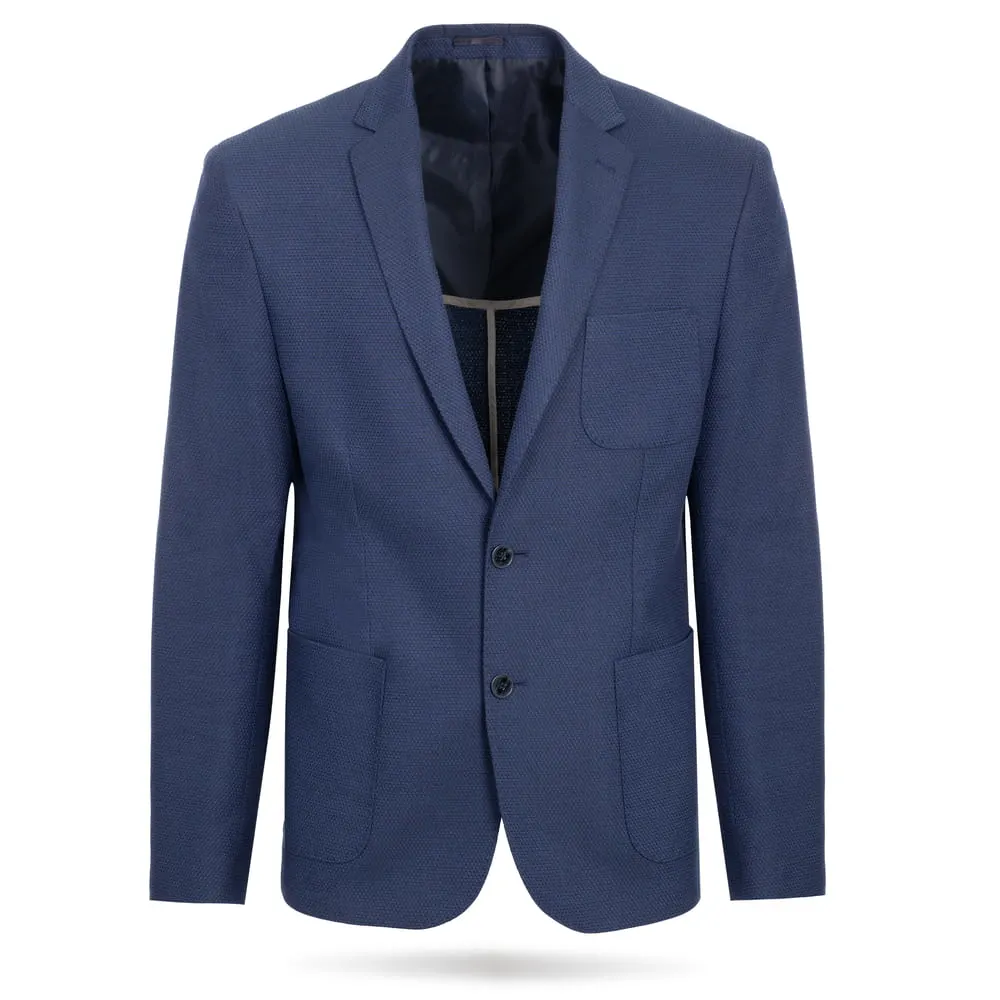 More casual navy blazers will have a less structured appearance and a relaxed fit. They'll also often come in more rugged fabrics/weaves such as herringbone, serge, flannel, tweed, and linen.
Dressy grey pants will usually have a more tapered fit and possibly even features such as center creases and pleats.
In addition, "dress pants" will usually be made from wool or a wool-synthetic blend. They pair well with formal-looking and structured navy blazers.
Alternatively, grey chinos and jeans will undoubtedly look more casual than grey dress pants.
They'd pair well with less structured navy blazers, especially those made from the more casual and rugged-looking casual fabrics/weaves.
Consider Adding Color With Your Shirt
When dressing for a business-casual setting or a smart-casual on the "smarter" end of that spectrum, it's usually best to go for a light and neutral shirt color.
A white button-up would be the most formal and dressy option you could go for.
When dressing down a notch and going more casual, however, consider choosing a shirt that adds a pop of color.
For example, you could wear a navy blazer and grey pants with a pink or olive shirt.
If you wanted to dress down without going for such an eye-catching shirt color, consider a near-neutral or "menswear neutral" such as a beige, cream, or tan shirt instead.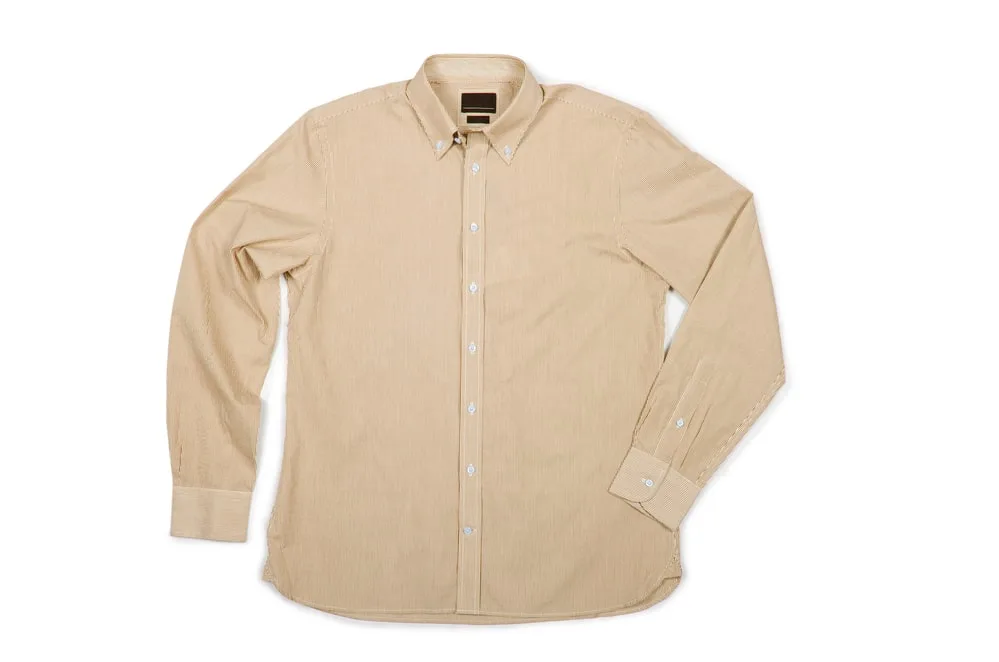 Khaki could work well too.
The vibrance of these colors pops through the neutral foundation of the navy blazer and grey pants combo.
Tie Vs No Tie
As you'll usually be wearing this combination to a business-casual or smart-casual event, strongly consider whether a tie is necessary or not.
Usually, it won't be.
Wearing a tie inappropriately often looks awkward. If you do choose to wear a tie, however, try to ensure the navy blazer + grey pants look "formal" enough for it to make sense.
The first outfit example out of the three laid out above would be the best option in this case.
Usually, however, a tie would be considered too much.
The blazer + pants combo often looks great without a tie and with the top one or two buttons of the shirt left undone.
Choose The Right Shoes For The Setting
Both black and brown shoes look great when wearing a navy blazer and grey pants, with brown being the more casual of these two options.
The darker the shade of the brown shoes, the dressier they'll come across.
But try to choose the right style of black or brown shoes for the setting.
In more casual settings, consider a relatively "casual" pair of dress shoes such as monk straps or loafers.
In dressier/business-casual settings, a pair of Derby shoes would often look great.
When really dressing down, however, a pair of white low-top leather sneakers can be a good way to go.
The reason why this style of sneaker is often the best option is that it'll usually look dressy enough to wear with a navy blazer.
As far as sneakers go, all-white leather low-tops are about as sophisticated as you can get. They're incredibly versatile and a great way to dress down an outfit.
Conclusion
Given the neutrality of both items, the combination has a wide range of use cases. But as you've now seen, the combo can look very different depending on the styles, colors, and fabrics.
Enjoy.
Ready Sleek founder. Obsessed with casual style and the minimalist approach to building a highly functional wardrobe. Also a fan of classic, vintage hairstyles.