Jeans are a staple of casual wear and are generally easy to pair with casual shirt styles regardless of their color. Maroon shirts are no exception.
So, here are some great jeans colors you can wear with a maroon shirt:
Light blue
Dark blue
Black
Grey
White
That's the short answer, but you'll need more.
After going through a few essential tips for wearing this combination, we'll run through those colors in more detail.
Let's get to it.
3 Tips For Wearing A Maroon Shirt With Jeans
Consider all of these tips before putting the combo together. There's a good chance they'll help you choose the right one.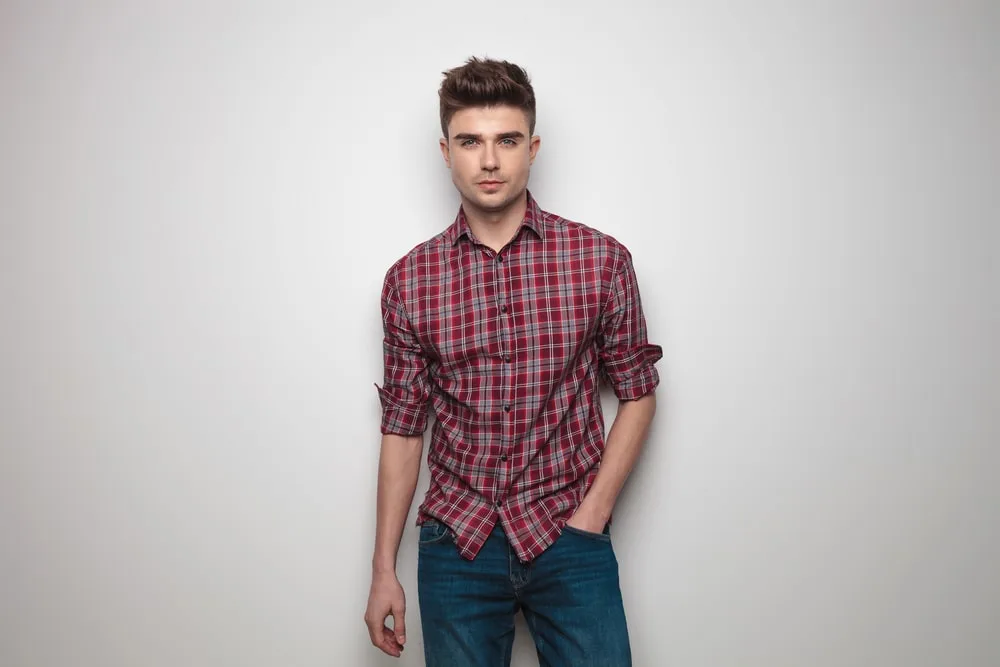 1. Go For A Casual Shirt Style
As mentioned earlier, jeans are very casual. Having said that, certain jeans colors do look dressier than others.
In general, the darker the color of the jeans, the dressier they'll look.
Black, dark grey and dark blue are the dressier options, while light blue, light grey, and white look a whole lot more casual.
Regardless of the color, however, the best maroon shirt styles to choose from would be casual or smart casual.
Generally, it's best to avoid wearing maroon dress shirts with jeans, no matter how "dressy" those jeans may be.
It'll usually lead to a formality mismatch where the jeans just look too casual to wear with the shirt.
Instead, consider more casual shirt styles such as the following:
OCBD shirts
Linen shirts
Chambray shirts
Henley shirts
Polo shirts
T-shirts
The button-ups in that list would be on the dressier end of the spectrum, but the rugged/wrinkly fabrics do make them look more casual than dress shirts.
2. Consider The Contrast
It's important to consider how much contrast you want between the maroon shirt and the jeans when choosing the color of the jeans you want to wear.
Maroon is a dark and deep shade of red with prominent hues of dark brown. Pairing this typically dark color with a pair of light-colored jeans will lead to a high-contrast combo.
This is what you'd achieve by combining a maroon shirt with a white, light blue, or light grey pair of jeans.
On the other hand, wearing the dark shirt with a similarly dark pair of jeans (eg. black, dark blue, indigo, or dark grey) would lead to a more subtle and understated low-contrast combination.
In general, these low-contrast combinations would be a better option when you're looking to dress up.
High-contrast combinations are more eye-catching and attention-grabbing. They'll usually have a more casual appearance than low-contrast combinations in comparison.
3. Make Sure It's Appropriate
Even dressier maroon shirts will still look pretty casual when compared to more formal or professional shirt colors such as white or light blue.
In addition, jeans should never be worn in formal, business professional, or even business-casual settings in any case.
So, avoid wearing the maroon shirt and jeans combo for any of these dress codes and reserve it for casual and smart-casual settings only.
In these casual settings, it could make for the perfect pairing.
Consider the previous two tips, as well as the dress code, when choosing the shirt style and the color of the jeans.
In more "smart-casual" environments, consider a button-up maroon shirt in a casual fabric such as Oxford cloth or linen. Pair it with jeans in a relatively dark color such as black, dark grey, or dark blue.
In truly casual settings where you're really dressing down, consider an even more casual maroon shirt style such as a T-shirt, polo, or Henley.
Pair it with jeans in a lighter color for a striking high-contrast combination (eg. light blue, white, or light grey). If you'd prefer a darker overall aesthetic, however, go for a dark-colored pair of jeans instead.
When dressing down, you've got more choices when it comes to color.
5 Maroon Shirt And Jeans Combinations
Here are those color combinations displayed and described in a little more detail.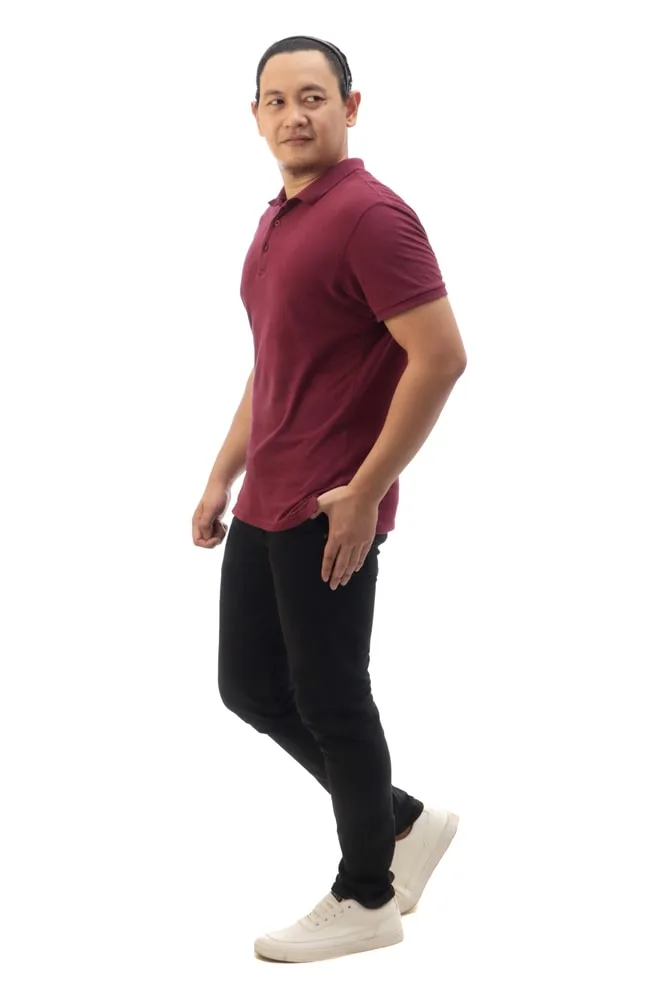 Maroon Shirt With Blue Jeans
Maroon shirts work well with light blue jeans in casual settings. The high-contrast pairing is bold and vivid.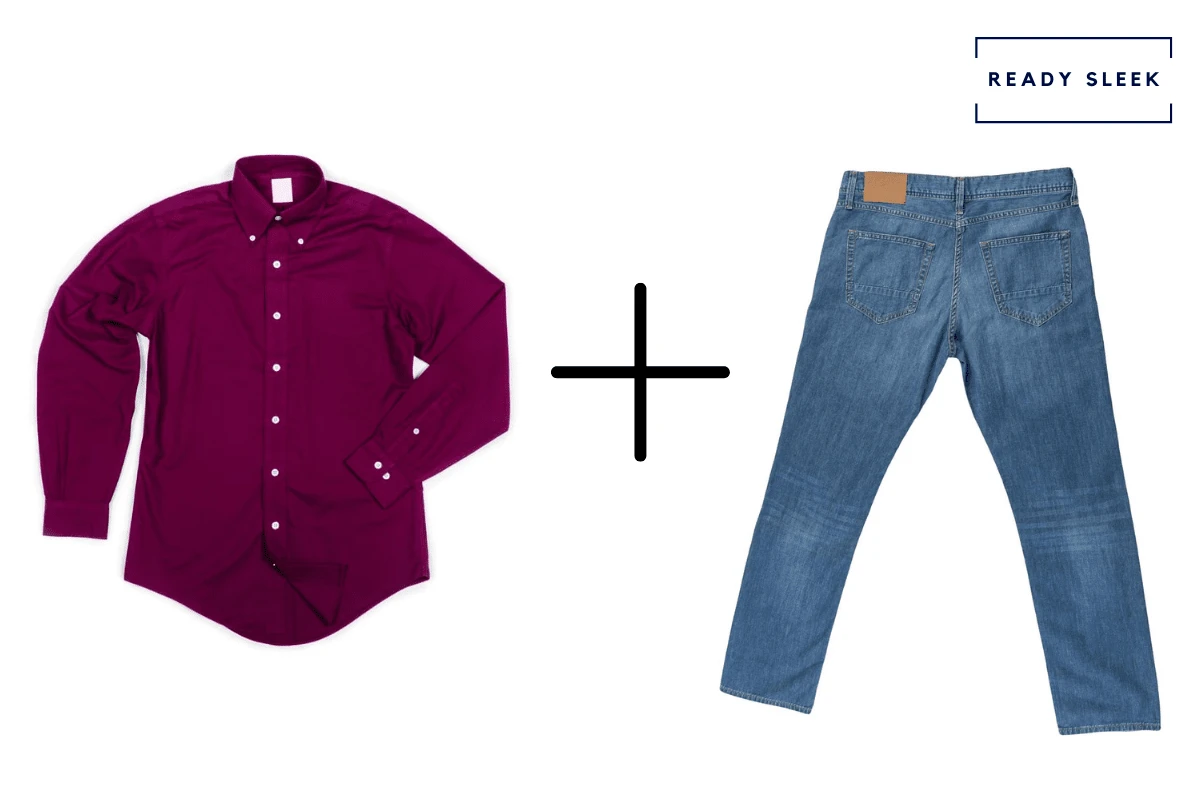 Light blue jeans are extremely common and in many ways, epitomize the casual aesthetic.
While you could wear a button-up shirt with a pair of light blue jeans, the casual appearance of light blue does lend itself well to more casual shirt styles.
It would be more natural to wear light blue jeans with a maroon T-shirt or polo than it would be to try and combine it with a maroon button-up shirt.
If you were really looking to dress down, consider a pair of distressed light blue jeans with rips, frays, tears, and fading (eg. stone washing or acid washing).
This would really only be appropriate in very casual settings but can look great when going for more of a grunge look.
Maroon Shirt With Dark Blue Jeans
A maroon shirt can be worn with dark blue jeans in casual and smart-casual settings. The dark aesthetic and the low-contrast combination has a subtle and dressy appearance to it.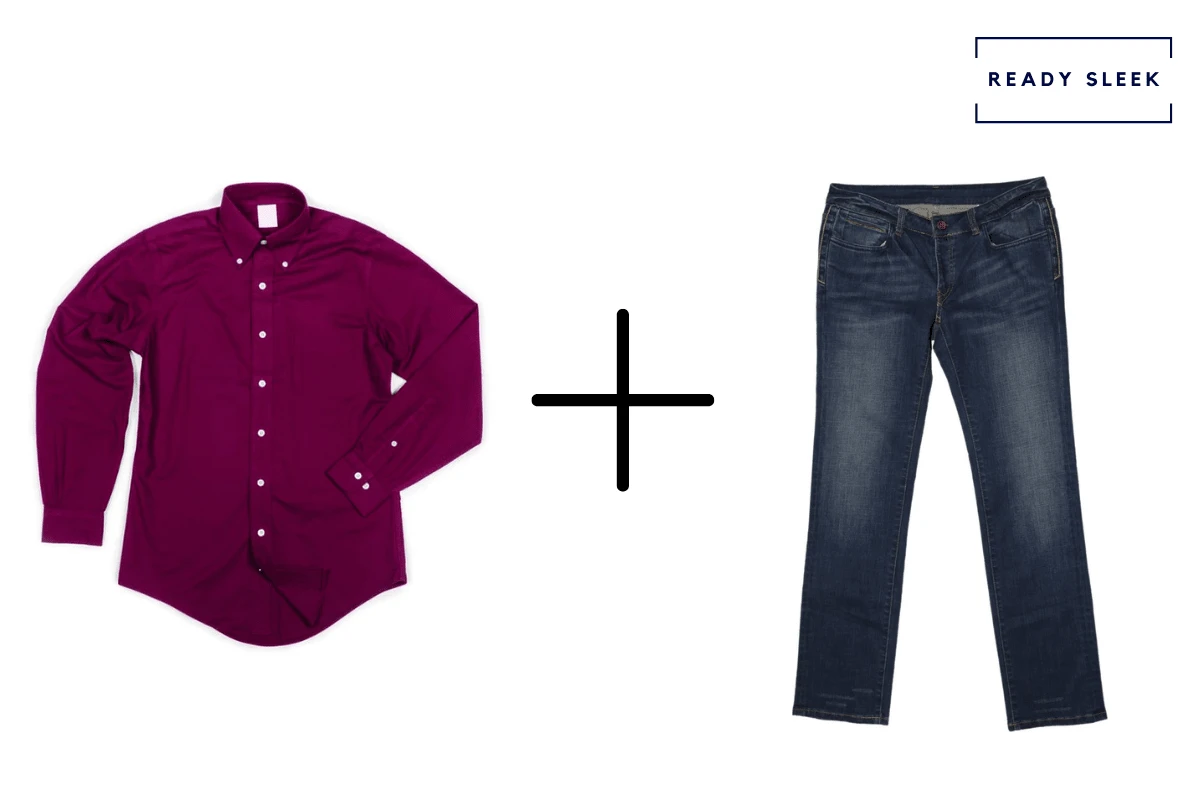 This would be one of the dressiest color combinations on this list.
Going for a pair of dark wash dark blue jeans with minimal distressing would look even dressier, especially if the jeans had a tapered slim fit.
You could wear any of the previously mentioned shirt styles, but consider a button-up when dressing up.
One reason why maroon shirts work so well with blue jeans is due to how the colors play off of each other.
Maroon is a vivid and noticeably "warm" color, while blue is a "cool" color with a more laid-back look and feel to it.
Combining the two colors creates a nice sense of balance and harmony.
It's hard to go wrong with, especially when you're using a relatively muted shade of red such as maroon. Crimson or burgundy would work in much the same way.
Maroon Shirt With Black Jeans
A maroon shirt can easily be worn with black jeans in casual and smart-casual settings. It's a low-contrast and understated combination that works well in dressy smart-casual environments.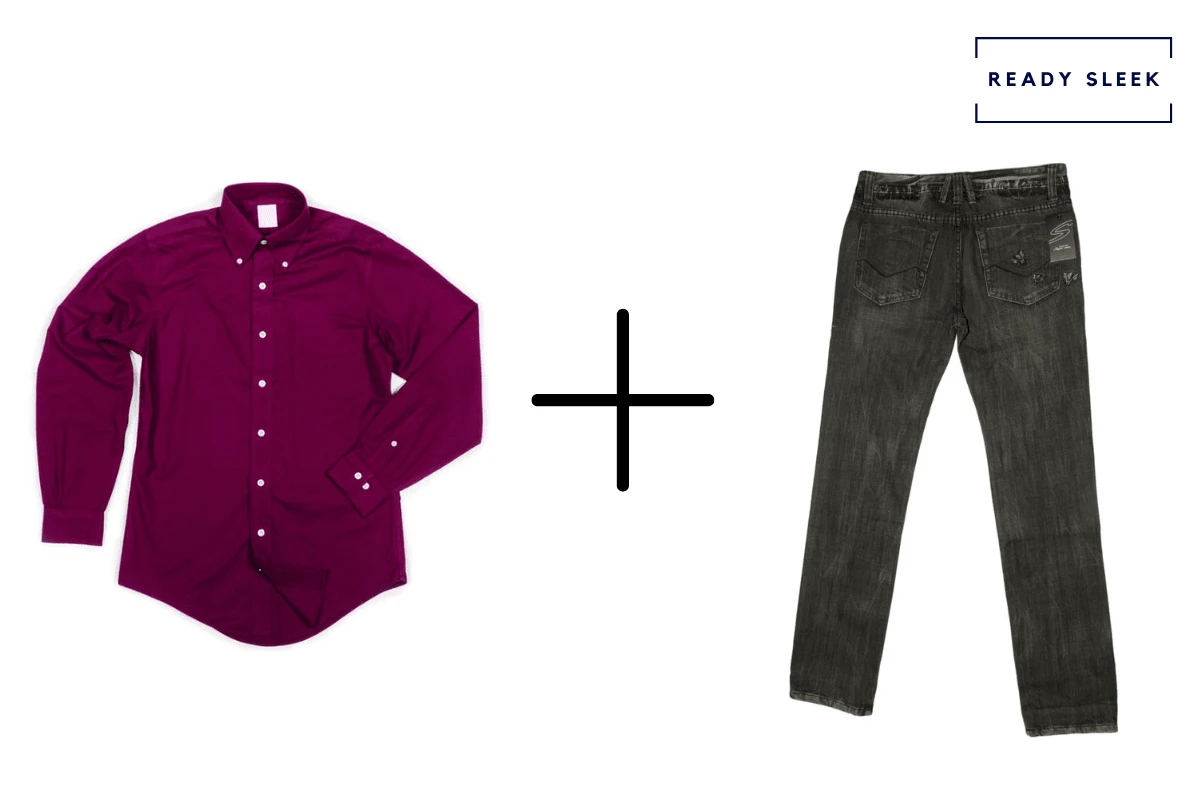 This is the most "formal" way to wear a maroon shirt with jeans and it could confidently be argued that it's the dressiest combo on this list.
Once again, this is especially true when the black jeans are tapered and non-distressed.
Of course, it doesn't mean it would ever be appropriate in anything more than a smart-casual setting. But it's hard to deny that certain smart-casual settings are less casual than others.
If you were ever looking to up the sophistication level of your jeans outfit a notch, always consider a black pair of jeans over a blue or grey pair.
To briefly mention footwear, the contrast becomes important (yet again).
As you're dressing casually, you've got plenty of options when it comes to shoe color and style.
But in smart-casual settings, you may want to consider a pair of suede dress shoes in a neutral color such as dark brown.
While you could go for black, having a bit of contrast between the shoes and the jeans would usually be a nice touch.
Of course, if you were dressing down further, you could consider a pair of all-white minimalist leather low-top sneakers instead.
Maroon Shirt With Grey Jeans
Grey jeans can be worn with maroon shirts, with dark grey jeans being a good option in smart-casual settings.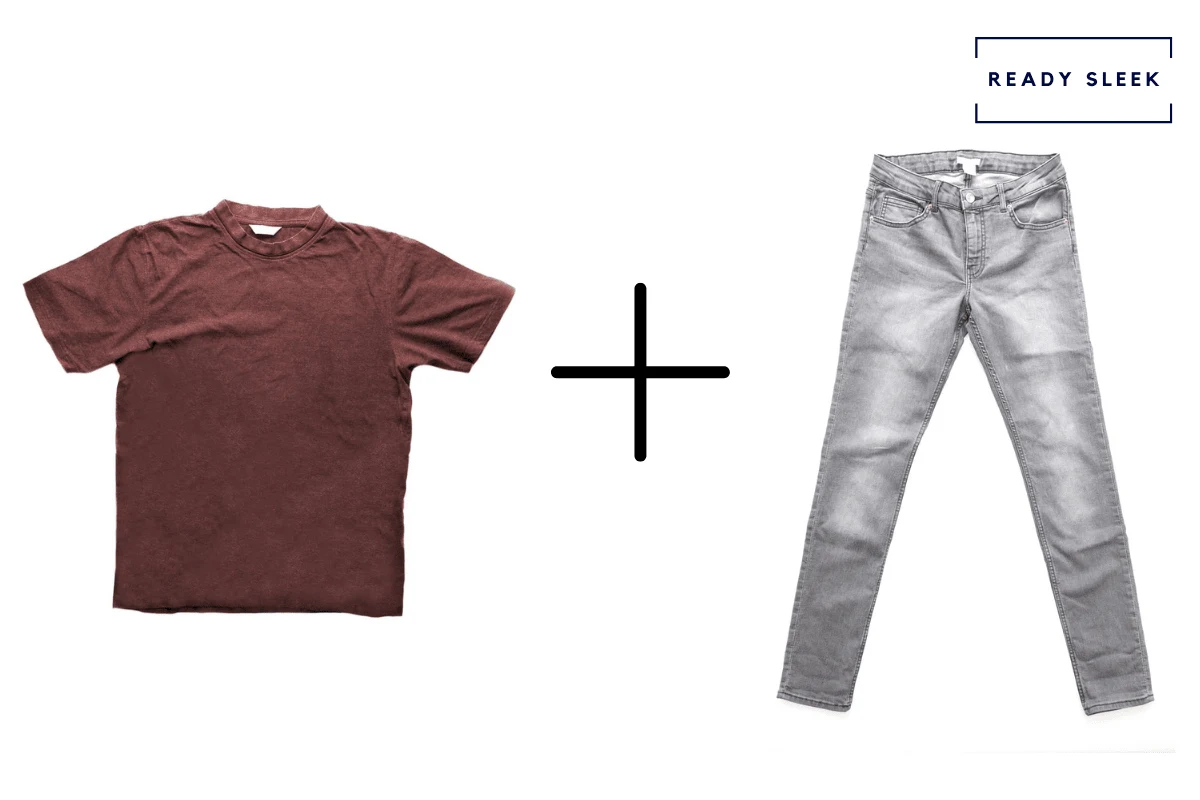 For a low-contrast combination, go for a maroon shirt with dark grey jeans. It's dressy, subtle, and sophisticated.
For a high-contrast combination, consider a maroon shirt with light grey jeans. The pairing will be more casual and striking.
While black jeans would be the dressiest option, a pair of dark grey jeans comes in a close second.
Grey, much like black and even dark blue, is a very neutral color that's effortless to pair with other colors. Maroon is no exception.
Maroon Shirt With White Jeans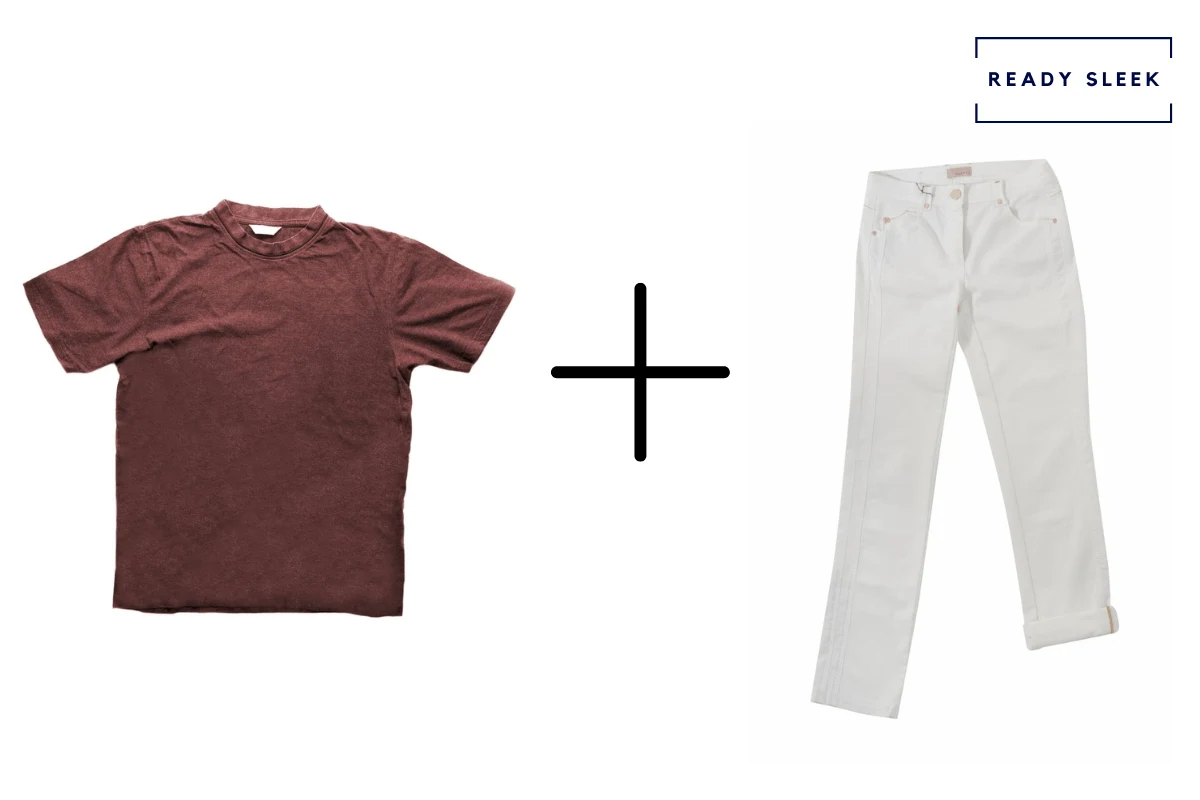 Maroon shirts can be worn with white jeans in casual settings. The combination is very high in contrast, leading to an immediately attention-grabbing appearance.
Overall, it's very hard to miss. It works very well, especially during the warmer summer months when "shades of white" such as beige and cream reign supreme.
The contrast between the dark-colored shirt (maroon) and the exceptionally light-colored jeans will turn heads, usually in a good way.
But avoid wearing the combination if you were looking for a more subtle and dressy combination. In these instances, you'd be better off going for a dark blue, dark grey, or black pair of jeans with your maroon shirt instead.
Conclusion
Wearing a maroon shirt with jeans is easy, but the choice of the color of your jeans does depend on the dress code, as well as your personal preferences.
Consider the contrast you want to achieve between the shirt and the jeans when making your decision.
Enjoy.
Ready Sleek founder. Obsessed with casual style and the minimalist approach to building a highly functional wardrobe. Also a fan of classic, vintage hairstyles.