Given their versatility, khakis can be worn with a wide range of other items. But the question is, can you really wear khaki pants with a blue blazer?
A blue blazer can easily be worn with khaki pants in smart-casual and business-casual settings. Dark blue blazers and white button-up shirts can be worn with khakis in dressier settings, while light or medium blue blazers are more appropriate for casual or smart-casual events.
That's the short and sweet answer, but you'll need more.
After going through a few great outfit ideas for this combo, we'll go through some essential tips for making it work each time.
Let's get to it.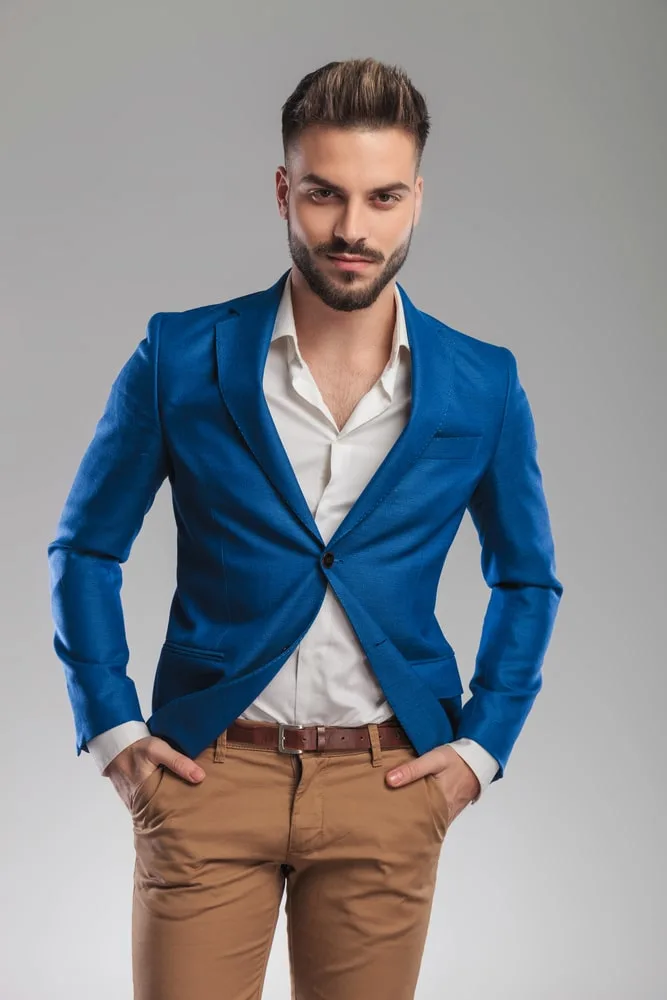 3 Khaki Pants And Blue Blazer Outfits
We're going from the dressiest option to the most casual one.
Enjoy.
Dressy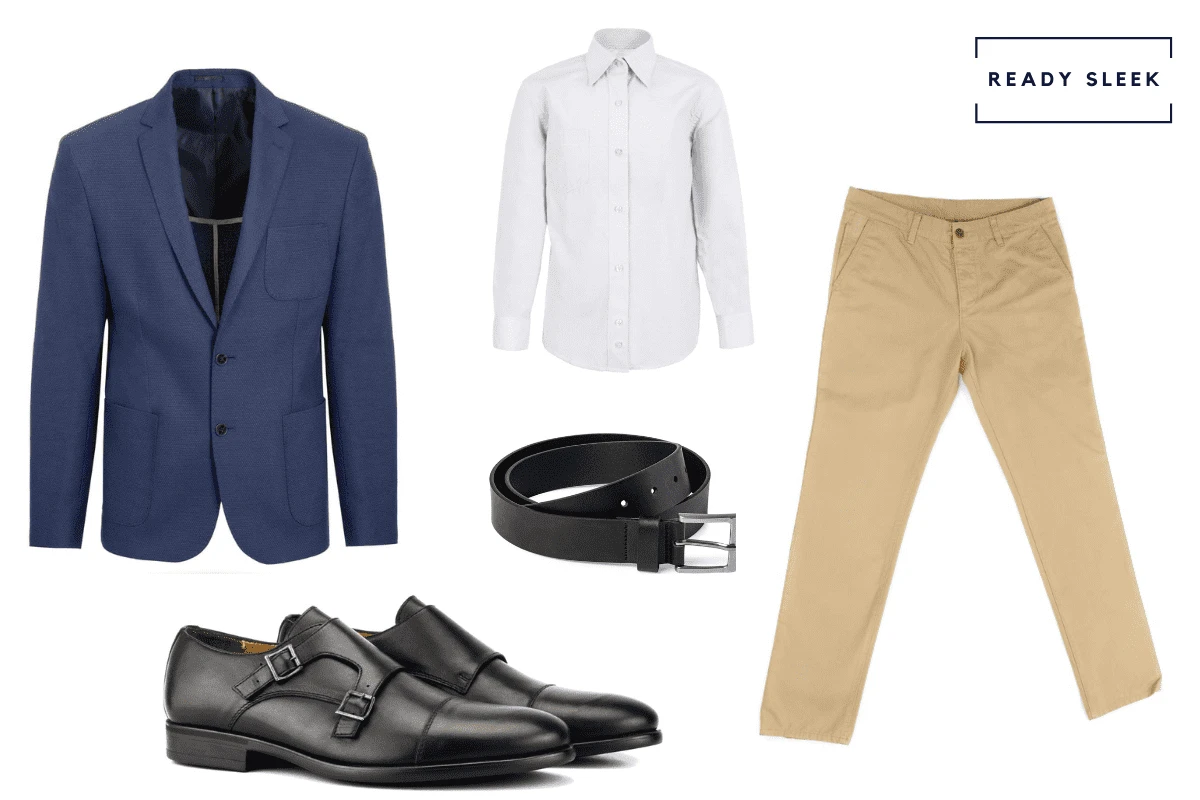 Items: Navy Blue Blazer, Khakis, White Button-Up Shirt (Chambray), Black Monk Straps, Black Leather Belt, White Pocket Square
When dressing up, go for a blazer in a darker shade of blue. Navy and midnight blue are especially good options.
In addition, consider going for a more "structured" blazer with more prominent shoulder padding and a heavier lining.
Pair them with a smart pair of tapered, slim-fit khakis, and go for a white button-up shirt.
You don't need to go for a dress shirt – a chambray, broadcloth, or poplin shirt would be good alternatives.
They've got a bit more texture than a dress shirt and are better suited to the smart-casual or business-casual aesthetic.
But white shirts are always the best option when you're looking to dress the combination up.
Black dress shoes are the dressiest option you could go for, but try to avoid black Oxfords as they usually look too formal to wear without a full suit.
Instead, consider a slightly more casual pair of dress shoes such as monk straps or Derby shoes. Tie things up with a matching black leather belt.
Finally, top it all off with the white pocket square in a simple straight or puff fold.
More Casual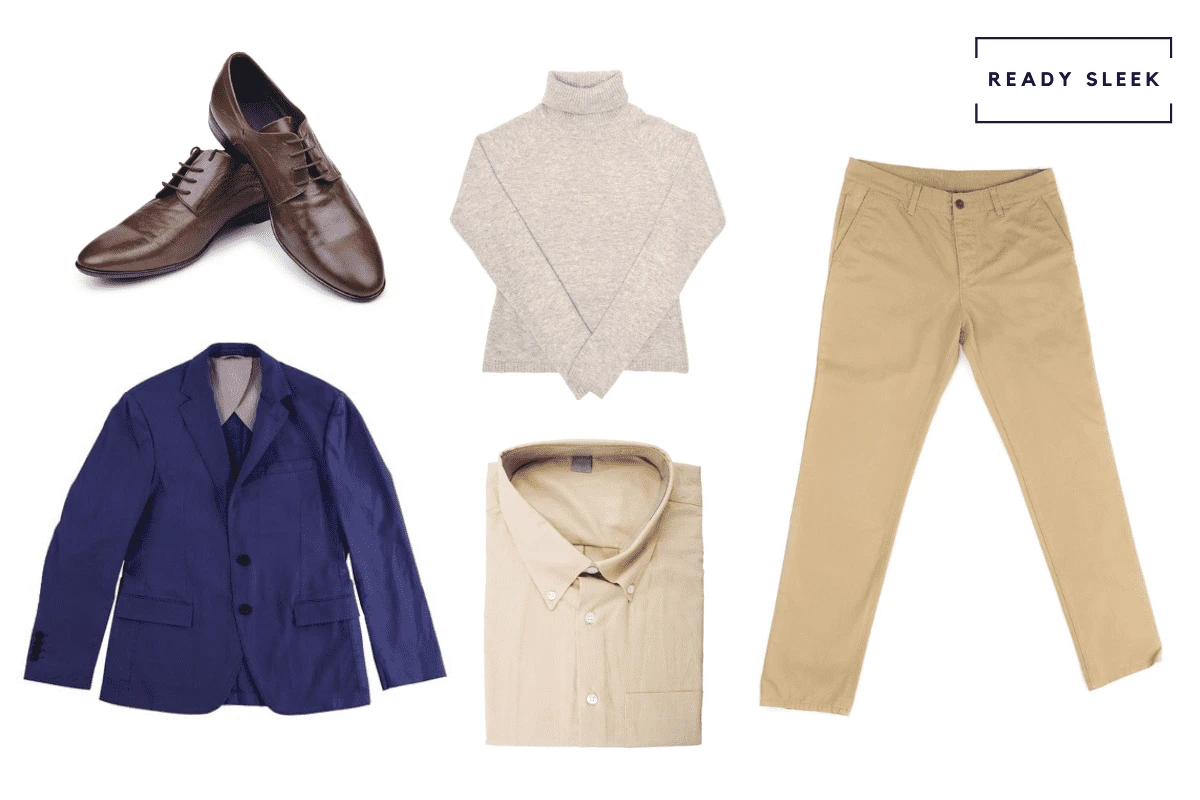 Items: Blue Blazer, Khakis, Beige Button-Down Shirt/Turtleneck Sweater, Suede Brown Derby Shoes
Here's an example of how a blue blazer and khaki combination can be dressed down, even if it's just a little.
Instead of the white button-up shirt, consider a button-down (eg. OCBD) shirt in a neutral, yet vibrant color such as beige or cream.
During the colder months of the year, a turtleneck sweater in a similar color would look great.
In the example above, we've got a blue blazer worn over a beige turtleneck sweater.
The blue blazer becomes the "pop" of color in the outfit, anchored by the neutral beige shirt/turtleneck and khaki pants.
Suede dress shoes in a dark or medium shade of brown would work a treat here.
Generally, brown shoes work great with khakis, simply because khaki is a pale shade of brown in itself.
The napped texture of suede also looks more casual than shinier grains of leather – ideal for a smart-casual outfit such as the one in the image above.
Most Casual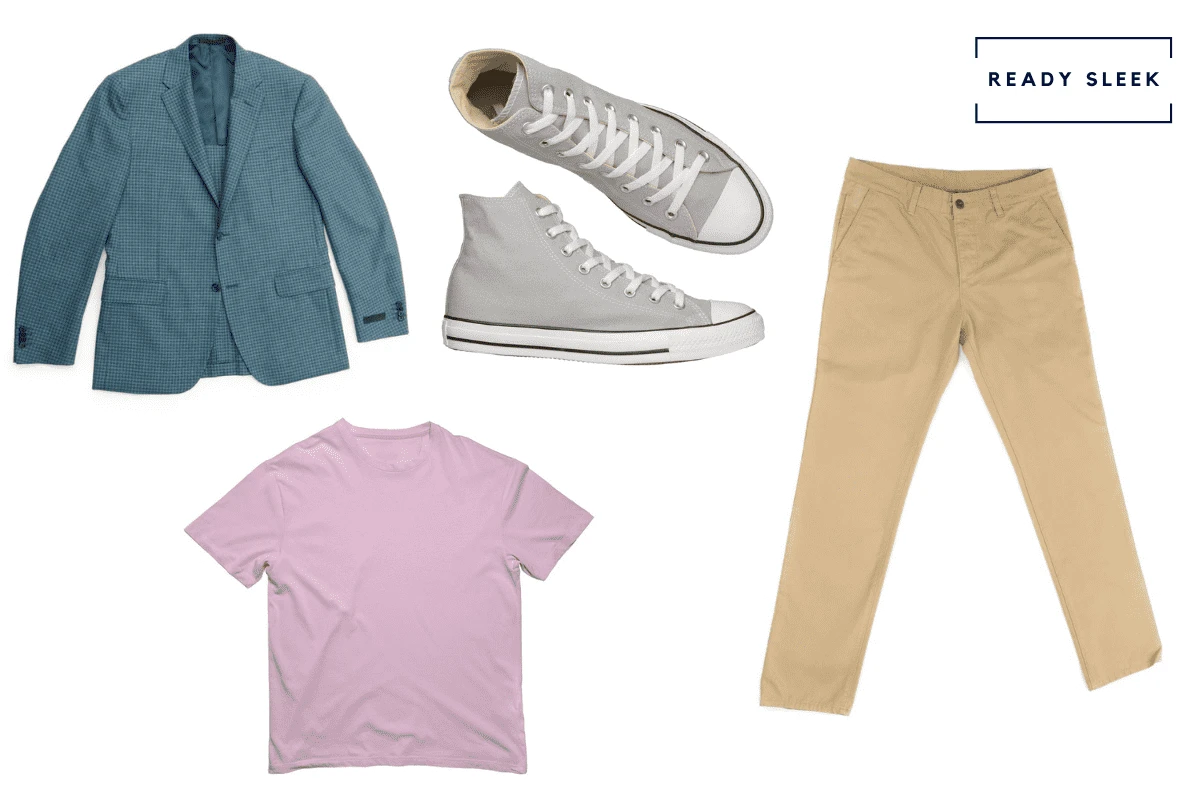 Items: Blue blazer, Khaki Pants, Pink T-Shirt, Grey High-Top Sneakers
This is the most casual option of the three.
The blue blazer and khakis pairing is combined with a pink T-shirt to add a casual splash of color.
The pink T-shirt becomes the focus of the outfit and produces a nice sense of harmony with the blue blazer.
Pink is a "warm" color while blue is a "cool" color. While the contrast isn't too in-your-face, it's noticeable and tends to work incredibly well.
If you'd prefer to dress down with a more subtle and neutral combination, simply consider wearing a neutral T-shirt color under your blazer instead.
White, off-white, beige, cream, tan, and so on.
Finally, consider a pair of sneakers to really dress down and embrace the casual aesthetic.
Here we've gone for a pair of minimalist grey high-tops, but all-white leather low-tops are another great option.
5 Tips For Wearing Khaki Pants With Blue Blazers
Here are some great tips for wearing this combination in the best way possible no matter what you may be dressing for.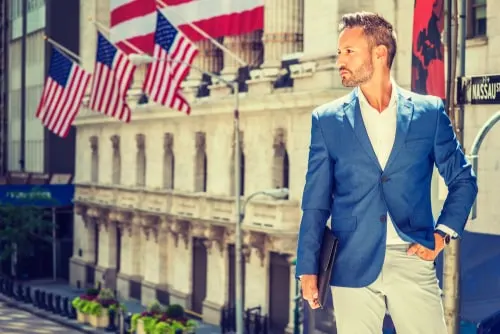 Ensure It's Appropriate
A blue blazer should only be worn with khakis in business-casual or smart-casual settings. It should never be worn in truly formal or business-professional settings.
Getting this part right is crucial.
There's nothing worse than being underdressed.
A 2-piece suit would be required at formal or business-professional events – a blazer and khakis combination of any variety simply wouldn't cut it.
It's worth noting that it also wouldn't be acceptable to wear a blue blazer with a pair of unmatched but similarly colored blue dress pants.
It's usually pretty easy to tell the difference between a blue 2-piece suit (with pants and a jacket made from the same roll of fabric) and a blazer and dress pants pairing.
If you're sure a blue blazer and khakis combination would be appropriate for the setting you're dressing for, read on.
Consider The Shade Of Blue Blazer
When wearing khakis, a light or medium blue blazer would be appropriate in more casual settings. In contrast, dark blue blazers are generally better to wear with khakis in business-casual settings where there's a risk of underdressing.
While this isn't a hard-and-fast rule, you'll often find that it holds true and serves you well.
Darker colors, in general, are considered more formal than lighter ones. That principle is also true when it comes to shades of the same color.
Dark blue just looks dressier and more formal than light or medium blue.
So, when dressing for a business-casual setting, it's quite likely that you'd be expected to dress closer to "business" than "casual".
The simplest way to pull this off would be to choose a blazer in a darker shade of blue.
Consider The Fit And Fabric Of The Blazer
A blue blazer can look very different depending on how it fits and what it's made from. This is important to consider when choosing the best one to wear with your khakis, for the specific event or occasion you're attending.
A blazer's structure and fabric can immediately make it come across as more formal or more casual.
There are certain features that make it look one or the other.
Features of a formal-looking blue blazer include:
Heavier or more prominent shoulder padding
Heavier lining
Shinier and more wrinkle-resistant fabrics (eg. worsted wool)
Double-breasted
Features of a casual-looking blue blazer include:
More relaxed shoulders with less padding
Lighter lining
Fabrics/weaves that are more rugged or wrinkly (eg. linen, tweed, serge, flannel)
Single breasted
Remember, you don't need all of the features for a blue blazer to be labeled one or the other. But it should give you a good idea when you first glance at one.
So, when wearing khakis to a dressier setting (eg. business casual), consider a more formal-looking blue blazer.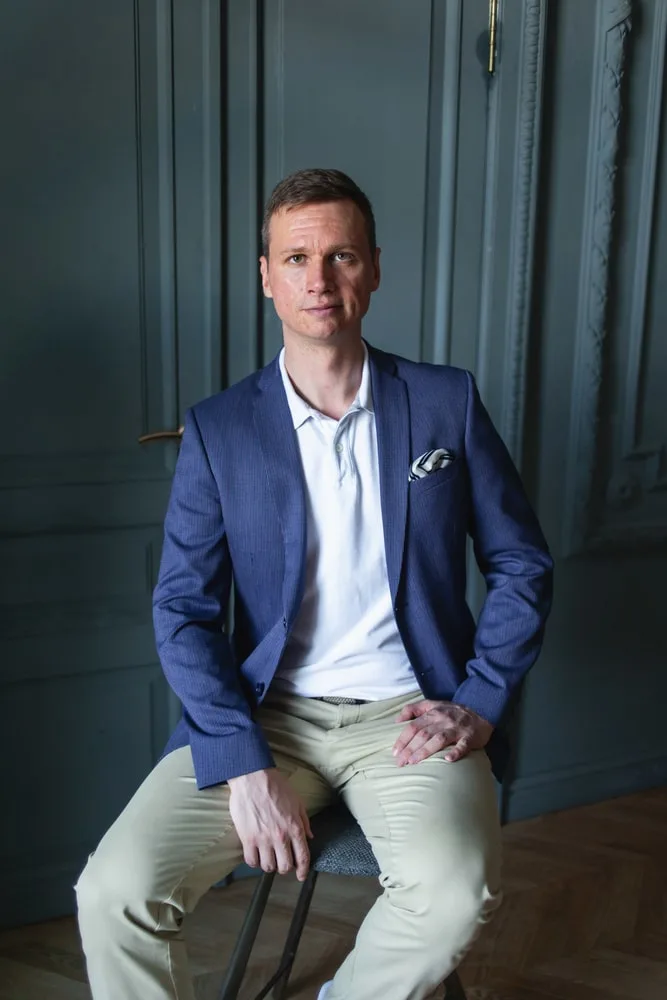 When attending a more casual setting, consider a more relaxed and casual-looking blue blazer instead.
Consider The Shirt Color And Style
When wearing khakis with a blue blazer, white, pink, and light blue shirts tend to work best.
Light and neutral shirt colors such as beige and cream also work exceptionally well.
Once again, it's important to consider the dress code here. If you're looking to dress up or attend a business-casual setting, it's hard to go wrong with a white or light blue dress shirt.
They're typically considered the most formal and "professional" options.
When you're dressing your blue blazer and khakis combination down a notch, you can choose a shirt that adds more color.
You could go for a more vivid and vibrant shirt color such as orange or green, but try to keep things muted overall to avoid looking tacky.
For example, consider a burnt orange or sage green T-shirt.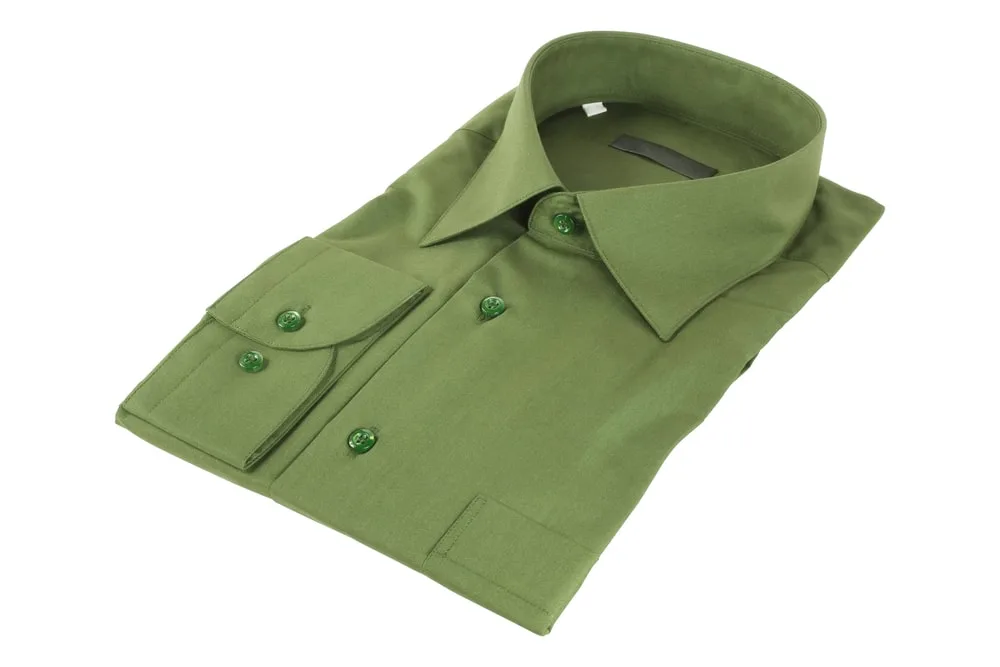 These dark and muted colors will pair well with any blue blazer you can think of while adding enough contrast to be eye-catching and noticeable.
Don't Wear A Tie
Going tieless is generally the best option when wearing a blue blazer with khakis, simply because a necktie can sometimes come across as too formal for this particular outfit.
While it's true that you can dress up the combination with button-up shirts and dress shoes, a tie can sometimes be a step too far.
It wouldn't look bad, by any means.
But, in general, it's best to embrace the smart-casual/business-casual aesthetic by going tieless and simply undoing a button or two.
Brown And Black Dress Shoes Work Well
Brown and black dress shoes look great when wearing a blue blazer with khakis. When looking to dress up, black or dark brown shoes would be best, while those in lighter shades of brown (eg. tan or caramel) are appropriate in more casual settings.
The one you choose really depends on what you feel the risk of underdressing would be. If you want to play it safe, it's hard to go wrong with black, dark brown, or even oxblood.
If the setting was more smart-casual and you want to express yourself a little more (while still keeping things traditional), consider a pair of light brown or burgundy dress shoes instead.
As mentioned earlier, feel free to consider suede dress shoes if you want to dress them down further.
The right pair of sneakers can also look great with a blue blazer and khakis, but it's important to ensure the setting is casual enough for them to make sense.
In addition, avoid bulky athletic sneakers with heavy branding and loud colors. Instead, go for sneakers with a sleek, minimalist last, a neutral color, and minimal branding.
Ultimately, you want to be sure that the sneakers look dressy enough to be worn with a blazer.
Frequently Asked Questions
Here are the answers to a couple of FAQs on this combination to finish up in style.
Can You Wear A Blue Blazer With Khaki Pants To A Wedding?
Khakis and a blue blazer can usually be worn to smart-casual weddings or wedding receptions. If you feel as though the wedding is more formal or traditional, wear a 2-piece suit instead.
Wedding dress codes can often be tricky and confusing, but it's important to get them right.
If you feel as though there's even a small risk of underdressing, it's usually best to go for a 2-piece suit.
It's no fun being the most underdressed person at a wedding. It can ruin wedding photographs and can sometimes even upset the wedding couple.
However, for more casual weddings, a blue blazer and khakis combination can often be a great option.
Consider wearing it with a white dress shirt and black or dark brown dress shoes to be on the safe side.
Can You Wear A Blue Blazer With Khaki Pants To An Interview?
A blue blazer and khakis combination can usually be worn to interviews at workplaces with a clear business-casual dress code.
Ultimately, it's important to know what you'd be expected to wear if you were to get the job.
If you're working in retail and would be expected to wear a basic uniform at work, a blazer and khakis combination would be absolutely fine. In fact, it may even be a little too much.
If you're applying to a modern marketing firm with a well-established business-casual dress code, the blue blazer/khakis combo could be a great idea.
Keep things subtle with the rest of your outfit, however. Go for a white dress shirt and go for dark dress shoes (black or dark brown).
Conclusion
As you've now seen, there are plenty of different ways to wear this combination. Both items are extremely versatile in their own right.
Consider the dress code, the style/fabric of the blue blazer, as well as your shirt color and shoe color when putting your outfit together.
Get these parts right and it all falls into place.
Ready Sleek founder. Obsessed with casual style and the minimalist approach to building a highly functional wardrobe. Also a fan of classic, vintage hairstyles.