It's a dress code that leads to a painful amount of confusion and debate. Knowing what's actually appropriate to wear for it can often be tricky. The question is, are joggers business casual?
Joggers should never be worn as business casual because they're too casual for the setting and impossible to combine with more traditional items of business attire. Chinos, corduroy pants, or dress pants would be better alternatives to joggers for a business casual dress code.
Although that's the short answer, there's more to it.
After going through the main reasons why joggers can never be business casual, I'll go through some great alternatives in more detail.
Let's get to it.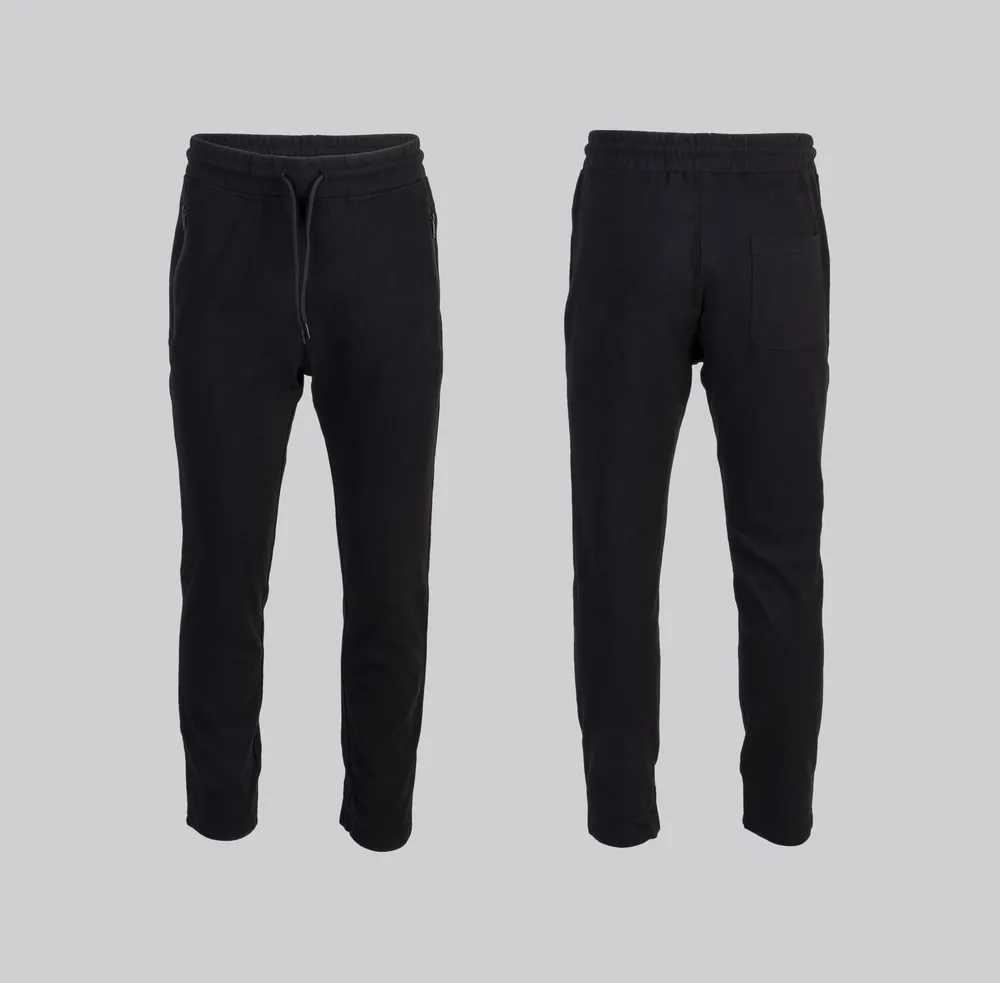 3 Reasons Why Joggers Can Never Be Business Casual
By the end of this, you'll almost definitely decide against it.
1. They're Way Too Casual
Joggers will always be way too casual for a business-casual outfit.
Business-casual is a dress code that strikes a final balance between casual wear and business attire.
Not too casual, but not too formal either.
It can be difficult to define at times, but I like to stick to the following rule of thumb:
No suits, but no jeans.
While this may sound overly simple, it actually tells you a lot about the dress code. Suits may be the staple of business-professional attire, but they're too formal for business-casual.
Jeans are a staple of casual wear, but they're too casual for business casual.
Another principle of business-casual would be to always lean more toward business than you do toward casual.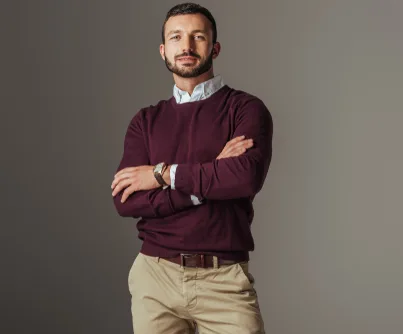 If you're ever in doubt, go for the dressier option, as there's a very real risk of underdressing for the dress code.
Classic business-casual items include OCBD shirts, chinos, dress pants, cardigans, sweaters, blazers, and dress shoes.
Joggers should always be considered either athleticwear or loungewear.
Under no circumstances would they ever be considered "business" enough for business-casual.
Let's put it this way:
If jeans would be too casual (as per our rule-of-thumb above), joggers would definitely be too casual.
2. They're Hard To Combine With "Business" Attire
It's true that the business-casual dress code does allow you to craft an outfit out of both traditionally formal items (eg. dress shirts and dress shoes) and traditionally casual items (eg. chinos and cardigans).
But it's a pretty fine balance that you don't want to tip too casually.
Yes, you've got some freedom to mix and match formal and casual items.
But trying to do so with the ultra-casual appearance of joggers would be a losing battle right from the start.
Trying to combine joggers with classic items of business-casual attire such as dress shirts, dress shoes, knit ties, and even OCBD shirts would be impossible to do.
Any attempts at doing so would usually draw a pretty unwelcoming reception.
Definitely not worth it.
3. Sneakers Can Never Be Business Casual
Joggers are really only ever worn with sneakers. They go hand-in-hand due to both being staples of athleticwear and casual attire.
The trouble with sneakers is that they can really never be worn in any sort of business-casual outfit.
They'd simply be way too casual.
Even if you were to find a reasonably smart pair of joggers, trying to wear them with anything other than sneakers would be difficult.
More appropriate styles of footwear for business-casual dress codes include dress shoes (Oxfords, Derbys, monk straps, and loafers) in leather or suede.
Chukka boots and Chelsea boots could also be worn.
Sneakers, boat shoes, moccasins, and sandals would all be too casual for the dress code.
Great Alternatives To Joggers For Business Casual
You've got options.
Joggers may be inappropriate, but there are plenty of other pant styles which are formal enough for business-casual but aren't too dressy.
Chinos
Chinos are the classic business-casual pant style. It's really hard to go wrong when wearing a pair.
Chinos in practically any color would work.
This ranges from the classic khaki, to beige, navy blue, and even charcoal grey.
Keep the color neutral/muted and you should be absolutely fine.
The great thing about chinos is just how versatile they really are. You can combine them with practically any other business-casual item and get away with it pretty easily.
This includes dress shoes, OCBD shirts, dress shirts, sweaters, and more.
Choose a pair with a tapered fit and you should be fine.
I've written more about wearing chinos as business casual if you're interested.
Corduroy Pants
Corduroy pants may have a distinctive retro feel to them, but they're still a pretty popular choice for business-casual outfits.
The rugged texture of corduroy has a laid-back and casual feel to it, but it's still easy to pair with other business-casual items.
They make for a nice change if you didn't want to go with the classic choice of chinos.
While you can get corduroy pants in a variety of bright and bold colors, always stick to neutral colors to make sure they look formal enough for a business-casual setting.
Linen Pants
Linen pants aren't the ideal choice for business casual, but they can still work.
The trouble with linen is it's wrinkly. Unfortunately, wrinkly fabrics tend to look more casual.
For a dress code such as business-casual where you'll want to lean more business than casual, you'll need to be careful with it.
But linen pants would still look more formal than a pair of joggers and a lot more appropriate for a business-casual dress code.
They're still comfortable and breathable to wear, giving a similar level of comfort to what the joggers may have given you.
Choose a dark, tapered pair of linen pants and try not to wear them too wrinkly. Be sure to dress up the other items you're wearing a little more than you would otherwise to be safe.
Go for darker items and consider wearing a blazer to leave no doubt that you are definitely dressing for business-casual and not just smart-casual.
Frequently Asked Questions
Here are the answers to a couple of frequently asked questions on this topic to really round things off.
Are Khaki Joggers Business Casual?
Khaki joggers should never be worn as business casual as they'll always come across too casual despite having a khaki finish.
While they have the classic business-casual khaki color to them, they'll still clearly have the athletic look and feel of joggers.
This is what makes them look way too casual.
The relaxed fit, drawstring closure, and elasticated cuffs you'll probably have with them will make the khaki joggers stand out in a bad way when dressing for business casual.
Are Black Joggers Business Casual?
Black joggers should never be worn as business-casual. Despite the dark color, they'll always come across too casual for the setting and would be incredibly difficult to pair with items of business attire.
While a pair of dark joggers would usually look a little less casual than a pair of light joggers, the relaxed fit and elasticated cuffs would still clearly make it look like athletic wear.
While it can be tempting to go ultra-casual for business-casual events, it's definitely not a good idea.
When in doubt, always dress up as opposed to down. Underdressing for a work event is not a good feeling.
Conclusion
There you have it. Hopefully, that's everything you could want to know about this poorly understood topic.
Joggers should be avoided at all costs when dressing for a business-casual setting. There are far better alternatives including chinos, corduroy pants, and even linen pants.

Ready Sleek founder. Obsessed with casual style and the minimalist approach to building a highly functional wardrobe. Also a fan of classic, vintage hairstyles.