A grey blazer can quickly become the workhorse of any wardrobe. It's easy to combine and effortless to color coordinate. But can you really wear a grey blazer with jeans?
A grey blazer can be worn with jeans in casual and smart-casual settings. Consider a dark grey blazer with slim-fit black jeans for a dressier look, with lighter shades and colors being more appropriate in more casual environments.
While that gives you the gist, it's probably not going to be enough.
First, we'll go through a few great outfit ideas for you to try out yourself.
We'll then finish up by running through some essential tips for wearing this classic combo in the best way possible.
Let's get to it.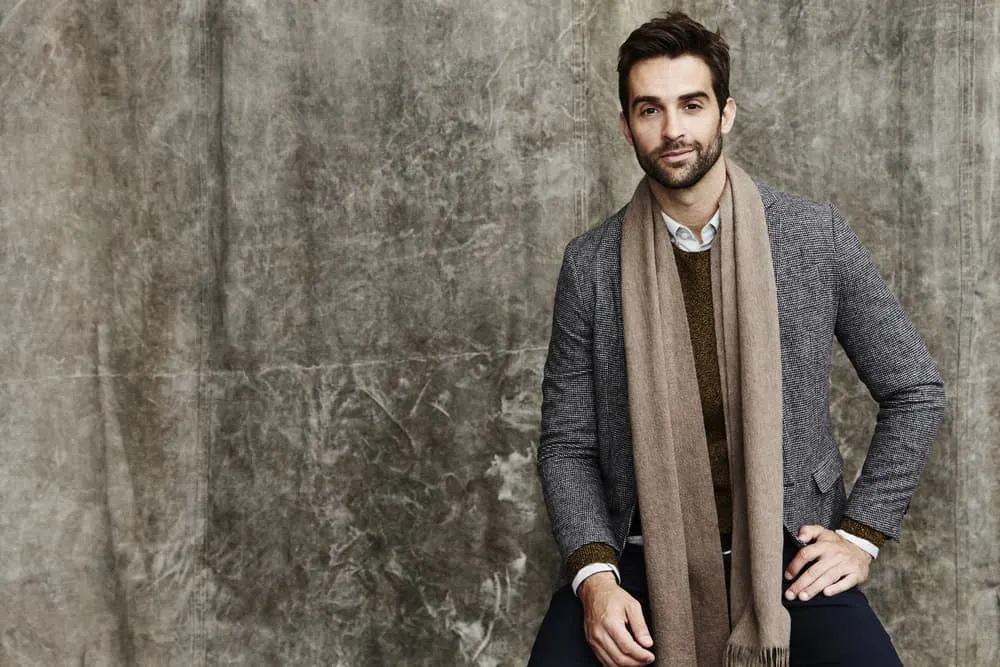 3 Grey Blazer And Jeans Outfits
You'll notice how these two items can be worn together in many different ways, with some ways inevitably looking dressier than others.
Let's go through three different outfit ideas, starting with the dressiest version and finishing with the most casual.
Dressy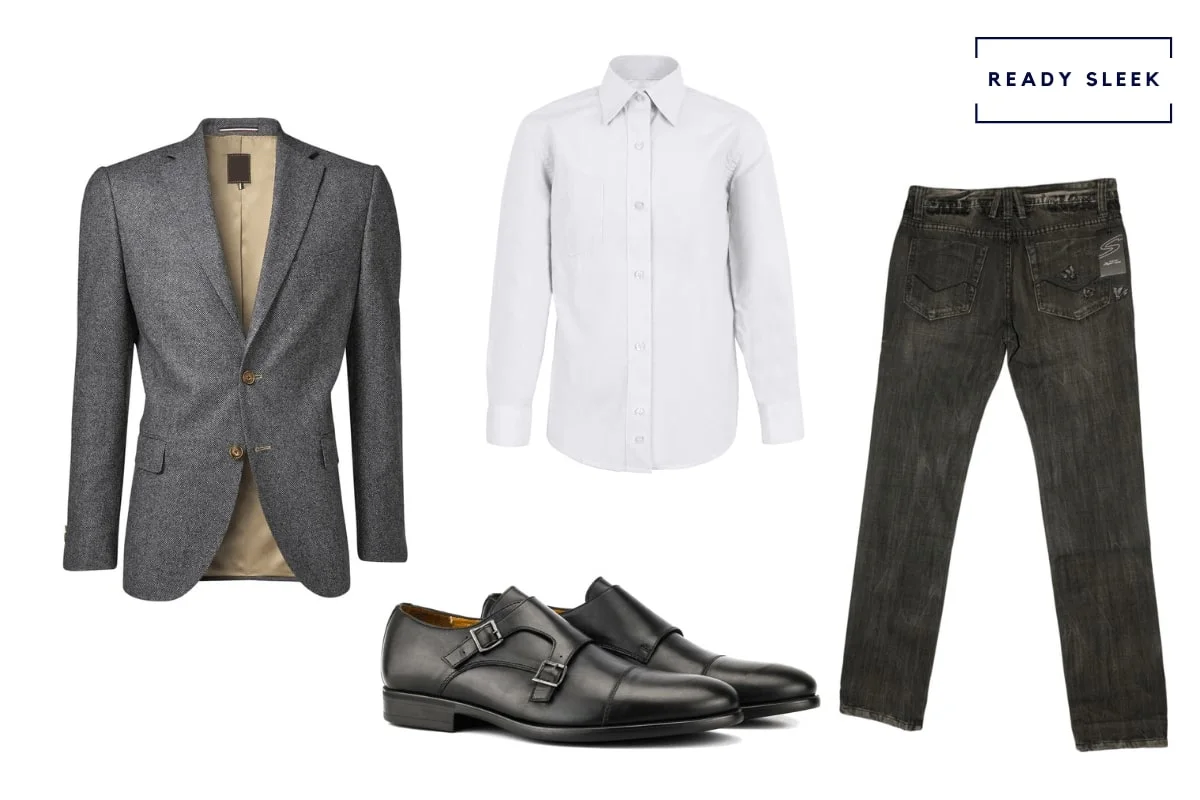 Items: Grey Blazer, Black Jeans, White Dress Shirt, Black Monk Straps, Navy Pocket Square
Although a grey blazer and jeans outfit should never be worn in formal or business-professional settings, it can still be pretty dressy.
Some casual outfits will always look less casual than others.
To wear these two items in a relatively dressy way, go for a dark grey blazer wherever possible.
Dark grey will always look more formal than light grey.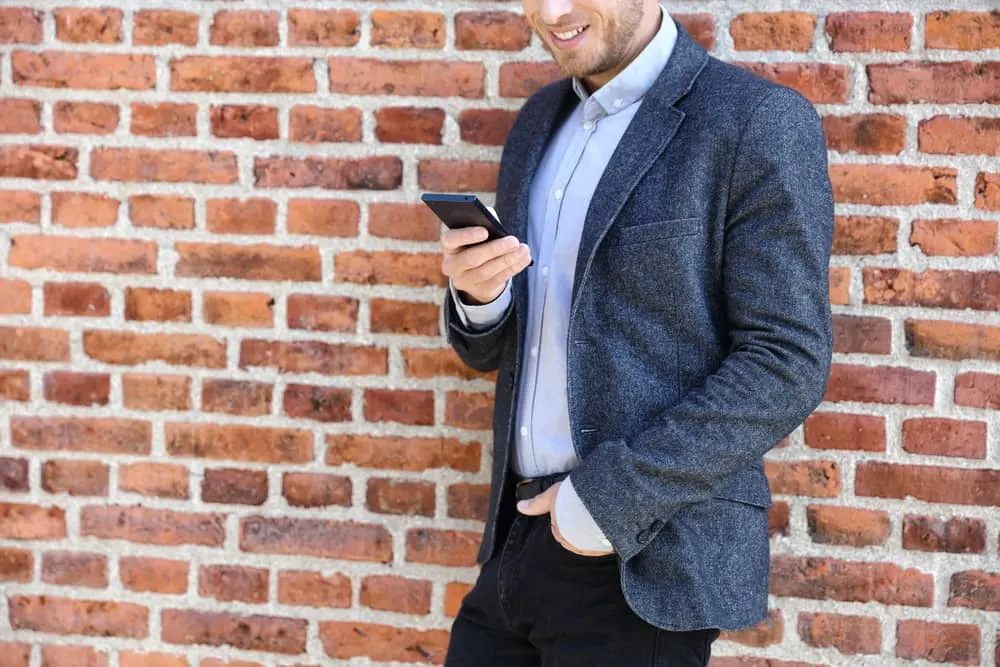 In addition, consider wearing the dark grey blazer with black jeans because they'll generally look dressier than blue and grey jeans.
When it comes to the shirt, we've gone for a white dress shirt here. If you'd prefer to dress the shirt down a little, consider a fabric such as poplin or broadcloth.
But try to go for a white shirt, simply because it's the easiest way to dress up any blazer and jeans combination.
Finally, consider a pair of black dress shoes. While you could go for a dark brown alternative, black will coordinate very well with the black blazer and grey jeans you've gone for.
More Casual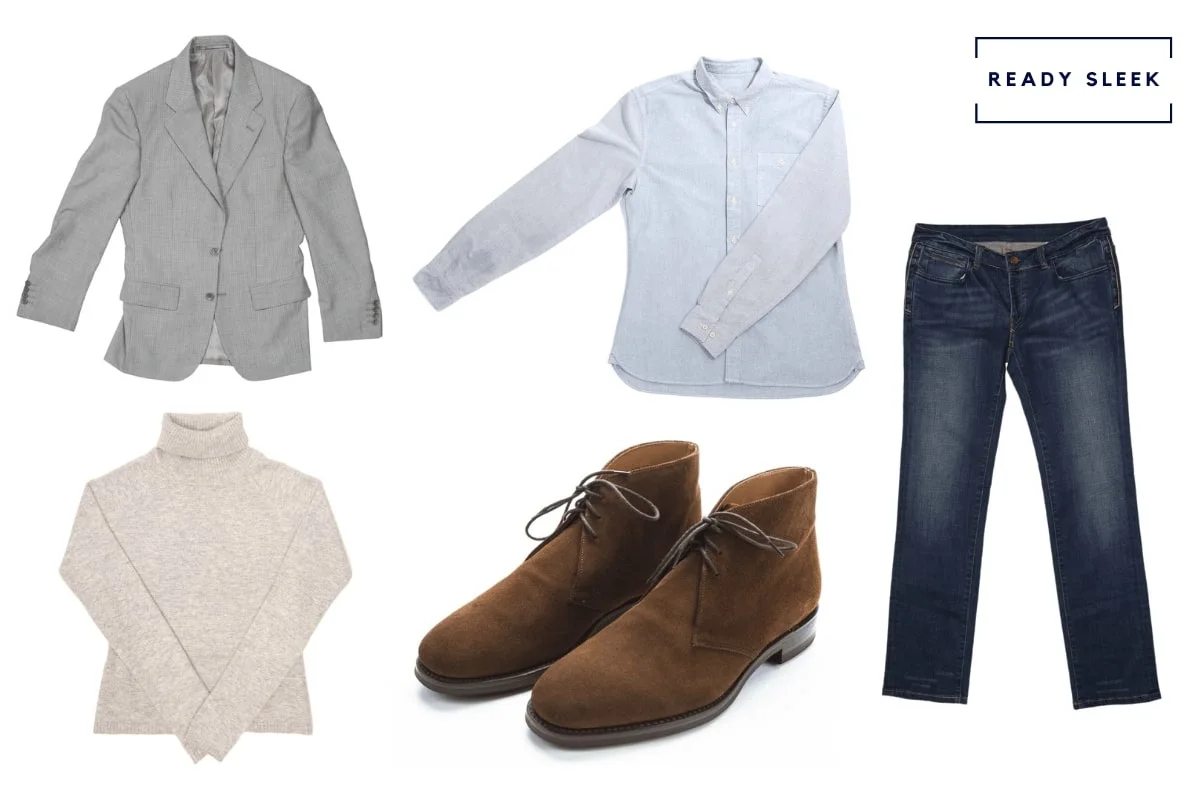 Items: Grey Blazer, Pink Button-Up Or Beige Turtleneck, Dark Blue Jeans, Suede Chukkas
To dress down a notch, consider a blazer in a lighter shade of grey. In addition, consider a button-up shirt in a bolder and more vivid color.
Here, we've used a light blue OCBD shirt as an example, but you could easily go for a more vivid, yet subtle color such as light pink or mint green if you wanted to.
Consider a casual shirt fabric such as linen or Oxford cloth (OCBD).
They're still pretty dressy, but the rugged and rough texture of these shirt fabrics will make it clear that you're dressing down and going for a more laid-back aesthetic.
If the weather's a little colder, consider wearing a turtleneck sweater under the grey blazer as an alternative.
In the example above, we've gone for a beige turtleneck sweater. Grey and beige are neutral colors that work great together.
You could go for any jeans color you want, but as we're going too casual here, consider keeping them dark. If you didn't want to go for black jeans, consider dark blue instead.
Most Casual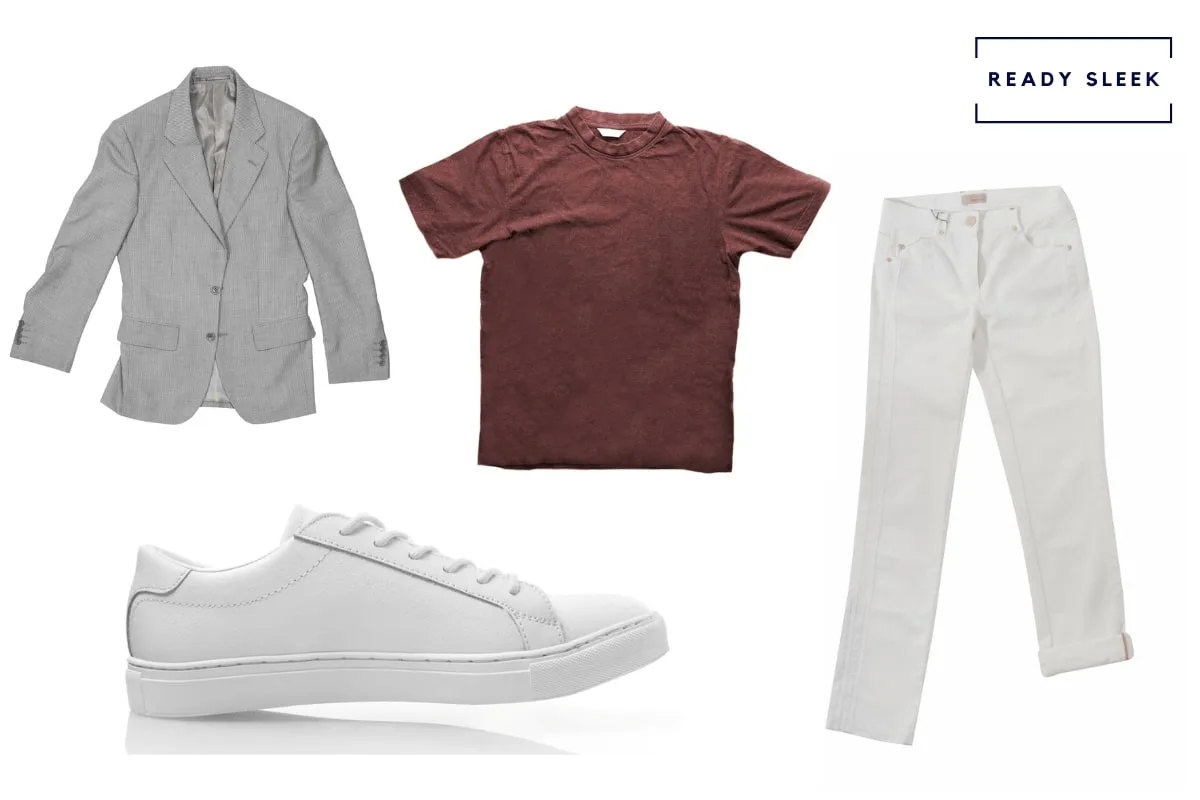 Items: Light Grey Blazer, White Jeans, Maroon T-Shirt, White Or Grey Sneakers
A light grey blazer worn with white jeans is a very casual way to pull off this combination.
Ultimately, it'll work a treat. However, it's important to note that it may not be appropriate for the setting you're attending.
You need to make sure it's casual enough.
Try wearing a T-shirt under that grey blazer to really embrace the casual aesthetic. You could go for a similarly neutral T-shirt color if you wanted, but here we've gone for a pop of color.
A maroon tee like this would really pop out and draw some attention, especially when it's combined with a neutral blazer and jeans combination.
Finally, a pair of white sneakers would look great here. However, choose a relatively dressy leather low-top pair to ensure they're appropriate to wear with a blazer.
5 Tips For Wearing Grey Blazers With Jeans
Here are some great tips for making it work every time.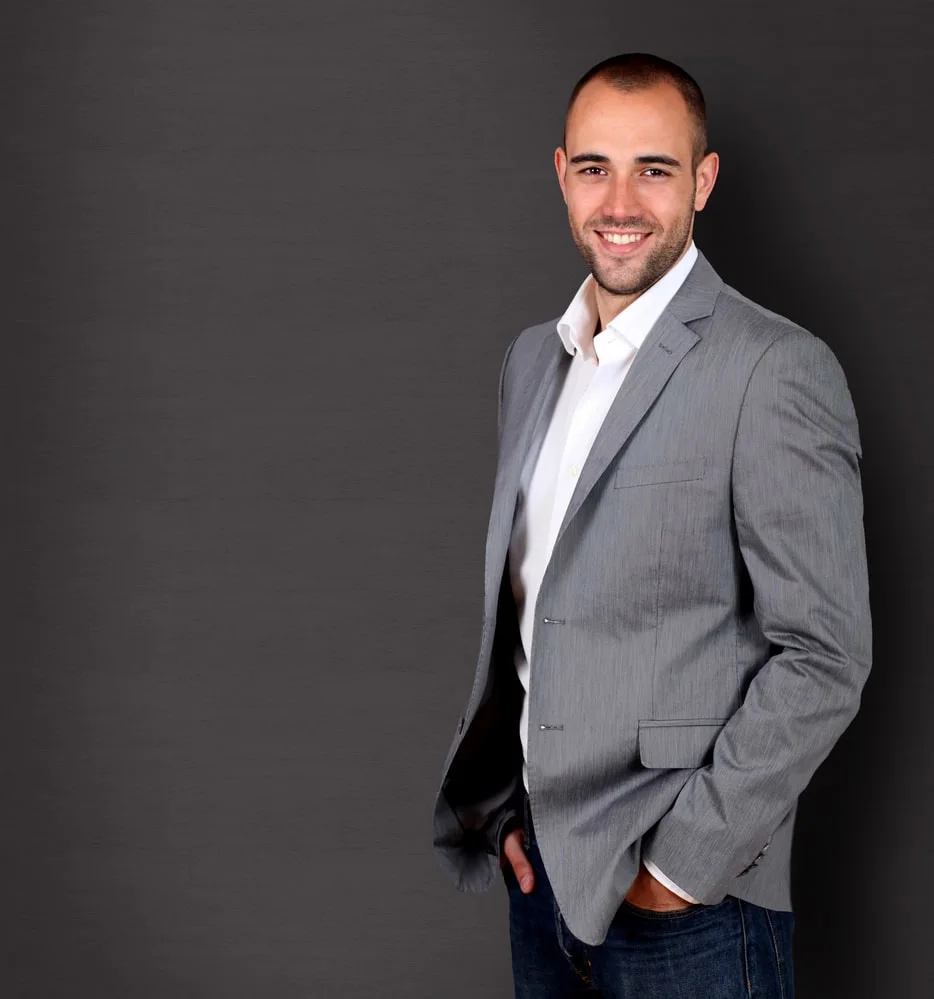 It's Never Formal
It's always worth bearing in mind that no matter how formal the grey blazer you're wearing may be, it should never be worn with jeans in a formal setting.
Jeans will always look too casual for formal and business-professional settings.
The combination should really only be worn to casual and smart-casual events.
While the list of events and occasions these dress codes could be applied to is huge, examples would include garden parties, dates, dinners at mid-level restaurants, and so on.
It shouldn't usually be worn to weddings, interviews, work events, and other occasions where there's a risk of underdressing.
Overall, while the combination of a grey blazer and jeans is versatile, you do need to be cautious of where you wear it.
Choose The Right Jeans Color For The Setting
When wearing a grey blazer, certain jeans colors will dress it up, while others will dress it down.
In general, the darker the color of the jeans, the more "formal" the combination will end up looking.
So, while opinions may vary on this, the order of formality would be as follows (from most formal to least formal):
Grey blazer with black jeans
Grey blazer with dark grey jeans
Grey blazer with dark blue jeans
Grey blazer with light grey jeans
Grey blazer with light blue jeans
Grey blazer with white jeans
Some might argue that a pair of white jeans would look dressier than a pair of light blue jeans.
Ultimately, it doesn't matter too much.
Just bear in mind that if you're looking to dress up, go for a dark pair of jeans.
Select The Right Jeans Fit
It's best to wear a pair of slim-fit jeans when wearing a grey blazer.
These will always work better than baggier or more striking fits such as wide-leg, straight-leg, bootcut, or skinny jeans.
Tapered jeans (and tapered pants in general) always look more formal than more eye-catching fits.
The reason this is important is that you want to ensure that the jeans look dressy enough for the grey blazer.
Not doing so will lead to a formality mismatch.
It's the same reason why distressed jeans often look odd when wearing a grey blazer. Jeans with rips, frays, and fading generally look too casual to be worn with even the more casual-looking grey blazers.
Go For A Casual-Looking Grey Blazer
When wearing jeans, try to wear a casual-looking grey blazer.
We've talked about choosing a smart pair of jeans to reduce the risk of a formality mismatch.
Another way of doing this is by choosing a grey blazer that's on the more casual end of the spectrum.
Doing so should hopefully lead to the jeans and the grey blazer meeting somewhere in the middle of the formality spectrum.
But what makes a grey blazer look more casual?
Here are some casual blazer features to look out for:
Rugged fabrics/weaves (eg. tweed, linen, serge)
Soft, minimally padded shoulders
Thin lining
Elbow patches
You don't need all of the features by any means. It's just important to recognize that some blazers will look very formal – likely too formal to be worn with a blazer of any color.
This could refer to worsted wool blazers that have a typical sheen and wrinkle-resistant texture. It'll usually look too formal to be worn with a pair of jeans.
Ditch The Tie
The main reason neckties often look odd here is that it leads to a formality mismatch between the tie and the jeans.
Jeans are very casual, while neckties are an iconic symbol of formal attire.
Sure, it wouldn't look awful, especially if you went for a knit tie.
But generally, when wearing a grey blazer with jeans, it's best to ditch the tie and simply keep a button or two undone.
It's laid-back and relaxed, but that's exactly what this combination is all about.
What you could do, however, is pop a pocket square into that blazer pocket. It's a great way of adding some color if you wanted to.
Conclusion
As you've now seen, there are several different ways you could wear a grey blazer with a pair of jeans.
The look will be very different depending on the color of the jeans you choose, as well as the other items you choose to wear them with.

Enjoy.
Ready Sleek founder. Obsessed with casual style and the minimalist approach to building a highly functional wardrobe. Also a fan of classic, vintage hairstyles.