Combining traditionally formal items with typically casual items does always carry some risk. The question is, however, can you really wear a grey blazer with black jeans?
A grey blazer can be worn with black jeans in casual settings. Consider a dark grey blazer in a relaxed fit for a low-contrast smart-casual aesthetic. In even more casual settings, light grey blazers work especially well with black jeans and all-white leather sneakers.
But there's plenty more to it than that. There are several different ways you can wear this combination.
After going through a few great combos you can try out for yourself, we'll run through some essential tips for getting it right each time.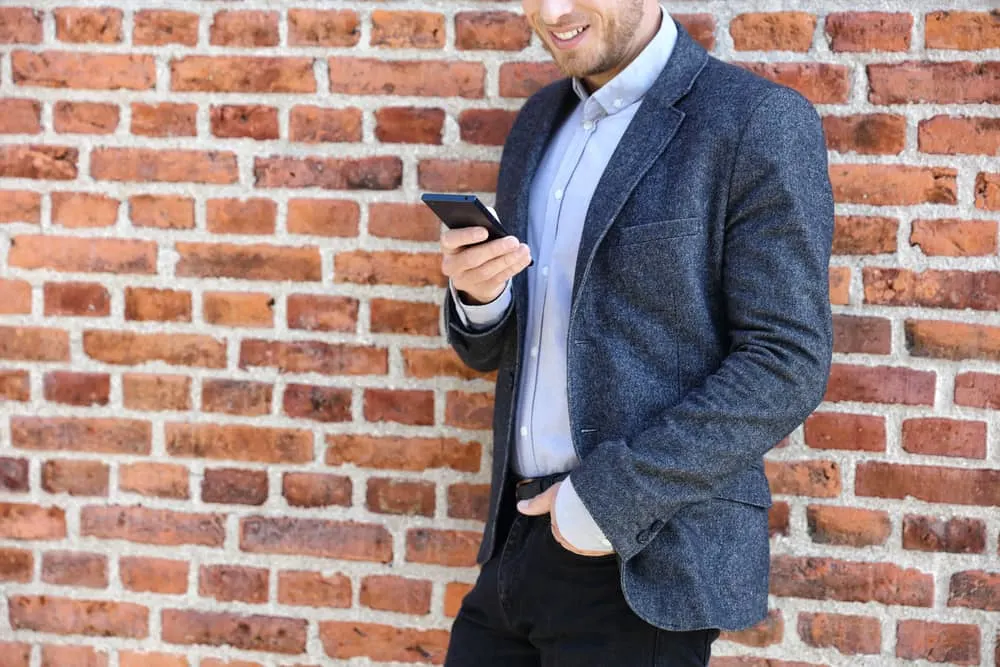 3 Grey Blazer And Black Jeans Outfits To Wear
Here are three you can consider, going from the dressiest option to the most casual one.
Dressy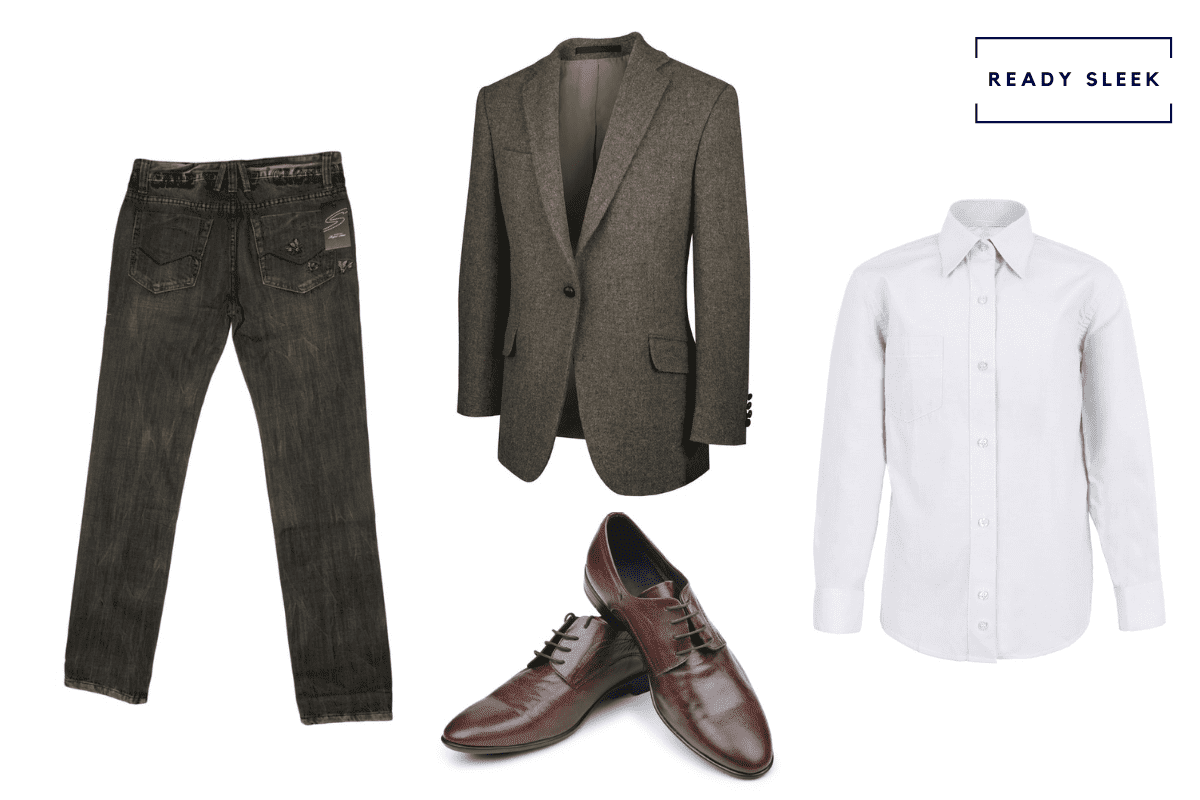 Items: Dark Grey Blazer, Black Jeans, White Chambray Shirt, Dark Brown Derby Shoes, Pocket Square
When dressing this combination up, go for darker colors wherever possible. The blazer is especially important here.
Consider going for a blazer in a darker shade of grey if you're going for a more sophisticated aesthetic.
In addition, consider a white button-up shirt. You don't have to go for a professional-looking white dress shirt.
In fact, that may look a little out of place with the jeans.
Instead, consider a chambray, broadcloth, or poplin shirt.
Round things up with a pair of dress shoes in either black or dark brown, with the latter being a better option if you wanted to add a bit of contrast.
Having said all this, just remember that a grey blazer and black jeans pairing of any style would only ever be suitable in casual or smart-casual settings.
It's just that certain smart-casual settings will always be dressier than others. This combo would be better suited to the dressier end of the spectrum.
More Casual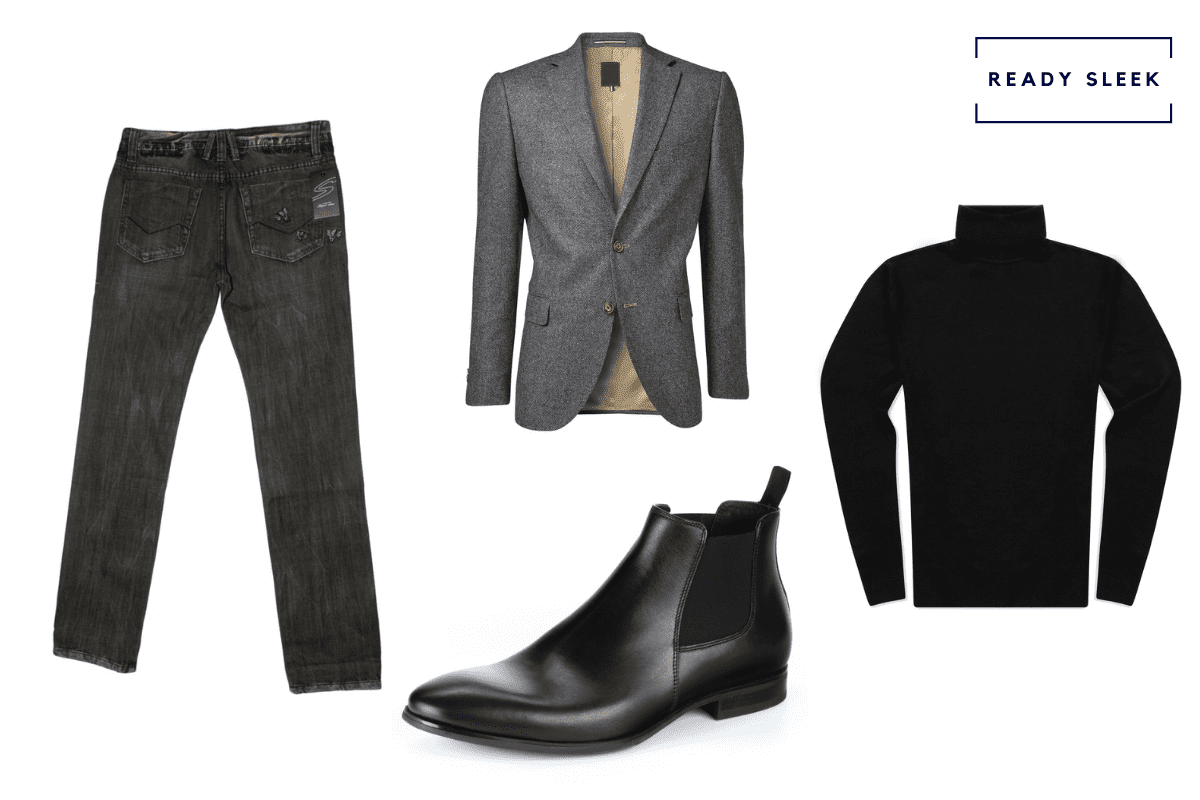 Items: Grey Blazer, Black Jeans, Black Turtleneck Sweater, Black Chelsea Boots Or Black Bit Loafers
Here's a more casual example of how you can pull off this combination.
Go for a grey blazer in either light or medium grey worn over a black turtleneck sweater. Layering a blazer over a turtleneck is always incredibly effective.
During the warmer months of the year, consider a button-up shirt made from a more casual fabric instead. Linen and Oxford cloth are both great options.
They're rough, rugged, and pair well with denim.
When it comes to footwear, you've got plenty of options. However, going for a typically "smart-casual" pair will always serve you well here.
During the warmer months, consider a pair of loafers – either bit (i.e Gucci) loafers or penny loafers.
During those colder months when you're layering over a black turtleneck, consider a pair of Chelsea or chukka boots instead.
Most Casual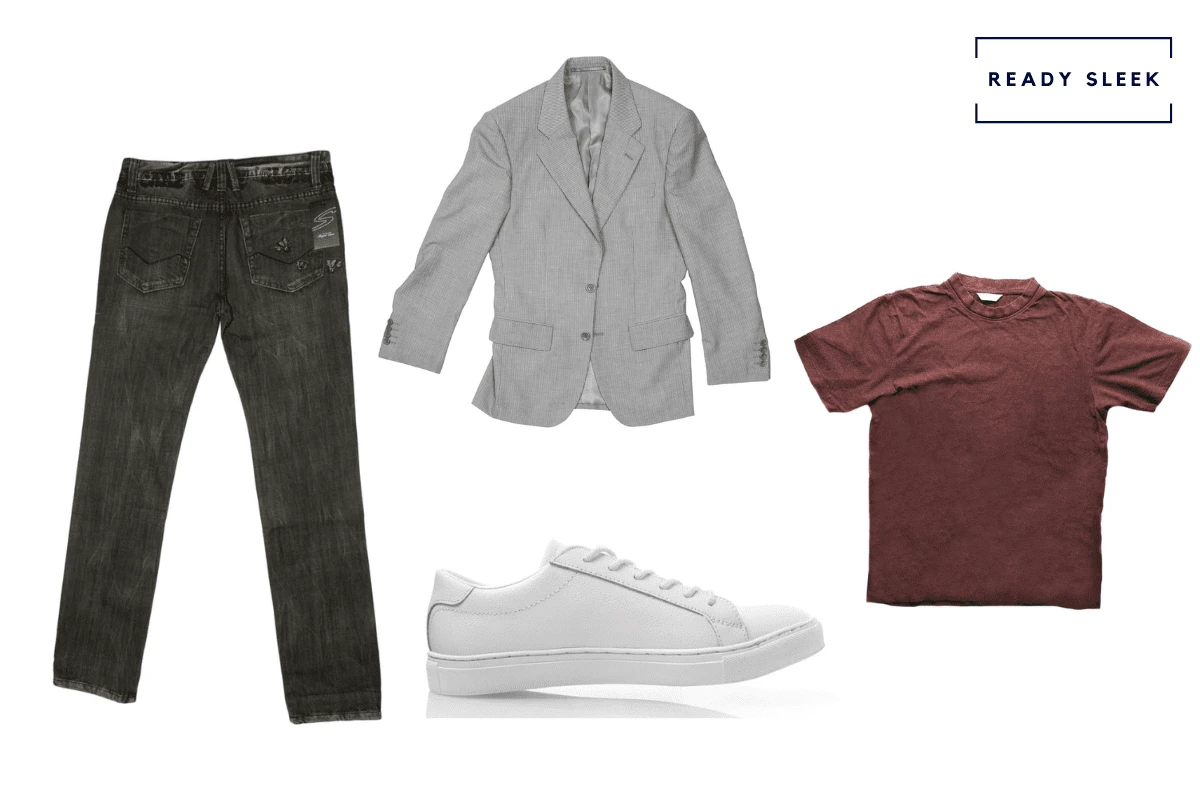 Items: Light Grey Blazer, Black Jeans, Maroon Tee, Navy Suede Shoes Or White Sneakers
Remember, the lighter the shade of the grey blazer, the more casual it'll look overall.
So, consider a light grey blazer layered over a T-shirt when you're looking to dress down. You could wear a T-shirt in any color you want.
At the end of the day, the grey blazer and black jeans are extremely neutral and will coordinate effortlessly with any T-shirt color you can think of.
If you'd prefer to keep things neutral, a tee in white or off-white would work great.
If, on the other hand, you'd prefer to add a splash of color, consider a T-shirt in maroon, orange, pink, mint green, or anything else.
A pair of all-white leather sneakers would round things off nicely. If you'd prefer a slightly less casual option, consider a pair of suede dress shoes in a dark, yet vibrant color such as navy blue or burgundy.
5 Tips For Wearing Grey Blazers With Black Jeans
As you've now seen, there are plenty of different ways of wearing it. Here are some tips to see you through no matter what you may be dressing for.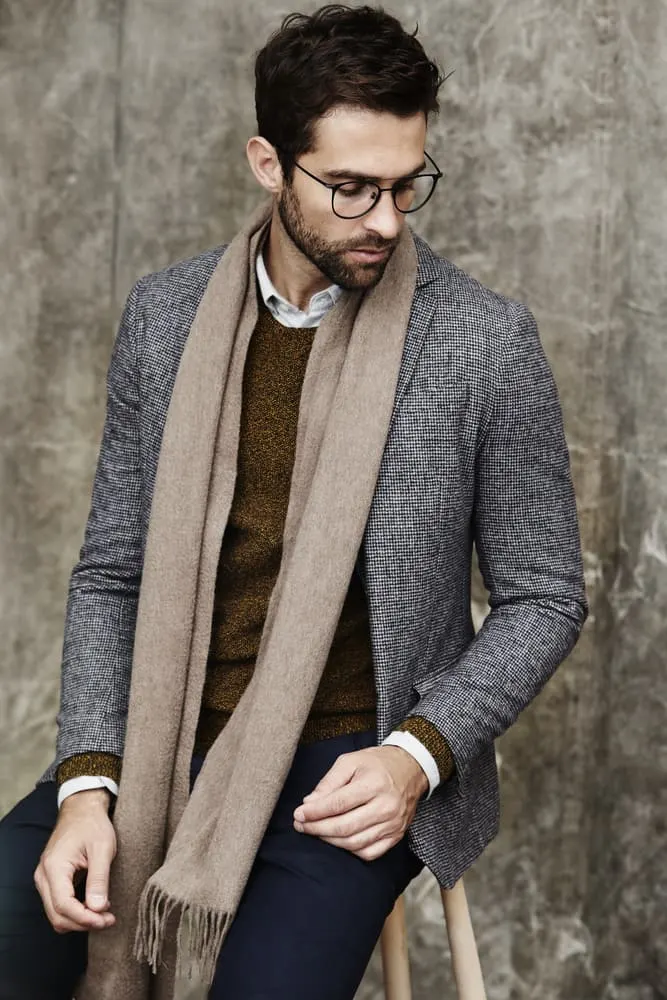 Casual Or Smart-Casual Only
A grey blazer and black jeans combination should only be worn to casual or smart-casual events. It should never be worn in formal, business-professional, or business-casual settings.
For formal and business-professional settings, wear a 2-piece suit. In business-casual settings, a pair of chinos or dress pants would be much more appropriate than a casual-looking pair of black jeans.
Ultimately, the grey blazer and black jeans pairing just oozes a wonderful smart-casual aesthetic. It's hard to deny just how effective it can be here.
In fact, popping a grey blazer over an otherwise very casual-looking black jeans outfit is a great way to add a touch of sophistication.
It's so simple, yet so effective.
Consider How Much Contrast You Want
Contrast refers to how different two colors look when worn together. One way in which they can differ is darkness.
A light grey blazer worn with black jeans will look very different from a dark grey blazer worn with the same pair of black jeans.
The light grey blazer would lead to a high-contrast combination. The difference is stark, striking, and bold.
This is one reason why it'll look more casual.
A dark grey blazer, on the other hand, would lead to a low-contrast combination when worn with black jeans.
It's a more subtle pairing that isn't quite as bold, but will generally look more elegant and "formal".
So, when you're looking to dress the combination, consider a low-contrast dark grey blazer + black jeans pairing.
When dressing down, consider a more eye-catching and high-contrast dark grey blazer.
Go For Tapered Jeans
Tapered black jeans would always look more appropriate when wearing a grey blazer of any variety.
The reason for this is that it reduces the risk of a formality mismatch between the two items.
Let me explain.
A grey blazer is a traditionally dressy and formal item A pair of black jeans is a traditionally casual item.
In fact, jeans really do epitomize the casual aesthetic.
Pairing the two items can work well, but it needs to be done the right way in order to prevent a clash between formal and casual.
One way of doing this is by choosing a "dressier" pair of black jeans.
So, look for a slim-fit and tapered pair. These will generally look more elegant and formal than a pair of wide-leg, bootcut, or skinny jeans.
In addition, avoid black jeans with excessive distressing. So, no rips, frays, acid washing, or other features that make them look more vintage and worn out.
While these features can look fantastic in the right setting, they'll usually make a pair of jeans look too casual to wear with a blazer.
Go For Casual Grey Blazer Fits
Another way of reducing the risk of a formality mismatch between the black jeans and the grey blazer is by choosing a casual-looking blazer.
Choosing a grey blazer with a more relaxed fit will achieve this.
So, try to choose a blazer with a soft lining and relaxed shoulders.
The fabric is also worth considering.
In general, the more rough and rugged the fabric/weave of the grey blazer is, the better.
Avoid excessively shiny, wrinkle-resistant, and formal-looking fabrics such as worsted wool.
Blazers made from these materials often look too formal to wear with denim jeans, with the result often looking jarring and out of place.
Instead, consider a blazer made from serge, flannel, linen, tweed, or similarly casual-looking fabric/weaves.
Careful With Your Choice Of Footwear
The range of different types of shoes you could wear with a grey blazer and black jeans is very wide.
Your choice should be determined by the dress code.
Generally, it's best to avoid black leather dress shoes, as they often look too formal to be worn with black jeans.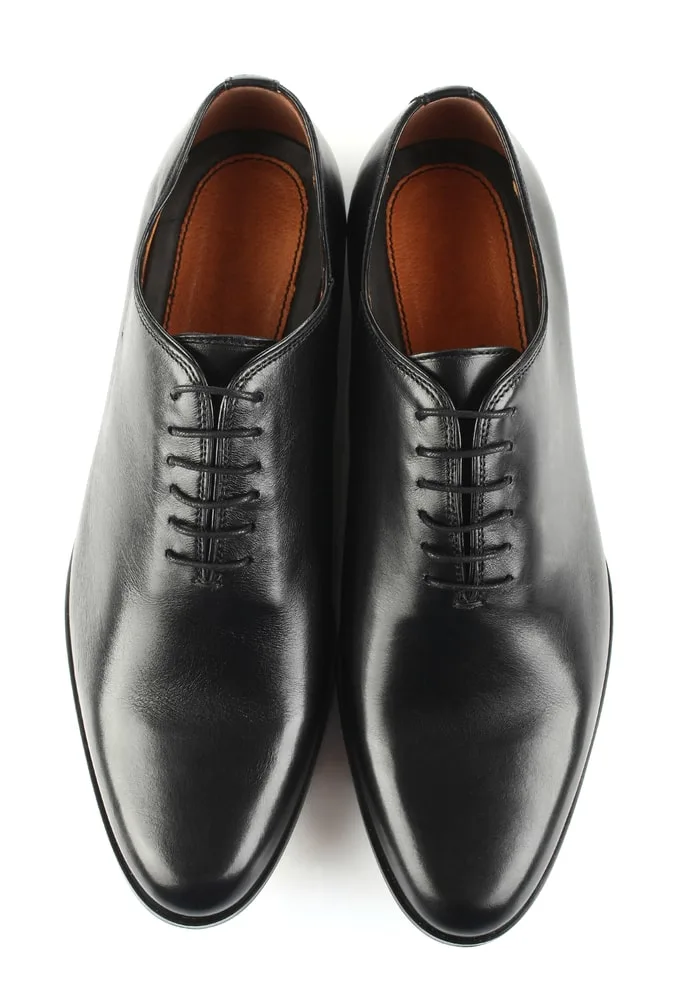 If you're looking to dress the combination up (as we did in our first combo example above), consider a pair of medium or dark brown leather dress shoes instead.
Brown shoes will always look more casual than black alternatives. Because of this, they usually look better when wearing black jeans.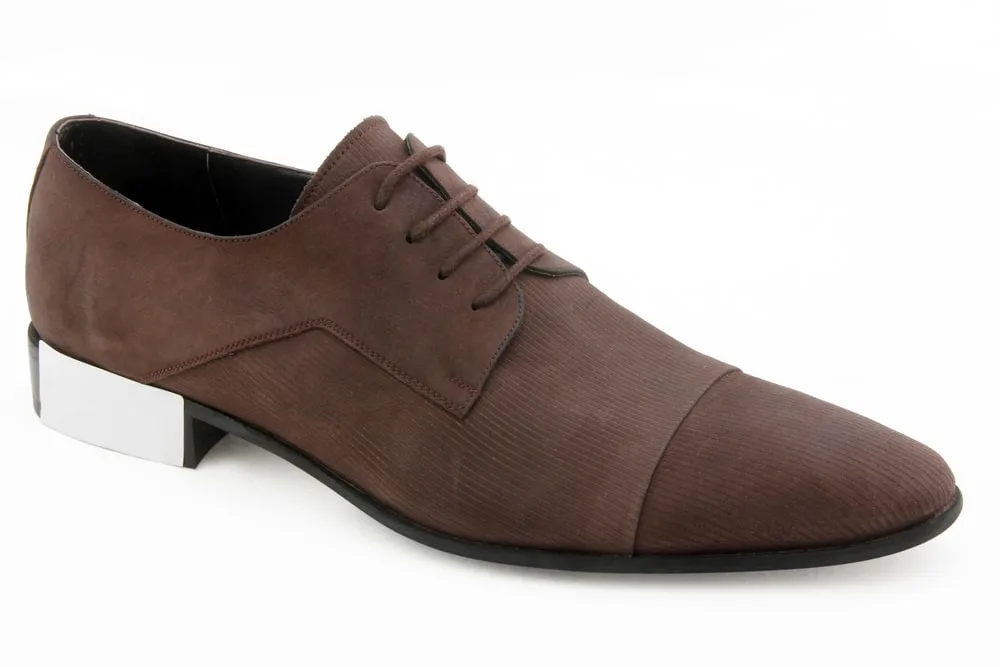 They also add some contrast to an otherwise monochrome and greyscale outfit.
If you're dressing the combination down, consider a pair of suede dress shoes, loafers, boots, or sneakers.
Conclusion
While the combination is versatile, it's quite likely that the setting you're dressing for will require you to wear it a certain way.
Hopefully, you've now got a better understanding of the different ways you can wear a grey blazer and black jeans combo.
It can range from dressy, to not so dressy at all. Having options is great, as long as you know when and where to use each one most effectively.
Enjoy.
Ready Sleek founder. Obsessed with casual style and the minimalist approach to building a highly functional wardrobe. Also a fan of classic, vintage hairstyles.