Grey blazers rank up there with the most versatile wardrobe items you could have at your disposal. But sometimes, knowing what chino colors work best with them can be tricky.
So, here are some great chinos colors you can wear with a grey blazer:
Blue
Black
Navy
Beige
Red
Tan
Cream
Khaki
That's the short answer, but there's a good chance you'll need more.
Here are those color combinations in more detail – descriptions and pictures to help you choose.
Let's get to it.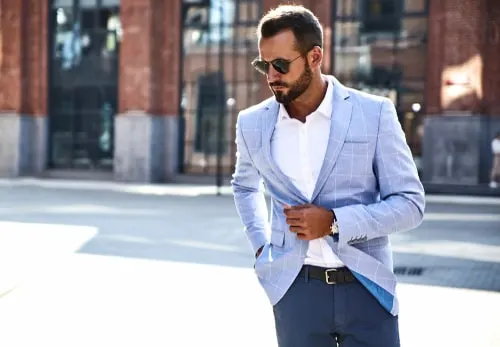 8 Chino Colors For A Grey Blazer
You'll notice how some of them look more traditional and dressy, while others look bolder and more in-your-face.
It's worth mentioning right from the start that a grey blazer and chinos of any color shouldn't be worn in truly formal settings where a 2-piece suit would be required.
A blazer/chinos combination of any sort would only be suitable for smart-casual or business-casual dress codes.
Which of those dress codes it's most appropriate for does depend on the color of the chinos and the shade of the grey blazer.
1. Blue Chinos
A grey blazer can be worn with blue chinos in smart-casual settings. The lighter the shade of the blue chinos, the more casual the combination will come across.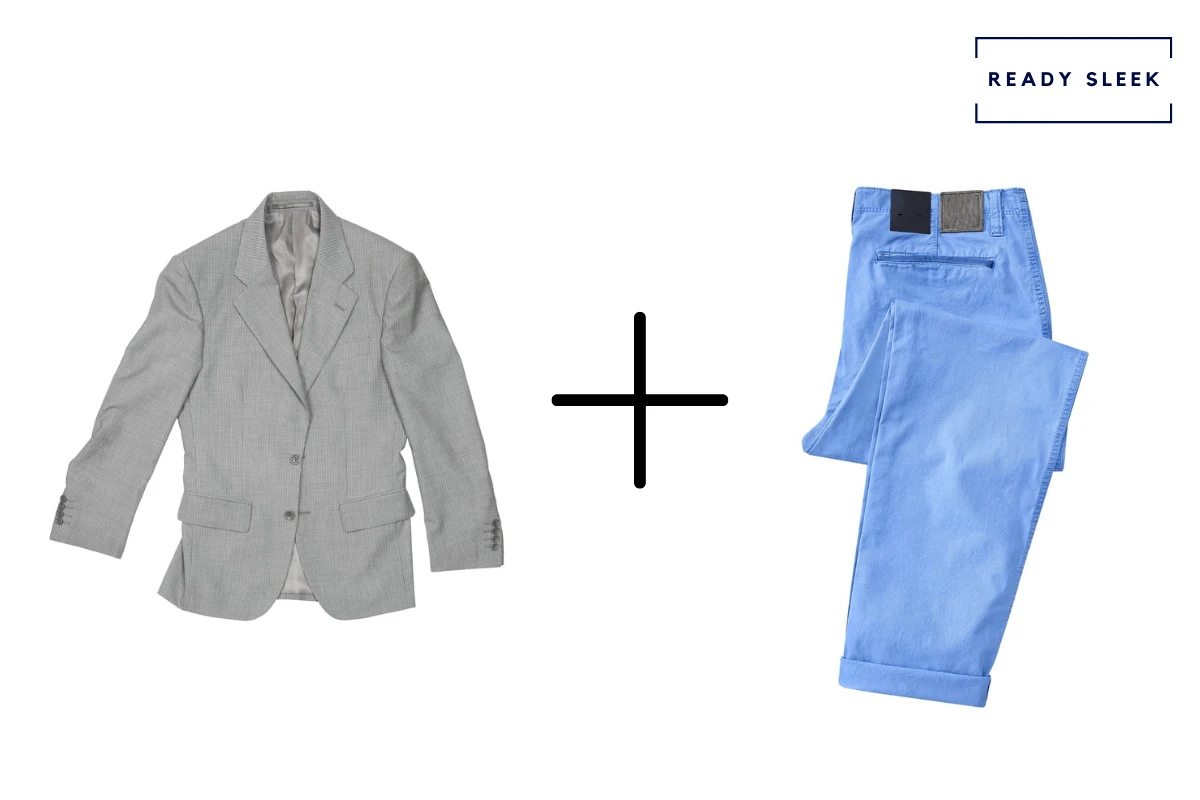 Ultimately, a pair of blue chinos can look very different depending on what color they are.
A light blue pair of chinos in sky or baby blue, for example, won't look quite as dressy as a pair in admiral or royal blue.
The same goes for the blazer.
Dark grey blazers will generally look more formal than light grey blazers.
In general, the lighter the shade of the blue chinos, the more likely it is that a light grey blazer would be a better option.
Blazers in darker shades of grey tend to work better with chinos in medium or dark shades of blue.
If you feel as though there's a risk of underdressing, however, avoid chinos in light or medium shades of blue and go for navy instead. We'll be going through navy chinos later on.
2. Black Chinos
Black chinos can easily be worn with a grey blazer to produce an effective monochromatic combination.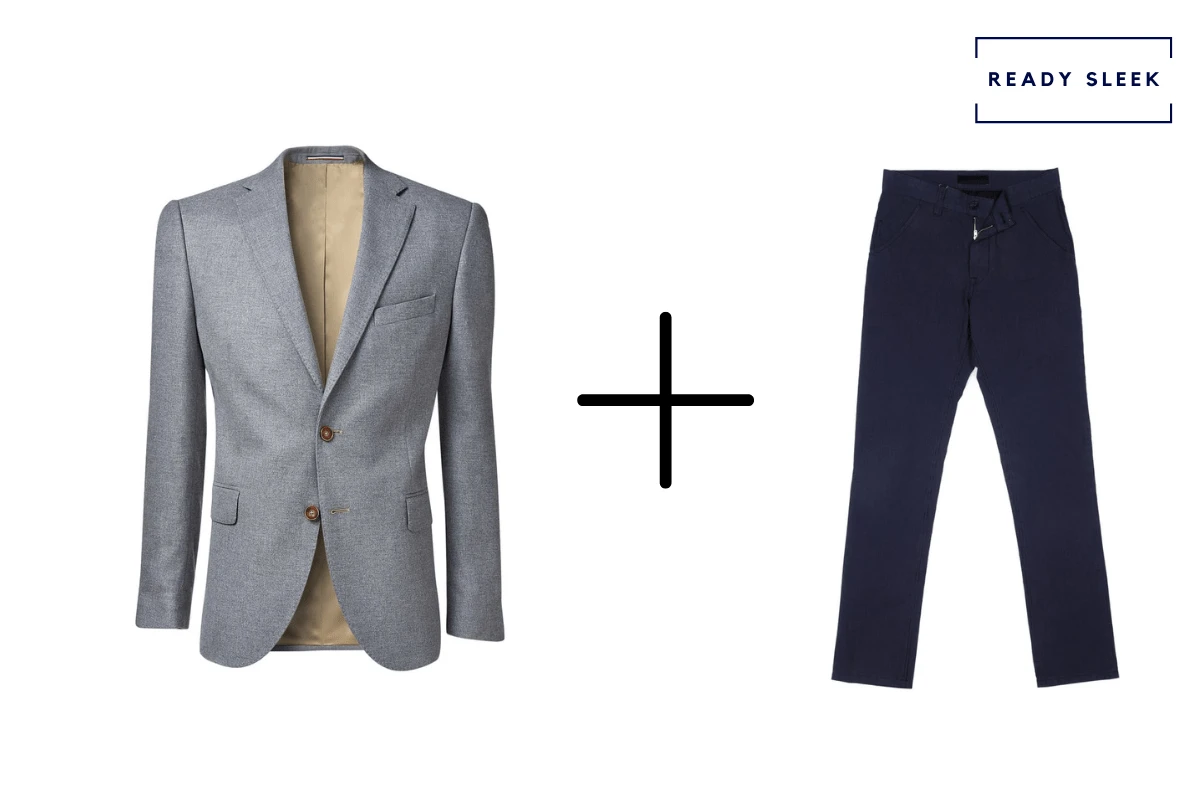 Dark grey blazers tend to work better with black chinos, especially in dressier and more formal settings.
The combo would be suitable for both smart-casual and business-casual settings.
If you'd prefer a subtle, low-contrast, and dressy combination, wear a dark or medium grey blazer with your black chinos.
If, on the other hand, you'd rather have a more attention-grabbing and high-contrast combination, go for a light grey blazer instead.
To add some color to this thoroughly neutral blazer and chinos combination, consider a baby blue or light pink shirt.
Of course, in more casual settings, feel free to wear a shirt in any color you'd like.
The beauty of wearing a grey blazer with black chinos is that you could throw in any other colors you'd like knowing it'll work.
3. Navy Chinos
Navy chinos go extremely well with grey blazers, with the combination being appropriate in both smart-casual and business-casual settings.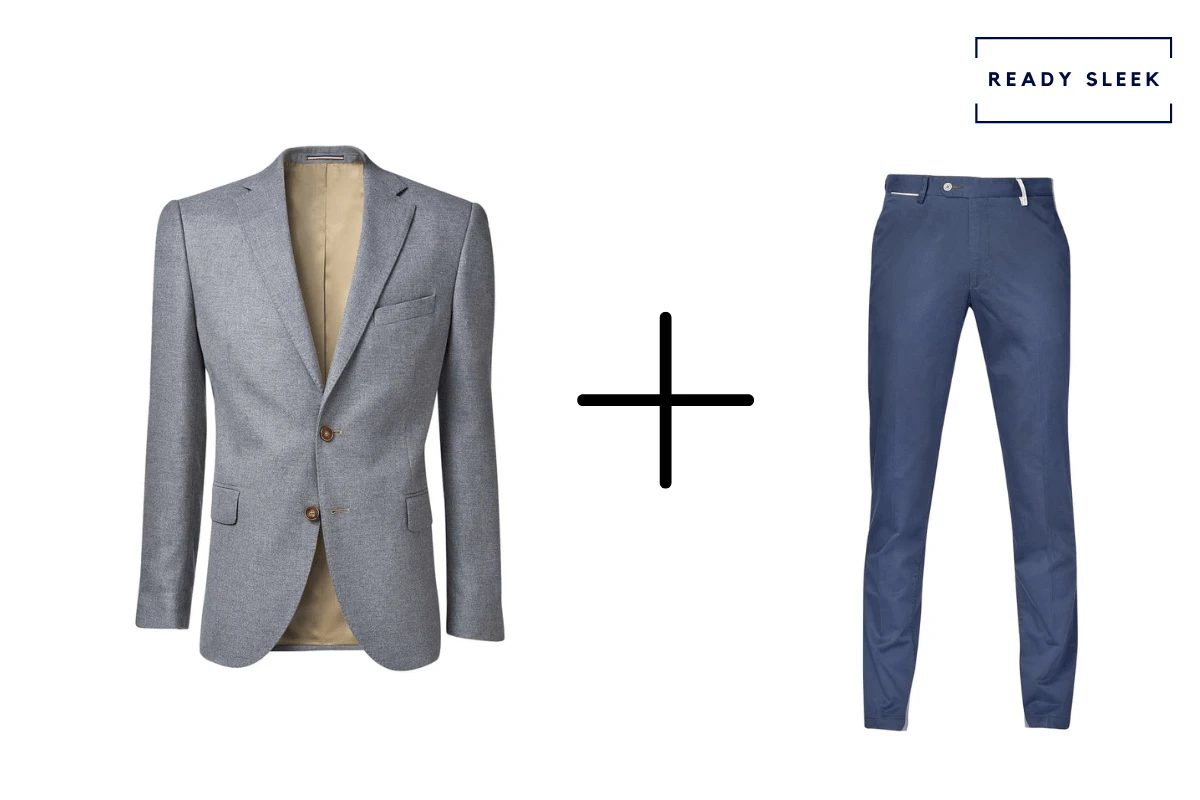 Navy, as well as other dark shades of blue such as midnight blue, are exceptionally easy to color coordinate given how muted they are.
In fact, they're often considered neutral in the world of men's style despite clearly being shades of blue.
Overall, navy makes for a slightly more exciting alternative to grey or black. You could easily wear a grey blazer with navy chinos to all but the most dressy of business-casual events.
Round off the outfit with a pair of dark brown dress shoes (eg. Derby shoes or monk straps) and you're all set.
4. Beige Chinos
Beige chinos work well with grey blazers and can be worn to both smart-casual and business-casual events.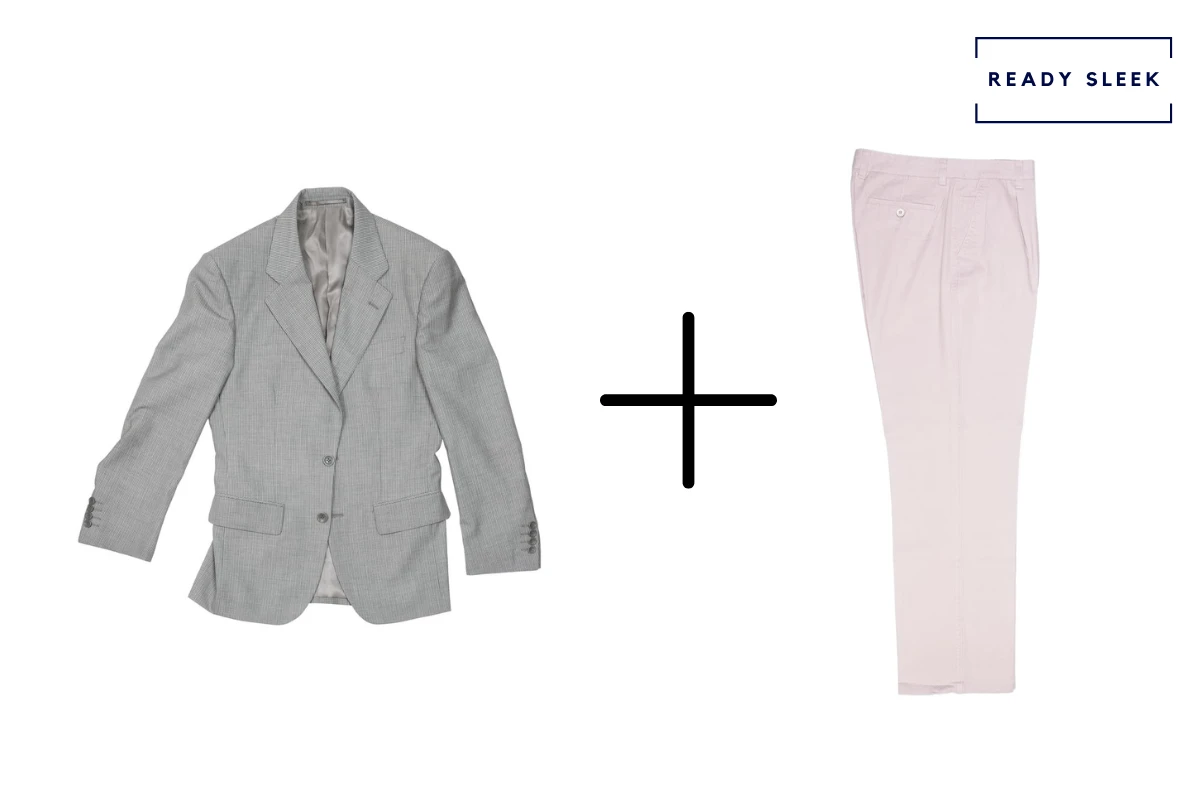 Once again, consider how much contrast you want between the two items.
Beige is often described as a very light and greyish shade of yellow.
While its definition and description are often frustratingly difficult to pin down, overall, we can safely label it as very light.
A light grey blazer worn with a beige pair of chinos will lead to a subtle and low-contrast combination. In contrast, a dark grey blazer will lead to a harsh and high-contrast combination.
It really depends on what you'd prefer. Either option could work.
If you're wearing this in a business-casual setting, go for a white or light blue dress shirt.
5. Red Chinos
Red chinos worn with a grey blazer will lead to an eye-catching smart-casual ensemble. It'll work well but needs to be worn in the right setting.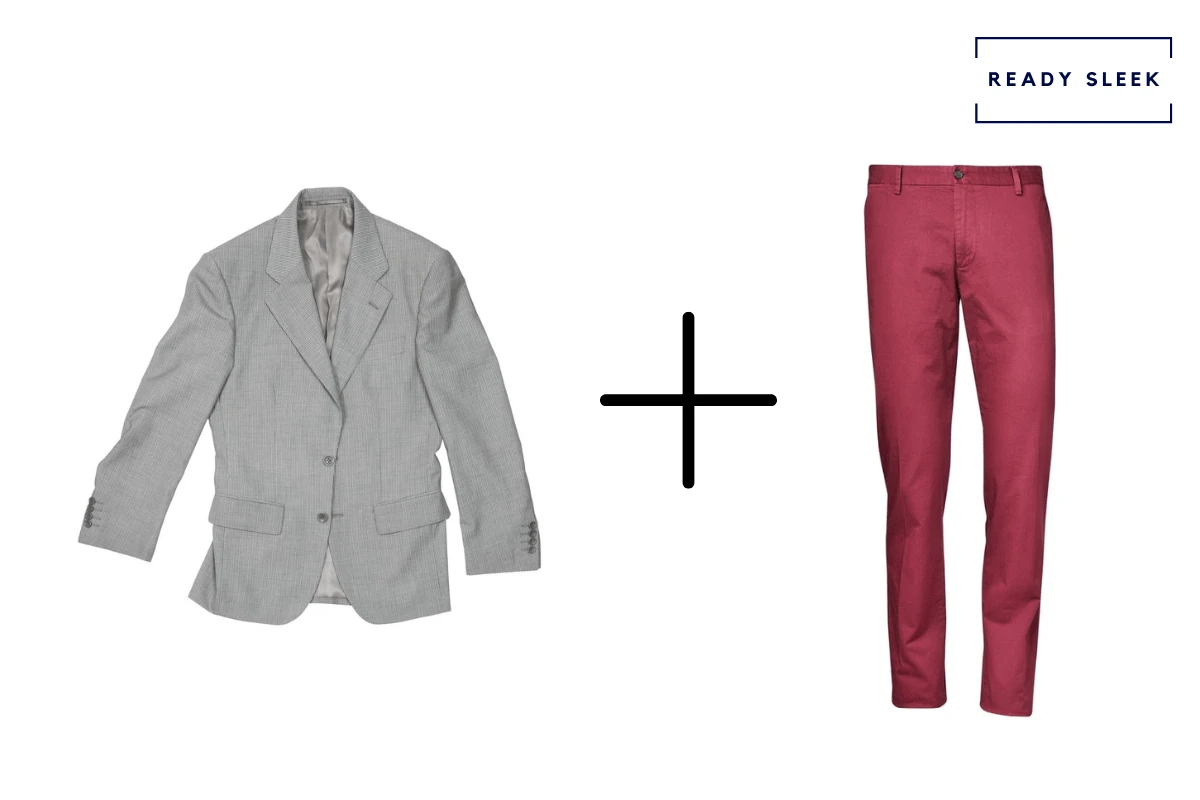 Avoid this combination in business-casual environments and reserve it for casual or smart-casual events where there's little risk of underdressing.
The shade of the red chinos you choose will often determine how attention-grabbing the outfit will look overall.
Dark and muted shades of red such as maroon, burgundy, and crimson are more subtle, while lighter and brighter shades are more likely to turn heads.
Ultimately, chinos in any shade of red will coordinate effortlessly with a grey blazer. It all depends on how understated you want the combination to look as a whole.
6. Tan Chinos
Tan chinos look great when worn with a grey blazer, with the combination making for an ideal business-casual outfit.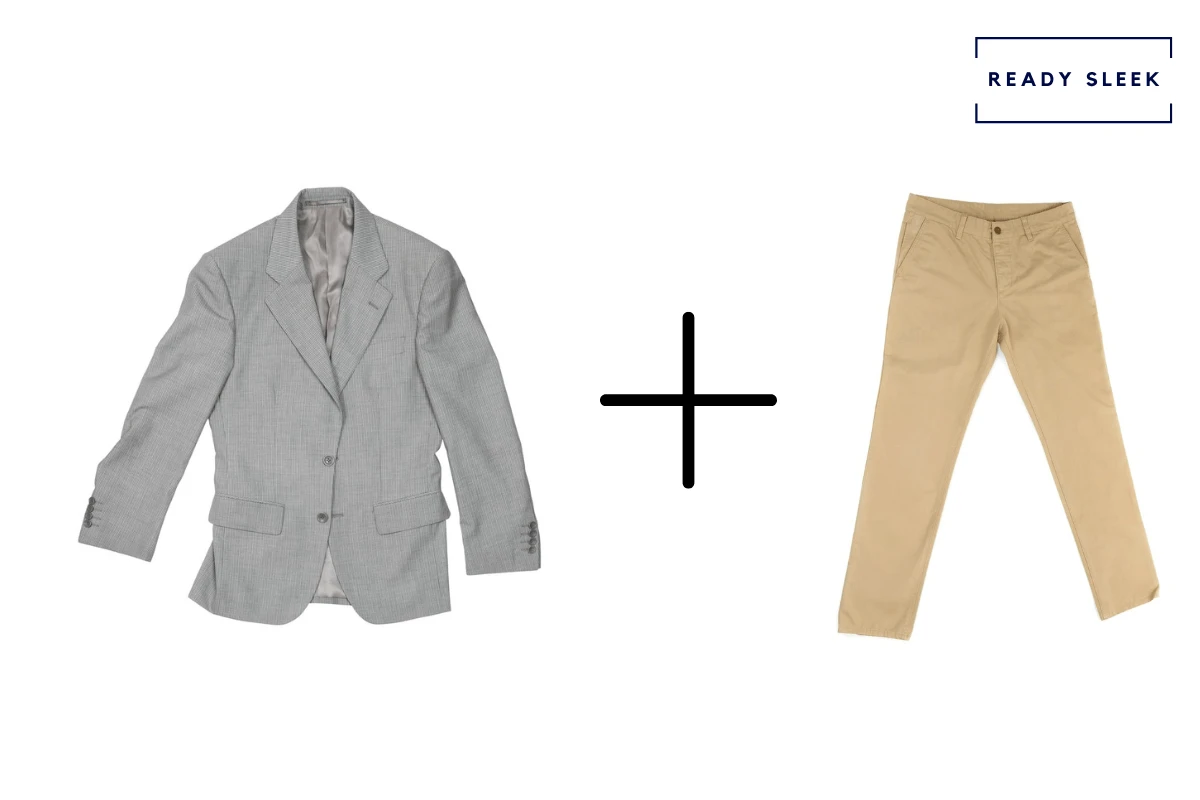 Tan is similar to khaki but a little darker. It could be called a light/medium shade of brown with a noticeable yellow hue.
Much like khaki, there's something about a tan pair of chinos that just oozes a business-casual aesthetic.
It's a perfect option when wearing a medium grey blazer to an office party, a conference, or anything else.
Combine the pairing with a pair of brown dress shoes and a smart white/light blue dress shirt for maximum effect in this context.
Tan is considerably darker than beige and cream. Because of this, the contrast you'd produce with grey blazers in both light and dark shades isn't as obvious or extreme.
7. Cream Chinos
Cream chinos are a great option when wearing a grey blazer in smart-casual settings. As it's a very light color, the contrast you'd achieve will be noticeable and striking no matter what shade the grey blazer is.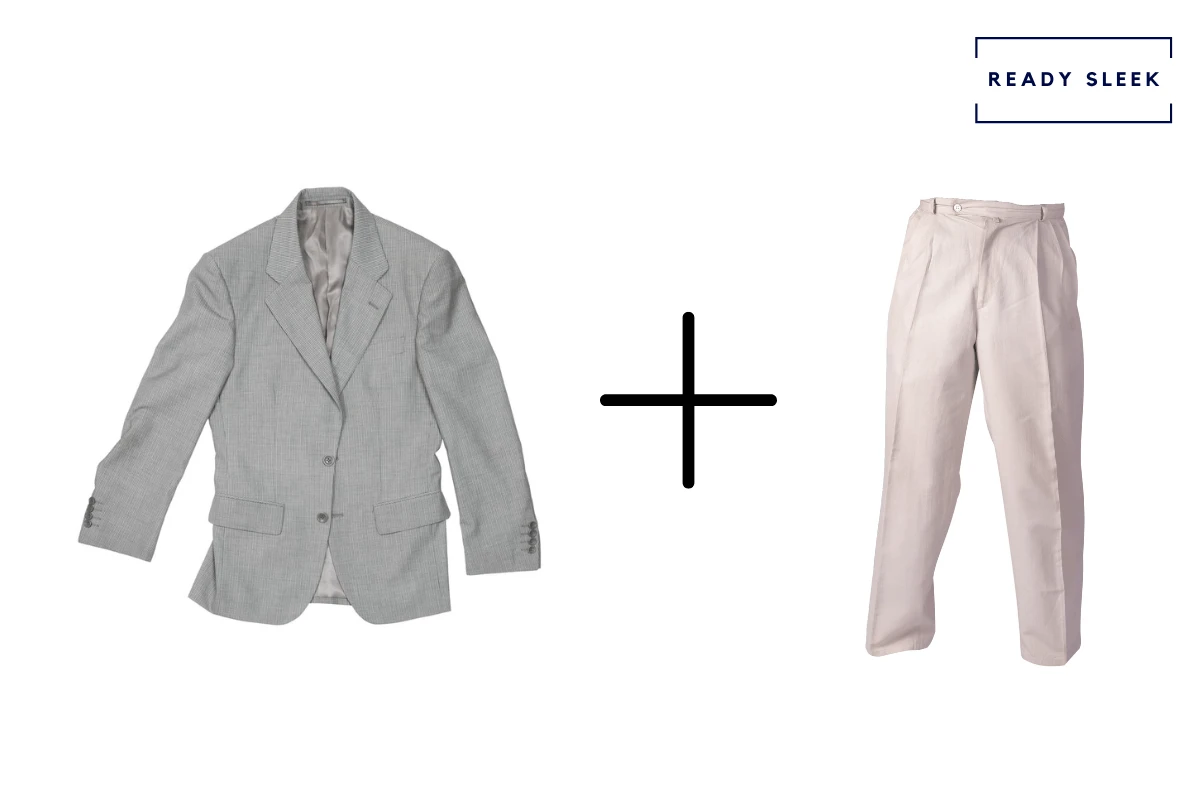 Cream is often considered a "shade of white" with a subtle yellow hue. Some may argue that it was simply an extremely light shade of yellow.
Either way, it doesn't really matter.
A pair of cream chinos will effortlessly coordinate with a blazer in any shade of grey, but the contrast you'll produce does need to be given careful thought.
A dark grey blazer worn with a pair of cream chinos will be high-contrast and attention-grabbing.
A light or medium grey blazer would lead to a lower amount of contrast and a more subtle aesthetic.
But cream is so light that the contrast you'd achieve when pairing it with any shade of grey wouldn't ever be considered low.
A pair of cream pants is eye-catching in much the same way as a pair of white pants would be.
That's why, in general, it's best to reserve a grey blazer and cream chinos combination for smart-casual events.
When dressing for a business-casual setting, go for a darker pair of chinos such as tan, khaki, or taupe instead. Of course, black and navy are also great options.
8. Khaki Chinos ("Khakis")
Khaki chinos (i.e khakis) are ideal when wearing a grey blazer in business-casual settings. In many ways, the combination is typical of the aesthetic.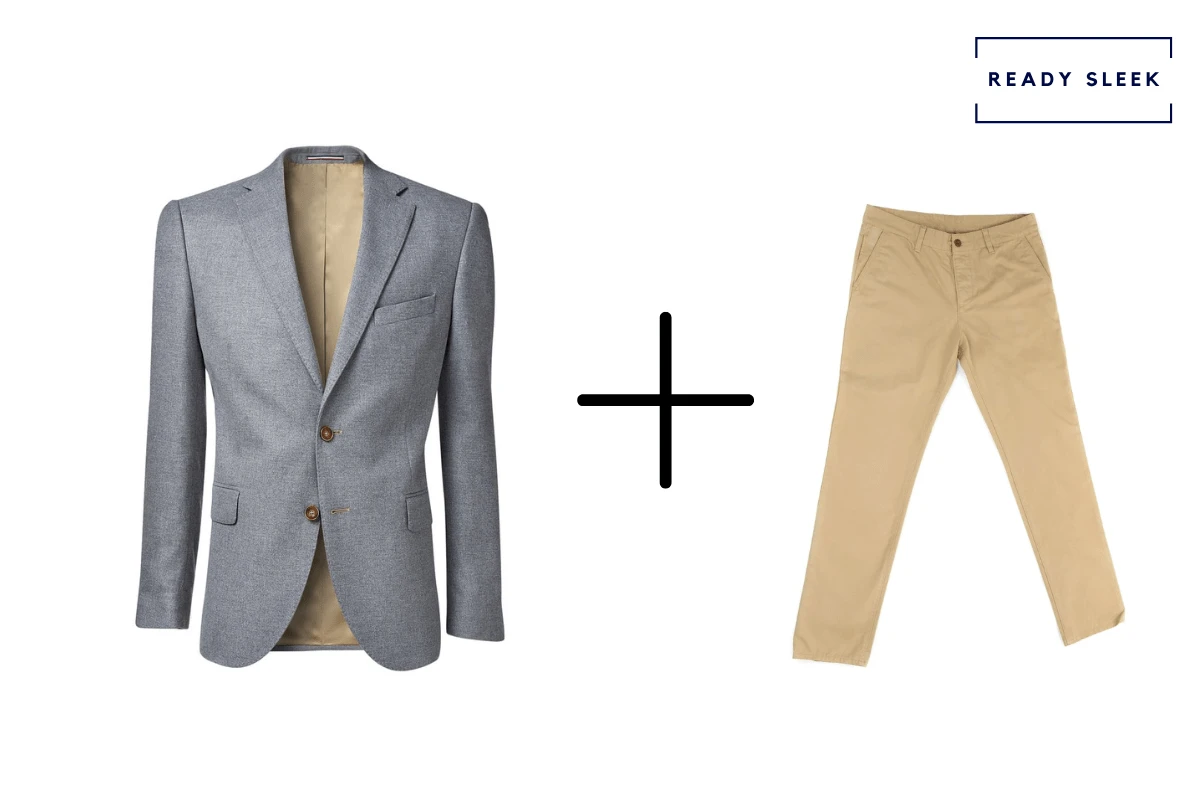 It's tough to go wrong with this combination. It'll always work.
While it's true that khakis have become very closely associated with the business-casual dress code, you can very confidently wear this combo in more casual settings as well.
In many ways, a pair of khakis is just as versatile as a grey blazer.
If you did want to dress down this pairing, try wearing a T-shirt under the grey blazer and pop on a pair of all-white leather low-top sneakers.
Conclusion
As you can see, wearing a grey blazer does give you plenty of options when it comes to the color of your chinos.
The list of color options we've gone through should give you a good idea of where to start.
More importantly, it should hopefully help you determine the best color for the specific setting you're dressing for.
Enjoy.
Ready Sleek founder. Obsessed with casual style and the minimalist approach to building a highly functional wardrobe. Also a fan of classic, vintage hairstyles.