Black jeans are neutral and are easy to combine with other items. But it's no secret that certain colors and certain shades tend to work best. So, can you really wear a green shirt with black jeans?
Yes, it's entirely possible to wear a green shirt with black jeans. In general, dark and muted shades of green such as olive, sage, and forest green tend to work best here. In smart-casual settings, consider a green chambray or OCBD shirt with slim and tapered black jeans.
While that short and sweet answer will serve you well, you'll need more.
You're about to see some great outfit examples you can try out for yourself. After that, we'll run through some important tips for making this color combination work no matter what.
Let's get to it.
3 Green Shirt And Black Jeans Outfits To Try
As you'll soon see, there are plenty of different ways to wear a "green shirt and black jeans" combination.
Some will inevitably look dressier than others.
We'll start with a dressy way of doing it before finishing up with a couple of casual ways.
Dressy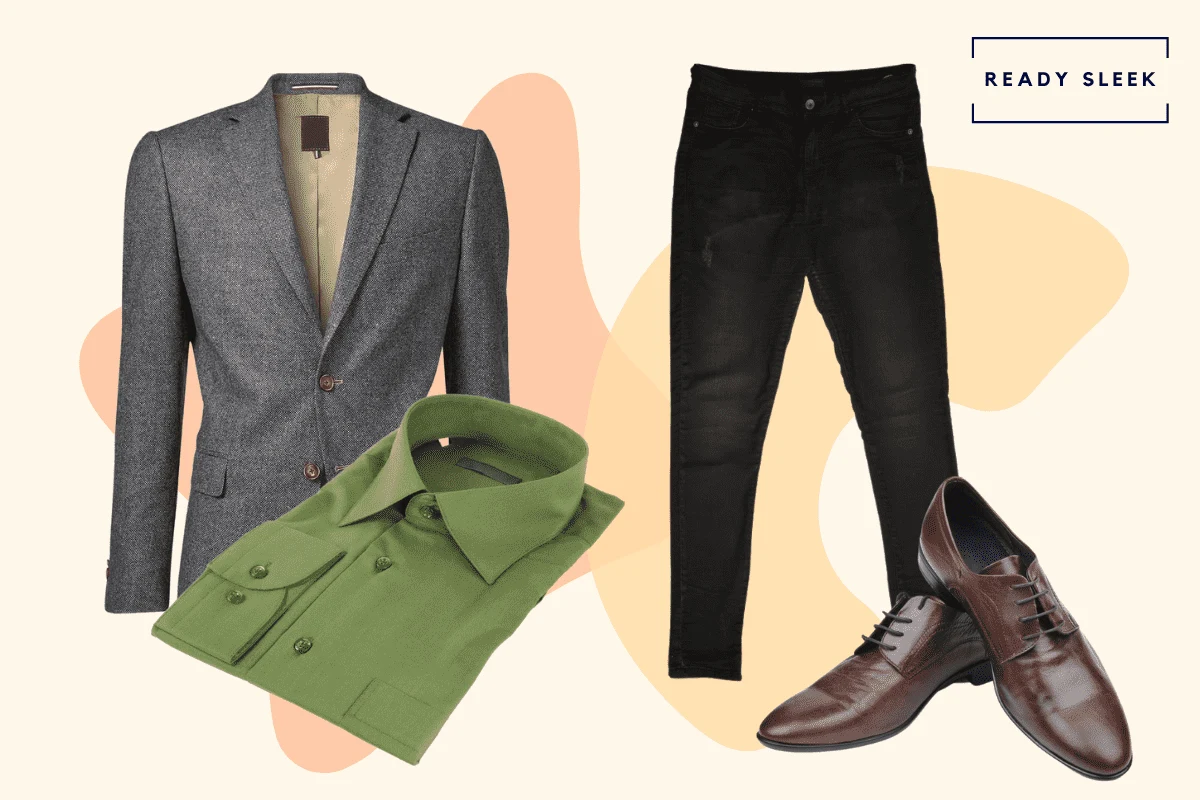 Items: Olive Green Button-Up Shirt, Black Jeans, Grey Sport Coat, Dark Brown Derby Shoes
This outfit would work well in a smart-casual setting.
The olive green button-up shirt is dressy, but not so dressy that it would look awkward with a pair of undoubtedly casual black jeans.
This is for a couple of reasons.
One reason is that green shirts won't ever look as formal as white or light blue shirts. Another reason is that the style of the button-up shirt is pretty casual too.
The button-up shirt has casual features – a more rough/rugged fabric such as chambray, Oxford or linen, as well as a relaxed collar.
A green shirt like this would make a lot more sense than a green dress shirt would when wearing black jeans.
The black jeans you'd wear in a smart-casual outfit like this would be slim, tapered, and non-distressed.
The grey sport coat works well here. It's neutral, dark, and combines effortlessly.
While you could go for one in a lighter shade of grey here, dark grey syncs well with the dark overall aesthetic of the outfit.
Finally, the dark brown Derby shoes add a nice sense of contrast and warmth.
More Casual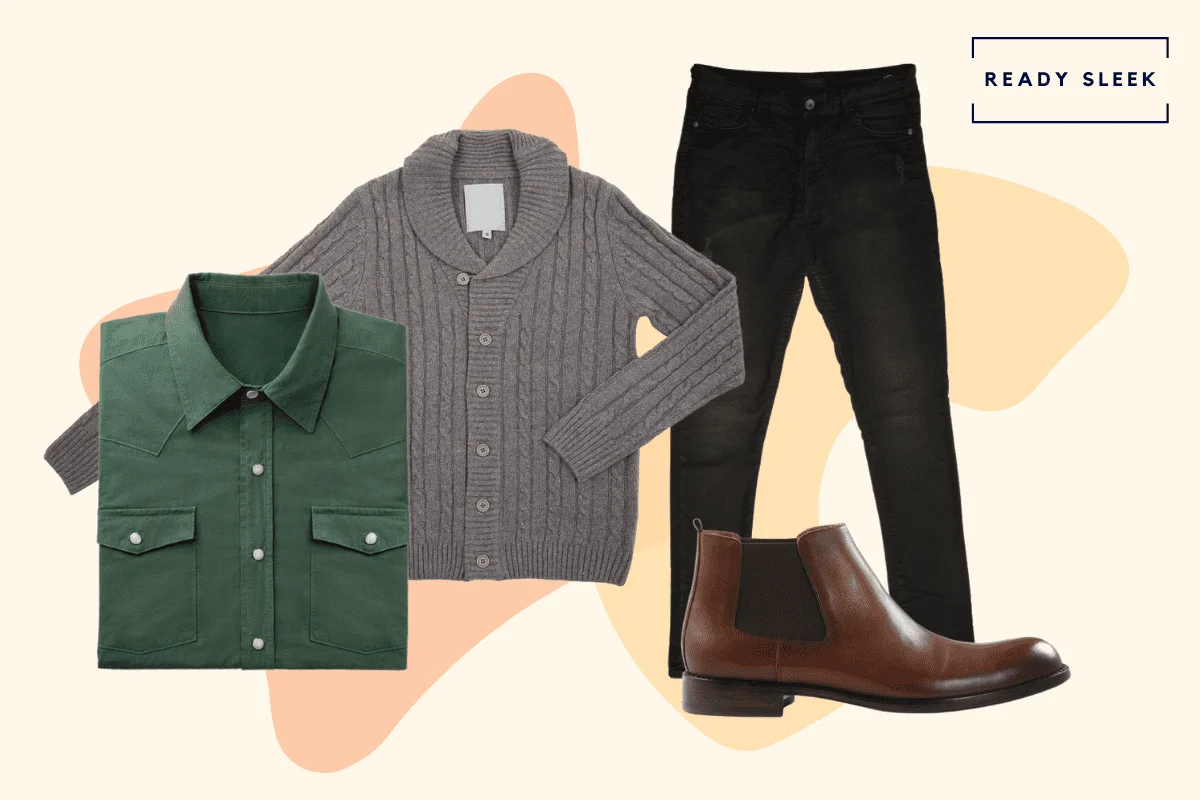 Items: Forest Green Button-Up Shirt, Black Jeans, Grey Shawl Collar Cardigan, Brown Leather Chelsea Boots
The shade of the green button-up shirt is darker here. It's closer to forest and hunter green.
Shirts in very dark shades of green look more casual than medium-dark shades such as olive and sage, but not by much.
The cardigan will always look more casual than the sport coat in the previous example. But going for a shawl collar does add a touch of sophistication in a way that other cardigan styles often don't.
The brown Chelsea boots are sleek, but the lighter shade of brown does look a notch more casual than the dark brown Derby shoes you saw earlier on.
In addition, while the right pair of Chelsea boots can easily be worn in smart-casual settings, they won't ever be as dressy as a pair of dark brown Derby shoes or even monk straps.
Most Casual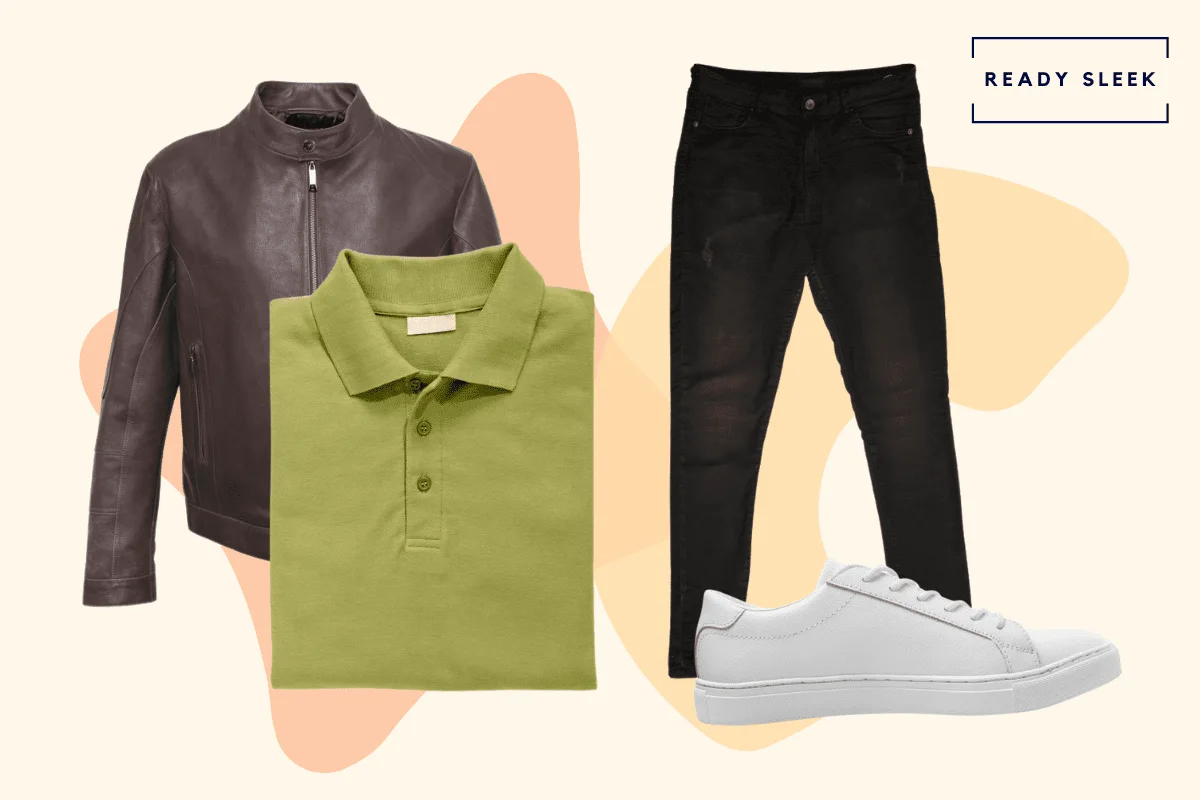 Items: Olive Green Polo Shirt, Brown Leather Jacket, Black Jeans, White Sneakers
It's true that going for a T-shirt would be several times more casual than this, but we've gone for the slightly more refined alternative here.
Yes, a green polo is a great way to dress down without dressing down too much.
It's still relatively dark and muted – enough that it syncs well with the darkness of the black jeans.
The brown leather jacket works incredibly well with the green polo. A green and brown combination has such an earthy and natural feel to it.
Ignore anyone that says that brown and black shouldn't mix – it's outdated and incorrect advice. In fact, just assume it was never correct in the first place.
5 Tips For Wearing A Green Shirt With Black Jeans
These tips should serve you well no matter what you might be dressing for.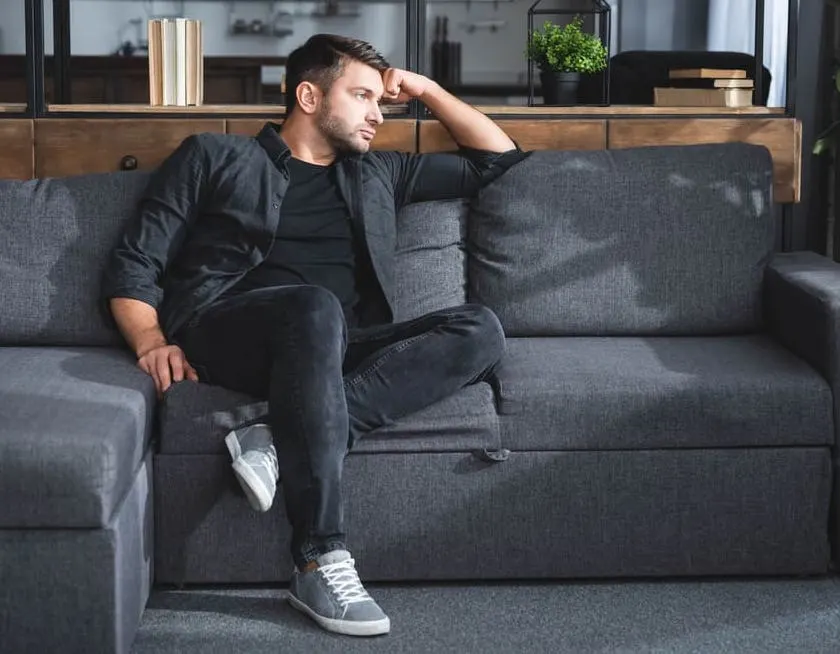 Keep It Casual
A common mistake people make with a green shirt and black jeans combination is wearing it to settings it shouldn't be worn in.
In short, it's entirely reasonable to wear it in casual and smart-casual settings.
It shouldn't be worn in business-casual settings and it definitely shouldn't be worn in formal and professional environments.
While most people wouldn't even dream of wearing this combo to formal/professional settings, some may argue that it could be worn to business-casual ones.
I disagree and for more than one reason.
Firstly, a pair of black jeans shouldn't really be worn in business-casual settings. The "no suits and no jeans" rule serves most people well when it comes to the mysterious business-casual dress code.
Secondly, green shirts would also be inappropriate in business-casual settings. In general, if you wouldn't wear a shirt color to work, you shouldn't really wear it as business-casual.
Stick to white, light blue, and light pink button-up shirts instead.
Consider The Shade Of The Green Shirt
When wearing black jeans, shirts in dark shades of green generally work better than shirts in light shades of green. Olive, sage, hunter, and forest green shirts are often your best options.
Shirts in lighter, brighter, and bolder shades of green will coordinate with black jeans, but won't necessarily look stylish.
In general, they'll look out of place given the darkness and mutedness of the black jeans.
The contrast between the two items would be too much.
Dark and muted shades of green, on the other hand, look great with black.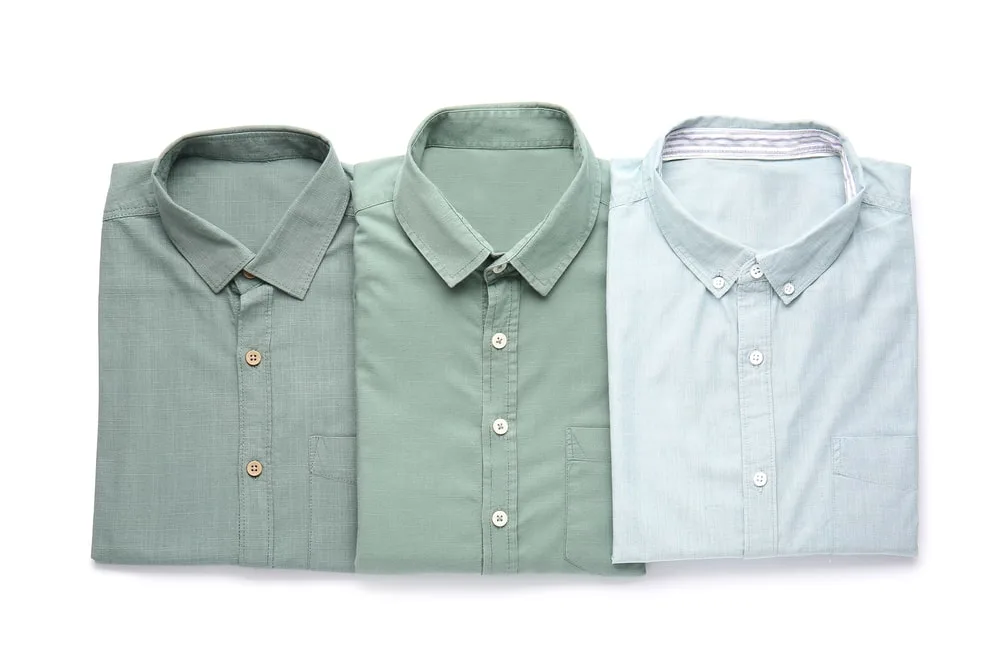 The Style Of The Black Jeans Matters
This combination can look very different depending on the style of the black jeans you choose to wear with the green shirt.
In smart-casual settings where you're more likely to be wearing a green button-up shirt, a pair of smart black jeans would be wise.
Consider a pair of slim-fit and tapered black jeans with minimal distressing – avoid rips, frays, and acid washing.
Non-distressed jeans always look dressier than distressed jeans.
In more casual settings, however, you've got the choice of wearing your green shirt with either a dressy pair of black jeans or a more casual-looking pair.
Baggier fits (eg. wide-leg, bootcut) and skinnier fits will generally look more casual than slim-fit pairs.
Distressed, baggy, and skinny black jeans generally look better when wearing more casual green shirt styles such as T-shirts, polos, and Henleys.
Brown Shoes And Boots Are Ideal
Brown shoes and boots work very well when wearing a green shirt with black jeans. Dark shades of brown look especially good, as they're dark enough to not add too much contrast.
Once again, black and brown do mix perfectly well, but contrast is something to bear in mind.
While you could go for a pair of shoes or boots in a lighter shade of brown (eg. tan or walnut), darker shades just sync better with the darkness of the black jeans.
They'll draw less attention and blend into the outfit as a whole.
As mentioned earlier, the real benefit of wearing brown shoes here is that brown and green combine very well.
Earthy, subtle, and effective.
You could consider a pair of brown Derby shoes, monk straps, or loafers here. If you'd prefer a pair of boots, Chelseas and chukkas would definitely work well.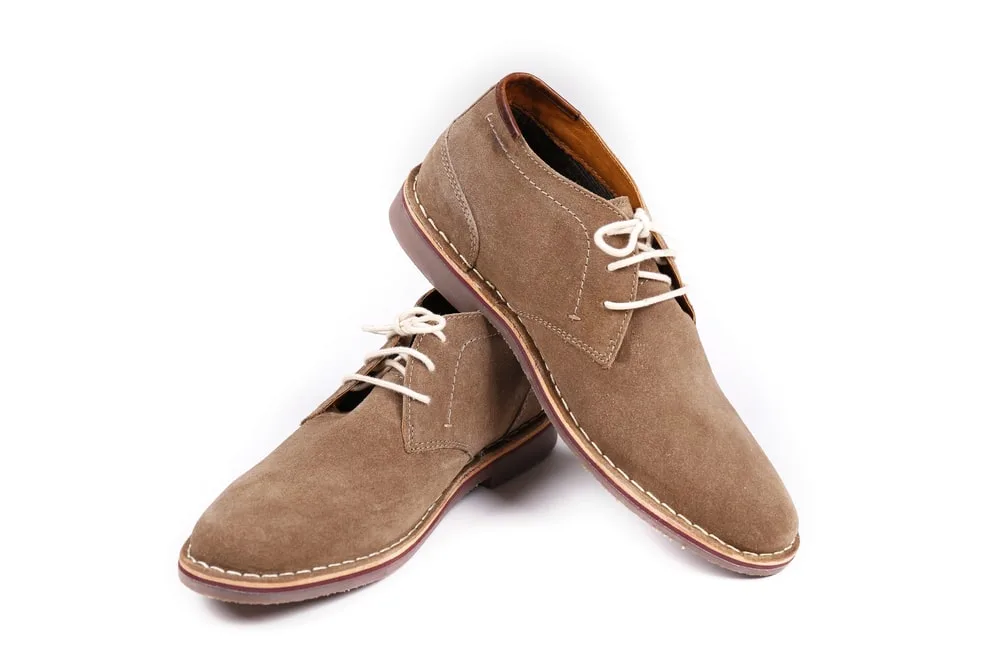 When you're dressing down your green shirt and black jeans combo, consider a pair of sneakers instead.
Ultimately, in truly casual settings, you could wear practically any pair of sneakers. The beauty of a pair of all-white leather low-top sneakers is just how versatile they are.
They're minimalist and relatively dressy for sneakers, sometimes being labeled "dress sneakers" for a reason.
The level of contrast produced between white sneakers and black jeans will be about as high as you can get, but in casual settings, it's a great touch.
Neutrals Work Great Here
This specifically refers to the layering options you have at your disposal when wearing a green shirt and black jeans.
Neutral blazers, sport coats, jackets, and coats work incredibly well here.
In addition to the traditional neutrals (black and grey), you've also got colors that are so muted that they're often labeled neutrals in the world of menswear.
Navy and brown often fall into this category.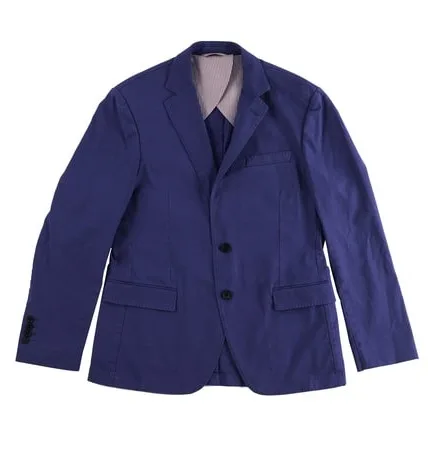 In general, avoid layering with lighter, brighter, and bolder colors, simply because green is quite a vivid color in itself.
This is true even when going for a relatively muted shade of green such as olive, sage, or forest green.
Avoid adding too much color and excitement with your outer layer and keep things simple.
Go for neutrals. Taking things a step further, go for dark neutrals to stay in sync with the dark overall aesthetic.
Dark grey sport coats, dark brown overcoats, navy chore coats, and so on.

Ready Sleek founder. Obsessed with casual style and the minimalist approach to building a highly functional wardrobe. Also a fan of classic, vintage hairstyles.