While "rules" in style are never a good thing, there are certain fashion faux pas that you'd rather not make.
So, do you have to wear a shirt under a sweater?
In general, it's important to wear a shirt under a sweater for protection against sweat, as well as comfort. V-neck sweaters generally look better with collared shirts, while both collared and collarless shirts can be worn under crew neck sweaters.
While that's the short answer, as you'd expect – there's more to it. I'm about to explain the main reasons why you should wear a shirt under a sweater in more detail.
Let's get to it.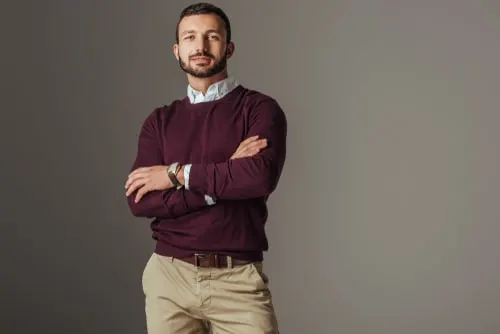 5 Great Reasons To Wear A Shirt Under A Sweater
While you may not be too bothered about all of them, there's a good chance that one of these reasons will swing it for you.
Whether it's a standard undershirt, T-shirt, or collared shirt, these benefits will hold true.
1. Less Staining
This one is probably the most important.
Whatever shirt you wear under your sweater – whether it's a tee, undershirt, Oxford shirt, or dress shirt – it'll give your sweater a layer of protection against sweat.
Sweat can stain the sweater over time. This can be a problem, especially when you're wearing a particularly expensive one.
Stains and odor on a merino wool or cashmere-blend sweater are not things you want to deal with.
Wearing a shirt under it is a simple way to achieve this.
2. Less Washing
It isn't just sweat that can rub off on a sweater when it's in contact with your skin. It could also be the residue of colognes, creams, body lotions, and so on.
It may not sound important, but it can degrade a sweater over time.
When you don't wear a shirt under your sweater, you'll need to wash it more. There is no getting around that, unfortunately.
The more you wash that sweater, the shorter it will last. It will pill more and lose the vibrancy of its color. It'll also just feel less comfortable to wear.
Many sweaters (eg. cashmere) require hand washing as well. While this is straightforward enough, it's time-consuming.
When you find yourself having to wash your sweater more due to not wearing a shirt underneath, this time can add up.
3. Less Itching
Let's face it – the feel of a sweater against your skin often isn't the most comfortable sensation.
It may feel pretty good when you're wearing the finest cashmere. But the feeling of shetland wool against your body, for instance, isn't the most pleasant.
This is a common reason why many people do wear a shirt under their sweater.
It isn't for the sake of style or hygiene (while these are definitely important too). It's simply because a sweater can be itchy and irritating when it's allowed to rub against you directly.
Wearing a shirt is, once again, a layer of protection.
4. More Layering
One of the main benefits of wearing a sweater in the first place is layering.
You've got the freedom to wear it over many different types of shirts pretty comfortably.
You've also got the ability to take it off when it gets too warm and still remain comfortable.
Once it starts to get a little cooler (eg. at night time), you can pop it back on.
Layering is hugely beneficial, particularly in areas where the temperature tends to fluctuate.
If all you've got is a sweater, you've got no option – you're stuck wearing that sweater throughout the day whether it's warm or cold.
5. More Modest
Wearing a sweater with no shirt underneath can be pretty revealing, especially with V-neck sweaters.
While some people don't mind the look, many find it a little immature and even incomplete.
It just doesn't look like a put-together outfit, almost as though something looks and feels like it's missing.
Crew neck sweaters aren't quite as revealing because they don't show as much of the chest.
But, in general, sweaters are so commonly worn with shirts underneath that not doing so can draw attention. This would be true regardless of the type of sweater neck.
Frequently Asked Questions
Here are some questions that people often ask about wearing specific types of shirts under specific types of sweaters.
Can You Wear A T-Shirt Under A Sweater?
T-shirts can definitely be worn under sweaters. It'll provide sweat protection and also give you the benefit of layering. Tuck the T-shirt in to prevent it from showing at the bottom.
While T-shirts can be worn under both V-neck and crew neck sweaters, they generally look better under crew necks.
When wearing a crew neck T-shirt under a crew neck sweater, trying to match the colors as best as possible would be wise.
While it isn't terrible for a crew neck undershirt to show under a crew neck sweater at the top, it isn't the most stylish look.
Keeping the colors quite similar should soften the effect.
Do You Have To Wear A Shirt Under A V-Neck Sweater?
In general, it's best to wear a shirt under a V-neck sweater to protect against sweat, for comfort, and to prevent too much chest from showing. Collared shirts usually look better under V-neck sweaters than collarless shirts.
Wearing a V-neck with no shirt whatsoever can be a risky move. While the look appeals to some, it can be revealing and sometimes come across as immature.
While comfort and sweat protection are also huge benefits when wearing a shirt under a V-neck sweater, the look itself is just as important here.
Do You Have To Wear A Collared Shirt Under A Sweater?
It isn't essential to wear a collared shirt under a sweater. Regular undershirts, T-shirts, grandad shirts, and other collarless shirts can be worn under crew neck, V-neck, and zip-up sweaters for a more casual look.
While collared shirts such as polos, Oxfords (OCBDs), and dress shirts look great under practically any type of sweater, there are plenty of other types of shirts you can go for instead.
Wearing a collared shirt isn't something you need to be doing all the time, simply because you're wearing a sweater.
You've got a lot more choice than that.
In fact, going collarless is a great option when you don't want to come across too formal.
Do You Wear A Shirt Under A Christmas Sweater?
It's a good idea to wear a shirt under a Christmas sweater, as they're often made from cheap plastic fibers that can itch. It'll also protect the sweater from sweat. Any type of shirt could be worn, ranging from simple undershirts to Oxford shirts.
Another benefit of wearing a shirt under a Christmas sweater is warmth. Depending on where you are in the world, there's a good chance that it's going to be pretty cold at that time of the year.
Wearing layers gives you the benefit of keeping the sweater on when it's feeling a little cooler, and popping it off when you're cozying up around a fireplace.
Do You Wear A Shirt Under A Wool Sweater?
It's important to wear a shirt under a wool sweater as you want to protect it from sweat and minimize washing. Wool sweaters are vulnerable to pilling from overwashing. Wearing a shirt under it should reduce this risk.
In addition, many types of wool sweaters require hand washing. Wearing a shirt under it is a simple way to reduce the amount of time you'll need to do this.
Merino wool is arguably an exception here. It's comfortable and usually not very itchy at all. In addition, it has moisture-wicking properties which protect against sweat.
It's also quite a strong fabric that's very resistant to pilling.
But in general, you'll want to wear a shirt under most other types of wool sweaters.
Conclusion
There you have it.
Plenty of reasons why wearing a shirt under that sweater is a pretty good idea. It isn't essential, but the benefits are hard to deny.
Enjoy.
Ready Sleek founder. Obsessed with casual style and the minimalist approach to building a highly functional wardrobe. Also a fan of classic, vintage hairstyles.