White jeans are a simple, yet effective way to stand out from a crowd. Sometimes, however, it can be tough to know where to wear them and what to wear them with. So, can you really wear a denim shirt with white jeans?
A denim shirt can easily be worn with white jeans in casual and smart-casual settings. Light blue and light grey denim shirts would appear more subtle and dressy as they'd lead to less contrast between the shirt and the white jeans.
That's the short answer, but there's more.
After going through a few outfit examples to inspire your imagination, we'll run through some tips for getting this combination perfect every time.
Let's get to it.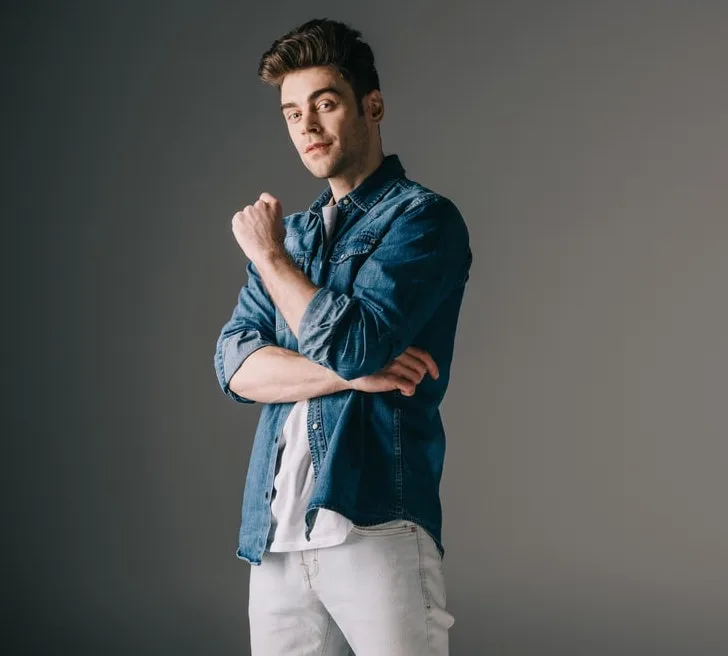 3 Denim Shirt And White Jeans Outfits To Inspire You
We're going from the dressiest option to the most casual one here.
While this outfit will always be "casual" to its very core, you'll notice how there are dressier ways of wearing it, as well as not-so-dressy ways.
Dressy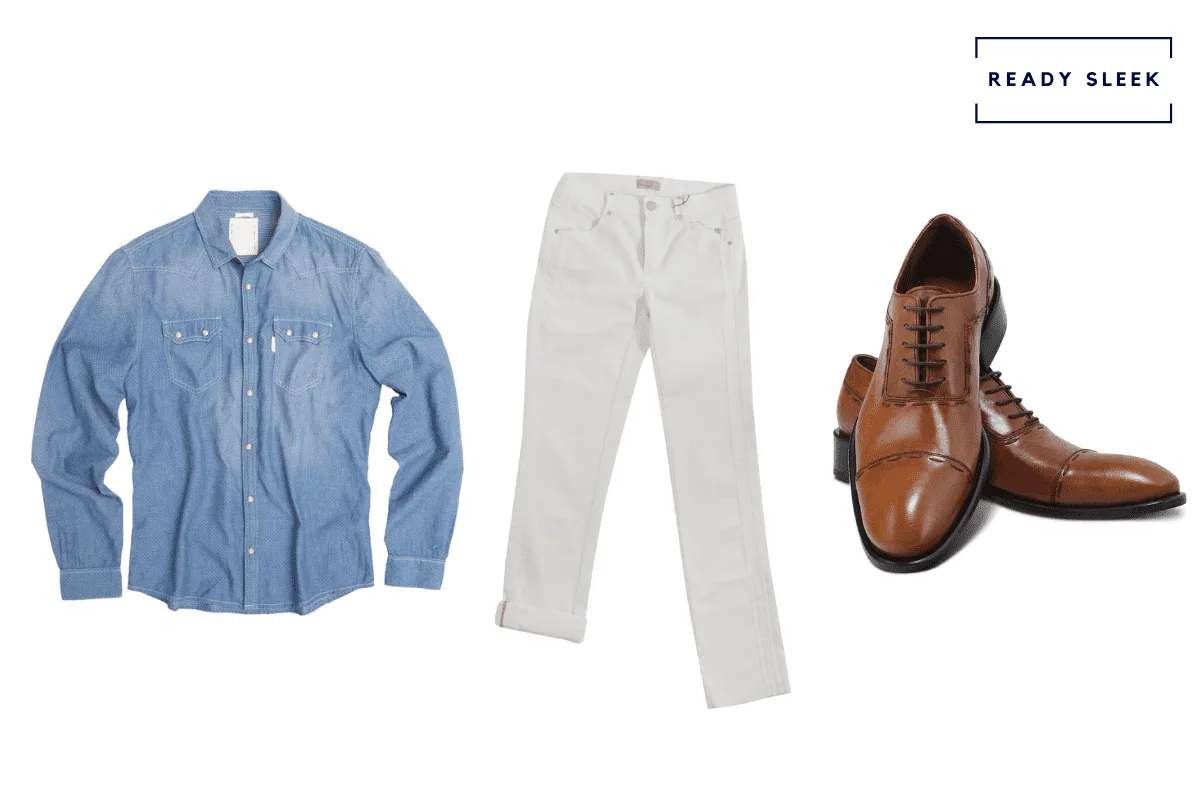 Items: Blue Denim Shirt (Buttoned And Tucked), White Jeans, Tan Brown Leather Derby Shoes, Dress Watch
Here's a typically "smart-casual" way of making it work.
The denim shirt should be buttoned to the top (minus the top button) and ideally tucked into the white jeans.
Tucking the shirt in will give off a more "formal" look while also producing a tapered silhouette at the waist.
A light blue denim shirt will produce a low-contrast and subtle combination with the ultra-light white pair of jeans.
While you could go for a darker shirt color here, note that it would lead to a more striking high-contrast combination instead.
It all depends on how subtle or eye-catching you want it to be.
Dress shoes would work well here.
We've used a pair of tan brown leather Derby shoes here.
While we could have gone for a darker shade of brown, a lighter shade produces less contrast with the white jeans and a more subtle and sophisticated look.
Finally, round things up with a dress watch to really make it clear you've made an effort for the occasion.
More Casual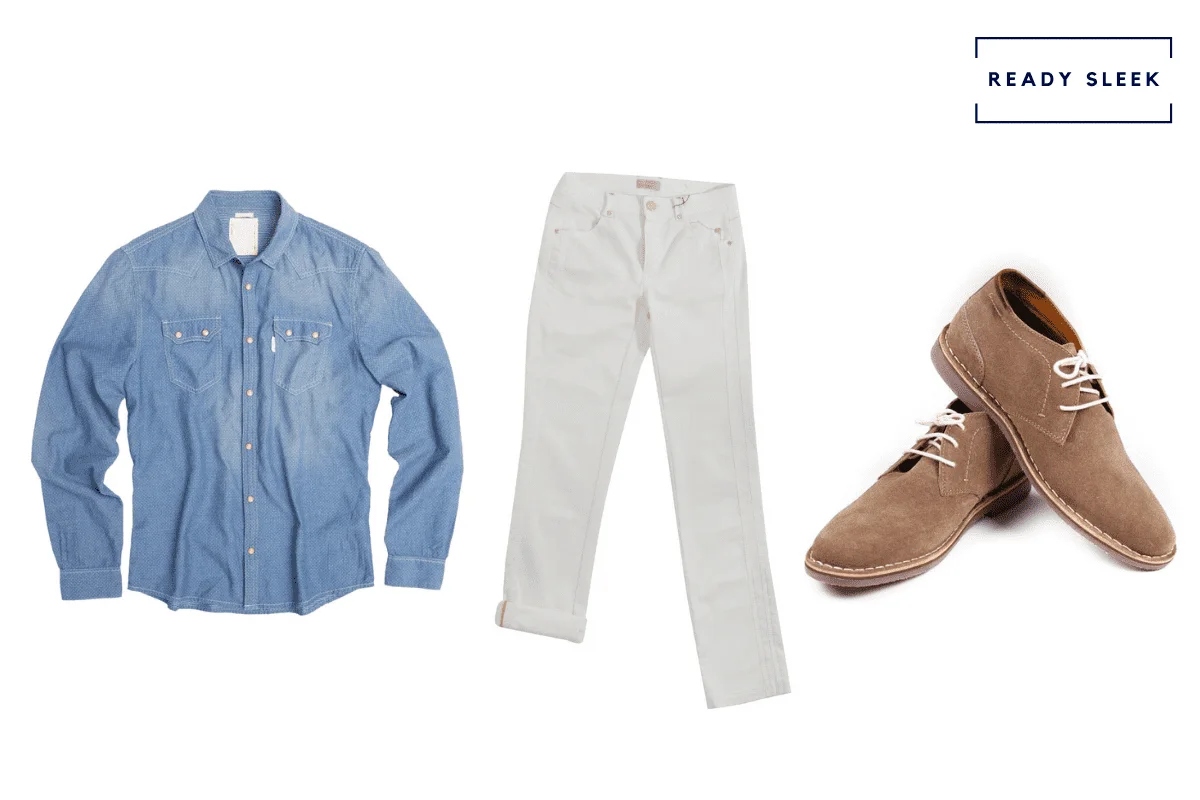 Items: Blue Denim Shirt (Buttoned And Untucked), White Jeans (Cuffed), Light Brown Suede Chukka Boots
The simple act of untucking a denim shirt can make it look a whole lot more casual than leaving it tucked.
But we're still leaving the denim shirt buttoned here. In other words, we're not using it as an over layer as we're going to in the next example.
A buttoned and untucked denim shirt in a light shade of blue or even grey can still look quite sharp and dressy when worn with the right pair of white jeans.
Avoid white jeans with excessive distressing and go for a pair in a slim and tapered fit. Wider and baggier fits will generally look more casual.
Suede shoes and boots look great here. They're casual but nowhere near as casual as sneakers. They'd be perfectly appropriate to wear in smart-casual settings.
In this example, we've gone for a pair of suede chukka boots. The white jeans would be cuffed so that the hem rests against the top of the boots.
If you want a more summer-friendly smart-casual alternative, consider a pair of suede loafers instead.
Again, the white jeans could be cuffed, with the ankles exposed and the sockless aesthetic being embraced.
Most Casual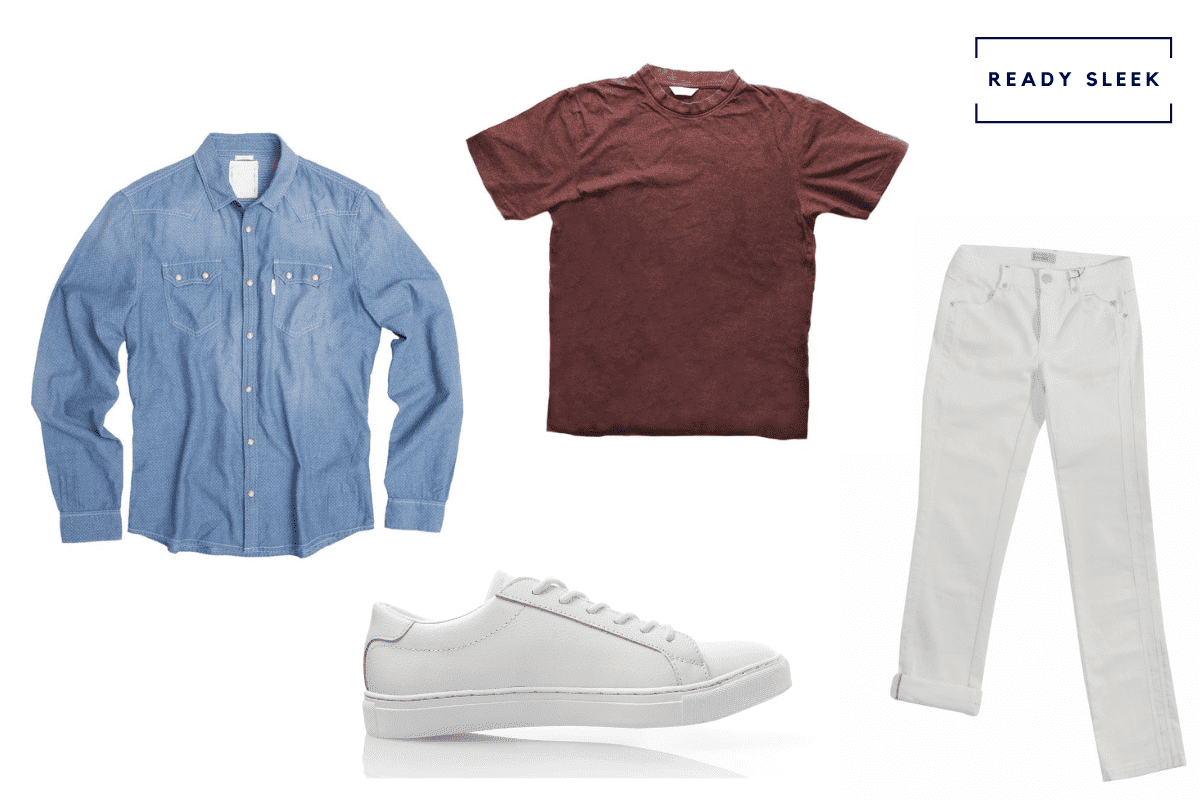 Items: Blue Denim Shirt (Unbuttoned And Untucked), Maroon T-Shirt (Underlayer), White Jeans, White Leather Low-Tops
Here, we're using the denim shirt as an overlayer. It's going to be left unbuttoned, untucked, and worn over a T-shirt.
This is a great casual look and can work well with both neutral-colored and non-neutral T-shirts.
If you wanted to add some color, this would be a great way to do it. In this example, we've gone for a maroon T-shirt.
However, you could go for practically any T-shirt color you wanted, as the white jeans and blue denim shirt are neutral enough to coordinate effortlessly.
You could also go for more distressed styles of denim here. For example, faded, acid-washed, or stonewashed denim shirts and white jeans.
You could also go for white jeans with wider and baggier fits.
All of these features would make the outfit look more casual and relaxed.
As you can see, it's a whole lot more different than the "dressy" option outlined earlier on.
5 Tips For Wearing A Denim Shirt With White Jeans
Here are some great tips for wearing this combo. Consider them before you put your outfit together, as they'll serve you well no matter what you may be dressing for.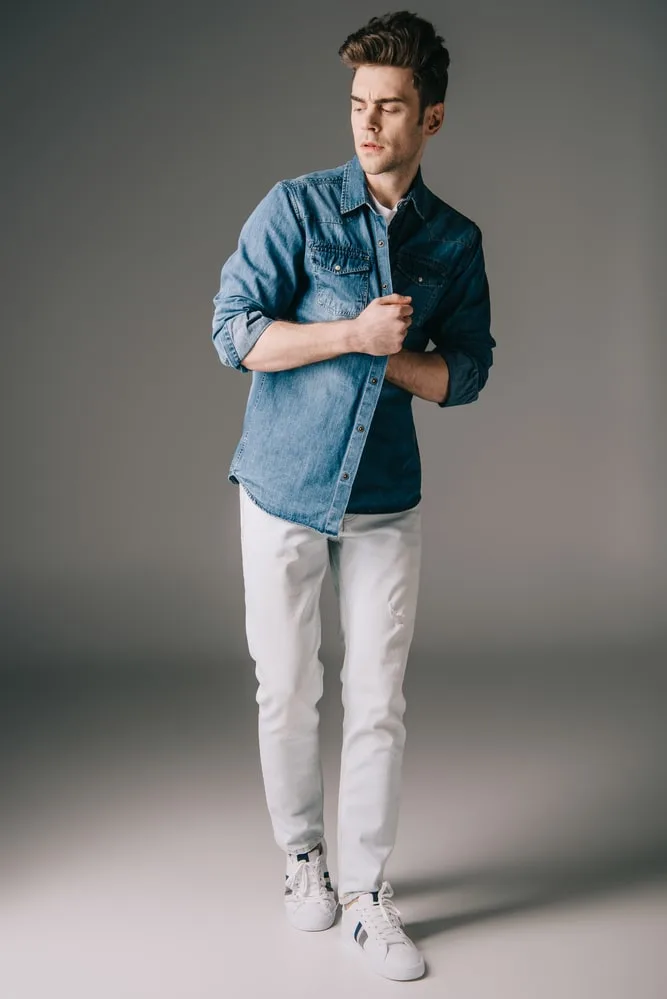 Only Wear It In Casual Settings
A denim shirt and white jeans combination should only be worn in casual and smart-casual settings. Avoid wearing it in formal, professional, or business-casual environments.
Denim-on-denim is always a casual look, but this is even more true when white jeans are worn.
While white jeans can look fantastic, especially during the summer months, they'll always look more casual than darker alternatives.
You could quite confidently argue that a denim shirt with white jeans will usually look more casual than the same denim shirt worn with black or dark blue jeans.
However, as you saw in the outfit examples above, there are definitely ways of making the combination look more "smart-casual" than "casual".
It all depends on the fits and colors, as well as what else you choose to wear the two items with.
Consider The Contrast
A denim shirt and white jeans outfit can look very different depending on the color of the shirt you choose to wear.
You could use the white jeans as a constant and switch up the denim shirt color to see just how different you can make it look.
Choosing a similarly light and neutral denim shirt color will lead to a low-contrast combination.
A light blue denim shirt is a great example of this, although light grey would be a very reasonable alternative.
The combination would look light overall, with the contrast being subtle. It's a great option if you're looking for a more understated look.
Now, consider a darker alternative. For example, a pair of white jeans with a black, dark blue, or dark grey denim shirt.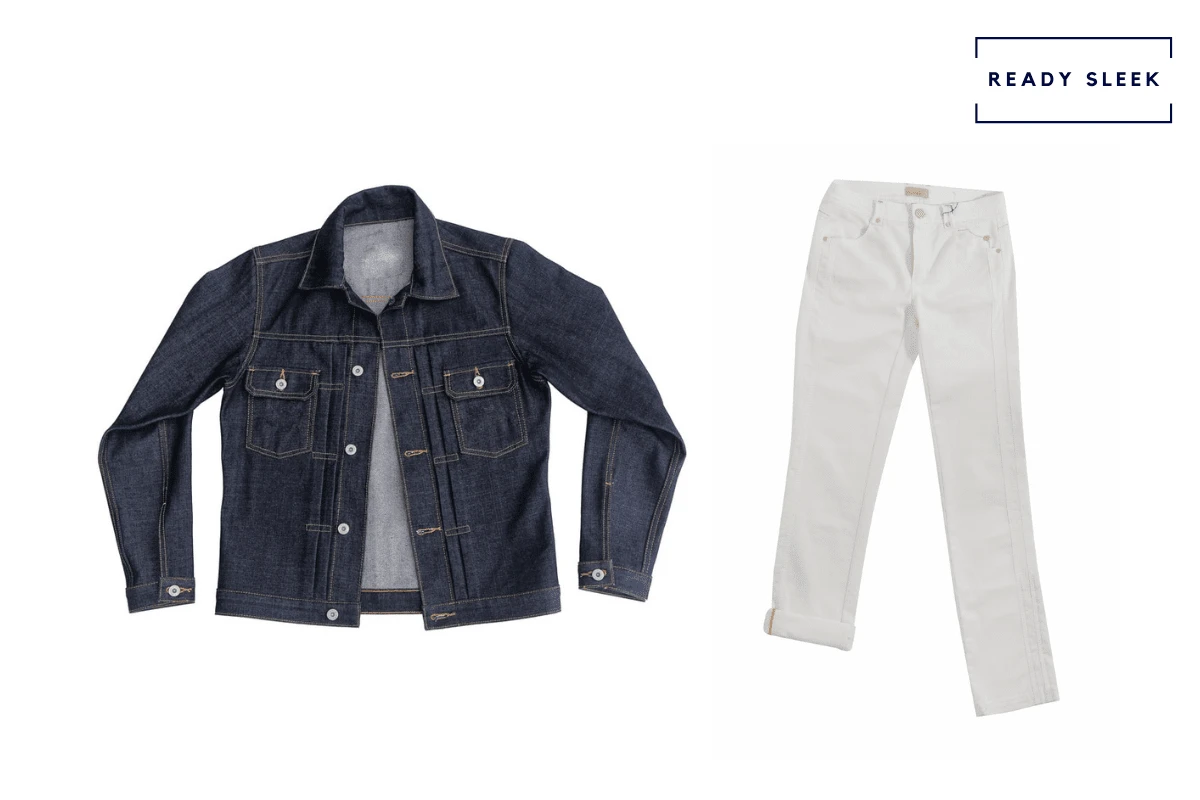 The contrast between the two items will be bold, striking, and in-your-face.
While all the items are neutral and will pair easily with each other, the contrast will stand out more than the low-contrast combinations outlined previously.
So, when choosing a denim shirt color to wear with your white jeans, consider how much contrast you want between the two items.
In general, if you were going for a dressier and less casual aesthetic, it's best to go for a low-contrast combination.
Buttoned Vs Unbuttoned
When dressing the combination down, leaving the denim shirt unbuttoned and layered over a T-shirt is a great casual look you could go for.
While you could layer the denim shirt over a polo or a Henley, it's usually easier and more comfortable to go for a T-shirt.
To do so, you'll need to make sure the denim shirt is large enough to allow for this.
It needs to be roomy and relaxed enough to allow you to wear a T-shirt under it without feeling tight or restrictive.
It doesn't need to be oversized, but if you intend on wearing a denim shirt as an overlayer, try to pick one that's one or two sizes larger than your usual.
Consider Adding A Pop Of Color
Adding a pop of color somewhere in what is otherwise a pretty neutral outfit is often a good idea.
It isn't essential but can make any casual outfit a little more interesting.
One way of doing this would be to wear a non-neutral T-shirt.
For example, you could wear a denim shirt and white jeans with a dark red (eg. burgundy or maroon) T-shirt layered under the shirt.
Assuming you've gone for a traditional denim shirt color (blue, black, or grey), the red T-shirt would stand out and add a splash of color to the neutral foundation.
It's simple but very effective.
Suede Shoes And Sneakers Work Well
Remember, denim-on-denim outfits such as these are casual first and foremost. Bear this in mind when choosing your footwear.
Suede dress shoes work very well because the napped texture syncs perfectly with that of denim.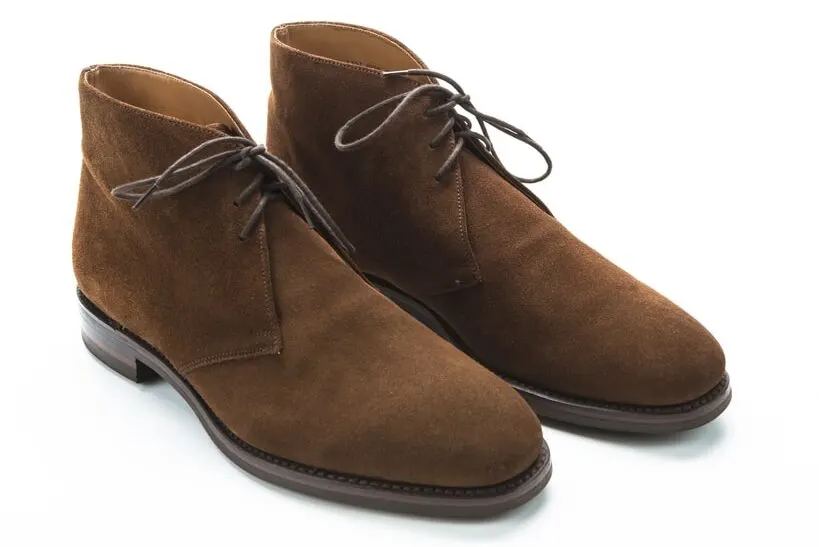 The same would go for suede boots such as Chelseas and chukkas.
If you want to dress down a notch further, consider a pair of sneakers. As always, a pair of all-white leather low-tops with a sleek and minimalist last would work a treat.
If you did want to dress this combination up a bit further, you could go for dress shoes in a shinier grain of leather – but be cautious.
Ultimately, shiny leather dress shoes look formal and may sometimes look too formal to be worn with a denim combination.
This is especially true when wearing dark-colored leather dress shoes.
Try to go for the more "casual" styles of dress shoes such as Derby shoes, monk straps, or loafers.
In addition, go for lighter colors such as tan or caramel brown as opposed to dark brown or black.
Lighter colors will lead to less contrast between the white jeans and the shoes and will also usually look more suitable to wear with casual attire.
Conclusion
It's a combination that's hard to get wrong, but it's tough to deny that there are always better ways of wearing it.
Consider the color of your denim shirt and how much contrast you want between the shirt and the white jeans.
In addition, consider the fit and features of the denim items, as well as the other items you're wearing, when deciding how dressy or casual you want the outfit to look.
Enjoy.
Ready Sleek founder. Obsessed with casual style and the minimalist approach to building a highly functional wardrobe. Also a fan of classic, vintage hairstyles.