The glorious versatility of chinos does allow you to pair them with many types of shoes. But can you wear chinos with sneakers and trainers?
Chinos can be worn with sneakers and trainers very effectively. The combination can be dressed down with items such as T-shirts and hooded vests or dressed up with Oxford shirts and blazers. Choosing the right sneakers to complement the formality level of the outfit is important.
Although that's the gist, I wanted to dig deeper.
You're about to learn how to do it in the most effective way possible.
Let's get to it.
How To Wear Chinos With Sneakers And Trainers
In order to make sure you put together an outfit that makes sense, it's important to consider the type of chinos, the type of sneakers, as well as the clothes you're hoping to combine them with.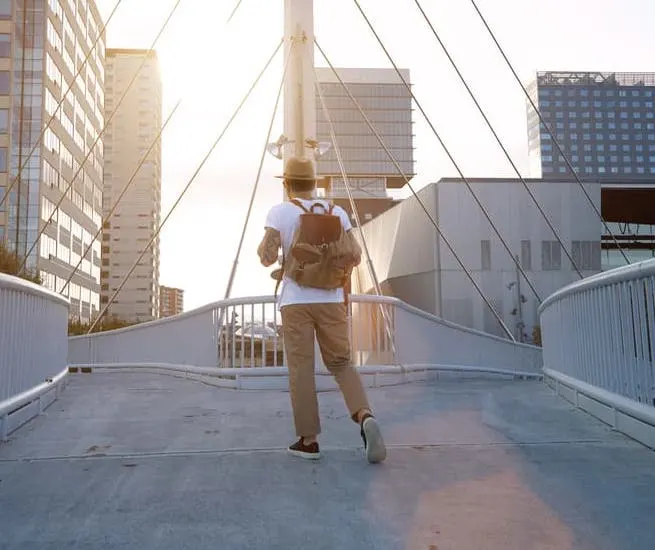 It's often best to do this in a stepwise approach before coming to a decision. That's what I'm about to go through.
FYI – I'm using the terms sneakers and trainers interchangeably here. Functionally, they aren't exactly the same thing. But in terms of style, there's no point splitting hairs here.
Step 1. Choosing The Right Chinos
Chinos are so versatile that there's a good you could combine yours with any pair of sneakers you've got.
However, there is a more effective way to do it.
Although chinos can work well for casual, smart casual, and business casual attire, there are certain pairs that look more "casual" while others look more "formal".
You may be looking to go super casual with your sneakers, combining them with a T-shirt and hooded vest, for example.
In this case, a more casual-looking pair of chinos works best.
Casual pairs of chinos often have the following features:
Loose fit
Bolder color
Patch pockets
Obvious seam details
No center crease
Here's a casual-looking pair of chinos on Amazon:
Let's look at the other side of the spectrum.
You may be trying to "dress up" those sneakers with a pair of chinos. Perhaps you're also going for an Oxford shirt and a cardigan, or pea coat.
Maybe even a blazer. The chinos and blazer look is surprisingly versatile when it comes to pairing them with footwear.
The sneakers are a great way to add a casual, streetwear edge to the outfit as a whole. Dressy, but not too dressy.
It's the smart-casual aesthetic at its best.
In these instances, you'll probably want a "dressier" looking pair of chinos to really drive the intention home.
These chinos often have features such as:
Close fit
Minimalist color (eg. khaki, navy, stone, beige, olive green)
Welted pockets
Barely any seam details visible
Center crease sometimes present
Here's a more formal looking pair of chinos on Amazon:
Ultimately, don't overthink this. It's hard to go wrong when you're pairing chinos and sneakers. But when you're looking to really get maximum points, choose the right pair of chinos.
A brief note on cuffing:
Cuffing the chinos works great with sneakers in outfits ranging from casual to smart-casual.
It adds a laid-back, summer vibe that appeals to many.
If you want to learn how to cuff chinos in the best way possible, read this article I wrote.
Cuffed chinos work especially well when you're wearing high tops like Converse. You really get an opportunity to show them off when the hem is rolled up.
Step 2. Choosing The Right Sneakers
Much like the chinos, you want to pick the right pair of sneakers to go with the aesthetic and formality you're aiming for.
Let's say you're dressing up.
You may be going for a "dressier" pair of chinos, like the one detailed in the earlier step.
You've topped it off with an Oxford shirt and a sports coat and you're looking to wear a pair of sneakers to take it down a notch and add just a touch of casual to the outfit.
Picking a bulky, colorful, heavily branded pair of sneakers would probably be too casual. It would conflict too much with the formal nature of the Oxford shirt and the sports coat.
Choosing a minimalist pair in monochromatic color, with minimal lettering and barely obvious branding would make it easier to pair them with more formal attire like this.
Oliver Cabell's Low 1s are a great example of this. They have a relatively narrow and straight silhouette, come in minimalist colors, a short tongue, and subtle lettering.
Here's another example of chinos on Amazon. Notice the minimalist nature of the sneakers working well with the slightly dressier type of chinos and the shirt.
Now, let's say you're wearing chinos with sneakers or trainers, but you're dressing down.
Perhaps you're going to a garden party or a casual dinner with some friends. It isn't quite sweatpants casual but you're happy wearing a T-shirt and hoodie.
Everything is more relaxed, with a looser fit. The colors you choose can be bolder and more in-your-face.
Wearing a more "casual" pair of chinos like the type I described in the earlier step would be a good option. Casual but not too casual.
You've got more options when it comes to the sneakers. You don't need to be as reserved or minimalist with your choice.
You can go with chunky, retro, colorful, heavily branded trainers if you want to. They'd work just fine.
"Dad shoes" are a good option. These chunky, lace-up sneakers with thick soles have seen a surprising resurgence in recent years.
They're comfortable and also make a statement. When you're going casual, what more could you want.
Here's a pair of New Balance shoes on Amazon as an example of what I'm talking about:
The chinos would simply add a touch of sophistication to the outfit and make it more appropriate for smart-casual events.
"High tops" like Converse are another option here. Again, they go great with the more casual chino and sneaker outfits you may want to put together.
If you really want to show off the high tops, don't forget to cuff the chinos.
How To Color Match Chinos And Sneakers
You don't always need to color match your chinos and sneakers. When you're looking to make more of a statement, sometimes, a bold and seemingly conflicting pair of sneakers may be just what you want.
But if you're looking to keep things simple, choosing a minimalist color for your chinos and sneakers will make it much easier to pair them to each other, as well as other items from your wardrobe.
White and grey sneakers are versatile and pair well with many colors of chinos.
Here are a few worked examples to really get your ideas flowing.
White Sneakers And Chinos
White sneakers work well with many colors of chinos, including khaki, navy blue, olive green, stone, and beige. The versatility of white sneakers gives you many different options in both casual and smart-casual outfits.
It's hard to make this combination not work.
White is such a versatile color for sneakers, especially when the sneakers have a pretty narrow silhouette and an ultra-minimalist aesthetic.
Black Sneakers And Chinos
Black sneakers work well with dark-colored chinos ranging from black to charcoal grey. It can be hard to pair black sneakers with lighter-colored chinos and they should generally be worn when going for an "all-dark" look.
When you think of black shoes, you usually think of dress shoes. Oxfords, Derbys, monkstraps, and so on.
Black sneakers aren't quite as common, but they can be a great option when you're going for an all-black or all-dark look while still wanting to keep things looking casual or smart-casual.
While you can pair black sneakers with lighter-colored chinos like khakis, stone, or beige chinos, it usually looks a little awkward.
Going for a darker pair such as black chinos or charcoal grey does make things blend a lot easier.
You could keep things dark up top, for example, by wearing a black hooded vest or black leather jacket.
However, you could also add splashes of light as well. For example, by wearing a white T-shirt under that black leather jacket and by wearing white socks as well.
Adding these splashes of light colors while keeping things dark overall is a great way to put together a balanced outfit.
"Statement Sneakers" And Chinos
Statement sneakers are those sneakers where you aren't quite as worried about color matching. You could wear a bold and bright color with practically any pair of chinos and if you do so with confidence, it will probably work.
However, it's important not to go too crazy with it.
The easiest way to make a statement with your sneakers is by choosing the right color. A color that's bold but not too bold that it looks obnoxious.
A subtle rose pink is a good option. Oliver Cabell does a few of these pairs. What's great is that they have that same minimalist design while the color is more in-your-face.
It still carries some versatility and should pair well with most colors of chinos despite being a little bolder.
Can You Wear A Shirt With Chinos And Sneakers
A shirt can be worn with chinos and sneakers. Oxford shirts work well for this purpose, especially when combined with dressier-looking chinos and minimalist, monochromatic pairs of sneakers.
The versatility of chinos does give you a lot of options when it comes to what you wear up top. However, going for a "dressier" pair of chinos is usually a good idea here – look for a close fit, neutral color, and minimal seam details.
With sneakers being a staple of casual attire, it's important to ensure that they don't clash too hard with the typically more "formal" edge of a shirt.
Choosing a shirt that doesn't look too dressy is a good option. OCBD (Oxford Cloth) shirts work well because of the slightly more rugged texture.
A tie would probably look too formal and should be avoided if possible. Going for a blazer or sports coat on top would probably work perfectly well.
It's also important to choose a pair of sneakers that look a little "dressier" – it would be a good option. White or light grey is often a good option, with a narrow and straight silhouette.
Thin and subtle soles are also a good option.
Nothing too chunky. Dad shoes aren't an option. The retro and bold aesthetic would simply look too casual when combined with these sneakers.
But to sum that up, it's perfectly possible to wear a shirt with chinos and sneakers. It's just important to ensure it's all put together in a way that makes sense.
Conclusion
There you have it.
Hopefully, everything you wanted to know about wearing chinos with sneakers and trainers.
Although there isn't a "right" way to do it, there are definitely more effective and less effective ways to do it.
Enjoy.
Ready Sleek founder. Obsessed with casual style and the minimalist approach to building a highly functional wardrobe. Also a fan of classic, vintage hairstyles.