Dressing for a wedding often causes more stress and confusion than necessary. It can be tough to know what's appropriate and what's not. The question is, can you wear a casual blazer and jeans to a wedding?
Avoid wearing a casual blazer with jeans to a wedding. The combination is likely to be considered too casual and inappropriate for even smart-casual weddings. Consider wearing a casual blazer with dress pants or chinos here instead.
While that's the gist, you need more.
After going through the main reasons why you shouldn't wear it in a little more detail, we'll run through a few great alternatives you could consider instead.
Let's get to it.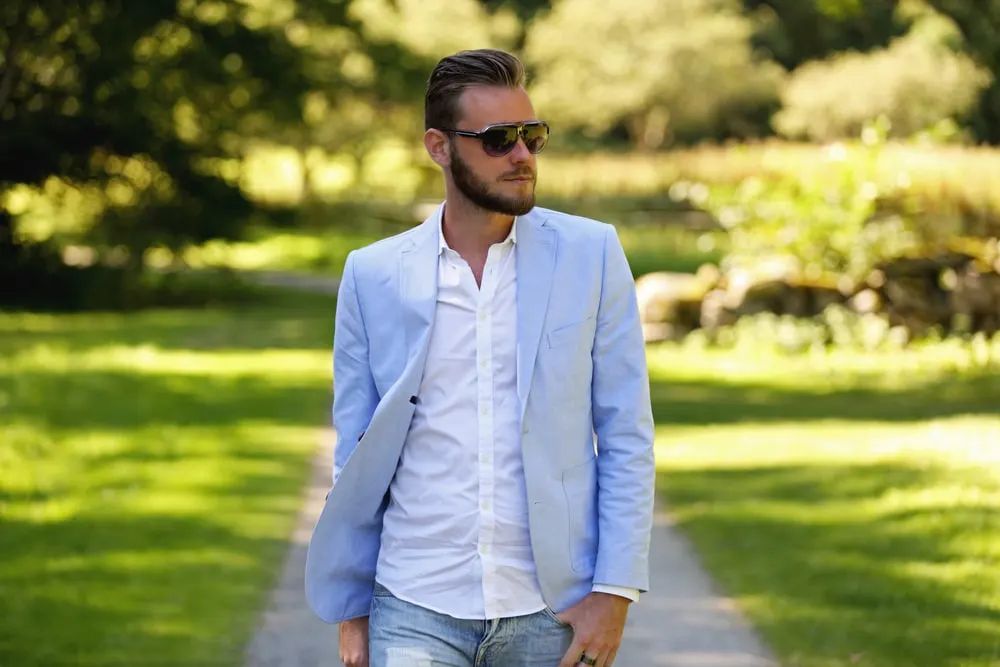 3 Reasons Why You Shouldn't Wear A Casual Blazer And Jeans To A Wedding
While these may not all be equally important to you, there's a good chance that one or two of them may swing it for you.
After reading them, it's unlikely you'd risk it.
It'll Stand Out From The Other Guests
Weddings are occasions where people pull out their best or near-best attire to show their love and respect for the wedding couple.
This may not necessarily mean you need to go for a full 2-piece suit. In fact, there are those "smart-casual" weddings where a suit wouldn't actually be the best option.
In fact, in these instances, a casual blazer would often work a treat.
However, no matter what dress code a wedding presents itself as, it's highly unlikely that a pair of jeans would ever be appropriate.
Jeans are just too casual for even the more casual of weddings.
You're likely to be surrounded by people in suits, chinos, or dress pants.
Being the only one (or one of the few people) wearing a pair of jeans is never a good look. You'll stand out from the crowd and not in a good way.
You may not get any comments, but it may well draw a couple of stares.
It Can Be Distracting
Weddings are occasions where you don't want to stand out. You want to dress well, but not so well that you draw attention away from the wedding couple.
In general, overdressing is considered a faux pas when you're attending as a guest.
Underdressing can be just as distracting.
Sure, you certainly won't be outdressing the wedding couple.
But dressing in a manner that makes it clear that you haven't really made much of an effort for the occasion is just as distracting.
Don't get me wrong – you're unlikely to be the focus of the wedding couple on what is likely to be an incredibly busy and stressful day.
But a pair of jeans among a sea of suits and dress pants is likely to draw unwanted attention.
When you're at a wedding, being a distraction is something to avoid at all costs.
It's Not Great For Photographs
"Who's the one in the jeans?"
You don't want to be the only one in a wedding photograph dressed inappropriately. It's something the wedding couple isn't going to take kindly to.
Those photographs are going to be looked at for several decades to come and potentially even passed down across generations.
If you were only going to dress up for a single reason, wedding photographs could be the one.
If you've ever been involved in coordinating wedding photographs you'll know how stressful they can be.
The couple often expects perfection. They're usually paying top dollar, at the end of the day.
Seeing someone in the corner of a photograph wearing a casual blazer and jeans is likely to catch the eye and annoy the couple.
Don't be the one doing it.
2 Exceptions Where A Casual Blazer And Jeans Might Be OK For A Wedding
While it's almost never a good idea, there may be a couple of rare exceptions where a casual blazer and jeans might be just about acceptable.
Ultimately, it would never be the best option.
But there are those circumstances where it wouldn't be the worst. Let's go through those.
"Denim And Diamonds"
A "denim and diamonds" dress code isn't exactly common at weddings, but it does happen.
It may not use the exact term, but it'll refer to a dress code that clearly requests a blend of casual and formal items.
In many ways, a casual blazer and jeans combination would be perfect for this.
Jeans epitomize casual attire in a way that few other items do, while a casual blazer would be just about formal enough to meet the dress code requirements.
In fact, it would be a little strange to wear jeans with a blazer that was anything other than casual.
A formal worsted wool blazer with its wrinkle-resistant and shiny texture rarely syncs well with a rugged pair of jeans.
A Truly Casual Barn Wedding
While we single out casual barn weddings here, this could also apply to weddings that take place in other environments that aren't always favorable to formal attire.
It's true that barn weddings are usually the perfect opportunity to pull out a seasonal smart-casual suit in a fabric/weave such as tweed, flannel, or serge.
In many ways, these would be far more impressive alternatives.
But if you're certain that a barn wedding is truly casual, a casual blazer and jeans pairing may well be OK.
It's often best to ask around before you go for it, however.
Don't bother the wedding couple with this question – they're likely to have bigger things on their mind and probably don't want to answer individual questions about dress codes.
Ask other guests you know and trust what they're wearing and also ask them whether they think a pair of jeans would really be OK.
3 Alternatives To A Casual Blazer And Jeans For A Wedding
We've discussed why it's usually a bad idea in some detail now. But what should you wear instead?
Luckily, you have plenty of better alternatives to choose from.
Here are the main ones you should consider.
Casual Blazer And Dress Pants
A pair of dress pants (i.e slacks) would usually be infinitely more appropriate than a pair of jeans when attending a wedding.
Dress pants, as the name would suggest, are dressy pairs of pants that are ideally suited for occasions where a pair of jeans or chinos just wouldn't cut it.
They're often made from cotton, polyester, wool, or a synthetic blend. But the construction is often more important than the fabric.
They usually have a tapered silhouette, center creases, and maybe even pleats.
While a casual blazer and dress pants pairing wouldn't ever look as formal as a casual 2-piece suit, it would usually be more than enough for smart-casual weddings.
Casual Blazer And Dark Chinos
A casual blazer and chinos pairing would usually be fine for a smart-casual wedding, but it's important to choose the right style of chinos.
While chinos are a notch more formal than jeans, they can still look pretty casual.
Choose a tapered pair of chinos in a dark and neutral color. Avoid baggy khakis and go for something that looks a little sharper.
Think dark brown, navy, or charcoal.
2-Piece Suit
While a 2-piece suit would be essential for a truly formal wedding, it isn't always necessary.
For smart-casual weddings, you've got the two options above (chinos/dress pants pairings).
But you've also got the option of going for a casual 2-piece suit.
These suits are usually made from rugged fabrics such as tweed, linen, seersucker, flannel, or serge.
They often have relaxed constructions with less shoulder padding.
In many ways, a suit such as this would be ideal for a smart-casual wedding. They aren't as dressy or formal as a worsted wool suit – but this is ideal.
You don't want to wear a dressy suit for a smart-casual wedding because it's likely to be overdressing in any case.
Instead, consider a casual 2-piece suit. It'll impress, but not too much.
Conclusion
A casual blazer and jeans combination is rarely ever a good idea when attending a wedding. It'll almost always be considered underdressing.
Enjoy.

Ready Sleek founder. Obsessed with casual style and the minimalist approach to building a highly functional wardrobe. Also a fan of classic, vintage hairstyles.