It's a color combination that often works well, but it's important to give it some thought. The question is, can you wear brown pants with a white shirt?
Brown pants can easily be worn with a white shirt for business-casual and smart-casual events. In dressier settings, consider brown dress pants and white dress shirts. In more casual settings, brown chinos, jeans, or cargo pants can be worn with white chambray, linen, or OCBD shirts.
That's the short answer, but there's more to it.
After going through some great outfit ideas you can try out, we'll run through some essential tips for making this combination work in the most effective way possible.
Let's get to it.
3 Brown Pants And White Shirt Outfits
The main takeaway point here is that there are different ways of wearing brown pants and a white shirt and some will look dressier than others.
Dressy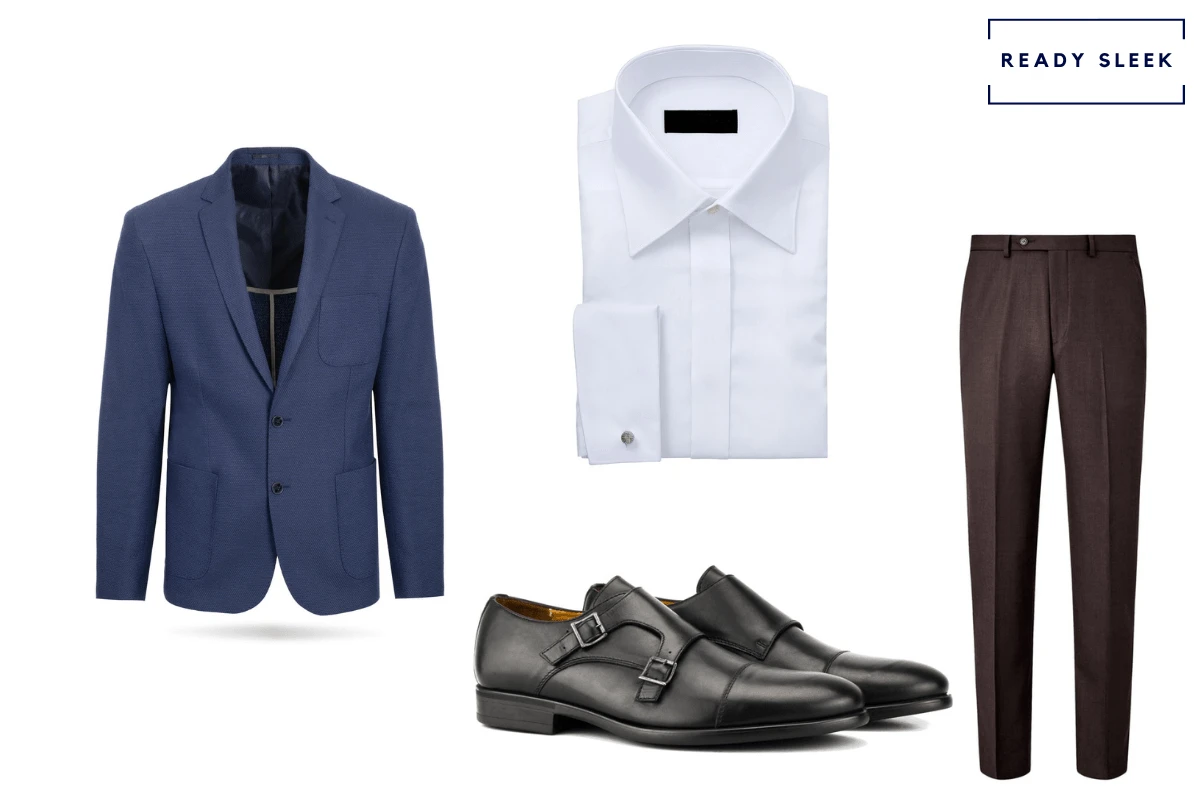 Items – Dark Brown Dress Pants, White Dress Shirt, Navy Blazer, Black Monk Straps
For a truly formal setting, a 2-piece suit would be required and ultimately, this combination wouldn't cut it.
However, a dress pants and blazer outfit such as this would still be suitable for dressy social events and business-casual settings.
When dressing this color combo up, stick to darker colors.
Go for a dark or medium brown pair of pants and consider a white dress shirt.
In addition, up the sophistication level by rounding things off with a blazer in a similarly dark and neutral color such as navy or charcoal.
Choose a pair of dress shoes in a shiny grain of leather.
While dark brown shoes would be a reasonable option here, black would be better in order to achieve some contrast between the pants and the shoes.
Smart-Casual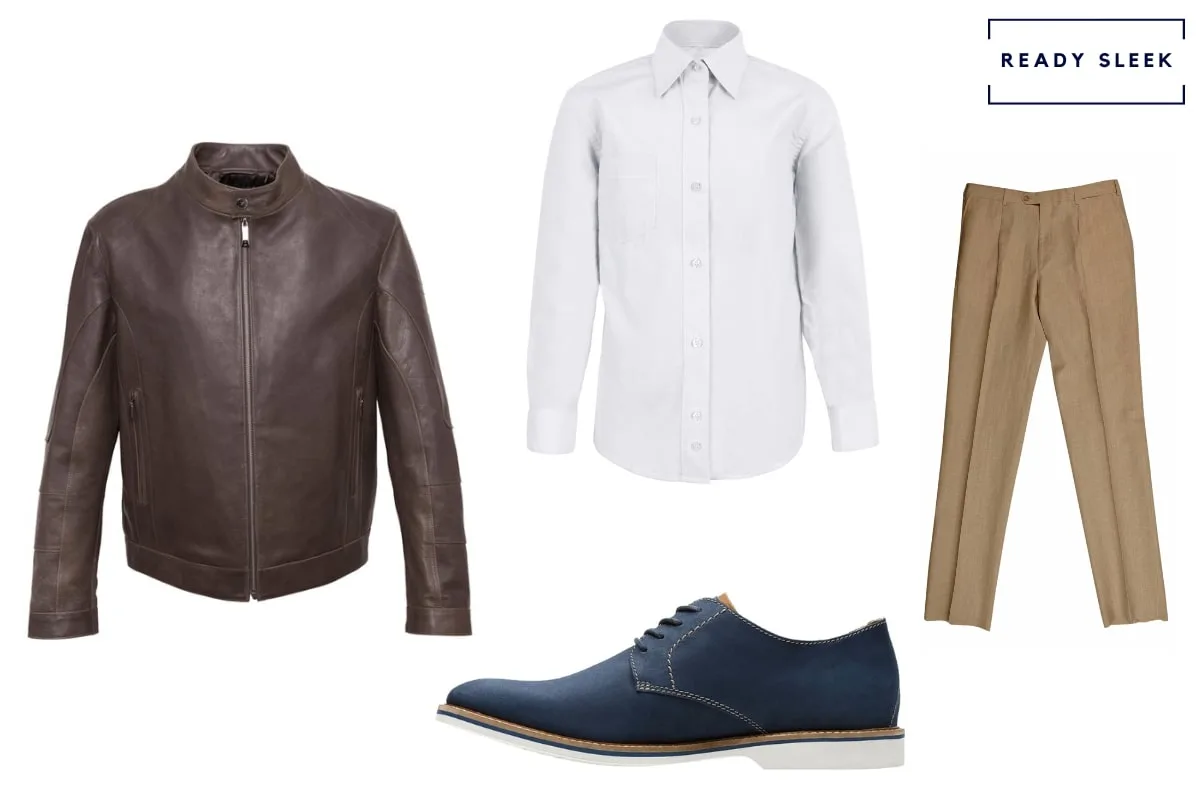 Items – White Chambray Shirt, Caramel Brown Dress Pants, Navy Suede Derby Shoes, Dark Brown Leather Jacket
Here, we're going a notch more casual. Instead of a white dress shirt, go for a slightly more rugged and wrinkly fabric.
Chambray is great because it has a similar texture to denim – rough and rugged.
However, chambray shirts look dressier than their denim counterparts, simply because they use plain weave and feel less heavy.
Other options for your white shirt here could include Oxford Cloth Button Downs (OCBDs) and poplin shirts.
We've swapped dark brown dress pants for a lighter shade of brown. Tan, khaki, caramel, and taupe are great options here.
During the cooler months, consider a light leather jacket in a darker shade of brown than that of the dress pants.
Finally, a pair of suede Derby shoes would work very well here. If you want to keep things subtle, go for a dark brown pair.
However, if you want to add a splash of color to your outfit, consider suede shoes in a more vibrant color such as navy blue or burgundy.
Most Casual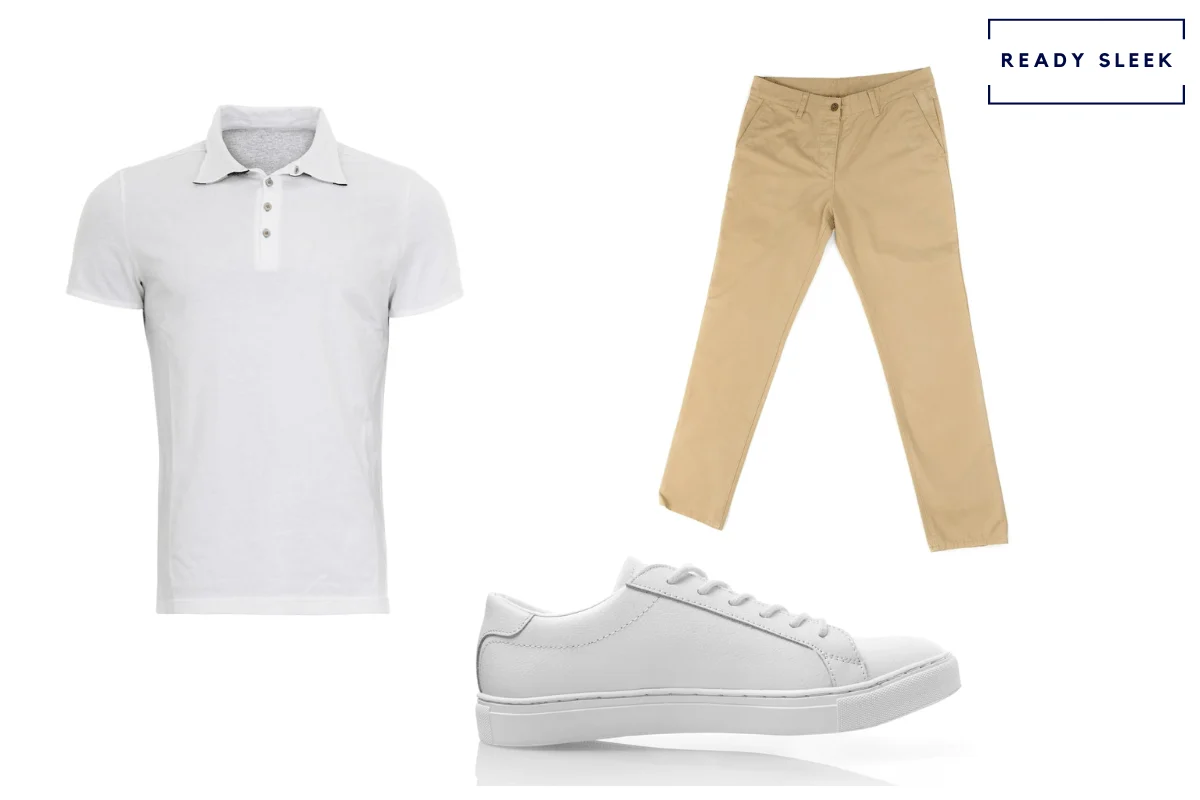 Items – White polo or T-shirt, Khakis or brown jeans, All-white sneakers
It's true you can get way more casual than this (eg. sweatpants, cargo pants), but we're still keeping things relatively smart here.
T-shirts and polos are great, but other casual options for your white shirt include Henleys or overshirts.
When it comes to the pants, brown chinos, khakis (i.e khaki-colored chinos), and jeans are great options.
They're casual, but still versatile to wear to a wide range of settings.
Finally, when considering your shoes, low-top sneakers are a great option here.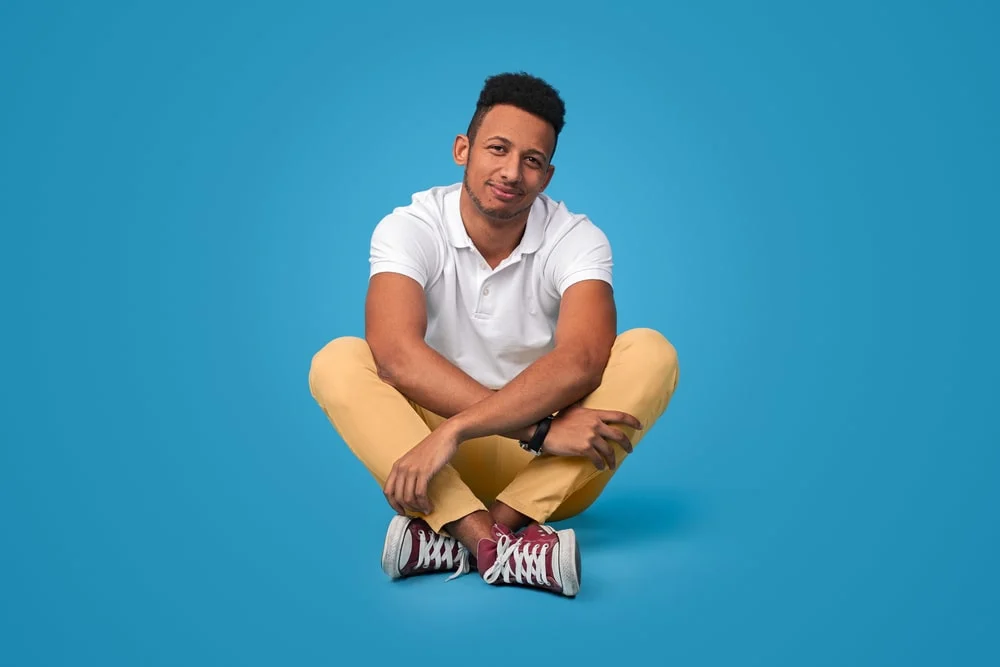 If you don't feel as though the setting is casual enough to allow sneakers, consider a pair of suede loafers instead.
6 Tips For Wearing Brown Pants With White Shirts
Consider all of these tips before putting your combination together.
Make Sure It's Appropriate
As you've seen from the outfit ideas above, there are many settings where brown pants and a white shirt could be appropriate.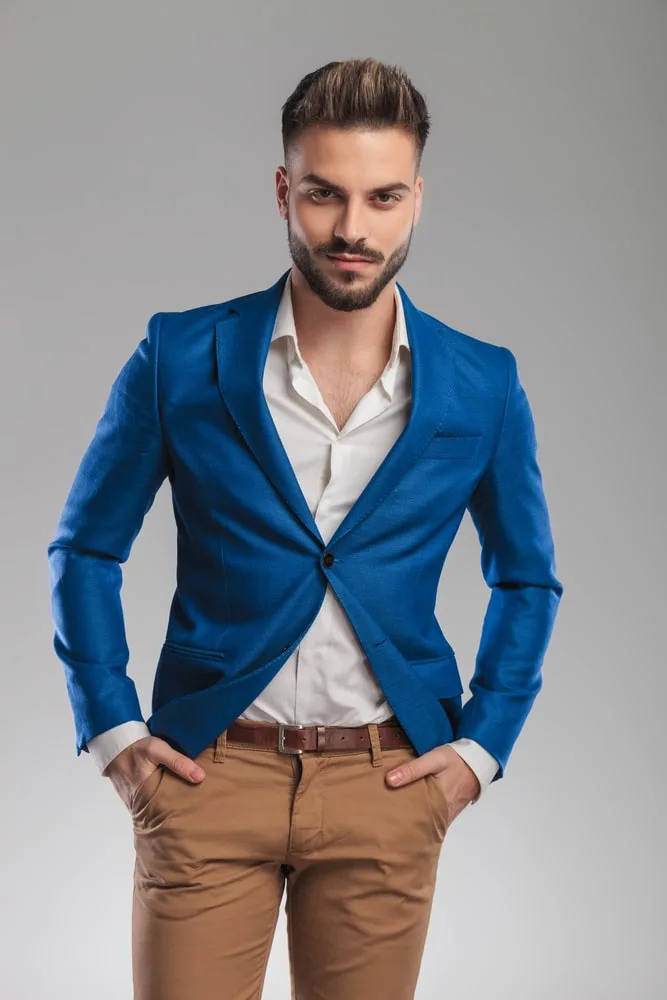 However, there will always be those events or occasions where the combination just wouldn't be appropriate no matter what.
For example, for a truly formal setting, it's likely that a 2-piece suit will be required at the very least.
A simple white shirt and brown pants combo just wouldn't cut it, unless the brown pants formed part of a brown 2-piece suit.
But even in these instances, it's likely that you'd be better off going for a more traditional and dark/neutral-colored suit in black, charcoal, or navy.
The Fabrics Should Suit The Dress Code
There will always be fabrics that look dressier than others.
A 100% cotton white dress shirt with a stiff collar and French cuffs will always look more formal than a chambray, linen, OCBD, or poplin shirt.
When dressing for a business casual or an especially smart, smart-casual setting, consider going for a white dress shirt.
If, on the other hand, you were dressing down a little but didn't think a T-shirt or polo would be enough, OCBDs, linen shirts, and chambrays are great options.
The same thought process should be applied to the brown pants.
In dressier settings, go for dress pants.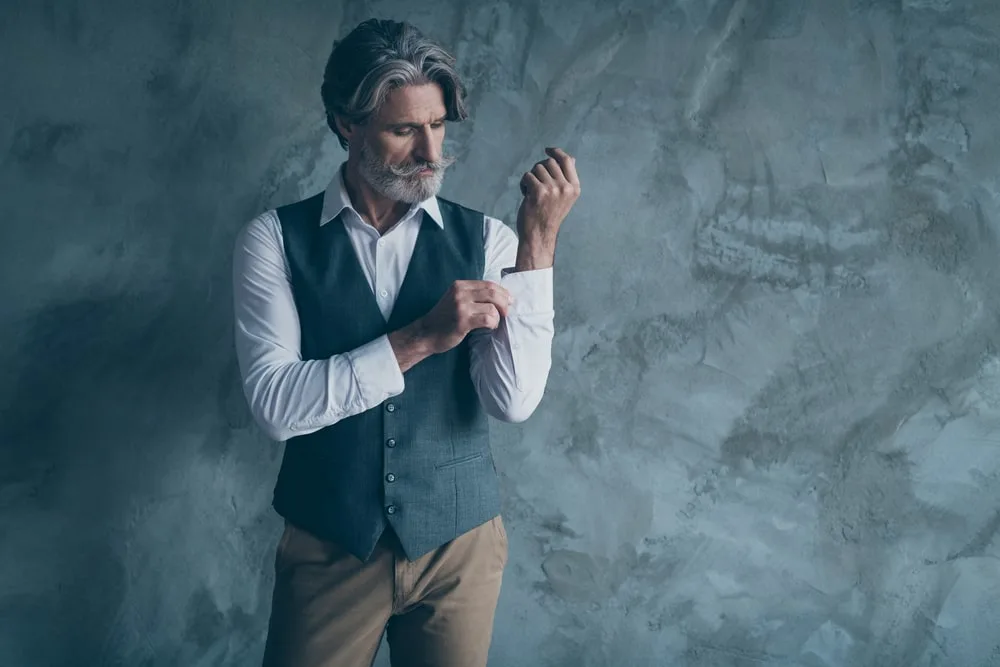 When dressing down a little more than that, consider linen pants or chinos. Going a notch more casual than that, consider brown jeans or even cargo pants.
Low-Contrast Vs High-Contrast
While white is pretty well-defined, a pair of brown pants can look very different depending on their shade.
A white shirt and light brown pants will look very different from wearing one with medium or dark brown pants.
Ultimately, the more contrast you've got between the shirt and the pants, the more striking and eye-catching it'll look.
This doesn't necessarily mean it'll look more casual.
After all, a white shirt worn with dark brown pants would be high-contrast but could look very dressy depending on the fabrics you choose.
The main point here is that you should consider how much contrast you want between your shirt and pants.
If you'd prefer more contrast, go for a white shirt and pants in a relatively dark shade of brown. If you'd prefer a more subtle color combination, consider a light brown pair of pants instead.
Consider A Blue Blazer
A blue blazer often looks great when wearing brown pants and a white shirt, especially in business-casual and smart-casual settings.
White is a neutral color. While brown does have noticeably warm undertones, it's still relatively neutral.
A neutral combination often looks fantastic, but if you did want to add a bit of color to your outfit while still looking sophisticated, consider a blazer.
Blue blazers look phenomenal here, with the "cool" hue of blue adding a nice sense of contrast to the "warm" hue of the brown pants.
Having said this, the neutrality of the white shirt and brown pants allows you to wear blazers in a range of colors ranging from burgundy to forest green.
Tie Color Matters
Ties in dark and muted colors often look great when wearing a white shirt and brown pants. Examples include charcoal, navy, hunter green, olive, and maroon ties.
If you do feel as though a tie would be appropriate for the setting you're attending, you aren't short of options.
The white shirt and brown pants combination is neutral enough to allow you to wear practically any color of tie.
However, sticking to dark, muted, or neutral tie colors is a simple way to keep your outfit looking elegant and smart enough for most settings.
Choose The Right Shoe Color
The shoe color you choose to wear with brown pants and a white shirt should be determined by the dress code.
In dressier settings, go for black or brown shoes.
In smart-casual settings, consider suede shoes or boots (Chelsea/chukka) in a light shade of brown or a more vibrant color such as navy or even burgundy.
Loafers will always look great and epitomize the smart-casual aesthetic.
When you're really dressing down (eg. a white tee and brown cargo pants), sneakers work exceptionally well, but lace-up boots could be considered during the winter/fall months.
Conclusion
Brown pants can be worn with a wide variety of shirt colors with white being arguably the easiest one.
The combination should be considered neutral enough to pair with practically any other color you can think of.
Consider the dress code when deciding what style of brown pants and white shirt you want to wear, as well as what other items you want to add.
Enjoy.
Ready Sleek founder. Obsessed with casual style and the minimalist approach to building a highly functional wardrobe. Also a fan of classic, vintage hairstyles.