It's easy to give someone a quick "no" when asked a question about men's style, but that usually isn't helpful. Ultimately, there's often a way to make most things work. The question is, can you wear boots with a tuxedo?
It's possible to wear boots with a tuxedo to black-tie events which are on the less formal end of the spectrum. Choose black Chelsea or Balmoral boots in patent leather or polished calfskin. Chukka boots and cowboy boots would usually be too casual when wearing a tuxedo.
Although that's the short answer, there's more to it.
After going through some essential tips for making this odd combination work, I'll run through a couple of frequently asked questions to really round things up.
Let's get to it.
7 Tips For Wearing Boots With A Tuxedo
To avoid a pretty serious faux pas, consider all of these tips before putting together your outfit.
1. Make Sure It's Appropriate
To cut a long story short, there are many instances where it won't be appropriate.
The more formal and snobbier the setting you're attending, the less likely it is that your boots and tuxedo ensemble will be warmly received.
At the end of the day, the four most traditional and "correct" styles of footwear you can wear with a tuxedo are as follows:
Oxfords
Opera pumps
Venetian loafers
Prince Albert slippers
If you feel as though the formal event you're attending requires playing it safe, wear one of these and avoid the boots altogether.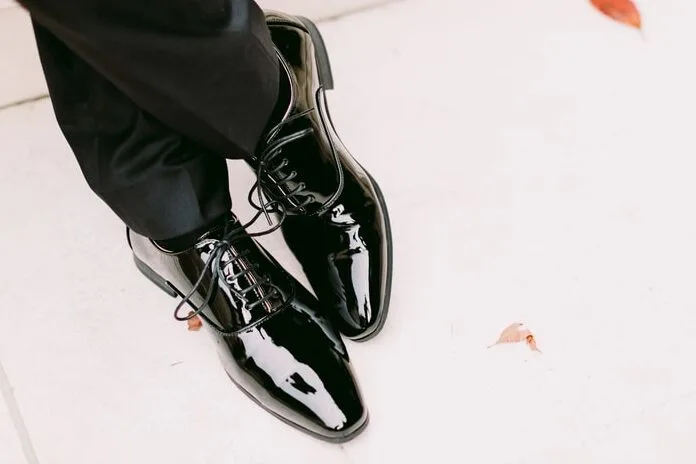 But if you feel as though the black-tie event you're going to is a little more "relaxed", the right pair of boots could actually work quite well.
In fact, they could be a nice way to stand out from a crowd of people all wearing the same thing – a black or midnight blue tux.
But the key here is choosing the right pair of boots. That's what the following tips in this list are going to guide you through.
2. Choose The Right Boot Style
Balmoral boots and Chelsea boots are the two best styles of dress boots to wear with tuxedos as they often have sleek lasts and look relatively formal.
There are many different styles of boot and to say that all of them could potentially be worn with a tuxedo would be oversimplifying things.
In general, the sleeker and more formal the boots look, the less likely they are to clash with the ultra-formal appearance of a tuxedo.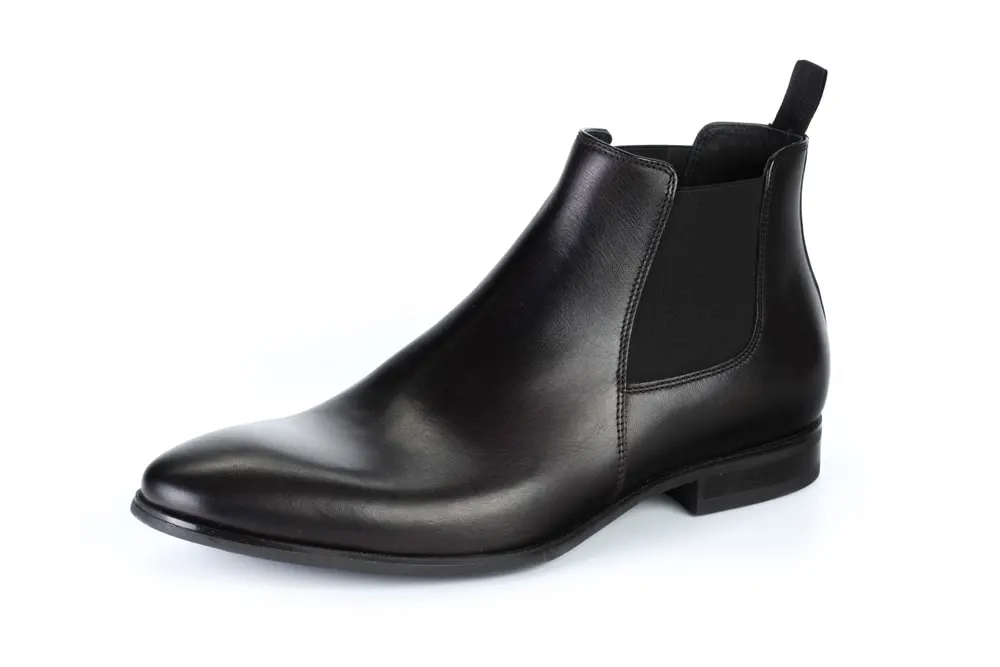 Chelsea boots are considered a more formal style of dress boot because of their laceless construction and relatively thin leather soles. They're sleek and pretty easy to pair with more formal items.
While a tuxedo would be pushing it, a sleek pair of Chelseas could potentially work, assuming the setting you're attending isn't too formal.
Another option would be a plain, Oxford-style balmoral boot with (ideally) no toe cap. It's useful to think of Balmoral boots as Oxford shoes with a boot-like construction.
They look sleek and pretty formal thanks to the closed lacing system, low heel, and leather soles.
More casual boot styles like chukka boots, lace-ups, and cowboy boots are tough to wear with tuxedos. There will usually be a formality clash and it simply isn't worth trying.
3. Wholecuts Work Great
While they aren't as easy to find, wholecut Balmoral boots usually work best when wearing a tuxedo as they have a more sleek and formal appearance to them.
Wholecuts boots, just like wholecut shoes, are made from a single piece of leather with no backseam or toe cap.
It looks plain, smooth, and formal.
The trouble is, wholecut boots in a Balmoral style can be tough to come across. When you do come across them, they're often pretty expensive.
In general, it isn't essential.
A boot with a toe cap wouldn't be a disaster, as long as the toe cap is simple. Avoid toe caps with medallions, stick to the other tips in this list, and you should be fine.
4. Narrow Upper Shaft
Wearing the boots over the tuxedo pants is a quick way to ruin the outfit as a whole. It'll look awkward, immature, and entirely out of place at what is likely to be a formal event.
The tuxedo pants should go over the boots and it shouldn't look too bulky when you do it.
It's the main reason why choosing a pair of boots with a sleek last is so important.
A pair of tapered tuxedo pants is unlikely to slip comfortably over a bulky pair of lace-ups, for example.
Make sure the boots you're wearing have a sleek and narrow upper shaft, one which will easily slip under a pair of tuxedo pants without looking or feeling uncomfortable.
If you feel as though it just doesn't look right, it probably isn't meant to be.
Here's a pair of chunky lace up boots on Amazon that wouldn't be appropriate to wear with a tuxedo:
5. Only Polished Calfskin Or Patent Leather
Patent leather shoes are considered the standard when wearing a tuxedo, but modern dress codes have relaxed to the point where it isn't considered essential for black-tie.
While the traditional shine of patent leather would be the best choice for your boot, polished calfskin can also work.
You don't necessarily need a mirror-like shine.
While polished calfskin won't give you a reflective finish, when polished properly it can still look shiny enough to work with a tuxedo.
At the end of the day, if you feel as though a boots and tux combination would be OK for the place you're going in the first place, you probably don't need to go for patent leather either.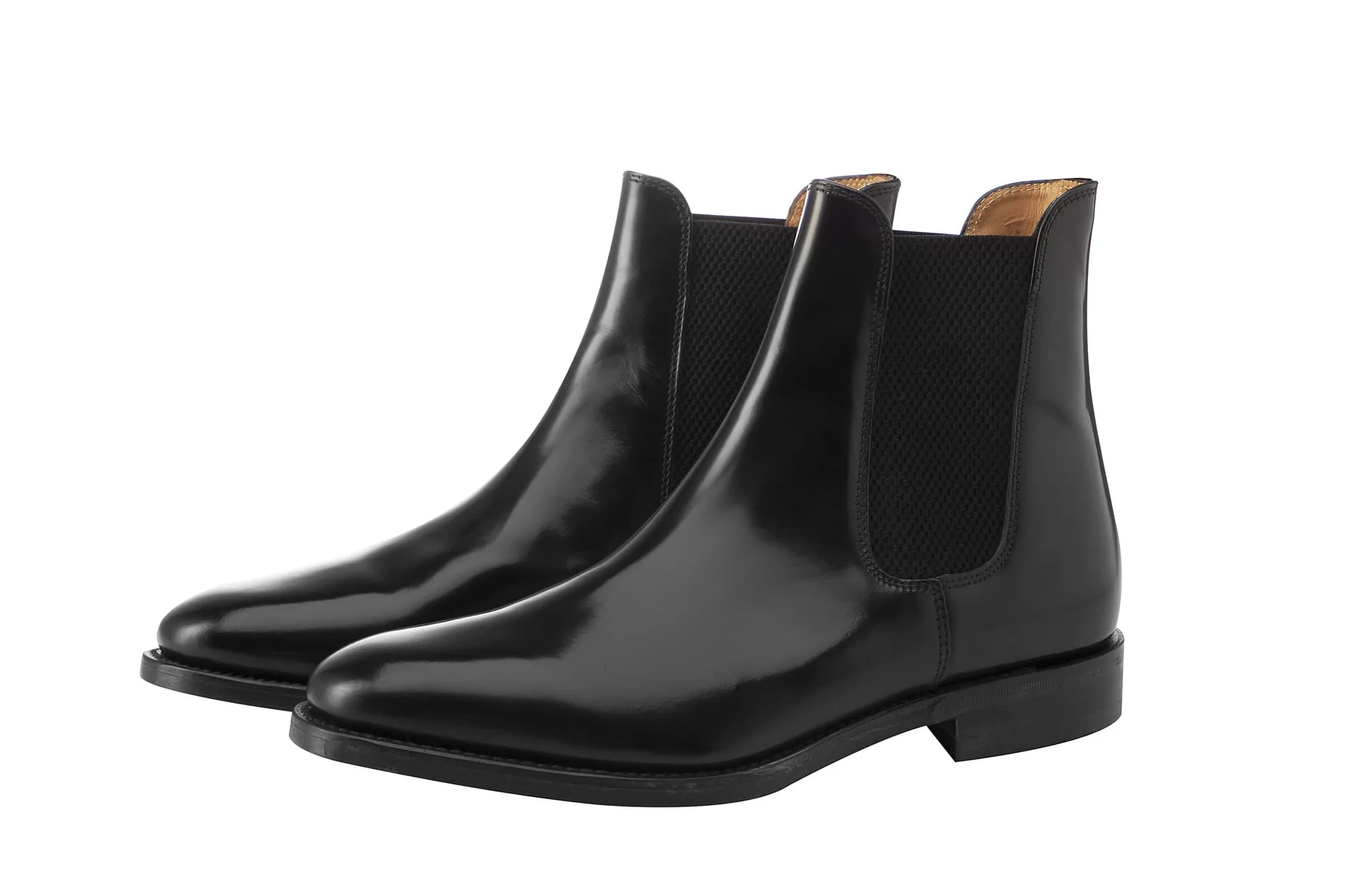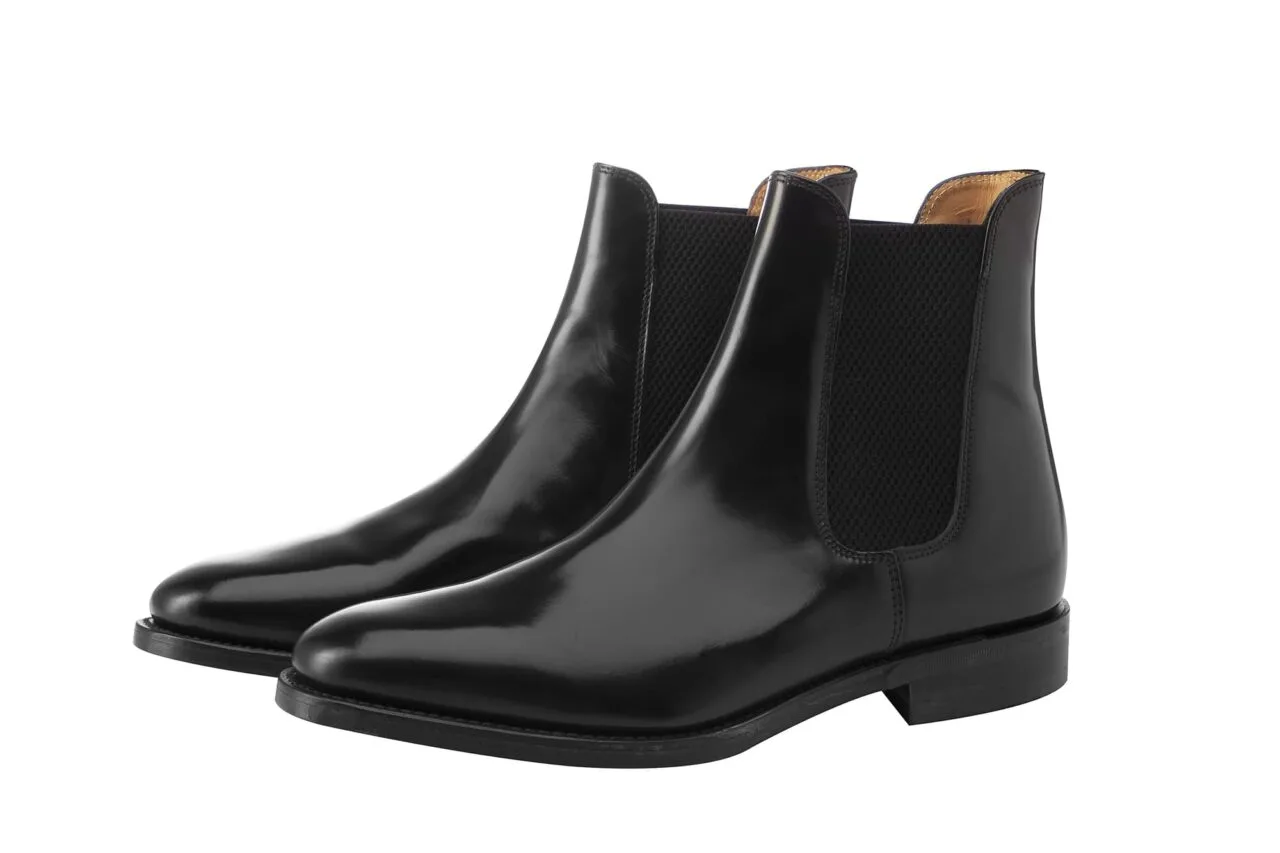 But it's important to note that the less shiny those boots are, the less likely they are to work with a tuxedo.
Whatever you choose to wear, polish them to a point where you really feel as though they're in pristine condition.
6. Stick To Black
When wearing a tuxedo, don't wear boots in any color other than black.
As far as colors go, it's really tough to beat good old-fashioned black when it comes to truly formal events.
Wearing boots with a tux does come with a certain level of risk, although it may well be appropriate in your case.
You don't want to add to that risk by wearing boots in a color that's considered more casual.
Choosing black boots should minimize the risk of a formality clash between the boots and the tuxedo.
7. No Broguing
"Brogue" refers to the decorative perforations (i.e holes) that you often find along the seams and on the toe cap of more casual dress shoes and boots.
It's pretty common to find them on boots. In general, if your boots have any sort of broguing on them, they're probably too casual to be worn with a tuxedo.
This isn't a hard rule, but if you wanted to play it safe it would be best to avoid them.
If you do choose a pair of brogue boots to wear with your tux, try to choose a pair with the smallest amount of broguing possible.
"Medallions" are a decorative pattern of perforations you can get on the toe cap of many styles of dress boots. They'll look way too casual to be worn with a tuxedo.
Frequently Asked Questions
Here are the answers to a couple of frequently asked questions on the topic to really round things up nicely.
Can You Wear Cowboy Boots With A Tuxedo?
Cowboy boots will look too casual to be worn with the vast majority of tuxedos. The pointed toe, high shaft, and often decorated leather would look awkward and out of place when worn with a tuxedo.
It's tough to find a pair of cowboy boots that'll look formal enough to pull the look off.
Those that do have a sleek enough last are usually so far-removed from the traditional construction of a cowboy boot that they should usually be called something else entirely.
There is such a thing called a "Western tuxedo" which usually causes quite a lot of confusion.
These tuxedos shouldn't be considered true, traditional tuxedos as we know them as they don't usually incorporate many of the main features.
A cowboy hat, tuxedo jacket, tuxedo shirt, and cowboy boots would be commonly worn. But dark, dressy jeans can also be worn too.
The bottom line here is that if you plan on wearing a "Western tuxedo", a pair of cowboy boots would actually be encouraged.
But if you plan on wearing a more traditional tuxedo to an actual black-tie event, a pair of cowboy boots wouldn't be appropriate.
Can You Wear Jeans With A Tuxedo And Boots?
Jeans should not be worn with a tuxedo and boots in the vast majority of cases as the combination would simply look too casual for a black-tie event. The exception would be a "Western tuxedo" where a more casual combination such as this would actually be encouraged.
In general, jeans and tuxedos shouldn't be uttered in the same sentence, let alone worn together.
The combination is likely to draw so much criticism that it would be tough to actually recover from it.
A Western tuxedo would be the only outfit where a pair of dark, dressy jeans, a tuxedo jacket, and a pair of cowboy boots would actually be perfectly fine.
For anything else, avoid it at all costs.
Conclusion
There you have it. Hopefully, everything you need to know about a pretty niche topic.
While it's possible, it definitely isn't easy.
You should now have the right know-how to pull off the boots and tux combination in the most effective way possible, each and every time.
Enjoy.
Ready Sleek founder. Obsessed with casual style and the minimalist approach to building a highly functional wardrobe. Also a fan of classic, vintage hairstyles.