Blue suits are suitable to wear in a wide variety of settings and are generally easy to color coordinate with other items. But can you wear a blue suit with a green tie?
Blue suits can easily be worn with green ties. It works especially well during the winter and fall. Dark blue suits and dark green ties are more appropriate in formal settings, while suits in lighter shades of blue are better suited to smart-casual settings.
But there's more to it.
Here are some essential tips for wearing blue suits with green ties in the best and most effective way possible.
Let's get to it.
7 Tips For Wearing Blue Suits With Green Ties
There are plenty of factors to consider, but here are those tips you need to know to get the outcome you're looking for.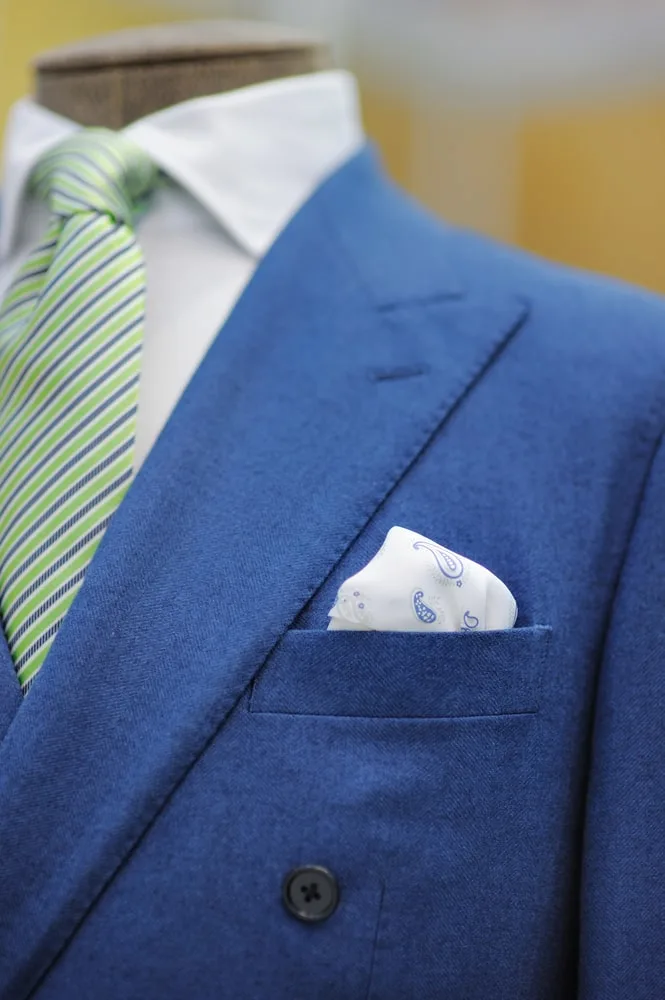 Consider The Dress Code
A blue suit and green tie would be suitable in formal, business-professional settings, and smart-casual settings.
It generally wouldn't be suitable in business-casual settings where an unspoken "no suits" principle does run deep. Stick to blazers + chinos instead.
It also wouldn't be suitable for black-tie events. Here, you'll want to stick to tuxedos instead – usually either black or midnight blue.
If you feel as though a blue suit and green tie would be suitable for the setting you're attending, consider the dress code. This may determine the type of blue suit/green tie you should wear.
Let's talk about that more.
Darker Blues For Formal Settings
The more formal the setting, the more likely it is that dark blue suits (eg. navy or midnight blue) would be more appropriate.
Navy blue is an incredibly versatile and effortlessly sophisticated color that's very popular for formal suits.
It's dark, muted, and easy to pair with other items.
If the event really is "formal", go for a suit in dark blue – navy or midnight blue would be best.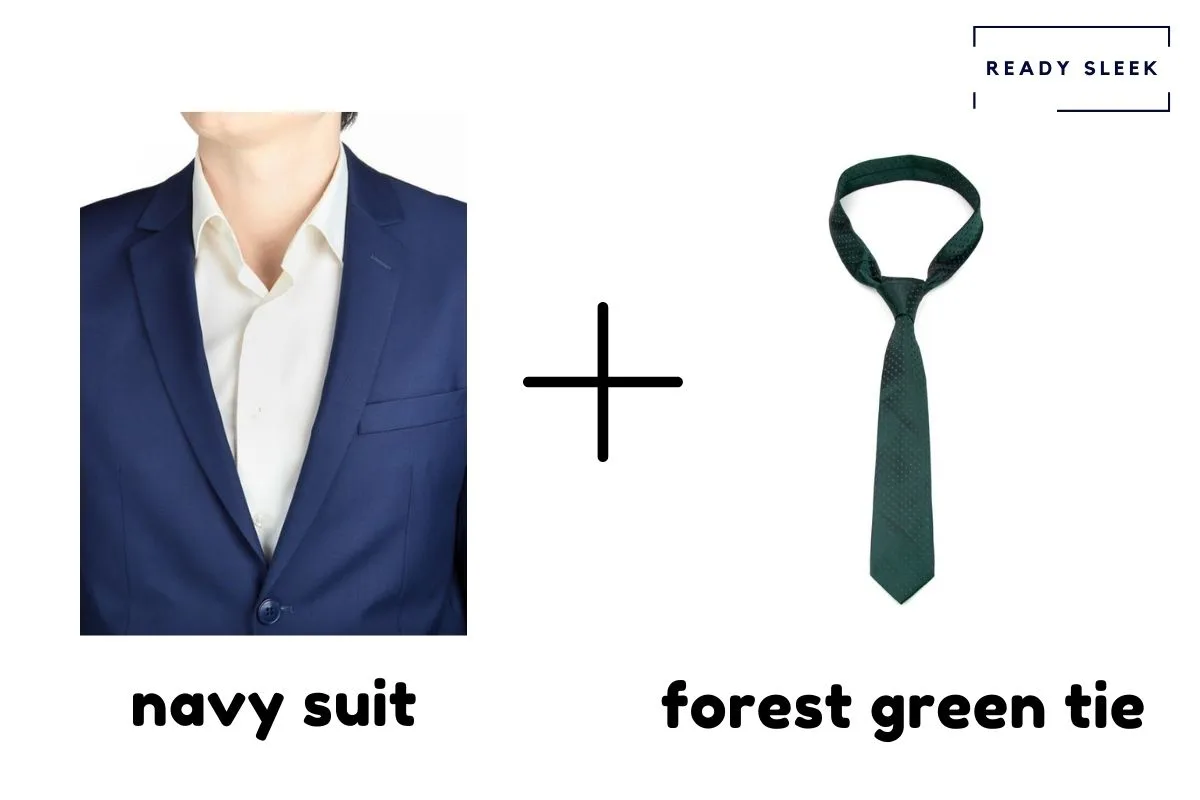 The same would go for business-professional environments (eg. corporate workplaces). In general, dark and muted suits are better as they're less likely to draw attention.
You don't want to be the one wearing a bright teal suit in an office meeting.
However, in "smart-casual" settings, you've got more options when it comes to the color of the suit.
Feel free to go for suits in lighter and brighter shades of blue.
Consider The Shade Of Green
Much like with the blue suit, it's important to consider the setting and the dress code when choosing a green tie to wear.
In general, ties in dark and muted shades of green such as forest or hunter green are better suited to formal and professional settings.
They're subtle, understated, and don't draw too much attention.
In smart-casual settings, you could experiment with ties in brighter and bolder shades of green (eg. lime or chartreuse).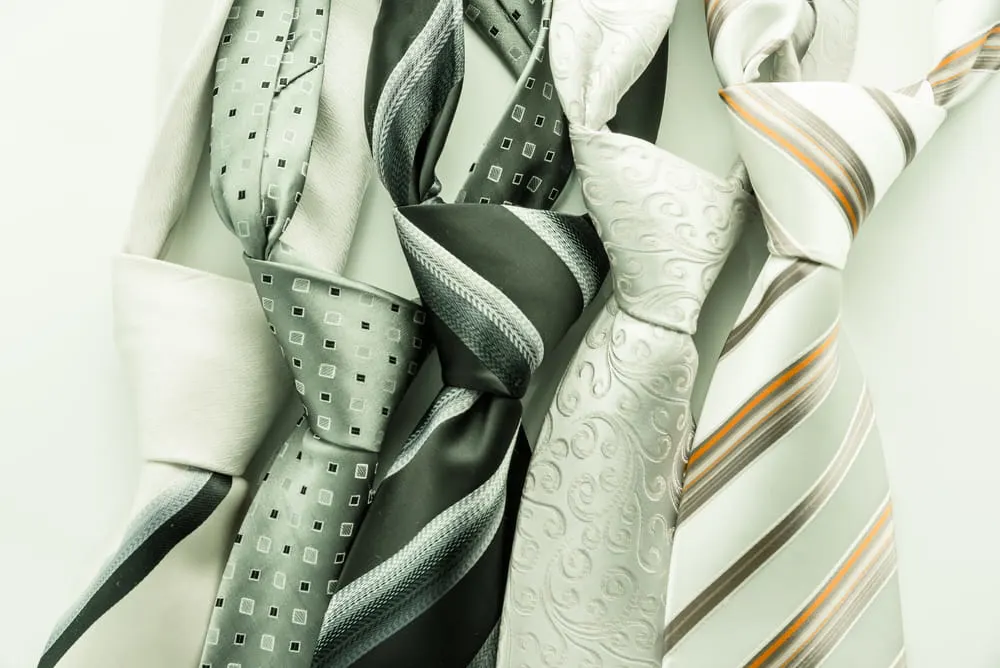 Once again, the dress code does play a huge role.
Whatever shades you choose, you can rest assured that the blue suit and green tie will complement each other well.
However, try to maintain a sense of balance in terms of light vs dark.
If you've gone for a dark blue suit, consider wearing a dark green tie.
If you've gone for a light blue suit, consider wearing a light green tie.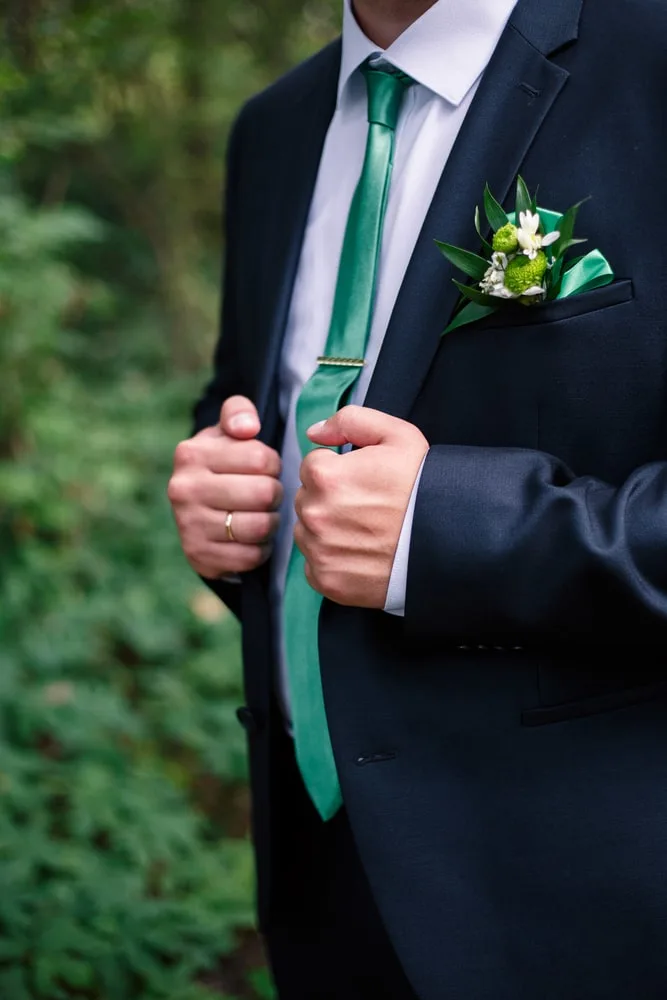 Here's a table listing the common shades of green with blue suits you could consider wearing with them:
| | |
| --- | --- |
| Sage Green Tie | Navy or midnight blue suit |
| Emerald Green Tie | Royal blue suit |
| Mint Green Tie | Sky or teal blue suit |
| Olive Green Tie | Steel or royal blue suit |
| Dark Green Tie | Navy or midnight blue suit |
The Fabrics Matter
The blue suit fabric and weave you choose will depend on the setting and the season.
Wool, cotton, and linen are common suit fabrics you're very likely to come across, but are all very different in terms of their look and feel.
Here's a rundown of each of these fabrics:
Wool – Breathable and relatively wrinkle-resistant. You can wear it throughout the year. Worsted wool is especially popular for formal events given its smooth and luxurious texture.
Linen – Breathable but quite wrinkly, giving it a laid-back look and feel. It's often considered ideal for smart-casual summer occasions.
Cotton – Less common and less breathable, but also less expensive. While wool is more popular, high-end cotton suits are sometimes worn in the workplace.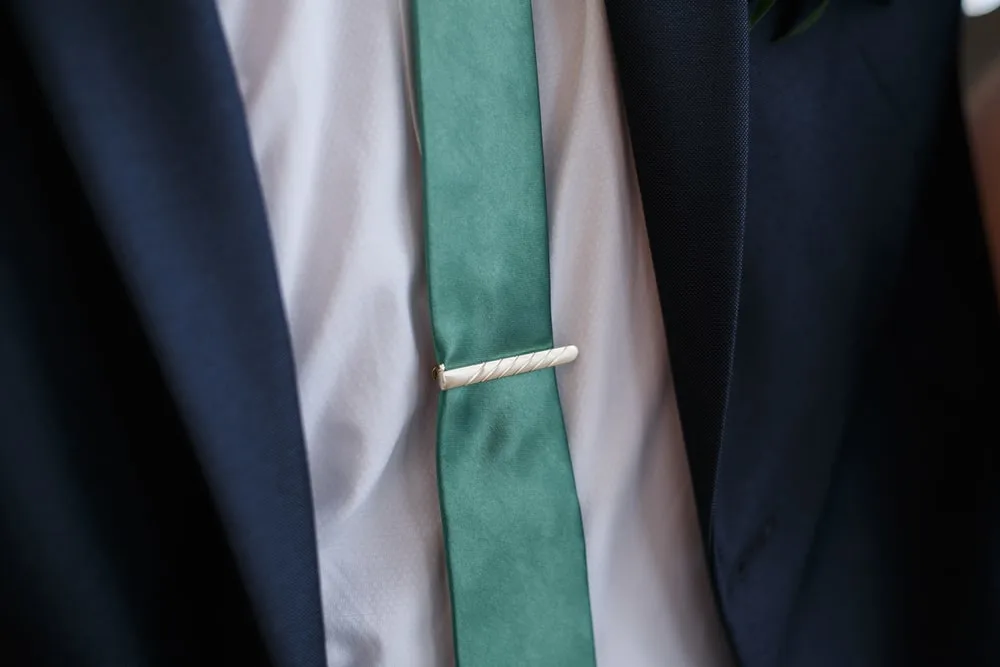 The "weave" of a suit is a name used to refer to how the fabric is woven. Tweed, seersucker, and herringbone aren't fabrics – they're weaves.
Tweed – It's a weave often made from wool. It has a rugged look and feel to it and is ideal for the fall and winter months.
Herringbone – It's a V-shaped weave with a similarly warm and rugged texture and is also perfect for the fall and winter.
Seersucker – It's a dimpled weave that's famously (but not always) patterned with white and blue stripes. It's considered perfect for casual summer events.
The fabric/weave you've chosen for your blue suit should also influence the style of green tie you've chosen.
For example, if you've gone for a shiny and wrinkle-resistant worsted wool blue suit, you'll want to go for a similarly shiny and wrinkle-resistant silk green tie.
Alternatively, if you've gone for a rough and rugged tweed blue suit, consider a similarly rough and rugged green knit tie.
Stick To White Shirts
While blue and green are both "cool" colors, giving the combination a laid-back look and aesthetic, keep things neutral and subtle with your other items.
The blue suit and green tie are both quite dominating items. Let the other items blend subtly into the background without drawing attention.
The other major item on your upper half is your shirt.
To keep things simple, stick to white shirts.
This would be the case no matter what style of shirt you've gone for – whether it's a formal white dress shirt or a more casual Oxford cloth or linen shirt.
A white shirt blends into the background and makes it incredibly easy to incorporate other colors into your outfit without the risk of a color clash.
Brown Or Black Dress Shoes
When wearing a blue suit and green tie, brown and black dress shoes would be your best option. In more formal settings, black or dark brown shoes would be more appropriate than a light brown pair.
The more formal the setting, the more likely it is that a black pair of dress shoes would be your best option. However, dark brown shoes do make for a very reasonable alternative.
In addition, dark brown shoes add a nice touch of contrast to the suit and tie combination.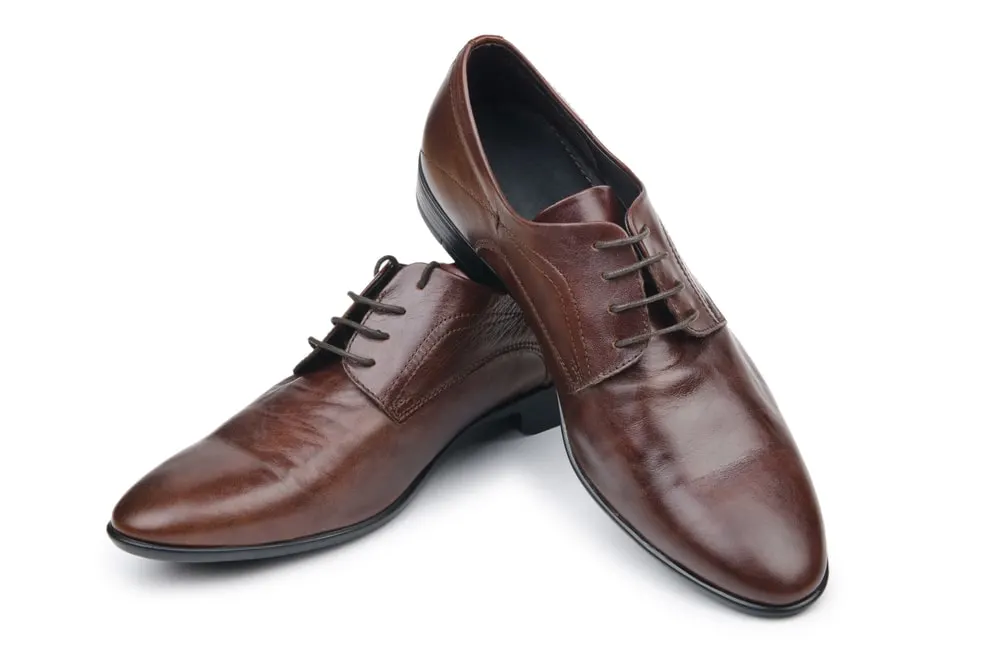 If you are dressing more formally, do go for a formal dress shoe style. Oxford shoes would be best – they're the dressiest option thanks to their closed lacing system.
However, Derby shoes would also be reasonable if you were looking for a slightly more comfortable and slightly less dressy alternative.
When you're wearing a blue suit and green tie to a "smart-casual" setting, you've got a few more options.
You could consider a pair of tan brown monk straps or even loafers if you were really dressing down.
Choose The Right Pocket Square
Try to coordinate your pocket square with the green tie and not the blue suit.
Make sure you don't choose a pocket square that perfectly matches the shade of the green tie.
Instead, consider one of the following color schemes:
Monochromatic – Choose a pocket square in a different shade of green.
Neutral – Go for a white or grey pocket square.
Analogous – Choose a pocket square in a "cool" color (just like green is). Purple would be a good option.
Complementary – Choose a pocket square in the color that's opposite green on the color wheel – this would be a shade of red.
Frequently Asked Questions
To round things up, let's talk through the answers to a couple of frequently asked questions on this topic.
Can You Wear A Blue Suit And Green To A Wedding?
A blue suit and green tie would be a great outfit for a wedding, especially those that occur during the winter and fall. For more formal and traditional weddings, consider a navy blue suit with a tie in a dark and muted shade of green (eg. forest or hunter green).
In many ways, this suit and tie combination is ideal for weddings.
They're formal, but not so formal or professional that a black or dark grey suit would be required.
It's also a celebratory occasion where you've got the freedom to experiment with patterned green ties and colorful pocket squares if you wanted to.
Can You Wear A Blue Suit, Blue Shirt, And Green Tie?
Avoid wearing blue suits and green ties with blue shirts. A white shirt would be a much more subtle and versatile option here.
While a light blue shirt wouldn't be the worst option here, a white shirt would be more understated and produce a more elegant and sophisticated finish to the suit and tie combination.
Conclusion
A blue suit and a green tie can be worn for a range of dress codes ranging from formal to smart-casual.
The shades of blue and green, as well as the fabrics and weaves you choose, will depend largely on the dress code. Some will inevitably look more formal, while others will look more casual.
Enjoy.
Ready Sleek founder. Obsessed with casual style and the minimalist approach to building a highly functional wardrobe. Also a fan of classic, vintage hairstyles.