Certain combinations are considered timeless for a reason; they're hard to go wrong with. But is this one of them? More specifically, can you wear a blue suit with a black tie?
A blue suit can easily be worn with a black tie. A light blue suit would be more appropriate for smart-casual settings, while a dark blue suit would be better suited to formal and business-professional settings.
Although that's the short answer, there's more to it.
Here are some essential tips for wearing a blue suit with a black tie effectively, each and every time.
Let's get to it.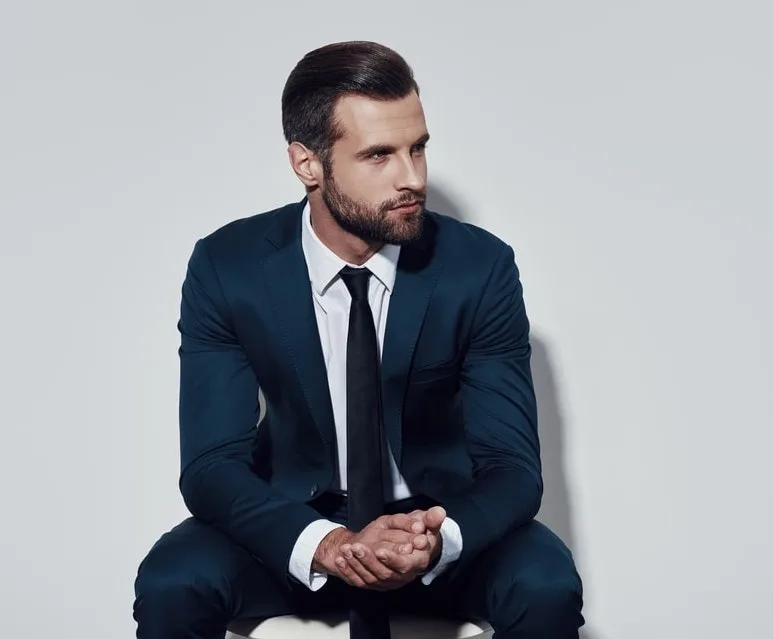 7 Tips For Wearing A Blue Suit With A Black Tie
Consider all of these tips before putting together your final outfit.
Enjoy.
1. Choose Light Blue Suits For Casual Settings
Light blue suits work well with black ties in more casual and laid-back settings. Patterned blue suits such as windowpane or plaid would tone down the formality even further.
In general, the lighter the color of the suit, the more casual it'll look.
"Blue" is a spectrum of colors ranging from extremely light to extremely dark.
It's important to recognize that a shade of blue that's appropriate in one setting may not be appropriate in another.
Lighter and brighter shades of blue suits are better suited to smart-casual and business-casual settings than they would be for business-professional and formal settings.
Just as an example, here's a light blue suit on Amazon. Notice how casual the light shade looks.
While black is a formal color, a black tie could be made to look less "formal" by simply pairing it with a blue suit in one of these light and brighter shades.
In addition to this, consider the presence or absence of a pattern on the blue suit. A solid blue suit will look more formal than a patterned one.
2. Choose Dark Blue Suits For Formal Settings
A dark blue or midnight blue suit with a black tie would be appropriate for a more formal or business-professional setting. The darker the shade of blue, the more formal it'll generally look.
Dark blue and black compliment each other extremely well. The only real factor to consider would be whether the formal aesthetic it produces syncs well with the setting you're attending.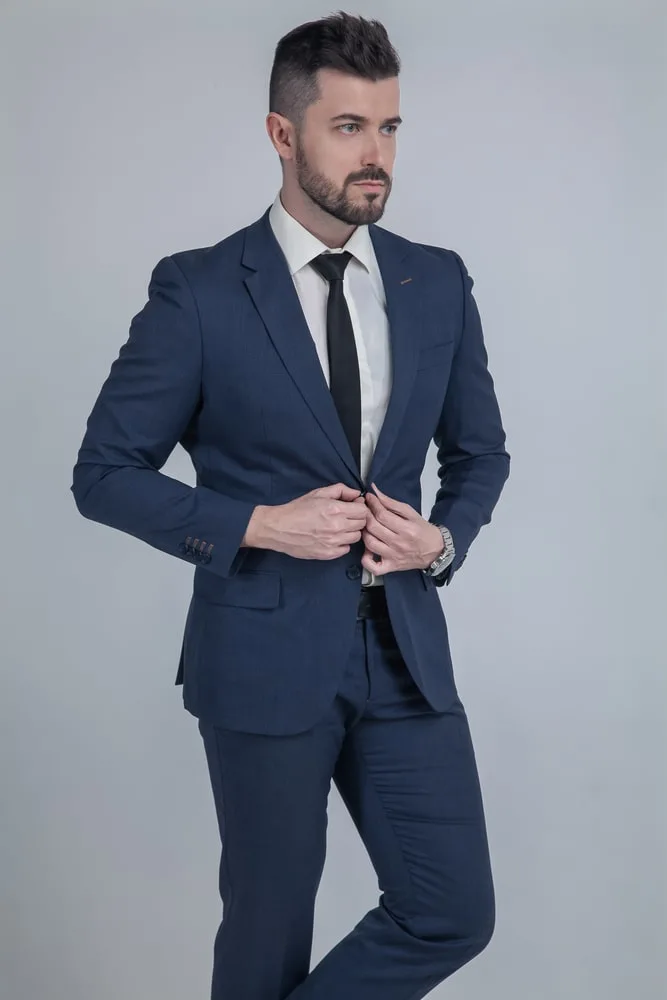 For example, while the combination would potentially look great when going to a formal dinner or office meeting, it could be seen as overdressing if you wore it to a friend's garden party.
As I mentioned earlier, wearing a black tie will usually make any suit look a touch more formal.
If you're aiming for a formal vibe, a dark blue suit would be a great way to compliment it.
But if you want to make a black tie look a little more laid-back, avoid wearing a dark blue suit as it'll make it look even more formal.
3. Match The Blue Suit Fabric To The Formality
When it comes to formality, the fabric of your blue suit is almost as important as the color.
To keep things simple, the shinier and glossier the fabric of your suit, the more formal it'll look.
Worsted wool and (the less common) sharkskin are both examples of shiny fabrics. Because of this, they both come across as formal as soon as you lay your eyes on them.
They're glossy and they're also pretty wrinkle-resistant.
If you're looking to wear your blue suit and black tie to a formal or even a professional setting, consider a suit in a shiny fabric such as worsted wool.
On the other hand, rougher and more rugged fabrics and weaves like blue tweed, cotton twill weaves, linen, and corduroy will have a more casual look to them in comparison.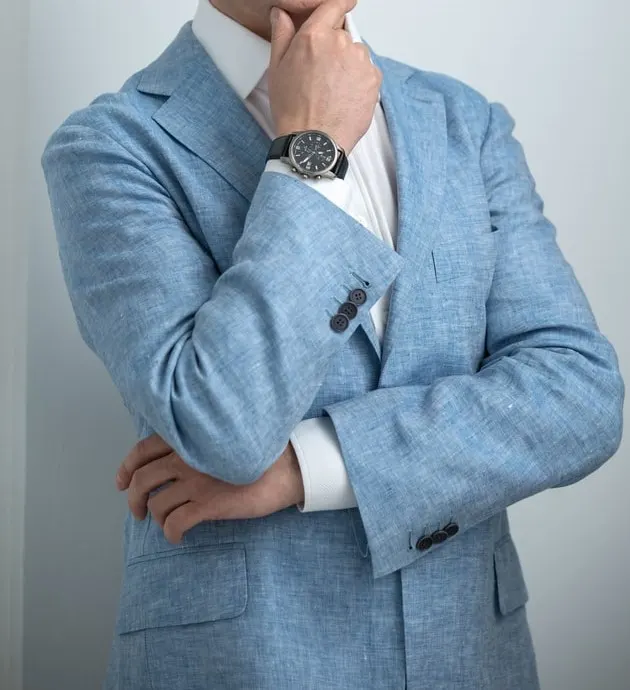 They have much less shine, look and feel more rugged, and are also more wrinkly.
These are casual features a blue suit could have to make it more appropriate to wear in smart-casual and business-casual settings, but less appropriate to wear in formal and business-professional settings.
4. Consider The Black Tie's Fabric And Finish
The fabric and texture of the black tie should complement that of the blue suit you're wearing.
If you're wearing a shiny worsted wool blue suit, go for a shiny silk black tie.
If you're wearing a not-so-shiny tweed or linen blue suit, go for a not-so-shiny black tie. The tie could be woolen, cotton, or even a knit silk tie.
Here's an example of a knit black tie on Amazon. Notice how casual and rugged it looks. It would work well with a blue suit made from a casual and rugged fabric.
Focus less on looking to match specific fabrics with each other, as woolen ties can have a real sheen to them, just like knit silk ties can look and feel pretty rugged and crunchy.
Instead, keep things simple. Pair shiny and wrinkle-resistant blue suits with shiny and wrinkle-resistant black ties, and vice versa.
Not doing so can often look strange – it'll usually lead to a formality mismatch between the suit and the tie.
5. Go For A White Or Light Grey Shirt
A white or light grey shirt would work well with a blue suit and a black tie. They would be light enough to nicely contrast the tie while remaining neutral enough to easily pair with any shade of blue suit you could think of.
When it comes to the shirt, keep things as simple as possible.
The best way to achieve this would be to choose an extremely light and an extremely neutral color such as white or light grey.
While it would be possible to wear a light blue shirt, it wouldn't be the best option, especially if the shade of blue is too similar to that of the blue suit.
Instead, go for a bit of contrast.
6. Add Contrast With A Pocket Square
If you're looking to add some color, wearing a pocket square would give you the opportunity.
When wearing a black tie, however, you haven't got a whole bunch of options. In general, the pocket square should complement the tie without matching it.
So, a black pocket square wouldn't be a great option.
The safest and the easiest pocket square option would be a white one.
A white pocket square would look great when wearing a blue suit with a black tie. The color will pop out nicely against a blue background without conflicting with the black tie.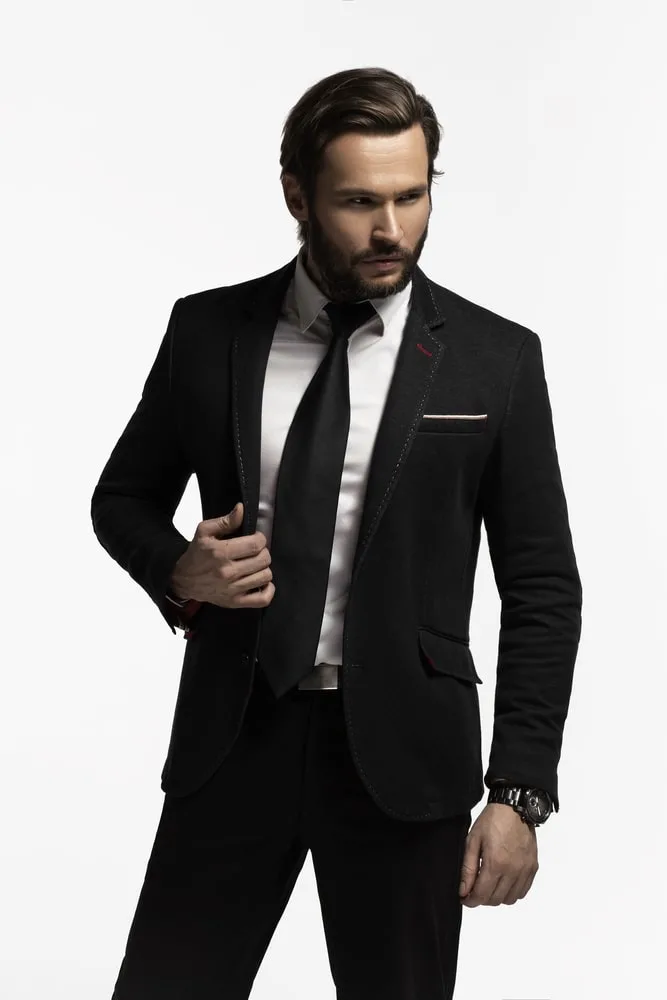 However, it's definitely still possible to be a little riskier with your choice here. You could go for a patterned blue and white or black and white pocket square instead.
If you do want to go for a more colorful pocket square, try to keep the shade relatively dark in order to sync it well with the black tie.
Burgundy red, wine red, or deep purple would all be reasonable options.
7. Brown Or Black Dress Shoes
Both brown and black shoes would work well with a blue suit and black tie. Go for black shoes if you'd prefer a more business-professional aesthetic. Brown shoes would be preferable if you wanted more contrast with the rest of the outfit.
There's no wrong answer here. Either of them would look great.
The main factor that should influence your decision is how formal the setting is.
It's hard to deny that black dress shoes will always look the most formal no matter what color of suit you're wearing.
But dark brown would be perfectly appropriate to wear in both formal and business-professional settings. The benefit here would be that they also contrast the blue suit and black tie just enough to be noticeable.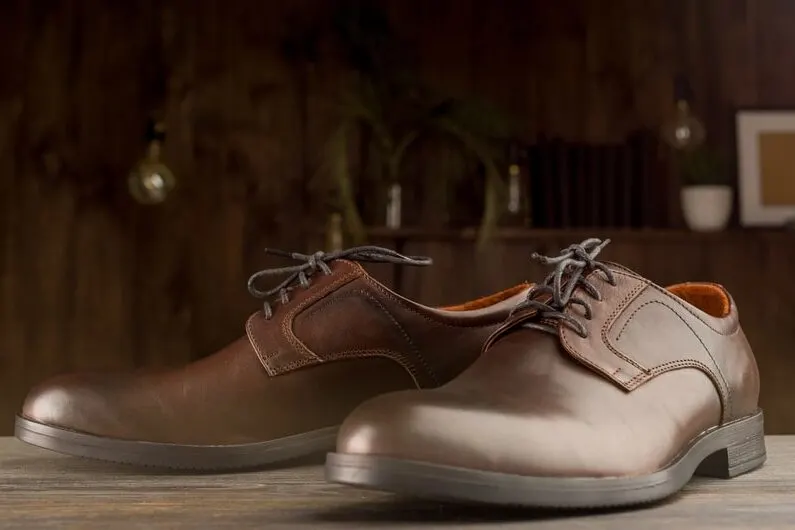 Reserve lighter shades of brown shoes (eg. tan) for more casual blue suits being worn to more casual, social, and laid-back settings.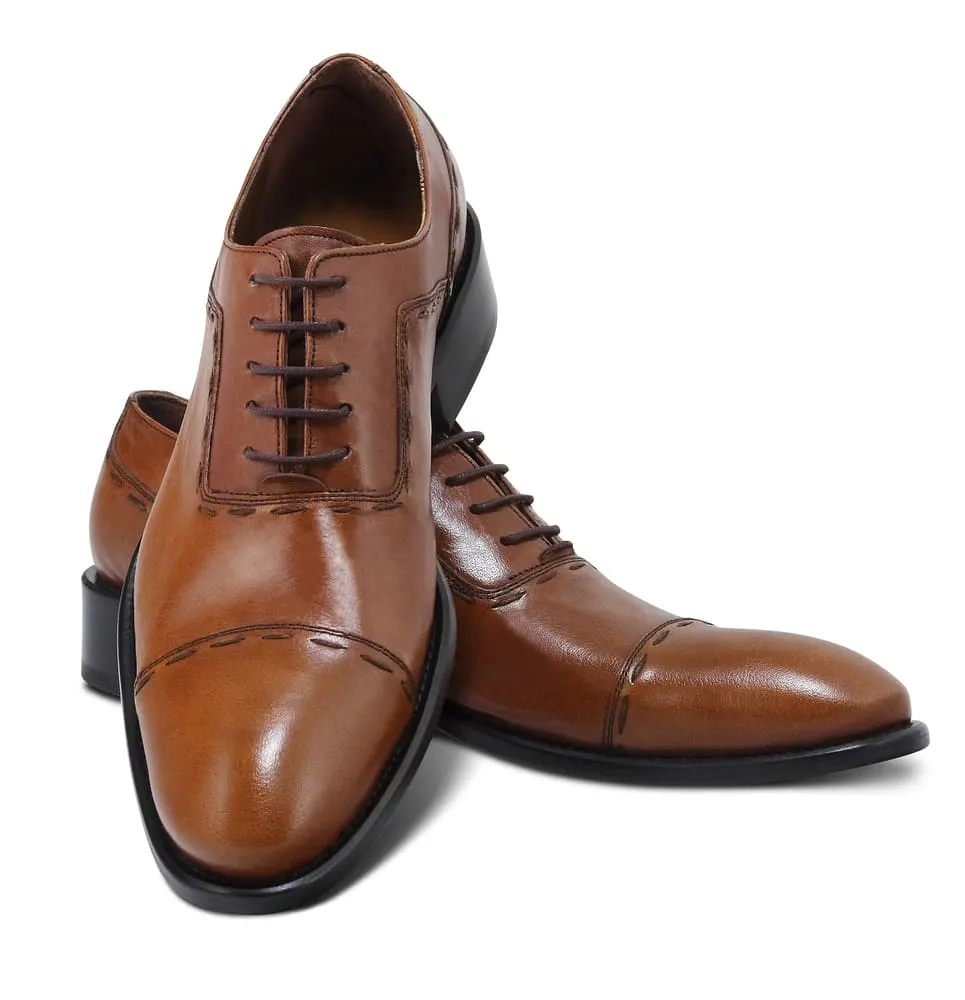 As a final note, be sure to wear a belt that matches the color of your shoes. Not doing so is an easy mistake to make but one that ruins many outfits.
Frequently Asked Questions
Here are the answers to a couple of FAQs on the topic to really finish things up in style.
Can You Wear a Blue Suit, Black Shirt, And Black Tie?
A blue suit, black shirt, and black tie can be worn as evening wear to formal social settings. Darker shades of blue such as midnight blue would work better here, producing an elegant and sophisticated aesthetic.
It's a pretty striking outfit – eye-catching for the right reasons when it's done correctly.
When it comes to the suit, avoid light shades of blue as they'd usually lead to too much of a contrast with the black shirt and tie.
In addition, try to choose a shirt and tie in different shades of "black" so that they're easily distinguished from each other.
Choose one item in a slightly lighter shade than the other.
Can You Wear A Blue Suit And Black Tie To A Funeral?
A blue suit and black tie can be worn to a funeral. Choose a navy blue 2-piece suit and pair it with a white dress shirt and black necktie. A dark outfit such as this would usually be considered perfectly appropriate for a funeral.
It's subtle, simple, and won't draw attention.
That's what makes it appropriate.
However, avoid wearing suits in lighter shades of blue when attending a funeral.
While they're unlikely to draw significant amounts of attention, darker colors are usually considered more traditional and respectful.
I've written about wearing blue suits to funerals in more detail if you're interested.
Conclusion
There you have it. Hopefully, an in-depth guide to a pretty niche topic.
You should now be a few steps closer to styling this timeless combination in a pretty effortless way.
Ready Sleek founder. Obsessed with casual style and the minimalist approach to building a highly functional wardrobe. Also a fan of classic, vintage hairstyles.