Dressing appropriately for special events doesn't mean you can't express your sense of style, but there's always a time and place for making a statement.
So, can you wear a blue suit to a black-tie event?
A blue suit cannot be worn to a black-tie event as it disregards the request of the event's host. This can come across as disrespectful and lazy. A black or midnight blue tuxedo should be worn to black-tie events instead.
Wearing a tuxedo doesn't mean you can't show some stylish expression. Attention to detail says a lot.
Before we get into alternatives and exceptions, let's go over some reasons why a blue suit should be avoided.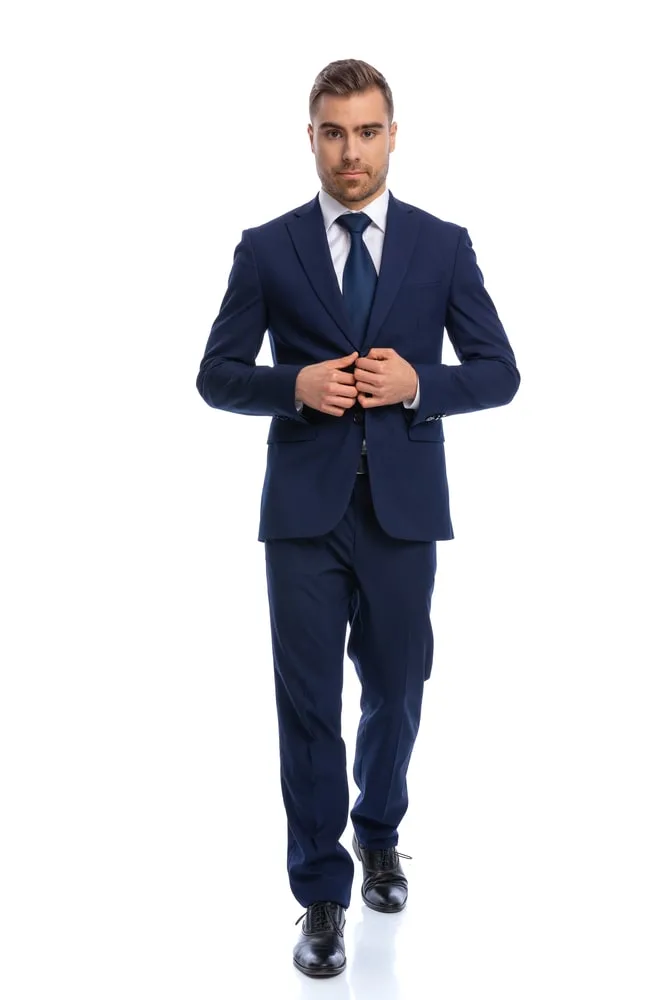 4 Reasons Why You Shouldn't Wear A Blue Suit To A Black Tie Event
There may be some acceptable alternatives, but consider these factors before deciding.
1. "Black-Tie" Is Not "Black-Tie Optional"
A blue suit would potentially be OK for a "black-tie optional" dress code, but not for a strictly black-tie event where anything less than a tuxedo would be considered underdressing.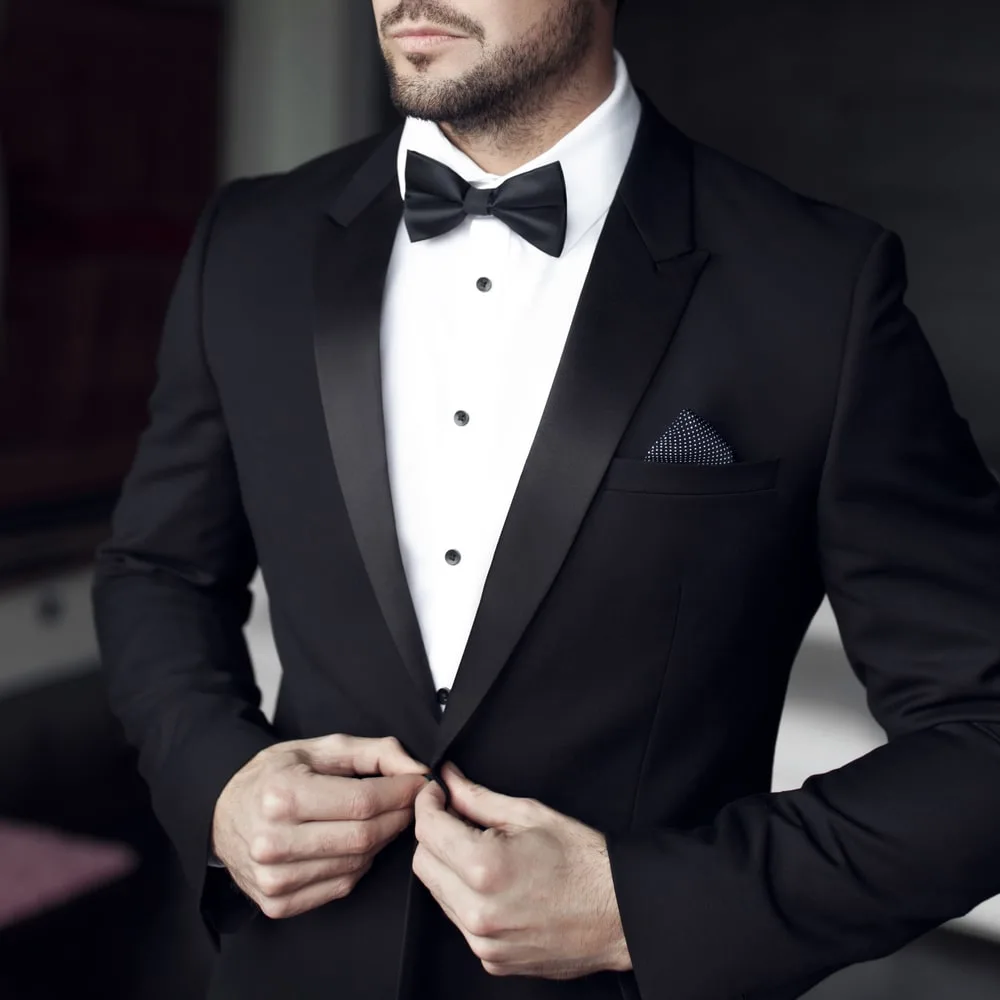 Taking a risk when there is no alternative dress code on the invitation is never recommended. It could be considered disrespectful to the host.
Naturally, this could depend on your familiarity with the hosts and their expectations. If there is any question on what will be acceptable, it is always best to stick with a proper tuxedo – a blue suit simply wouldn't cut it.
2. Black-Tie Events Usually Take Place In The Evening
Black-tie events are usually evening events where a light blue suit would look even less appropriate.
Dark blue suits (eg. navy or midnight blue) aren't quite as bad, but would still look out of place when compared with a midnight blue tuxedo, for instance.
There is more to be said about midnight blue tuxedos, but first, here are two more reasons a blue suit would not be an option.
3. The Staff May Outdress You
Guests at black-tie events are expected to dress their sharpest. Staff at these events will usually be quite sharply dressed themselves.
The trouble with wearing a blue suit to a black-tie event is that there's a real chance that staff – whether it's the catering staff or bar staff – may actually be dressed more formally than you are.
In general, you won't want to dress below the standards of staff members, whether it's a charity ball, the opera, or a wedding.
Any Exceptions When A Blue Suit Might Be OK For Black Tie?
If the dress code says "Black-tie optional" or "Black tie/formal" you've got the option of wearing either a suit (2-piece or 3-piece suit) or a tuxedo.
However, a tuxedo would almost be the preferred option.
But you've got some freedom. A black or blue suit would be perfectly acceptable options.
It's just that they wouldn't be the best option and you almost definitely won't be one of the best dressed at the event.
A quick note on "creative black tie".
This poorly understood dress code gives you more freedom and variety when it comes to accessories and colors.
However, you would still be expected to wear a tuxedo of some variety. A blue suit just wouldn't be appropriate.
4 Tips For Wearing Blue Suits To Black Tie Events (If You Must)
If you must wear a blue suit to a black-tie event, consider the following tips to increase the chances of actually pulling it off.
1. Prioritize Quality And Detail
First, consider the suit fabric. You won't want to wear a synthetic fabric or synthetic blend.
The fabric of a suit can instantly give away the quality or lack of quality. Low-end suit fabrics may show inconsistencies.
When you're wearing a suit to a black-tie event, a worsted wool suit would be your best option. The natural sheen has a pretty formal look to it.
It won't look as formal as a tuxedo, but a worsted wool suit would look more formal than a more casual and rugged fabric like tweed or linen.
2. Go For A Very Dark Blue
A black-tie event is not the occasion to wear a light blue suit. Lighter shades of blue will always look more casual than darker shades.
When you're dressing for an ultra-formal dress code like black-tie, the darker the shade of blue, the better.
In fact, going for a midnight blue would be ideal because it'll appear similar in shade to a midnight blue tuxedo.
Choose a white shirt to go with it. Any other shirt color would deviate too far from the tuxedo aesthetic. Remember, we're trying to emulate the appearance of a tuxedo as much as possible.
3. Go For A 3-Piece Blue Suit
Ultimately, a 3-piece suit with a vest made from the same roll of fabric will always look more formal than a simple, vestless 2-piece suit.
Whenever possible, always go for a 3-piece when wearing a blue suit to a black-tie event.
Trying to mix and match vests from different suits won't be acceptable at a formal event. It can work when you've got a more casual suit.
But not when you're trying your best to dress up a blue suit.
4. Black Shoes Only
When wearing a suit to black-tie, go for black shoes. Dark brown shoes would stand out in a crowd of people wearing tuxedos.
They would work perfectly well if you were wearing that blue suit in a business-professional or business-casual setting.
But a black-tie event, avoid brown shoes as much as possible.
Make sure your black shoes are polished immaculately, as there's a good chance that the people around you will be wearing ultra-shiny patent leather shoes.
In addition, always go for Oxfords. More casual shoe styles such as Derbys wouldn't usually be formal enough for the setting.
Conclusion
There you have it. In general, it's simply not worth the risk. Wearing a blue suit to a black-tie event can come across as lazy.
Breaking tradition isn't always a bad thing when it comes to style. But the rules of black-tie are pretty set in stone and worth following whenever possible.
Ready Sleek founder. Obsessed with casual style and the minimalist approach to building a highly functional wardrobe. Also a fan of classic, vintage hairstyles.