It's one of those combinations that's hard to go wrong with but tough to stand out from a crowd with. So, what's the best way to wear a blue shirt with black jeans?
Light blue button-up shirts and slim-fit, non-distressed black jeans work best in smart-casual settings. In more dressed-down environments, consider distressed, skinny, or wide-leg black jeans and pair them with more casual blue shirt styles (eg. T-shirts, polos, and Henleys).
That's the gist, but read on to get exactly what you need to make this combination work in the most effective way possible.
First, we'll go through a few outfit examples for you to try out.
Then, we'll run through the essential tips for elevating this combination to a level where it'll get complimented wherever you go.
Let's get to it.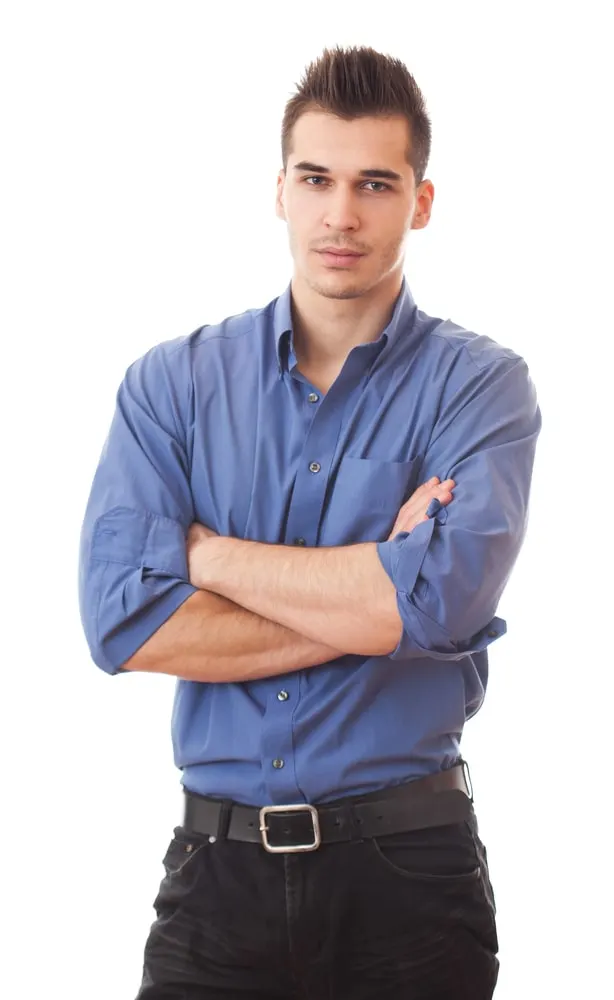 3 Blue Shirt And Black Jeans Outfits To Try
As usual, we're going from a dressy way of wearing it to a couple of more casual ways.
Dressy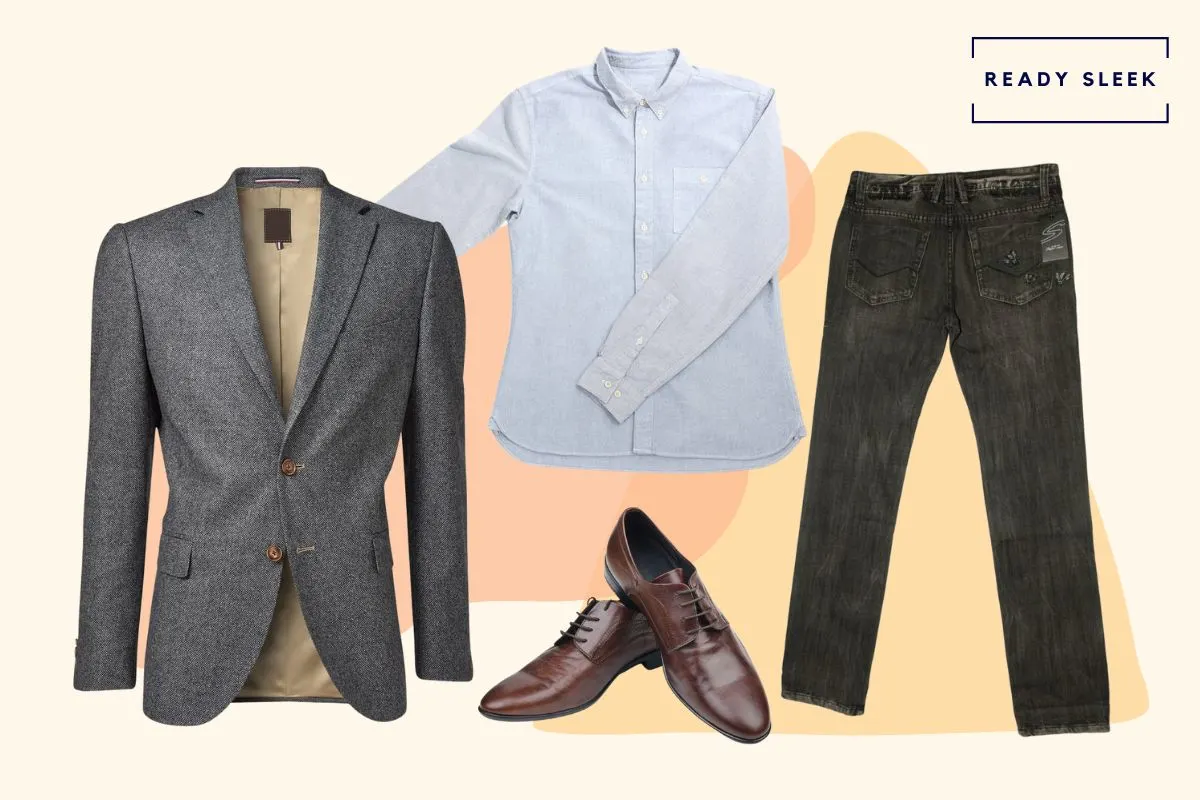 Items: Light Blue OCBD, Black Jeans, Charcoal Blazer, Dark Brown Derby Shoes
Going for a light blue button-up is a quick and easy way to up the dressiness of this combination.
Not too formal, but not too casual either.
OCBDs work incredibly well here. The light blue OCBD is, in my opinion, the pinnacle of that Ivy/Prep style you either love or hate.
At the end of the day, it's hard to deny that it looks good here.
The black jeans should be slim-fit, tapered, and without much distressing at all.
The charcoal blazer isn't essential but is a nice touch when you're looking to dress up.
There is a slight risk that it looks a little too formal to wear with jeans, but the beauty of a pair of smart black jeans is that they can look pretty similar to chinos or even dress pants from far away.
You could always go for a less structured blazer in brown, light grey, or even burgundy if you wanted something less formal-looking.
The dark brown dress shoes are dressy but do work. Brown dress shoes generally work best with jeans because they aren't quite as professional-looking and formal as black ones.
More Casual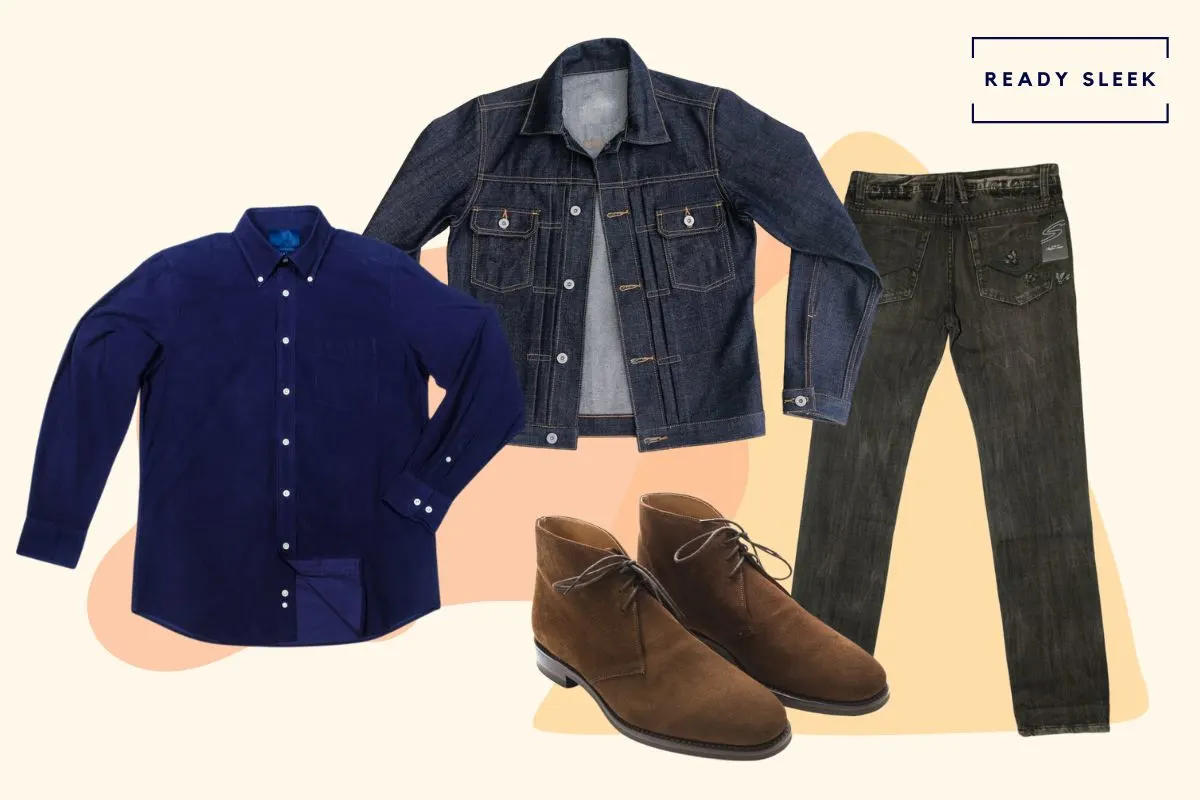 Items: Navy Blue Button-Up Shirt, Black Jeans, Dark Blue Denim Jacket, Suede Chukka Boots
Dark blue shirts generally look more casual than light blue shirts, as you can see from the image.
Having said that, a navy blue button-up like this one can look very sharp indeed, especially for evening social events.
The dark blue denim jacket would be a good option if you weren't too afraid of the denim-on-denim look.
It works here because of the contrast between the dark blue denim jacket and the black denim jeans.
If you'd prefer something a little less casual here, consider a cardigan.
Finally, the brown suede chukka boots add a nice sense of contrast to the black jeans, while still being dark enough to sync with the dark overall aesthetic of the outfit.
In addition, suede just looks awesome with denim. It's just so hard to go wrong.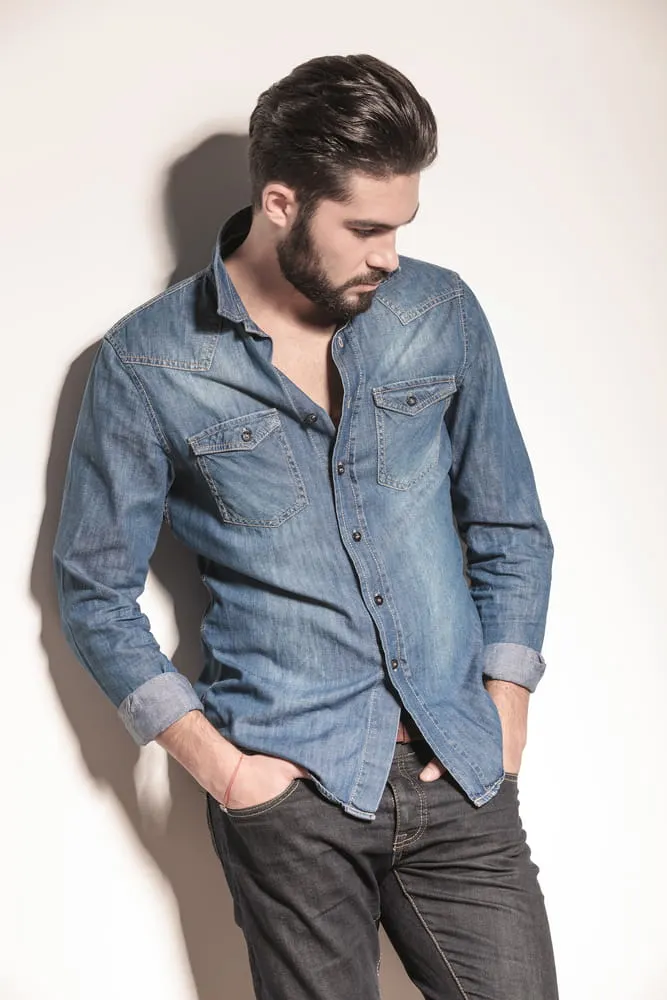 Most Casual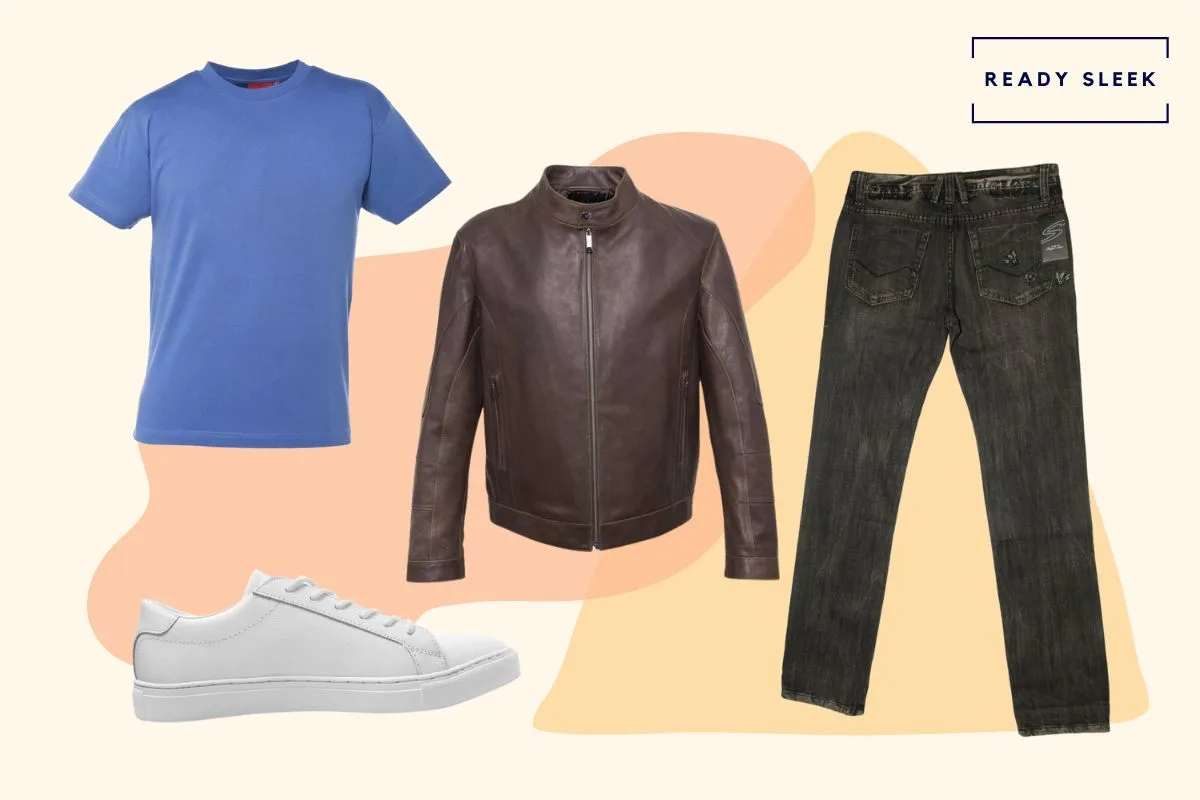 Items: Blue T-shirt/Polo, Brown Leather Jacket, Black Jeans, All-White Leather Low-Top Sneakers
The great thing about this is that most people have a blue T-shirt they can make use of.
While a blue tee and black jeans outfit on its own would look a little basic, layering can make it more visually interesting and stylish.
In fact, it's tough to find "interesting" inner layers. Sure, you can go for T-shirts with interesting silhouettes. But in general, stick to boring basics here and level up with interesting outer layers.
Here, we've gone for a dark brown leather jacket. It's simple, edgy, and looks great with denim.
We'll give you some other layering options later on in this article.
The all-white leather low-tops or "dress sneakers" are versatile enough to wear with any of the outfit examples here – even the dressy one.
In this outfit, they add a touch of casual sophistication, more so than a pair of bulky and loud canvas sneakers would.
5 Tips For Wearing A Blue Shirt With Black Jeans
Consider all of these tips before putting your combination together. Ultimately, they'll probably make all of the difference.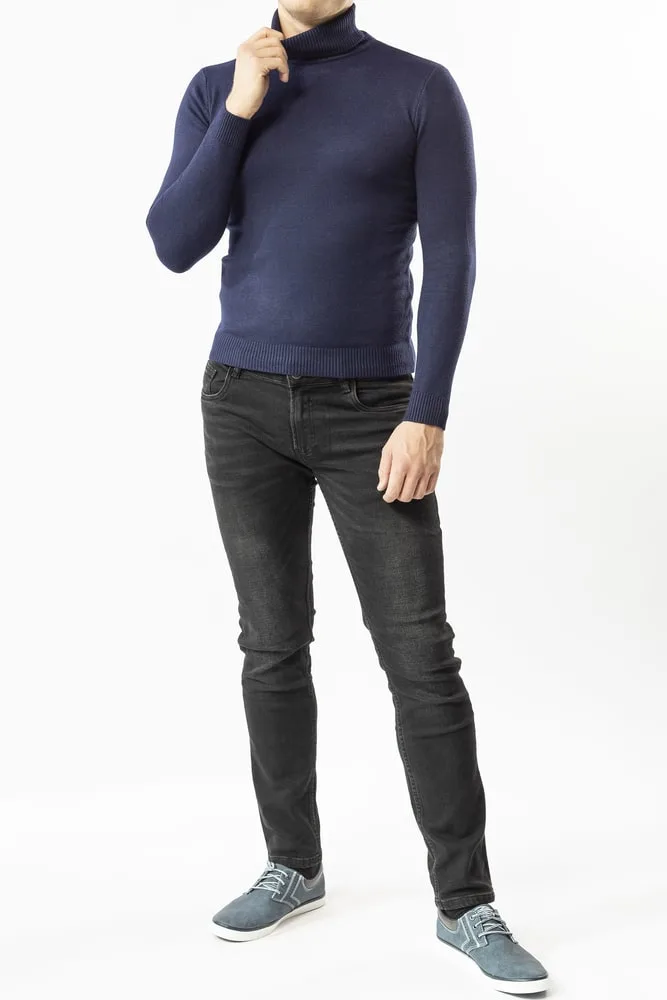 Casual Or Smart-Casual Settings Only
The blue shirt and black jeans combination should only ever be worn in casual and smart-casual settings.
It shouldn't be worn in business-casual, business-professional, or formal settings.
Some of that might sound controversial, so let me explain.
In general, it's best to avoid jeans altogether in business-casual settings. Sticking to a "no jeans, no suits" rule will always serve you well here.
Stick to chinos and dress pants instead.
The other two inappropriate settings are easier. In business-professional and formal settings – wear a 2-piece suit.
A blue shirt and black jeans combination would just look completely out of place here.
So, what about the two appropriate settings?
The more obvious one would be truly casual events and occasions where you could practically wear anything.
But "smart-casual" settings require a little more thought.
Here, the style of blue shirt and the style of black jeans you wear is important. You'll want to be more careful here.
We'll talk more about this in the next couple of tips.
Consider The Shade And Style Of The Blue Shirt
When wearing black jeans, light blue button-up shirts (eg. baby blue, sky blue) will generally be the dressiest option you could go for. Dark shades of blue (eg. navy) can also work well, but will generally look a notch more casual.
These are the best options when wearing black jeans to a "smart-casual" setting. You're dressing down, but not too much.
Garden parties, dates, dinners, and so on.
The style of button-up you choose is important too. Going for a light blue dress shirt will make it seem as though you're dressing for a corporate office environment.
Not a great look when you're wearing black jeans and heading to a social event.
Instead, go for a casual blue button-up shirt made from a rugged fabric/weave such as Oxford cloth, linen, or chambray. They should have relaxed and maybe even button-down collars.
In smart-casual settings, dark blue button-up shirts can also work well but aren't quite as versatile as light blue shirts.
In addition, the light blue shirt would give you the added benefit of a nice sense of contrast; dark jeans + light shirt.
In more casual settings (i.e not smart-casual), you could wear shirts in any shade of blue with your black jeans. Ultimately, black is neutral enough to coordinate with anything.
You could also go for more blue shirt styles here; T-shirts, polos, Henleys, etc.
Not All Black Jeans Are Made Equal
Black jeans with a slim, tapered fit and minimal distressing will look dressier when wearing a blue shirt.
Those with heavy features of distressing (rips, frays, stone washing, acid washing) will look more casual.
So will black jeans with "trendier" cuts and fits – bootcuts, wide-leg, skinny jeans, etc. Nothing against these fits – they'll just look more casual than slim-fit pairs no matter what blue shirt you may be wearing.
Consider what style of blue shirt you're going to be wearing. You'll want a pair of black jeans that syncs well with it in terms of dressiness.
If you were wearing a light blue OCBD, for example, you'll probably want a smarter-looking pair of black jeans.
Go for a slim-fit pair of non-distressed black jeans.
If, on the other hand, you were wearing a blue T-shirt, a trucker jacket, and sneakers, you've got options.
You could go for a smart pair of black jeans to dress up your other items.
Alternatively, you could go for a similarly casual pair of black jeans (distressed, baggy, skinny, etc) to really embrace the dressed-down aesthetic.
Consider Adding Contrast With Your Shoes
When wearing a blue shirt with black jeans in smart-casual settings, brown dress shoes can work well. Black dress shoes often look too formal. When dressing down, a pair of all-white sneakers are a great way to add some contrast.
Once again, it comes down to the setting and the dress code.
In smart-casual settings, brown shoes often work best, especially those in suede. Derby shoes, monk straps, loafers – they can all work well.
Dark brown shoes are dressier than those in lighter shades of brown (eg. tan, caramel, walnut).
Lighter shades of brown look great here because they add contrast and warmth to an otherwise "cool" colored blue and black outfit.
But they'll always look more casual.
If you'd prefer less contrast and a dressier, more subtle aesthetic, go with dark brown shoes instead.
Suede happens to work well here because of the texture. It's napped and casual-looking, which is why it works so well with denim.
You could definitely go for a shinier grain of leather instead if you want to, however.
When you're really leaning into the casual jeans aesthetic, you could always go for sneakers.
Sneakers are so casual that you can really have fun with the color. You could get very loud and bulky with it. Heavy branding, colorful laces, etc.
But if you wanted something more versatile and minimalist, a pair of all-white leather low-tops would do it for you.
Layers Can Make Things More Interesting
The layering option you choose to wear over your blue shirt should be determined by how dressy the casual setting happens to be.
In smart-casual settings, smart shawl cardigans work well. If you wanted to go a notch further, consider a blazer or a sport coat instead.
Sticking to neutral colors is generally best – navy, charcoal, light grey, and dark brown.
Avoid black blazers and sport coats here. You don't want to come across as someone trying to come up with an awkward replacement for a casual black suit.
In more casual settings, the number of layering options you have is essentially endless. Here are a few of them:
Trucker jackets
Leather jackets
Denim jackets
Chore coats
Suede jackets
Puffer jackets
Gilets
Flannel Overshirts
Shackets
Ultimately, a blue shirt and black jeans combination can hold its own, no matter what styles you go for with each item.
But layering really is the key to elevating the outfit to one that stands out from a crowd.
Ready Sleek founder. Obsessed with casual style and the minimalist approach to building a highly functional wardrobe. Also a fan of classic, vintage hairstyles.