A blue shirt and khaki pants combination is popular because it expertly walks the line between formal and casual. There are definitely ways of making this combination stand out. There are also ways of messing it up.
Here's the bottom line:
The combination works well in business-casual and smart-casual settings but should be avoided in truly formal or professional ones. Tightly woven button-up blue shirts in lighter shades will always look dressier than darker and more rugged alternatives when wearing khakis.
While those are the cliff notes, you'll need more.
First, we'll go through a few outfit examples you can try out for yourself.
Then, we'll run through some tips to make sure you get this combination right no matter what you may be dressing for.
Let's get to it.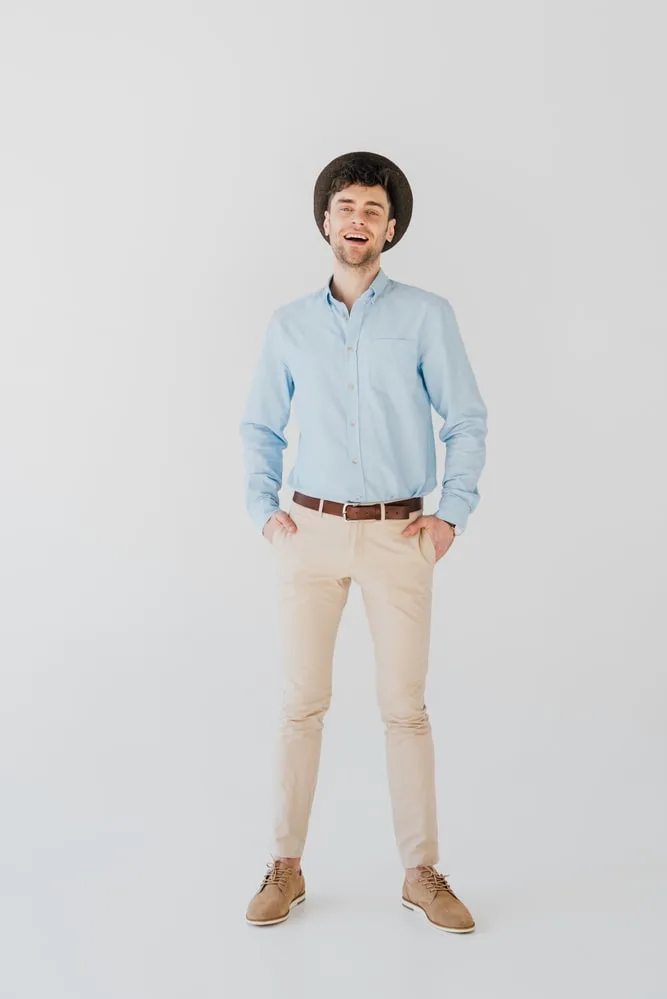 3 Blue Shirt And Khaki Pants Outfits To Inspire You
Here, you'll see for yourself just how different a "blue shirt and khaki pants" combination can look.
There are ways of making this combo look dressier or more casual.
The shade and style of the blue shirt play a huge role, as do the other items you choose to wear.
First, we'll go through a dressy example before finishing up with two on the more casual end of the spectrum.
Dressy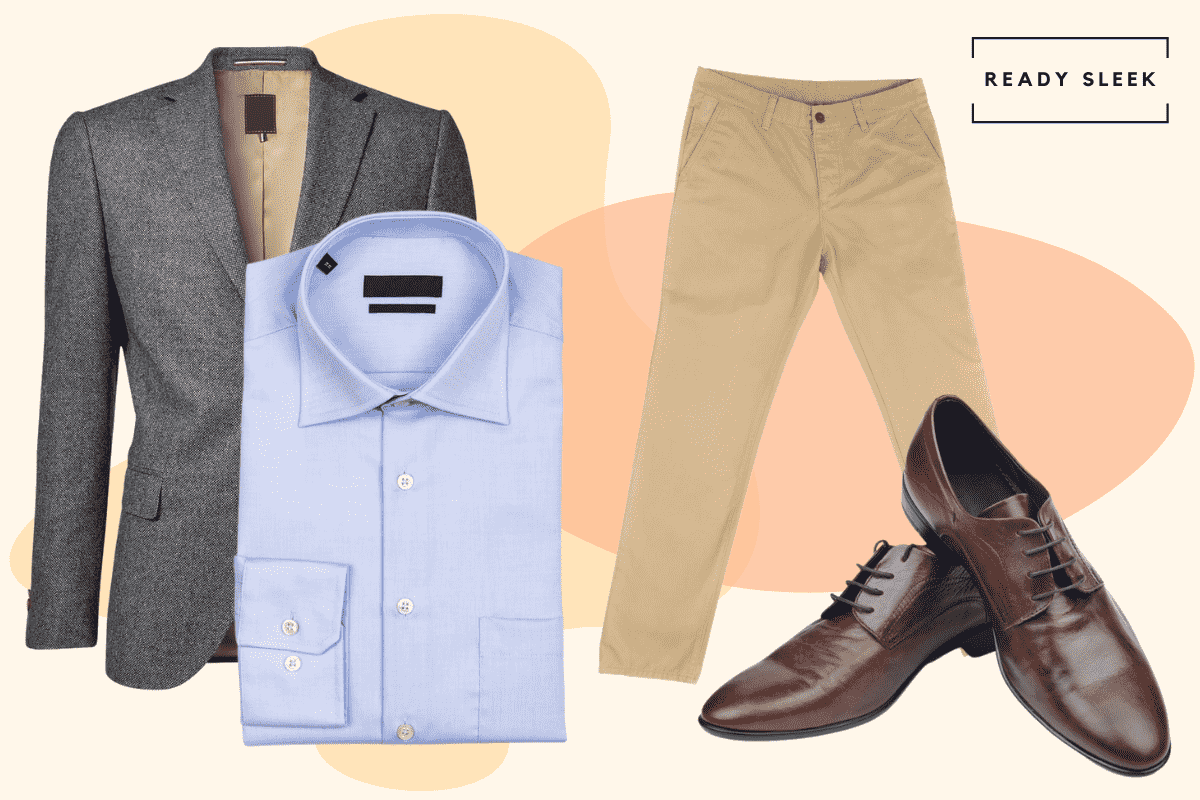 Items: Light Blue Dress Shirt (Oxford/Poplin Weave), Khaki Pants, Charcoal Sport Coat, Dark Brown Derby Shoes
Here is an especially dressy way of wearing this classic combination.
It would be ideal to wear in business-casual settings, but there's absolutely no reason why it can't be worn in smart-casual settings as well.
Going for a light blue dress shirt with a tight weave and smooth texture is an easy way to make the combination a touch more sophisticated and dressy.
The khakis we've gone for here (and in the next two examples) aren't exactly formal. But go for a pair with a slim, tapered fit and it's hard to go wrong.
Find a pair with single-needle side seams and center creases and it's a bonus – they'll look almost as formal as dress pants.
The charcoal sport coat is an incredibly easy way to make the combination look even dressier.
Finally, we've rounded off the outfit with a pair of dark brown Derby shoes.
A pair of monk straps would be equally appropriate, but dark Oxfords might be a little too formal to wear with these khakis.
More Casual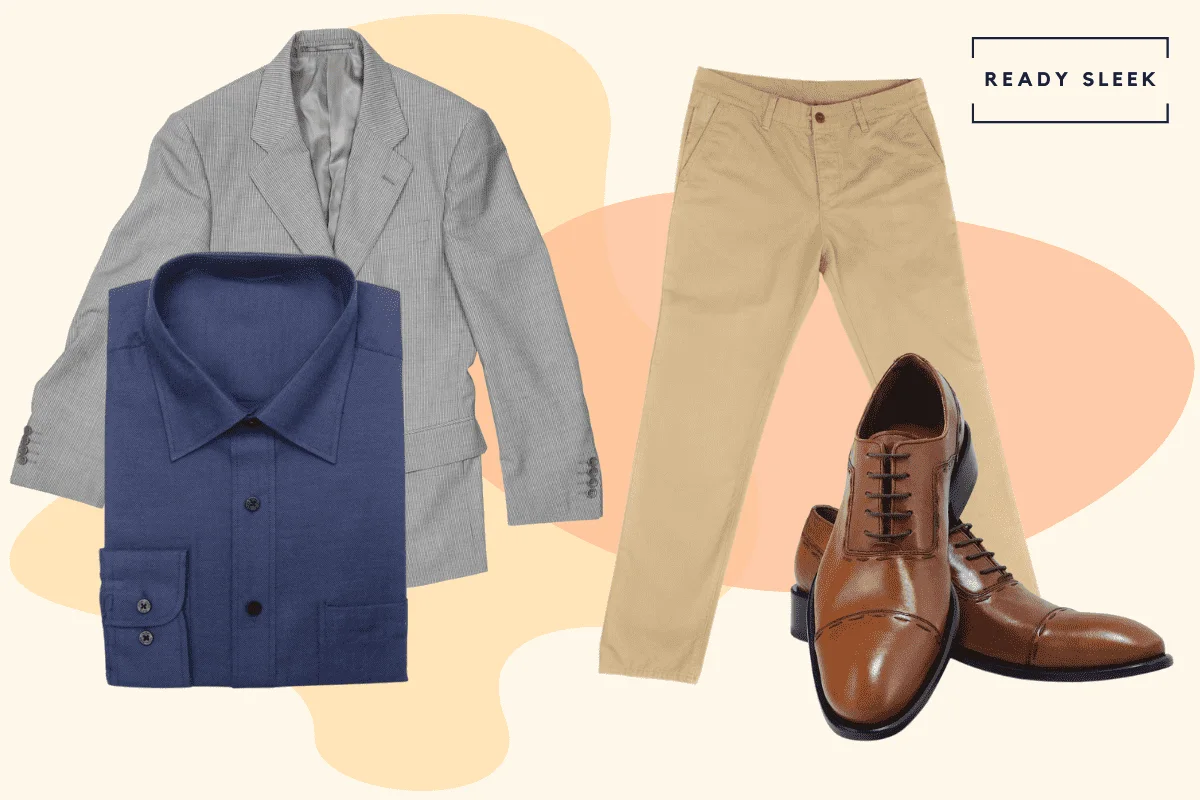 Items: Navy Blue Dress Shirt, Khaki Pants, Tan Brown Dress Shoes, Light Grey Sport Coat
A navy button-up shirt such as this works well in smart-casual settings where there's less of a risk of underdressing.
It looks sleek and sophisticated but doesn't look quite as dressy as a light blue shirt does.
When wearing khakis in a business-casual setting, avoid navy shirts and go for a light blue one instead.
But if you feel like dressing down a notch, consider a shirt in a darker shade of blue.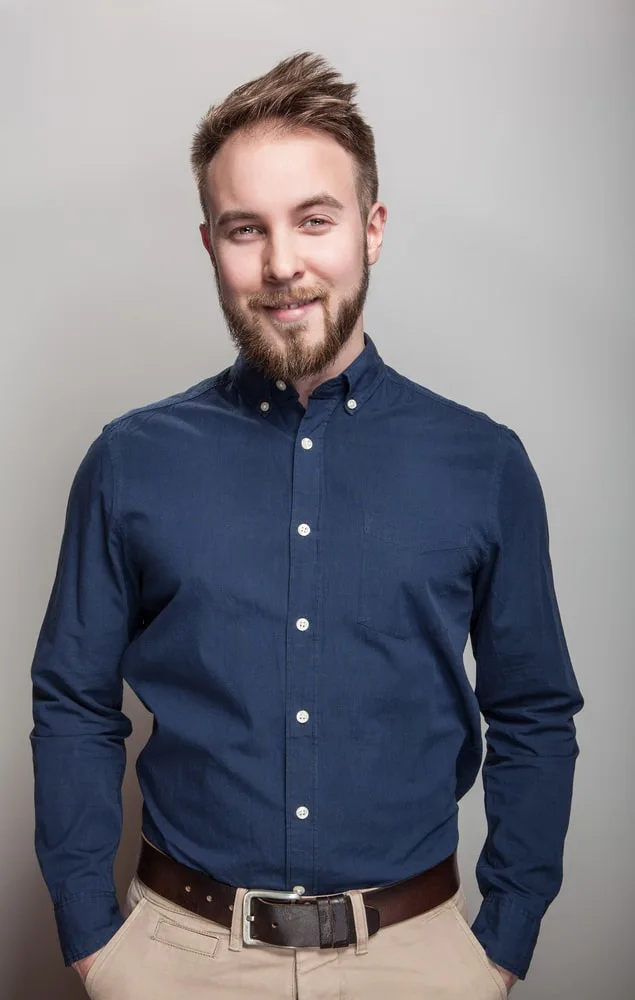 Notice how the same pair of khaki pants looks a touch more casual, simply by wearing them with a shirt in a darker shade of blue.
The dress shoes are also a notch more casual than the ones in the previous example, simply because they're in a lighter shade of brown.
The light grey blazer in this example is also more casual than the dark grey one in the previous example. The lighter the shade of grey, the more casual it'll generally look.
Most Casual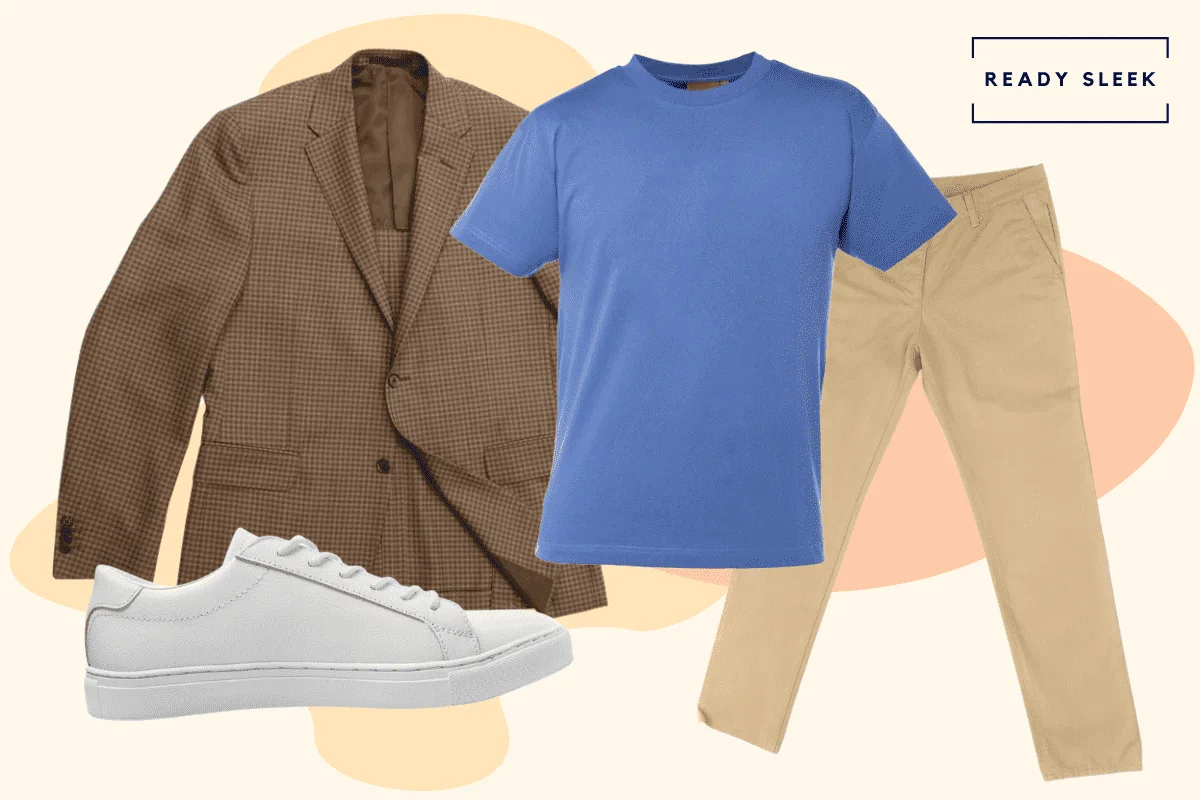 Items: Blue T-Shirt, Khaki Pants, Brown Sport Coat, White Sneakers
Note how much more casual this "blue shirt and khaki pants" combination looks compared to the previous two.
A simple T-shirt will always look a whole lot more casual than the button-ups in the previous examples, no matter what shade of blue it might be.
But in the right setting, it can look great with a pair of khaki pants.
While we could have gone for the same light grey sport coat used in the previous example, the brown one here is arguably the better choice.
Brown blazers have a more casual look and feel to them. In addition, the warmth of the brown syncs well with the warmth of the khaki pants.
Ultimately, khaki is just a light shade of brown. Going for a blazer or sport coat in a darker shade of brown produces a nice monochromatic combination.
5 Tips For Wearing A Blue Shirt With Khaki Pants
Here are some tips for making this combination work in a variety of different settings. Stick to them all and you're very unlikely to go wrong.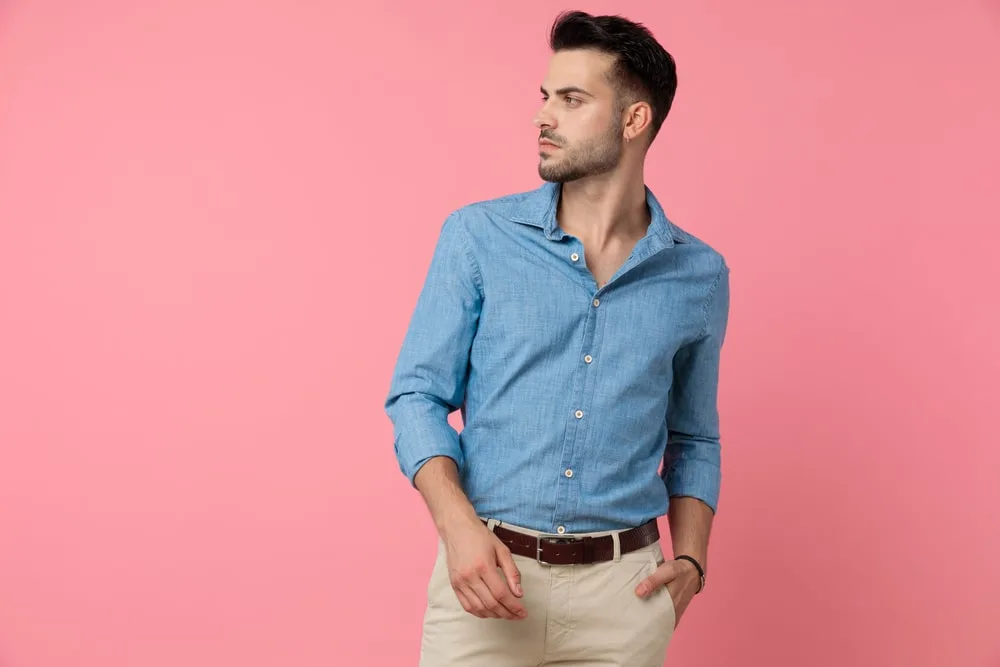 Avoid It In Formal Settings
A blue shirt and the khaki pants combination should never be worn in formal or business-professional settings.
In these environments, a full 2-piece suit would be required and a khakis/shirt combo simply wouldn't cut it.
This is true even if you were to round the outfit off with a blazer or sport coat.
Instead, reserve the blue shirt and khaki pants combination for business-casual, smart-casual, and casual settings.
The style of the blue shirt/khaki pants you choose should be influenced by the dress code.
Let's take the three outfit examples above:
The "dressy" example (light blue shirt/khaki pants/charcoal blazer) would be the best option in business-casual settings. The combination is dressy enough for the dress code.
The "more casual" example (navy shirt, khaki pants, light grey blazer) would be perfect for smart-casual settings, especially social evening events.
The navy shirt would generally be inappropriate for business-casual settings, however.
The "most casual" example (blue T-shirt, khaki pants, brown blazer) would be great in truly casual settings (eg. garden parties, dinners at restaurants).
Consider The Style And Shade Of Your Blue Shirt
The style and shade of the blue shirt can easily make the combination look dressier or more casual when wearing khaki pants.
Dress shirts in light blue have a "professional" look and feel to them, with the soft pastel often being worn in business-professional environments.
Because of this, dress shirts in light shades of blue immediately come across as dressy and work well when wearing khaki pants in business-casual settings.
While the (often appropriate) rule of "darker means dressier" is worth bearing in mind, when it comes to blue shirts, it doesn't really work.
A navy blue button-up will always look more casual than a light blue one.
Think about it; you'd never see a navy blue shirt worn in a truly formal or business-professional setting.
Navy shirts, much like black ones, are better suited to dressy social events. They have a more social look and vibe to them, while light blue shirts have a more formal and professional look and feel to them.
It's also important to consider the fabric/weave of the blue shirt.
"Dress shirts" are often made from tightly woven cotton or silk with high thread counts. Weaves such as poplin, broadcloth, and Oxford are popular examples.
More casual shirt fabrics include Oxford cloth (different from the Oxford weave), linen, and chambray.
They're generally rougher, wrinklier, and more rugged.
Blazers And Sport Coats Look Great
Blazers and sport coats look great when wearing a blue shirt and khaki pants, with grey, navy, and brown blazers working especially well.
Referring back to the outfit examples seen earlier on, both dark and light grey sport coats look fantastic here.
Consider the dress code, as the dressier the setting, the more likely it is that a dark grey blazer would be more appropriate.
Navy blazers can also look great, especially when the shirt you've gone for is in a light shade of blue.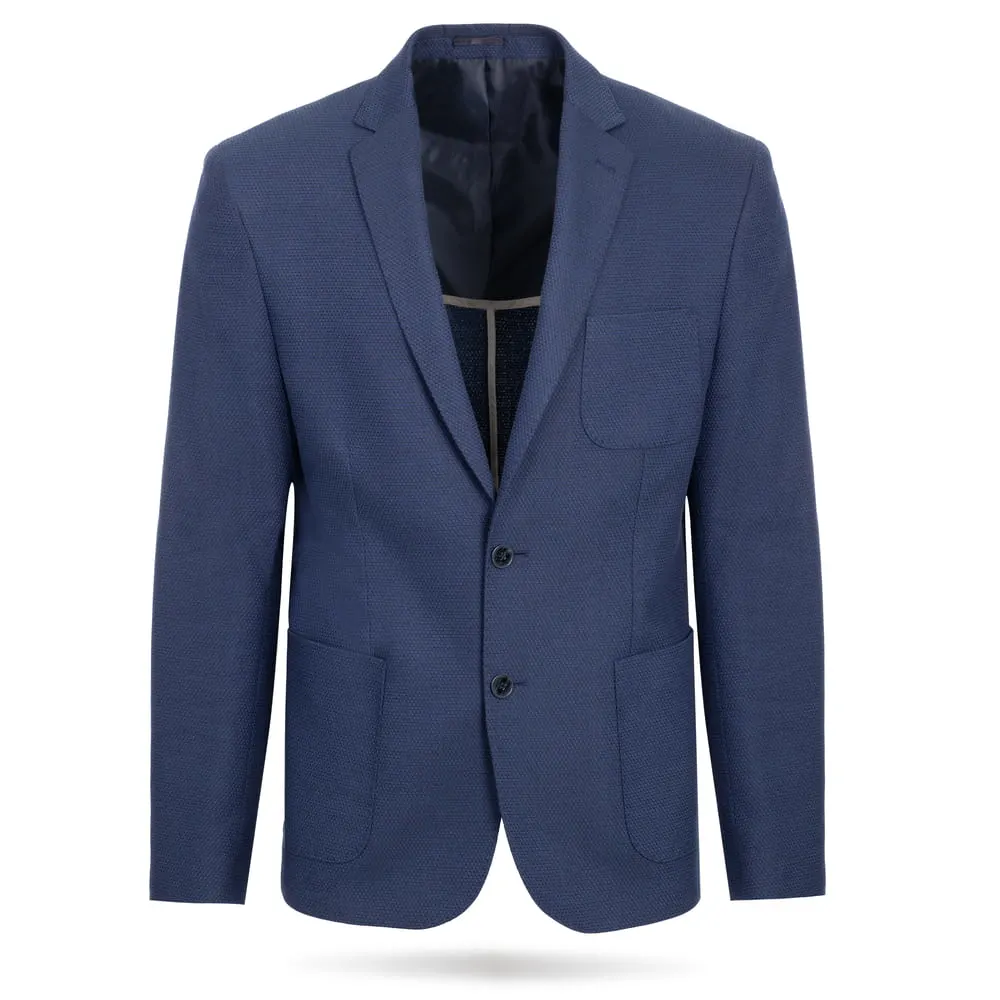 While grey and navy would be the dressier options, consider a brown sport coat when dressing down a notch.
They aren't ideal for business-casual settings but work well in smart-casual ones. As mentioned earlier, dark brown blazers and khaki pants form an irresistible monochromatic pairing.
They look great during the fall and winter, especially those in rugged weaves such as tweed and herringbone.
Tie Vs No Tie
Strongly consider ditching the tie when wearing a blue shirt with khaki pants. This isn't a hard-and-fast rule, by any means, but it's definitely worth considering.
In general, you'll be wearing this combination in business-casual or smart-casual settings.
It's pretty likely that a necktie of any variety would usually look a little out of place.
While a tie isn't completely out of the question in business-casual settings, it's generally discouraged.
I like to stick to the "no suits, no ties, no jeans" rule to keep things simple when it comes to business-casual.
There are definitely smart-casual settings where a tie would be a reasonable option (eg. dressy evening social events), but it's definitely less common.
If you were going to wear a tie with a blue shirt and khaki pants, consider a laid-back knit tie in a dark, muted, or neutral color.
Charcoal or dark brown would work well. If you want a little more color, consider a muted shade of a more vibrant color such as burgundy or forest green.
The Shoe Color Should Suit The Setting
Brown shoes are often the best option when wearing a blue shirt with khaki pants. White sneakers would be very reasonable when wearing this combination in casual settings.
Dark brown shoes work well in dressier business-casual settings, while those in lighter shades of brown (eg. tan, caramel) are appropriate in more casual settings.
It's definitely possible to wear black shoes with a blue shirt and khaki pants, but the contrast produced is often a little excessive.
In addition, the formal/professional aesthetic of black shoes often looks a bit out of place with the more laid-back appearance of the khakis.
If you do go for black shoes, consider a casual style such as loafers (bit, penny, or tassel).
While white sneakers look great with a blue shirt and khaki pants, consider the style and construction.
Generally, it's best to go for a highly versatile pair of white leather low-top "dress sneakers" if you don't want to dress down too much.
Ready Sleek founder. Obsessed with casual style and the minimalist approach to building a highly functional wardrobe. Also a fan of classic, vintage hairstyles.