The blue shirt and grey pants combination can be everything from slick and professional to sleek and sophisticated. There are many ways of wearing this color combo and it's important to make sure the specific details are right for the setting.
Here's the bottom line:
A blue shirt can be worn with grey pants in business-casual, smart-casual, and casual settings. Light blue dress shirts and dark grey dress pants or chinos work best in business-casual settings. In more casual settings, you've got the option of experimenting with the shades and styles of each item.
As always, there's a whole lot more to it.
First, we'll go through 3 great outfit examples going from dressy to not-so-dressy at all.
After that, we'll run through some essential tips for perfecting it no matter what you may be dressing for.
Let's get to it.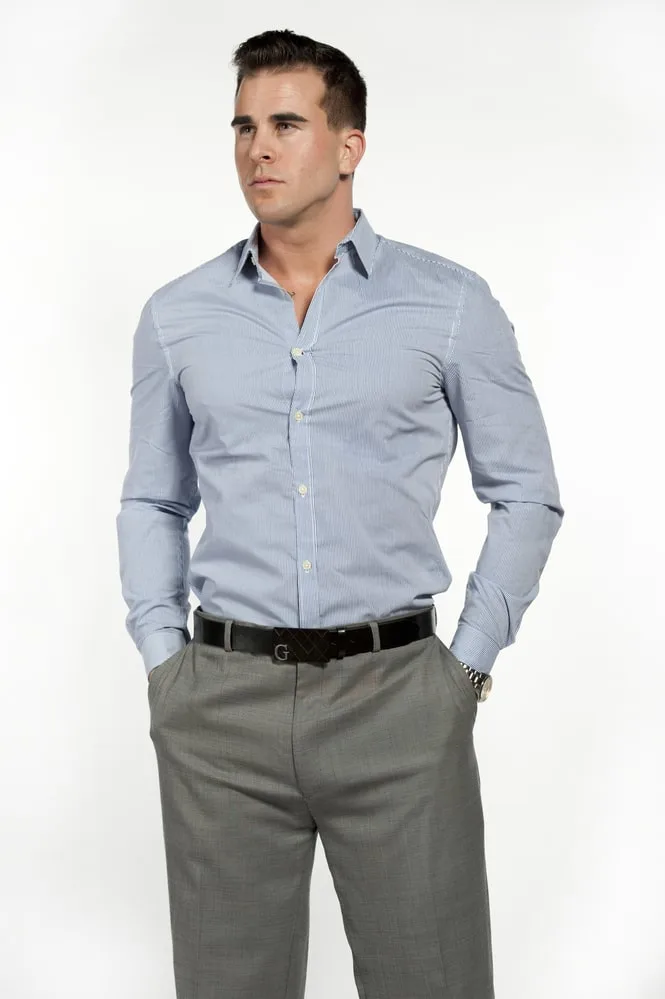 3 Blue Shirt And Grey Pants Outfits To Try
Here, you'll see a few examples of a blue shirt worn with grey pants. The main point of this section is to highlight just how many different ways there are of wearing it.
You can get super dressy with it or super casual. It depends on factors including the shirt/pants style, as well as the shades of the colors you choose.
Of course, the other items you choose to wear with your blue shirt and grey pants also play a huge role in how dressy or casual the combination will look.
It'll all become crystal clear as you read on. Enjoy.
Dressy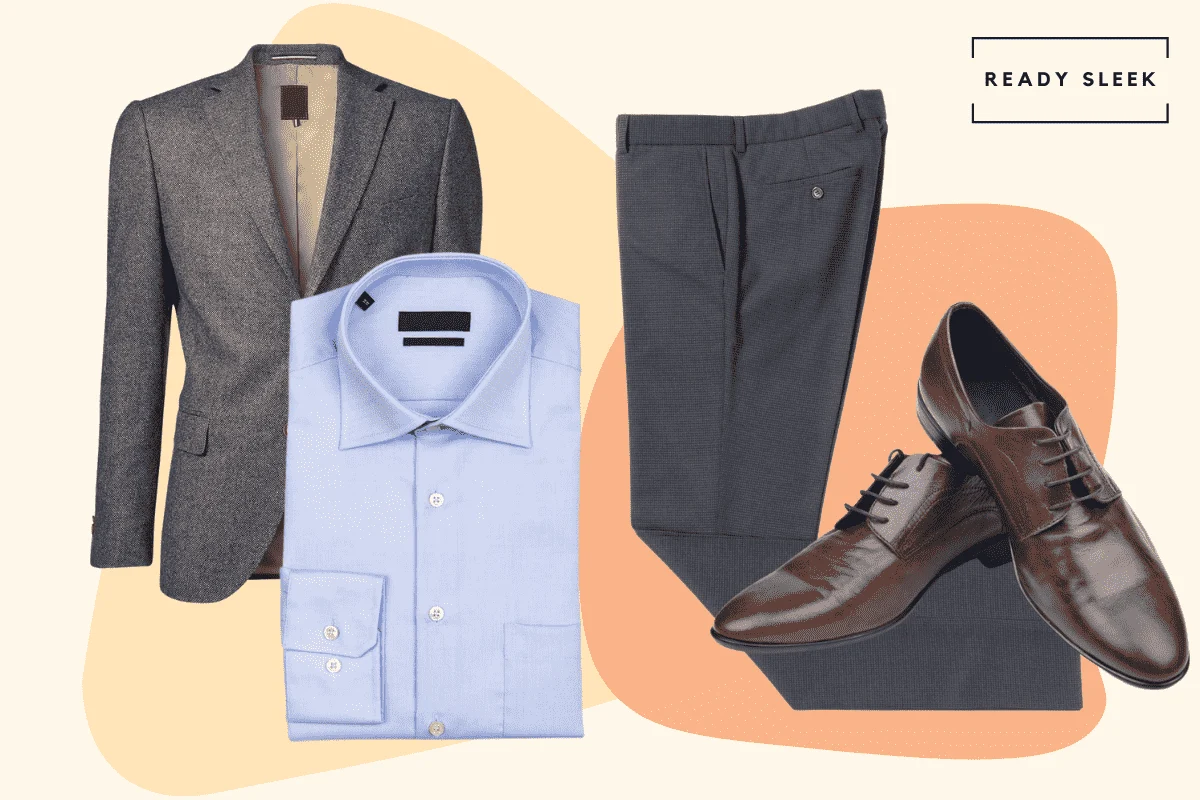 Items: Light Blue Dress Shirt, Grey Dress Pants, Charcoal Blazer, Dark Brown Derby Shoes
Assuming you aren't going to be wearing your grey pants as part of a full 2-piece grey suit, it wouldn't be appropriate to wear this combination in formal or professional settings.
This unmatched blazer and pants combination should really only be worn in business-casual or smart-casual settings.
Anything more formal than that and a 2-piece suit becomes a lot more appropriate.
But the combination in the image above is perfectly dressy enough for a smart business-casual setting where a 2-piece suit wouldn't be required.
The light blue dress shirt has a professional look and feel to it. Tightly woven light blue cotton shirts with stiff collars and high thread counts are ideal here.
The dark and neutral charcoal blazer will always look effortlessly dressy. In addition, it forms a great monochromatic pairing with the grey dress pants.
Round things up with a pair of dress shoes and you're good to go. We've gone for dark brown Derby shoes here, but a pair in black would be equally effective.
More Casual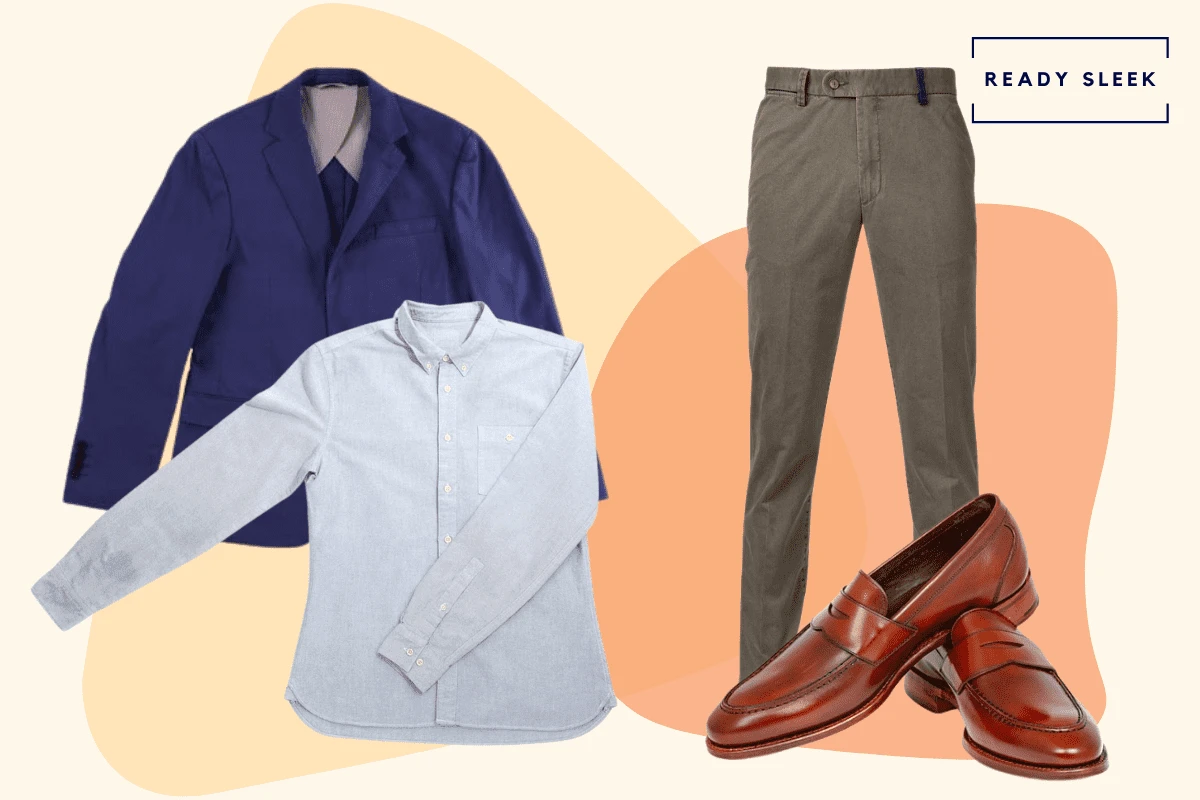 Items: Light Blue OCBD Shirt, Unstructured Navy Blazer, Grey Dress Pants/Chinos, Brown Penny Loafers
The blue OCBD is the perfect smart-casual workhorse. Its versatility makes it a go-to for a whole bunch of different events and settings.
But notice how it comes across as immediately more casual than the light blue dress shirt in the previous example.
It's more rugged and wrinkly.
A navy blazer won't ever be called casual, but choosing one with less structure and a light lining will make it look less formal. In addition, go for a rugged weave such as hopsack, flannel, or even serge.
You could go for grey dress pants here. But as we're dressing down, consider a pair made from a napped or rough weave such as flannel, herringbone, or Donegal tweed.
Alternatively, go for grey chinos.
Much like the OCBD, chinos are incredibly versatile and suitable in a variety of different settings.
Finally, the brown penny loafer works well here, especially in warmer climates. It's dressy, but the laceless, slip-on shoe will always look more casual than Derbys and monk straps.
In colder climates, consider a pair of Chelsea boots as an alternative.
Most Casual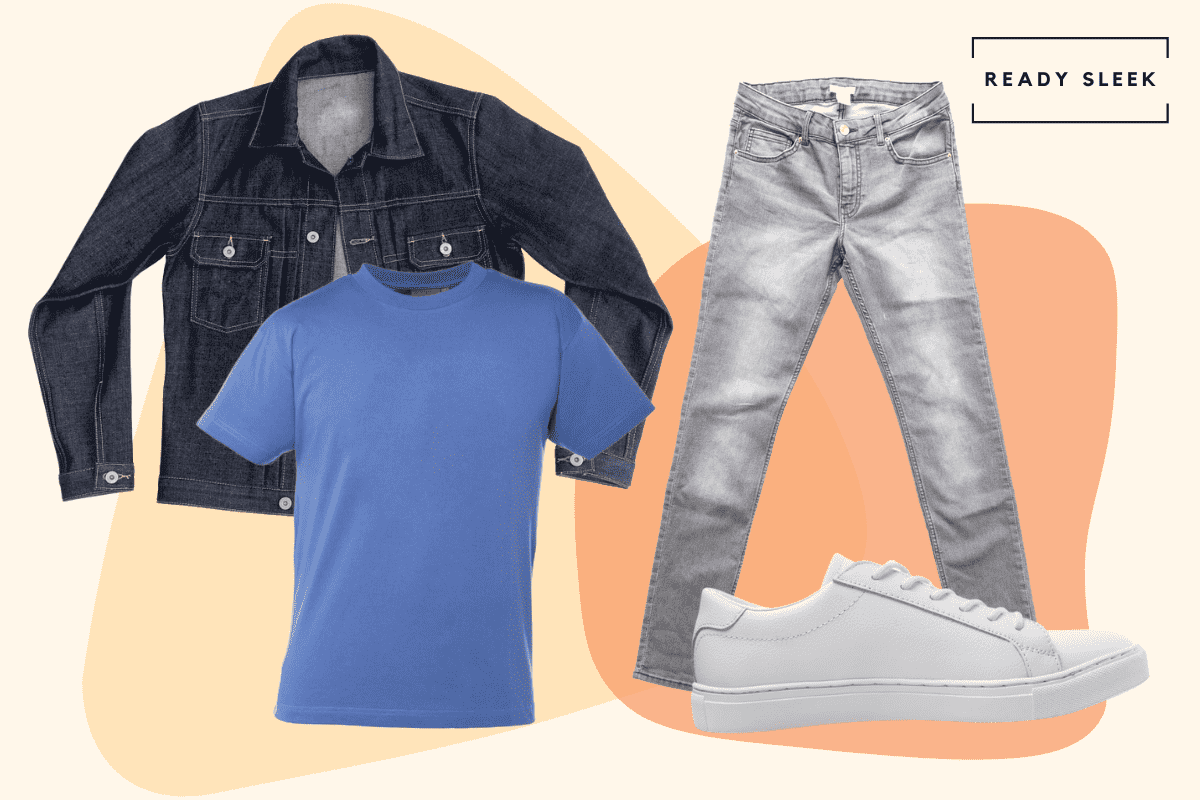 Items: Blue T-shirt, Dark Blue Denim Jacket, Grey Denim Jeans, White Sneakers
We're going ultra-casual here.
We've swapped the button-up for a T-shirt, but a blue polo would be a slightly more sophisticated alternative if this is what you'd prefer.
Layered on top is a dark blue denim jacket – a monochromatic pairing will always work.
To break up the "blueness", consider a pair of grey jeans instead of the more obvious choice of blue jeans.
If you don't want to pair denim with denim, consider layering a dark blue chore coat or trucker jacket over the T-shirt instead.
Finally, finish up with a pair of all-white leather low-top sneakers. Casual, but elegantly casual.
5 Tips For Wearing A Blue Shirt With Grey Pants
There are certain things you don't want to forget when wearing a blue shirt with grey pants.
Get it wrong and you end up with an outfit that either doesn't look right or simply isn't appropriate for the setting you're dressing for.
Here are some tips for making sure you don't fall into these unfortunate categories.
Make Sure It's Appropriate
As mentioned earlier, a blue shirt and grey pants combination would never be appropriate in formal or business-professional settings.
This would be the case no matter how "formal" the two items were in isolation.
You could have the dressiest looking blue shirt and the dressiest looking grey pants and it still wouldn't be appropriate to wear if a full 2-piece suit is required instead.
This combination is better suited to business-casual, smart-casual, and casual environments where there's less risk of underdressing.
But don't get me wrong – there are definitely ways of dressing this color combination up.
Just take the first outfit in the examples listed above. It would be perfect to wear in a business-casual setting, but wouldn't be appropriate in a truly formal or professional one.
The Shades Are Crucial
The specific shades of blue and grey you choose are essential to consider.
When wearing grey pants, a light blue shirt will always look dressier and more formal than darker shades such as navy, sky, and royal blue.
These darker shades can still look sleek when wearing grey pants, but they wouldn't ever be appropriate in business-casual settings.
They're more suitable in smart-casual settings.
A light blue shirt, on the other hand, is pretty commonly seen in the workplace. It has a "professional" look and feel to it.
To sum that up, when dressing up your grey pants, consider a light blue shirt. When dressing down your grey pants, you could go for a light, medium, or dark blue shirt.
When it comes to the formality of the grey pants, an opposite rule applies.
The darker the grey pants, the dressier and more formal they'll look.
Putting everything together, when dressing for a business-casual setting, go for a light blue shirt with dark grey pants.
When dressing for a more casual setting, you've got more freedom to experiment with the shades of your blue shirt and grey pants.
The Styles And Fabrics Should Suit The Setting
As you saw in the outfit examples, a "blue shirt and grey pants" combo can look very different depending on the type of each item you choose.
That could refer to the specific style of each item or simply the fabric used to make each item.
When dressing up (eg. business-casual), consider a blue dress shirt in tightly woven cotton. Poplin and Oxford weaves are common.
When dressing down a notch, consider a blue OCBD, linen, or chambray shirt. They're all button-ups but will always look more casual due to the rougher and more rugged textures.
Finally, when you're really looking to dress down your grey pants, consider a blue T-shirt, Henley, or polo.
The grey pants can also look dressy or casual depending on the style/fabric.
Tightly woven, smooth wool grey dress pants look a touch dressier than wool flannel, herringbone, and tweed pants. But all of them would usually be appropriate to wear with a blue shirt in business-casual settings.
Grey chinos look even more casual, but would still usually be acceptable in business-casual settings.
Going down the formality level a notch further and you get to grey jeans.
A pair of dark grey, tapered, slim-fit, non-distressed jeans would often be reasonable to wear in some smart-casual settings, but shouldn't ever be worn in business-casual environments.
Consider A Patterned Blue Shirt
As we'd never be wearing our combination to anything more formal than business-casual, you've got the option of incorporating patterns into your outfit if you want.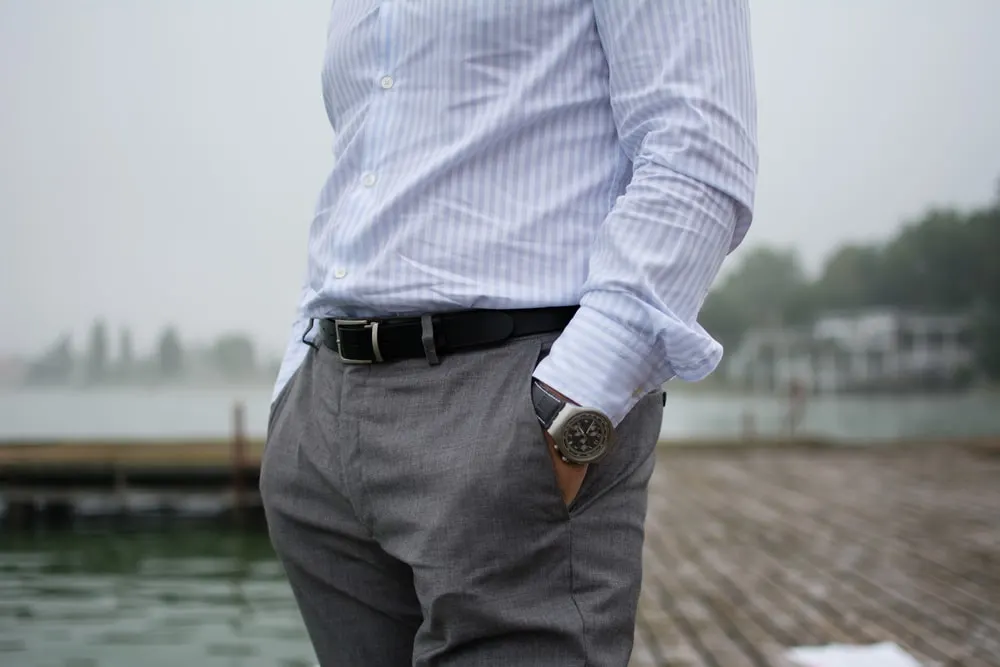 When wearing grey pants, consider a patterned blue shirt to add some visual interest. Check and striped blue shirts would work well here, even in business-casual settings.
Keep the pattern subtle, but noticeable.
When wearing a patterned blue shirt, go for solid-colored (i.e unpatterned) grey pants. While it's definitely possible to combine two patterns, there's more room for error.
To keep things simple, stick to a "one pattern only" rule while you're getting used to the combination.
Choose Your Shoe Color With Care
A blue shirt and grey pants combination works well with black and brown shoes. In business-casual settings, black or dark brown shoes would be most appropriate. In more casual settings, shoes in lighter shades of brown (eg. tan) can also work well.
The color isn't the only factor to consider, however.
It's also worth taking the style of the shoe into account too.
For business-casual settings, Derby and monk strap shoes work well.
In smart-casual settings, you could go for smarter dress shoes such as these, or go a notch more casual and try a pair of loafers instead.
During the colder months of the year, however, the ankle-exposing loafer may be inappropriate. So, consider a pair of Chelsea or chukka boots instead.
Finally, when you're really dressing down (like in the third outfit example above), a pair of white sneakers can look great when wearing a blue shirt and grey pants.
Of course, they do suit a pair of grey chinos or jeans best. Sneakers can often look awkward when wearing dress pants.
But a pair of all-white leather low tops or "dress sneakers" may be a reasonable choice when wearing a pair of textured smart grey pants (eg. flannel or herringbone).
Ready Sleek founder. Obsessed with casual style and the minimalist approach to building a highly functional wardrobe. Also a fan of classic, vintage hairstyles.