Blending items from different ends of the formality spectrum can sometimes lead to disaster. So, can you really wear a blazer with jeans and sneakers?
A blazer can be worn with jeans and sneakers in casual settings. Leather dress sneakers, slip-ons, high-tops, and suede sneakers would usually be the best options here. Avoid loud and chunky sneakers with thick uppers, as they'll usually be too casual to wear with a blazer.
While that's the gist, you'll need more.
After going through a few outfit ideas to serve as inspiration, we'll talk through some key tips for making it work every time.
Let's get to it.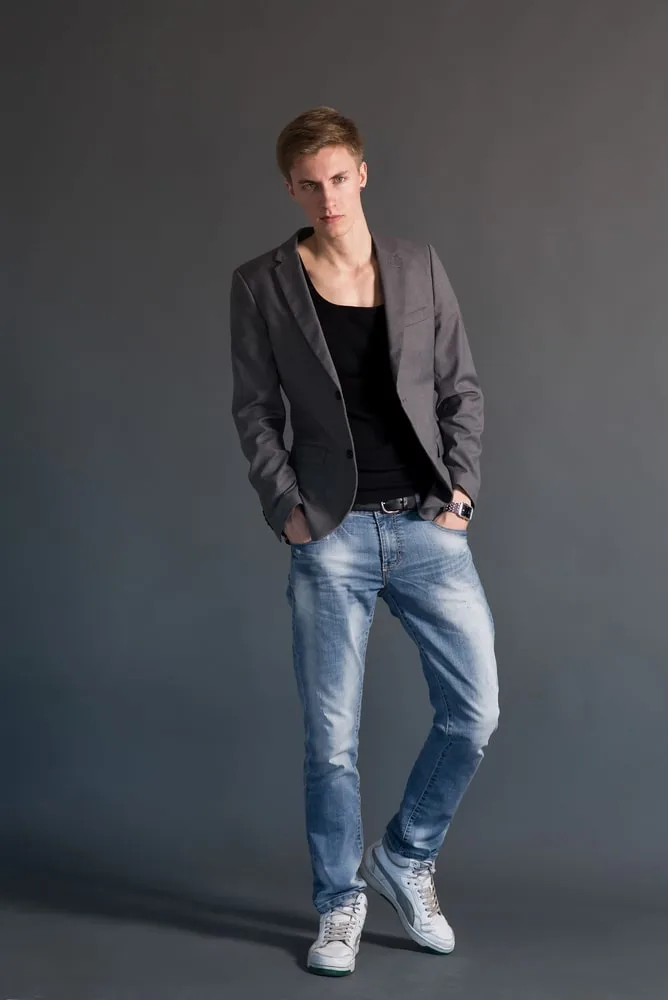 3 Blazer, Jeans, And Sneakers Outfits To Inspire You
Remember, this combination should only be worn in casual or smart-casual settings.
But some casual sneaker outfits will always look dressier than others. It all depends on how you wear it.
We'll start with the "dressiest" option and finish up with the most casual one. It'll show you just how versatile this combo really is.
Dressy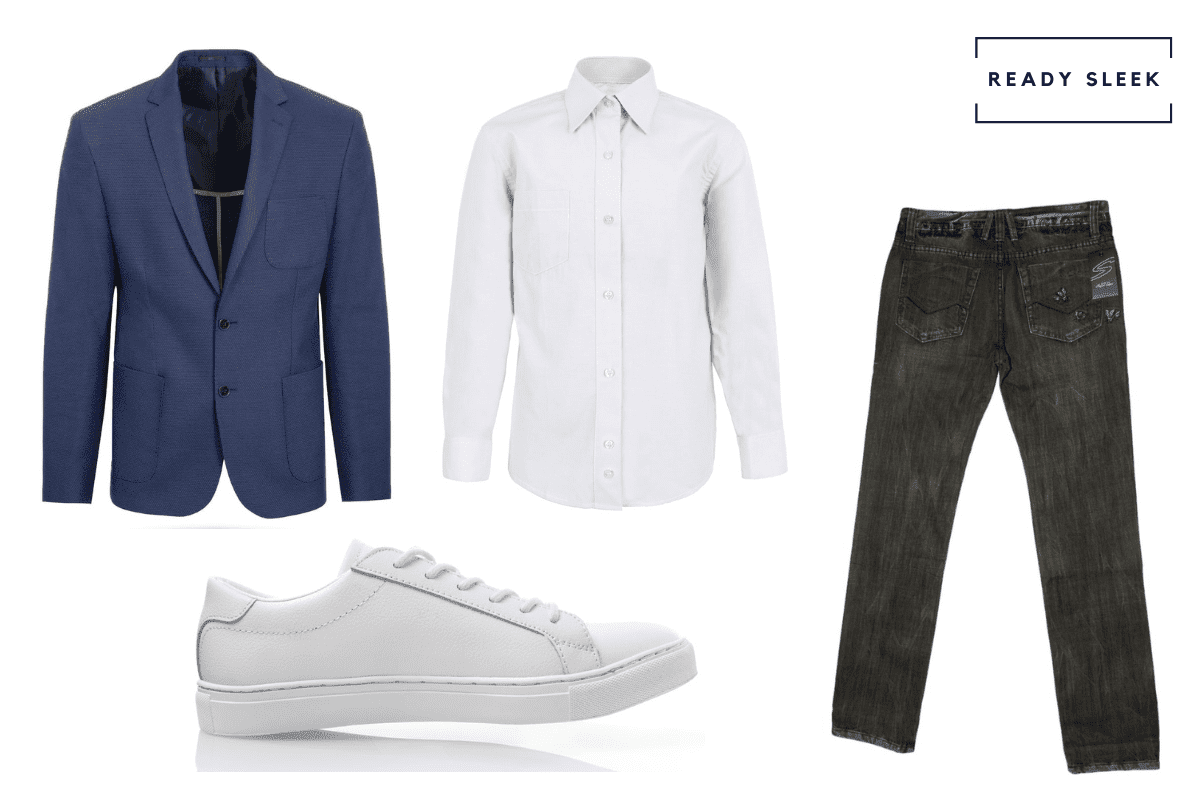 Items: Navy Blazer, White Chambray Shirt, Black Jeans, All-White Leather Low-Top Sneakers
When dressing up a notch, consider a blazer in a dark and neutral color such as black, charcoal, or navy.
Wear a button-up shirt underneath, but avoid dress shirts – they'll often look too formal.
Instead, go for a slightly more rugged and casual shirt fabric such as linen, Oxford cloth, or chambray.
Poplin or broadcloth can also be good options.
You could go for any jeans color you wanted, but much like with the blazer, sticking to dark and neutral colors would usually be the best way to go when dressing up.
Black jeans will almost always look dressier than blue and grey jeans.
In addition, go for a tapered pair of jeans with minimal distressing.
Finish up the outfit by popping on a pair of all-white leather low-top sneakers.
You're left with an outfit that isn't formal, by any means, but would serve you well in most smart-casual settings.
More Casual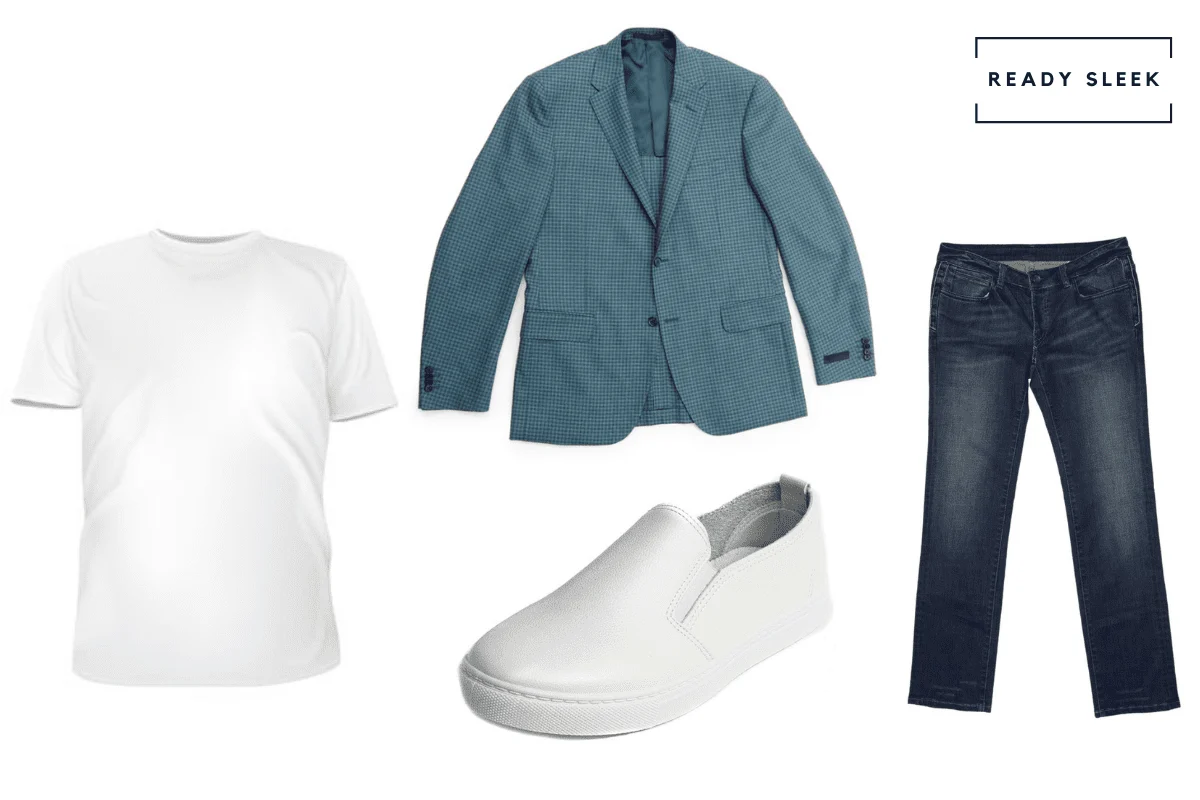 Items: Teal Blazer, Tucked White T-Shirt, Dark Blue Jeans (non-distressed), White Slip-On Sneakers
A blazer in a more striking color (eg. teal or light blue) would be a good option when dressing down a notch.
In addition, consider a smart, slim-fitting white T-shirt and tuck it into the jeans. The tapered silhouette a tucked T-shirt produces can look surprisingly sharp and dressy.
It won't look as sophisticated as a button-up shirt, but we're dressing down here and a button-up shirt probably isn't necessary.
Dark blue jeans would work well here, but try to keep distressing to a minimum. We're dressing down, but not by that much.
Avoid features such as rips, frays, and fading.
Finally, pop on a pair of white slip-on sneakers.
The plimsoll-like appearance will often look more casual than a pair of leather low-tops, but they have a minimalist aesthetic to them that can look quite dressy when the colors are neutral.
Most Casual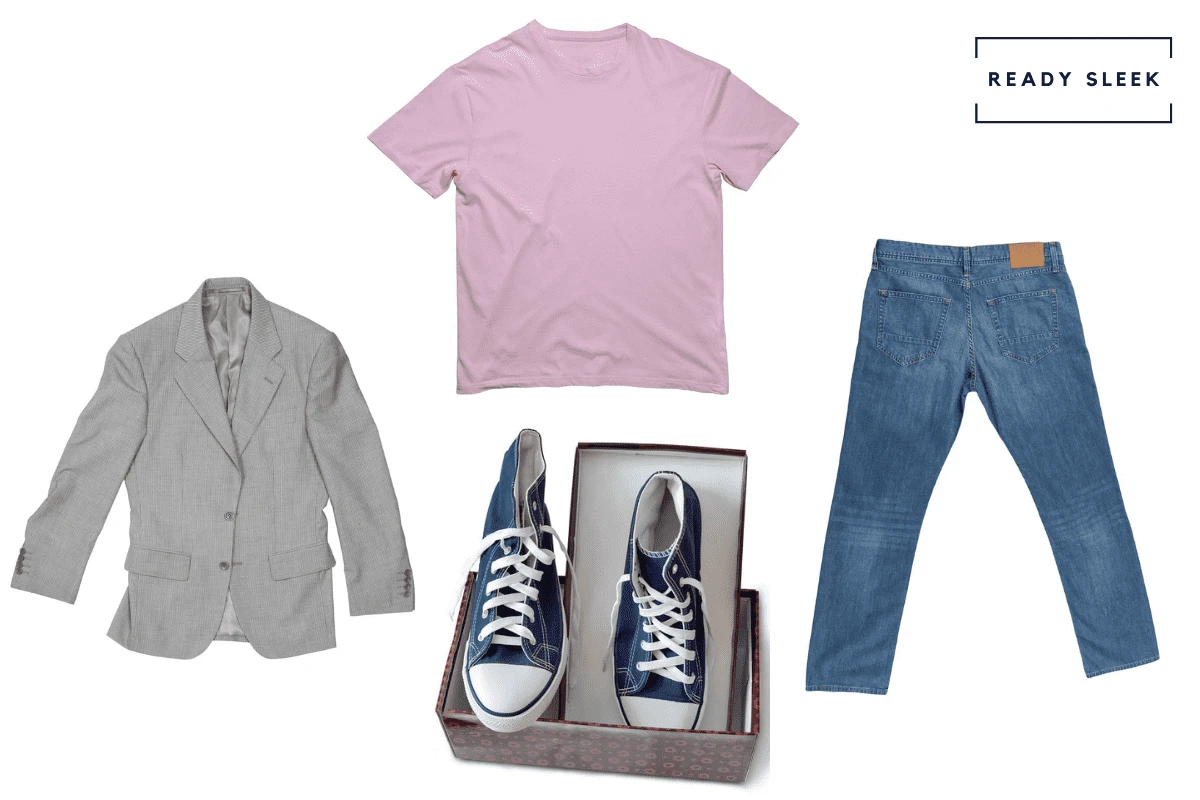 Items: Light Grey Blazer, Pink T-Shirt (Untucked), Blue Jeans (Cuffed), Blue High-Top Sneakers
When dressing this combination down, go for a blazer in a light and neutral color such as light grey, beige, or light blue.
Pair it with blue jeans to anchor the outfit with neutral or near-neutral items.
But consider adding a pop of color using the T-shirt. Here, we've used a pink T-shirt as an example, but feel free to go for a similarly vivid color such as red, orange, green, or anything else.
Ultimately, wearing neutral blazer and jeans colors gives you the option to experiment with T-shirt colors quite freely.
High-top sneakers have a very casual and athletic look and feel to them.
They could work well here, but it usually works best when the jeans are cuffed, allowing the rolled hem to rest on top of the sneakers.
5 Tips For Wearing A Blazer With Jeans And Sneakers
Here are some great tips for wearing this combo in the most effective way possible, no matter what you may be dressing for.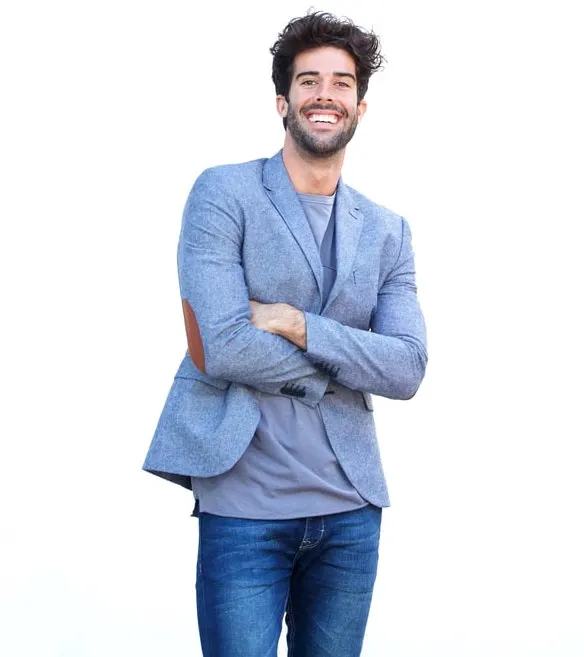 Make Sure It's Appropriate
The blazer, jeans, and sneakers ensemble should never be worn in formal, professional, or business-casual settings.
In these environments, it's very likely that button-up shirts and dress shoes would be essential.
A jeans and sneakers outfit simply wouldn't cut it, no matter how dressy the blazer you're wearing happens to be.
Instead, reserve this typically laid-back and relaxed outfit for casual and smart-casual events and occasions where a pair of jeans wouldn't be considered underdressing.
Use the blazer as a tool to add a touch of elegance and formality to what is otherwise a very casual outfit at its core.
Consider The Sneaker Style
The type of sneakers you choose to wear with a blazer and jeans pairing is crucial here. It's important that the sneakers look dressy enough to wear with a blazer.
Getting that part wrong can easily lead to a formality mismatch.
In short, here are the best types of sneakers to wear with a blazer and jeans:
"Dress sneakers" – Usually low-top leather sneakers in a solid color with minimal branding.
Canvas slip-on sneakers – A plimsoll-like appearance.
Suede sneakers – Frustrating to maintain, but a great smart-casual look and feel to them. They usually work best as low-tops.
High-Top sneakers – The most casual option, but can work well with cuffed jeans. When wearing a blazer, try to stick to subtle and neutral colors.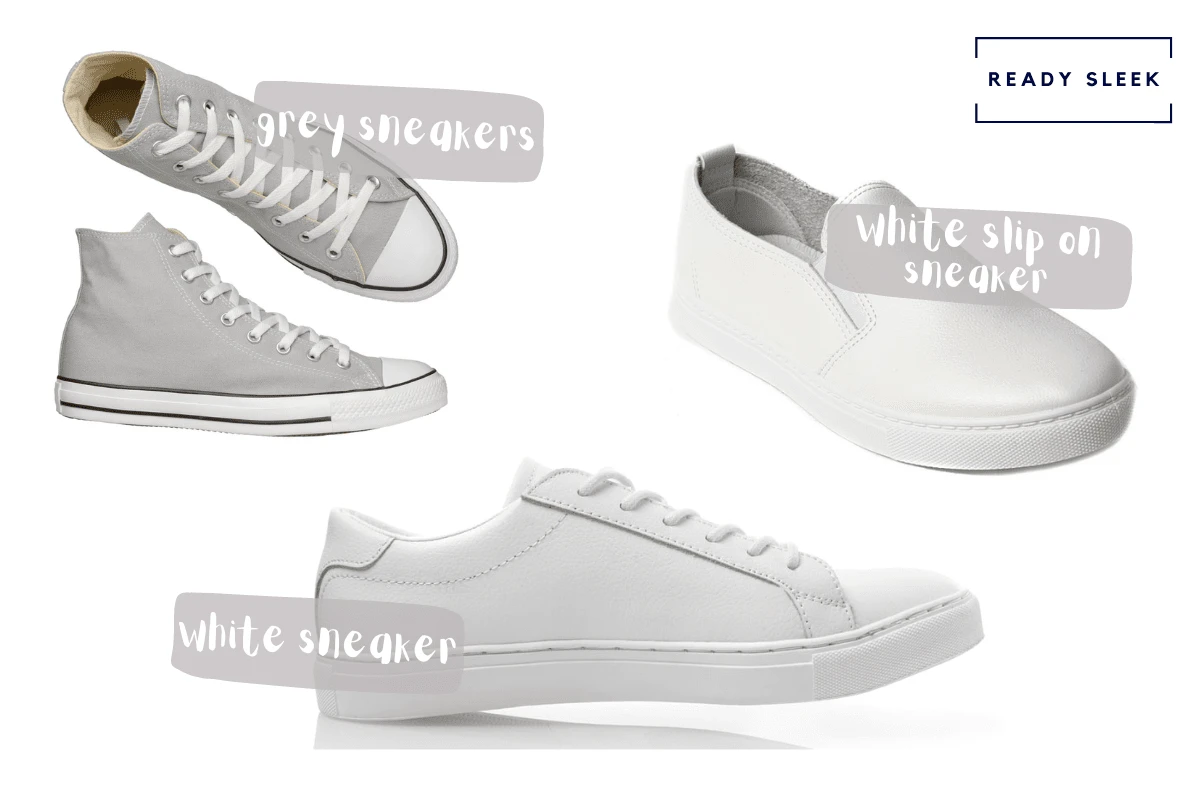 Here are the types of sneakers to avoid when wearing a blazer and jeans:
Chunky "dad" sneakers – Generally loud and bulky/oversized sneakers.
Retro running shoes – Sporty and streamlined, but often consist of loud suede panels. Bold and eye-catching, but very casual.
You may have spotted a pattern here.
The best sneakers to wear with a blazer and jeans would be those with a sleek, minimalist look and use neutral colors.
Bulky, loud, attention-grabbing, and clearly athletic sneakers often look too casual to wear with a blazer.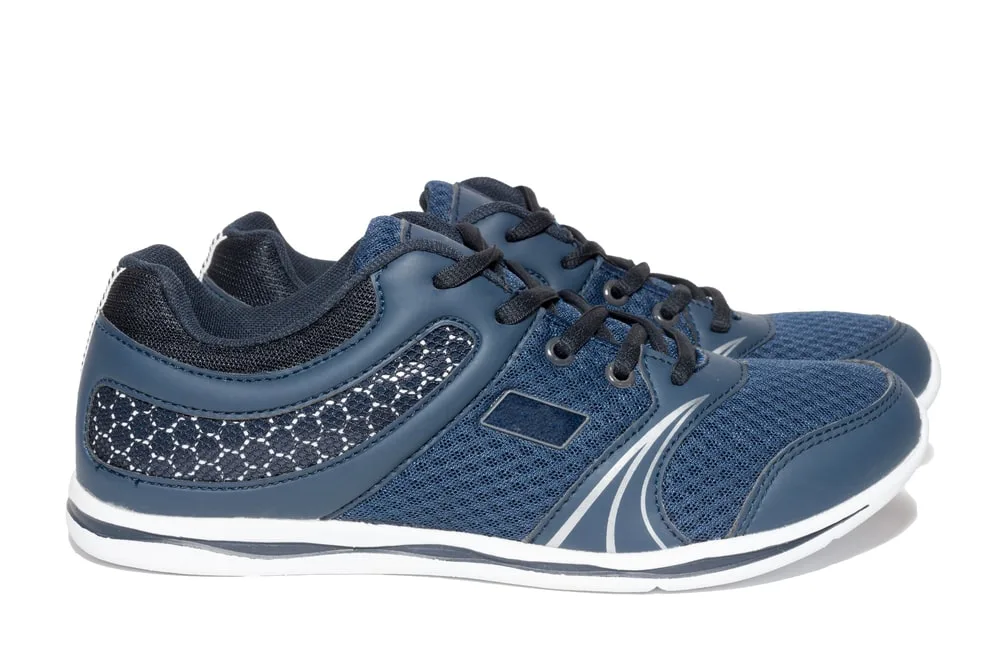 It's all about getting the right balance between casual items and formal items.
Wear A Casual Blazer Style
Choosing a pair of sneakers dressy enough to wear with a blazer is one part of the equation. But it's also necessary to choose a blazer that's casual enough to make sense with sneakers.
Casual blazers are usually less structured and have more of a relaxed fit. They'll usually have minimal shoulder padding and a light lining.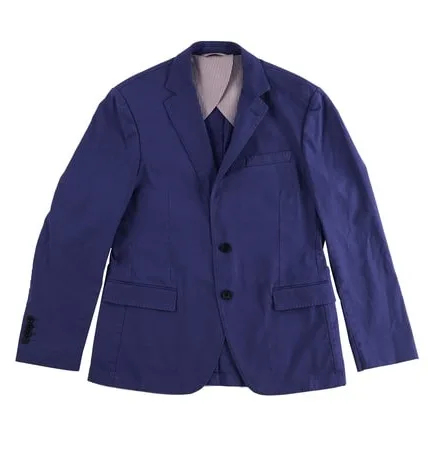 They'll usually be made from more rugged or wrinkly fabrics or weaves. Examples include hopsack, serge, flannel, tweed, and linen.
As a general principle, if a blazer looks like it needs to be worn as part of a 2-piece suit, it's probably too formal to wear with a pair of jeans and sneakers.
Worsted wool blazers would usually fall into this category. They're shiny and wrinkle-resistant – the exact opposite of the casual features outlined above.
Avoid Dress Shirts
A dress shirt will usually look too formal to wear with a blazer, jeans, and sneaker combination.
This is especially true of white or light blue dress shirts which have a traditionally formal or professional look to them.
Instead, go for more casual shirt styles.
If you did want to go for a button-up, consider one that's made from a more casual and rugged fabric such as Oxford cloth (OCBD), linen, broadcloth, poplin, or even flannel.
But you've also got a whole range of more casual shirt styles to choose from as well.
For example, consider T-shirts, polos, Henleys, and oversized tees.
In colder weather, consider light turtleneck sweaters – they often look great when worn under blazers.
Consider Cuffing
No matter what sneaker style you may be wearing, cuffed jeans often look great.
While it's a typically casual feature, a single roll in your hem to expose the ankle can lead to a subtle and smart-casual aesthetic in the right setting.
There's absolutely no reason why it should lead to a formality mismatch when wearing a blazer.
It's essential when wearing high-top sneakers but can also look great with low-tops and slip-ons as well.
Stacking the jeans on top of the sneakers is another option, but would usually only be possible when wearing skinny or slim-fit jeans.
It essentially refers to letting the excess fabric of the jeans bunch up above the sneakers. It can look good but is harder to get right than simply cuffing them.
Conclusion
It's a combination that's versatile and can be worn in several different ways, but only in the right settings.
Wear it in casual environments and try to ensure the sneakers are "dressy" enough to wear with a blazer. In addition, go for a more casual-looking blazer to prevent a formality mismatch with the jeans and sneakers.
Enjoy.
Ready Sleek founder. Obsessed with casual style and the minimalist approach to building a highly functional wardrobe. Also a fan of classic, vintage hairstyles.