"Monochrome", "greyscale" – whatever you want to call it, it usually works. But the question is, can you really wear a black shirt with white pants?
A black shirt can be worn with white pants in casual and smart-casual settings. The combination is high-contrast and attention-grabbing. It often works well with a grey blazer layered over it and with black bit loafers to round things off.
That's the short answer, but there's plenty more to it.
After going through a few great outfit ideas for this combination, we'll run through some essential tips for getting it right each time.
Let's get to it.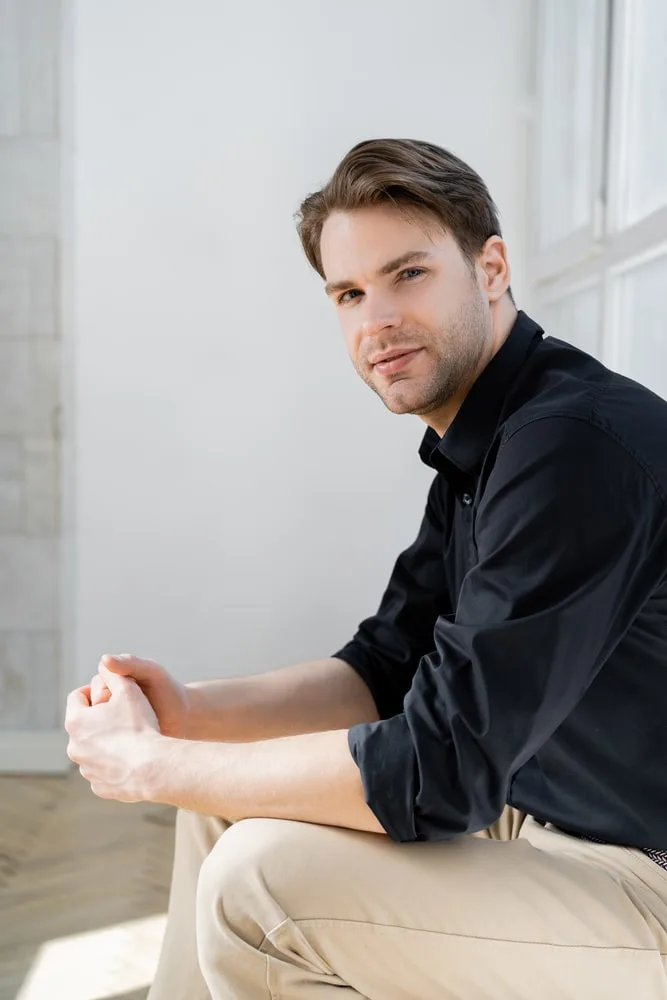 3 Black Shirt And White Pants Outfit Ideas
Here are three outfits, each of which uses a black shirt and white pants in a different way.
We'll start with the dressiest option and then get more and more casual.
Dressy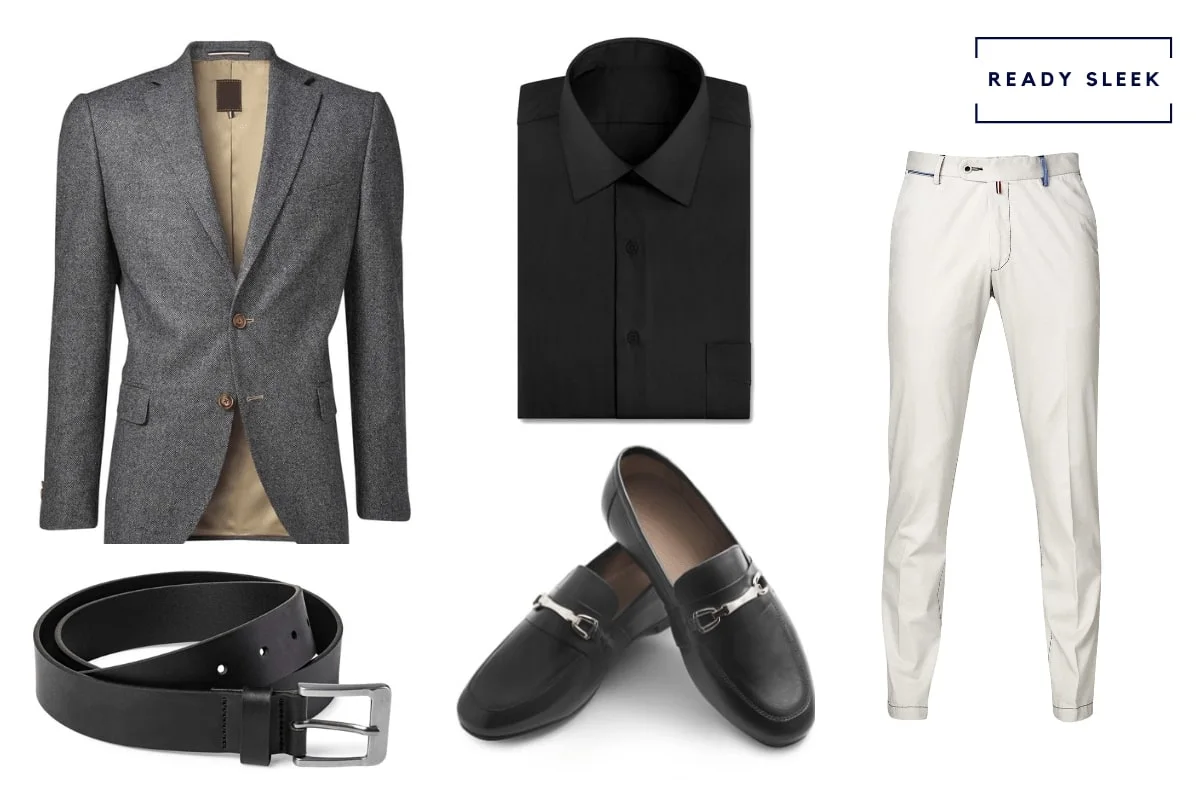 Items – Black Dress Shirt, White Dress Pants Or Chinos, Black Leather Bit Loafers, Black Leather Belt, Dark Grey Blazer
A black shirt should only be worn with white pants in casual or smart-casual settings. It would never be appropriate in formal, business-professional, or business-casual environments.
However, a "smart-casual" dress code can range from pretty dressy to not-so-dressy at all.
In the image above you'll see a black dress shirt worn with white pants in a dressy manner, with a dark grey blazer to boot.
The grey blazer is a nice touch because grey is ultimately a blend of black and white. It's a simple way to round off the outfit in style.
Black bit loafers (a.k.a Gucci loafers) are the dressiest loafer style you could wear.
While they wouldn't be as "formal" as a pair of Derby shoes or monk straps, loafers tend to work exceptionally well in smart-casual shirt and pants combinations like these.
More Casual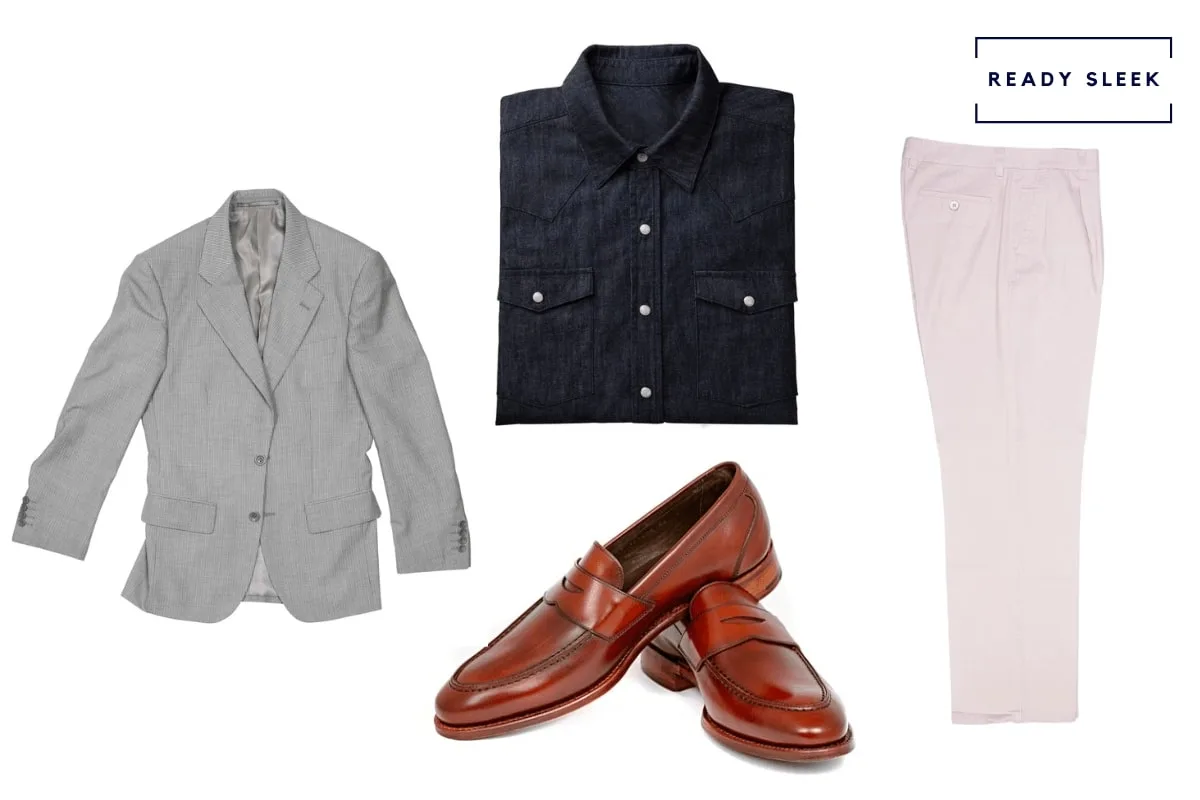 Items – Black OCBD Shirt, White Or Off-White Chinos, Brown Penny Loafers, Light Grey Blazer
Here, we're dressing down the combination a little.
Instead of dress pants, go for chinos.
Instead of a dress shirt, go for an OCBD, linen, or broadcloth shirt.
You could wear a blazer if you wanted to but go for one in a lighter color.
A light grey blazer would produce a more striking, eye-catching, and casual contrast with the black shirt.
Instead of the black bit loafers, consider a pair of tan or caramel brown penny loafers. They aren't quite as dressy as bit loafers but still work phenomenally well in smart-casual outfits.
You could definitely consider suede loafers here.
Most Casual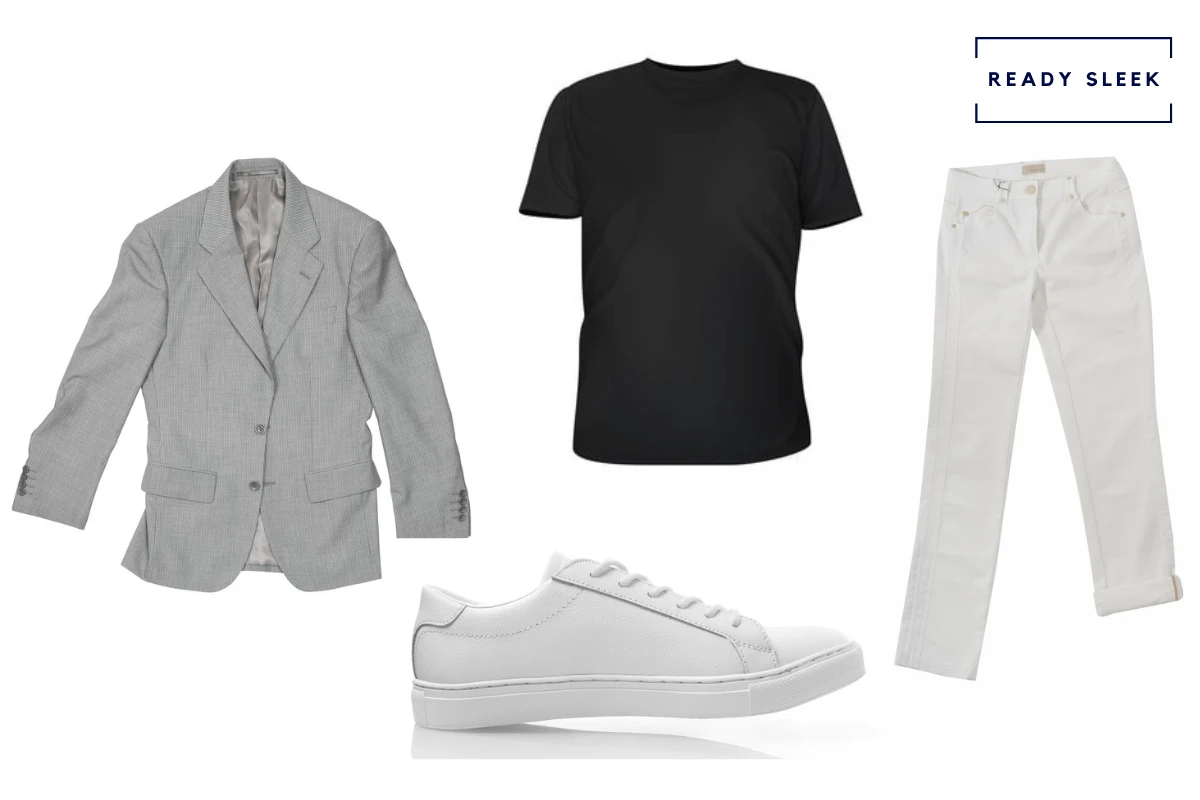 Items – Black T-Shirt, White Jeans, Light Grey Blazer, White Sneakers
While you could certainly get more casual than this, here's a great way to dress down while still maintaining a sophisticated edge.
The "T-shirt under blazer" look is a great way to show you're making an effort, but not too much effort.
A simple, casual-looking blazer can dress down even the most casual of black T-shirts you can get your hands on.
Round things off with a pair of white jeans and you're good to go. While you could go for a pair of white cargo pants, they're often a little too casual to wear with blazers.
Finally, go for a pair of sneakers. It's tough to go wrong with all-white leather low-top sneakers.
However, given how neutral the rest of your outfit is, feel free to wear a more colorful pair of sneakers if you want to add a touch of excitement.
5 Tips For Wearing A Black Shirt With White Pants
Consider all of these tips before putting this combination together. These tips should be relevant no matter what the setting or dress code is.
Keep It Casual
Avoid wearing a black shirt with white pants to anything more formal than "smart-casual".
That means no formal events, business-professional settings, or business-casual workplaces.
While it may sound restrictive, there are plenty of settings that could be labeled casual or smart-casual.
There are also plenty of shirt and pants styles you could wear to a smart-casual event. Yes, this includes dress pants and dress shirts.
Here are some black shirt styles you could consider:
Dress shirt
Linen shirt
OCBD shirt
Broadcloth shirt
Polo shirt
Collarless shirt
And here are some white pants styles to consider:
Dress pants
Linen pants
Chinos
Moleskin pants
Jeans
Corduroys
In general, the more rough and rugged the fabric or weave of the item is, the more casual and laid-back it'll look.
Take this into account when choosing the style of your black shirt/white pants.
If you feel as though there's a risk of underdressing and you want to dress up, go for "formal" looking fabrics.
These are typically less rugged and have more of a sheen to them. They're also generally more wrinkle-resistant.
Consider Adding Pops Of Color
A simple greyscale color scheme (i.e black and white) can definitely work on its own, feel free to add pops of color wherever you want.
For example, consider a burgundy or navy blazer. Dark and muted colors will add vibrancy and energy to the outfit while still keeping things looking elegant.
You could also consider a colorful pair of shoes.
In the examples above we went for black, brown, or white shoes.
But why not consider a pair of blue suede Derby shoes?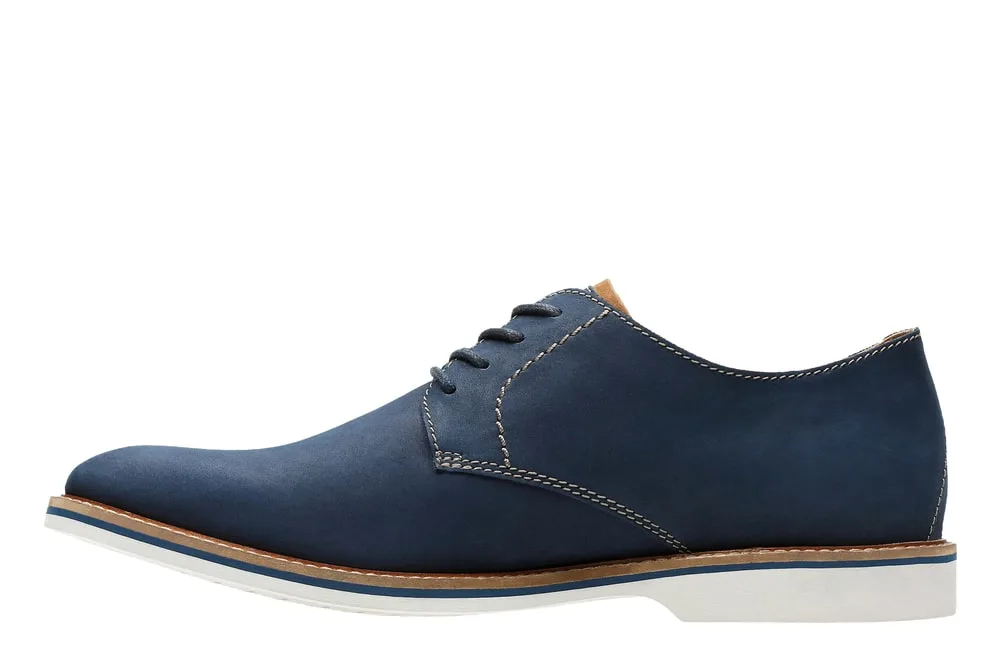 It'll add contrast and color to the otherwise monochrome outfit.
But you could add color to the combination in even more subtle ways. For example, consider a blush pink pocket square in your grey blazer.
Or, consider a pair of black or brown dress shoes with the laces switched to red, yellow, or anything else.
There are plenty of ways to add color. The black shirt and white pants combination just provides a great neutral foundation for you to build upon.
A Grey Blazer Would Be Ideal
As mentioned earlier, grey blazers work exceptionally well with a black shirt and white pants combo.
Black + White = Grey
It sounds too simple to work, but it really does. It's a nice way to add some closure to the outfit. It just makes it look more complete.
You don't even need to reserve the blazer for dressy smart-casual settings. It's pretty common to wear blazers over T-shirts and other casual shirt styles to much more casual events.
It's a great way to stand out.
But remember, there are plenty of other blazer colors you could consider instead.
If you want something more colorful and vivid – go for it. The black and white foundation you're layering it over will make it work every time.
Pick The Right Pair Of Shoes
While loafers work exceptionally well when wearing a black shirt and white pants, you're definitely not restricted here.
All you need to do is consider the dress code or the setting.
In dressier settings, do go for a pair of black or brown dress shoes in a shiny grain of leather.
If you wanted something a little more formal than bit loafers, consider double monk straps or Derby shoes.
The napped texture of suede looks great but will look a little more casual.
If you really wanted to dress down this black and white combo, consider sneakers, boat shoes, espadrilles, or even moccasins.
You've got so many options. It really depends on how dressy or not-so-dressy you want to go with it.
Forget The Tie
It's important to remember that no matter how dressy the black shirt and white pants you're wearing might be, it'll never be formal.
Ultimately, it'll always remain within the casual or smart-casual category.
While it's definitely possible to wear a casual style of necktie in casual settings, in this case, it's best to avoid it.
Of course, there's the risk of a formality mismatch. In other words, there's a chance the necktie would just look awkward and too formal for an otherwise casual ensemble.
But there's also the important point that black shirts are notoriously difficult to pair with ties.
Generally, a shirt and tie pairing looks better when the shirt is lighter in color than the tie. Attempting to reverse that relationship can sometimes work, but often looks out of place.
So, forget the tie.
Embrace the casual aesthetic, unbutton a button or two, and relax.
Conclusion
As you can see, it's pretty easy to pull off. However, the way you pull off this combination should be influenced by the dress code or the setting.
There are so many ways of doing it. It's just important that you choose the right way for your specific circumstances.
Enjoy.
Ready Sleek founder. Obsessed with casual style and the minimalist approach to building a highly functional wardrobe. Also a fan of classic, vintage hairstyles.