Certain combinations just work, but only if they're done in the right way. The question is, can you wear a black shirt with jeans?
A black shirt can be worn with jeans. Casual black shirts like tees, polos, and Henleys would work better with casual-looking jeans in lighter colors and more distressing. Dressier black shirts should only be worn with darker jeans, with minimal distressing and a tapered silhouette.
Although that's the short answer, there's more to it.
Read on to find out some essential tips to make sure you pull off this combination in the most effective way possible, each and every time.
Let's get to it.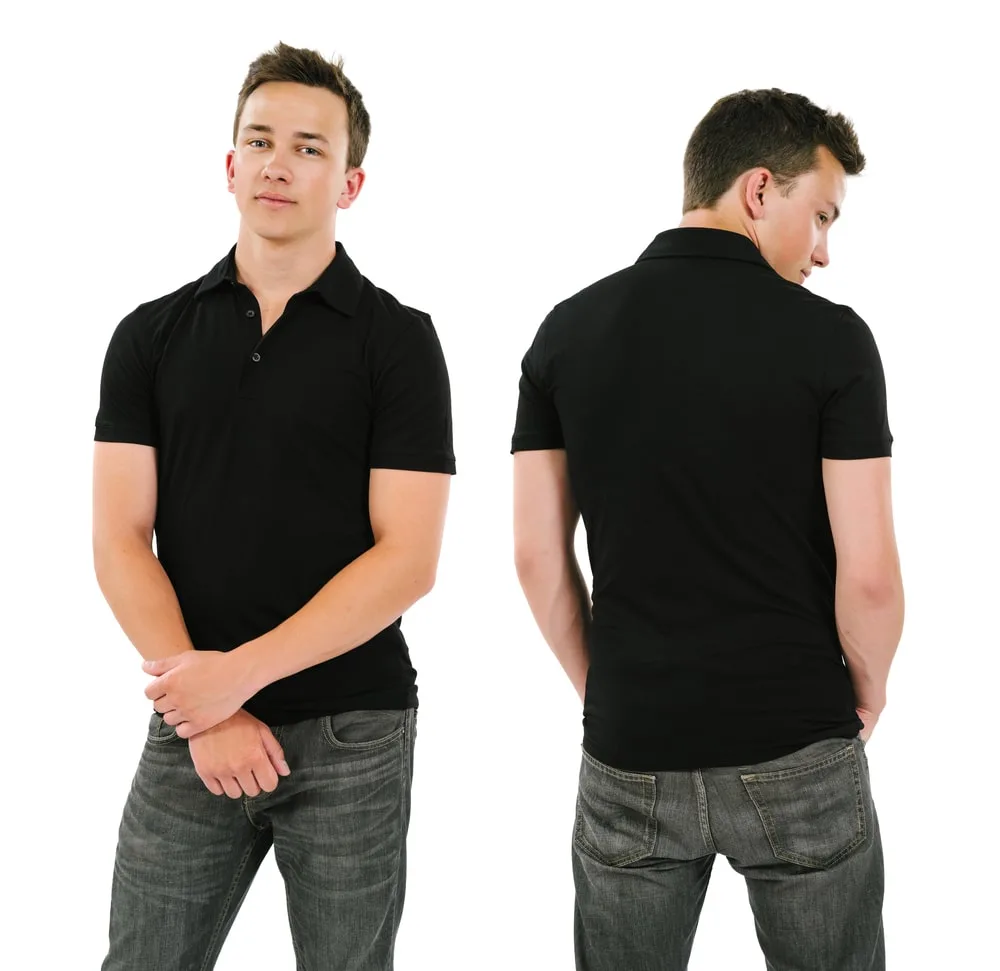 1. Casual Black Shirts Work Better
Black T-shirts, polo shirts, Henley shirts, and Oxford shirts are the best options when wearing jeans. Black dress shirts will usually look too formal.
It's hard to get around the fact that jeans are and will always be casual. The rugged texture of denim has an immediately informal look to it and that's part of its appeal.
It's a staple of casual attire around the world, to the point where no matter what you wear up top, an outfit can never be considered "formal" if it includes jeans.
While trying to combine jeans with traditionally formal items can work, it isn't as easy.
If you do it, the trick is to get the right balance of formal and casual to make it clear that it's intentional and not just a random mix of formal and casual items.
A black dress shirt won't look great with a pair of jeans because the formality of the shirt will look awkward when combined with the casual nature of the jeans.
There's just too much of a contrast between the two and it's tough to get the right balance.
Ultimately, casual black shirts will work best. Here are a few examples:
T-shirts
Polo shirts
Henley shirts
But smart-casual black shirts can also work well with a pair of jeans, with the Oxford shirt (i.e OCBD) being the main example.
The bottom line here is that when wearing a pair of jeans, you'll want to make sure the black shirt you choose looks casual enough to sync well with it.
2. Consider A Leather Jacket
There's just something about wearing a dark leather jacket with a black shirt and a pair of jeans that looks so appealing.
It's edgy, yet versatile enough for anyone to be able to pull it off and not look out of place.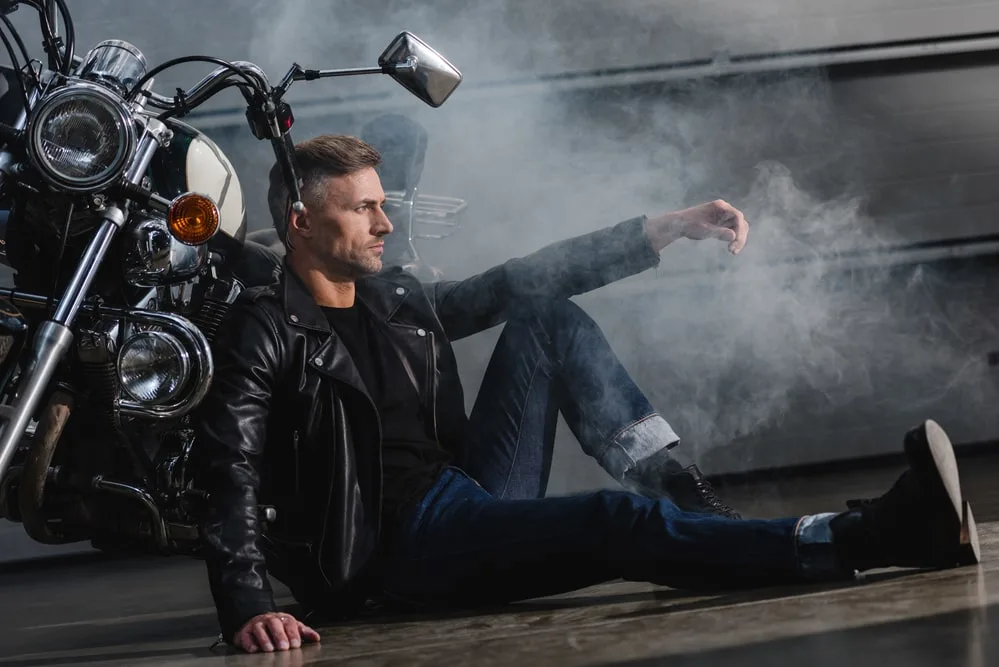 Leather jackets may not be for everyone, but many people are surprised by just how much it suits them the first time they wear one.
Choosing a leather jacket that'll pair well with many different outfits is the key here – versatility is such a great benefit.
A black or dark brown leather jacket with minimal distressing and a nice, tapered silhouette should do that for you.
These features should ensure that the leather jacket doesn't look too casual and can be combined with even your more "formal" outfits.
It's a great way to round off a black shirt and jeans outfit. In fact, the right leather jacket can be worn over any black shirt you plan on wearing – whether it's a tee or an Oxford.
3. Darker Jeans For Dressier Black Shirts
This isn't a hard rule, but it's one that'll probably serve you well.
We've already discussed how a black dress shirt probably won't be the best option when wearing jeans as it'll usually cause a formality mismatch.
But if you were going to wear one, choosing the right pair of jeans is even more important.
When wearing "smarter" black shirts like dress shirts and even OCBD shirts, choosing a darker pair of jeans is always a good idea.
Darker jeans just look more formal than your average, classic pair of light blue jeans.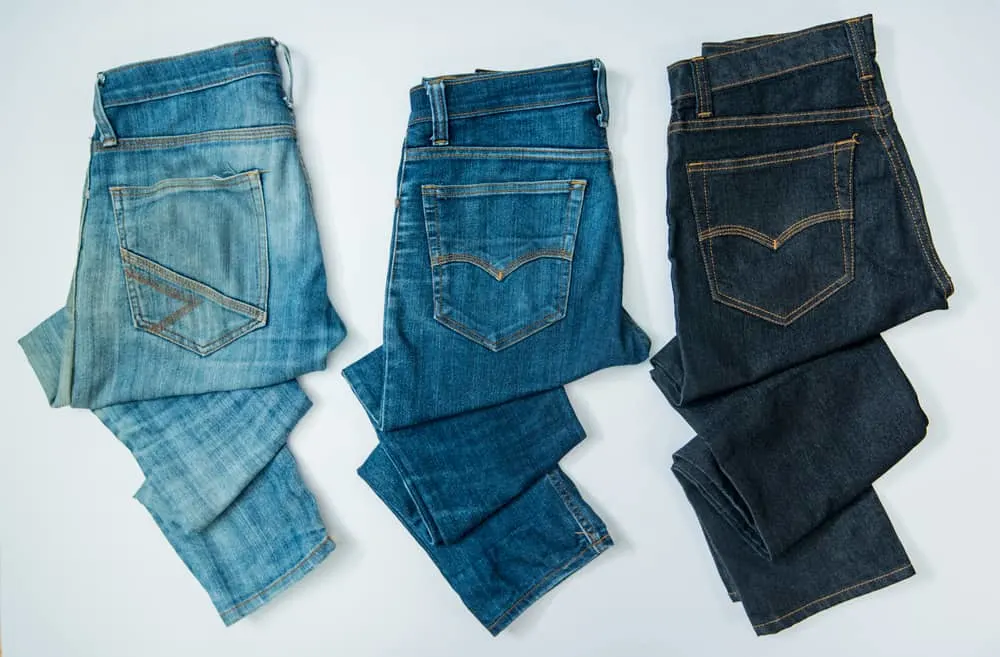 Doing this will reduce the risk of a formality mismatch and make it more likely that the jeans will pair well with the black dress shirt or Oxford shirt.
If you were wearing a more "casual" black shirt like a tee, polo, or Henley, you've got a lot more choice.
A pair of jeans in a lighter color (like your classic light blue) would work perfectly fine.
The dressier the black shirt, the darker you'll want to go with your jeans.
4. Tapered Jeans For Dressier Black Shirts
When wearing dressier black shirts like OCBDs and dress shirts, go for a slim-fit pair of jeans with a tapered silhouette.
Essentially, the more "formal" your black shirt is, the less bagginess you'll want with your jeans.
Jeans with a slimmer fit and a more defined silhouette will always look more formal than baggy jeans with plenty of excess fabric around your ankles.
Once again, the formality level of the black shirt you're going for will play a role here.
Tees, polos, and Henleys are on the more casual end of the spectrum and would work with both tapered and baggy pairs of jeans.
But if you're going more formal up top, tapered jeans will always be more appropriate.
5. Careful With Distressed Jeans
"Distressing" refers to the process of intentionally giving jeans a more worn-out and vintage feel to them.
Ways in which this is done include color-fading using acid-washing or stone-washing. In addition, rips and frays can also be included to give them that old and worn-out feel.
Distressed jeans can work with more casual black shirts. In fact, it can really add to the casual aesthetic.
But trying to wear distressed jeans with dressier black shirts is not a good idea. It'll almost always cause a formality mismatch.
The dressier your black shirt, the more important this principle is.
6. Boots Work Well
Chelsea boots and chukka boots work very well with a black shirt and jeans combination. They really enhance the smart-casual aesthetic overall.
You've got a few options with color, but lighter shades of brown often work the best. The reason for this is that they contrast the black shirt nicely; eye-catching but not too attention-grabbing.
In addition, both Chelsea boots and chukka boots are versatile enough to be worn with both "casual" and "formal" black shirts.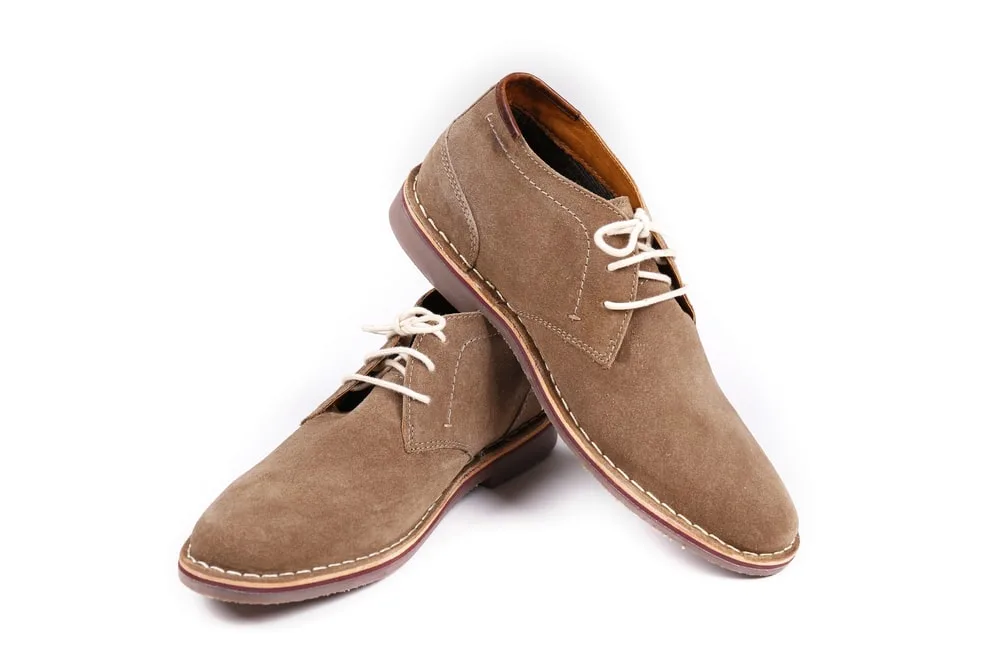 You could quite easily wear a pair with tees, polos, Henleys, Oxfords, and even dress shirts and get away with it.
Lace-up boots don't look quite as formal and should really only be worn with casual black shirts, however.
7. Top It Off With Sunglasses
Sunglasses are a good way to really round things off. At the end of the day, a black shirt and jeans combination can look just edgy enough when it's done the right way.
Not so much that it looks like you're trying too hard, but enough to make it clear that you take style seriously and you know what you're doing.
Wearing a pair of sunglasses just works with the overall aesthetic, especially when you've stuck to the other tips in this list.
You've got a wide range of options, but it's hard to go wrong with a pair of black Aviators, Wayfarers, or round frames.
This tip isn't essential by any means, but it's the little nuances like this that make an outfit look intentional and well thought out.
Using this tip to your advantage, as well as the other tips in this list, should ensure that you make the black shirt and jeans combination work for you.
Take the occasion or setting you're dressing for into consideration, as well as your personal preferences when putting together your outfit.
Enjoy.
Ready Sleek founder. Obsessed with casual style and the minimalist approach to building a highly functional wardrobe. Also a fan of classic, vintage hairstyles.