There's plenty of misleading information about these two colors out there. Some say they can be worn together, while others say they can't. So, can you wear brown pants with a black shirt?
Brown pants can easily be worn with a black shirt in a very wide range of settings. In general, it works better in the evenings. Light brown pants will always look more casual than dark brown pants when worn with a black shirt.
That's the short answer, but as always, there's a whole lot more to it.
Here are some essential tips for wearing brown pants with a black shirt in the best way possible, each and every time.
Let's get to it.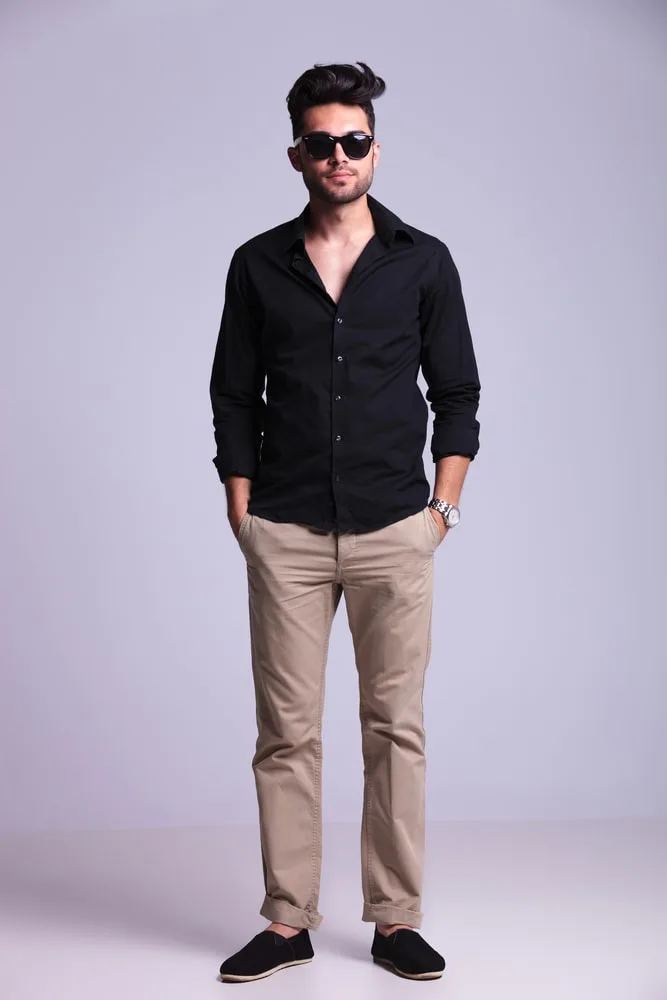 1. It's Better For Evening Wear
The combination just works better in the evening.
Black shirts have an air of mystique and elegance when worn in the evening. When paired with brown pants this is even more true.
Don't get me wrong – you can definitely wear them in daytime settings if you wanted to. It'll still work.
However, reserving the combo for evening social events is definitely something to consider.
2. Consider Formality
The formality of the setting should influence the style of the black shirt and brown pants you wear.
A black shirt can look incredibly formal or very casual depending on the style.
The same goes for brown pants.
Let's say you were attending a semi-formal evening dinner.
A black cotton dress shirt paired with brown slacks would definitely be better than a black Henley shirt paired with brown jeans or chinos, for instance.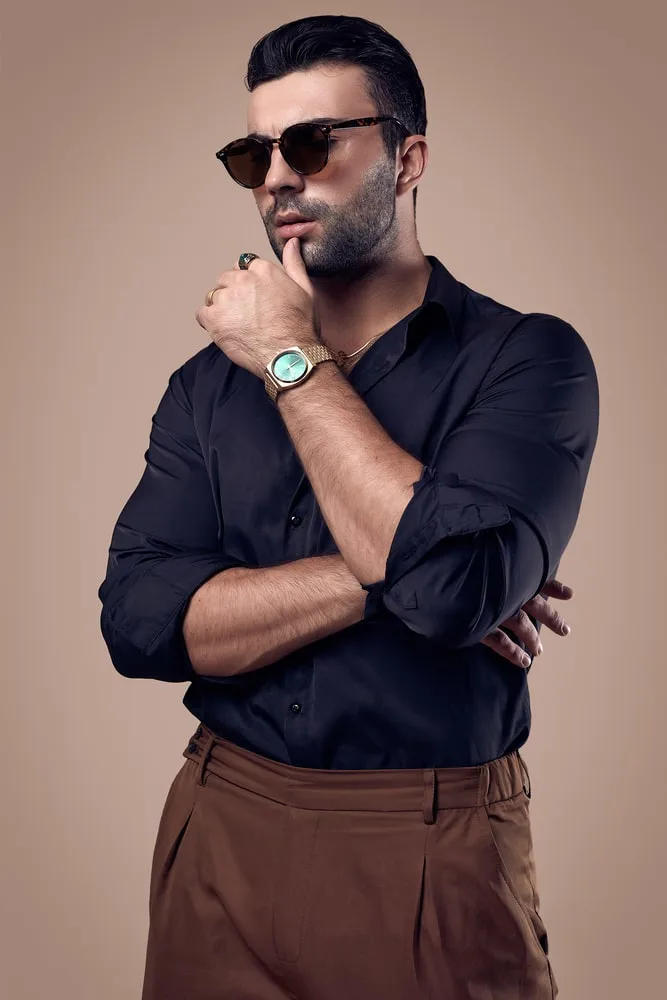 A blazer or sports coat to round things off would be a great option here. More on that later.
On the other hand, let's say you were heading to a friend's birthday party or going to a mid-level restaurant.
A smart-casual combination like a black Henley or OCBD shirt paired with brown jeans or chinos would be a great option.
Let's take it a step more casual.
Say you were just hanging out at a friend's place or just going to the movies.
A black polo shirt or T-shirt paired with brown jeans or even cargo pants could work here.
The takeaway point here is to think about how formal/casual you're dressing when deciding what style of black shirt and brown pants to wear.
3. Consider The Shade Of Brown Pants
It's important to consider the shade of brown you go for.
With the black shirt, you know what to expect. Black is less of a spectrum than brown is.
Sure, you can get "black shirts" which lean more toward a dark grey. But in many ways, these shouldn't be called "black" in the first place.
"Brown", on the other hand, can refer to a wide range of different colors ranging from a very light shade of brown to a very dark shade.
This is important because the lighter the shade of the brown pants, the more contrast you'll get with the black shirt.
Contrast stands out from a crowd and will, in general, appear more casual.
If you're looking for a more subtle and "formal" aesthetic, go for a dark shade of brown pants.
Here's an example on Amazon:
If you're looking to produce more contrast and therefore a more "casual" aesthetic, go for a lighter shade of brown.
You could wear the fanciest, shiniest black dress shirt, but when worn with a light brown pair of pants (eg. khakis) it can look a whole lot more casual.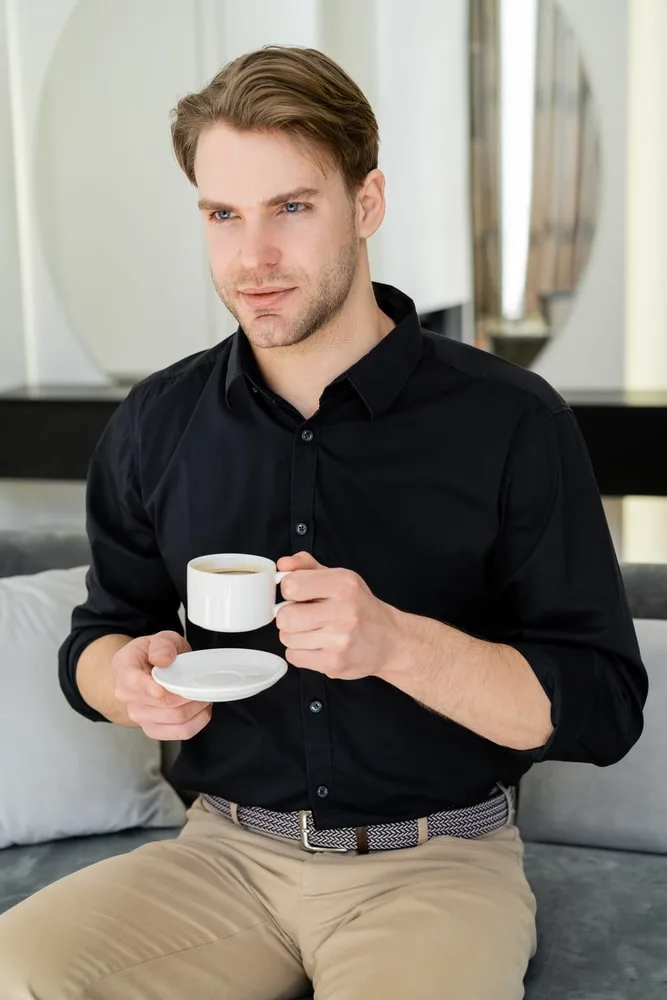 The main point here is that color and shade are just as important as the style of shirt and pants you choose to wear.
4. Go For A Blazer Or Sports Coat
The easiest way to dress up a black shirt and brown pants combo is to pop on a blazer or a sports coat.
In many ways, it doesn't matter what style of shirt and pants you're wearing.
A black dress shirt and brown slacks combo would work especially well when worn with a blazer or sports coat.
But it doesn't even need to be this formal for it to work.
For example, a black T-shirt or polo shirt and brown jeans/chinos would look great with a blazer to round things off.
It's an easy way to transform a very casual-looking shirt and pants ensemble into a smart-casual one.
In terms of what color blazer or sports coat you should wear, you've got plenty of options.
Black and brown are both pretty neutral and can be paired with a variety of different colors very easily.
Because of this, you could go for a bolder and more striking blazer/sports coat color if you wanted to (eg. burgundy red).
However, if you were looking for a more understated and minimalist aesthetic overall, stick to a neutral color scheme.
Consider a grey or navy blazer.
A brown blazer would also work great, coordinating well with the pants.
Whichever color you choose, lighter shades work especially well as it creates contrast with the dark black shirt.
5. Go For Black Or Dark Brown Shoes
When wearing a black shirt and brown pants, the simplest options would definitely be black or dark brown shoes.
Either option would work well.
What's more important is the style of shoes you choose to wear.
Once again, this does depend on formality.
If you're dressing for a more formal or semi-formal occasion with a black dress shirt and brown dress pants combination, go for black or dark brown calfskin or cowhide dress shoes.
In order of reducing formality, here are the four main dress shoe styles to choose from:
Oxford
Derby
Monk strap
Loafer
In general, it's best to not wear Oxford shoes when you're not wearing a suit.
Derby shoes, monk straps, and loafers are a lot more versatile and can be worn to a wide range of dress codes.
Loafers have a low-cut, laceless construction and do look quite casual. If you're looking to dress up but not too much, they could be a great way to go. The perfect smart-casual shoes.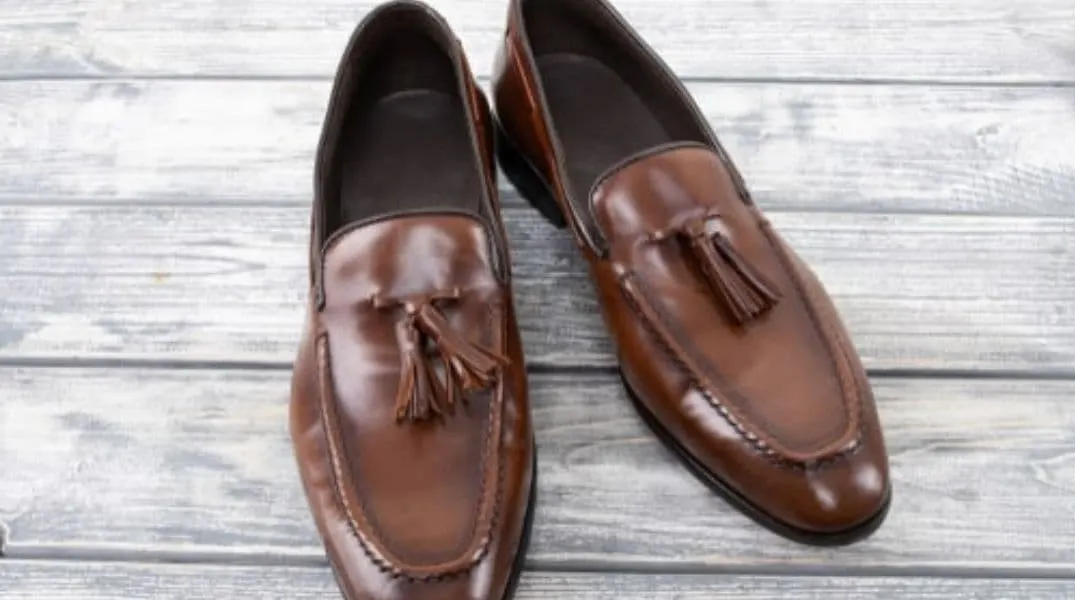 If you're looking to dress a little more casually, these dress shoe styles could still work great. However, it's worth looking for a pair in suede as opposed to calfskin or cowhide leather.
The rugged, napped texture of suede can make any formal dress shoe construction look a notch more casual.
If you were wearing a casual black shirt (eg. T-shirt, polo) and a casual pair of brown pants (eg. jeans or chinos), a pair of sneakers, boat shoes, moccasins, or espadrilles would be perfectly fine.
When dressing this casual, you've got plenty more options when it comes to shoe color. However, it's really tough to go wrong with neutral grays, whites, and blues.
6. The Belt Should Match The Shoes
The belt color should match the shoes, not the black shirt or the brown pants. If you were wearing black shoes, wear a black belt. If you're wearing brown shoes, wear a brown belt.
It sounds too simple, but it's a classic rule that you should try to stick to wherever possible.
This tip is more important if you were wearing a more formal combination (eg. dress shirt/OCBD + dress pants) and you were tucking the shirt in.
After all, when wearing a black T-shirt and brown jeans you don't necessarily need to wear a belt at all.
But even more casual combinations can look a lot more intentional and sophisticated with a belt when the shirt is tucked in.
It's definitely worth considering.
7. Accessorize With Purpose
Some people are more into accessories than others. But the elegance of a black shirt is often enhanced with even simple accessories like a watch, bracelet, or chain.
Both gold and silver work well.
However, a simple rule to try and stick by would be this:
Try to match the metals.
This goes for your chain, bracelet, watch, and even your belt buckle.
Wearing the same or very similarly-colored metals for all of your accessories can make any outfit look so much more put-together.
It looks a lot more intentional, elegant, and coordinated.

Ready Sleek founder. Obsessed with casual style and the minimalist approach to building a highly functional wardrobe. Also a fan of classic, vintage hairstyles.