Both items have developed into iconic and high versatile favorites of casual apparel. Combining them has become hugely popular around the world. You're about to learn everything you need to know about wearing denim jackets with chinos.
Denim jackets can be worn with chinos in many different ways. Getting the fit, the colors, and the layering right can make a huge difference to the overall aesthetic. Whether you're dressing it up or dressing it down, ensuring the two items sync effectively is the key.
Although that's the gist, I wanted to dig deeper. The number of possible variations of this style combination is mind-blowing.
The two items should be considered a foundation on which you could build a wide range of casual and semi-casual outfits.
But as with any fashion statement, there are do's, don'ts, tips, and tricks.
What I want to do in this post is guide you through how to consistently pull it off in the most effective and most memorable ways possible.
I'll first talk about why the combination works in the first place, followed by some crucial tips on rocking the aesthetic and some important guidance on color coordination.
Let's get to it.
Why Wearing Chinos With A Denim Jacket Works
Here's why it's so easy to make this combination look good:
Both items are incredibly versatile.
It's a simple solution if you're looking for a casual or semi-casual outfit but want to avoid double denim.
FYI – semi-casual lies a step above casual and a step below smart casual. Smart-casual is essentially the same as business casual.
Both clothing items are tried-and-true staples of American workwear that have morphed into global cultural phenomenons over time.
Denim jackets, also known as jean jackets, started off as typical workwear popular with truckers and miners in the golden days of Levi Strauss.
Chino pants were initially built for the American military during the Spanish-American war.
Over time, they gradually embedded themselves into popular culture and have now become two of the most commonly worn items of casual apparel in existence.
7 Tips On How To Wear Chinos With A Denim Jacket
Trust me, there are more ways than one and some of them are more attractive and effective than others.
Here are some tips on how to rock this classic pairing in the best way possible.
1. Don't Be Afraid To Dress It Up
Although both items ooze an irresistibly casual vibe, one of the great things about them is just how easy it is to dress them up a little if you'd like to.
"Casual" is a spectrum, and knowing how to smarten up this combination when necessary is important.
The main ways of achieving this are to combine them with the right clothes and accessories.
Shoes, shirts, sweaters, and so on. I'll be talking about this stuff in the tips to follow.
But choosing the right denim jacket and the right pair of chinos for your purposes is also just as important.
Let me explain.
There will be instances where you'll want to completely own the casual aesthetic and choose a rough-and-ready pairing.
But if you want to dress for a semi-casual dress code, setting, or vibe, then you'll want to choose a denim jacket and pair of chinos that are appropriately smart enough.
There is such a thing as a more "formal" denim jacket and a more "formal" pair of chinos. Although both items will always ultimately be considered casual, there's definitely a spectrum.
Let's talk through how to choose the right one of each of these for your purposes.
2. Choose The Right Pair Of Chinos
As I suggested earlier, the right pair of chinos will depend on the circumstances.
If you're looking to go completely casual with your denim jacket, choose a regular and casual pair of chinos.
If you're dressing for a slightly smarter affair, for example, birthday drinks or a date, you may want to choose a more formal pair of chinos.
Here are some key differences between the two:
Formal pairs often have center creases down each leg
Formal pairs usually have welted pockets and not patch pockets
Formal pairs often have barely visible seam details at the inner legs
Formal pairs may have features such as pleats or tab closures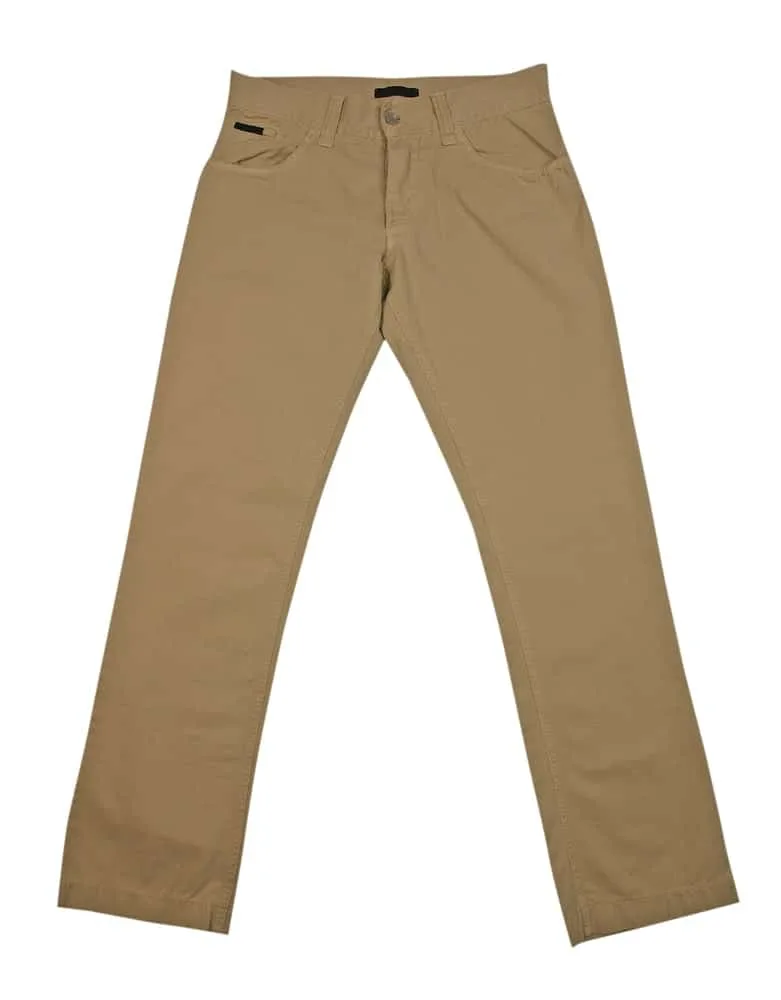 The picture above shows a pair of pretty formal-looking chinos on the left. Don't get me wrong – a smart denim jacket would work just as well with the regular pair on the right.
It's just important to know that if you're looking to dress up with both your denim jacket and chinos, it's possible.
Essentially, if the chinos resemble jeans more than dress pants, they're more casual. Features such as a more relaxed fit, bar tack stitching, patch pockets, and cuffs are more casual.
3. Choose The Right Denim Jacket
It's essentially a very similar story.
Denim jackets, although a fundamentally casual item, come in a spectrum. They can range from incredibly casual to pretty smart.
Don't get me wrong – you won't exactly be wearing one to any job interviews.
But if you're looking to dress up just a little bit, you've got options here. Plus, if you're going for a more formal pair of chinos, you'll want to pair it with a suitably smart-looking denim jacket.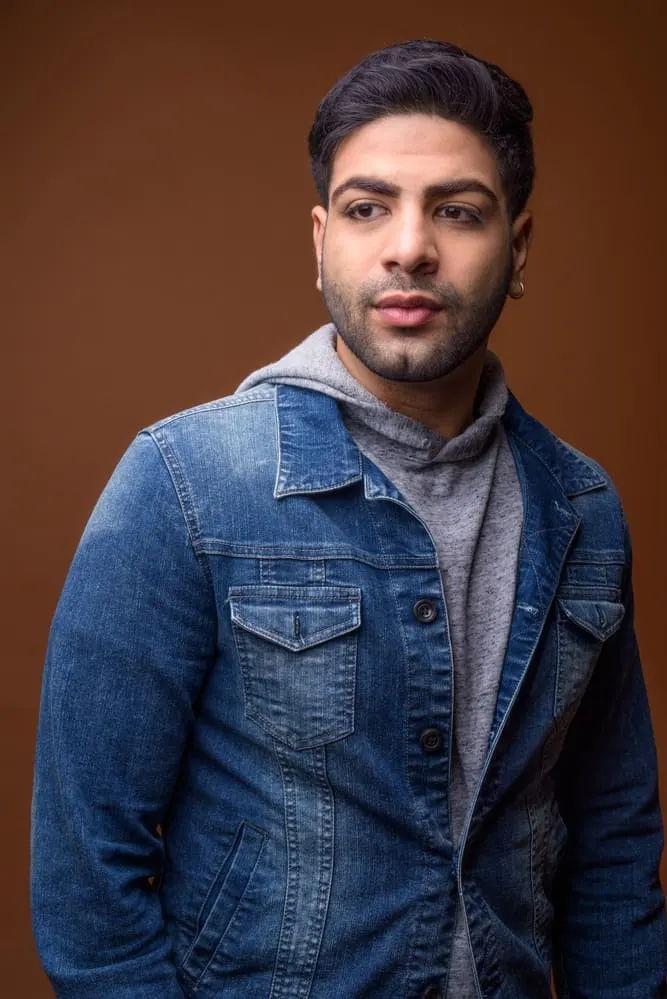 Here are some features of casual vs less casual denim jackets:
Fit – Loose, relaxed, boxy, and oversized is more casual. Go for fitting and smartly cropped for a semi-casual look. A fitting denim jacket shouldn't have the hem extend beyond the hips. It should also not feel tight over some of the thicker inner layers you plan to wear it with (eg. sweaters) even when buttoned.
Color – Lighter shades of blue appear more casual, whereas darker shades of blue, or gray, white, or black are less casual.
Wash – Light wash denim looks more faded and so appear more casual when compared with medium or dark wash denim.
Whiskering – As the name suggests, these are lines on the denim that look like whiskers. They give an instantly more worn out and casual appearance. Great for a dressed-down look.
4. Layer With Purpose
The denim jacket and chinos combo should be considered a foundation.
You can build on it, or just leave it as it is. That's the beauty of it.
A denim jacket makes for phenomenal middle wear, pairing well with a huge range of outerwear and inner layers if you wished to go this route.
As I mentioned, what you choose to wear with it plays a huge role in determining just how casual or semi-casual it looks.
Here are some options:
T-Shirts
White T-shirts in particular are a hugely popular inner layer for denim jacket outfits. It doesn't get quite as vintage American as that.
The phenomenal versatility of the white tee can't be ignored, but other neutral colors such as beige, off-white, and soft gray would work just as well.
A basic, short-sleeve tee often looks great, but experiment with collars such as Henleys and crew necks and find one that works for you.
Top Tip – Avoid layering over Polo shirts wherever possible. Polos and chinos look fantastic together, but a denim jacket should never be worn over a polo.
Ultimately, the T-shirt, denim jacket, and chinos look is a crisp and subtle outfit that's hard to mess up.
Turtleneck Sweaters
If you feel as though a turtleneck sweater alone is too preppy for your liking, popping a denim jacket over it is an easy way to dress it down just a little.
Alternatively, if you're looking for a quick and simple way to dress up your denim jacket and chinos look, slipping into a turtleneck would work a treat.
It's a great option for fall and winter occasions where you want to dress casual but not too casual.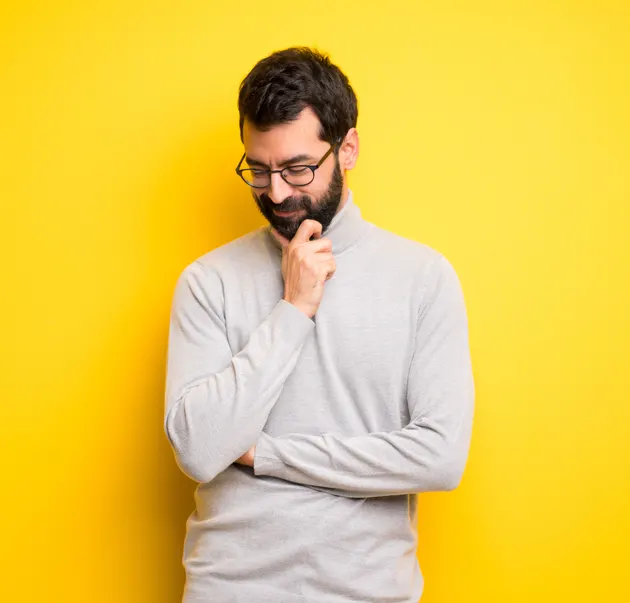 Try and pick a sweater where the texture and appearance of the fabric blend well with that of the denim.
If the denim jacket is stonewashed and faded, try not to go for a sweater with too much sheen.
Coats
Your choice of outerwear can also be used to dress your outfit up in the fall and winter.
If your denim jacket fits slim enough to allow for it, a coat is definitely something to experiment with.
You've got plenty of options.
Duffel Coat – a comfortable, long coat made from a heavy wool and a sporty looking hood. A semi-casual winter favorite.
Trench Coat – Perfect for autumn and extremely versatile. There's a good chance it'll fit very comfortably over a denim jacket.
Pea Coat – If in a traditional navy it'll pair well with lighter, faded denim jackets and soft gray or beige chinos. Make sure that the broad lapels of the pea coat don't conflict with the collar of the denim jacket.
Parka – Couldn't leave out that notorious fur hood. A phenomenal pairing for a denim jacket, especially for those casual cold gatherings and events.
5. Choose Your Shoes Wisely
Once again, let the formality of the occasion guide you.
No matter how smart the pair of chinos and the denim jacket you choose are, if you combine them with traditionally casual shoes the outfit will look casual.
In many cases, that'll be exactly what you want. But there will always be times when you want to up the formality just a tad.
Here are some casual options, as well as some semi-casual options to go with the combination we're discussing.
Casual:
White sneakers
Moccasins
Boat shoes
Semi-casual:
Chelsea boots
Chukka boots
Suede loafers
Brogue Derby shoes
Brogue Derby's are probably the most formal you should really go here. A pair of black Oxfords, for instance, can look pretty awkward with two pieces of classic casual clothing.
Boots will be more suitable for autumn and winter.
Suede loafers make for a great choice when it comes to the more summery affairs. Cuffing the chinos up a roll or two here is something to try.
6. Don't Be Afraid Of Shirts
A button-down shirt may not be the first thing that comes to mind when considering what to wear under a denim jacket.
The traditionally more formal shirt isn't an obvious pairing.
But it's not something to be afraid of whatsoever, and it often looks great.
Think of it as substituting a denim jacket for a blazer or sports coat. I love pairing blazers and sports coats with chinos, and a nice white or baby blue OCBD shirt usually looks very smart indeed.
But if you wanted to take the formality down a notch, wearing a denim jacket over an OCBD shirt instead would be a very reasonable and attractive choice.
If you're wearing a shirt, you'll want to go for a more "formal" denim jacket if possible, such as a nice dark wash indigo for example.
A pair of suede loafers or brogue Derby shoes would be more appropriate here, as sneakers may be a little too casual.
7. Use Shearling Denim Jackets To Your Advantage
A common winter favorite, the shearling inner lining and collar allow for glorious comfort and warmth during those winter months.
It'll allow you to potentially wear the denim jacket without the need for an overcoat as outerwear.
The beauty of wearing one with chinos is the contrast in color the lining provides. The lining will usually contrast the color of the denim itself, sometimes quite sharply.
Try and wear a pair of chinos that suits the hue and shade of the color of the shearling or sherpa lining.
For example, try soft gray or beige chinos with lighter shades of lining. Try navy blue or charcoal gray chinos with darker shades of lining.
The effect that this produces is impressive, to say the least.
Speaking of color, let's dive a little deeper into it.
Color Matching Chinos And Denim Jackets
Knowing how to color coordinate chinos with denim jackets is important, but isn't rocket science thankfully.
It's just important to keep it simple.
The quintessential color for a denim jacket is and will always be blue.
There is a very wide range of blue shades to choose from; whether it's light and stonewashed or it's dark, raw, and unwashed.
As a basic and general principle, the lighter the shade, the more casual it'll look.
If you're looking for a more unique edge, black, white, and gray denim jackets can add a touch of sophistication to any casual or semi-casual outfit.
Again, the lighter the shade, the more casual it'll look.
Other features such as fading and whiskering will make it look even more casual yet.
When selecting the best color of chinos to suit your denim jacket, try and stay within a neutral color scheme.
I talk a lot about neutral color schemes because it saves a lot of headaches when it comes to color matching.
Choosing a neutral or nearly-neutral color for your chinos should allow you to pair it with any blue, white, or gray denim jacket you can think of.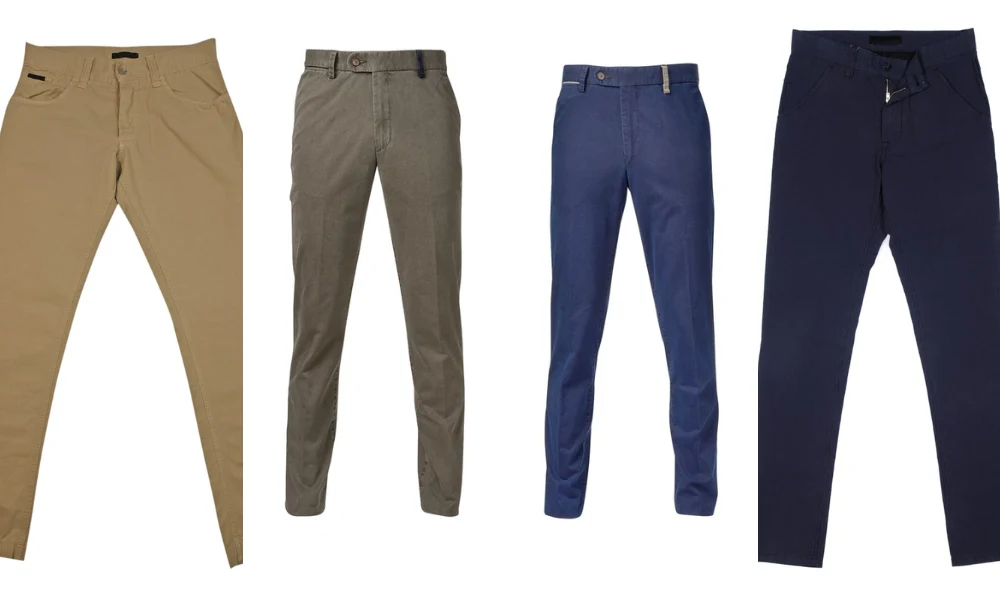 Let's run through some of the most important neutral colors to know about.
Try combining the denim jacket with soft gray, charcoal gray, olive green, black, navy blue, or beige chinos. Even the classic khaki color is somewhat neutral.
The colors are "neutral" because they lack intensity and saturation, and so don't conflict with other colors you may wear.
Try to create a contrast between the shade of your denim jacket and that of your chinos. For example, pair a light and stonewashed blue denim jacket or white denim jacket with a charcoal gray or black pair of chinos.
On the other hand, you could pair a dark indigo jean jacket with a soft gray, stone, or beige pair of chinos.
Conclusion
As true workhorses of your wardrobe, you'll most likely be coming back to this combination time and time again.
Get the fit, the color, and the layering right and you won't go wrong.
Hopefully, after reading this article you've got a better idea of how to do just that.
Experiment, enjoy, and have fun with it.
Ready Sleek founder. Obsessed with casual style and the minimalist approach to building a highly functional wardrobe. Also a fan of classic, vintage hairstyles.