Coordinating grey jeans with the wrong black shirt at the wrong time can make for a below-average smart casual outfit.
Here's the bottom line:
Black shirts can easily be worn with grey jeans but it needs to be done in the right way. It's a monochrome outfit that works well in both smart-casual and casual settings. Black button-up shirts and non-distressed tapered grey jeans work well in smart-casual settings.
That's a short version. It's fine, but you'll need more.
After going through a few great examples of outfits you can try out for yourself, we'll run through some essential tips for perfecting this combo every time.
Let's get to it.
3 Black Shirt And Grey Jeans Outfits To Inspire You
We're going from the "dressiest" way to wear it to the most casual.
Remember, a black shirt and grey jeans combo can't ever be "formal", but there are definitely dressier ways of wearing it, as well as more casual ones.
Enjoy.
Dressy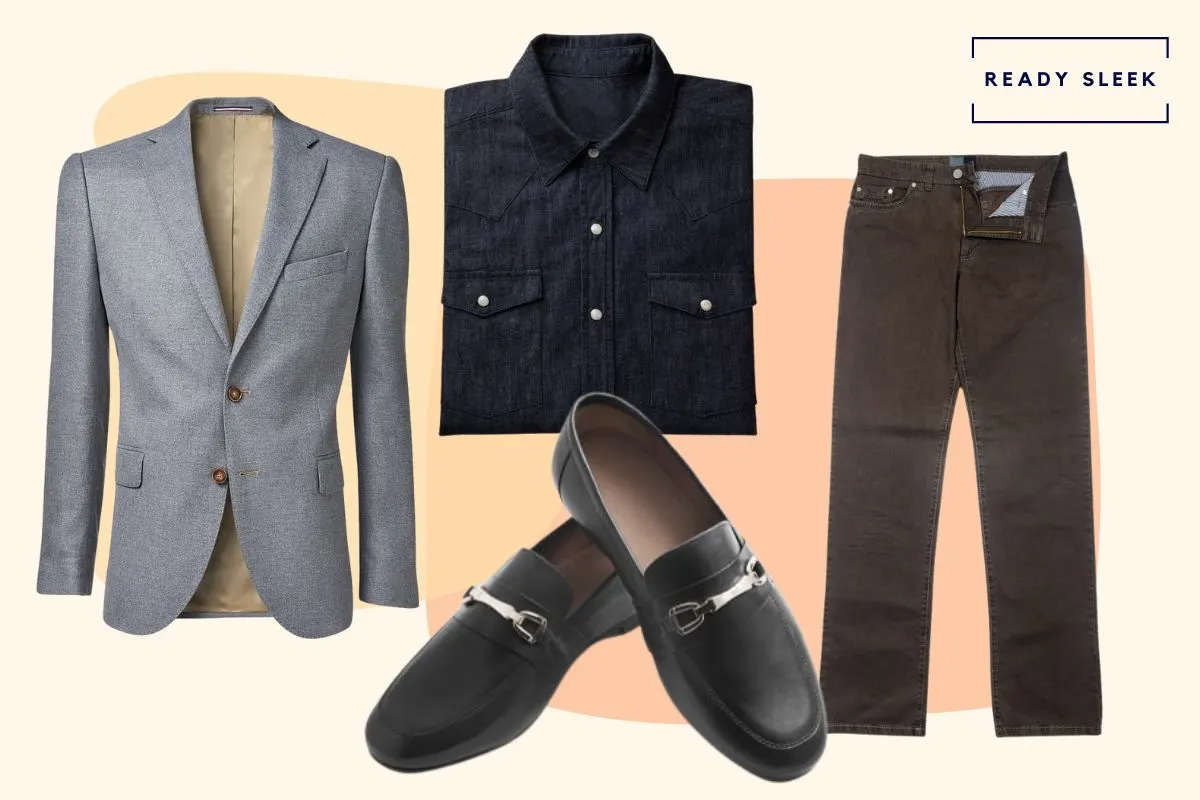 Items: Dark Grey Jeans, Black Button-Up Shirt, Black Leather Loafers, Grey Sport Coat
This is a great example of a "smart-casual" outfit. It all comes down to the style of grey jeans and black shirt you choose, as well as the other items you combine with them.
The darker the jeans, the dressier they'll generally look. Grey jeans are no exception.
Slim, tapered pairs of grey jeans will also generally look dressier than wide-leg and bootcut pairs.
We've gone for a black button-up shirt to really make it clear we're dressing for the occasion.
While we could have gone for a dress shirt, going for a slightly more rugged black button-up (eg. chambray or OCBD) often syncs better with denim jeans.
The black leather loafers work well here because they keep to the monochrome (grey/black) color scheme. In addition, they epitomize the smart-casual aesthetic.
While you could easily leave the outfit at that if you really wanted to take things to new heights, consider a grey sport coat to polish things off in style.
More Casual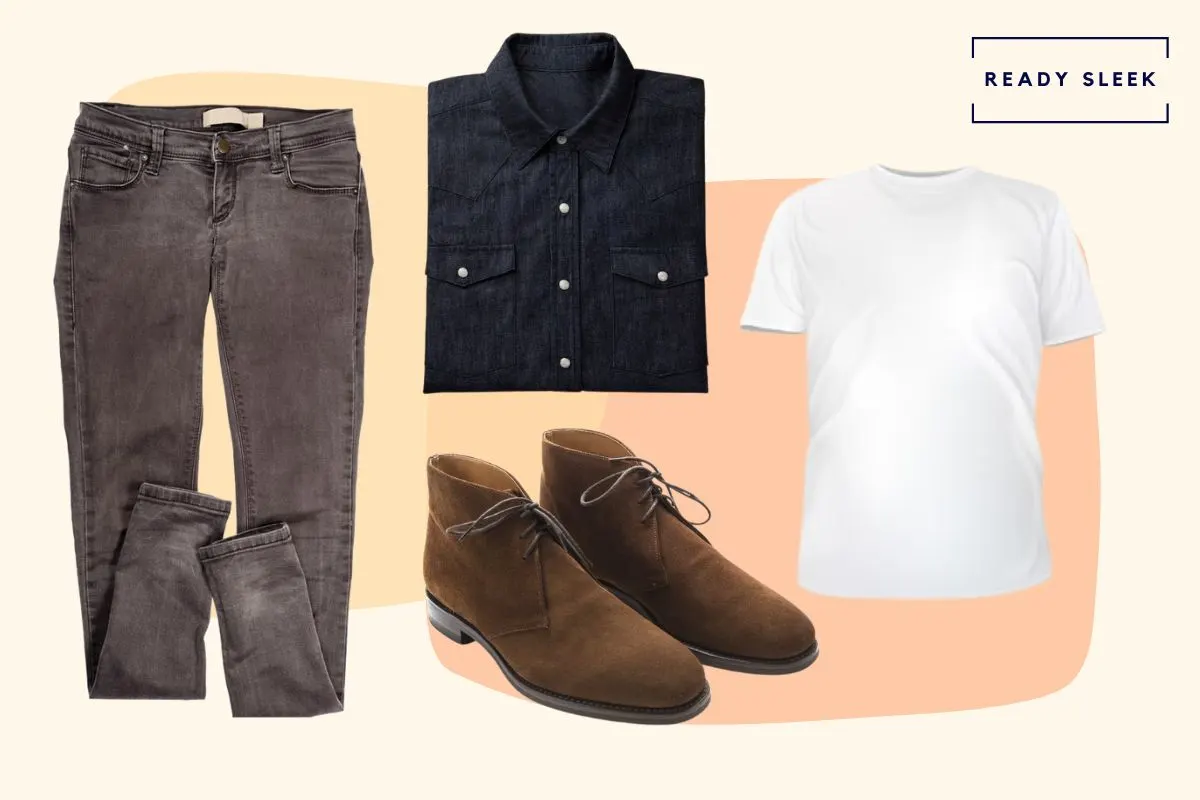 Items: Mid Grey Jeans, White T-Shirt, Layered Black Button-Up Shirt (Unbuttoned), Brown Suede Chukka Boots
Here, we've gone for jeans in a lighter shade of grey. It immediately makes the outfit look a little more casual.
When dressing down, you've obviously got plenty of options when it comes to layering. In the image above we'd simply be wearing the same black button-up layered over a white tee.
Casual, but not ultra-casual.
It's still a "black shirt and grey jeans" combination but looks very different from the previous example.
As an alternative, you could consider a black Henley shirt. They're casual, but not quite as casual as short-sleeve alternatives such as polos and simple tees.
For the footwear, we've chosen brown suede chukka boots.
Going for suede over shinier grains of leather is a simple way to dress an outfit down. Suede shoes and boots work well in smart-casual settings.
Most Casual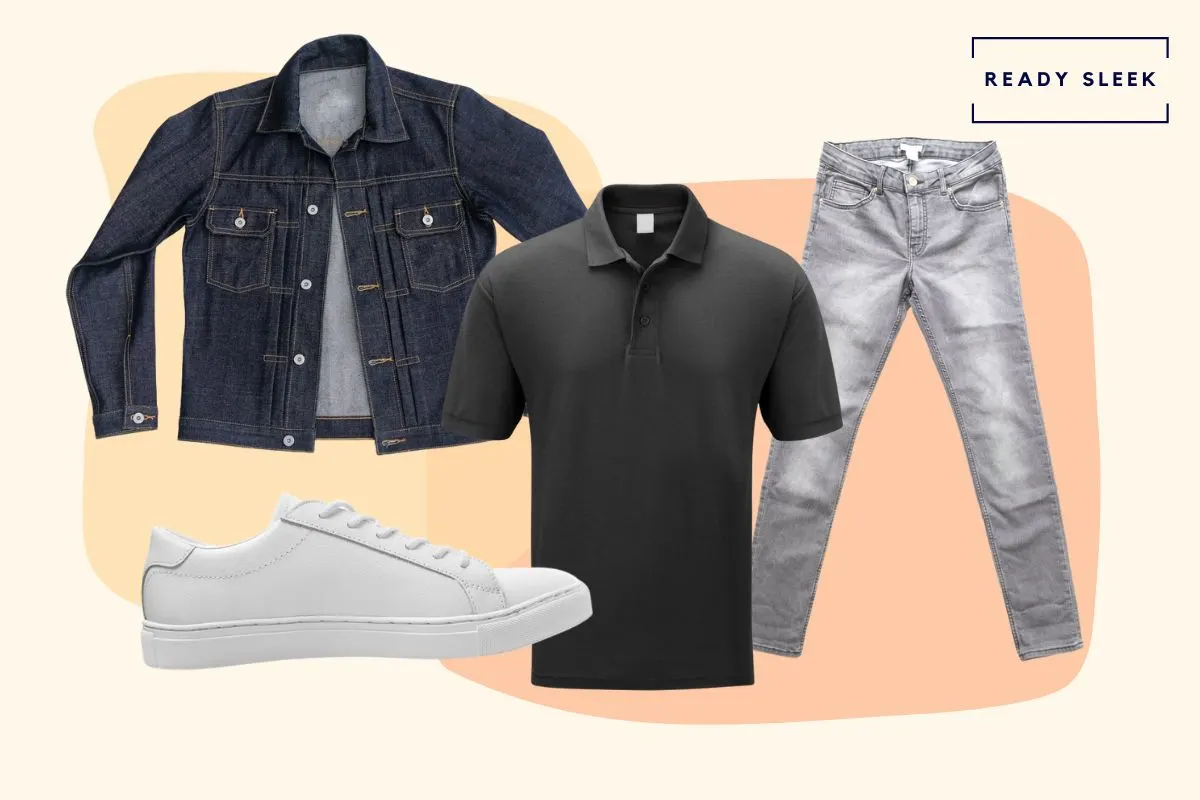 Items: Light Grey Jeans (Distressed), Black T-Shirt/Polo, White Sneakers, Dark Blue Denim Jacket
Light grey jeans such as these look very casual. This is especially true when they're distressed and faded.
We're really dressing down here and keeping things very simple.
If you wanted to dress down further, consider a skinnier or baggier fit (eg. bootcuts, wide-leg).
For the black shirt, short-sleeved options are perfect in truly casual settings. If you wanted to level up from a simple tee, consider a black polo.
The all-white leather sneakers are minimalist and sleek, but will always look more casual than the suede chukkas and the leather loafers of the previous examples.
During the warmer months of the year, you could quite comfortably just leave it at that. However, if you want a layering option, consider a blue denim jacket.
The "Canadian tuxedo" (i.e denim-on-denim) isn't everyone's favorite, but it can work really well when the two denim items are of different colors.
5 Tips For Wearing A Black Shirt With Grey Jeans
Now that you've seen some examples you can try out for yourself, read through these tips for perfecting this combination no matter what you may be dressing for.
The Black Shirt Style Should Suit The Setting
When wearing grey jeans, the style of the black shirt you choose should suit the setting. Consider the dress code, the event, the occasion, and so on.
To keep things simple, here's a summary:
When dressing up, go for a black button-up shirt.
A more casual alternative would be a Henley.
Polos and tees are ideal when you're really dressing down.
Going for a black button-up is important when dressing up. You could go for a black dress shirt if you wanted – stiff collars, tightly woven fabrics, etc.
But it's often more effective to go for a slightly more casual-looking black button-up as they'll sync better with the denim jeans. It'll reduce the risk of a formality mismatch.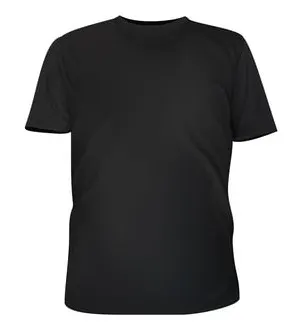 Ultimately, no matter how "dressy" a pair of grey jeans look, it'll never be formal.
So, consider a black chambray, OCBD, or linen shirt. They have a rougher and more rugged texture that'll combine much more naturally with denim.
You could leave these shirts untucked or tucked. You'll know whether they were meant for tucking in by looking at the hem.
If the hem is long and curved at the back, it was meant to be tucked.
If it isn't, you could leave it tucked or untucked. In fact, tucking these shirts in and keeping them tucked could be tricky in itself without the use of shirt stays.
If you wanted to take things down a notch and go for a more laid-back aesthetic, consider leaving these shirts unbuttoned and layered over a simple tee.
Henleys, polos, and tees are great options when you're really going casual. The great thing about black casual shirts is that they often look more sophisticated than other colors.
Consider The Contrast
When wearing a black shirt, dark grey jeans will generally look dressier while light grey jeans will look more casual. A lot of this comes down to the contrast produced by the two items.
The contrast between the black shirt and the grey jeans is always worth considering. In general, the more contrast you have, the more casual the outfit is likely to come across.
A black shirt worn with light grey jeans would be a high-contrast combination. It's striking, eye-catching, and will generally look more casual.
On the other hand, a black shirt worn with dark grey jeans would be a low-contrast combination. It's more subtle, sleek, and dressy.
While you could easily go for either option and make it work, it's worth considering the contrast produced and whether it would be appropriate for the setting you're dressing for.
If you're dressing up, the low-contrast produced by going for a dark grey pair of jeans would usually be a good idea.
Consider The Fit And Features Of The Grey Jeans
It isn't just the shade of grey you need to consider. You'll also need to look at the fit and the features of the grey jeans and figure out whether they'd be appropriate for the setting you're dressing for.
The main features you'll find in jeans are simply forms of distressing.
"Distressing" refers to manufactured rips, frays, and forms of fading such as acid washing and stone washing.
They're used to make the jeans look more vintage and can look great in casual settings.
When wearing a black shirt and grey jeans in dressier or "smart-casual" settings, however, it's best to avoid distressing if possible.
Here, the less distressing you have, the better. This is especially true when you're going for a smart black button-up shirt.
Distressed grey jeans would usually look out of place with these shirts.
Now, let's talk about fit.
As you'll already know, jeans come in all sorts of fits.
Skinny, slim, tapered, straight, wide-leg, bootcut, and so on. Each of them gets their time to shine as trend cycles come and go.
However, the most versatile, timeless, and dressy option you could go for would be a pair of slim or tapered grey jeans.
If you wanted a pair you could wear in practically any casual setting, that would be it.
However, when wearing a black shirt with grey jeans in very casual settings (eg. where you could practically wear anything), a skinnier or baggier fit could definitely be considered.
Silver Accessories Work A Treat
Silver accessories such as watches, belt buckles, and chains tend to work better when wearing a black shirt with grey jeans.
This comes down to color temperature.
Black and grey are neutral but tend to work better with "cool" colors than "warm" colors. This is especially true of grey.
This is why you'll generally find that silver and stainless steel accessories will usually work better than gold or brass, for instance.
Making the effort to think carefully about the color of the accessories you wear and coordinating them will make it clear you're taking things to the next level.
It's something most people will do and is a pretty easy way to differentiate yourself from the crowd.
The Shoe Color And Style Should Suit The Setting
When wearing a black shirt with grey jeans, consider brown or black shoes in smart-casual settings. White sneakers would be a great alternative in truly casual settings.
Let's talk through smart-casual options first.
Black shoes would be the obvious choice here as they would stick to the monochrome color scheme we've got going.
However, black dress shoes can sometimes look quite stiff and serious.
It's the most formal color and going for a pair of black Oxfords or Derby shoes would usually look a little strange when wearing any form of denim jeans.
Black monk straps are a little more casual, but still have quite a "professional" aesthetic to them.
So, if you do go for black dress shoes, consider a pair of loafers instead. Loafers are effortlessly stylish and aren't worn nearly enough.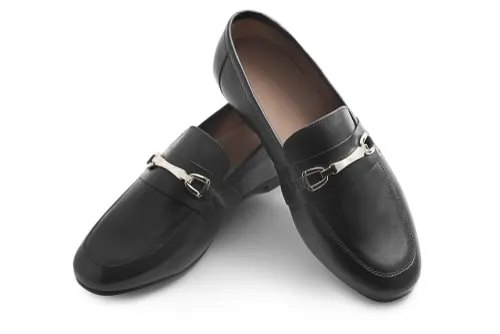 Yes, they're ankle-exposing and are generally more appropriate during the warmer months. But they look great with a pair of grey jeans.
The great thing about wearing brown shoes in this outfit is that they add a touch of contrast and warmth to the outfit.
Dark brown shoes are a better option when dressing the combination up, simply because they add less contrast than lighter shades of brown (eg. tan, caramel).
Finally, a pair of all-white leather low-top sneakers can easily be worn in a casual black shirt and grey jeans outfit.
It's a high-contrast, eye-catching option that looks casual, sleek, and minimalist.
Consider cuffing the grey jeans once and going for no-show socks to really draw attention to sneakers.
Ready Sleek founder. Obsessed with casual style and the minimalist approach to building a highly functional wardrobe. Also a fan of classic, vintage hairstyles.