Jeans are versatile enough to be worn in many different settings. But the question is, are black jeans actually smart casual?
Black jeans can easily be worn as smart-casual, especially those with a dark wash, tapered fit, and minimal distressing. Other smart-casual items they can be worn with include turtleneck sweaters, blazers, and suede dress shoes.
Although that's the short answer, there's more to it.
Here are some great ways you can style black jeans as smart casual.
Enjoy.
1. Knit Blazer And T-Shirt
The blazer and T-shirt combo should be considered a staple of the smart-casual aesthetic. It's no surprise that it happens to be a great way to dress up a pair of black jeans.
Here's an example on Amazon:
The beauty of it is that a simple, white crew neck T-shirt can be used as the foundation over which you can layer any type of blazer or sports coat.
To keep things simple, you'll want to stick to a neutral color for the blazer.

Think black, charcoal, grey, navy blue, or olive green.
While the T-shirt you choose could be any color you want, stick to a light and neutral color to add some nice contrast to the black jeans.
Color blocking in this way leads to a nice and balanced overall look.
In the picture above, the casual texture of the knit blazer looks great with the sleeves rolled up. It doesn't have to be done, by any means.
But it enhances the casual aspect of the smart-casual vibe.
For the shoes, you can go for a pair of sneakers if you want to lean more casual. If, however, you wanted to go smarter, consider a pair of suede dress shoes instead.
2. Blue Denim Shirt On Black Jeans
Denim on denim – should it ever be done?
Sure, as long as it's done the right way.
A blue denim shirt actually looks great when paired with black jeans. The contrast in color prevents the look from being too uniform.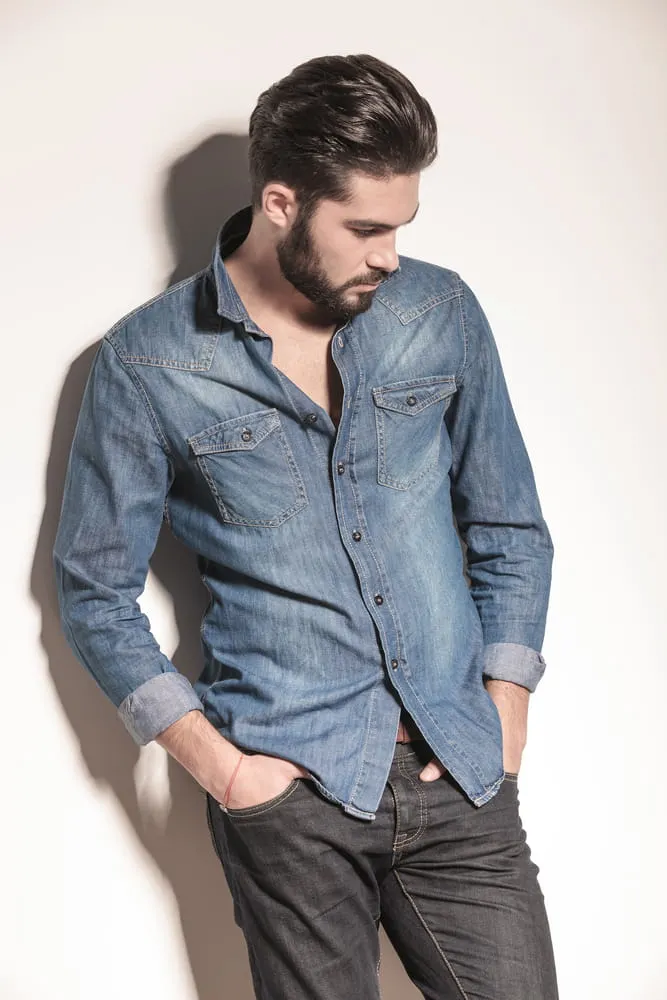 There is such a thing as too much denim, but adding some color contrast between the denim items that you do wear is a good way to reduce the risk of this.
To keep things looking "smart" enough for smart casual, avoid excessive distressing, stone washing, or acid washing with your denim items.
The blue denim shirt should be slim-fit and the black jeans should be nice and tapered.
The look works great with a pair of chukka boots or Chelsea boots – any grain of leather would do, but suede really does epitomize the smart-casual aesthetic.
3. Turtleneck And Blazer
The turtleneck and blazer combination is also a great way to dress up a pair of black jeans just enough to make them smart casual.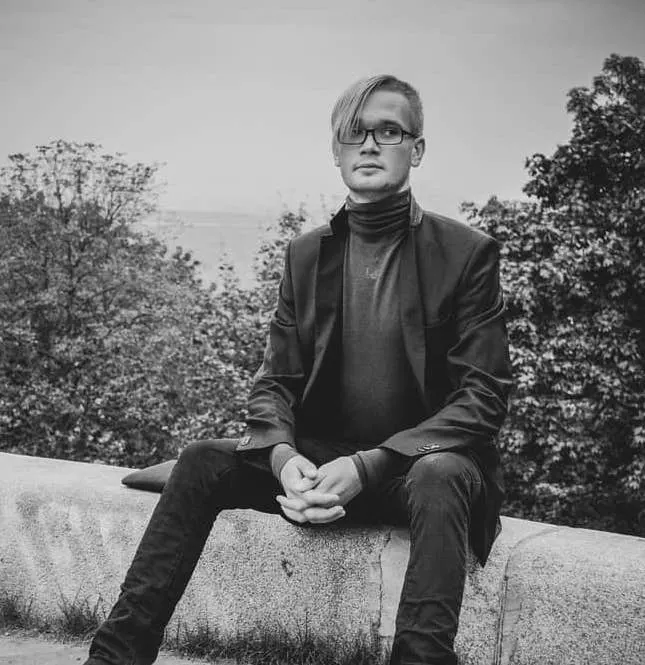 It's a great option during the colder months of the year.
Those months where a turtleneck sweater can strike such a great balance between keeping you warm and making you look so incredibly style-conscious.
It works so well that you don't even necessarily need a blazer on top to pull this look off.
In other words, a turtleneck sweater alone would be enough to puff off a great smart-casual look with your black jeans.
But, as always, popping on a blazer or sport coat over it is just that simple extra step you can take to propel things to the next level.
It's so easy that you just might as well.
As you can see from the photo, the combination looks smart-casual despite the sneakers looking so casual.
4. Linen Shirt And Black Jeans
While black jeans may not be the first choice in a warmer climate, a linen shirt would be a nice and breathable option for the upper body.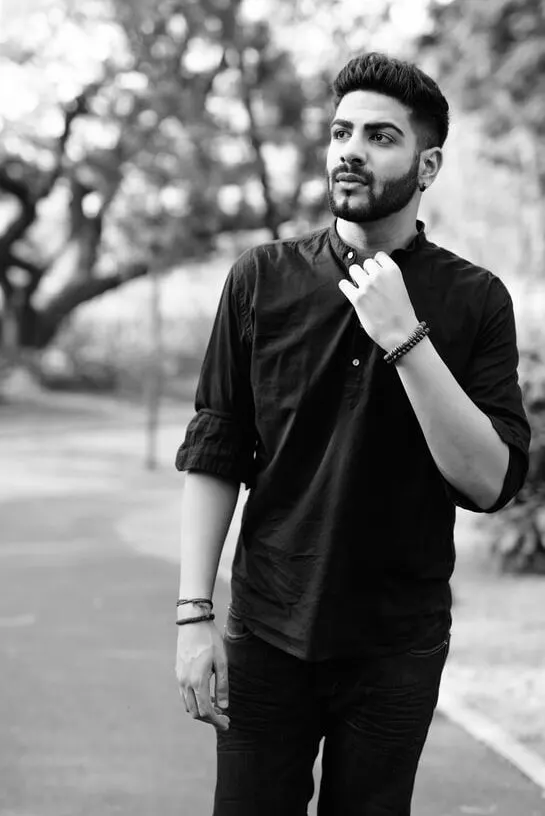 Linen shirts, much like OCBD shirts, polos, and Henleys, work very well in smart-casual outfits.
The rugged and wrinkly texture makes them look a lot more laid back than a dress shirt, but they're still "dressy" enough to make a pair of black jeans look just a little more formal.
Not a lot more formal, but just enough to make an outfit "smart casual" instead of just "casual".
While the linen shirt in the photograph is dark, a light and neutral color such as beige, light grey, or olive green would work equally well when paired with black jeans.
It's worth mentioning here that accessorizing is another way to dress up a black jeans outfit.
Bracelets, a necklace, a wristwatch, etc – when done tastefully, they can be a simple way to make it clear that you've put enough effort into a jeans ensemble to make it smart-casual.
5. Jacket And Turtleneck Sweater
It's so hard not to keep coming back to the turtleneck sweater. There are just so many ways to style one with a pair of black jeans.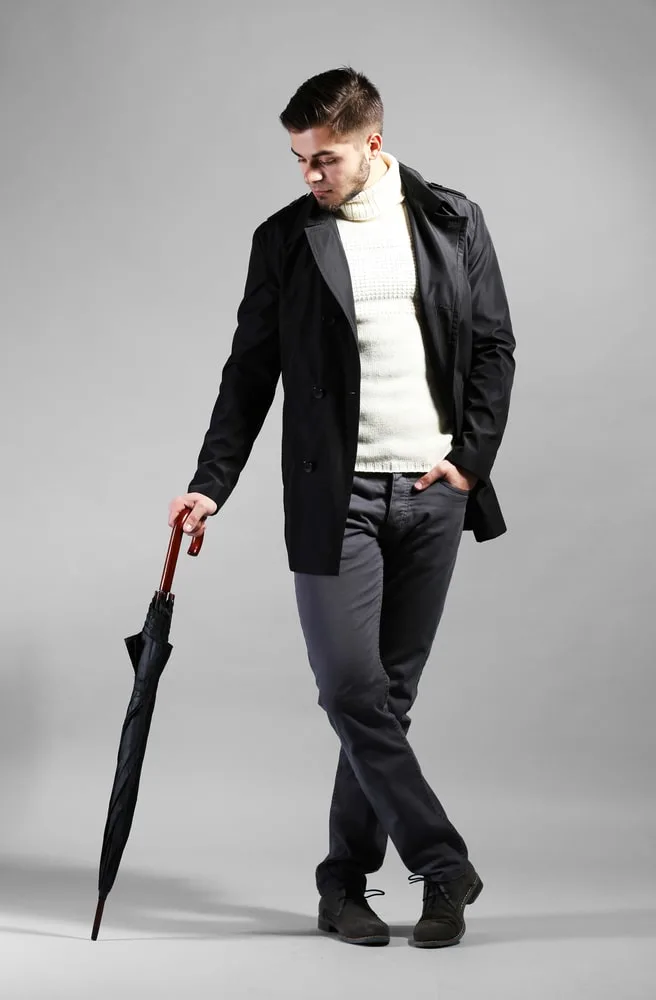 If you don't like the thought of wearing a blazer over your turtleneck sweater or you simply think it's too much, a simple jacket or overcoat would be enough.
What's great about the example above is the color blocking.
The black jacket and the black jeans create a nice border around the off-white turtleneck. This sort of contrast works incredibly well and is definitely something to consider.
It's a lot easier to do when you stick to neutral colors for all of your clothes. It makes it simpler to color match items and you come up with winning combinations that you never would have otherwise.
6. Black Shirt And Black Jeans
Going monochromatic is never a decision to take lightly, but it really can work when wearing a pair of black jeans.
A simple, buttoned-up black shirt, a pair of black jeans, and black leather shoes can work surprisingly well when it's done the right way.
Here's an example on Amazon:
One of the reasons why it works is that the jeans are tapered, dark wash, and have no distressing.
They look more than smart enough to wear with a pretty formal-looking black shirt and black leather shoes.
Another reason why it works is that the buttons of the shirt add just enough contrast to prevent the entire outfit from looking too uniform.
While it won't be a look that appeals to everyone, if you were looking for a simple way to stand out, going monochromatic would be one of them.
7. A Simple OCBD Shirt
The Oxford Cloth Button Down (OCBD) shirt is a workhorse of the wardrobe. It's one that you'll come back to time and time again because it's so incredibly versatile.
It can be worn in a variety of settings and dress codes ranging from casual to business-casual.
It definitely works well in smart casual settings as well.
Because of this, they're a simple way to dress up a pair of black jeans enough to fit the smart-casual criteria.
Here's an example on Amazon:
Once again, sticking to a neutral color for the OCBD shirt will allow you to easily color match it with the black jeans.
Ready Sleek founder. Obsessed with casual style and the minimalist approach to building a highly functional wardrobe. Also a fan of classic, vintage hairstyles.