High-contrast combinations aren't always easy to pull off, especially in certain settings. The question is, can you really wear a black blazer with khaki pants?
The combination of a black blazer and khaki pants can be worn in most smart-casual and business-casual settings but should be avoided in truly formal environments. The high-contrast combination is striking and should usually be anchored by a white button-up shirt when attending a dressy event.
While that's the short answer, it's probably not enough.
First, we'll go through a few outfit examples. Then, we'll run through some tips for getting this tricky combination perfect, each and every time.
Let's get to it.
3 Black Blazer And Khaki Pants Outfits To Try
This should serve as evidence that it's not only possible to wear this combination, but also to wear it in multiple different ways.
As usual, we'll go from the dressiest option to the most casual one.
Dressy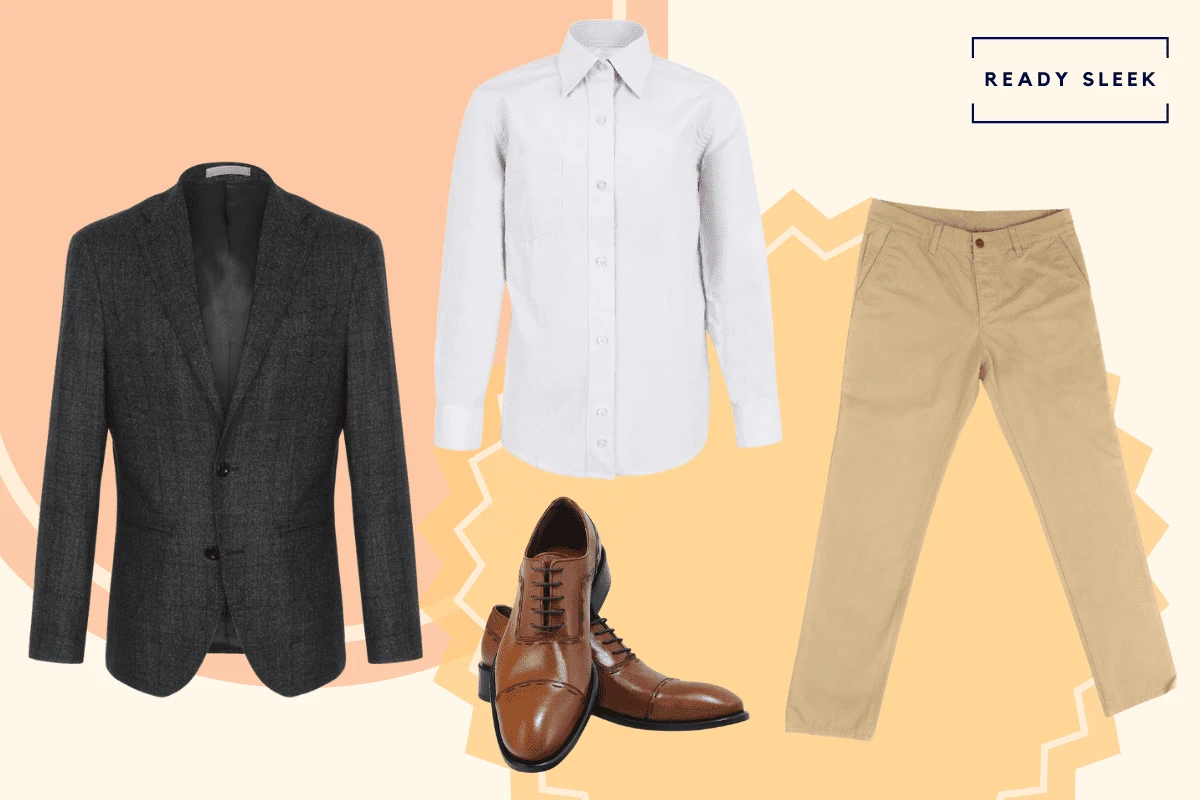 Items: Black Blazer, Khaki Pants, White Button-Up Shirt, Tan Brown Dress Shoes
When attending a dressy smart-casual or business-casual setting, this outfit would usually serve you well.
At the end of the day, both the black blazer and the khakis do ooze a certain level of sophistication and professionalism.
But it's important to acknowledge the high level of contrast between the two items and ensure the rest of your items are subtle in comparison.
A simple (and dressy) way to do this would be to go for a simple white button-up shirt.
Round things up with a pair of brown dress shoes and you're all set. Try to choose a pair in a medium to dark shade of brown, made from a shiny grain of leather.
If you really want to take things up a notch, pop a neutral-colored pocket square into your black blazer's pocket.
Cumulatively, these items should make it clear that you're dressing this blazer combination up and making an effort for the occasion.
More Casual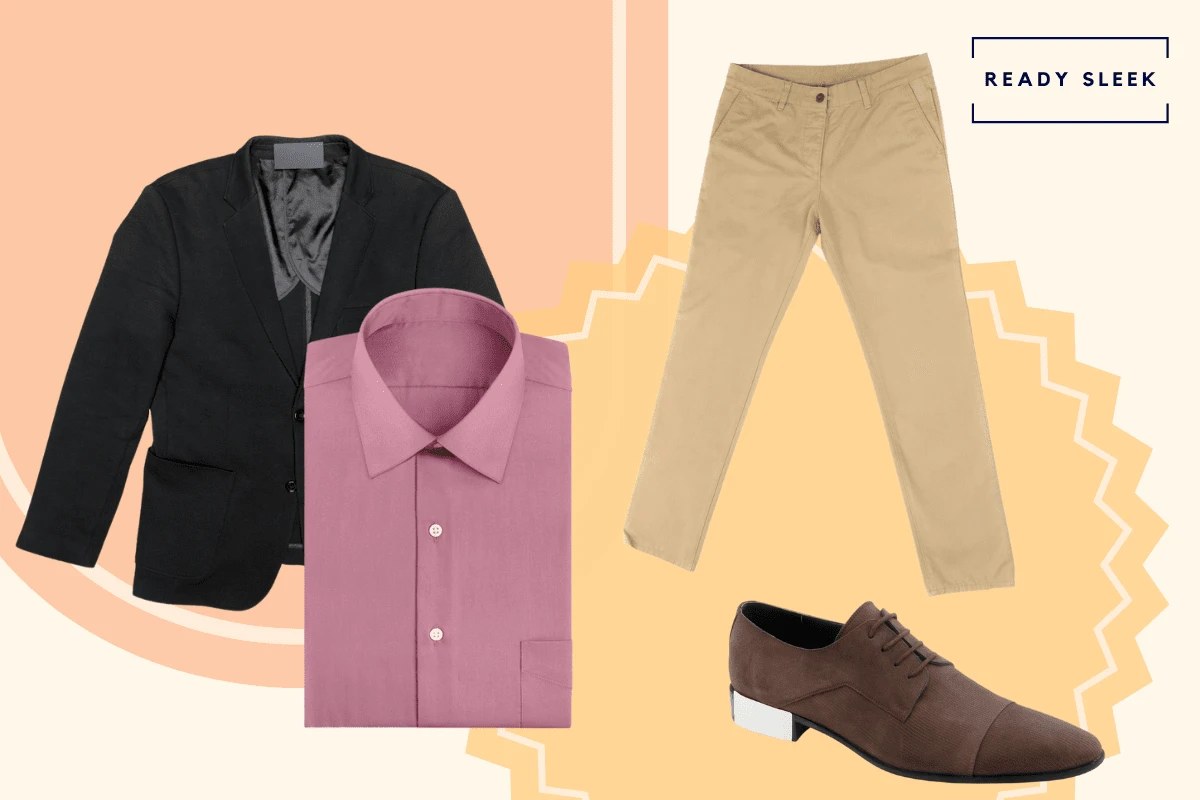 Items: Black Blazer, Khaki Pants, Salmon Pink Button-Up, Brown Suede Derby Shoes
Here, we're dressing down a notch, but not by that much.
For example, we're still going for a button-up shirt.
However, instead of the clean and professional white shirt aesthetic, we've gone for a more vibrant, warm, and energetic salmon-pink alternative.
The outfit becomes immediately more eye-catching, bold, and casual.
But you can rest assured that it'll coordinate.
At the end of the day, both the black blazer and the khaki pants are neutral (or near-neutral) enough for any shirt color to work.
But going for a dark and muted shade of a vibrant, warm color such as salmon pink ensures that things still look dressy and sophisticated.
We've finished up with a pair of brown suede Derby shoes here. The napped and rough texture of suede will always look more casual than a shinier grain of leather.
They're a great way to dress down.
Most Casual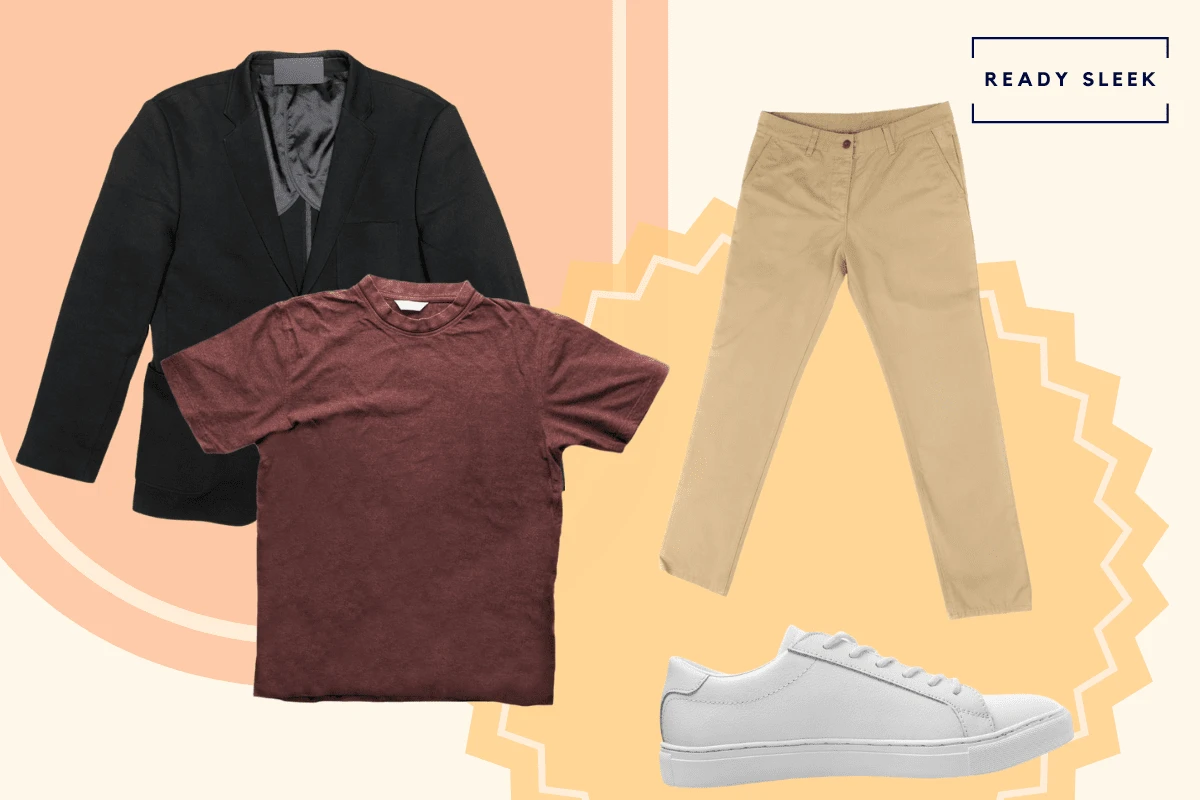 Items: Black Blazer, Khaki Pants, Maroon T-Shirt, White Sneakers (Low-Tops)
Here, we're really dressing down. The black blazer and khaki pants combination looks very different from the previous examples.
It looks so much more casual, simply due to the other items you're wearing. Namely, the maroon T-shirt and the white sneakers.
The blazer-over-T-shirt look is incredibly easy to pull off and is a great way to up the sophistication level of even the most casual of outfits.
While you could easily go for a neutral T-shirt color here (eg. white or grey), going for a more eye-catching and non-neutral option is just as appealing.
Finally, round things up with a pair of all-white leather low-top sneakers.
They embrace the casual aesthetic while ensuring the footwear looks dressy enough to make sense with the black blazer.
5 Tips For Wearing A Black Blazer With Khaki Pants
Here are some great tips for wearing these two items in the most effective way possible, no matter what you may be dressing for.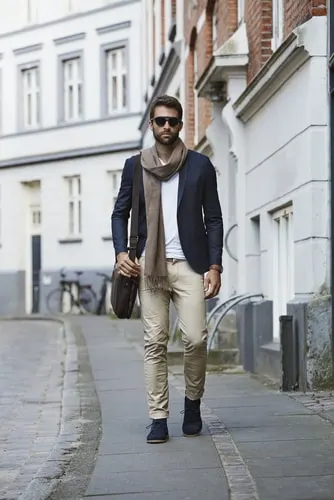 Business-Casual Or Smart-Casual Only
Avoid wearing a black blazer and khaki pants combination in business-professional or truly formal settings.
It should only be worn in business-casual or smart-casual settings.
Business-casual settings are those where the blazer and khakis would be combined with items such as button-up shirts, sweaters, and dress shoes.
Smart-casual settings are those where the same blazer and khakis could be combined with more casual items such as polos, Henleys, T-shirts, suede shoes, and even sneakers.
At the end of the day, it's a combination that can be worn in a variety of different casual settings.
But it's important to avoid trying to turn it into something it's not.
If a 2-piece suit is going to be required for the setting, avoid wearing any unmatched blazer and pants combination.
Embrace The Contrast
After acknowledging the high level of contrast produced between the pale brown khaki pants and the ultra-dark black blazer, try to embrace it.
Sure, it'll be more eye-catching and striking than a more subtle and low-contrast alternative such as a medium grey blazer + khaki pants.
High-contrast combinations can still work in business-casual settings when you're utilizing more traditional and "professional" colors such as black and khaki.
However, when wearing this combination to a dressier setting (eg. business-casual events), consider anchoring the high-contrast pairing with neutral and straightforward items.
Going for a simple white button-up shirt would be the easiest way to do this. Wearing one would allow the contrast between the blazer and the khakis to be the most striking thing about the outfit.
Your other items will be relatively subtle in comparison.
Consider The Style, Fit, And Fabric
A black blazer can look very different depending on its style – the fit and fabric are crucial here.
They can look quite dressy, with a structured appearance, heavy shoulder padding, and made from a shiny, wrinkle-resistant fabric/weave such as worsted wool.
They can also look quite casual.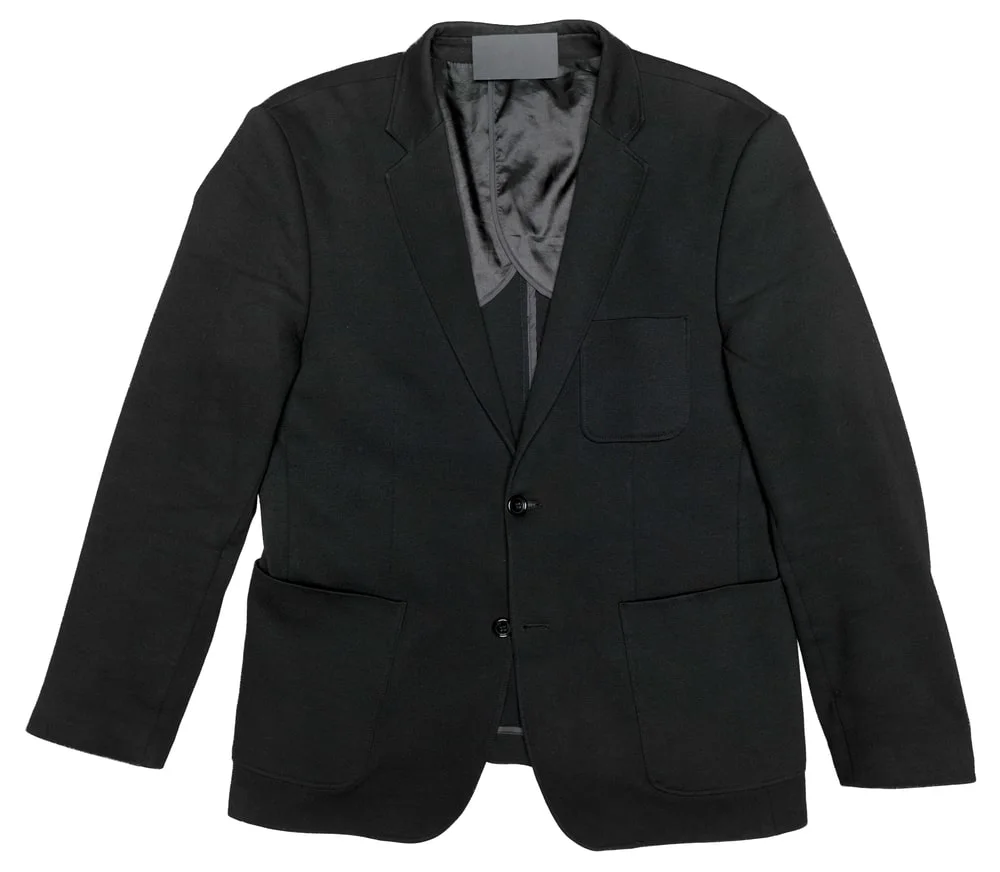 Those with a more relaxed fit and made from a rough and rugged fabric/weave such as serge, flannel, linen, or tweed will always have a more laid-back look and feel.
"Khakis" are essentially chinos that come in a khaki color. It's generally a pale and sandy shade of brown with a noticeably yellowish hue.
While they're incredibly versatile and are often worn in business-casual settings, they will never look as formal as a pair of dress pants.
Because of this, it's usually best to choose a relatively casual-looking black blazer to reduce the risk of a formality mismatch between the two items.
Trying to wear a suit jacket-esque black blazer with a pair of khakis may come across as a little awkward. It can work, but won't look quite as in-sync as a more casual alternative.
Consider Your Shoe Style And Color
Black and brown dress shoes look great when wearing a black blazer with khaki pants. Consider suede if you feel as though the setting is casual enough to allow for it.
Most would argue that brown shoes are the easiest option to pull off. They pair effortlessly with the khakis, while black may lead to a pretty harsh contrast.
Both options can work, but brown may be a little easier.
When you're really dressing down and going casual, consider a pair of sneakers, but try to choose a pair that makes sense with the black blazer.
Trying to wear a pair of bulky canvas athletic sneakers with loud colors and branding may look a little awkward when wearing a relatively formal black blazer.
Instead, go for "dress sneakers".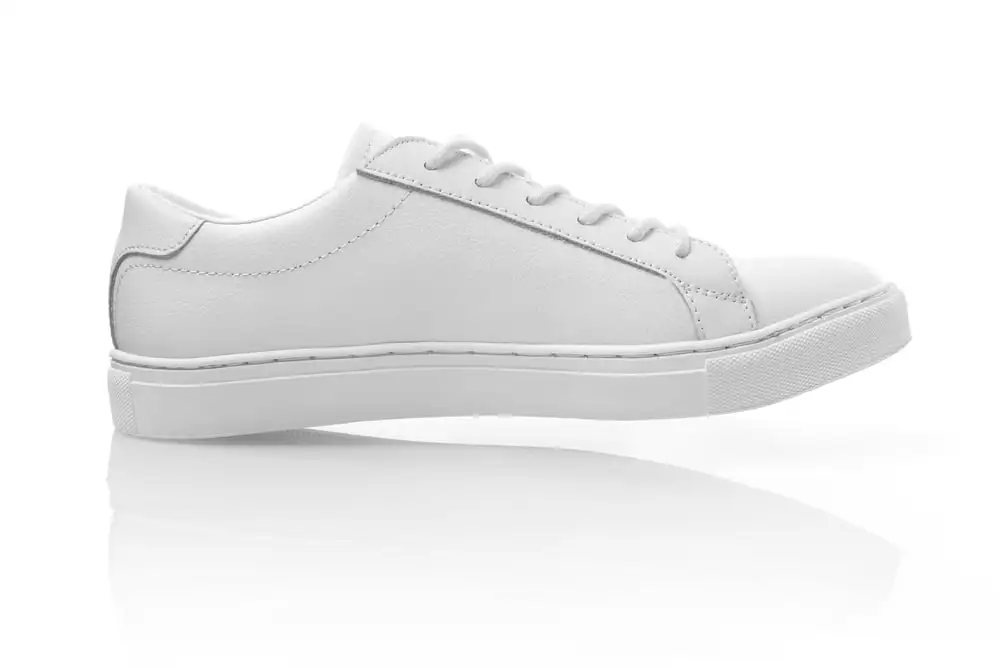 While the definition can vary, it usually refers to leather low-top sneakers in a solid color and with subtle (or minimal) branding.
All-white leather low-tops are common favorites. They're effortless to coordinate and easy to dress up.
You May Not Need A Tie
A necktie may not actually be necessary when wearing a black blazer and khaki pants, even in dressy business-casual settings.
At the end of the day, a business-casual setting is still a casual one. In fact, neckties are often discouraged when it comes to this dress code in any case.
"No suits, no jeans, and no ties" is usually a good business-casual rule of thumb to follow.
It isn't a hard-and-fast rule, however, so do take it with a pinch of salt.
But there's something pretty alluring about simply wearing a black blazer, khaki pants, and a button-up shirt with one or two buttons undone.
It's laid-back, while still being dressy enough for most smart-casual and even business-casual settings.
Ready Sleek founder. Obsessed with casual style and the minimalist approach to building a highly functional wardrobe. Also a fan of classic, vintage hairstyles.