Blazer combinations are versatile but can sometimes be frustrating to coordinate with casual items. What you don't want is an awkward formality mismatch. The question is, can you wear a black blazer with jeans?
A black blazer can be worn with jeans in smart-casual environments. Go for a slim-fit pair of jeans with minimal distressing to avoid the risk of a formality mismatch. Smart-casual footwear options that work well with this combination include loafers, chukka boots, and all-white leather sneakers.
That's the short answer, but there's much more to it.
After going through a few phenomenal outfit ideas you can try out for yourself, we'll go through some crucial tips for getting this combination right no matter what you're dressing for.
Let's get to it.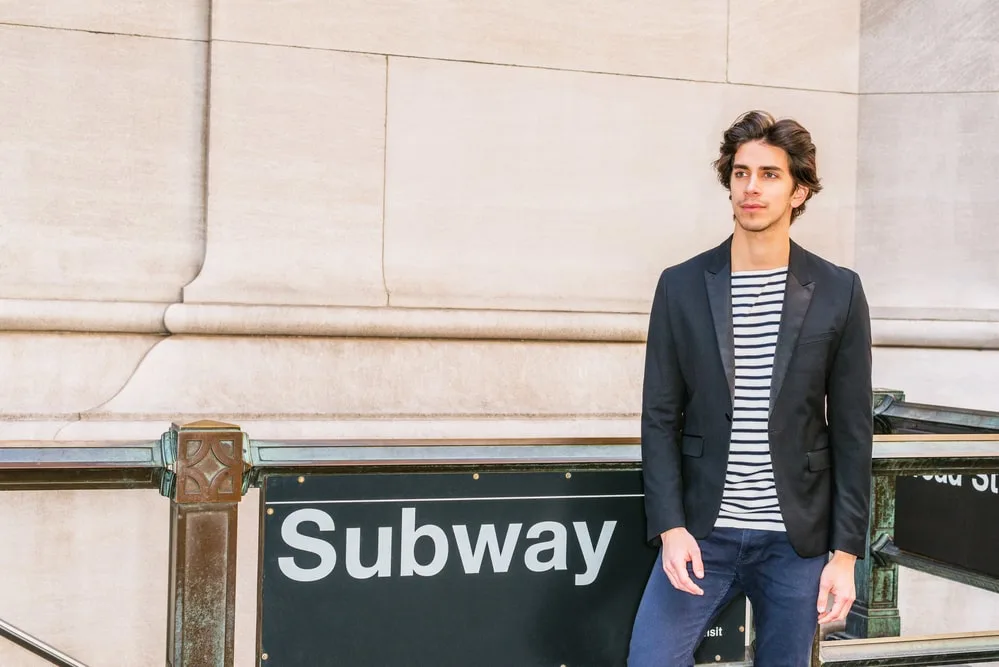 3 Black Blazer And Jeans Outfit Ideas
We're going from dressy to casual here. It goes to show just how versatile a black blazer and jeans pairing can be.
It also shows you just how different it can look depending on the color of your jeans and what other items you're wearing them with.
Dressy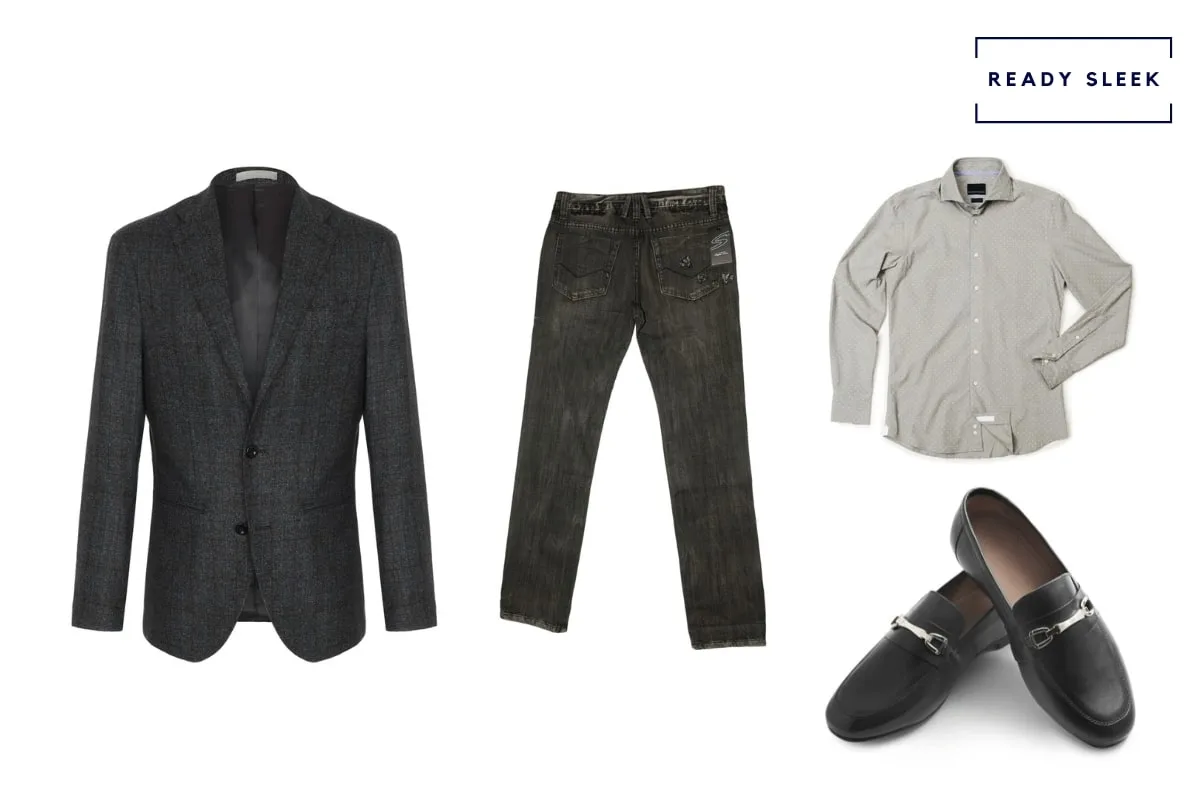 Items: Black Blazer, Black Jeans, Light Grey Dress Shirt, Black Bit Loafers, White Pocket Square
While this combo should only ever be worn in casual or smart-casual environments, there will also be dressy wears of wearing it, as well as more casual ones.
Here, we're going for a dressier aesthetic.
We've done this by choosing a dark pair of jeans. Black jeans will always look sharper and more sophisticated than blue jeans, with dark grey coming in a close second.
The black blazer and black jeans combo is hard to go wrong with – it's effortlessly elegant.
To add some contrast, consider a light and neutral-colored shirt such as the light grey one in the image.
It'll pop out against the dark, all-black backdrop of the blazer and jeans.
If you'd prefer a more monochrome look, consider a black shirt.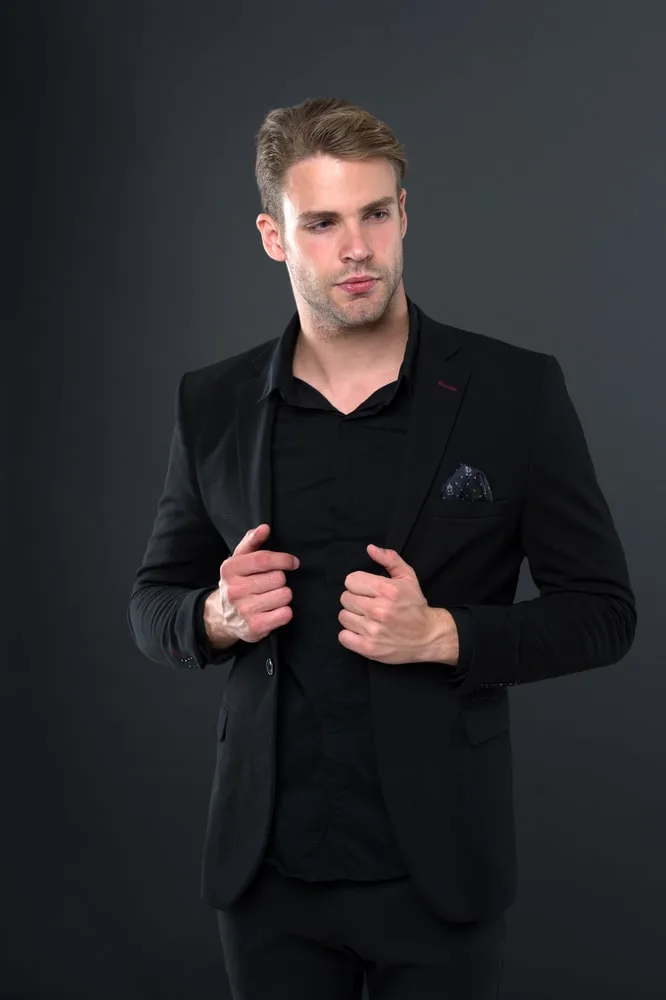 Round things off with a pair of shoes. Black leather loafers work well – they epitomize the smart-casual vibe.
During the colder months of the year, you could consider a pair of black leather Chelsea boots instead.
A white pocket square is a great way to make it clear that you've made an effort. A simple straight or puff fold is all you need.
More Casual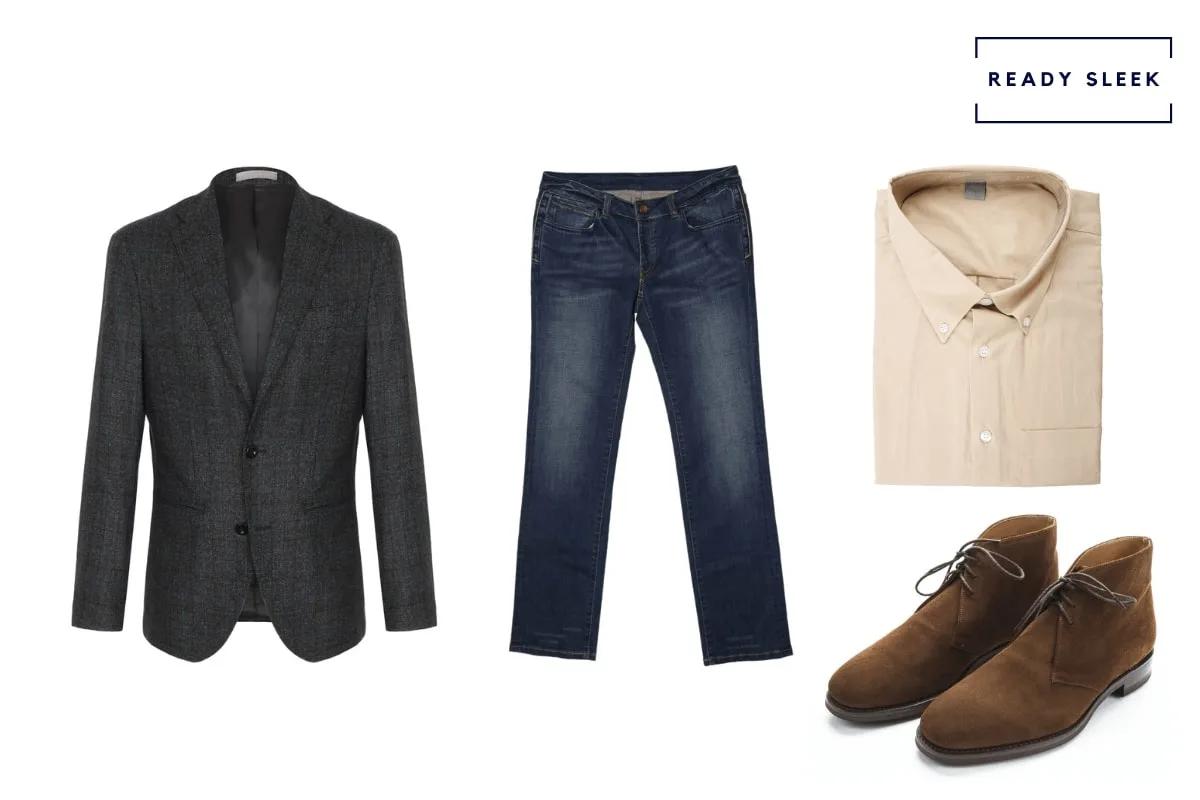 Items: Black Blazer, Dark Blue Or Dark Grey Jeans, Beige Broadcloth Shirt, Brown Suede Chukka Boots
We're dressing down a little, but not by too much.
Instead of a dress shirt, consider one in a more casual/rugged fabric. Linen, Oxford cloth, broadcloth, poplin, flannel – they're all good options.
In addition, consider a slightly more vibrant shirt color – one that'll really add some noticeable contrast to the black blazer.
In the image above, we've gone for a beige one.
Finally, consider shoes in suede over a shinier grain of leather. Suede just oozes a great smart-casual aesthetic and the napped texture looks fantastic when combined with denim.
Here, we're wearing brown suede Chukka boots, but you could easily go for a pair of suede dress shoes such as Derby or monk straps.
Most Casual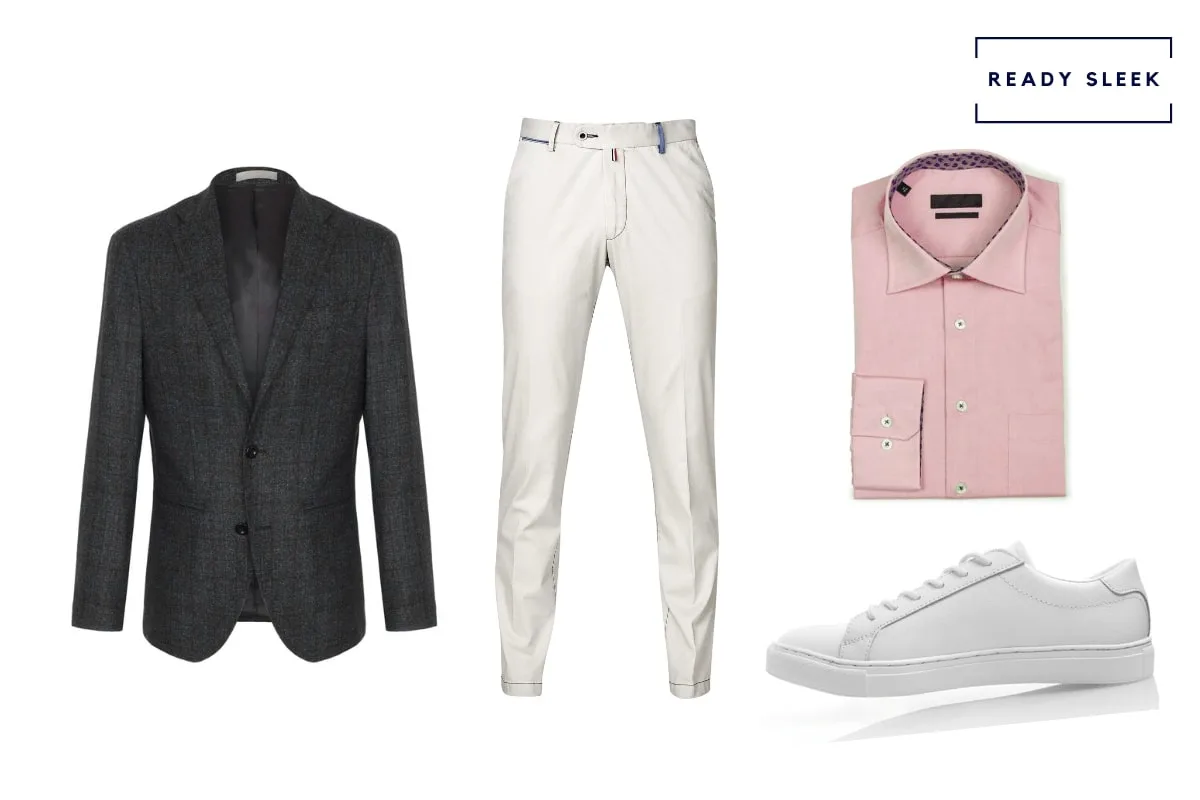 Items: Black Blazer, White Jeans, Pink T-Shirt, White Sneakers
It's simple but works incredibly well.
While you could easily get more casual than this, it's still a whole lot more casual than the previous two examples.
The main difference here is the contrast between the blazer and the jeans.
Black and white produce a high-contrast, attention-grabbing, monochrome combination that'll always turn heads.
Plus, as white denim is generally less common than blue or black, it's a great way to stand out from a crowd.
In addition, consider wearing a T-shirt under the black blazer to really embrace the casual aesthetic.
Going a step further, consider one in a vivid and vibrant color such as pink or orange.
The warmth and energy from these colors would add a nice sense of contrast to the otherwise neutral black blazer and white jeans combination.
Finally, a pair of sneakers would work a treat here. But don't get too casual with them. Avoid bulky and athletic canvas sneakers.
Instead, go for a pair of low-top and minimalist leather sneakers. It's tough to go wrong with an all-white pair.
5 Tips For Wearing Black Blazers With Jeans
Now that you've seen a few examples of outfits, here are some great tips for getting this classic combination right every time.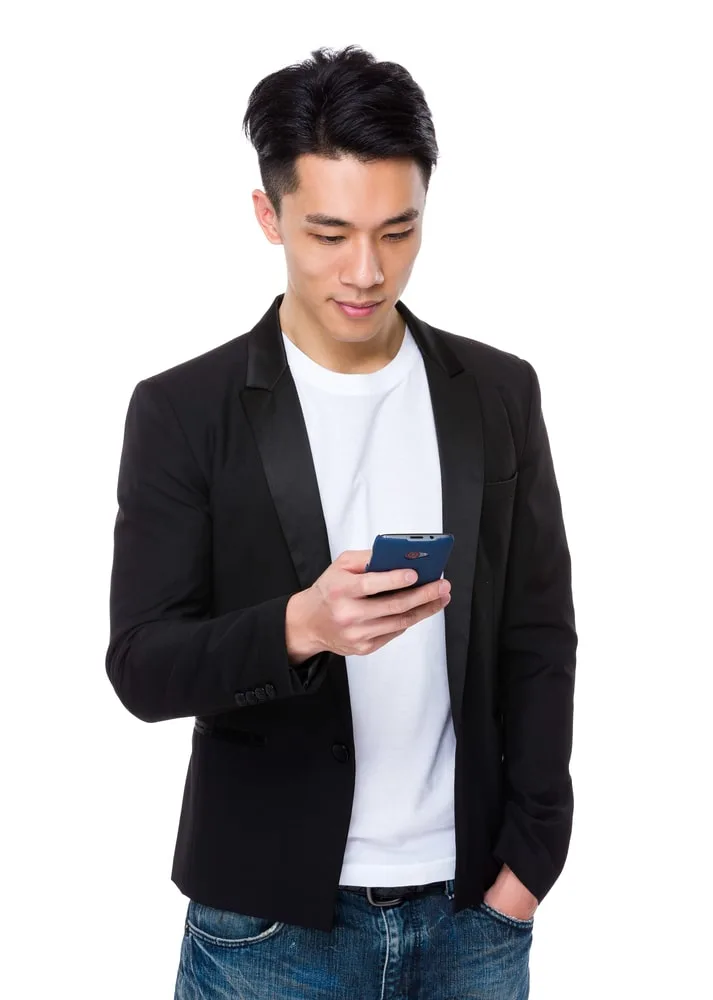 Don't Wear It In Formal Settings
While a black blazer can look very sharp, pairing it with jeans would immediately make the combination unsuitable for formal, business-professional, and business-casual settings.
In formal or business-professional environments, a 2-piece suit would be required and a blazer + jeans combination would look incredibly awkward and underdressed.
In business-casual settings, while a black blazer and jeans pairing wouldn't be the worst option, it would still be considered underdressing. Go for chinos or dress pants instead.
Ultimately, a black blazer and jeans should really only be worn in casual or smart-casual settings.
Those are very broad categories. As you've seen from the outfit examples above, it can range from quite dressy to not very dressy at all.
Let the setting and the dress code determine the color of the jeans you wear, as well as what other items (eg. shirt and shoes) you wear the combo with.
Low Contrast Vs High Contrast
Consider how much contrast you want between the black blazer and the jeans when choosing a jeans color.
If you'd prefer a subtle and low-contrast combination, go for a dark and neutral jeans color. Black would be the obvious choice, with dark grey and navy coming in a close second.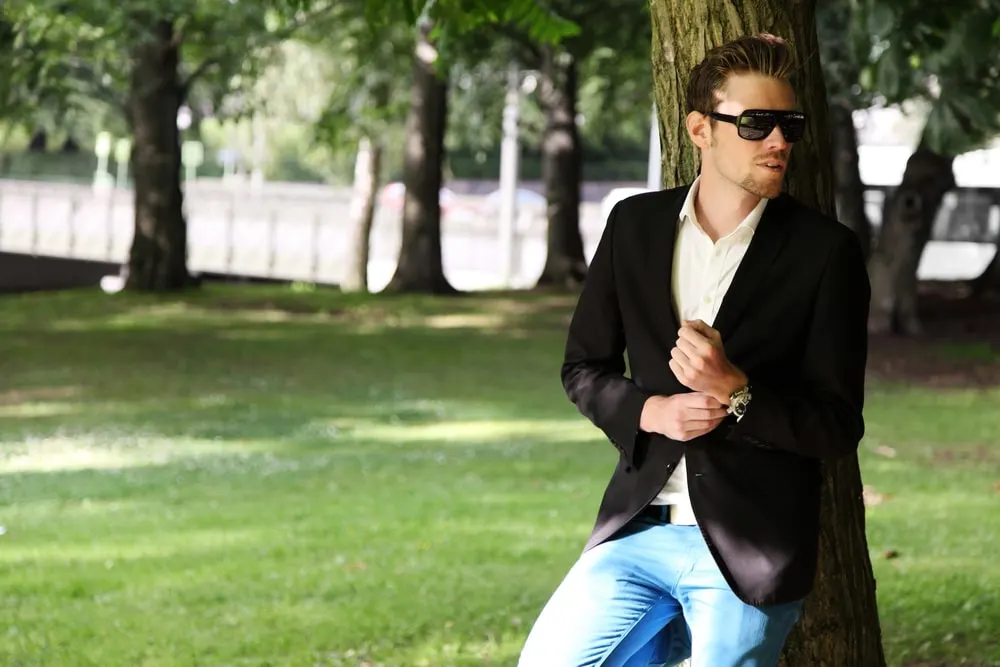 Low-contrast blazer and jeans combinations will usually look dressier than high-contrast ones.
That's why the black blazer and white jeans combo was used as an example of a very casual way of wearing it.
It's high-contrast and eye-catching.
Other high-contrast options would include light grey and light blue jeans.
So, decide how much contrast you want. Would you prefer a bold and in-your-face contrast between the two items, or would you prefer a more subtle contrast?
Avoid Baggy And Distressed Jeans
A black blazer is quite a formal item. While it wouldn't be as formal as a full suit, it's still considered "formal" for all intents and purposes.
Popping a blazer over any outfit is a great way to up the formality and sophistication level.
But it's important to avoid a formality mismatch. This is always a risk when pairing a typically formal item (i.e the blazer) with a traditionally casual one (i.e the jeans).
To do this, choose a relatively "dressy" pair of jeans.
While jeans could never look truly formal, there are definitely features that can make a pair of jeans look dressy, as well as others that make them look formal.
Here are some features of dressy jeans to look out for:
Dark wash
Dark colors
Minimal distressing
Slim and tapered fit
Avoid distressed jeans when wearing a blazer. "Distressing" refers to those rips and frays you sometimes see in jeans to give them a more vintage look.
The same goes for acid washing, stone washing, and other fading techniques.
While all of these features can look great in casual outfits, they can often look too casual to make sense when you're wearing a formal-looking black blazer.
The same goes for the fit.
Go for a pair of jeans with a slim and tapered fit when wearing a black blazer. They'll always look dressier than more eye-catching fits such as bootcut, wide-leg, and skinny jeans.
Let The Dress Code Determine The Shirt
As you saw in the examples above, a black jeans and blazer combo can look very different depending on what shirt you wear it with.
You can dress it up by choosing one of the following:
Dress shirt
OCBD
Linen Shirt
Broadcloth shirt
Or dress it down with one of these:
T-shirt
Henley shirt
Polo shirt
The same goes for the color.
When dressing the combo up, go for a neutral shirt color. When dressing it down, consider a brighter, bolder, or more vivid shirt color.
Ultimately, you should let the dress code decide. You've got plenty of options and you can rest assured that a black blazer will coordinate with any of them.
Careful With Your Shoe Choice
When choosing a pair of shoes, try to remember that a black blazer and jeans combo usually falls within the smart-casual category.
So, avoid footwear that is too formal or too casual.
Try to choose a pair that lands in that sweet spot in between.
Examples of shoes that check these boxes include loafers, boots, as well as dressier pairs of sneakers.
When it comes to sneakers, the dressier and more minimalist they look, the better.
While sneakers and jeans often go hand-in-hand, ultra-casual and bulky sneakers with heavy branding and in-your-face colors may look a little awkward when wearing a dressy black blazer.
Instead, consider a pair of all-white leather low-top sneakers.
Conclusion
A black blazer gives you plenty of options and it could become one of the most versatile items you own.
It's very likely to coordinate well with any style and color of jeans you own. However, as you've now seen, there are definitely better pairs of jeans to wear with a black blazer than others.
Enjoy.
Ready Sleek founder. Obsessed with casual style and the minimalist approach to building a highly functional wardrobe. Also a fan of classic, vintage hairstyles.