A black blazer can really be put to work, versatile enough to be worn with so many different items and in many different settings. But can you really wear a black blazer with grey pants?
Black blazers can easily be worn with grey pants in business-casual and smart-casual settings. The dressier the setting, the more likely it is that pants in a dark shade of grey and black blazers with a more structured appearance would be appropriate here.
Avoid wearing this combo in truly formal or business-professional environments.
While that's the short answer, there's more to it.
After going through three different ways to wear this combination, we'll run through some crucial tips for getting it right, each and every time.
Let's get to it.
3 Black Blazer And Grey Pants Outfits
We'll go from the dressiest way to wear it to the most casual way.
Dressy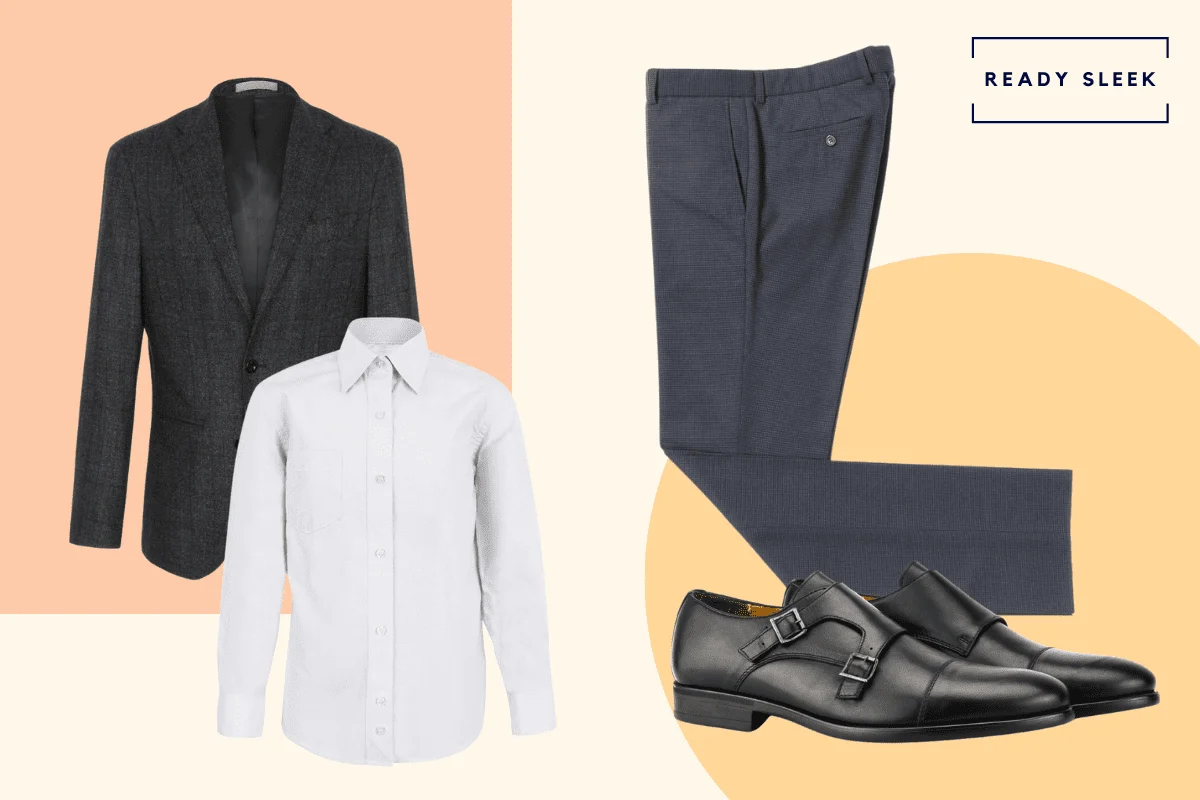 Items: Black Blazer, Dark Grey Dress Pants, White Button-Up, Black Monk Straps, White Pocket Square
When dressing this combination up and attending a relatively dressy setting (eg. business-casual), grey dress pants would usually be the best way to go.
They'll usually be made of wool or a wool-synthetic blend. Dress pants usually have a smooth and unbroken silhouette, a tapered fit, and maybe even center creases.
Pairing a pair of grey pants with any grey blazer is a quick and easy way to up the formality level of your outfit as a whole.
The shirt you wear also makes a difference, with a white button-up being your dressiest option.
The combination of a black blazer, grey pants, and a white button-up shirt produces a nice and sharp greyscale color scheme overall.
Finally, round things up with a pair of black or dark brown dress shoes.
In the example above we've gone for black monk straps, but a pair of Derby shoes would be just as appropriate.
More Casual
Items: Black Blazer, Grey Chinos, Beige OCBD Shirt, Tan Brown Dress Shoes
To take things down a notch and go a little bit more casual, consider swapping the grey dress pants for smart chinos.
The beauty of a pair of grey chinos is that they're easy to dress down or up as per your wishes.
The napped texture of chino cloth does make chinos look more casual than dress pants, but not by much.
Remember, the darker the shade of your chinos, the dressier they'll come across.
We've also swapped the white button-up shirt from the previous example for a beige OCBD shirt.
Cream tones such as beige and cream, as well as very light shades of brown such as khaki and light taupe, are perfect for smart casual settings where you're dressing down without going too casual.
Suede shoes will always look more casual than shinier grains of leather, simply because of the napped and rough texture.
Having said that, sticking to a traditional and understated shoe color such as brown should still keep things looking relatively dressy.
Most Casual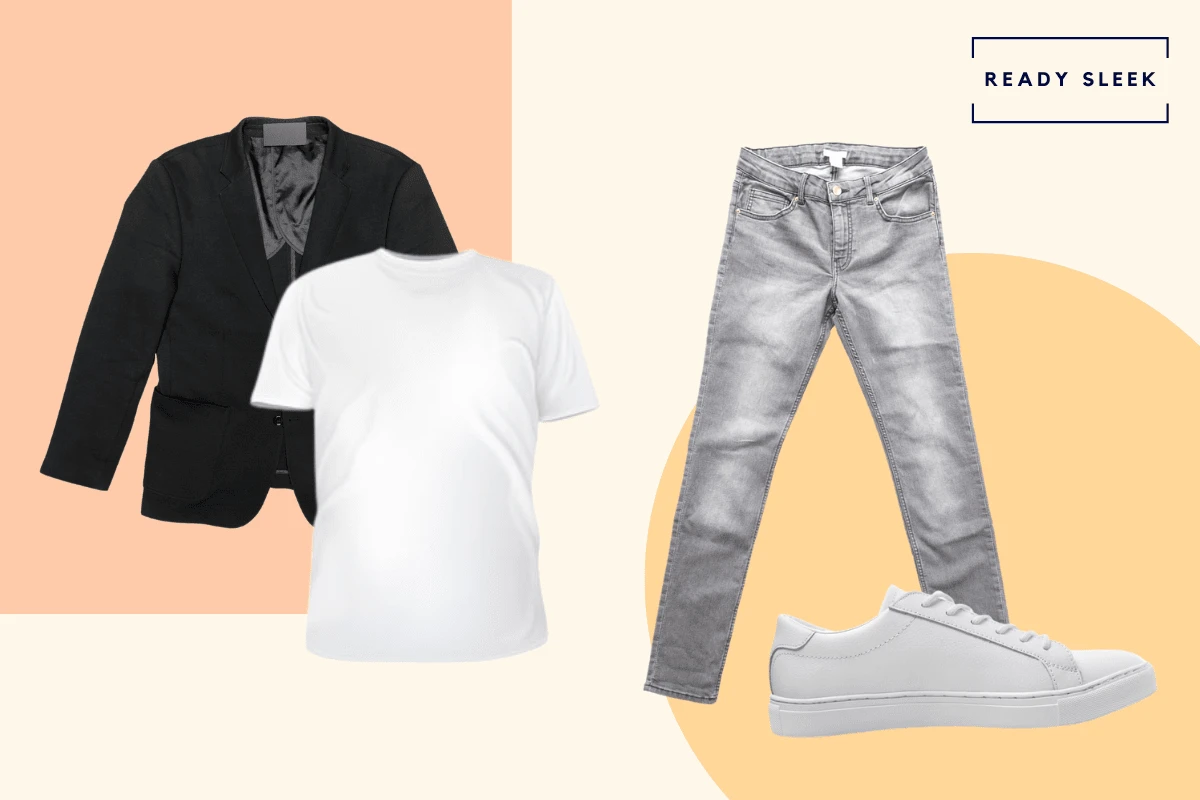 Items: Black Blazer, Grey Jeans, White T-Shirt, White Low-Tops
If you're really looking to dress this combination down, go for grey jeans.
Yes, it's entirely acceptable to wear a black blazer with grey jeans and the result is often impressive in casual settings.
In fact, a blazer is a great way to make any T-shirt and jeans combination look a notch more sophisticated. It's simple, but very effective.
Here, we've gone for a white T-shirt under the black blazer, but you could easily go for something more vibrant if you wanted to add a pop of color.
For example, you could wear a black blazer, grey jeans, and a maroon, pink, olive, or blue T-shirt.
You've got plenty of options – that's the beauty of wearing a combination as neutral as a black blazer with grey jeans.
The white sneakers make it clear that you're really embracing the casual aesthetic and also give you the benefit of sticking to a greyscale color scheme – black, grey, and white.
5 Tips For Wearing A Black Blazer With Grey Pants
Stick to these tips and you shouldn't ever set a foot wrong. Consider all of them before putting your outfit together.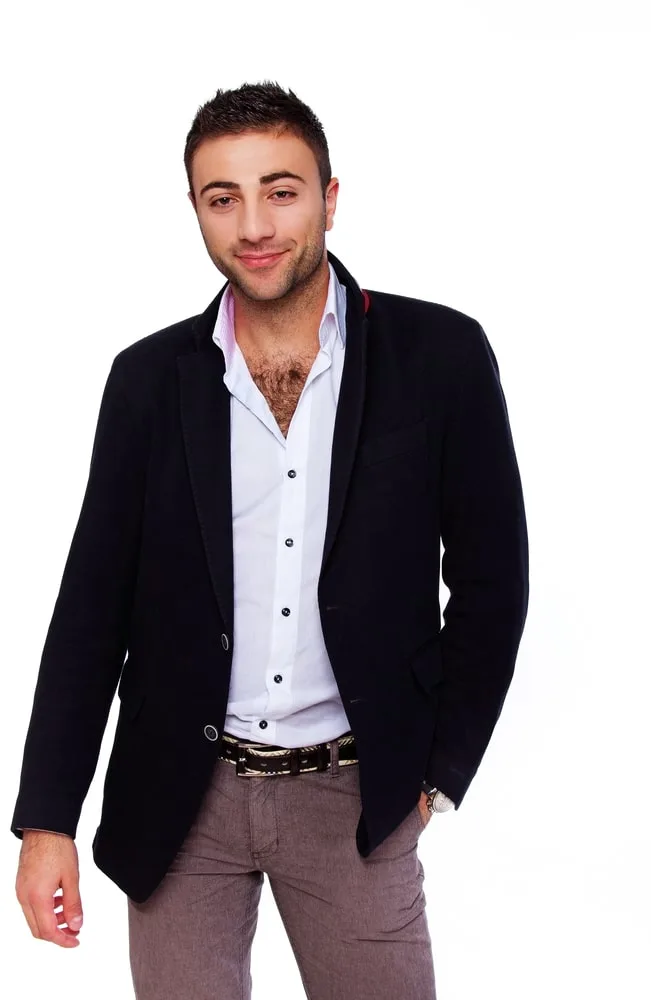 Business Casual At Best
Avoid wearing this combination in truly formal or business-professional settings, as the unmatched black blazer and grey pants pairing would usually be considered underdressing.
But as mentioned earlier on, it's a great option in business-casual settings.
It's a poorly understood and often confused dress code, but could be thought of as a mixture of typical "professional" attire and casual attire.
Items such as dress shirts, dress pants, chinos, OCBD shirts, blazers, and sweaters are considered appropriate.
Suits, ties, and jeans are usually considered inappropriate.
The black blazer and grey pants (chinos or dress pants) combination would usually be absolutely fine, especially when combined with a white/soft pastel dress shirt and a pair of dress shoes.
The combo would also thrive in smart-casual settings where there's even less of a risk of underdressing.
Here, you've got even more ways to wear it. You could wear a T-shirt or polo under the black blazer. You could swap those grey dress pants for grey jeans.
In fact, you could even go for a pair of sneakers instead of dress shoes.
The more casual the setting, the more freedom you have to experiment with your outfit.
Consider The Contrast
A black blazer and grey jeans combination can look very different depending on the shade of your grey pants.
The darker the shade of the grey pants, the less contrast you'll produce between the blazer and the pants.
In general, low-contrast combinations are more subtle, understated, and formal-looking.
So, if you were looking to dress up (eg. for a business-casual environment), strongly consider wearing a pair of charcoal grey dress pants with your black blazer.
If, on the other hand, you wanted a more casual-looking and striking combination, consider going for a black blazer with a pair of light or medium grey pants instead.
A high-contrast combination such as this will inevitably look more casual but be very effective.
The Fabrics And Styles Of Each Item Matter
The combination can look very different depending on the style of both the black blazer and the grey pants.
A black blazer can look more formal or more casual depending on its structure and fabric.
More structured blazers with heavy shoulder padding and canvassing will look dressier than those with a lighter lining and a more relaxed fit.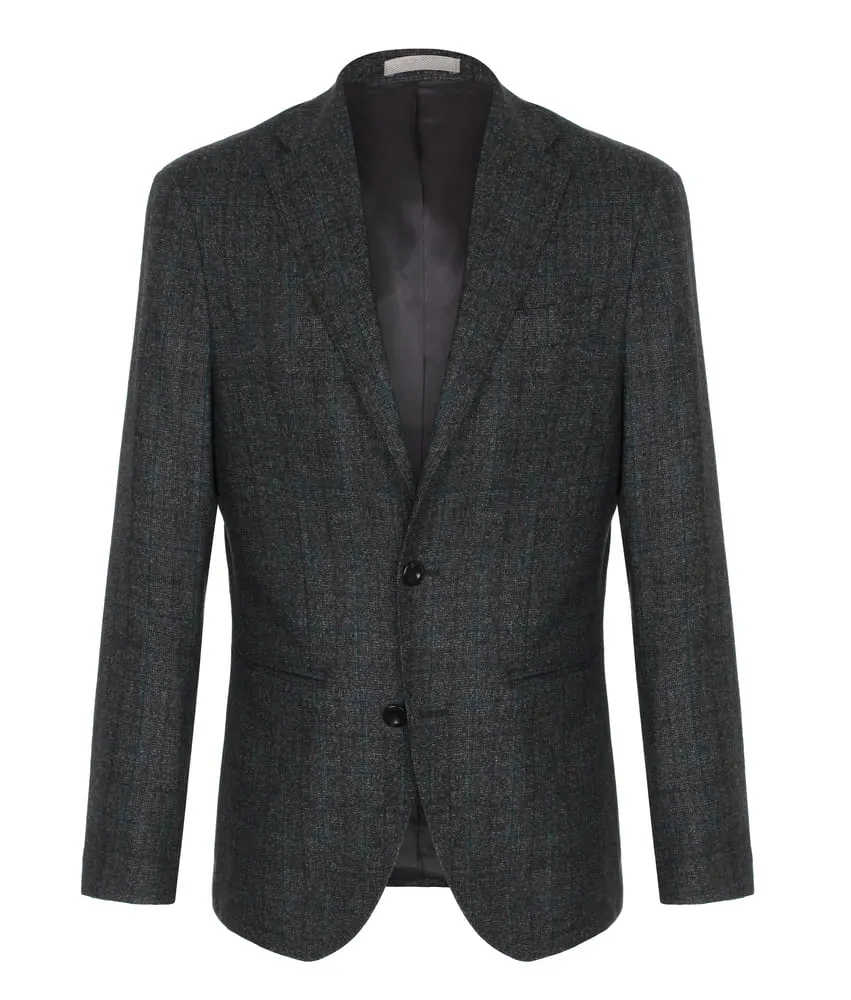 In addition, black blazers made from fabrics/weaves with a rugged or wrinkly texture such as tweed, linen, serge, flannel, or hopsack will look more casual than worsted wool.
"Grey pants" is a term that could technically refer to any style of pants ranging from dress pants to cargo pants and everything in between.
Of course, not all pants styles would be appropriate to wear with a black blazer. Anyone who has tried to do so with a pair of sweatpants could definitely attest to that.
Ultimately, grey jeans would usually be the most casual style of pants you could wear with a black blazer. Anything more casual than that would usually lead to a formality mismatch.
The main point here is that you should consider the dress code when choosing the right style of blazer and pants to wear.
Neutral Or Soft Pastel Shirts Work Best
When wearing a black blazer with grey pants, shirts in neutral colors (eg. white), cream tones (eg. beige, cream), and soft pastels (eg. light blue and light pink) work best.
When looking to dress up (eg. business-casual), strongly consider going for a simple white button-up shirt.
It's hard to go wrong and you'll never be at risk of underdressing.
In smart-casual settings, however, you've got way more options.
Having said that, in the dressier smart-casual settings where you don't want to go too casual, cream tones and soft pastels would usually work a treat.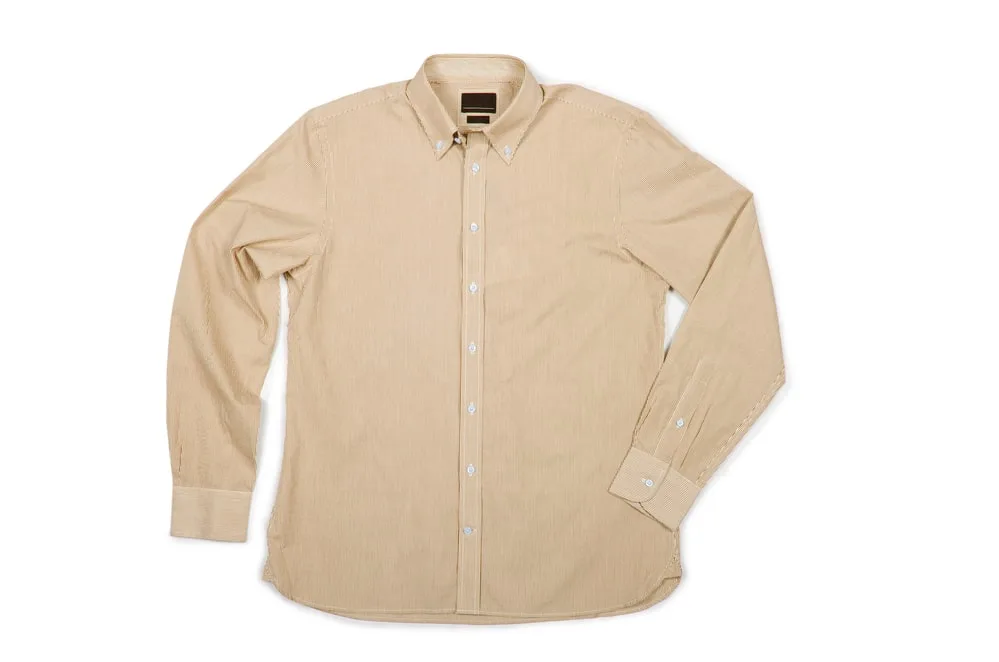 While these shirt colors will always look more casual than white ones, they're popularity in business-casual workplaces do give them a pretty dressy and "professional" appearance.
When you're really dressing down, feel free to use your shirt as an opportunity to add a splash of personality and color.
The blazer and pants you're wearing are both neutral enough for anything to work. It really just depends on how casual you want to go with it.
Black Or Brown Dress Shoes
Black or brown dress shoes look great when wearing a black blazer with grey pants. In business-casual settings, black or dark brown shoes would be the best option, while lighter shades of brown work well in smart-casual settings.
The darker the shoes, the dressier they'll look.
In smart-casual environments, if you wanted to keep things relatively traditional and sophisticated, sticking to dress shoe colors such as light brown, oxblood, or burgundy would still be the way to go.
If you were looking to make more of a statement, you could consider a more vibrant shoe color. These navy blue suede Derby shoes would be a good example.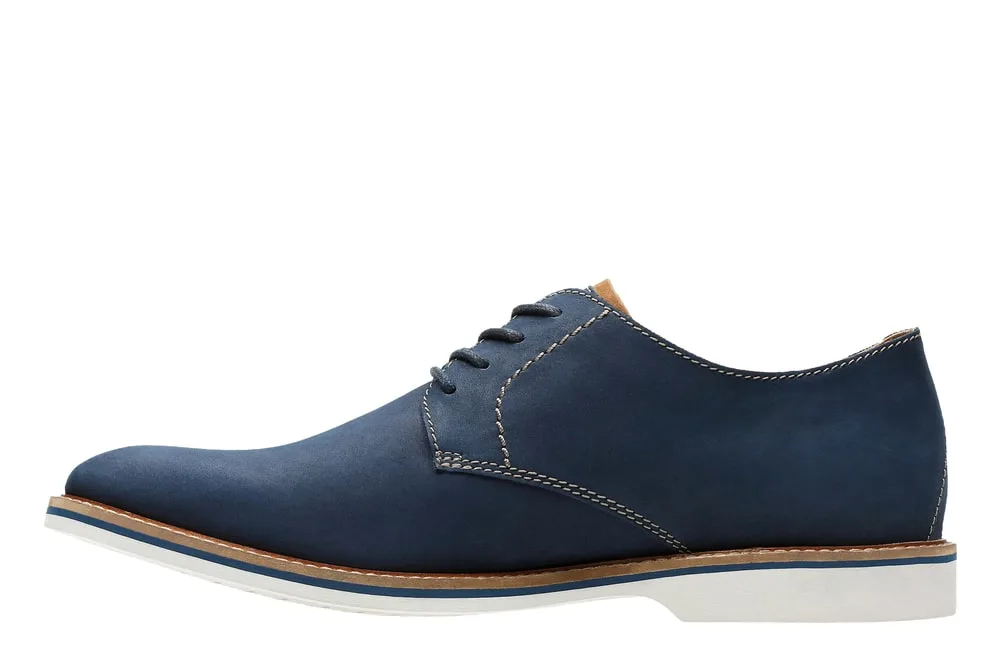 When you're really dressing down, however, sneakers can work well.
But the risk here is that you choose a pair of sneakers/trainers that are just too casual-looking to make sense with the black blazer.
All-white leather low-top sneakers are often labeled "dress sneakers" because it's pretty easy to wear them with typically formal items (eg. blazers) and get away with it.
Frequently Asked Questions
Here are the answers to a couple of FAQs on this combination to finish up.
Can You Wear A Black Blazer With Grey Pants To A Wedding?
It's best to avoid wearing grey pants and a black blazer to a wedding, mainly because black items are generally discouraged at celebratory daytime events such as these.
In addition, there's a high likelihood that a 2-piece suit would be required in any case. This is especially true if the wedding dress code is explicitly "formal".
For "smart-casual" or "semi-formal" dress codes, a blazer and pants combo may be appropriate.
But in these cases, avoid black blazers and go for a grey or navy one instead.
Can You Wear A Black Blazer With Grey Pants To A Funeral?
A black blazer and grey pants pairing would usually be inappropriate to wear to a funeral. A 2-piece suit in black or dark grey would often be a better alternative.
Funeral dress codes can often be tricky. Generally, however, it's best to overdress if you were ever in doubt.
The risk is that an unmatched blazer and pants combination looks too casual and that you'll stand out among a crowd of guests in full 2-piece suits.
Standing out at a funeral is never a good thing.
Ready Sleek founder. Obsessed with casual style and the minimalist approach to building a highly functional wardrobe. Also a fan of classic, vintage hairstyles.