Combining two neutral colors usually ends well, but when one is so much darker than the other it's important to take caution at times. The question is, can you wear a black belt with khakis?
A black belt can be worn with khakis as long as black shoes are also worn. It's also important to ensure the khakis look "dressy" enough for the black belt, so choose a slim-fit, tapered pair and consider wearing a button-up shirt with it.
While that short and sweet answer will serve you well, there's plenty more to it.
It isn't as commonly seen as khakis with a brown belt.
Here are some crucial tips for wearing a black belt with khakis in the most effective and attractive way possible, each and every time.
Let's get to it.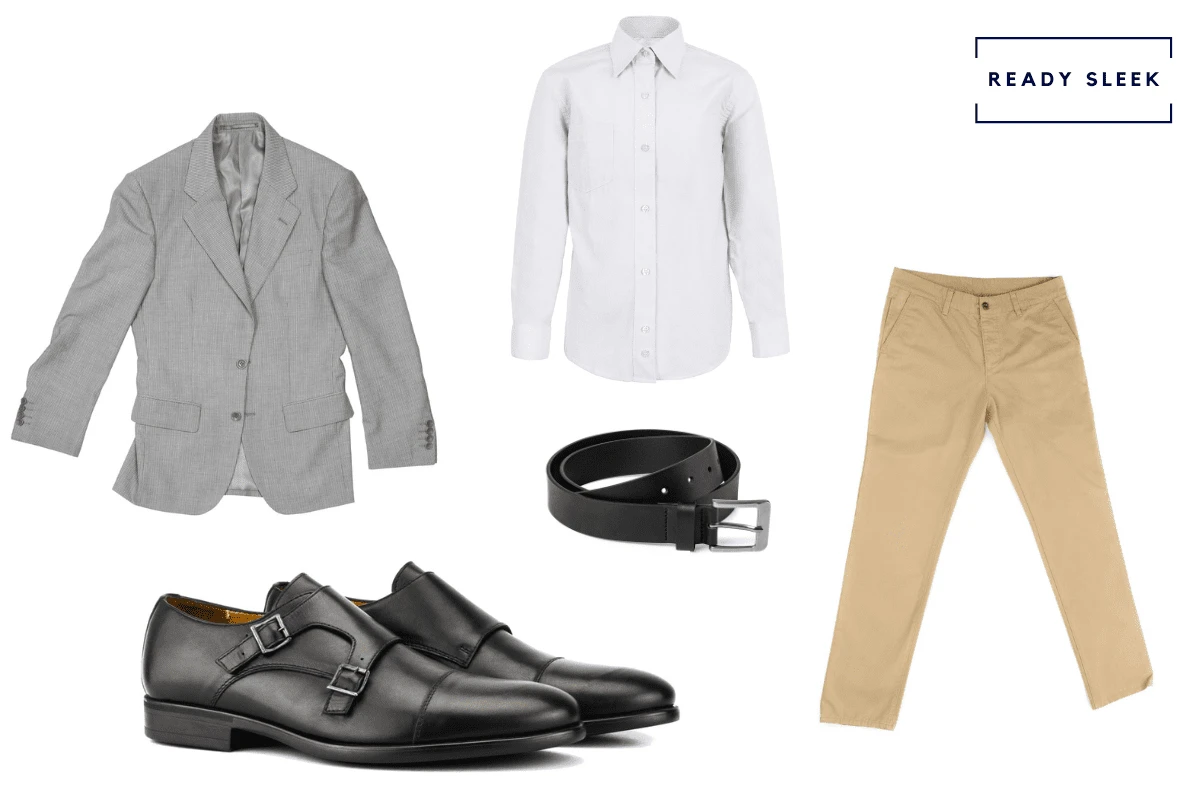 1. Wear It In Business-Casual Or Smart-Casual Settings
Khakis, no matter what belt color you choose to wear them with, should only be worn in business-casual, smart-casual, or casual settings.
So, khakis and a black belt should never be worn in formal or business-professional settings.
This is important because black leather items can sometimes give the false illusion of formality.
There are times when it can be tempting to "dress up" a pair of khakis with typically more formal items (eg. black leather belts and dress shoes) and try to make them work in formal settings.
Avoid doing this at all costs. In formal/business-professional settings – wear a 2-piece suit. A khakis outfit of any variety won't cut it.
In contrast, they're ideal for business-casual and smart-casual settings. Khakis just ooze that dressy but not-so-dressy aesthetic, walking that fine line like few other items can.
If you feel as though khakis would be appropriate for the setting you're attending, read on.
2. Always Wear Black Shoes
When wearing khakis and a black belt, it's absolutely essential that you wear black shoes.
As a general principle, the shoes and belt should match. This is especially true in formal and professional settings but is also applicable to more casual settings when a formal leather belt is worn.
Given how formal black belts can look, it becomes even more important.
Not following this principle often leads to a poor outcome.
For example, try wearing khakis, a black belt, and light brown shoes.
Alternatively, try wearing khakis, a black belt, and burgundy shoes.
No matter what combination you attempt, it'll never look anywhere near as well-coordinated as wearing khakis, a black belt, and black shoes.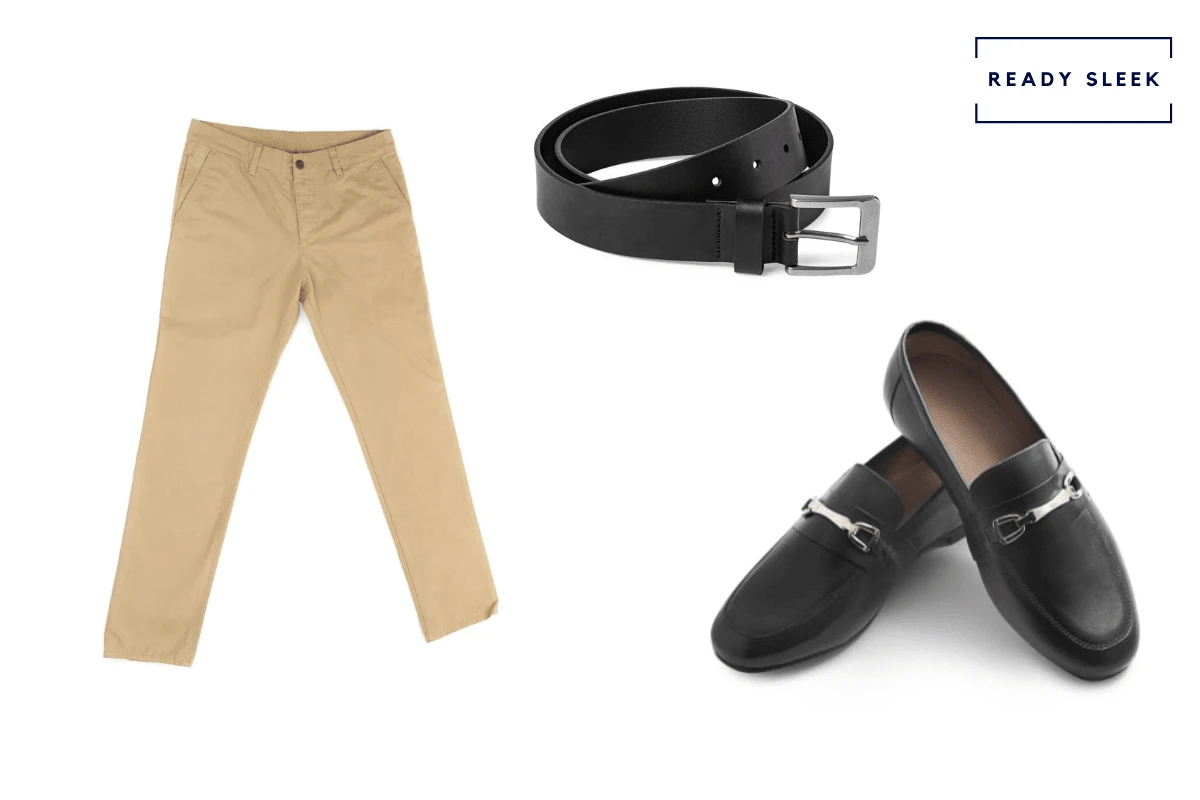 It's a simple, yet incredibly effective way to let people know you're being intentional with your style.
Having said all of this, do bear in mind that matching your shoe color to your belt color isn't as important in casual outfits where you may be wearing sneakers or a canvas belt, for example.
But when clearly wearing khakis with a typically formal-looking black leather belt, it's essential.
3. Choose A "Dressy" Pair Of Khakis
We've established that a black pair of shoes should be worn when wearing khakis and a black belt.
The black belt and black shoe pairing will always come across as quite dressy and formal-looking.
Ultimately, while khakis aren't exactly ultra-casual, they'll never look quite as formal as a pair of dress pants.
The rugged texture of chino cloth and the pale brown shade of khaki does have a laid-back, relaxed, and casual aesthetic to it.
Because of this, wearing khaki pants with a black belt (and black shoes) does bring about the risk of a formality mismatch.
In other words, there's a risk that the black belt simply looks too formal to wear with khakis.
So, try to choose a relatively "dressy" pair of khakis to reduce this risk.
It's no secret that certain pairs of khakis look dressier, while others look more casual.
Dressy pairs of khakis may have some of the following features:
Tapered, slim-fit
Jetted or welted pockets
Minimal seam details
In general, the less your khakis look like a pair of jeans, the dressier they probably look and the more likely it is that they'll look good when worn with a black belt.
Avoid excessively baggy fits, prominent patch pockets, clearly visible seam details, and other very casual features.
4. Consider A Relatively Dark Pair Of Khakis
I've definitely got to be careful here. First and foremost, "khaki" is a well-defined color. It's a pale shade of brown with a subtle yellowish tinge.
Technically, the term "khakis" or "khaki pants" should really only be used to refer to chinos that are in this well-defined shade of brown.
But in modern practice, this isn't the case.
In fact, the terms are often used to refer to chinos in many different light colors ranging from beige to yellow. This is even done by major brands simply looking to use the term.
While this isn't technically correct, it's something to accept.
There's a good chance that the pants you yourself are referring to aren't khakis but are actually chinos made in a different color altogether.
The main point here is that chinos in relatively darker colors tend to look better when wearing a black belt and black shoes.
So, consider "khakis" in darker shades. They'll often blend and sync more seamlessly with a black belt.
There's less contrast and the result is often more subtle.
5. Button-Up Shirts Work Best
When wearing a black belt with khakis, consider a long-sleeve button-up shirt. This is yet another way of ensuring that the khakis look formal enough to wear with a black belt.
It's almost like the button-up shirt is leveling up the formality level of the khakis outfit as a whole.
You don't necessarily even need to go for a white dress shirt.
Light blue and light pink shirts also work well in business-casual settings.
You could go for a button-up shirt in a more casual fabric such as linen or Oxford cloth (OCBD). If you'd prefer it a little less rugged/wrinkly, consider broadcloth or poplin.
But try to stick to button-ups and avoid wearing more casual shirt styles if you can.
Wearing a T-shirt with khakis is absolutely fine – it's a great look. But trying to pop a black belt over this casual combination usually doesn't sit right.
You'd be better off going for a more casual belt style/color in canvas instead.
6. Consider A Grey Blazer
Grey blazers often look great with khakis. The neutral combination of grey and khaki is a fantastic way to anchor the outfit, giving you the opportunity to add splashes of color elsewhere.
In addition, the grey blazer, black belt, and black shoes form a nice monochrome and greyscale combination.
If you'd prefer a more vivid (but still muted) blazer color, consider one in navy blue.
Both blazer colors would work toward making a pair of khakis look "smart" enough to wear with a black belt, in much the same way as a button-up shirt would.
Using these neutral and muted colors for the blazer, pants, and shoes does give you the opportunity to add a bit of color with your shirt if you wanted to.
Tying it all together here's a pretty phenomenal example:
A grey blazer, a black belt, a pink button-up shirt, khakis, a black belt, and black dress shoes.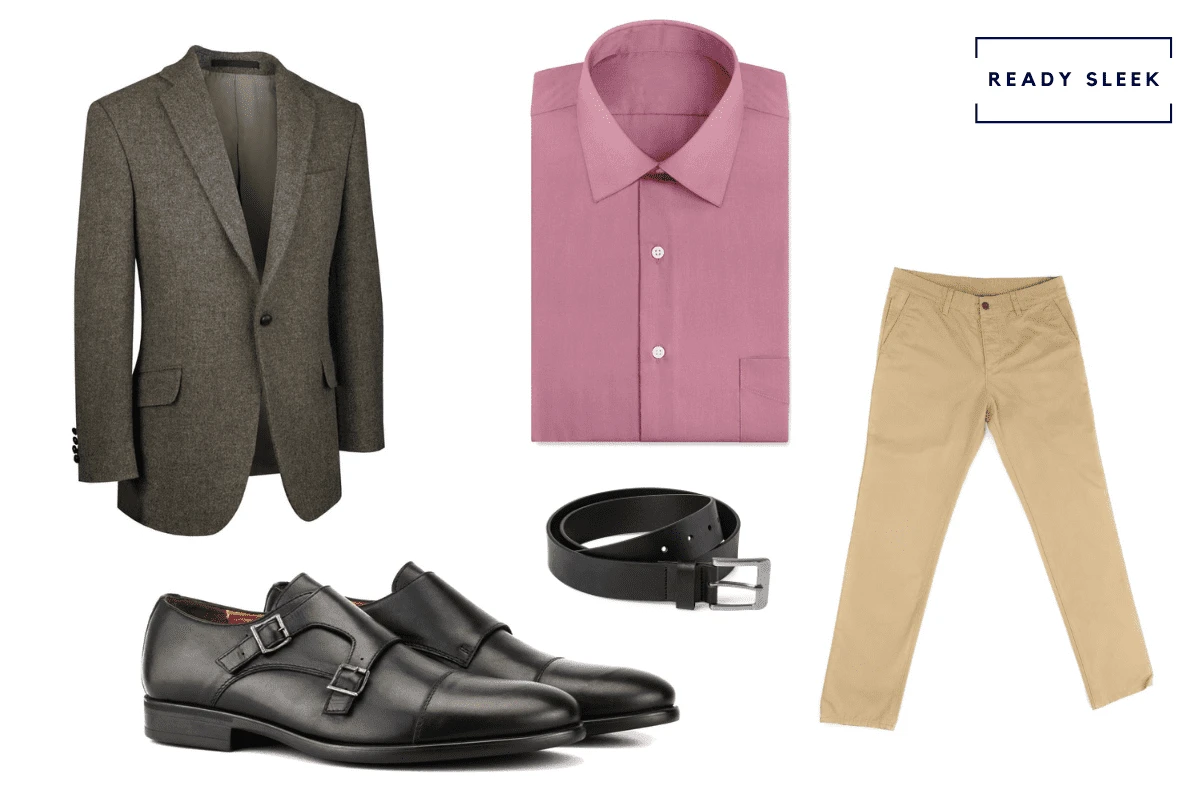 It's really hard to go wrong with it.
7. Go For Light Or Medium Brown Socks
When wearing khakis, a black belt, and black shoes, wear light or medium brown socks.
A common mistake people make is to try to coordinate their socks to their shoes. But, in general, it's best to match the socks to the pants.
Wearing black socks in this scenario would be the wrong thing to do.
Go for socks in a shade of brown to coordinate with the khaki pants as best as you can.
The shades don't have to match exactly. But try to choose a shade of brown that's at least similar to khaki.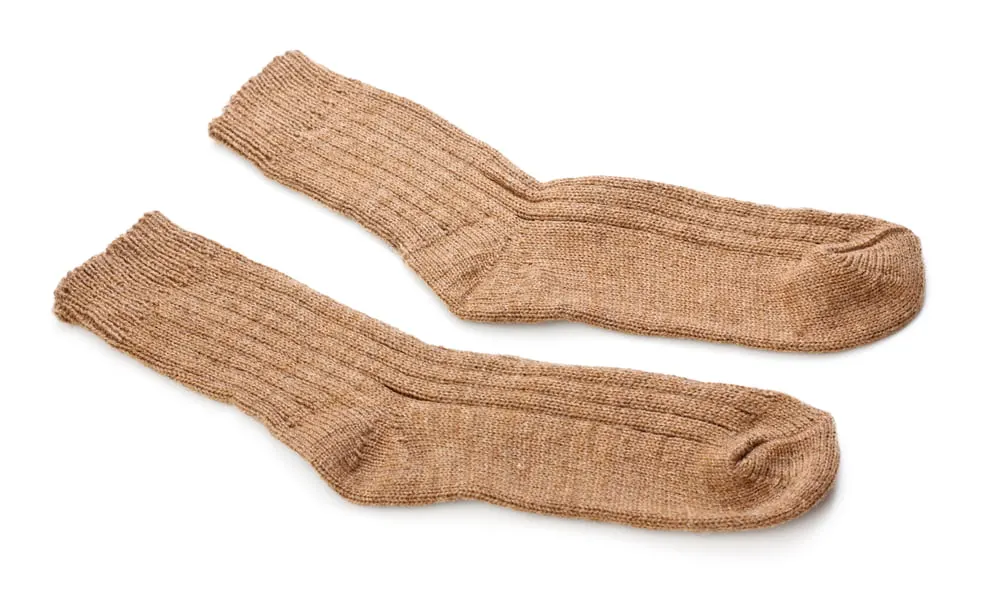 Usually, this would mean choosing a pair in a light or medium shade of brown.
Sticking to this tip, as well as the others in this list, should ensure your khakis and black belt make sense when worn together.
It can look fantastic, but it does need to be done in the right way.
Enjoy.
Ready Sleek founder. Obsessed with casual style and the minimalist approach to building a highly functional wardrobe. Also a fan of classic, vintage hairstyles.