Combining these two colors can sometimes come across as too vivid. It can work, but it needs to be done the right way. So, how exactly should you wear yellow shirts with blue jeans?
Yellow shirts in dark and muted shades (eg. mustard) tend to work best with blue jeans. It's a more subtle way to wear this bold color combination. When looking to dress it up a notch, consider a mustard OCBD or chambray button-up and pair it with a pair of slim-fit dark blue jeans.
That's the short answer, but as always, there's more to it.
First, we'll run through a few outfit examples to spark your imagination. Then, we'll run through some essential tips for making this combination work no matter what.
Let's get to it.
3 Yellow Shirt And Blue Jeans Outfits To Try
We'll start with a relatively "dressy" way of wearing this combo before finishing up with the more casual ways.
Least Casual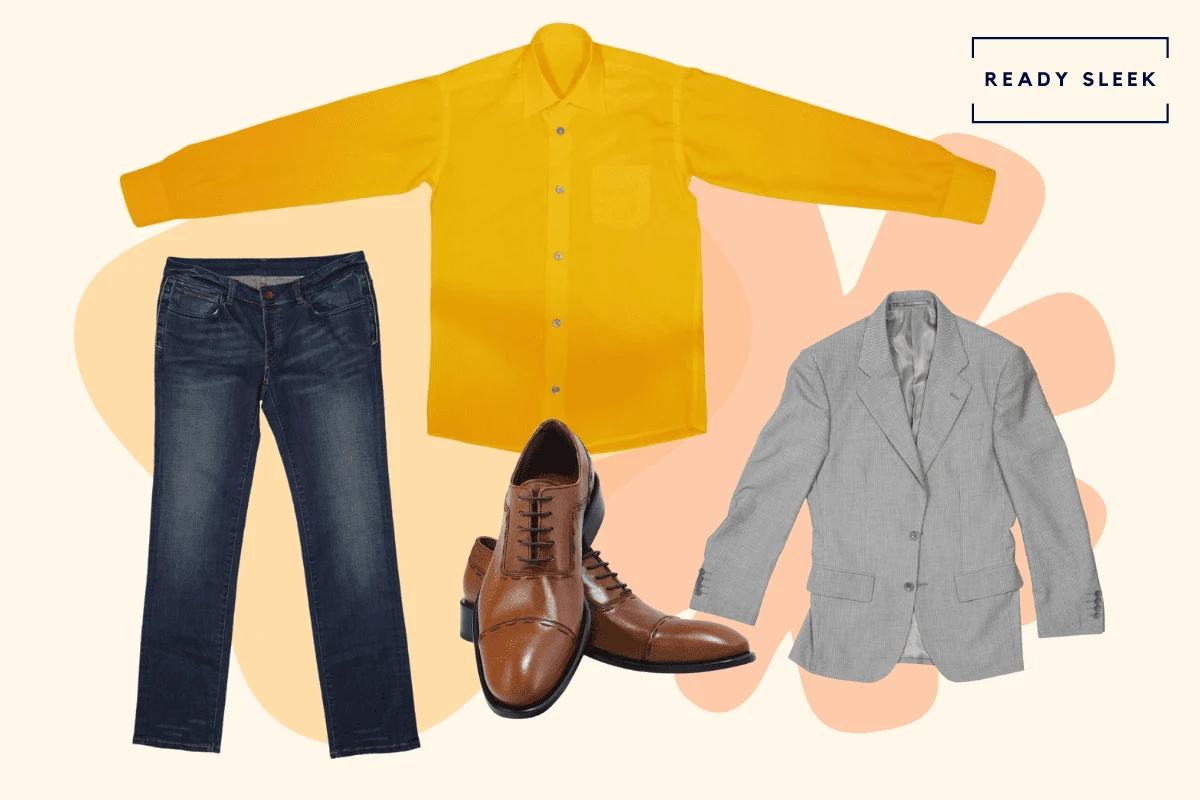 Items: Mustard Yellow Button-Up Shirt, Dark Blue Jeans, Tan Brown Dress Shoes, Light Grey Blazer
Going for a yellow button-up as opposed to a short-sleeved alternative is a quick and easy way to dress up this combination.
In addition, going for a dark and unsaturated shade of yellow will always look dressier than going for a bright, bold, and vivid shade.
Mustard yellow is a great example of this.
Notice how we've gone for a casual button-up style as opposed to a stiff-collared dress shirt.
In general, casual button-ups (eg. OCBDs, chambray shirts, linen shirts) work much better with jeans of any sort.
The darker the shade of your blue jeans, the dressier the combination will look. Here, we've gone for a dark pair of indigo jeans. They should ideally be slim, tapered, and non-distressed.
The tan brown dress shoes work so well with the yellow shirt – the warm undertones of these colors complement each other nicely.
Finally, popping on a light grey blazer is another great way to dress the casual combo up a notch. It's neutral and so won't ever clash with the yellow shirt.
Black, charcoal, or navy would have a similarly neutral effect, but light grey just has a more laid-back aesthetic to it.
More Casual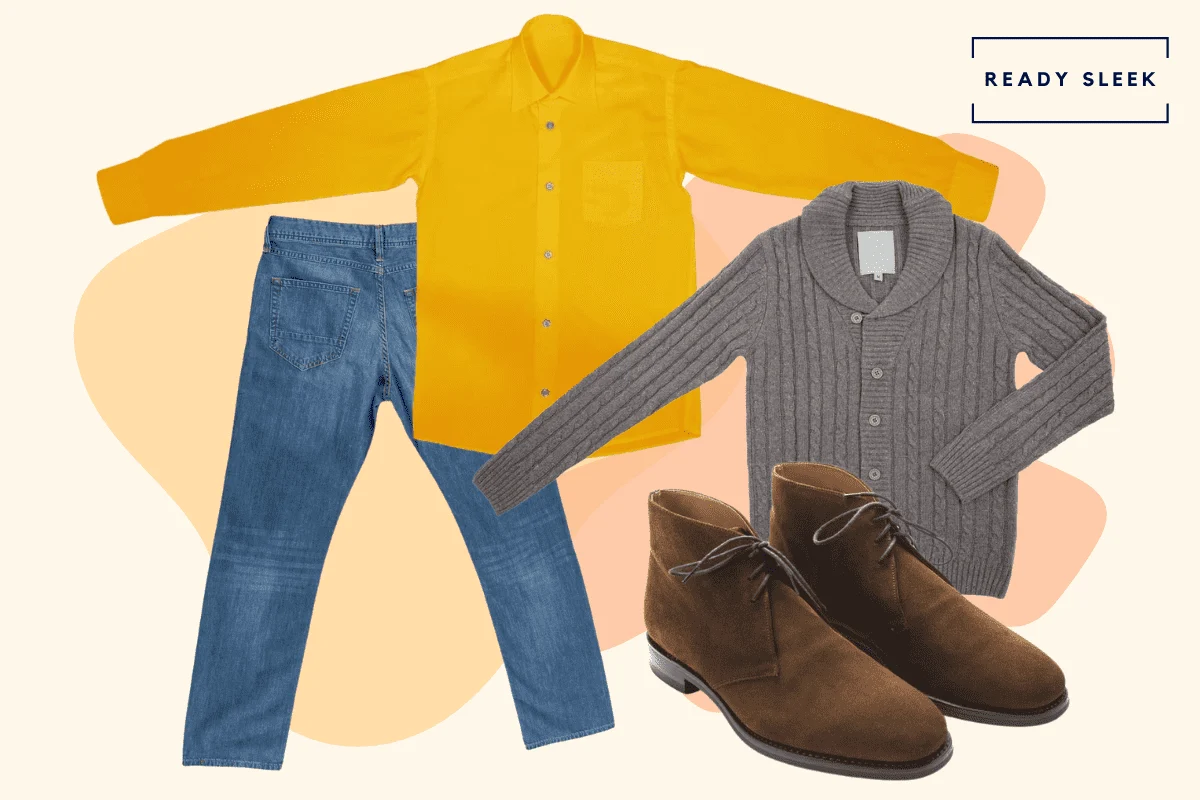 Items: Mustard Yellow Button-Up Shirt, Medium Blue Jeans, Grey Cardigan, Brown Suede Chukka Boots
Here, we've paired the same mustard shirt with a slightly lighter pair of blue jeans. Remember, the lighter the jeans, the more casual the combo will look as a whole.
Going for a grey cardigan instead of a blazer definitely makes it look a notch more casual and laid-back.
Having said that, the shawl collar of the cardigan is still pretty dapper.
The brown suede chukka boots work well here. Suede shoes and boots go hand-in-hand with denim jeans.
Most Casual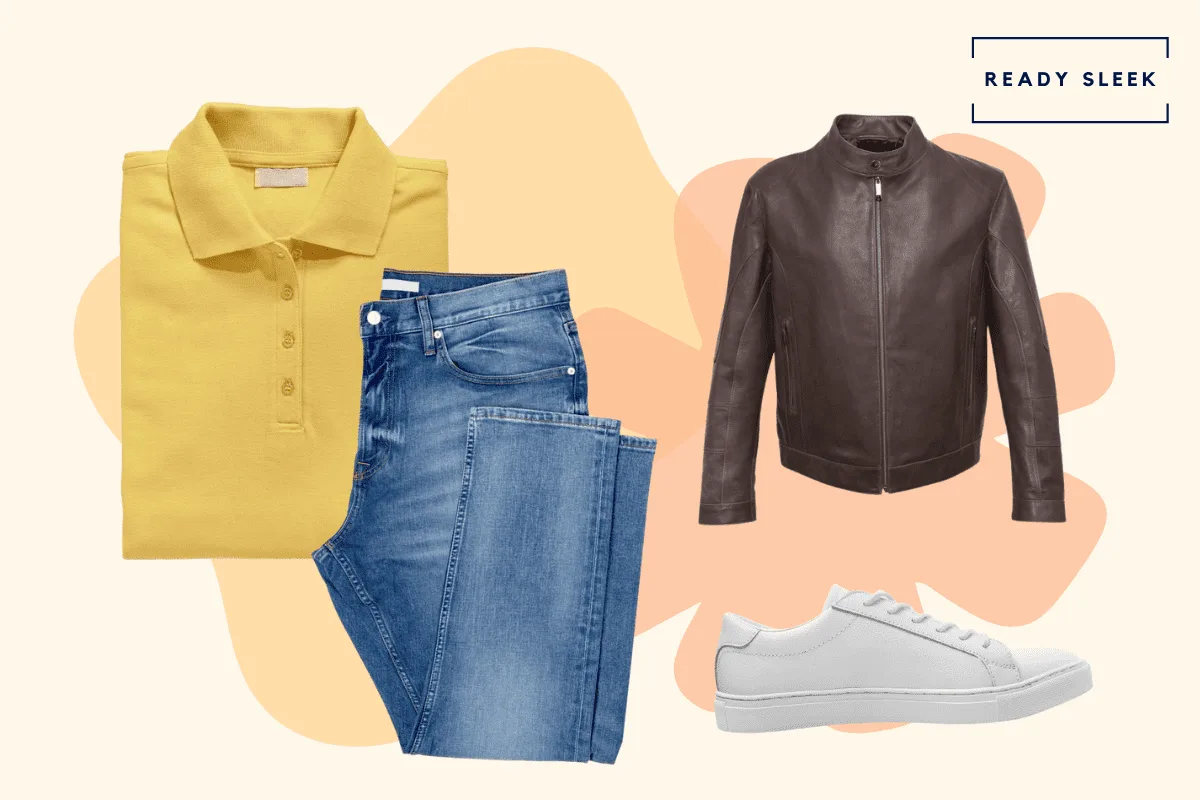 Items: Yellow Polo Shirt, Brown Leather Jacket, Light Blue Jeans, White Sneakers
As you'd imagine, a yellow polo looks a whole bunch more casual than a button-up shirt. Having said that, we're still going for quite a muted shade of yellow.
Going for muted or dark shades makes it much easier to wear color. You're less likely to draw attention to yourself and more likely to put together a cohesive outfit.
The brown leather jacket is a great way to dress down an outfit while making it clear you care about style.
The light blue jeans look much more casual than the dark blue jeans in the first example. When you're dressing down like this, you could definitely consider a pair of wide-leg, bootcut, or skinny jeans.
They'll look more casual than slim-fit pairs but that may be exactly what you're going for – a more interesting and casual silhouette.
5 Tips For Wearing A Yellow Shirt With Blue Jeans
Here are some tips for making this combo work no matter what. Stick to them and it's unlikely you'll ever set a foot wrong.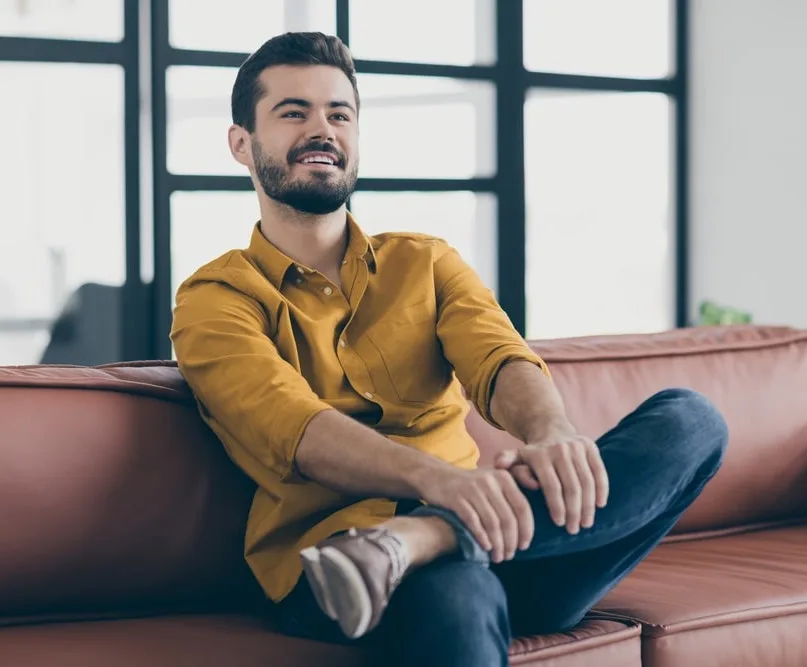 It Works Well During The Warmer Months
The yellow and blue combo does tend to work best during the spring and summer months.
This is especially true when you're going for a vivid shade of yellow and a pair of light blue jeans.
The warmth of an outfit like this just seems to look more appropriate when the sun is out.
If you're going for a more unsaturated, dark, and muted shade of yellow – it generally becomes less seasonal and more versatile.
It's also worth mentioning the type of events this combination would be most suitable for.
Even the "dressy" yellow shirt and blue jeans combination in the first outfit example you saw would be considered casual.
It wouldn't really be suitable for a "smart-casual" setting where any yellow shirt and jeans combo would usually be considered underdressing.
Yellow shirts just have a very casual look and feel to them.
Sure, there are less casual ways and more casual ways of wearing it (as you've now seen), but the combo won't ever be considered anything other than truly casual.
Bear that in mind and make sure you don't wear it in settings that wouldn't consider it appropriate.
The Shade Of Blue Matters A Lot
When wearing a yellow shirt, the darker the shade of the blue jeans, the less casual the combination will generally look.
Dark pairs of slim-fit and tapered blue jeans look so much smarter than lighter pairs of jeans (eg. light blue or light grey).
If you were looking to dress your yellow shirt up a notch, a pair of dark blue jeans would be your best option here.
Light blue jeans have a more casual aesthetic to them and would be more suitable if you were looking to dress down a notch.
They generally work better with casual yellow shirt styles such as T-shirts, polos, and Henleys.
It's also worth considering how much contrast you want between your shirt and your jeans.
If you're wearing a dark yellow shirt with light blue jeans, you're going to end up with more contrast than you would if you were to wear a dark yellow shirt with dark blue jeans.
Low-contrast combinations tend to look a little more subtle and less eye-catching.
It comes down to your personal preferences, as well as how subtle or eye-catching you want your combination to come across.
Consider The Brightness And Saturation Of The Yellow Shirt
Bright, bold, and saturated shades of yellow are more attention-grabbing than dark and muted shades of yellow.
In general, the bolder the shade of your yellow shirt, the harder it is to coordinate it with other items.
Take a lemon yellow button-up shirt and a mustard yellow button-up shirt. Wear them with the same pair of blue jeans and you'll see what I mean.
The subtlety of the mustard yellow shirt is just easier to sync with the color of the jeans. The outfit is more understated and is easier to pull off.
To make things easier on yourself, sticking with dark and muted shades of yellow when wearing blue jeans is usually the best way to go.
Try Brown Shoes
Brown dress shoes and boots work well when wearing a yellow shirt with blue jeans.
They work so well because the warmth of brown works incredibly well with yellow.
Brown and blue also tend to look great together.
It's hard to go wrong with brown shoes, but consider the style of brown shoes you choose.
Ultimately, you don't want to rush into wearing a pair of dark brown Oxfords.
They'll generally look too formal to wear with such a casual shirt and jeans combination. Instead, consider a pair of Derbys, monk straps, or loafers in a light to medium shade of brown such as tan, walnut, or cognac.
Chelsea boots and chukka boots would both work well in these shades too.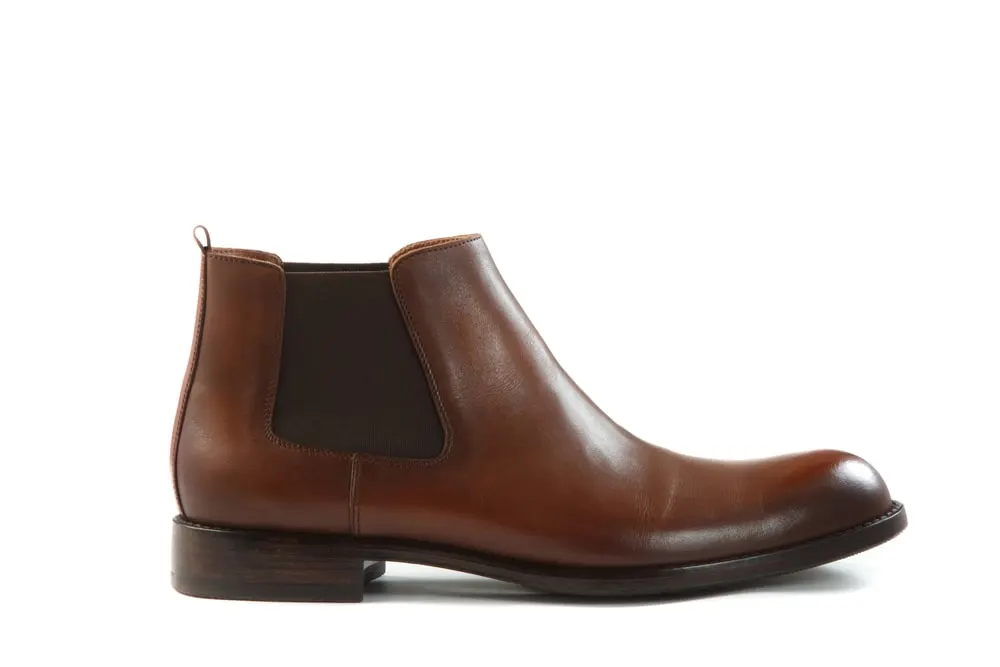 If you did want to dress the shoes down a notch further, consider going for brown suede or nubuck instead of a shinier grain of leather.
The napped and fuzzy texture looks fantastic with the rugged texture of denim jeans.
Don't Add Too Much Additional Color
Take it easy when it comes to the other items you're wearing. Yellow and blue are both quite bold and in-your-face.
Avoid adding too much additional color and keep the rest of your items neutral.
This mainly refers to any item of layering you choose to wear.
For example, instead of popping on a burgundy or olive blazer or jacket, go for grey, navy, or dark brown.
They're subtle, understated, and neutral or neutral(ish).
Keeping your other items nice and understated is a great way to make sure your yellow shirt and blue jeans outfit syncs well and doesn't look too excessive or flamboyant.
Ready Sleek founder. Obsessed with casual style and the minimalist approach to building a highly functional wardrobe. Also a fan of classic, vintage hairstyles.