High-contrast combinations are an easy way to turn some heads. Having said that, they're pretty easy to get wrong and go too far with. This one's no exception. So, how exactly should you wear white jeans with a black shirt?
When dressing for a smart-casual setting, wear a slim, tapered, non-distressed pair of white jeans with a black button-up shirt. Consider layering a grey or dark brown sport coat on top. In more casual settings, black polos, Henleys, and tees are all great alternatives.
While that short and sweet answer will serve you well, it won't be enough.
What you need are a few outfit examples to get your imagination going. Then, what you need is a set of essential tips for getting this combo right, each and every time.
Funnily enough, that's exactly what you're about to get.
Let's get to it.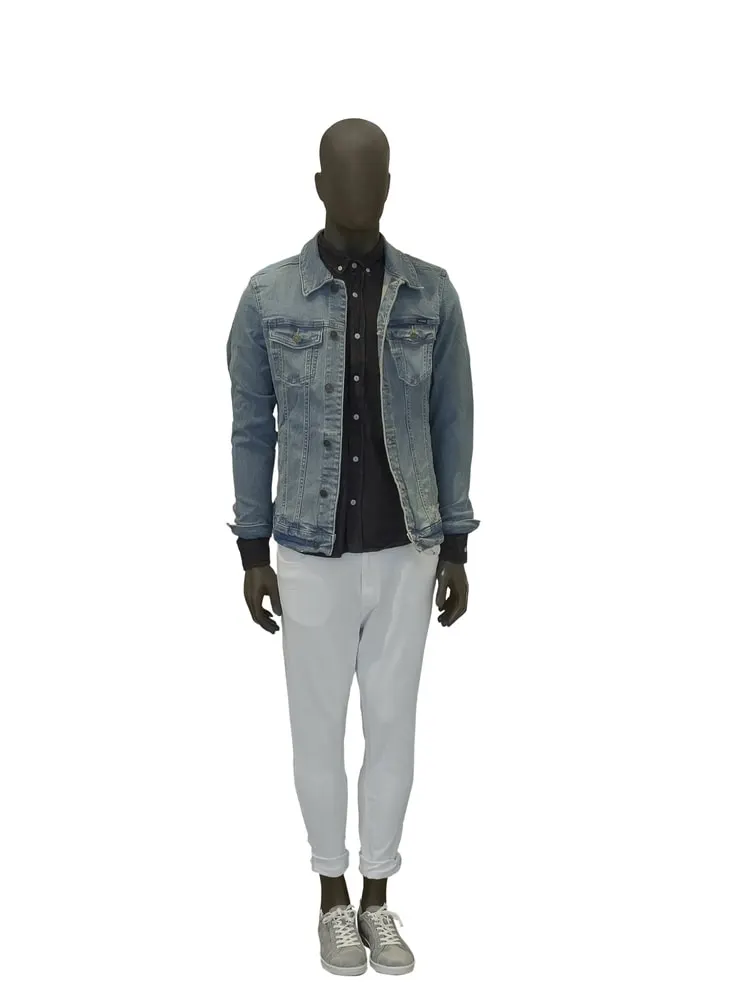 3 White Jeans And Black Shirt Outfits
As usual, we'll go from the dressy ways of wearing it to the more casual ways. Ultimately, a white jeans and black shirt outfit will only ever be casual.
But there are definitely dressier ways of wearing it than others.
Dressy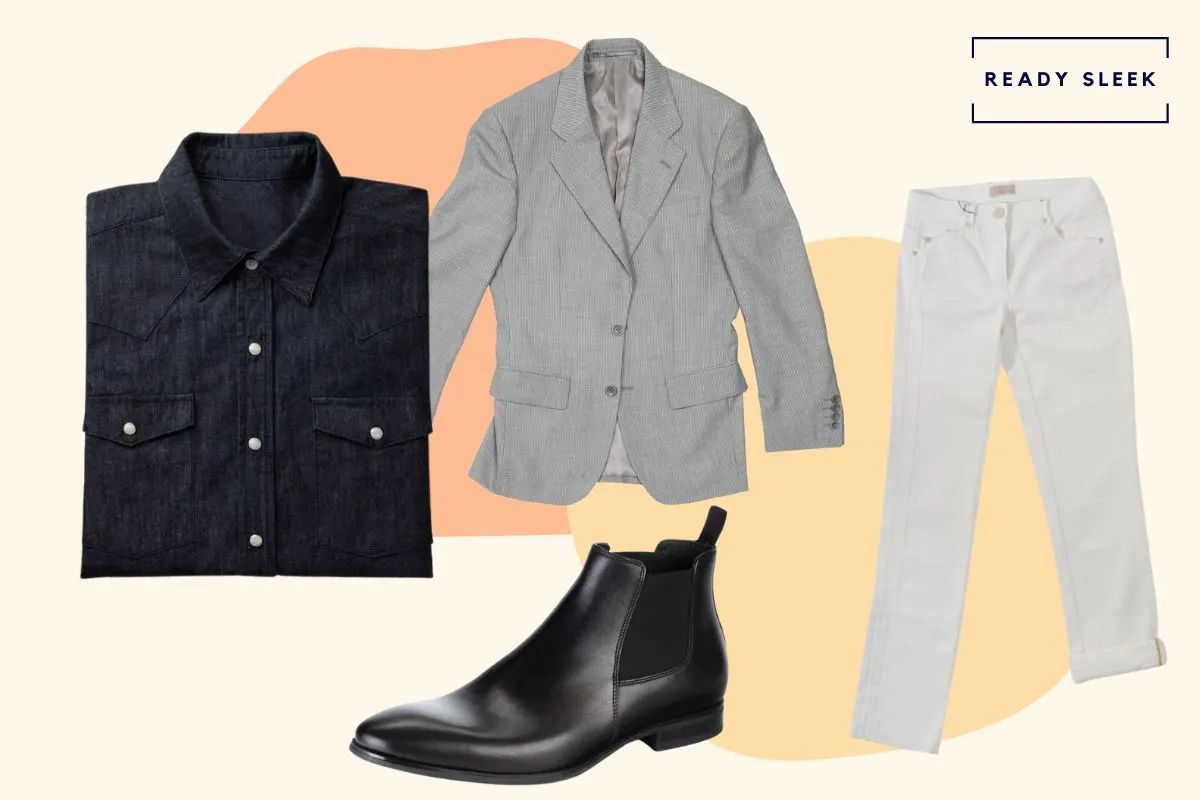 Items: White Jeans, Black Button-Up Shirt, Black Chelsea Boots, Grey Blazer
Wearing a black shirt with white jeans will always lead to a high level of contrast. Monochrome, greyscale, whatever you want to call it – it's eye-catching.
But it'll work.
Here, we've gone for a black button-up shirt that's casual enough to combine with jeans and not look out of place.
Oxford cloth, linen, and chambray will all work well.
The white jeans you choose for a smart-casual setting should be on the dressier end of the jeans spectrum.
More on this later, but stick to slim, tapered pairs with minimal distressing.
The black Chelsea boots seem like the "obvious" choice, but it's hard to deny just how effective they look.
They're sleek, sophisticated, and pair very effectively with the monochrome color scheme.
Finally, round things off with a smart outer layer. Blazers work especially well here. If you want to stick with a grayscale color scheme, go for grey.
If you'd prefer a touch of contrast, consider a neutral-ish dark brown sport coat instead.
More Casual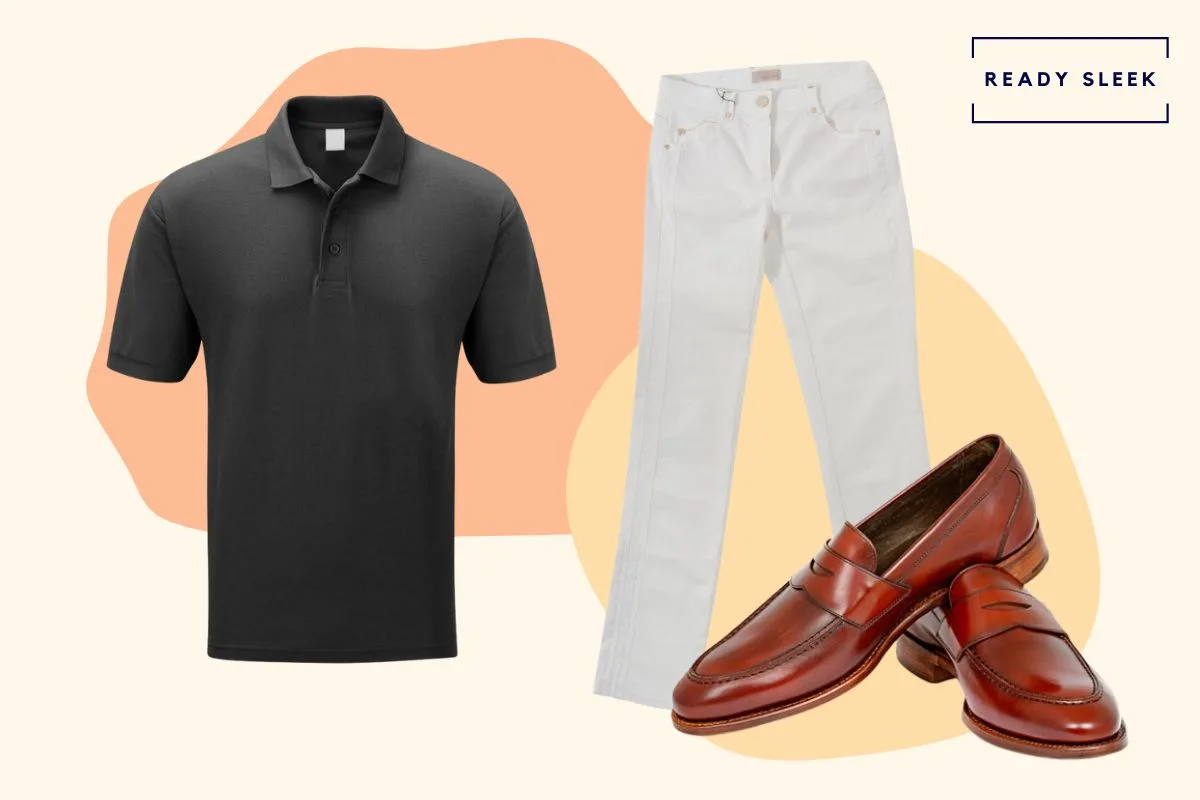 Items: White Jeans, Black Polo, Brown Leather Loafers
Don't get me wrong – you could easily go for the same black button-up shirt here if you wanted to. Simply dress it down with more casual items (eg. the loafers in this example).
But if you did want to really go a notch more casual, consider a black polo or a Henley shirt instead.
As you can see, it immediately comes across as more laid-back than the previous example.
You don't have to add an outer layer at all. However, if you did want to, consider a shawl collar cardigan or a smart chore coat in grey or navy.
Stepping outside of the greyscale color scheme, we've gone for a pair of brown leather loafers here.
As you can see, they add a touch of warmth and contrast to the black-and-white ensemble.
Suede loafers would also be very effective here. The textures of suede and denim pair very well.
Most Casual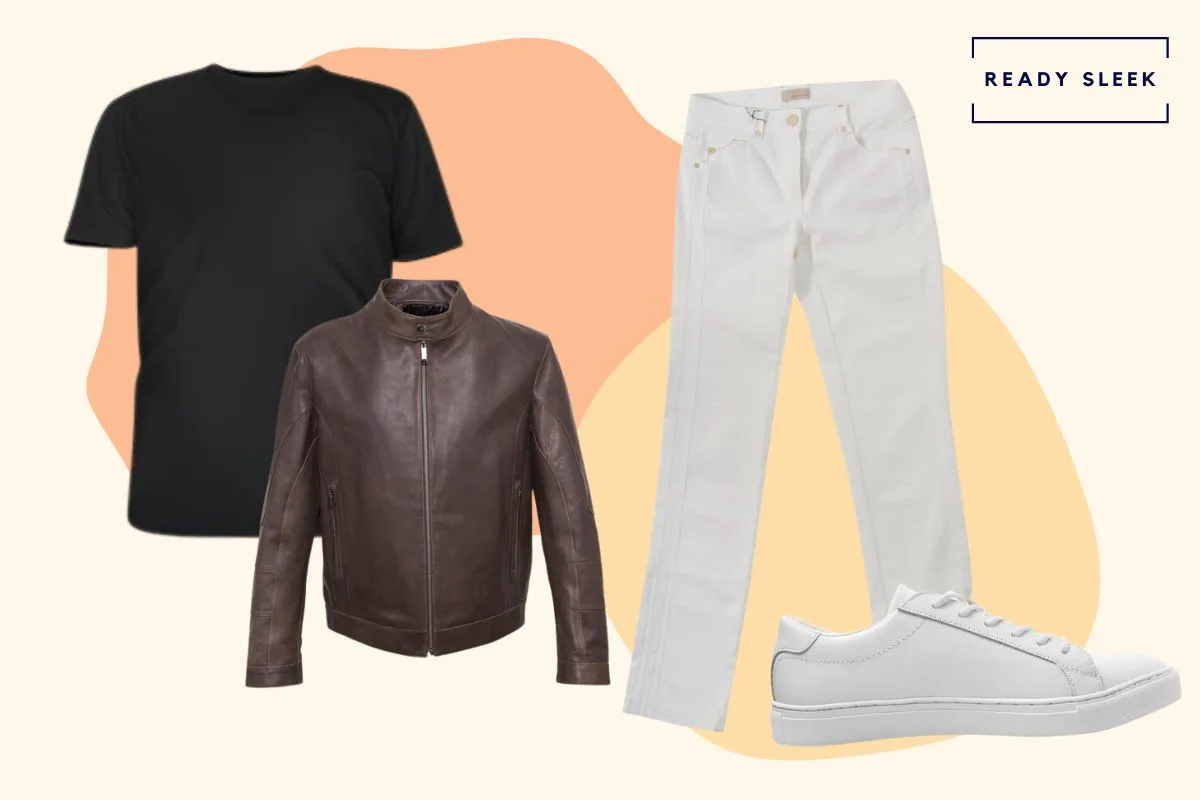 Items: Black T-Shirt, White Jeans, Dark Brown Leather Jacket, All-White Leather Low Top Sneakers
A black T-shirt and white jeans pairing is going to be the most casual way of wearing this combo.
Having said that, there are definitely ways of dressing up a black T-shirt.
For example, you could wear the grey blazer from the first outfit example over this black T-shirt and take it up a notch.
But the dark brown leather jacket layered over the black T-shirt in this example is undeniably casual and laid-back.
It looks great, as long as the setting is casual enough to allow for it.
Much like the brown loafers in the previous example, the brown leather jacket adds a nice sense of contrast and warmth here.
Ignore anyone that tells you black and brown items shouldn't mix. It just isn't true.
The all-white leather low-tops are sleek, minimalist, and versatile. The perfect way to round up a casual outfit.
5 Tips For Wearing White Jeans With A Black Shirt
Here are some great tips for making this combo work for you no matter what you may be dressing for.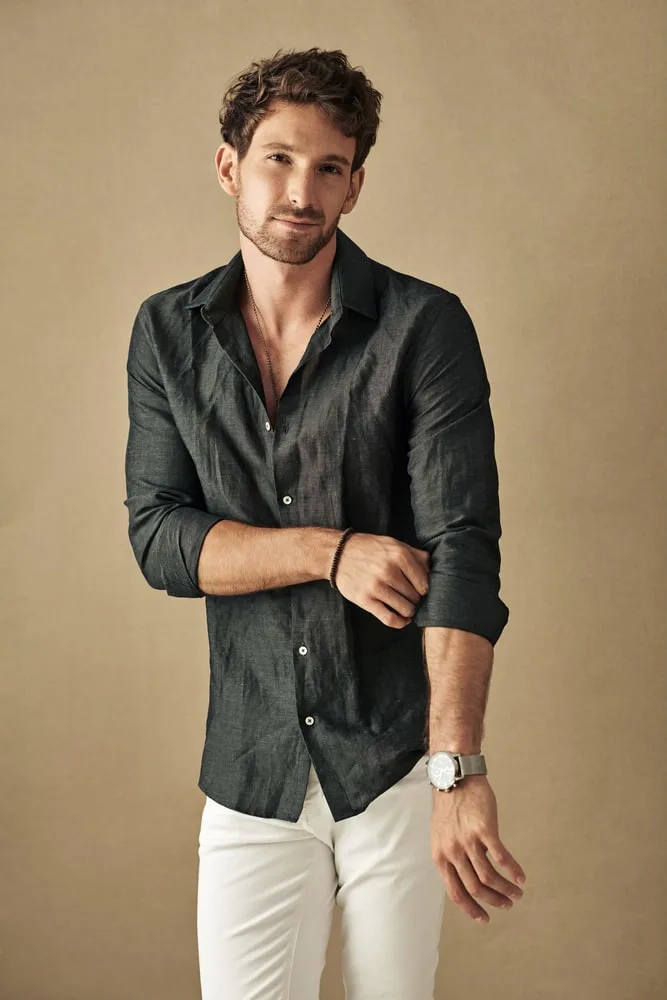 It's Always Casual
A white jeans and black shirt combination should only be worn in casual and smart-casual settings. It should never be worn in formal, professional, or business-casual settings.
The main risk here is underdressing.
Reserve it for casual settings and it's hard to go wrong.
The outfit examples showed just how many different ways there are of wearing this casual outfit, with some looking more casual than others.
The black shirt and the white jeans you choose for a smart-casual setting will most likely be different from those you would choose for a truly casual one.
It Works Best During The Warmer Months
While this isn't a hard-and-fast rule, white jeans tend to work best during the warmer months of summer and spring.
The black shirt and white jeans combo is no exception.
Pants in white and cream tones just look better when the sun is out and the weather is warm.
Bear this in mind, but don't take it to heart.
Consider The Style Of The White Jeans
The white jeans you choose to wear with your black shirt should be based on how dressy or casual the setting is.
In smart-casual settings, slim, tapered pairs of white jeans would usually be the best option. They'll look smarter than wide-leg, bootcut, and skinny white jeans.
In addition, when dressing for a smart-casual event, avoid wearing distressed white jeans with features such as rips, frays, stone washing, or acid washing.
The less distressing you have, the better.
In more casual environments, you've got a lot more room to experiment with the style of the white jeans.
Distressed white jeans with more attention-grabbing fits would usually be absolutely fine.
Consider The Style Of The Black Shirt
The black shirt you wear should also be guided by the setting.
Black button-up shirts would be the obvious choice when dressing for a smart-casual setting.
But black dress shirts can often look a little too formal to wear with white jeans of any variety.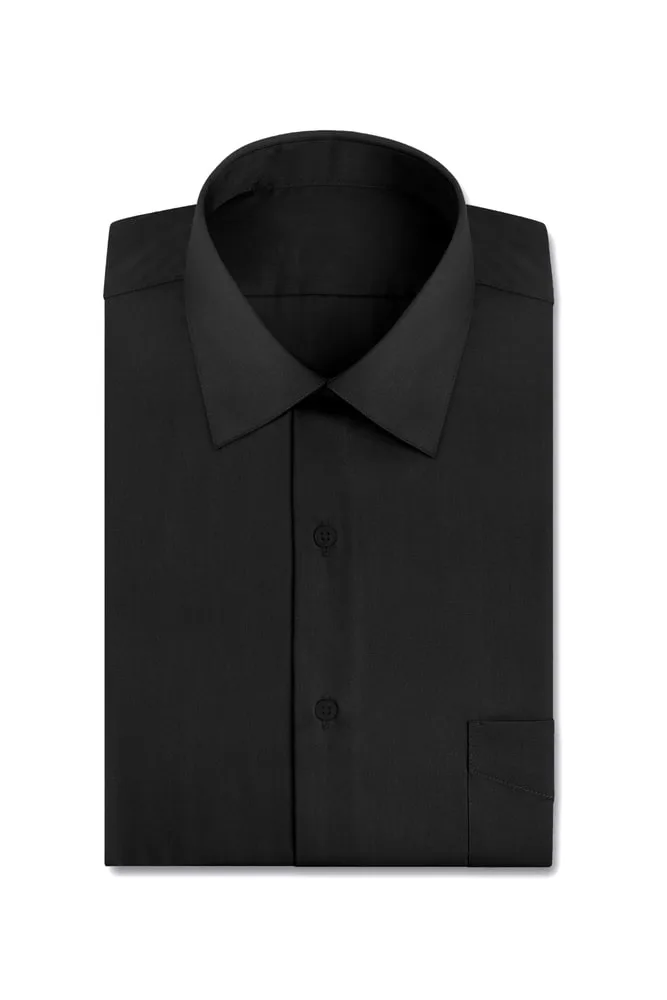 It can look OK, but more casual button-up styles such as OCBDs, linen shirts, and chambray shirts, tend to look better with denim.
Ultimately, rough and rugged textures tend to work better with other rough and rugged textures.
But any of these button-up black shirt styles would work well with a pair of smart white jeans.
In more casual settings, however, you can easily wear your white jeans with a black polo, Henley, or T-shirt.
Consider Adding Contrast With The Shoes
When wearing white jeans with a black shirt, black and brown shoes and boots tend to work best. Consider a pair of calf or suede dress shoes – Derbys, monk straps, and loafers all work well.
Chelsea boots and chukka boots would be great alternatives during the colder months of the year.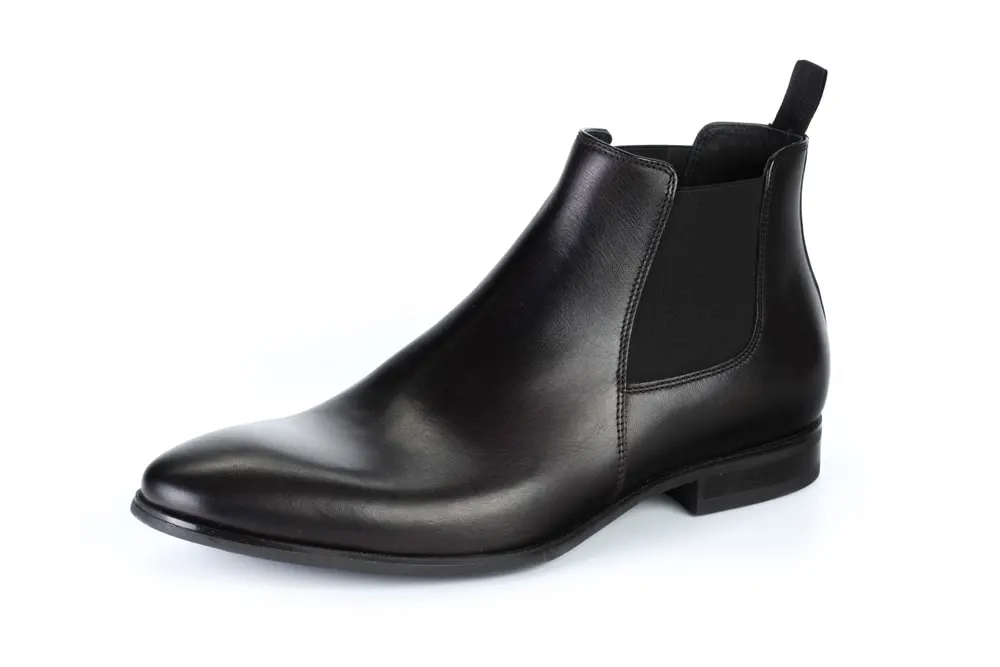 If you'd prefer to stick with the monochrome color scheme, go for black.
If, on the other hand, you'd prefer to add a touch of contrast to the black and white outfit, brown shoes/boots are a great way to do it.
In more casual settings, a pair of minimalist all-white leather low-top sneakers is a great option.
They're simple, subtle, and will coordinate effortlessly with the rest of the outfit.
Ready Sleek founder. Obsessed with casual style and the minimalist approach to building a highly functional wardrobe. Also a fan of classic, vintage hairstyles.