Red shirts tend to pair great with ties, but it's important to color coordinate with care. It isn't always easy given how bold the shirt itself can be.
So, here are some tie colors that go well with a red shirt:
But there's way more to it than that. You're about to learn some great tips for wearing red shirts with ties in the best way possible.
After that, you'll see some examples of combinations you could try out for yourself.
Let's get to it.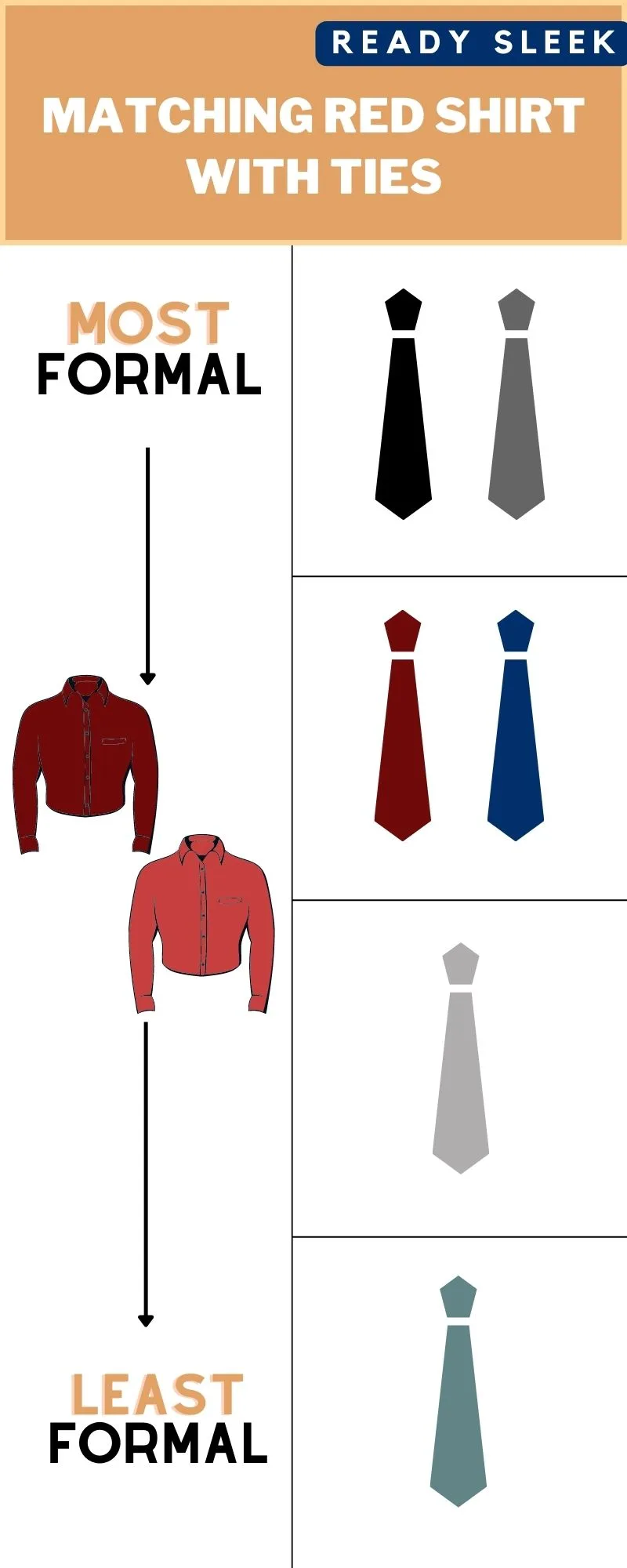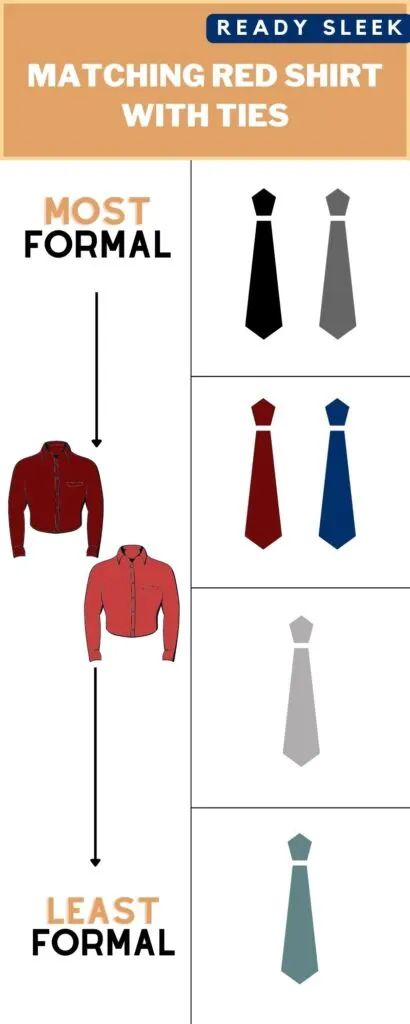 How To Match Ties With Red Shirts – Essential Tips
Consider all of these tips before putting your outfit together.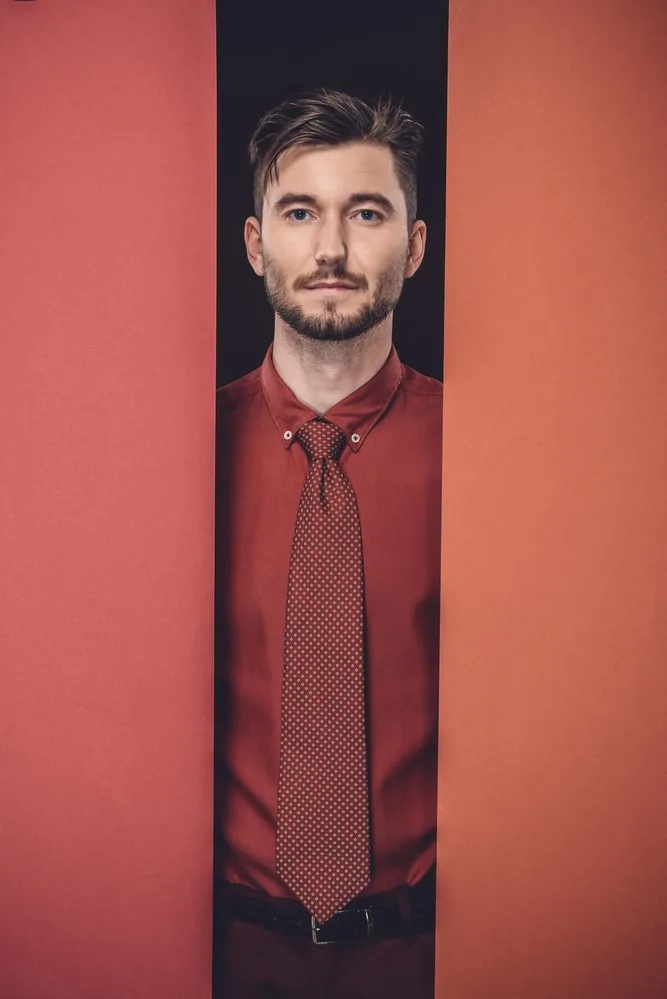 1. Keep The Tie Darker Than The Shirt
When wearing a red shirt with a tie, try to ensure that the tie is darker in shade/color than the shirt.
This "rule" holds true whether you're wearing a light red shirt or a dark red shirt.
Not sticking to it will often lead to a combination that stands out too much to be considered stylish.
For example, a burgundy red shirt with a light blue tie can look jarring and out of place.
A burgundy shirt with a black or charcoal tie, on the other hand, will often look fantastic.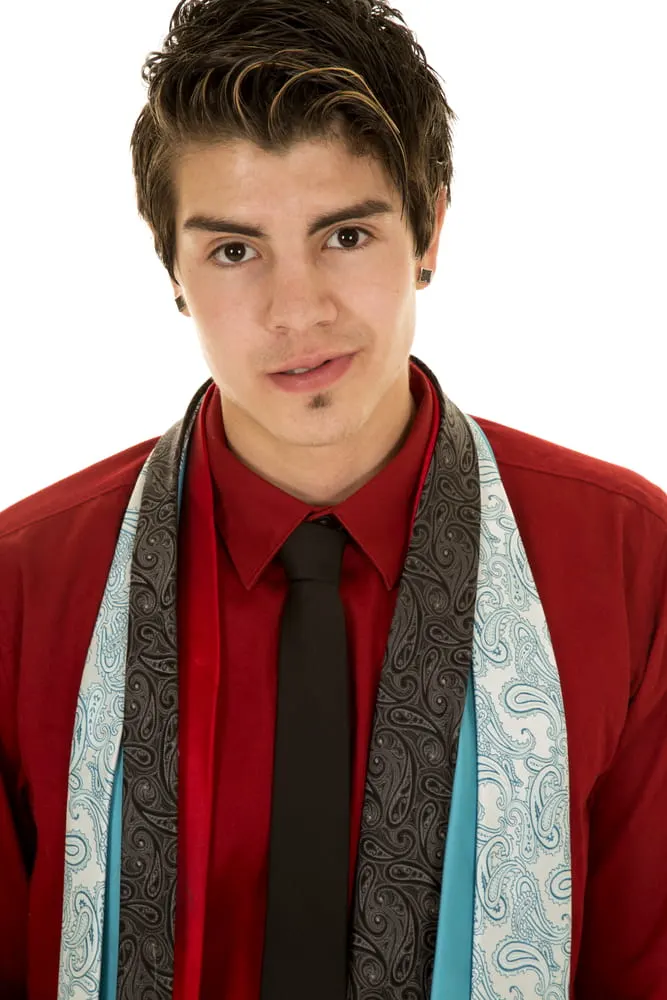 If your shirt is a lighter shade of red such as crimson or scarlet, it's even easier. You've got a wider range of darker tie colors to choose from. For example, admiral blue or slate grey.
Out of the tie colors I listed above, the only exception to this rule would be silver.
Silver-colored ties often go well with dark red shirts despite appearing lighter in color.
Always be mindful of the fact that the combination will look a whole lot more attention-grabbing because of this. If you'd prefer a dressier and more subtle combo, go for one of the others instead.
2. Neutrals Usually Work Best
Neutral-colored ties work best with red shirts.
Neutral colors are colors that don't appear on the color wheel. They're incredibly easy to combine with other items – color coordination becomes effortless.
A red shirt is bold, vibrant, and can often dominate an outfit.
It'll usually take center stage and you should usually let it do that as well.
A common mistake is to combine a bold red shirt with other items in similarly bold colors.
Instead, surround the red shirt with items in neutral colors – whether it's the tie, blazer, socks, or anything else. Let the red shirt be the one pop of color in your outfit.
The main neutrals you can choose from are black and grey. However, blue is often considered close to neutral in men's style – particularly dark and muted shades such as navy.
Silver could potentially pass for neutral here as well.
3. The Dress Code Might Sway The Decision
A red shirt should only be worn in smart-casual settings. It should never be worn in formal, business-professional, or business-casual settings.
However, there will always be smart-casual settings on the "smarter" end of the spectrum, as well as those on the more "casual" end.
The dressier the smart-casual setting you're attending, the more subtle you'll want to be with your tie choice. For events such as these, consider a red shirt with a black or grey tie.
If you're looking to go a bit more casual, consider a less traditional tie color such as silver or blue.
As you'll soon see, it's perfectly acceptable to wear a red shirt with a red tie for a monochromatic aesthetic. It can actually look as dressy as wearing a neutral-colored tie such as black or grey.
Red Shirt And Tie Combinations
It's a pretty short list and that's definitely intentional. There are definitely tie colors you'll want to steer clear of when wearing a red shirt.
Keep things simple, subtle, and neutral.
Red Shirt With A Red Tie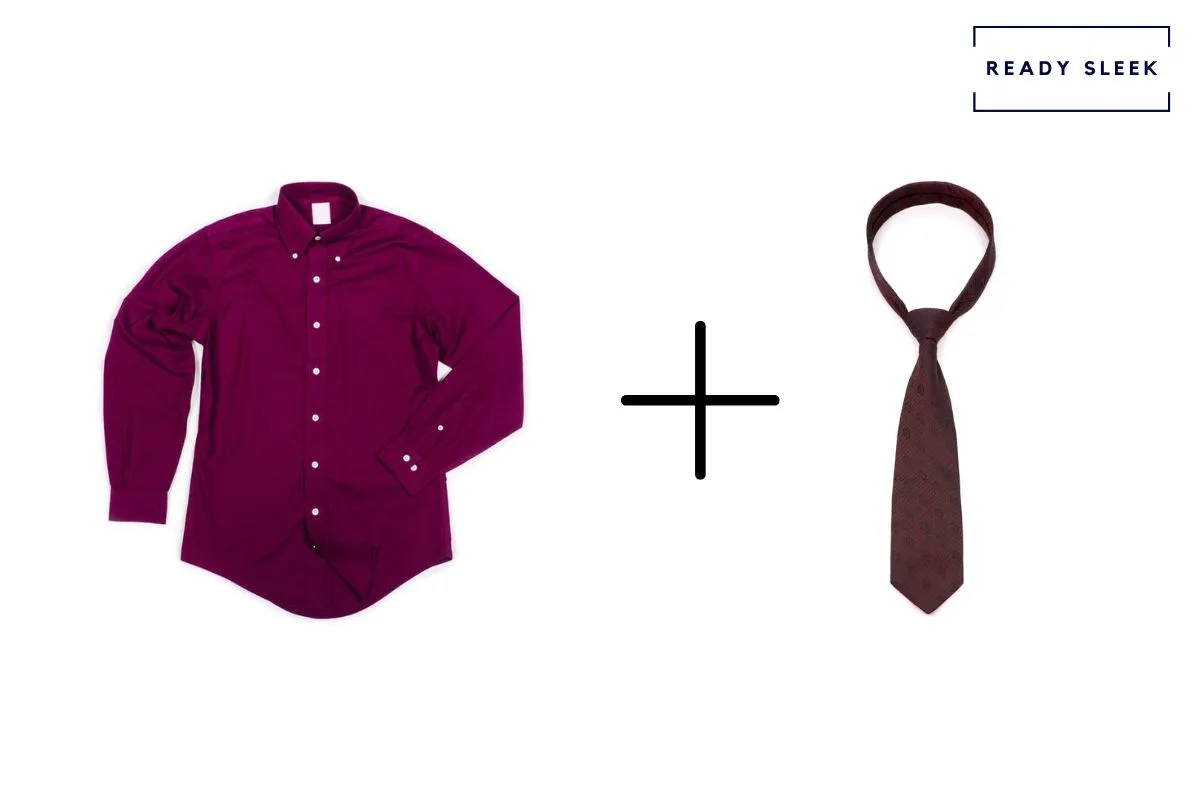 A red shirt can be worn with a red tie as long as the shade of the tie is darker than that of the shirt.
An example would be a crimson red shirt with a maroon tie.
While both shades of red are pretty dark, the maroon tie will be noticeably darker than the crimson red shirt.
Because of this, you'll find that it works.
A monochromatic aesthetic is pretty elegant and you could easily wear this combination to dressy smart-casual settings.
Dark red shirt and tie combinations tend to work best for dressy evening social events. It isn't a rule that's set in stone, but it's one that'll serve you well.
Red Shirt With A Black Tie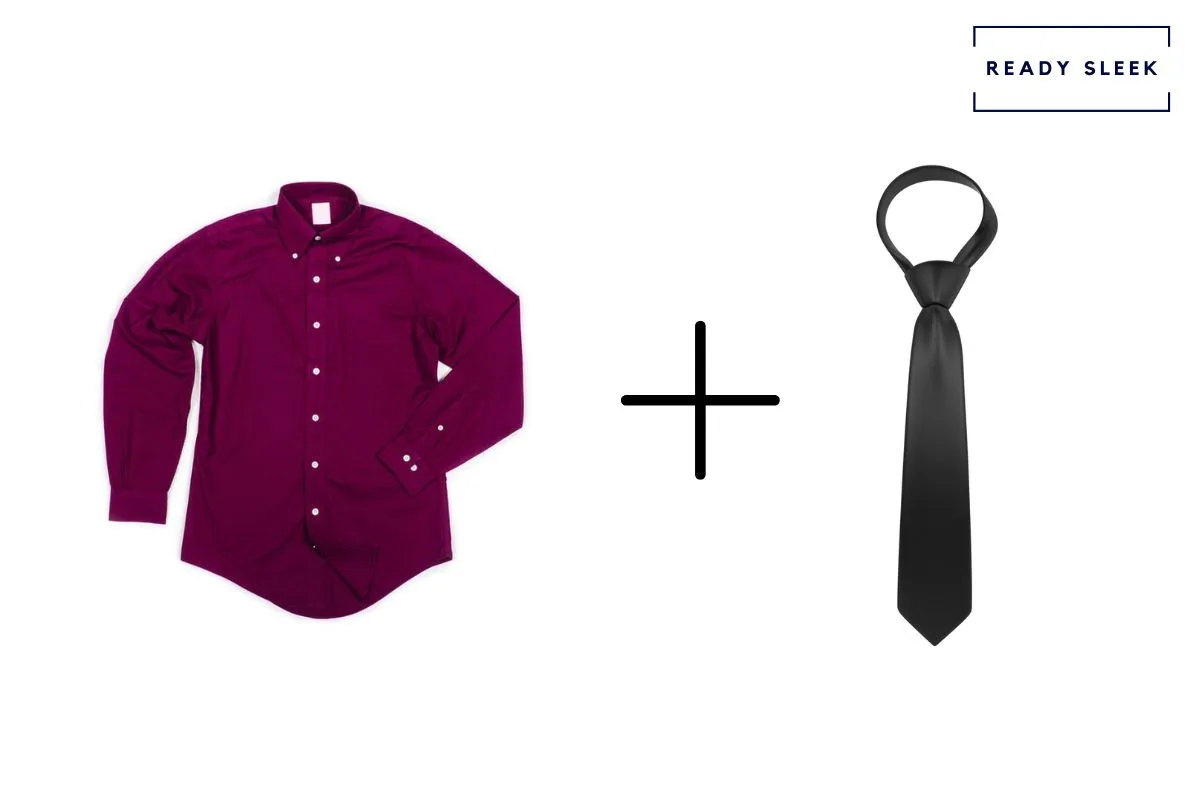 A red shirt can easily be worn with a black tie given how dark and neutral the tie color is.
Color coordination is effortless – a black tie will go with any dark or light red shirt you can think of.
You can rest assured that the tie will always be darker than the shirt, no matter how dark the dark red shirt is.
While you technically choose any red shirt you want, a black tie tends to sync better with dark red shirts such as crimson, burgundy, and maroon.
This is, once again, especially true when it comes to dressy evening events.
Red Shirt With A Grey Tie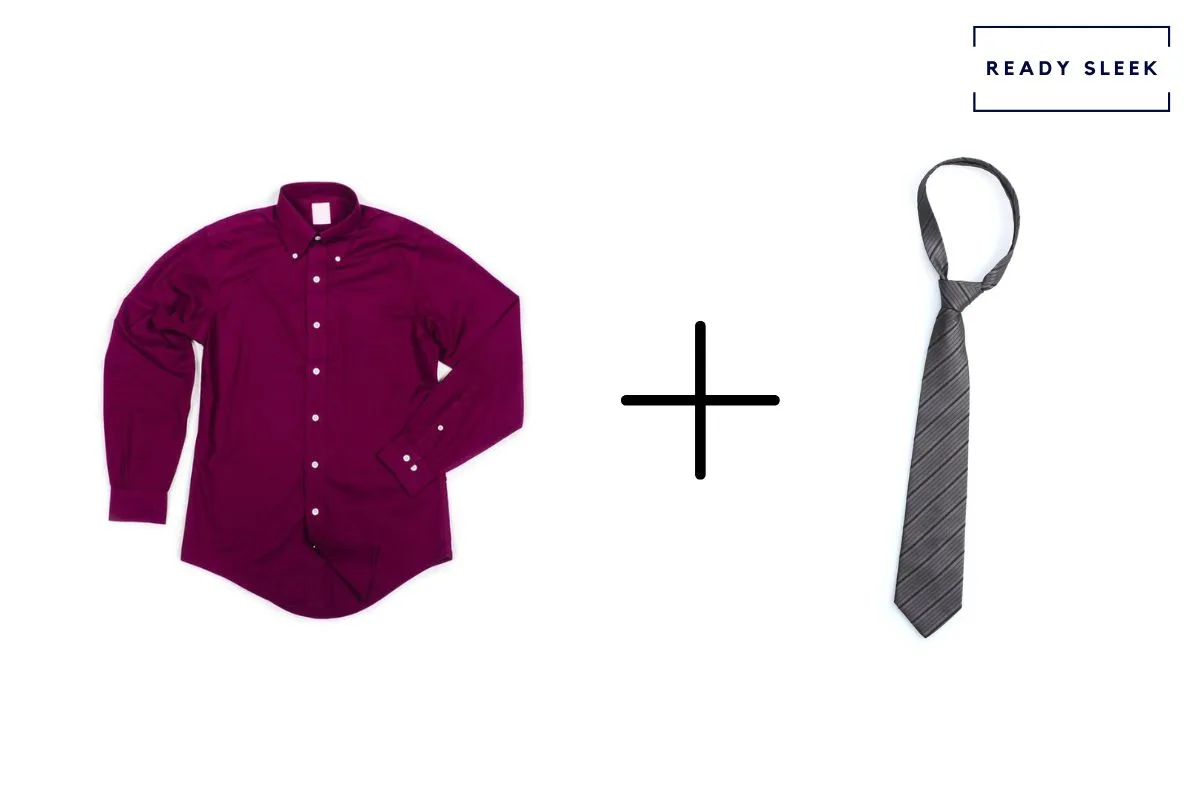 Red shirts combine well with grey ties. Choose a tie in a shade of grey that's noticeably darker than the red shirt.
So, if you're wearing a shirt in a light/medium shade of red, you could potentially wear a tie in a medium shade of grey such as slate grey.
If your shirt was a darker shade of red such as burgundy, go for a tie in a very dark shade of grey such as charcoal.
A red shirt worn with a grey tie will look dressy, but maybe not quite as dressy as wearing a black tie would.
Red Shirt With A Silver Tie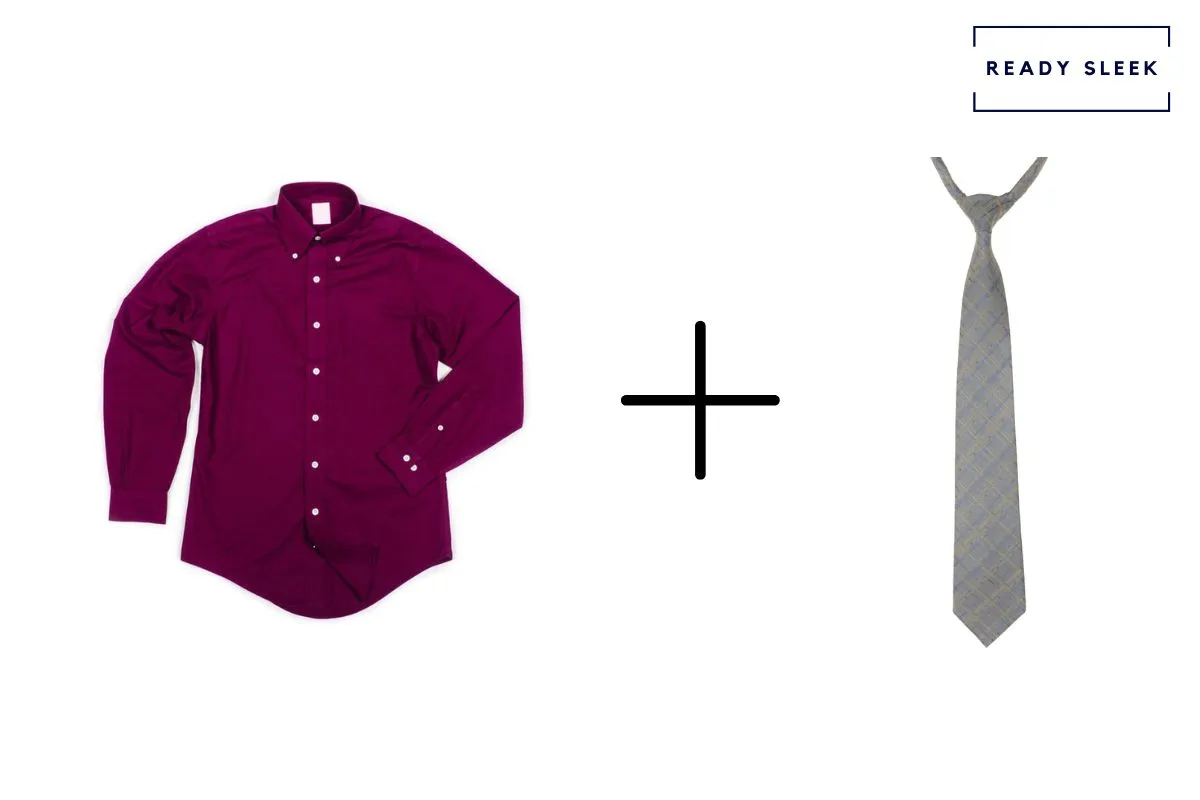 A red shirt can be worn with a silver tie. The result will often be eye-catching and attention-grabbing and so the combination would be an option if you wanted to make more of a statement.
This is the only option on this list where the tie will usually be lighter in color than the red shirt.
As a result, it'll really pop out against the backdrop of the red shirt.
It's the most casual option on the list and may not be for everyone. But if you're looking for a combination that'll coordinate well and also make you stand out from a crowd, it's worth considering.
Red Shirt With A Blue Tie
A red shirt can confidently be worn with a blue tie as it'll usually coordinate well regardless of the shade of blue you go for.
However, just like with the previous examples, it's best to choose a tie that's a shade of blue that's darker than the red shirt.
Navy blue is a dark and muted shade that's easy to pair with any red shirt you can think of.
If the red shirt you're wearing is lighter in color, you could experiment with ties in lighter shades of blue such as admiral blue or cobalt blue.
Overall, a red shirt and blue tie combination will look a little more casual than a black or grey tie would.
However, mixing warm colors (eg. red) with cool colors (eg. blue) often leads to a nice sense of balance. It'll work well if you get the combination of shades correct.
Frequently Asked Questions
Here are some frequently asked questions to really round things up in style.
What Tie Color Should You Wear With A Dark Red Shirt?
Dark red shirts work well with black, charcoal grey, or navy blue ties. Keeping the tie color noticeably darker than the shirt is the key to making it work.
These tie colors are incredibly simple and muted, but will work with practically any dark red shirt you can think of – whether it's crimson, burgundy, maroon, or anything else.
The dark aesthetic works well for dressy evening events.
What Color Tie Goes With A Red Checkered Shirt?
A red checkered shirt would go well with a grey or blue tie, with knit ties working especially well. Make sure the tie is solid in color as opposed to patterned.
Choosing a patterned tie to go on top of a red checkered shirt may come across as a little too loud.
Checkered shirts will always look more casual than solid-colored shirts.
If the shirt consists of two separate colors (eg. red and blue), consider choosing a tie color in one of them.
For example, a red and blue checkered shirt with a solid-colored blue knit tie.
What Color Tie Goes With A Red Dress Shirt?
Red dress shirts can be worn with red, black, grey, or blue ties. As you'll most likely be attending a dressy setting, you'll want to keep the tie color subtle, muted, and darker than the shirt.
There are definitely other tie colors you can experiment with.
However, when you're looking to dress up, consider keeping your list of options simple and restrictive.
What Tie Color Can You Wear With A Red And White Striped Shirt?
Red and white striped shirts work well with grey and blue knit ties.
Patterned shirts such as these will always look more casual than solid red shirts. Whichever tie color you choose, try to avoid patterned ties to reduce the risk of clashing with the striped shirt.
Keep it simple. Go for a solid-colored tie.
Conclusion
Red shirts may not be easy to coordinate with ties, but when it's done properly it can look fantastic.
Consider the dress code, keep the tie darker than the red shirt, and go for neutral colors when you can.
Stick to these basic principles and it's hard to go wrong.
Enjoy.
Ready Sleek founder. Obsessed with casual style and the minimalist approach to building a highly functional wardrobe. Also a fan of classic, vintage hairstyles.