When it comes to casual attire, belt choice can often cause a whole bunch of confusion. Jeans are no exception.
So, here's a list of some great belt colors you can wear with blue jeans:
Black
Dark Brown
Tan
Navy
White
As you can see, the range of options is pretty wide. There's a good chance one or two of them would be most appropriate for the specific setting you're dressing for.
After going through a couple of tips for choosing the right belt for your circumstances, we'll run through each of those options in more detail (with pictures).
Let's get to it.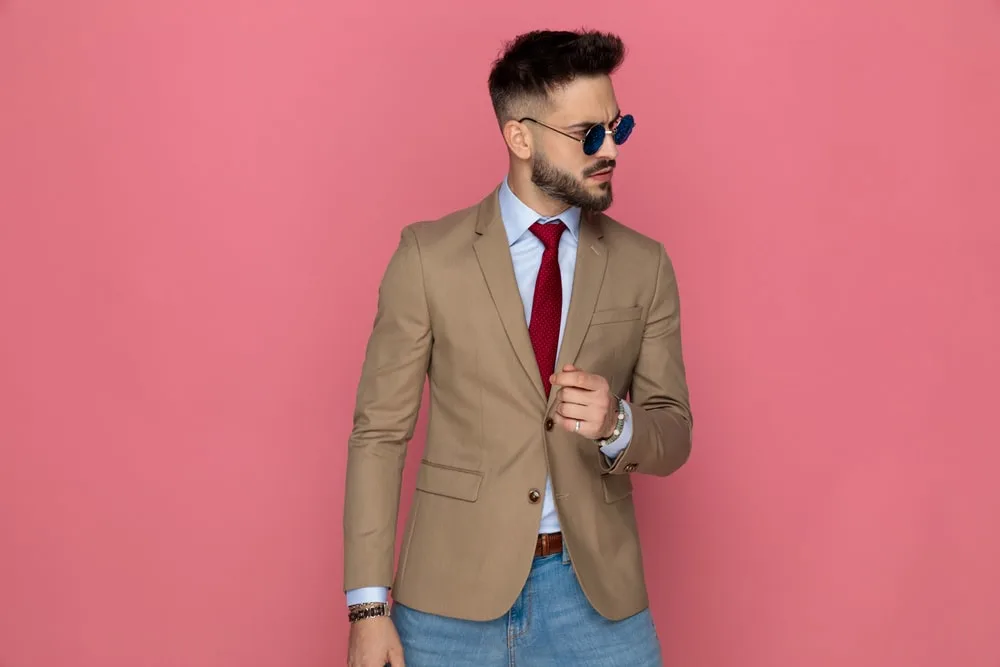 How To Coordinate Belts With Blue Jeans
While you could argue that "anything goes" when wearing blue jeans, it's best to stick to guidelines when choosing the right belt.
Here are two factors you should consider before putting your outfit together.
1. Always Consider Your Shoes
When wearing a pair of leather dress shoes, always try to wear a leather belt in a matching color.
It's true that this basic principle of men's style is usually more important in formal attire (i.e when wearing a suit).
But it should also be considered when wearing leather dress shoes with casual items such as blue jeans.
So, if you're wearing blue jeans with dark brown dress shoes – wear a dark brown belt.
If you're wearing blue jeans with burgundy dress shoes – wear a burgundy belt.
Wearing dress shoes with jeans does always carry the risk of a formality mismatch. In other words, there's a risk that the dress shoes will look too formal to wear with the jeans.
However, the more "casual" leather dress shoe styles such as Derby shoes, monk straps, or loafers can work very well with jeans.
And when doing so, just be sure to wear a matching belt.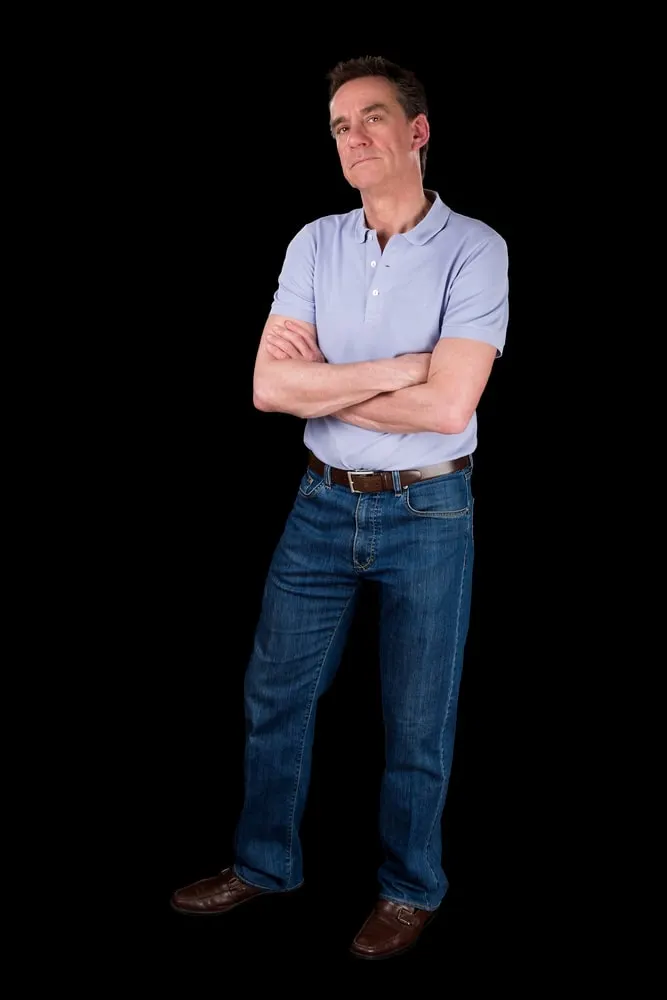 But what about when you're wearing blue jeans with more casual footwear?
If, for example, you're wearing blue jeans with sneakers, boat shoes, moccasins, or espadrilles, you can technically wear any belt color you like.
However, sticking to more traditional and neutral colors such as brown, black, or even white would still be worth doing if you want to keep things looking subtle and elegant.
Consider wearing a more casual-looking canvas belt instead of a leather one.
2. Always Consider The Contrast
When wearing blue jeans with a belt, consider how much contrast you want between the belt and the jeans.
If you'd prefer a low-contrast combination, consider a pair of dark blue jeans with a black or dark brown belt.
It leads to a low-contrast combo because the dark tones of the jeans sync well with those of the belt.
While the colors are easily distinguished from each other, they're similar enough to not be too striking, bold, or eye-catching.
In general, this will lead to a "dressier" jeans and belt pairing.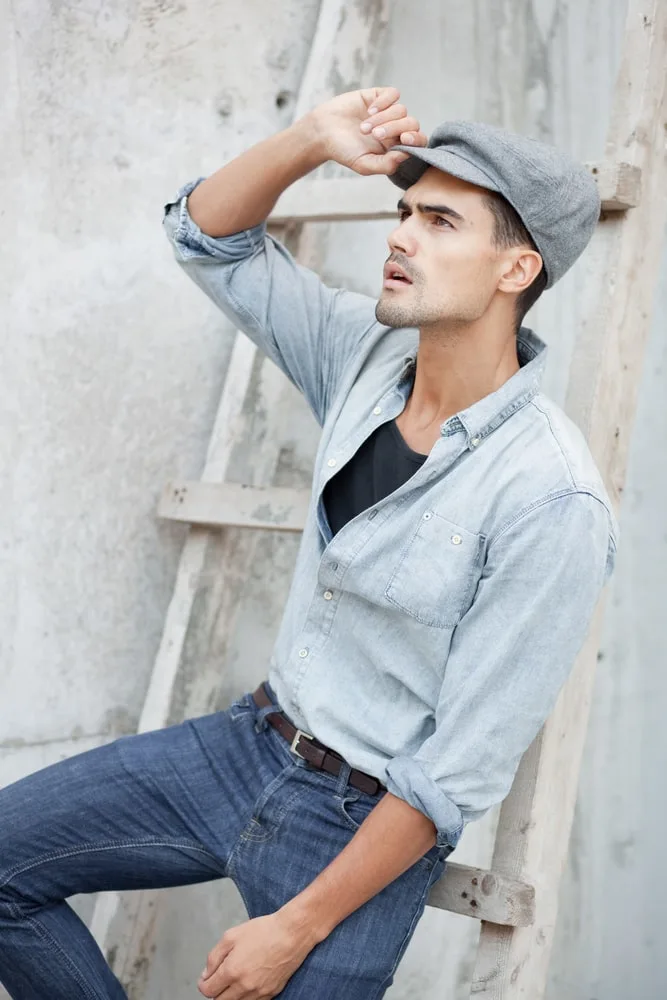 On the other hand, if you'd prefer a high-contrast combination, consider wearing a belt in a color that's very different from that of the jeans.
There are several different options here.
For example, you could consider wearing blue jeans with a white belt.
Alternatively, you could wear light blue jeans with a dark blue belt (eg. navy).
Ultimately, the more different the color of the belt is from that of the jeans, the more eye-catching the combination will look overall.
Having said all of this, try to keep things subtle even when going for a high-contrast look. Go for neutral or muted belt colors wherever possible.
It's hard to go wrong with subtlety.
5 Belt Colors You Can Wear With Blue Jeans
Here are those belt color and blue jeans combinations described in more detail.
Blue Jeans With A Black Belt
Blue jeans can be worn with a black belt, but it's usually important a pair of black shoes is also worn to ensure everything coordinates well.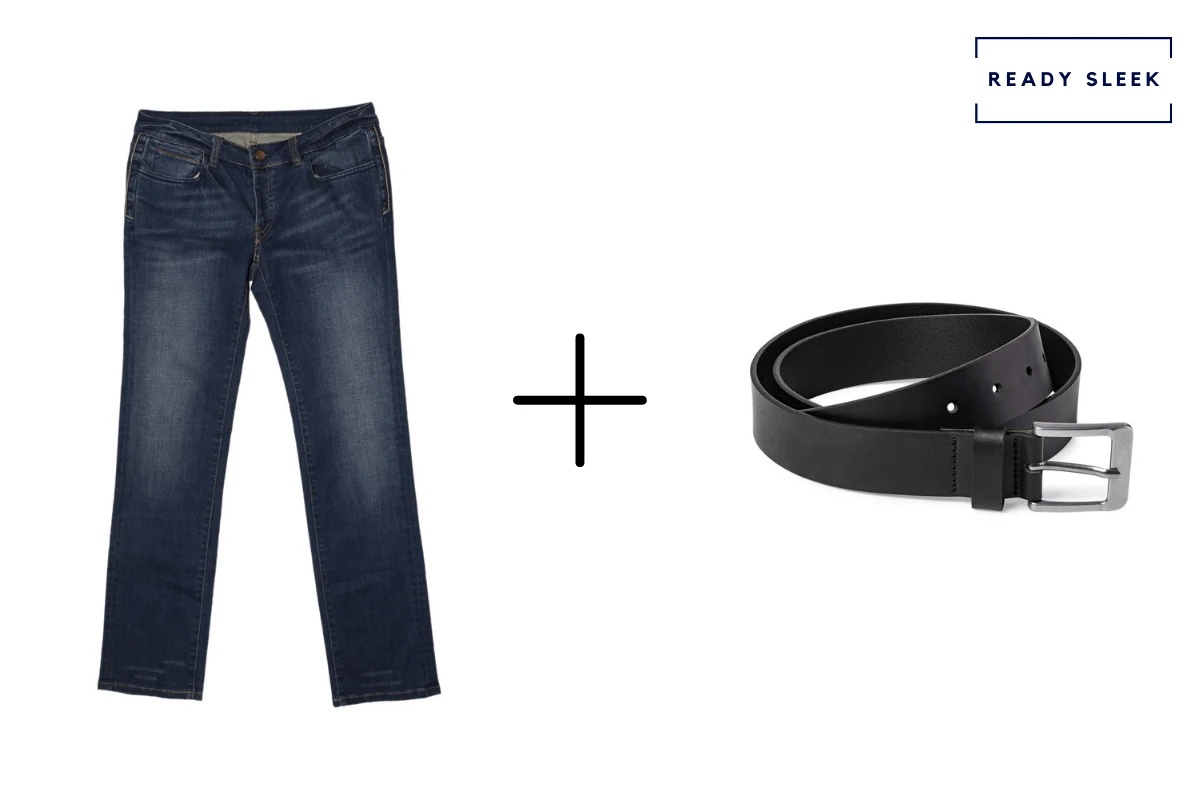 Black shoes aren't always easy to wear with blue jeans given how they usually look quite formal.
In general, it's best to avoid black Oxford shoes when wearing blue jeans, simply because the risk of a formality mismatch is too great.
Black Derby shoes or monk straps, on the other hand, can work well.
In these cases, a black belt would definitely be the most appropriate option.
It'll look relatively dressy, especially when wearing a pair of jeans in a dark shade of blue such as indigo.
The contrast between the dark blue jeans and the black belt will be minimal, leading to a low-key and subtle low-contrast aesthetic.
Rounding it off with a white T-shirt up top to add some serious contrast and produce a monochrome, greyscale combination will always work a treat.
Layer a light grey blazer or sport coat over it if you want to up the formality level a little while still sticking to the greyscale color scheme.
Blue Jeans With A Dark Brown Belt
Blue jeans can easily be worn with a dark brown belt in casual and smart-casual settings, but it's often important that a pair of dark brown shoes is also worn.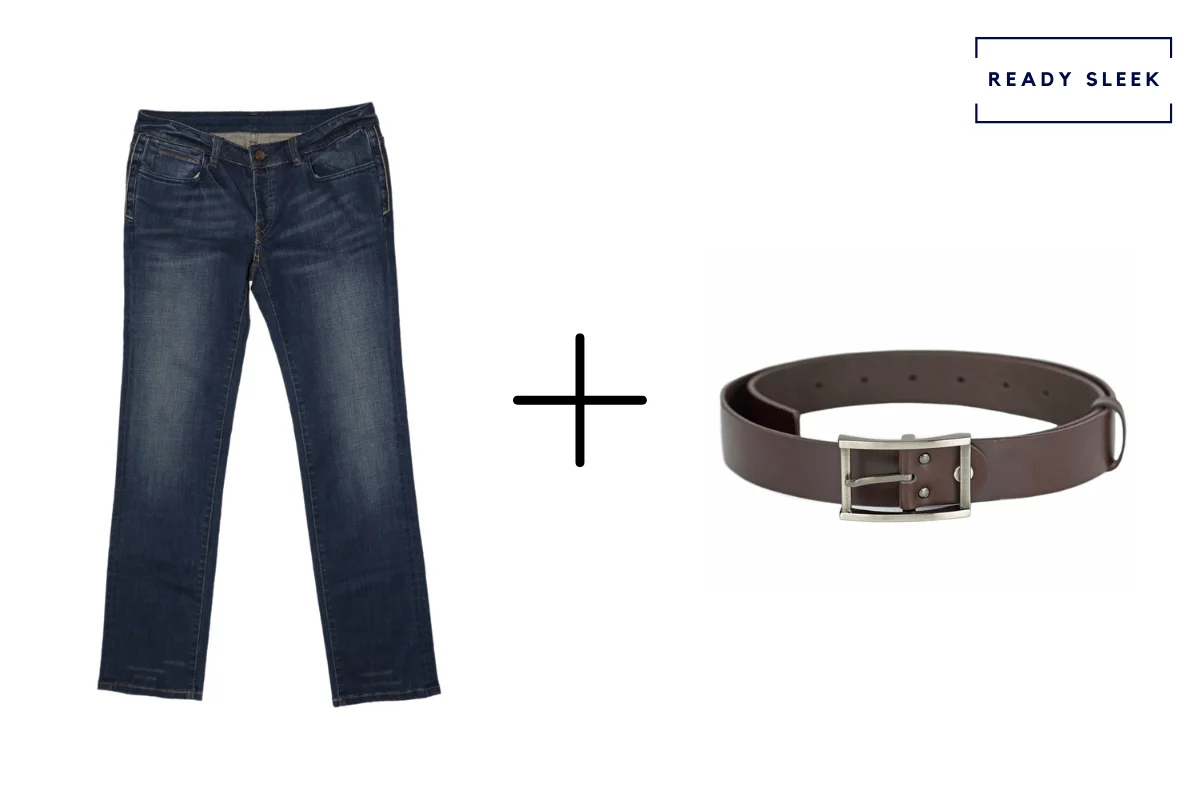 Once again, color-matching the belt and shoes is especially important when wearing a pair of dark brown leather dress shoes.
If, on the other hand, you've gone for dark brown boat shoes or a similarly casual choice of footwear, matching the belt isn't as important.
Dark brown belts are great because they don't look quite as formal as black belts and, in many ways, coordinate better with a typically casual pair of blue jeans.
So, if you're looking for a slightly more casual alternative to black belts but still want to keep things looking sophisticated, a dark brown belt would be a great option.
Consider the contrast.
A dark blue pair of jeans would lead to less contrast than a light blue pair when wearing a dark brown belt.
It all depends on how striking you want the contrast to be. When you're looking to dress up a little, consider wearing dark blue jeans with your dark brown belt.
Blue Jeans With A Tan Belt
A tan belt would be a great option when wearing blue jeans in a more casual environment. Tan is neutral enough to coordinate with the blue jeans effortlessly.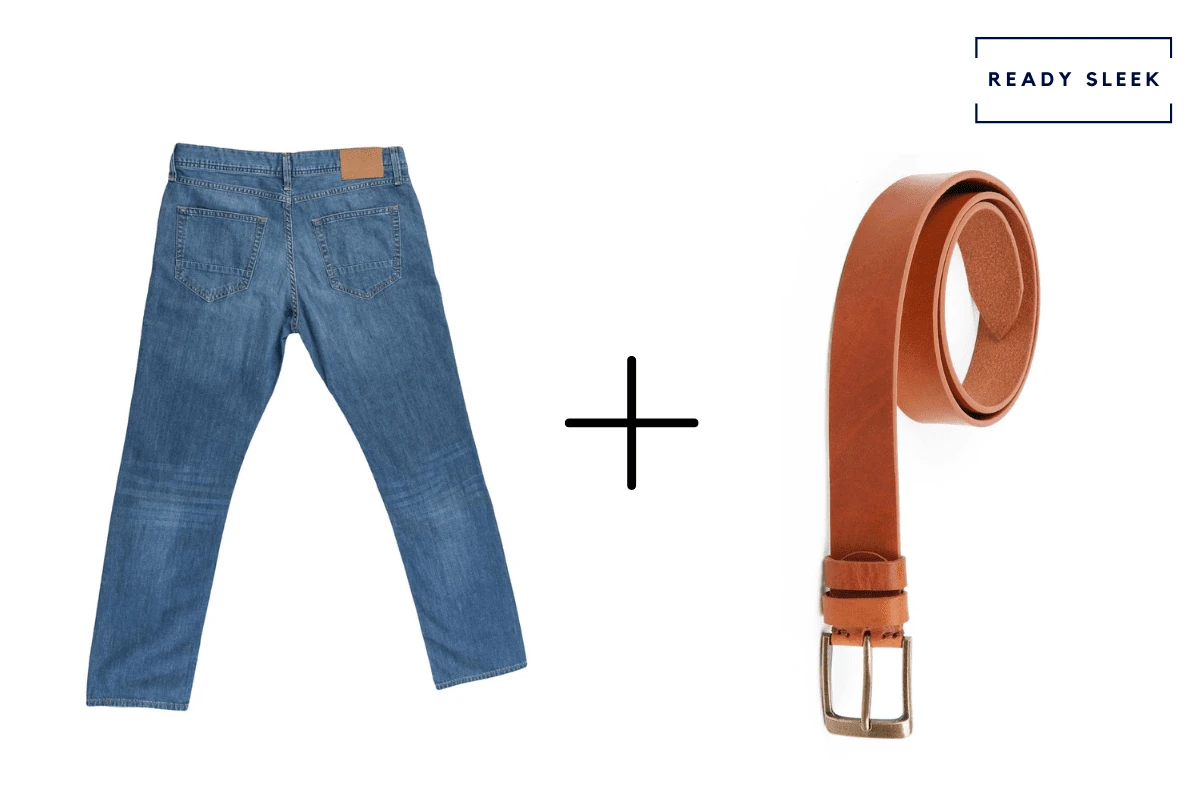 The tan belt will also be light enough to produce a high degree of contrast between the jeans and the belt.
But the neutrality of tan will still usually make the combination suitable for smart-casual settings, while it won't ever look quite as dressy as black or dark brown.
It's also usually important to pair the tan belt with a pair of matching tan shoes (or shoes in a similar shade of light to medium brown).
Not doing so will often look a little strange.
Blue Jeans With A Navy Belt
A navy belt can be worn with blue jeans. It's important to ensure that the jeans are in a noticeably different shade of blue from that of the belt.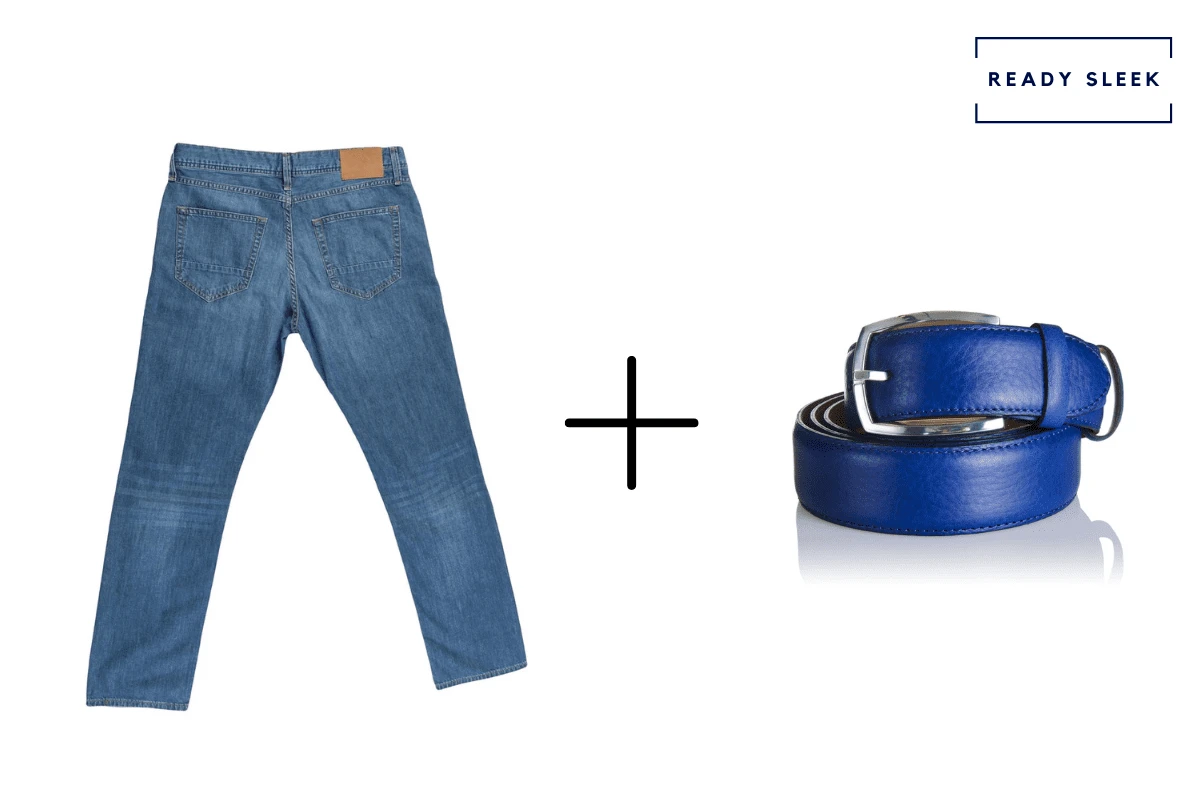 The easiest way to make it work would be to simply choose a pair of light blue jeans. The combination would be very casual, but it'll work.
What you don't want is for the navy belt and the jeans to be so similar that they're difficult to distinguish from each other.
The more different they are, the better.
When wearing a navy belt with blue jeans, it isn't as important to wear a pair of matching navy shoes.
Ultimately, the navy belt will look casual enough for a non-matching pair of shoes to look just as good.
A pair of white sneakers would look great here, simply because it'll add a nice sense of contrast to the blue belt and jeans.
Blue Jeans With A White Belt
Blue jeans can be worn with a white belt, with the high-contrast combination working especially well in very casual settings.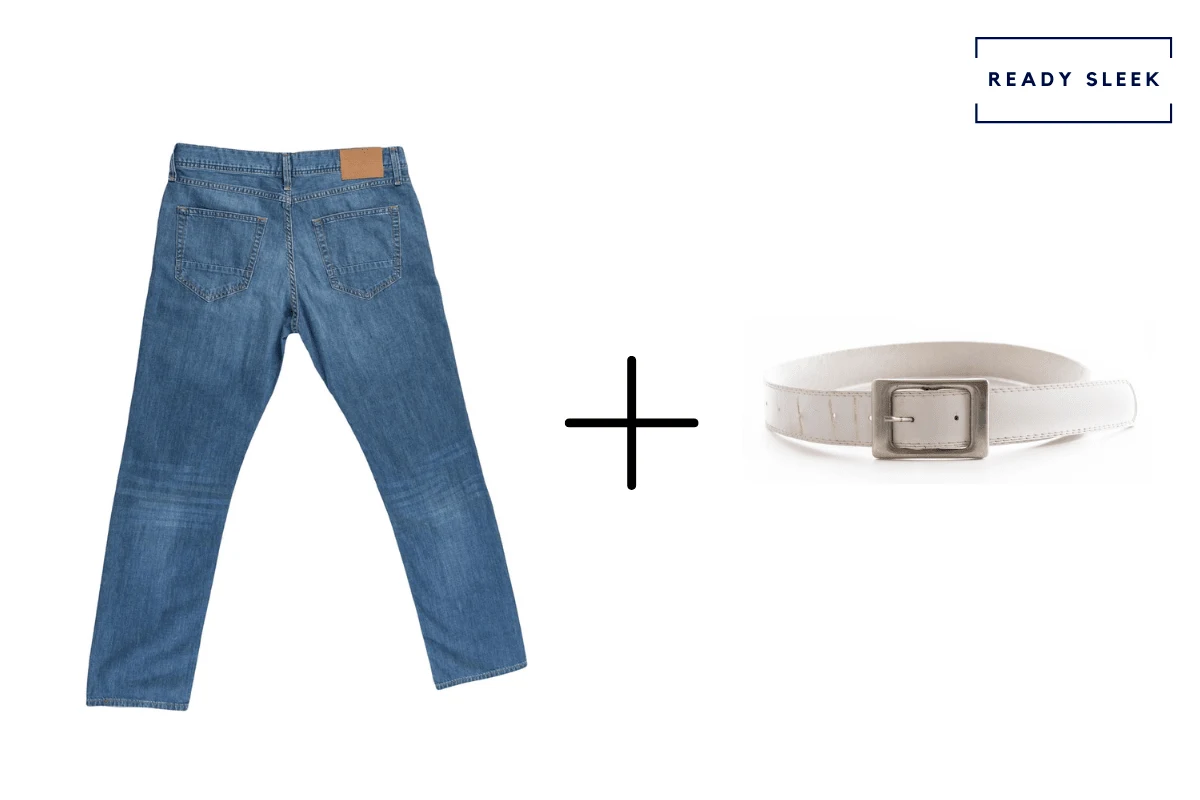 The contrast produced by wearing a white belt with blue jeans is in-your-face and bold. It'll work, but it's important to wear it in the right setting.
If you're worried there may be a risk of underdressing, go for a darker belt color and pair it with dark blue jeans.
If, on the other hand, you're looking to make the belt more of a statement piece, choosing one in white could be a great way to do it.
While it's incredibly light, it's also neutral enough to prevent the combination from looking tacky in the same way a vivid pink belt might, for example.
Conclusion
While you could technically consider wearing any belt color with blue jeans, sticking to a select range will always serve you well.
When dressing your blue jeans up, consider a belt in a darker color.
When dressing down, going for a more contrasting yet neutral belt color such as white or navy blue would be a great option.
Enjoy.

Ready Sleek founder. Obsessed with casual style and the minimalist approach to building a highly functional wardrobe. Also a fan of classic, vintage hairstyles.