Knowing how to use shorts to flatter your build isn't as easy as it might first seem. They come in so many different fits, fabrics, and patterns. Having a good understanding of one of the most versatile types is a good starting point. So, what are chino shorts?
Built from chino cloth, these shorts are a staple of summer leisurewear and have become increasingly popular in recent years. They can be paired with a wide range of casual, semi-casual, and even smart-casual items very effectively.
Although personal opinion and style will play a role here, there are some pretty important do's and don'ts when it comes to wearing them.
Get the length or the fit wrong and you could end looking distinctly chicken-legged. Get the dress code wrong and you could end up looking alarmingly out of place.
Consider this a guide as opposed to a rule book. Use it to influence and steer your own personal style choices while infusing your own sense of flair and personality.
Let's dive a little deeper.
What Are Chino Shorts?
The definition of chino shorts is a pair of shorts built from the traditional cotton twill of chino cloth or a synthetic blend of it.
Chino cloth is more commonly found in the form of trousers – the hugely popular chino pants or chinos for short.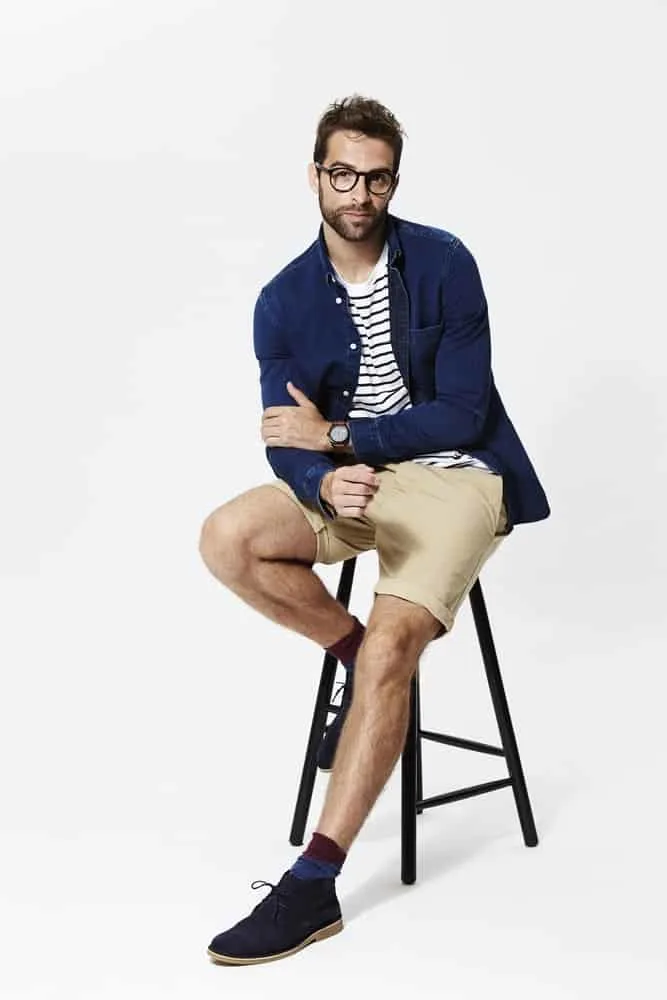 The trousers first gained popularity after being used by the US military during the Spanish-American War in the late 19th century.
They gradually crept their way into popular culture and are now an iconic staple of civilian leisurewear.
In recent years chino cloth has made its way into other items of clothing, including blazers, and of course, shorts.
Chino shorts do carry a similar versatility to chino pants, as the texture of chino cloth compliments a wide range of different items and fabrics ranging from casual to smart casual.
But they do carry a distinctly more casual edge than chino pants and are a lot more suitable for summer occasions and settings.
Ultimately, you can dress them up or dress them down while remaining cool in the summer sun. That's one of the reasons why they're popular.
Are Chino Shorts In Fashion?
Right now, chino shorts are definitely in fashion. Although they're less common than their trouser counterparts, they've slowly grown in popularity in recent years.
A simple trends report will reveal a gradual increase in the baseline of popularity over the last 5 years, with sharp ups and downs due to the obvious seasonality.
As you'd expect, there aren't many people looking for them in the middle of December.
So, the short answer is yes, they're in fashion and are growing in popularity.
But there's a little more to it.
Being "in fashion" does depend on the circumstances. Wearing chino shorts inappropriately could never be considered fashionable.
Knowing when to wear them is an important part of ensuring they are. At the end of the day, chino shorts are casual wear and that shouldn't be forgotten.
Here are some examples of when you could wear them:
Truly Casual Dress Codes – whether it's the beach or a family barbeque. Think flip flops and white tees.
Semi-Casual Dress Codes – maybe a sporting event or a garden party. Try a polo shirt and suede loafers.
Maybe Smart Casual Dress Codes – this is riskier but potentially appropriate for the more casual of smart casual affairs. Try an OCBD, a blazer, and leather loafers.
Knowing what settings are appropriate should save you a few faux pas and ensure they look fashionable each and every time.
Features to avoid with chino shorts (if possible):
Obvious and in-your-face branding.
Cargo pockets – unless you're going hiking. They add too much volume to the lower thighs and make the calves look scrawny in comparison.
Loud patterns – stick to solid, neutral colors wherever possible to avoid unnecessary attention and to also allow for easy color coordination.
How Should Chino Shorts Fit?
When determining how chino shorts should fit, you'll need to take into account the length of your leg (inseam), the width of the leg openings, as well as your body height.
As always, I advise keeping it simple – the following is really how any pair of casual shorts should fit. Ask yourself these questions:
1. What's Your Body Height?
As a general principle, try not to wear chino shorts where the bottom (hem) lies higher than two to three inches above the top of the knee.
They should also not extend beyond the knee.
The sweet spot for most body heights and builds lies in the 7-inch to 10-inch inseam range.
If you're a smaller, shorter guy, go for a shorter inseam. Sure, they'll look more fitting. But having the hem lie higher up your thigh will also elongate your lower body and make you look taller.
If you're a taller guy, you can afford to go a little longer on the inseam. Let personal preference guide you, but again, don't go beyond the bottom of the kneecap.
Remember, if you realize they're a little too long you can always cuff them to your liking. A more permanent option would be to get them hemmed by your tailor.
2. How Tight Do They Feel Around The Thighs?
This has to do with the leg openings.
You want the chino shorts to look and feel fitting – not too tight and not too loose.
Having the leg openings too wide for your thighs can look baggy and add excess volume and shape to the top of your legs.
This can make your lower legs look pretty scrawny in comparison – not good.
In addition, chino shorts shouldn't be too tight. This can be pretty uncomfortable on a hot, summer day. Plus, it doesn't look natural.
Having the shorts nicely taper downward from your hips is the look you want to go for. Take a seat, and make sure you're still able to pinch a good amount of fabric at the hems while seated.
If you can't, they're likely to be too tight.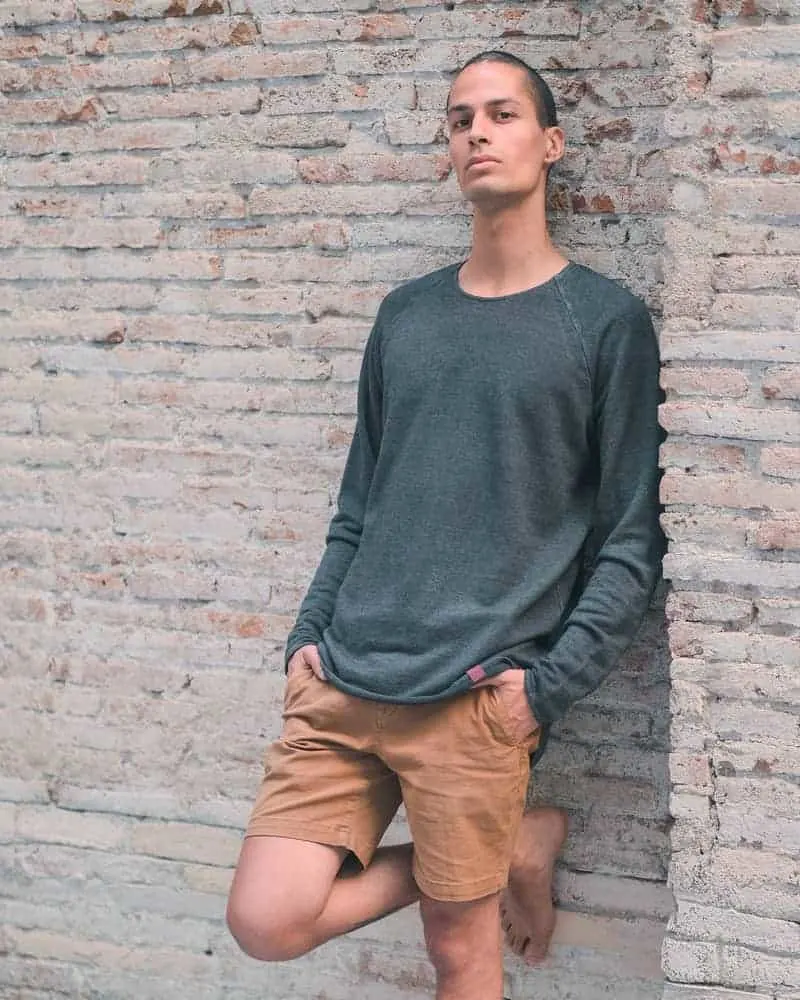 What To Wear With Chino Shorts
As I mentioned, chino shorts are gloriously versatile but do have a casual vibe that shouldn't be forgotten or ignored.
There is a wide range of items that would go well with chino shorts, and it's best to categorize them according to dress code.
Casual
There are a couple of items you should really be familiar with here.
T-Shirts
T-shirts and chino shorts just ooze that summer casual aesthetic. It's really hard to go too far wrong, as long as the setting is casual enough for it to be appropriate.
Although a basic short sleeve white tee would work, try and switch it up.
Try out different necklines and collars; V-necks, crew necks, Henley collars, etc.
Cotton or linen (or synthetic blends of them) are breathable fabrics ideal for warm weather and the texture would also combine well with the cotton of chino shorts.
Overshirts
Sometimes a simple T-shirt isn't warm enough, but every other outer layer you've got in your wardrobe would have you sweating buckets.
You'd need an in-between.
Something to tie you over on those breezy summer evenings.
This is where overshirts come in particularly handy. Also known as "shackets", they maintain the design features of traditional shirts while providing the warmth of a light jacket.
Simply pop one on and leave it unbuttoned over any T-shirt you may be wearing. Combining this look with chino shorts can look especially impressive in the summer.
Overshirts could even serve you well during the fall and winter months as they'd easily slip on over a turtleneck, for instance.
Genius, really.
Without getting too deep into it, it's worth owning one. Popular fabrics include cotton, flannel, and denim.
Semi-Casual
"Semi-casual" is a notch more formal than "casual", but not as formal as "smart casual" or "business casual".
Think first dates, garden parties, and rooftop bars.
Polo Shirts
Polo shirts and chino shorts combine very effectively, mainly because they're both versatile enough to be worn for those dressier casual occasions.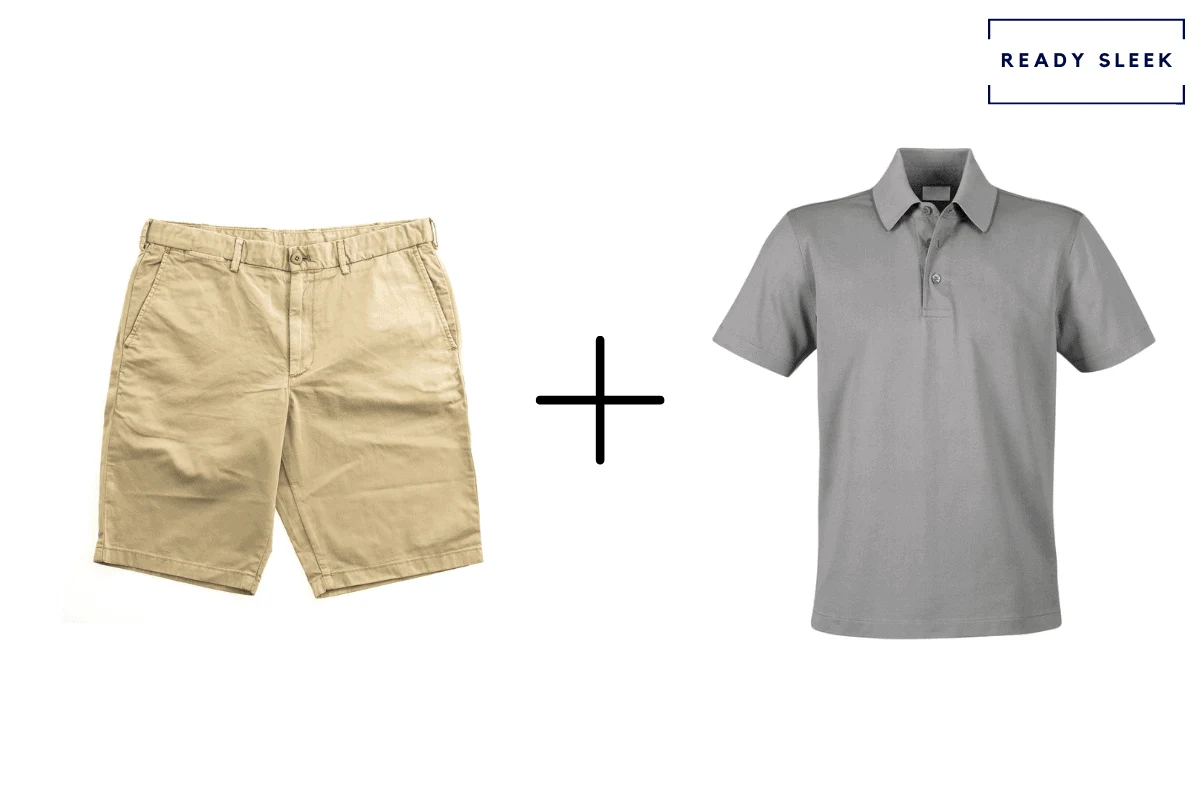 The pique cotton of the most commonly found polo shirts blends very well with the texture of chino shorts.
The combination is undoubtedly a hugely popular choice among many men, despite polos traditionally being associated with the preppy aesthetic.
Tips for wearing chino shorts with polo shirts:
Tucking the polo shirt into the chino shorts actually works very well and is something to experiment with.
If the back hem of the polo shirt is longer than the front, be sure to tuck it in to avoid a "tailed" appearance at the back.
Avoid layering over polo shirts wherever possible. Blazers, overshirts, and jackets don't combine well with polos. The collar makes it look awkward.
Much like chino shorts, polo shirts should be fitting – not too tight and not too loose. You should be able to fit a finger underneath each sleeve.
Short-Sleeve Shirts
Ideal if you feel as though a T-shirt or a polo just wouldn't be smart enough.
A button-down short-sleeve shirt may be the ideal choice. Once again, be sure to choose a breathable fabric such as cotton or linen.
Smart-Casual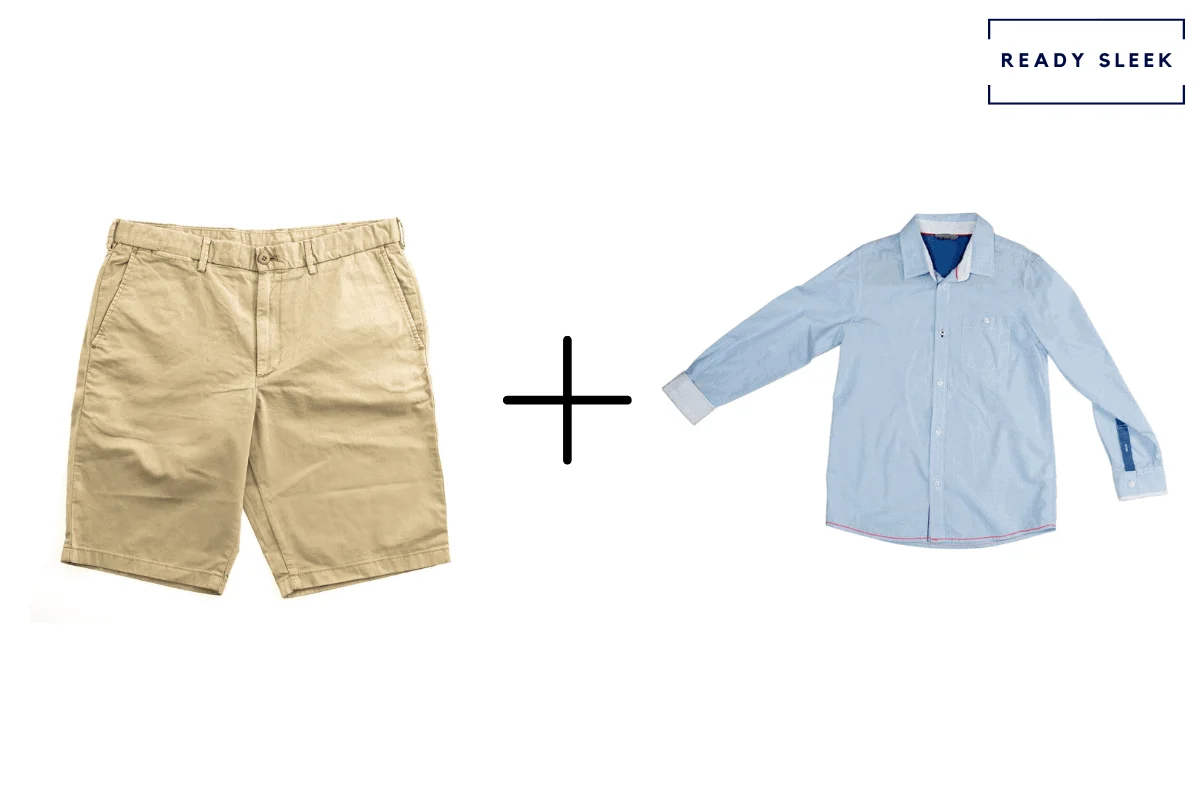 Are chino shorts really smart-casual?
They can be but it really depends on the occasion or setting you're dressing for.
This may be a controversial section to include, as you could argue that chino shorts could never really be considered "smart-casual".
I disagree, however.
Smart-casual (a.k.a business casual for our purposes), is a dress code that combines traditional formal wear (eg. blazers, shirts) with casual and leisurewear.
"Smart-casual" is a spectrum in itself; there will be smart-casual settings that are more "casual" than "smart".
For these occasions, chino shorts may be perfect.
Examples may include a particularly casual wedding, or the more formal garden party of a friend.
Here are a couple of items you can try out.
Blazer
The blazer and chino shorts combo can work surprisingly well when you choose a blazer that isn't too formal.
Tips:
Choose a summer-friendly, lightweight fabric such as cotton, linen, or silk.
Choose a blazer that's unlined and without much structure. This will ensure it's lightweight and also results in a more casual silhouette.
Wear it over a suitably breathable shirt or even a smart-looking T-shirt. It really depends on how "smart" you want to get with this smart-casual vibe.
Shirt
When wearing one with chino shorts but without a blazer or sports coat as an outer layer, it's usually best practice to roll up the sleeves.
The rolled-up-sleeves and chino shorts look will be suitably smart-casual enough for a pretty wide range of occasions and settings.
Once again, if you're unsure of whether the dress code would allow for it, it's probably best to check in advance.
The breathable fabric of Oxford Cloth Button Down (OCBD) shirts will usually work a treat. But once again, linen is a popular summer choice.
Linen will look a little more casual due to the typical, relaxed wrinkles. But it may be exactly what you need.
As long as the hem isn't too long, leaving it untucked over a pair of chino shorts is often a fantastic summer smart-casual look.
What Shoes To Wear With Chino Shorts
The commonest shoes worn with chino shorts include sneakers, loafers, and boat shoes.
The shoes you choose to wear will determine just how casual they come across.
Because of this, it would be useful to also categorize your options into casual, semi-casual, and smart-casual.
Casual
Flip Flops
Canvas Sneakers
Sandals
Boat shoes
Semi-Casual
Moccasins
Suede Loafers
Espadrilles
Smart-Casual
Leather loafers
Brogues such as wingtip Derbys
Going too formal with the shoes often just looks awkward when pairing them with chino shorts.
If you are going for a traditionally more formal type of shoe such as Derby shoes, try to pick a more casual looking pair.
For example, with a heavy brogue pattern and in a lighter shade of brown such as tan.
With all of these shoes, it's best practice to not wear any socks or wear no-show socks. The socks-and-shorts look will always look pretty immature and is best avoided.
Frequently Asked Questions
Let's round things up by running through a few frequently asked questions on chino shorts that are quite commonly asked but rarely answered.
Should You Wear A Belt With Chino Shorts?
Chino shorts are often worn with a belt and if they come with belt loops they were most likely meant to be worn with one.
There's no hard-and-fast rule here. If you're wearing the shorts casually with an untucked tee no-one is going to see the belt anyway. It might not be necessary and is down to personal preference.
But if you're wearing them semi-casually or smart-casually a belt might be a good idea. Try to match your belt to the color and style of your shoe.
Casual belt styles include webbing and canvas – they work particularly well with casual footwear such as boat shoes or moccasins.
If you're wearing leather shoes, go for a leather belt.
A mismatched belt is something you want to avoid. If you think it looks awkward or doesn't pair well, it's best to wear your chino shorts without any belt at all.
What's The Best Color For Chino Shorts?
Sticking to neutral, solid colors is usually a great way to go.
Personal preference is important to consider here, but there are some basic principles that'll make color matching a lot simpler.
Loud, heavily-patterned, and pastel-colored shorts have their place but aren't anywhere near as versatile as neutral, muted colors.
Colors without much intensity or saturation that can be easily paired with many other items in your wardrobe will make coordinating your outfits a lot easier.
Colors such as white, gray, beige, navy blue, khaki, and olive green are ideal.
Choosing neutral colors over louder and more striking colors is also beneficial because it means they're less memorable.
Although this might sound strange, this is ideal if you want to wear the same shorts time and time again.
The more subtle and neutral they are, the more you'll be able to wear them without people noticing you are.
Wearing loud and intense colors will draw more attention and may lead to the occasional comment or two if you choose to wear the same shorts over and over.
Can You Swim In Chino Shorts?
Chino shorts are terrible for swimming in because of the cotton twill they're built from. Cotton is very absorbent of water and will weigh you down considerably. The fabric will also deteriorate due to the abrasion from the water and also the chlorine.
Plus, it'll be very uncomfortable to wear once you're back out.
You may be in sight of a pool or beach without having come prepared with swimming trunks. Taking a dip in the chino shorts you're wearing can be tempting.
But it'll genuinely ruin your shorts and is definitely best avoided.
Conclusion
You won't need many of them.
But owning one or two well-fitting, comfortable chino shorts in neutral colors will come in extremely useful for a very wide range of settings.
They're versatility really can't be denied.
Ready Sleek founder. Obsessed with casual style and the minimalist approach to building a highly functional wardrobe. Also a fan of classic, vintage hairstyles.