With many rules, do's, and don'ts, it's no surprise then it can be tricky to know what you can and can't wear when it comes to formal attire. So, can you wear a tuxedo with a white bow tie?
You should avoid wearing a white bow tie with a tuxedo where possible. White bow ties are usually reserved for the highest style of formal dress – the white tie dress code.
That's just the short answer. After going through the reasons why you shouldn't usually do it in a little more detail, we'll run through a couple of exceptions when it might not be all that bad.
Let's get to it.
Why You Shouldn't Wear Tuxedos With White Bow Ties
Consider both of these reasons before making your decision.
White Bow Ties Are For "White-Tie" Dress Codes
Delving into the prim and proper times of our past, depending on class status, you will notice that there were a lot of rules that had to be followed.
When it came to events such as races like Ascot and the Grand National, royal ceremonies, and stately banquets, the only dress code was the most formal – white tie.
Fast-forward to the 21st century, the same etiquette is still in force today.
As we briefly mentioned in our short answer above, ideally, white bow ties should only be worn with the white tie dress code.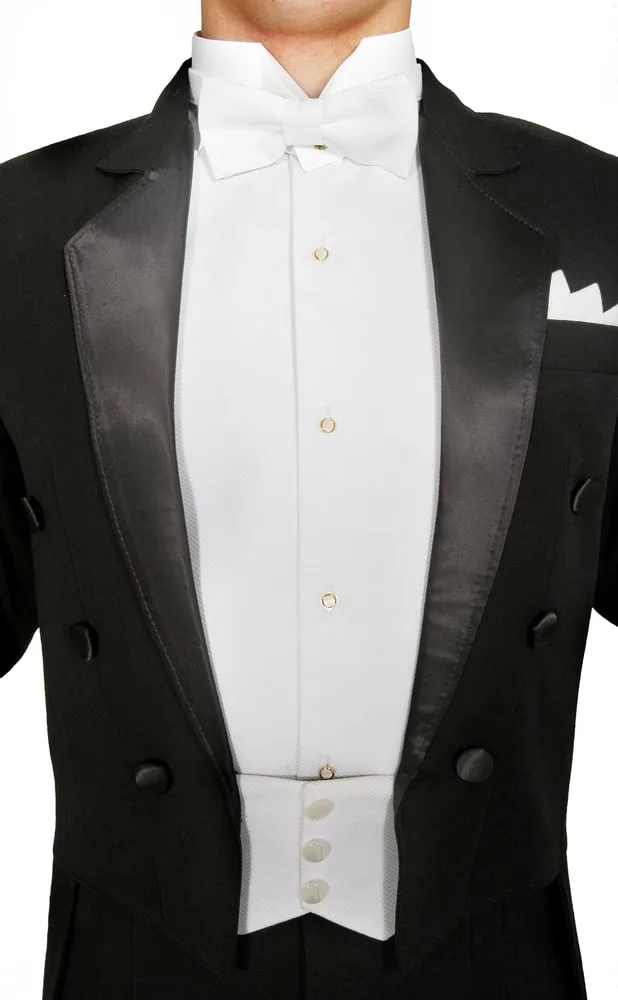 This doesn't include a tuxedo jacket.
Instead, an ultra-formal tailcoat is worn combined with a low-cut, white evening waistcoat and high-waisted black trousers.
Rounding off society's most formal of outfits is the white bow tie.
2. A Tuxedo Is Considered Black Tie
Formally called black tie, a tuxedo is considered to be part of the black-tie dress code and not white tie attire, as we've explained above.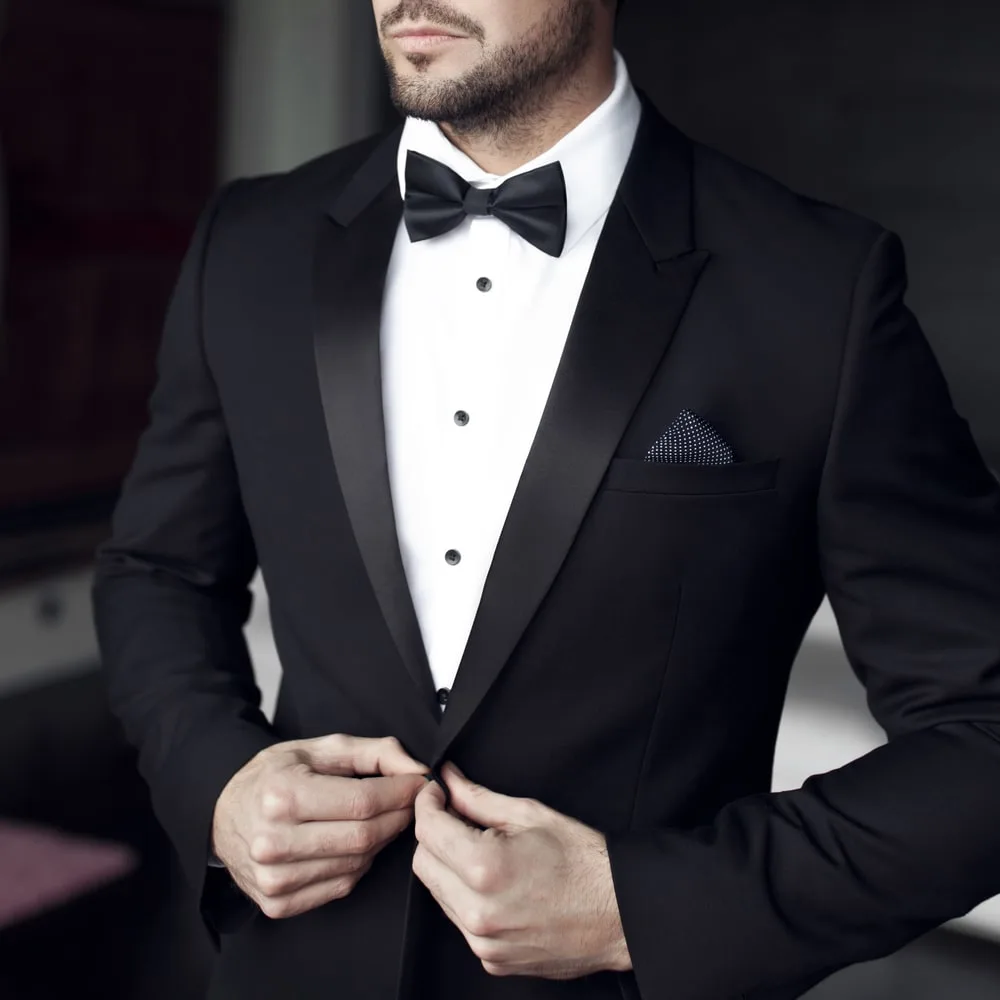 Still extremely formal attire, it is one 'below' the white tie and worn to occasions and events such as dinner parties, proms, and awards ceremonies to name a few.
The tuxedo ensemble consists of a black tuxedo jacket, a stiff-collared smart white dress shirt, black formal trousers, and most importantly, a black bow tie.
The tuxedo jacket should have soft, silk lapels differentiating it from a regular jacket. The white dress shirt should have holes for your favorite pair of cufflinks and the trousers should be black and well fitted.
By wearing a white bow tie to a black-tie event, you run the risk of looking overdressed and awkward. You will stick out in a crowd full of people all wearing black bow ties.
At the end of the day, it will be called a black-tie event for a reason.
Exceptions When It May Be OK To Wear White Bow Ties With Tuxedos
In general, it's best to avoid it at all costs. However, here are a couple of exceptions where it may not be all that bad.
1. The Dress Code Isn't Strict
We've all got that one friend in our life that doesn't really follow the norm, shall we say.
Well, it's that friend's 50th birthday party next month and they've booked out a huge venue to celebrate and invited hundreds of guests.
The dress code is "white tie" and everyone has to be suited & booted and dressed to impress.
Now obviously, the white-tie dress code is still in force and the host would like everyone to attend in white-tie attire presumably for a bit of formal fun and to make the occasion memorable.
As this isn't a dress code that is strictly enforced, like say, a stately dinner would be, this gives you the opportunity to wear the tuxedo you might have in your wardrobe with a white bow tie.
It's extremely unlikely anybody would say anything to you, and it's probable that a lot of other attendees will be wearing something similar.
The same can also be said for events such as weddings.
The dress code on the invitation might state 'white-tie optional' or 'black-tie optional' meaning it's probably going to be fine if you do end up wearing a white bow tie and tuxedo.
Weddings, and especially the reception, are more for having a good time with family and friends and a special day rather than being strict on the dress code.
2. Last Minute Invitation
In today's ultra-busy modern world, people can drop out of events for all sorts of reasons.
A venue somebody was hoping to get became available at the last minute and so decided to have a last-minute ceremony or dinner party, for example.
It would be a (kinda) acceptable reason/ to wear a tuxedo with a white bow tie.
Not everyone has an expensive tailcoat and waistcoat hanging up in their wardrobe, so a black tuxedo with a white bow tie is probably the next best option.
3 Tips For Wearing White Bow Ties With Tuxedos (If You Must)
If you've read this far and you're still keen on doing it, here are some tips to try and make it work.
1. Tie Your Own White Bow Tie
Pre-tied white bow ties are a good option if you're short on time.
They are made from two pieces of material that have already been stitched up and fastened to the neckband.
Apart from that, self-tie bow ties are better in every other way.
They're available in many different styles such as the butterfly, jumbo butterfly, batwing, and ribbon bow ties. The pre-tied ones usually come in just the butterfly style.
Tying your own bow tie allows you to style it in your own unique way, giving your ensemble a personal touch.
2. Think About Your Collar
Shirt collars such as a cutaway collar, spread collar, and wingtip collars are all great choices to wear with a bow tie.
All three of these choices leave enough room for the white bow tie to be the center of attention around the neck area.
For more formal occasions, the wingtip collar is the most suitable.
3. Always Choose A Black Tuxedo
If you'll be wearing a white bow tie, always choose a black tuxedo.
Not only are black tuxedos the standard, but a white tuxedo with a white bow tie would make you look even more out of place and attention-grabbing. It's definitely not worth doing.
Conclusion
White bow ties are reserved for extremely formal "white-tie" occasions where a tailcoat would be required and not just a simple tuxedo. Avoid wearing a tuxedo with a white bow tie whenever possible. Stick to black bow ties instead.

Ready Sleek founder. Obsessed with casual style and the minimalist approach to building a highly functional wardrobe. Also a fan of classic, vintage hairstyles.