Some combinations sound like they could potentially work in theory but turn into a bit of a disaster when they're tried out in real life. The question is, can you wear a tuxedo jacket with jeans?
A tuxedo jacket should never be worn with jeans because the formal-looking, lightweight, shiny texture of the tux will clash with the casual and rugged texture of the denim. Tuxedo jackets should be worn with their matching tuxedo pants, not jeans.
Although that's the short answer, there's more to it.
After going through the main reasons why you shouldn't wear this combination in a little more detail, I'll run through some better alternatives to go for instead.
Let's get to it.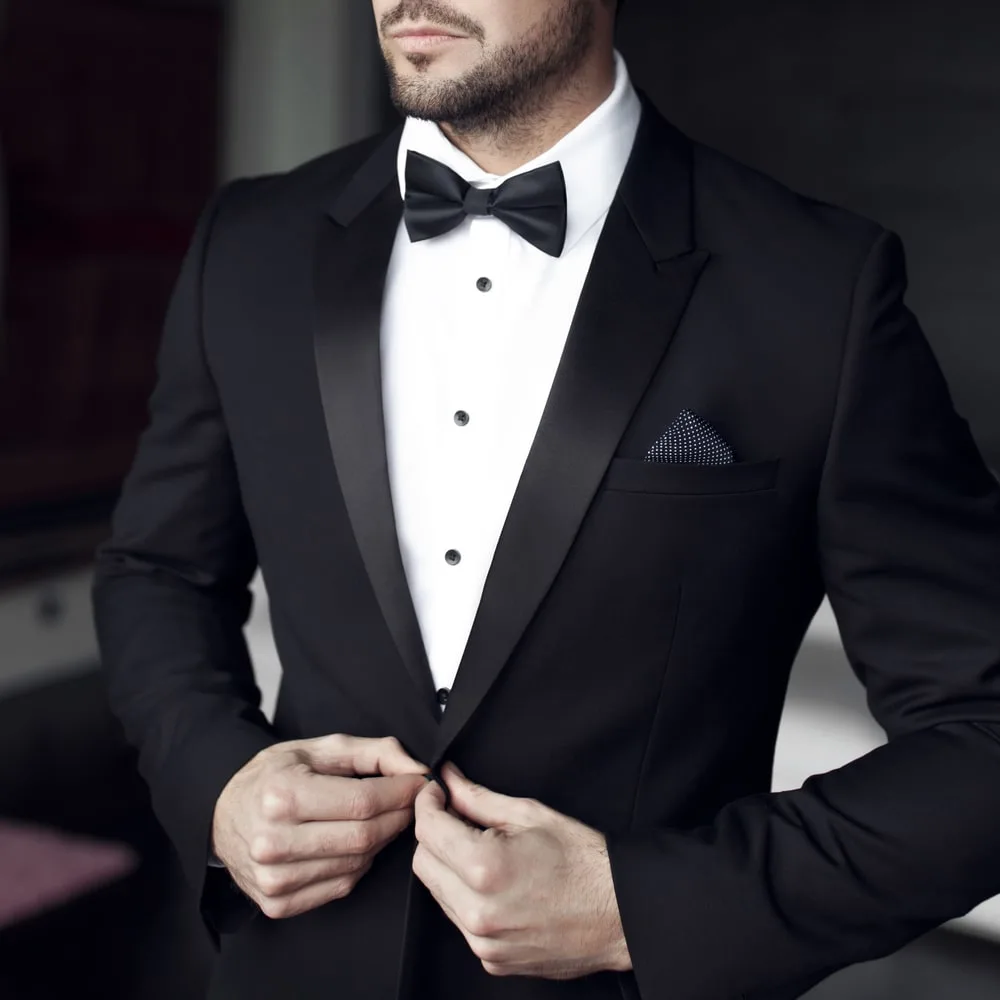 3 Reasons Why You Shouldn't Wear A Tuxedo Jacket With Jeans
By the end of this, you'll almost definitely decide against it.
1. Tuxedo Jacket Fabric Is Too Fine
The main reason for this combination not working is the formality mismatch.
In other words, the tuxedo jacket will immediately come across as too casual for the jeans.
Unfortunately, this will be pretty obvious to those around you – even those that aren't that style-conscious.
Tuxedos are the pinnacle of traditional formal attire and it's easy to recognize when a tuxedo jacket isn't worn with its matching tuxedo pants.
In general, a tuxedo jacket should always be worn with a pair of tuxedo pants made from the same roll of fabric.
One reason for a tuxedo jacket looking way too formal for jeans is the weight and texture of the fabric.
Most tuxedos are made from wool woven in a berathia weave, or from a wool-poly blend.
The fabric is fine and lightweight, much like that of a regular worsted wool suit.
The texture of a tuxedo jacket would definitely clash with the rugged, rough, and casual texture of denim – a key reason why such an unacceptable formality mismatch results.
2. Tuxedo Jackets Have Too Much Sheen
Another reason why tuxedo jackets clash with denim jeans is that the jacket sheen conflicts with the complete lack of sheen that jeans have.
Tuxedo jackets are shiny and so are the matching tuxedo pants they're supposed to be worn with.
It's this shine that makes them look so unmistakably formal and dapper.
The satin lapels that tuxedo jackets almost always come with are the shiniest parts.
Overall, the sheen of a tuxedo jacket would look strange and unusual when worn with a pair of jeans.
3. Tuxedo Jackets Are Too Long
Tuxedo jackets usually have a longer hem than blazers and sports coats do. It's another reason why they look more formal.
When wearing a pair of matching tuxedo pants, this additional length doesn't look unusual at all.
In fact, it looks entirely normal and appropriate.
But when wearing anything other than a matching pair of tuxedo pants, this length will out of place.
It's yet another cause for the clear formality mismatch that would result from wearing the tuxedo jacket with jeans.
Alternatives To Wearing A Tuxedo Jacket With Jeans
To sum up the previous section, a tuxedo jacket should only be worn with its matching tuxedo pants.
Sticking to that rule-of-thumb should simply everything and make future decisions a whole lot easier.
Here are a couple of alternatives that would work so much better.
Blazer And Jeans
Jeans are a staple of casual attire but can easily be dressed up in the right way. A simple way to do this would be to pop on a blazer.
Blazers are different to tuxedo jackets and suit jackets in that they don't have to be worn with a matching pair of pants.
They usually come in navy blue but it's not uncommon to find them in other colors too. They have a looser fit than tuxedo jackets and aren't as padded in the shoulder area.
Common fabrics include flannel, hopsack, and worsted serge.
All of this makes them look more casual than tuxedo jackets and a lot more appropriate to wear with jeans without causing a formality mismatch.
In terms of what to wear under the blazer, you've got plenty of options.
If you wanted to go for a more casual look, consider a simple T-shirt. If, on the other hand, you wanted to dress it up a little, consider a turtleneck sweater or an OCBD shirt.
Overall, a blazer is a lot more versatile than a tuxedo jacket and would be a much better option when you're trying to dress up a pair of jeans.
Sports Coat And Jeans
Sports coats are even more casual than blazers and so arguably even more appropriate to wear with jeans.
They have a loose fit and are generally made from more rugged fabrics such as tweeds.
In general, they have a "rougher" texture to them than blazers and generally have more weight to them as well.
Overall, the rugged texture of a sports coat matches the texture of denim a whole lot more than a tuxedo jacket would.
When wearing a sports coat, the options for underlayers are similar to those of the blazers – OCBDs, turtlenecks, or T-shirts.
2 Exceptions Where A Tuxedo Jacket May Be OK With Jeans
You'll notice how these exceptions are incredibly rare. Overall, a tux jacket should never be worn with jeans, but as with anything, there are always exceptions.
If either of these apply to you, I'd be pretty surprised. But hey – they're worth mentioning.
1. Wearing It As An Entertainer
The tuxedo jacket and jeans combination could make for a pretty great outfit if you were clearly looking to stand out in an eccentric way.
An example may be if you were wedding singer or a magician.
These are events wear you want something to make your entire outfit stand out just enough to make it clear you were there to entertain.
The combination would be unusual enough to do this.
2. Wearing It To A Costume Party
This one doesn't need much explanation. Ultimately, if you were looking for something to wear to a costume party and you didn't really have a proper costume, this is one to consider.
It's odd enough that people may not even enquire what you're dressed as.
How To Wear A Tuxedo Jacket With Jeans (If You Had To)
There may still be a few of you intent on wearing this combination despite all of the potential downside.
If this is you, read the following tips to try and minimize the damage.
1. Consider A Dinner Jacket Instead
If you don't already have one and you aren't willing to get hold of one, ignore this.
But at the end of the day, dinner jackets are more appropriate to wear with non-matching pants than tuxedo jackets are.
Don't get me wrong – it'll still definitely cause a clear formality mismatch. Dinner jackets can be worn with non-matching tuxedo pants or maybe suit pants/dress pants at a minimum.
Jeans would still generally be a no-no, but not as much of a no-no as they would be with a standard tuxedo jacket that's only meant to be worn with matching tux pants.
2. Tapered, Dark Wash Jeans
You'll want to try and wear a pair of jeans that looks as similar to the color and tone of the tuxedo jacket as possible.
Because of this, black jeans will always work best. In addition, wear tapered jeans (not baggy) that have minimal distressing.
It'll still be obvious that you're wearing jeans. However, it'll probably look less strange than it would if you were wearing frayed blue jeans with widespread stonewashing.
3. Don't Wear A Bow Tie
There's no quicker way to make this combination look even more unusual than by wearing a bow tie.
Yes, bow ties are often worn with tuxedos, but not with lone tuxedo jackets worn in isolation.
The tux jacket would already clearly be conflicting with the casual pair of jeans. Adding a bow tie into the mix would just make that formality mismatch even more striking and obvious.
Conclusion
There you have it. Hopefully, everything you needed to know about a rarely discussed topic.
Overall, it's never a good idea to wear a tuxedo jacket with jeans. It's an unusual combination that will draw attention for the wrong reasons.
Ready Sleek founder. Obsessed with casual style and the minimalist approach to building a highly functional wardrobe. Also a fan of classic, vintage hairstyles.