Denim jackets are pretty versatile. However, with their endless color options and countless styles, it can sometimes be hard to pair them with other items. So, can you wear a T-shirt with a denim jacket?
You can definitely combine a T-shirt with a denim jacket, with neutral T-shirt colors being the best bet for a casual look. Softly patterned T-shirts are also a good idea, but they only work with certain jacket styles and textures.
Having said this, there's much more to cover on the topic.
In this post, we'll share six tips on how to wear a T-shirt with a denim jacket, followed by a section covering frequently asked questions.
Let's get to it.
6 Tips For Wearing A T-Shirt With A Denim Jacket
Anyone can throw their closet doors wide open, choose a denim jacket and a T-shirt, put them on, and head outside. But not everyone can do it right, so we're here to help you with this.
The following tips thoroughly explain how to wear a T-shirt with a denim jacket.
1. Stick To Neutral-Colored T-Shirts
You can't go wrong with light, neutral-colored T-shirts. These include shades of gray, beige, cream, tan, ivory, white, and off-white.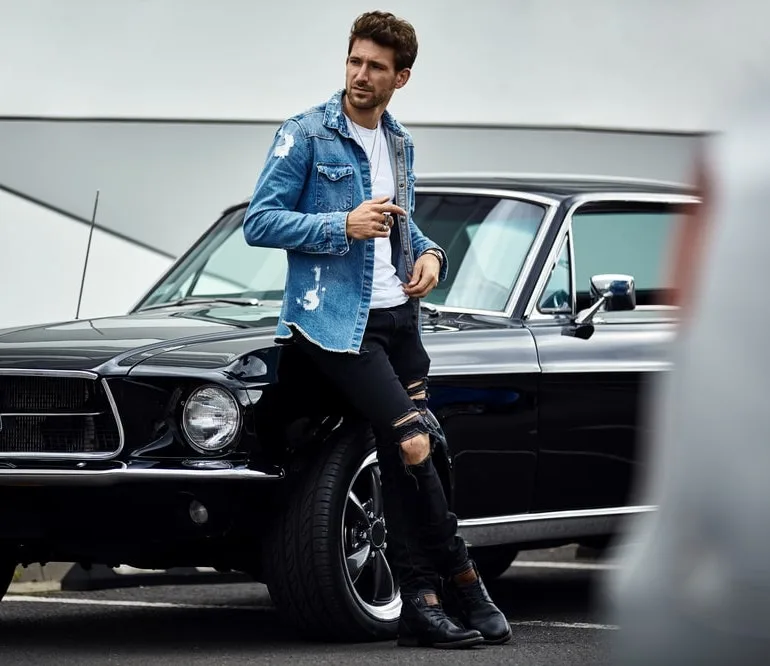 Due to the neutral nature of these tones, they will almost always work alongside a denim jacket.
Therefore, it won't matter if your jacket is navy blue, sky blue, black, or gray – it'll work alongside most neutral T-shirts.
Brighter and darker T-shirt colors can work, too, but these will require more thought, particularly regarding the jacket color.
2. Consider The Denim Jacket Color
The next step is to keep the denim jacket color in mind when picking a T-shirt to go along with it.
Lighter jackets look great with light-colored T-shirts if you're going for a low-contrast combo.
On the other hand, a navy blue or black denim jacket above a dark or bright-colored T-shirt would work well. It's also a good combination for a casual, laid-back night out with friends.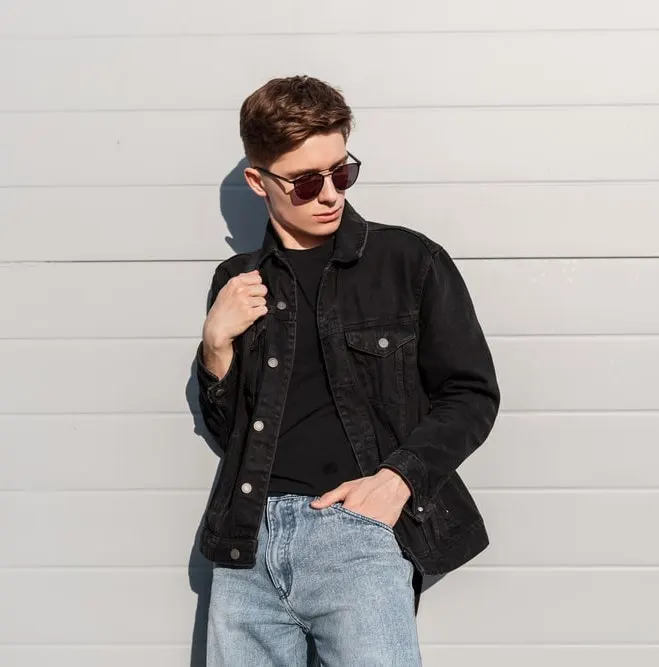 In addition, dark denim jackets work well with light-colored T-shirts; think white, cream, beige, tan, and the list keeps going on. These combinations are higher-contrast and more eye-catching as a result.
3. Think About The Texture And Pattern Of Your T-Shirt
Many people are hesitant about wearing a slightly textured or patterned T-shirt under a denim jacket. Yet, it can look great when styled correctly.
You should avoid T-shirts that have large, multicolored patterns or prints. Instead, look for T-shirts with soft, tiny patterns, simple textures, stripes, or minimalistic prints.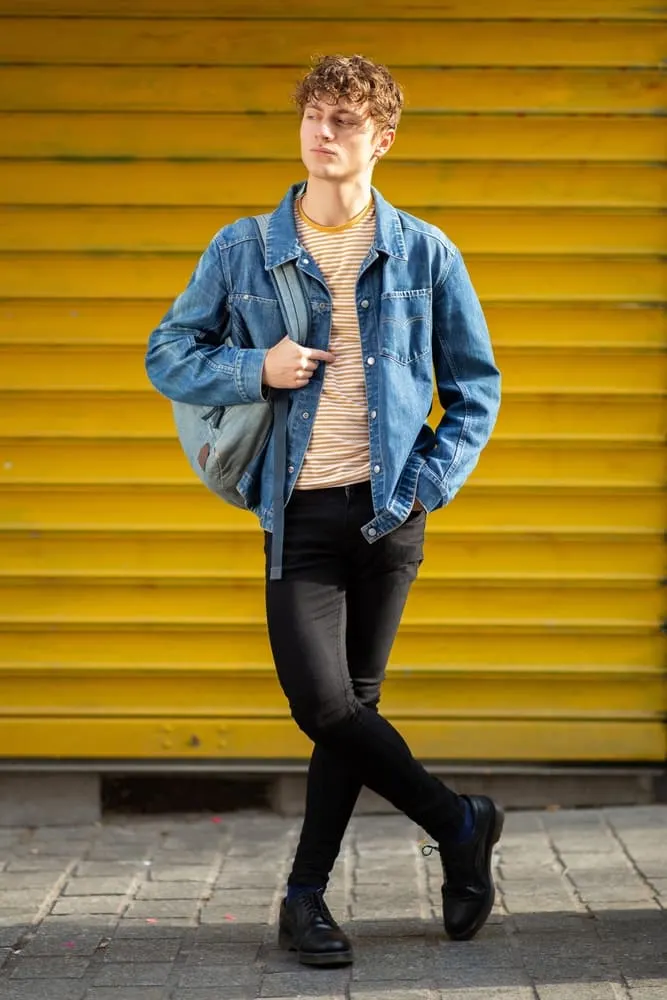 Pair these with your favorite denim jacket, no matter the color. Remember that darker jackets can be a better option if you like a highly-contrasted, edgy look.
Lighter jackets with delicately patterned T-shirts can give you a comfortable, relaxed appearance, perfect for casual occasions.
4. Oversized T-Shirts Can Work Well
Layering an oversized white T-shirt with a denim jacket can look great.
Black, gray, and beige jackets are the best jacket options – particularly if the T-shirt is white or ivory.
Baggy T-shirts don't have to be neutral-colored; you can try your luck with patterned or striped T-shirts and see how they look with your denim jacket.
A black or white jacket is the best option for a foolproof outfit.
Consider wearing a cap or even a casual fedora to complete the too-cool-for-the-crowd look.
You can also drape a messenger bag across your chest for the ultimate bohemian impression.
5. Determine Whether You Want A Casual Vs. Semi-Formal Look
Choosing a denim jacket for a semi-formal event may not be your go-to option. Still, many fashion experts say it's acceptable, depending on the dress code and the event type.
Generally, a denim jacket must be dark and free of any rips or faded areas. Underneath it, you'll want to put on a white tee.
For a kicked-back look, you can combine your dark or light-colored jacket with a neutral, patterned, or oversized T-shirt just fine, keeping the previous four tips in mind.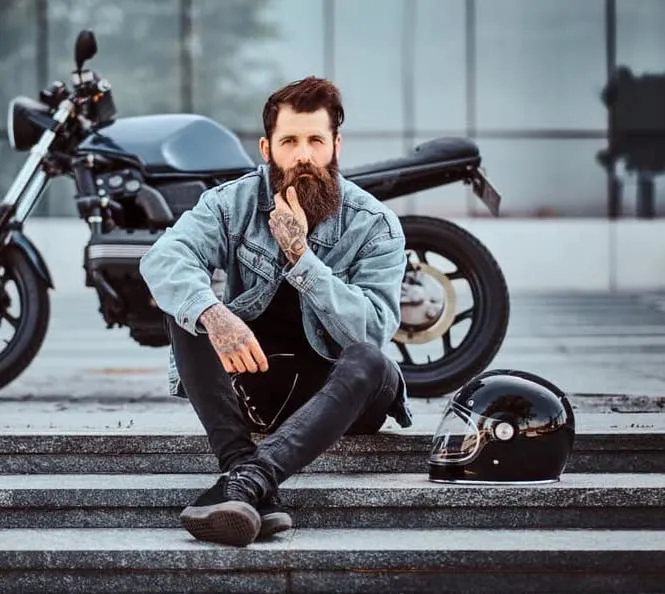 6. Choose The Right Pants and Footwear
Lastly, don't forget that the perfect T-shirt and denim jacket combination doesn't successfully sail without suitable pants, footwear, belt, etc.
For example, a classic denim jacket paired with a light-colored T-shirt only needs black jeans to complete the look.
Another good combination is a denim jacket and pants of the same color with a brightly-pattern T-shirt underneath.
The possibilities are endless, and you can mix and match to find out what works best for you.
As for your footwear choice, white sneakers are never a bad idea.
If you're not exactly a fan of those, any choice of sneakers will do if you're aiming for a carefree, casual appearance.
You may also want to put on a pair of boots to achieve a more rugged look.
Frequently Asked Questions
These tips will have undoubtedly piqued your curiosity. Here are some frequently asked questions to eliminate any queries you may have.
Can You Wear A Black T-Shirt With A Denim Jacket?
A black shirt underneath a denim jacket is an excellent idea if you style it with care. By sticking to darker jacket shades, you can ensure a desirably edgy look.
To do this the right way, pick a black, dark gray, or classic blue jacket to wear over the black tee. As for the pants, black should be perfect here.
Can You Wear A White T-Shirt With A Denim Jacket?
Wearing a white T-shirt with a denim jacket is entirely possible – especially if you like some contrast in your looks. Due to their versatility, white T-shirts can be coupled with pretty much any denim jacket.
Thankfully, white T-shirts are pretty versatile, so pairing them with different denim jackets should be a piece of cake.
Here are a few combinations you may want to try:
Classic blue denim jacket, white T-shirt, and black jeans
Classic blue denim jacket, white T-shirt, and light-gray jeans
Classic blue denim jacket, white T-shirt, and classic blue jeans
Light blue denim jacket, white T-shirt, and black jeans
Black denim jacket, white T-shirt, and black jeans
Can You Wear A Striped T-Shirt With A Denim Jacket?
Striped T-shirts work fantastically with denim jackets as long as the stripes aren't too big or bold. Instead, these stripes should be thin and of only two colors, preferably neutral ones.
Conclusion
Now that you've read our article on how to wear a T-shirt with a denim jacket, you can't go wrong. While experimentation is recommended, you can stick to the mentioned combinations for a sleek, seamless outfit.
Ready Sleek founder. Obsessed with casual style and the minimalist approach to building a highly functional wardrobe. Also a fan of classic, vintage hairstyles.